Are you looking for the best places to visit in the Dominican Republic?
If so, you may want to avoid the obvious and not be sure where to start. Well, let this guide help you get inspired and excited today!
There are numerous reasons why one might choose to come here. It's close to other islands in the Caribbean such as Cuba and Jamaica.
Places to Visit in Dominican Republic
The Caribbean is already one of the most hotly contested spots for tourism in the world and no wonder millions of tourists flock to these incredible white sandy beach islands.
What would sway someone from visiting St. Lucia, Barbados, or Jamaica and deciding on Dom Rep?
Is the Dominican Republic worth Visiting?
Some reasons that I suggest you visit this part of the world include:
Vastness of space and personal freedom you can enjoy.
The laid-back and friendly atmosphere of the locals.
A climate that can only be described as sensational.
Learn how to dance bachata and about it's origins.
There are many different aspects of the Dominican Republic's tourism that definitely get ignored, such as the rich colonial history of Hispaniola and the largest botanical gardens in the Caribbean.
Dom Rep is for those who are looking for that little bit extra to add to the sun and sand.
Why not push the boat out and enjoy some water sports activities?
When you choose to take things further forward in life, you might not be sure where to begin.
Is Dominican Republic Safe?
The U.S. State Department's 2019 travel advisory designates the Dominican Republic as a Level 2 destination, which advises visitors to exercise increased caution.
The advisory cites the Dominican Republic crime rate and states:
"The wide availability of weapons, the use and trade of illicit drugs, and a weak criminal justice system contribute to the high level of criminality."
This is for the island and nation as a whole, but for the tourism hotspots, it can be a completely different story in most cases.
Taking the necessary precautions when walking the streets of spots such as Santo Domingo is essential, but the safety of visitors should be taken into account in regard to weather and climate.
The Dominican Republic is in the Caribbean which means it's at high risk of receiving deadly force hurricanes during the hurricane season.
Visitors should follow these Dominican Republic safety tips and take into account the dangers of tropical storms before visiting.
If you stick to the tourist hotspots or stay within the compound of your hotel, the safety priority will be at the back of your mind.
There's no telling how much fun you'll be having during your Dom Rep stay, but we and the UK/US governments can guarantee that most visits from foreigners are trouble-free.
Places to Visit in Dominican Republic
One of the places to begin your search, then, would be the options that I have below for places to visit in the Dominican Republic.
Santo Domingo's Zona Colonial
If you like to spend your time around ancient history, then a trip to Santo Domingo's Zona Cathedral is a must.
It's stood since the 16th century, and though much of it is crumbling ruin today, it's a place that holds cultural importance to the people.
Just be sure to come here and see it from numerous angles: you'll be blown away by what lies in front of you, and what creates an experience you can certainly enjoy.
Punta Cana
Punta Cana is a fine place to spend your time, but also a location that should make sure you see the sea as much as you can.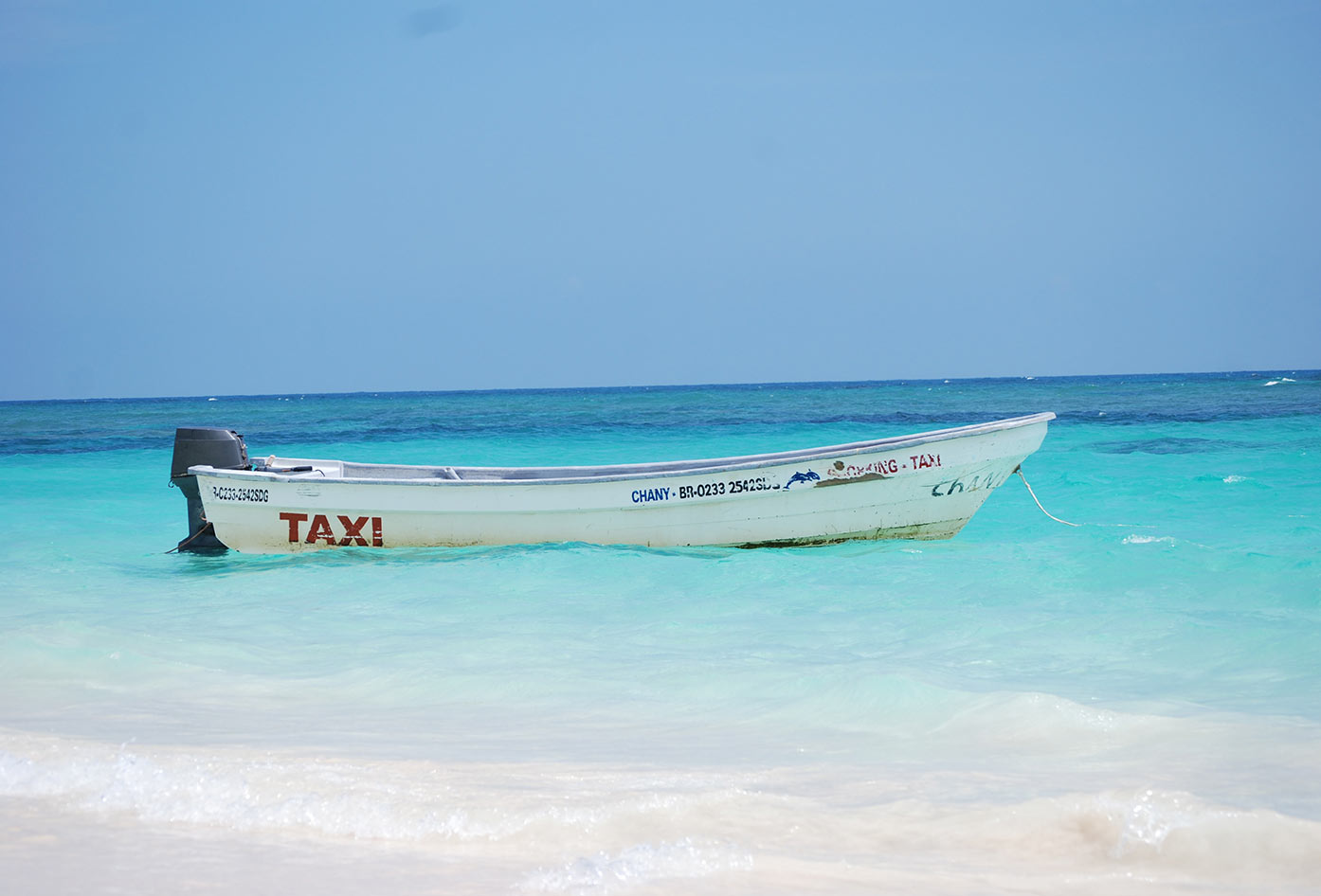 Despite whether backpacking or not, no doubt you'll want to spend time by the sea, anyway; the temperature here is so hot!
Places to Stay in the Dominican Repubic
It's natural to relax and recuperate, so if you find your trip around the Republic is getting extensive, come here and get a bit of a rest.
Dunas de Bani
If you like to rise up mountain peaks and see amazing little jungles, then this is a place you should come to explore.
It's among the best places to visit in the Dominican Republic territory due to the sheer variety of places to go and explore.
You will get to enjoy everything from small mountain peaks to lush jungle territory, so be sure to come and see it for yourself. As ever, though, bring a guide; nature here can be quite dangerous!
Samana Province
Whether visiting one of the many mangrove forests or even the Haitises National Park, Samana brings people from all across the island to enjoy lounging around and relaxing.
It's got so many beaches that if you are here to just rest then you will find that stupidly simple.
The quality of the beaches is amazing, so make sure you bring some comfy flip flops along with clothing that is appropriate for the beach.
For that reason, many people come to Saman Province just to enjoy resting, relaxing, and recovering after a long journey. It's worth traveling just for that!
Saona Island
The beautiful Saona Island is a place to visit; a cute little island that gives you a fine example of the wildlife and fauna that makes the Dominican Republic such a special place to spend your time.
A place to come for those who like to spend their time around tropical breeds of animals, and to see wildlife not found anywhere else.
Be peaceful and mindful of the location, though, and you'll have no issues enjoying life here.
Damajaqua Cascades
The cascades are definitely one of the best places to visit in the Dominican Republic, due to the fact it offers you such a fine athletic experience.
However, just make sure you carry some lightweight clothing and be prepared for a lot of physically demanding swims and jumps as far as 20ft. You should also be physically prepared for the challenge.
If you're not in great athletic shape, avoiding coming here. If you do, come with a guide who can keep you on the safest possible route.
Bahia de Las Aguilas
If you're thinking of doing a Dominican Republic road trip adventure, you may want to check out the beautiful Eagles Bay. It's the perfect setting for adventure lovers who want an unforgettable experience.
Remember, too, that this is a protected area; any kind of littering or acts of poor taste in reference to the local culture could see you censured by the authorities.
Be peaceful and mindful of the location, though, and you'll have no issues enjoying life here.
Jarabacoa
As the second-largest municipality in the country, this is a place to visit. It's often expected that this may have been the first part of the Republic that was inhabited, so it's a place of rich cultural heritage.
Be sure to visit the carnival if you're here in February, too; just like the one Rio de Janeiro it's the most famous carnival in the country.
Jarabacoa is a town known for its coffee and a wide variety of plant life. Dubbed as 'The City of Everlasting Spring' expect mountain adventure. Trips to Salto de Jimenoa make this place worth the while.
Sosua
Sosua is a fine place to spend your time, also; a town that'll help make sure you can enjoy a lot of spare time and freedom just relaxing.
If you're here for some fun, you'll find many ways to do that. The people of Sosua are usually up for a party, so if your main aim is to enjoy a good night then you should probably look to settle-in here!
La Romana
Lastly, I recommend that you check out little La Romana, a cool city with more than enough to do to keep you busy.
A major part of the local tourist culture, too, it's the kind of place that you should have little to no problem enjoying as you look around and explore what it has to offer.
For golf fans, you will find the best golf resorts in the whole of the Dominican Republic waiting for you here. So, be sure to get some clubs if you want to play a few rounds!
Dominican Republic Travel Tips
With every travel guide written on layer culture, my aim is to give some practical travel tips that you can make use of right away.
Best Time to Visit Dominican Republic
Many visitors to the Dominican Republic opt for the busy period, around the Summer months. July and August are the two months that charge the highest prices and get the least amount of precipitation.
However, these are not the ideal months to visit. As long as you avoid the height of hurricane season, which lands between April and November, the Winter months are ideal.
When looking for the best rates along with good sunshine, the best time of year if we had to narrow it down to a specific month would be January.
By then the busy months will have died down and the longing for warmer weather will be stronger.
The best time of year to go to Punta Cana is December/January due to temperatures still reaching highs of 28 degrees Celsius.
Compare resorts such as Punta Cana or Riviera Maya before booking to see if you can find a similar trip for a cheaper price.
Is Dominican Republic Cheap?
If you're looking for a long and luxurious stay in a Dominican resort, the prices are cheaper than the likes of Jamaica and the Bahamas.
However, they can still charge a premium depending on how much you're willing to pay. If you go for the quieter months, you can guarantee a great deal though see these hotel deals for ideas.
Books about the Dominican Republic
Are you interested in learning more about the Dominican Republic and it's culture? Here are some books that may interest you:
There you have some great reads if you wish to learn more about the Dominican culture before you head out to the island.
Travel Insurance for Dominican Republic
It is recommend that travelers and backpackers (no matter who you are) use World Nomads Insurance for fully comprehensive cover.

If you are due to travel soon, you can get a Get A Free Quote by clicking the link or the image above and filling out your details – that way you'll get instant cover from the exact date that you choose.
On many occasions World Nomads has provided me with reliable insurance cover for travel in Latin America and the rest of the world.
Places to Visit in Dominican Republic
When you are looking for places to visit in the Dominican Republic, then, you should now have a good idea of where is worth your time.
If you've done travel in Jamaica before you'll see the differences in culture despite both islands having a similar climate and geography.
I'm interested to get your opinion on the differences you encounter. With so much to see in this unique part of the Caribbean, you'll now find it easier to come and fully enjoy the experience.
After comparing Jamaica and the Dominican Republic your question should be where will you start your journey across the Caribbean?
📌 Like this article? Pin it…
Did this help you decide where to visit in the Dominican Republic?
💬 Leave a comment below or let's start a meaningful conversation…
---
"Dear friend! Some links in this post contain affiliate links. Meaning, if you click through and make a purchase, book a hostel or sign up for a tour, I may earn a small commission at no additional cost to you. Your support means a lot and helps me to keep traveling and maintaining the quality of this site for you."