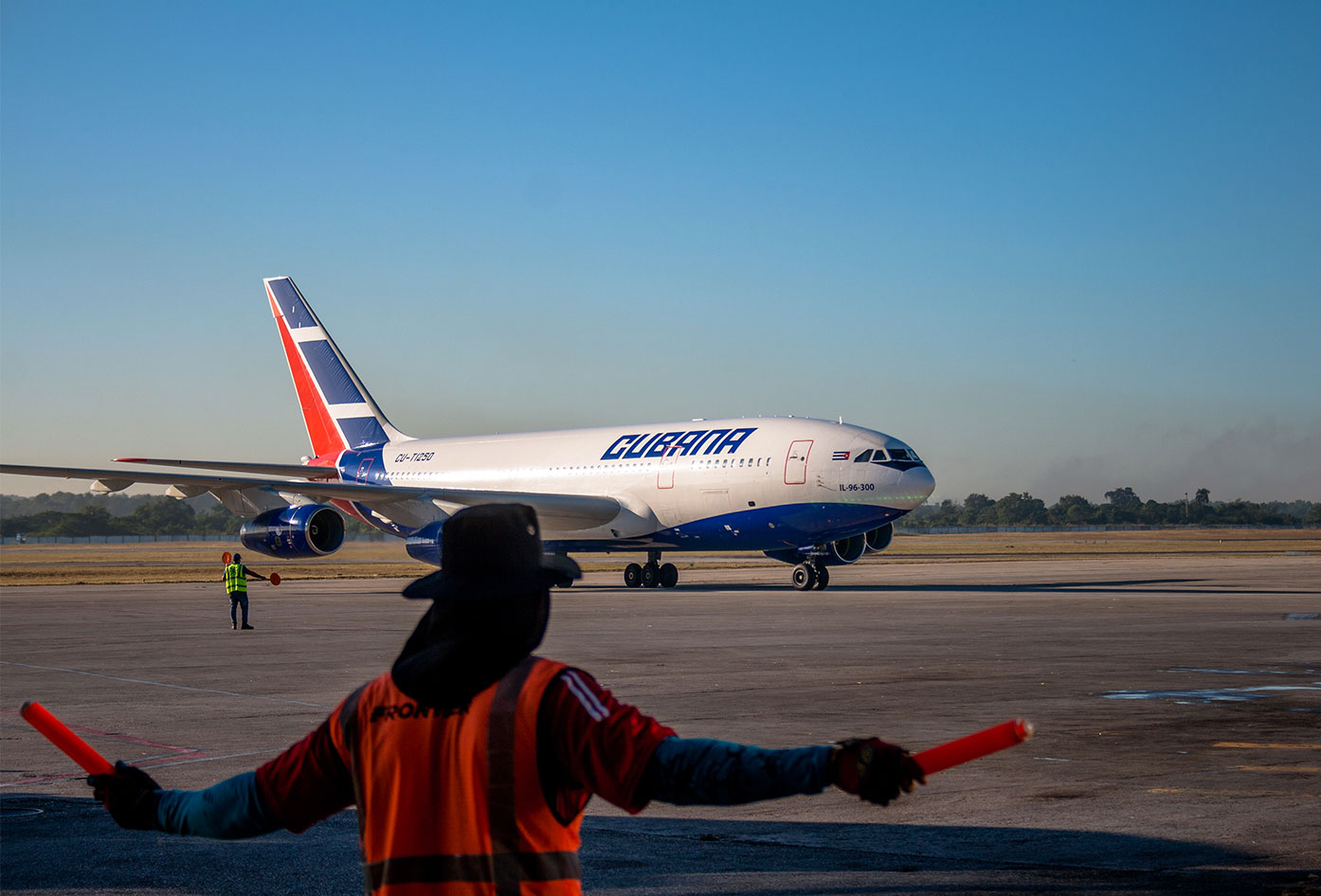 Are you deciding on whether to plan a trip to Cuba or not?
This guide will give you a helping hand – it's packed with useful advice.
Heading to Cuba is a destination many people would love to see, but never take time to actually come and visit.
Planning a Trip to Cuba Guide
So many people I spoke to were intrigued by my idea to go backpacking in Cuba back in 2014.
Other than smoking cigars and drinking rum, though, let's look at some other reasons why you should consider traveling to Cuba.
Why visit Cuba?
Not sure why you should visit Cuba in the first place, though?
Few nations make it easier for you to engage in a unique culture and a different kind of lifestyle than the tremendous people of Cuba.
With so much history to enjoy here, you can take in a part of the world which plays such a unique role in the modern political climate
The people of Cuba are wonderful, friendly, and love to meet people from other backgrounds so they can learn about your unique culture.
So with these points in mind, I encourage you to keep your eye open for new learning opportunities along your trip.
Because compared with other islands in Latin America and the Caribbean, as you'll know by now – Cuba is rather unique.
Cuba Travel Itinerary
Depending on your style of travel, because there are many you may want to chop and change your Cuba itinerary to suit your needs.
I've mapped out in order a route you can do in a matter of weeks.
If you're on a tight travel budget, be sure to check out one of Cuba's best-rated hostels if you'd like to save on accommodation.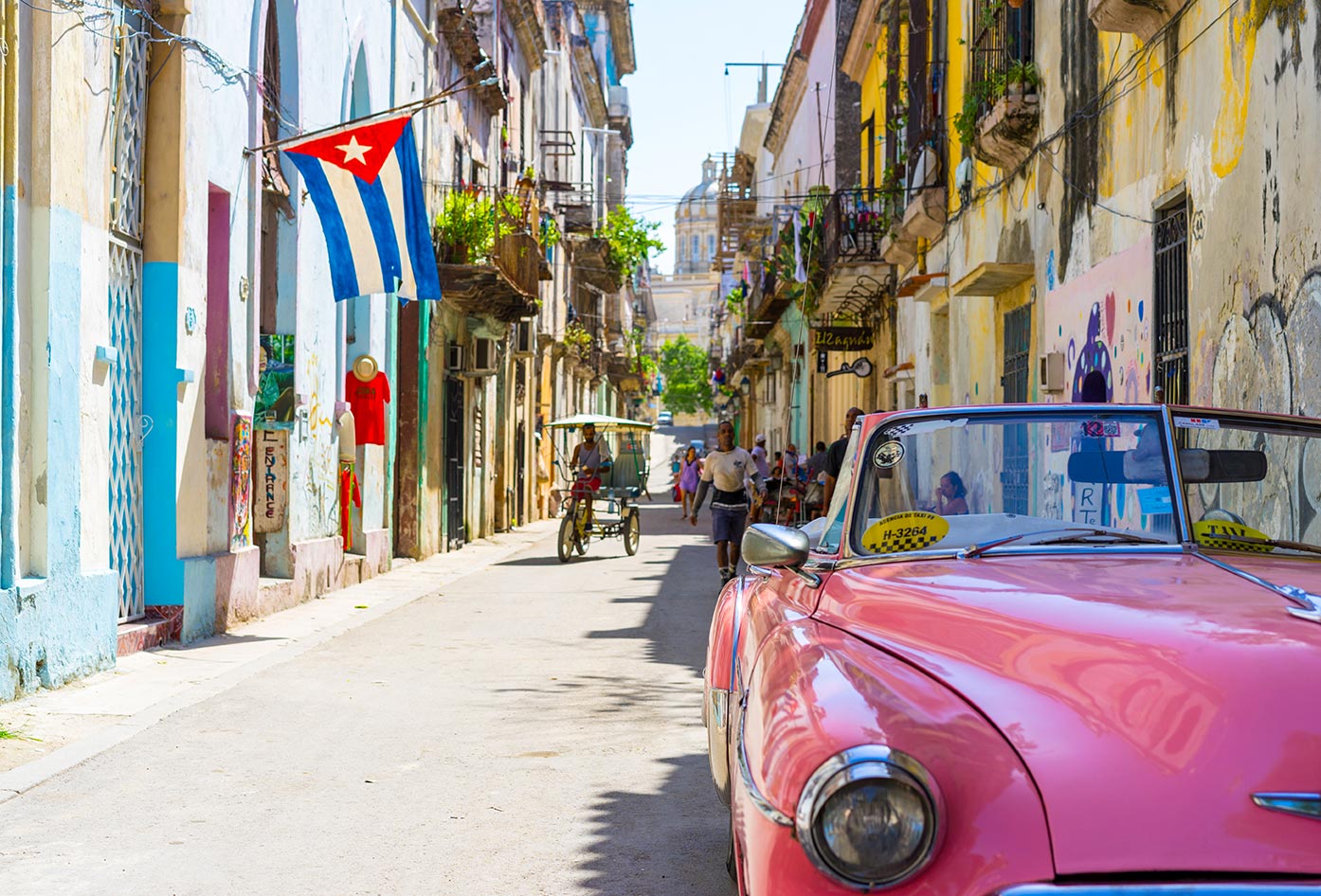 It all depends on your style of travel.
These days, I find myself engaged more in slow travel, as I like to get to know people and get to feel the everyday vibe of particular places.
This Cuba travel itinerary can be chopped and changed at your desire.
Whatever your style of travel is, I recommend you keep yourself flexible so you can move if need be.
The last thing you'd want whilst backpacking in Cuba is to feel tied down to a place in which you feel uncomfortable.
Right, now let's look at some of these places in Cuba that I recommend you add to your trip.
Planning a Trip to Cuba
Where should you start your journey from, then? I recommend Havana, let's look a little deeper at what Cuba's capital has to offer.
Havana
A trip to the city of Havana is an absolute must: a rich tourist spot that will immediately make you feel very welcome.
There is much to do here, from driving a classic 1950s convertible car to a trip around the famous Havana Vieja.
What about a trip around the cigar factory down at Partagas? Or a quick day trip to Varadero Beach?
There are lots to do, so I won't try and fill your head with too many ideas.
Make no mistake, this is the perfect place to start a trip around your time in Cuba.
Other than indulge yourself with delicious Cuban food there's many interesting things to do in Havana. The problem I found was discovering them.
With not many articles to read about backpacking Cuba, I'd stumbled upon most things.
In regards to activities in Cuba, I should've done more research before I left.
Researching things to do in Havana before you leave is an essential idea. Considering there's a few UNESCO sites you wouldn't want to miss out on.
Here's some cool things to do in Havana which I highly recommend:
Ride in a Taxi particular
A must whilst staying in Havana. You'll see the old Detroit style taxis on the road all over in Cuba.
The taxis known as collectivos, are used by everybody.
They're shared so other passengers can jump in or off at any time. They go along a fixed route and passengers get on and off.
I'm sure it's one of the Havana things to do you'll really enjoy and never forget!
Take a walk on El Malecón at night
If you don't feel like walking the full 8 miles along that's fine – just sit. This is a spectacular and popular place to hang out at night.
Make sure you bring a bottle of rum and some cups; that's the vibe if you want to fit in with the locals.
I highly recommend seeing the sunset at El Malecón. It's by far one of the things to see in Havana you must do.
Visit one of Havana's Craft Markets
There are so many things to do in Cuba but one thing you can't miss whilst in Havana, is a day at the market.
I recommend Almacenes San Jose, which is on my list of places to visit in Havana you must go.
It's the perfect place if you'd like to scoop a bargain or two. It's located inside a big building with 100's of mini-stores inside.
You'll have to be buyer savvy, though, as many of the vendors sell the same product just at different prices.
Visit the Museo Nacional de Bellas Artes
The Museo Nacional de Bellas Artes in Havana is a great place to spend a few hours on one of those blazing hot days in the city.
It's on the top things to do in Havana because it's the best museum in the Caribbean. You can recite art from the colonial period right through to the avant-garde and revolutionary period.
Also, you can have a guided visit in English. But beware, no photos are allowed to be taken inside the galleries.
If you are sensitive to the sun try to carry a sun hat that has UV protected material.
But, if you visit the gallery shop you'll find some very fair price prints, postcards, and posters, etc if you're interested in collecting souvenirs.
Eat Ice Cream at Coppelia
As strange as it sounds this is the perfect place for ice cream and architecture. The building looks like a giant spaceship.
You've never seen people so happy eating ice cream in your life.
This is the perfect thing to do if looking to get off the tourist trail and really connect with locals over a bowl of Cuba's finest ice cream.
Find and gatecrash a house party
Where to go in Havana if you want a party?
You'll notice how the street comes to live with party people and loud music in many parts of Havana.
In old Havana, I passed so many houses with the door open and people sprawling out.
After chatting to locals I found out it' normal to join in on the celebration. Don't forget to bring a bottle or carton of rum with you though.
This is a carefree and entertaining way to spend a night if you get a chance.
Visit the University
Did you know Cuba has one of the best education systems globally? Speak to any Cuban in Havana and they'll express how proud they are of this University.
There are some great statues and memorials scattered around.
Take the morning to appreciate the grounds and meet some of the students to practice Spanish – that's what I did.
Havana Travel Tips
Maybe you're on a cruise to Havana and have limited time in the city?
If you were wondering what to see in Havana in a day, you've got some great options above.
I'd say you'll need longer, but one day is better than nothing.
When looking for things to do in Havana at night – be careful! I'm creating a guide for that soon, so check back later.
However, if you're not able to get out at night or visit some of the more hidden places in Havana. You can try some of the following activities in Havana:
Walking El Malecon by day
The Malecón in Havana is one of those famous places in Cuba and an important social meeting point for many locals.
Not for any reason is on the list of best things to see in Havana.
Rendezvous occur by day and by night. I enjoyed watching the fishermen as the waves crashed into the wall and water splattered everywhere.
It's one of the best places to visit in Havana in my opinion.
See Cuban Art in Havana
Not listed as one of the main Cuba tourist attractions but while keep you inspired as you walk around the streets of Havana.
One way to learn more about Cuban culture whilst you explore what to do in Havana is by searching for Cuban artwork.
I love street art. Havana is the home to the best lettering and color combinations I've seen in Latin America.
We don't call it art but that is exactly what it is. It's one of the things to do in old Havana you shouldn't miss.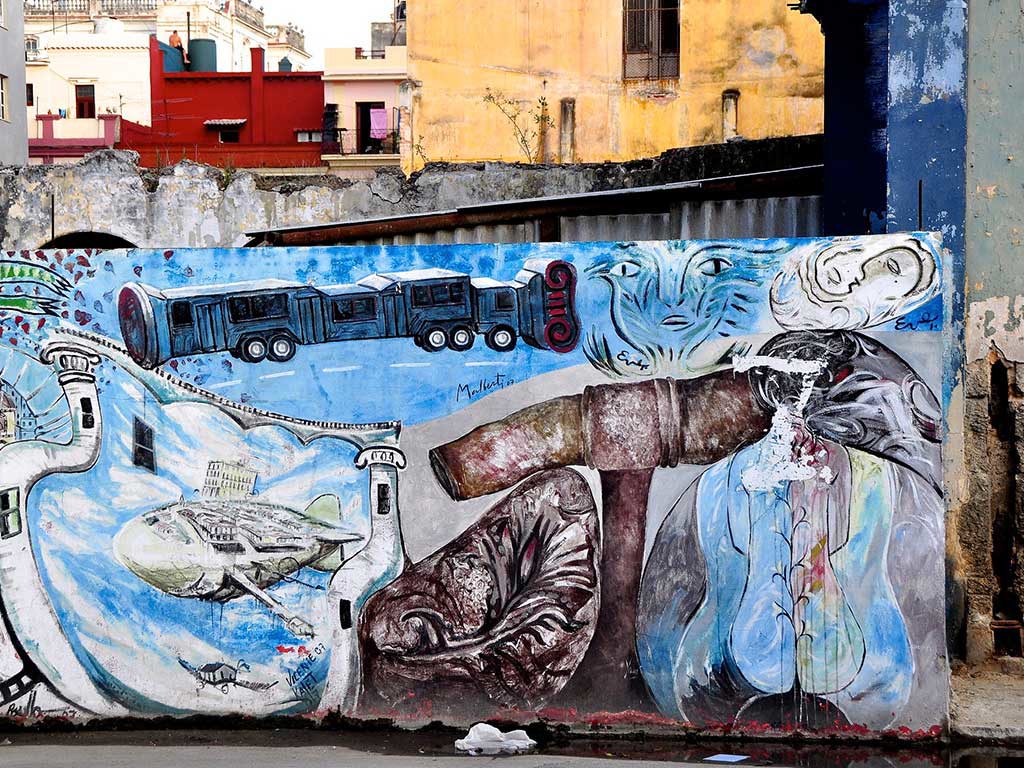 You can find lots of amazing street art in The Prado an area of Old Havana.
If you were wondering what to buy in Cuba, here you'll find artwork as well as other very unique and beautiful paintings for sale on Saturdays and Sundays.
Trinidad
A trip around Trinidad is always fun, as it's a very good place for partying and just letting your hair down a little.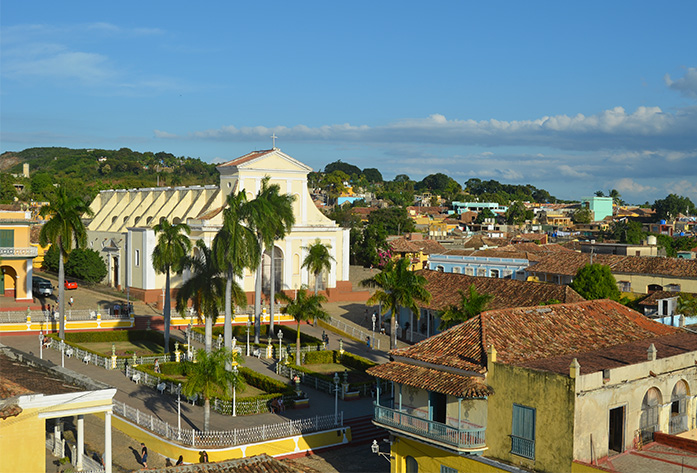 However, a trip to Trinidad is a lot of fun so long as you are willing to keep an eye on your goods.
Be sure to take a look at our guide to Trinidad, too, if you want some inspiration on unique places to visit and things to do.
As ever, it's wise to avoid flaunting wealth and your privileged tourism status.
Cienfuegos
A trip over to Cienfuegos is a good idea, too. I recommend that you try and stick to the central areas, though, as this is where most of the fun is.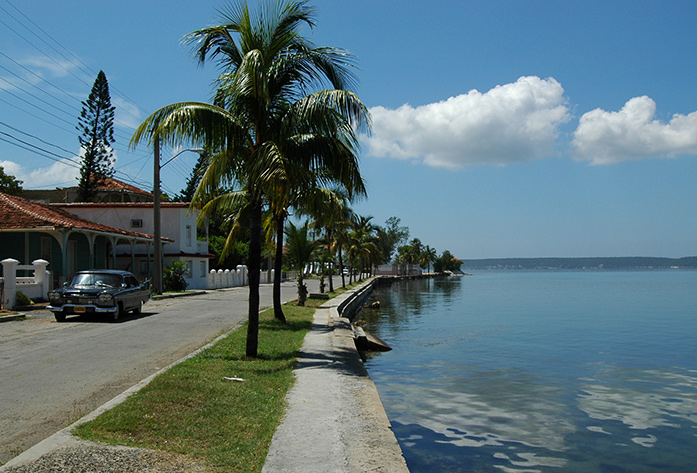 Going into the outskirts does run the mild risk of meeting people that you would rather avoid, so I recommend being quite conservative when you are in Cienfuegos.
Be sure to look at my useful guide if you want to find some good stuff to do out of harm's way.
Vinales
From a trip around the stunning Vinales valley to a trip around the Mural de la Prehistoria, there are ample choices for those who love nature and the wider world to have some fun here.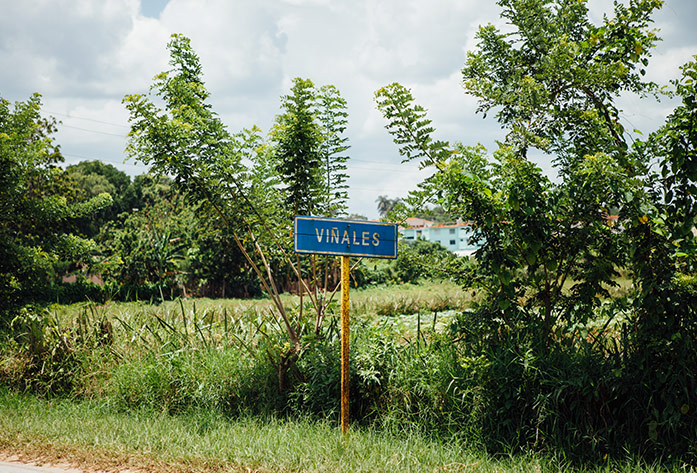 Vinales is quite an open and expansive place, so I recommend that you try and spend a little time just adapting to the area.
Easy accessible from Havana by public transport. If you intend on taking on any of its more scenic routes, I recommend that you hire a tour guide.
Matanzas
Few places can be quite so fun to come and visit as the unique world of Matanzas. It's fun, and the kind of place you can easily relax.
However, I recommend that you are quite vigilant about where you are, as it can be easy to walk into the 'wrong' parts of town.
If you can, try to take a look at a trip through the city, mainly visiting the parts like Parque Libertad and Plaza de la Vigia.
As ever, be sure to keep an eye out for anyone who might be keeping a close eye on you.
Popular tours in Cuba
Santa Clara
Santa Clara should be quite easy for you to get into the feeling and the way of the area simply because there is so much to do.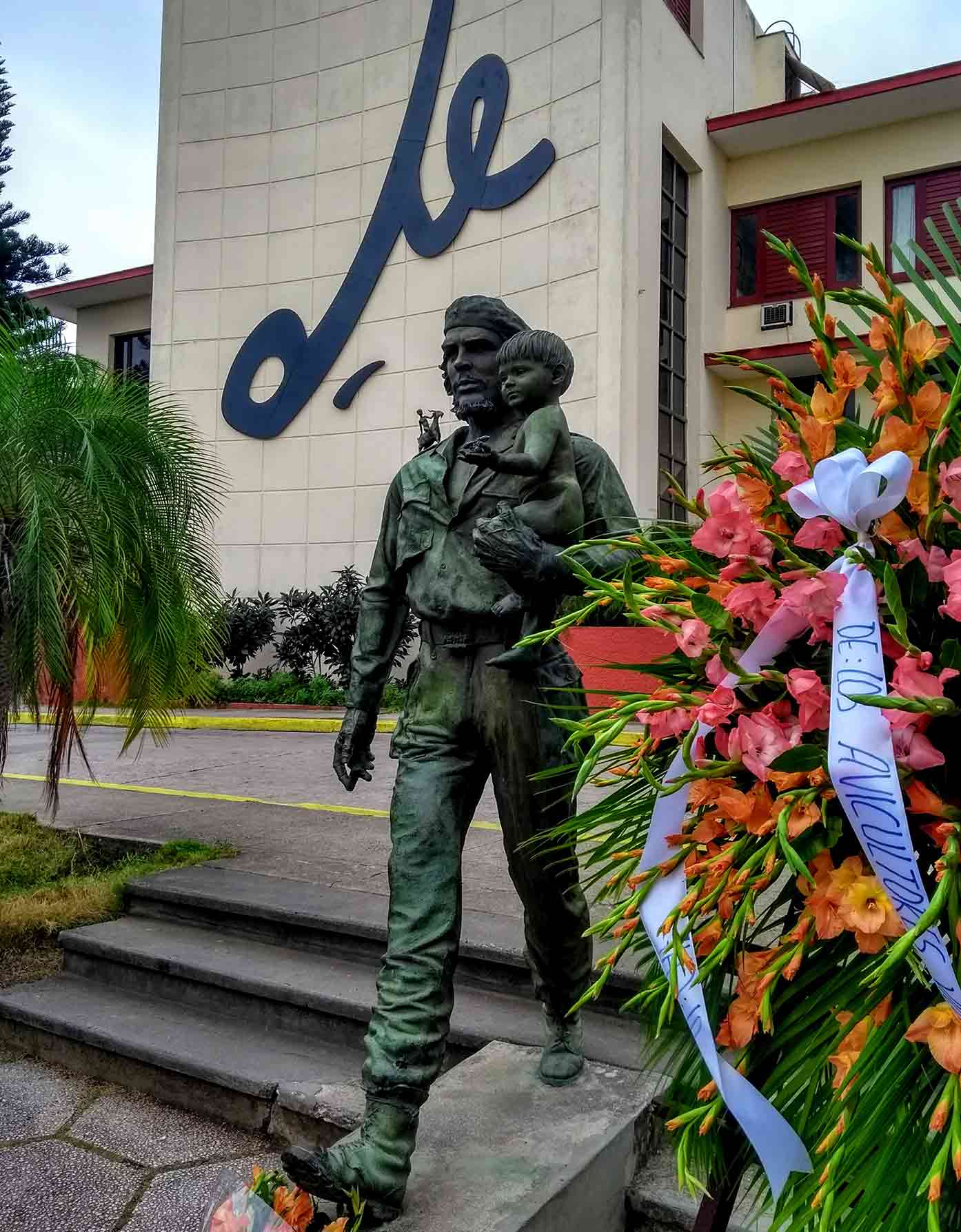 See this guide on the best things to do in Santa Clara for more.
Many people like to start off with the Conjunto Escultorico Comandante Ernesto Che Guevara: a true monument of Cuba.
Also, a trip to the Teatro la Caridad is a must – a location where amazing live concerts take place.
Just keep yourself to yourself in crowded areas, though, as it's easy to draw the wrong kind of attention here.
Camaguey
Taking the time to come to Camaguey is a lot of fun, and it will make sure you get to learn plenty about Cuban culture and its history.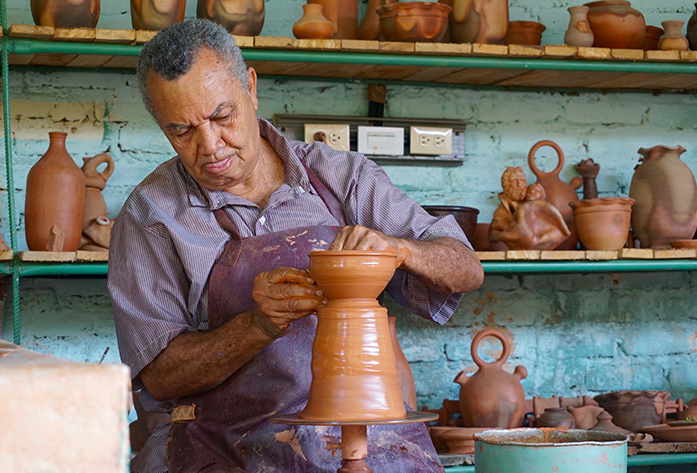 First off, take a trip down Cinema Street: you will see some pretty special sights, with many of the parts here being dedicated to the movie industry.
Be sure to try out the local food, too, as well as spending some time on the streets just meeting and mingling with locals.
Gibara
This hidden little part of Cuba is well worth coming to visit if you like to try out small, reclusive locations.
You must make time for a trip to the Los Tanques Azules, though: a truly stunning piece of nature that you should find very easy indeed to respect.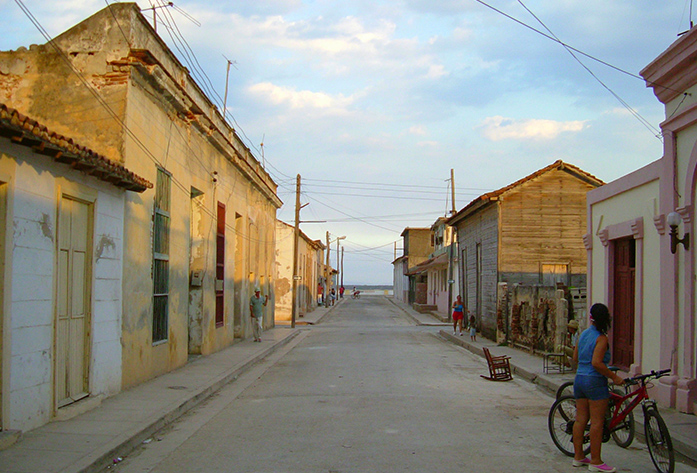 Head down to the Playa Blanca if you want to enjoy a vintage Cuban beach experience far removed from what you might be used to if you think about the beaches back home!
Baracoa
If you choose to come to Baracoa, then arrive in the morning where the city is at its quietest and you can just enjoy a quiet, happy stroll.
Don't leave Baracoa without looking up an excursion package, as it'll help you visit awesome locations like the Yumuri River and also get to just enjoy a happy, relaxing swim down by the beach.
Baracoa is the perfect place for those who love to relax.
Santiago de Cuba
When you travel to Cuba, it would be remiss to avoid taking part in a trip to Santiago de Cuba.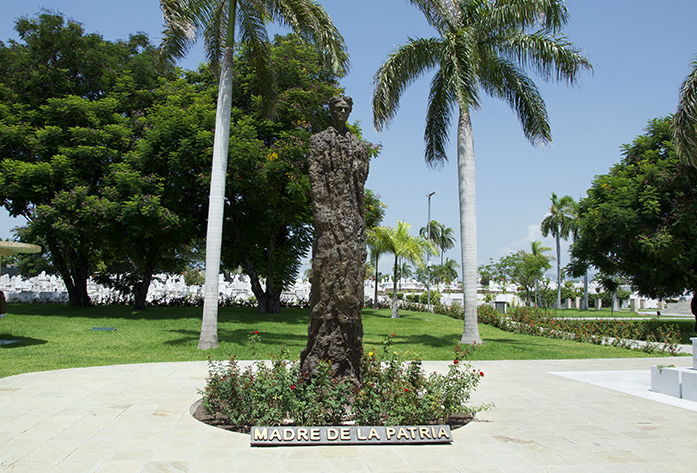 A trip to the picturesque Castillo de San Pedro del Morro is well recommended, as is a visit to the monumental Cementerio de Santa Ifigenia.
This will help you to really appreciate a rich and immense part of the modern history and culture of this part of Cuba.
As ever, be respectful to local artwork and take the time to listen to the locals if they ask you to avoid doing anything in particular.
Free free to use this itinerary as a go-to guide to be able to investigate these places more in-depth.
That way you can decide if they are worth your precious time or not. That's what I usually do.
You can guarantee that I'll be back in Cuba again this year to update and add some more unique locations that I have not yet covered.
Best time to go to Cuba
If you were wondering what is the best time of year to go to Cuba it's worth knowing that between November and March is the dry and cooler season.
Bear in mind that it's the busiest time as many tourists like to take advantage of the lower temperature and less heavy humidly levels.
Outside of the weather, though, deciding when to go to Cuba can be decided by cultural events.
Try to pack accordingly and if you are traveling to Cuba with kids or with a loved one, plan well ahead of time.
For example, you could go for the carnival or the tobacco harvest which is during the wet season between May and June.
There are also certain times of the year that I'd personally avoid traveling to Cuba. From July to the beginning on November is hurricane season so you can expect a rainy and windy atmosphere.
So what is the best time to go to Cuba for you? I don't like rain so much and would go out of my way to avoid it.
I recommend you take the seasons into consideration when you plan a trip to Cuba as the weather can be a kill-factor when traveling around Caribbean islands such as Cuba.
Cuba Travel Tips
Of course, knowing where to go and what to see when you travel to Cuba can be quite tough.
But where ever you're traveling to Cuba there are some universal truths that if you can bear them in mind will make your trip smoother.
Residing in Jamaica half of the year which is so close, I thought I'd do some solo travel in Cuba and see who I could meet along the way.
Cuba made its way onto my travel bucket list via a friend's recommendation.
Cuban Visa Problems
As a citizen of the United Kingdom, I'm pleased to say that I had no visa problems whatsoever. The process just seemed a little long-winded.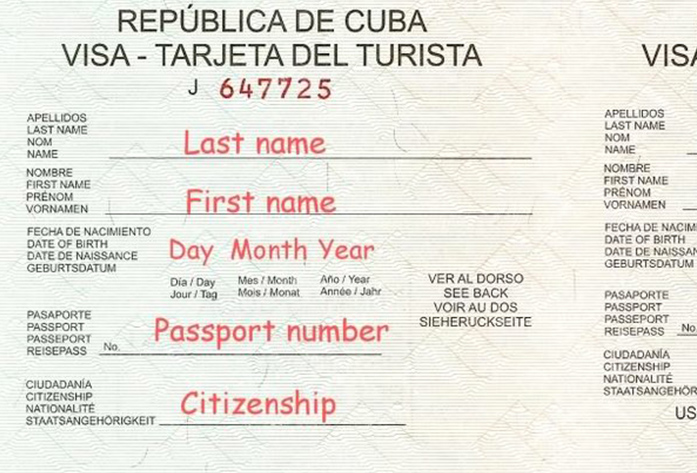 Let's be real, visiting Havana is probably one of the most interesting things to do in Cuba – that's why so many people are obsessed with visiting.
Yes – it was totally worth it. Don't let this process put you off traveling to Cuba.
Are you travelling to Cuba as an American and nervous about the whole process? I suggest you make yourself aware of the differences.
If wondering what to pack for Cuba I've made some great suggestions for you.
Money in Cuba
Other than the places of interest in Havana Cuba I will also talk more about money in Cuba. I'm currently writing my ultimate guide to Cuba.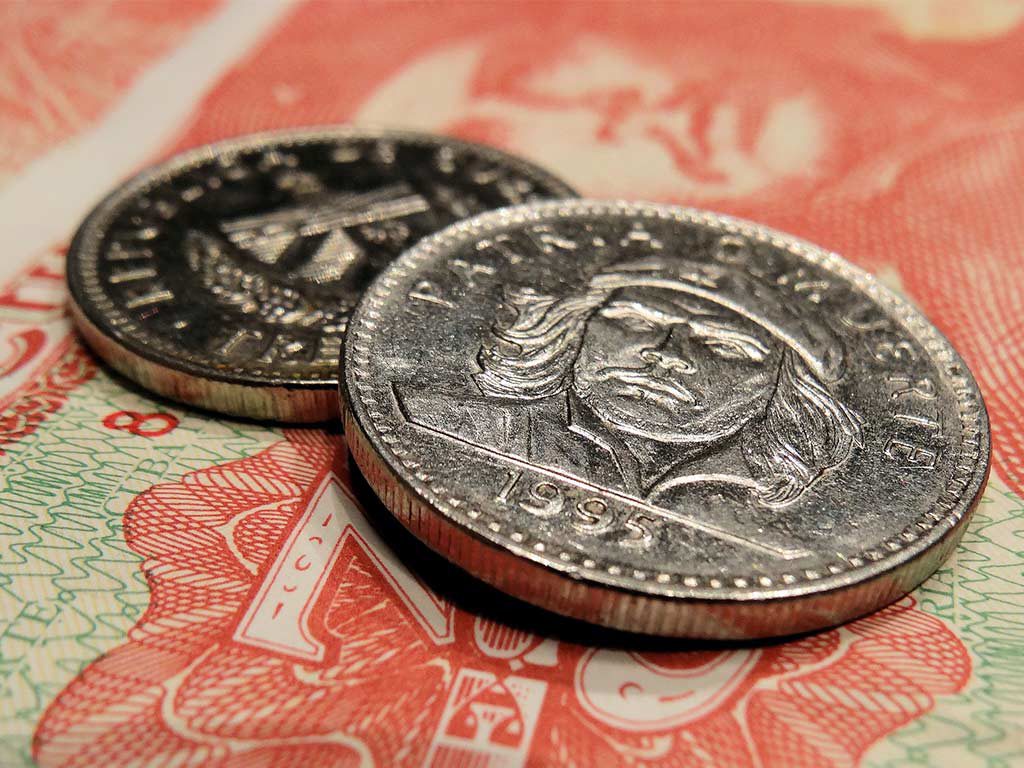 It's worth mentioning here though that there are 2 currencies in Cuba:
CUC's (Cuban converted currency)
Peso National (The non-tourist currency)
I want to clear up any myths you may have read online by saying you can spend both currencies as a tourist in Cuba.
Had I gone with my instinct at the beginning when I first arrived at the airport in Havana – I'd have saved myself some good money.
💡Smart Travel Tip
Some Cubans will try to lead you to believe that you can't spend the Peso National or even better, they'll say that they don't accept it!
It's real! Don't be fooled, as each CUC (Cuban converted currency) is worth $1USD, and at the time $1USD was equal to 25 Pesos Nationales.
When you start to look at the prices and make the conversions you'll quickly notice that you are being scammed by the system.
Cuban Money Tips
Always take cash with you
Just because travel for US citizens has become more relaxed, it's wise to take some hard currency on your trips to Cuba and make sure you keep it secure at all times.
Avoid using MasterCard
I'd recommend using a VISA card for Cuba is you have one. This has happened to me before not just when spending money in Cuba.
Most places I saw that acceded credit cards in Cuba had the VISA symbol.
Got Travel Insurance for Cuba?

Designed by travelers, for travelers, World Nomads covers more than 150 adventure sports and activities so you can explore your boundaries.
Did you know you cannot enter Cuba (legally) without Travel Insurance. Getting your visa at the embassy? Travel insurance is mandatory.
Even if you make it to the Cuban side without it the Cuban authorities doing spot checks may demand you take it out there and then on the spot.
Print out your documents
In an emergency you may want or need to present a crucial document to authorities and having a printout for your documents can be a lifesaver.
I printed out a copy of my passport, my visa for Cuba, travel insurance, and all my fight details including my outbound flight just to be on the safe side.
You can read more about safety in Cuba here and check the list to make sure you've not forgotten anything.
Packing for Cuba
What not to carry to Cuba
I created a guide on what to pack for Cuba on this blog.
Depending on where you're flying from, it's worth trying to cut back on your luggage allowance when planning a trip to Cuba.
Put plenty of thought into what you'll carry. I know that the more we travel we learn what and what not to carry but Cuba is truly special.
You'll see people arriving with all sorts of electronics in the airport such as TV, microwaves, etc.
A friend and I carried some items of clothing that we would offer to local people we were staying with.
Travelling Light
As a foreigner backpacking around Cuba though you'll find it more challenging when carrying more weight.
Not only because of the weight itself but lugging bags around the tight streets, up tiny staircases, and on the public transport whilst in the blazing sun, to me, quickly became tiring.
Over the years, I have improved my packing checklist and I like to chop and change.
Carrying a couple of quality t-shirts, swimming shorts and a decent pair of travel pants are my most valuable assets when on the road.
Planning a trip to Cuba
In a bid to help you make decisions that you can be happy about, I recommend that you read through this guide again to make sure you know what to do and what to keep an eye out for.
Still not convinced see these 10 reasons to visit Cuba for more inspiration.
While some parts of Cuba can be a little dangerous, a touch of self-preparation and self-awareness will go a long way to making sure you can enjoy yourself without worries.
If looking for some more photos of Cuba and useful travel tips, check out these amazing photos of Cuba that will inspire your journey without a doubt.
📌 Like this article? Pin it…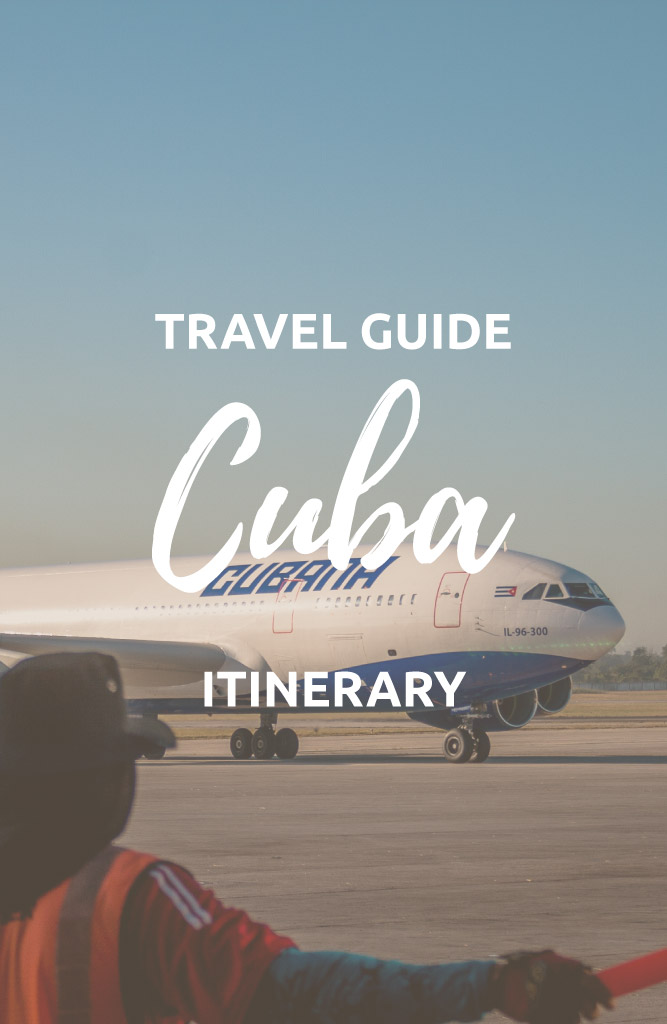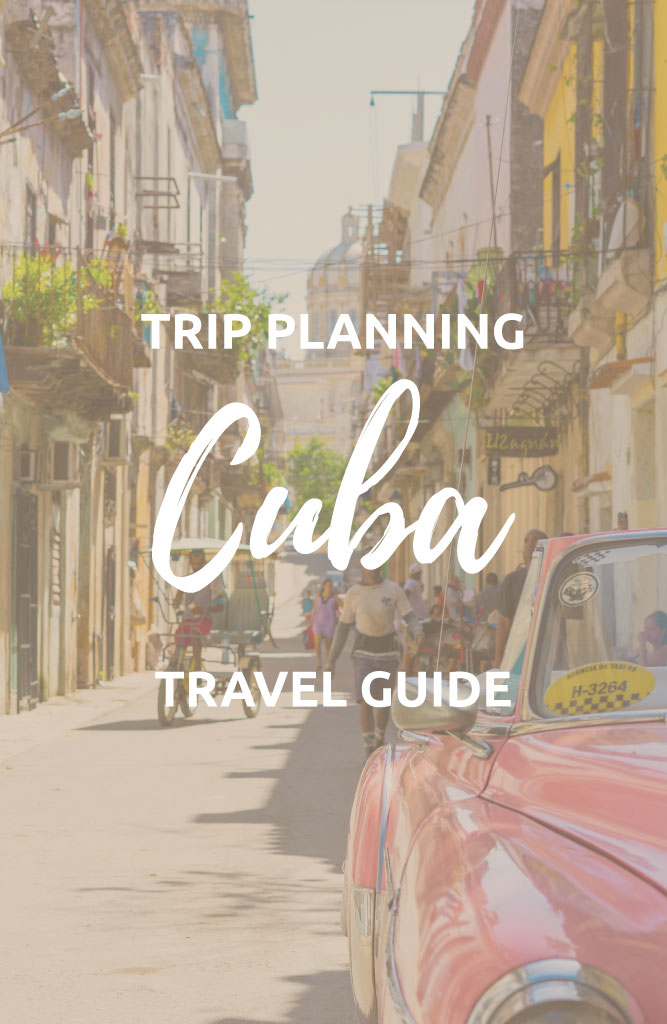 Did this help you with planning a trip to Cuba? Got advice to share?
💬 Leave a positive comment or lets start a conversation below!
---
"Dear friend! Some links in this post contain affiliate links. Meaning, if you click through and make a purchase, book a hostel or sign up for a tour, I may earn a small commission at no additional cost to you. Your support means a lot and helps me to keep traveling and maintaining the quality of this site for you."