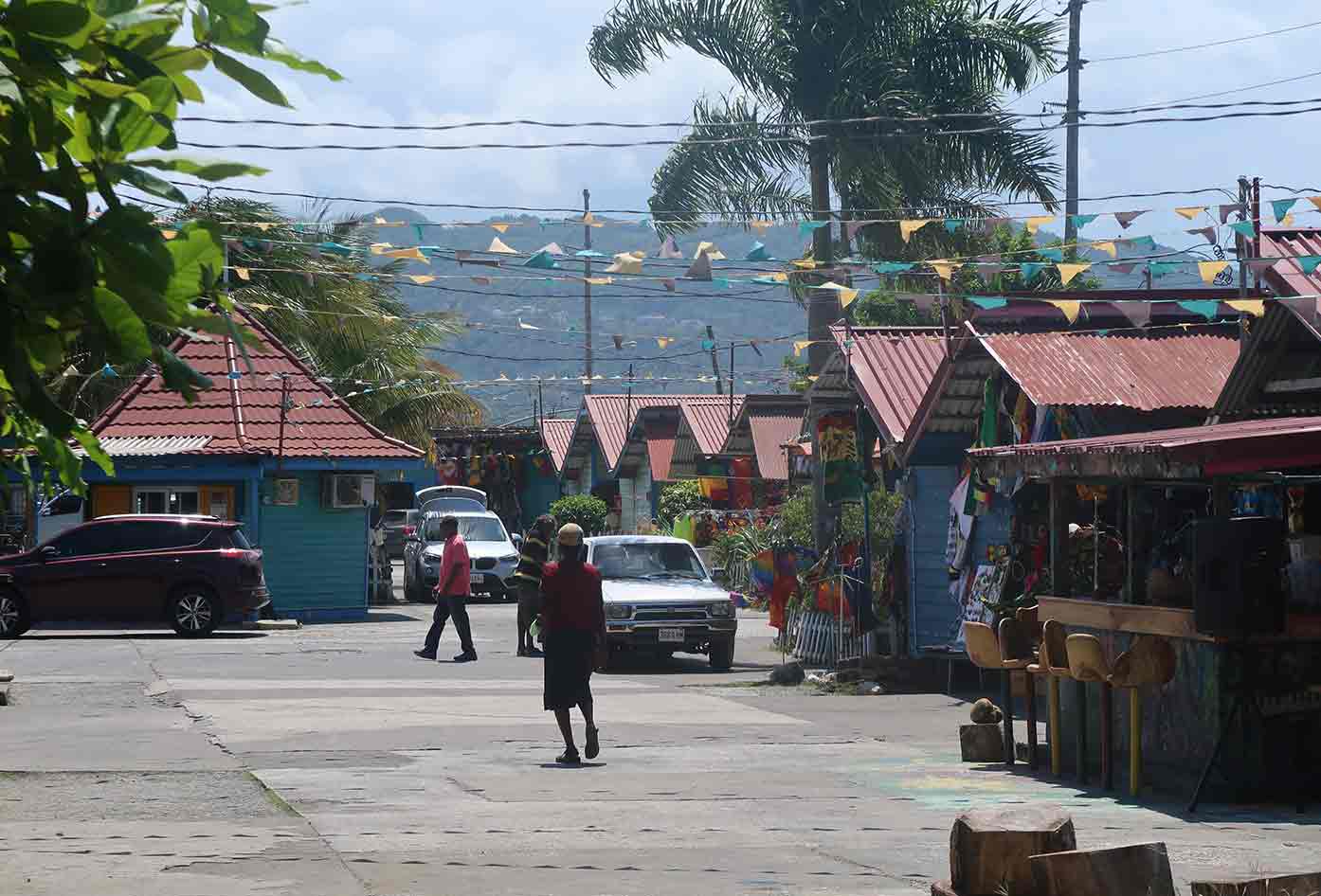 Is Jamaica safe to travel to in 2023?
You may have seen danger warnings in the news but it is also well know that the reggae land of Jamaica is one of the best Caribbean islands to visit.
If you put the safety issue aside and think about all the things you can do in Jamaica; you'll quickly start to forget about the sinister side that exists.
It's famous for white sand beaches, hot climate, reggae music, food and drink! But, if you're not sure where to begin, take a look at this guide!
Is Jamaica Safe?
This guide explores the current safety situation in Jamaica, including what it's like during the day (and night) as well as insider tips for staying safe.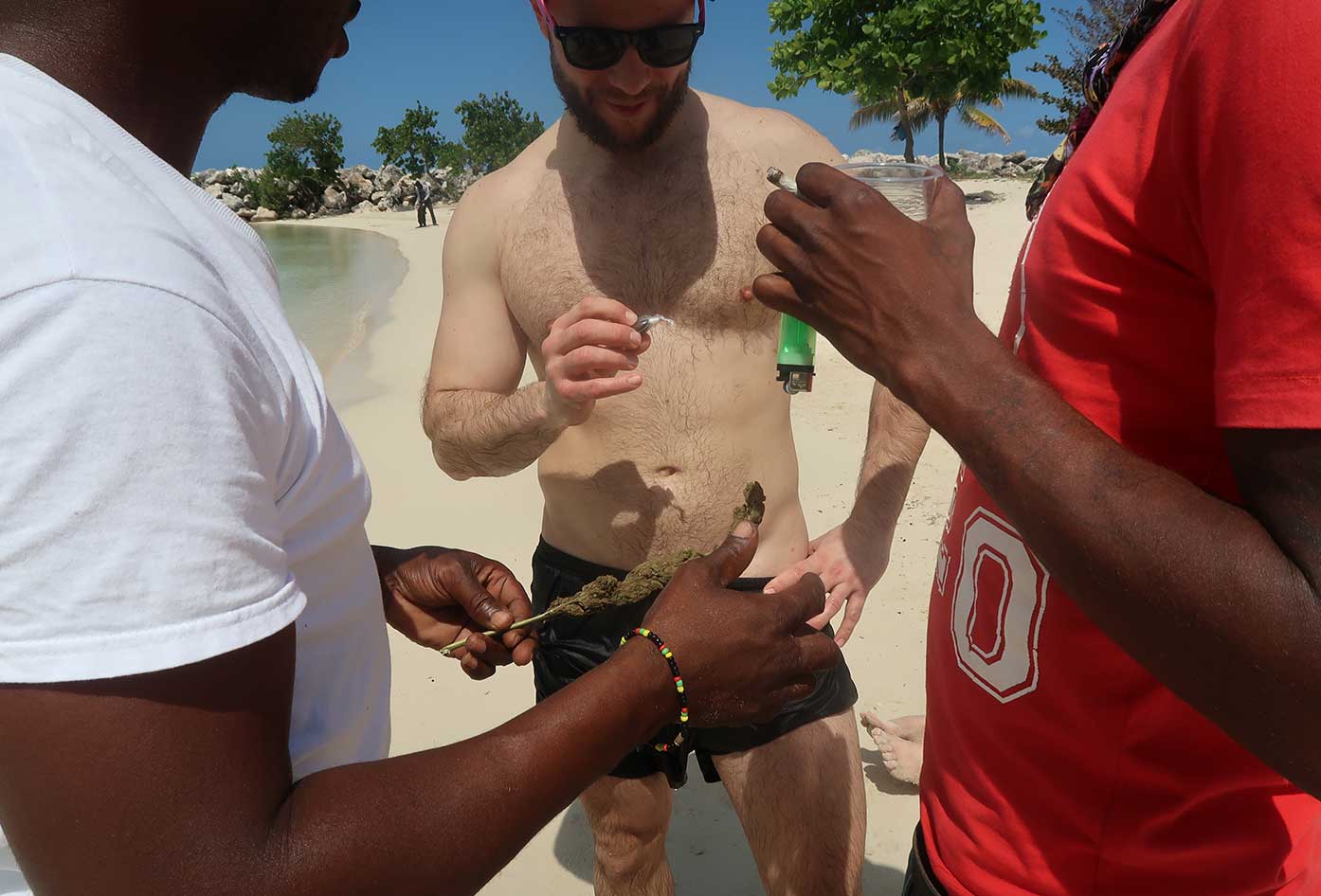 After reading this guide, you can expect to be able to travel with confidence and know exactly what to do when it comes to staying safe in Jamaica.
Whether you want to find some of the best places to visit in Jamaica during your vacation or you're visiting some long lost family – this guide is for you!
So, are you ready to travel to Jamaica but not 100% sure if it's a good idea? Then you'll want to take a closer look at the travel tips to help you out.
Is jamaica safe right now?
Yes – Jamaica gets a bad reputation for crime and violence, however, it does offer some fantastic places to visit that are very safe for you to visit.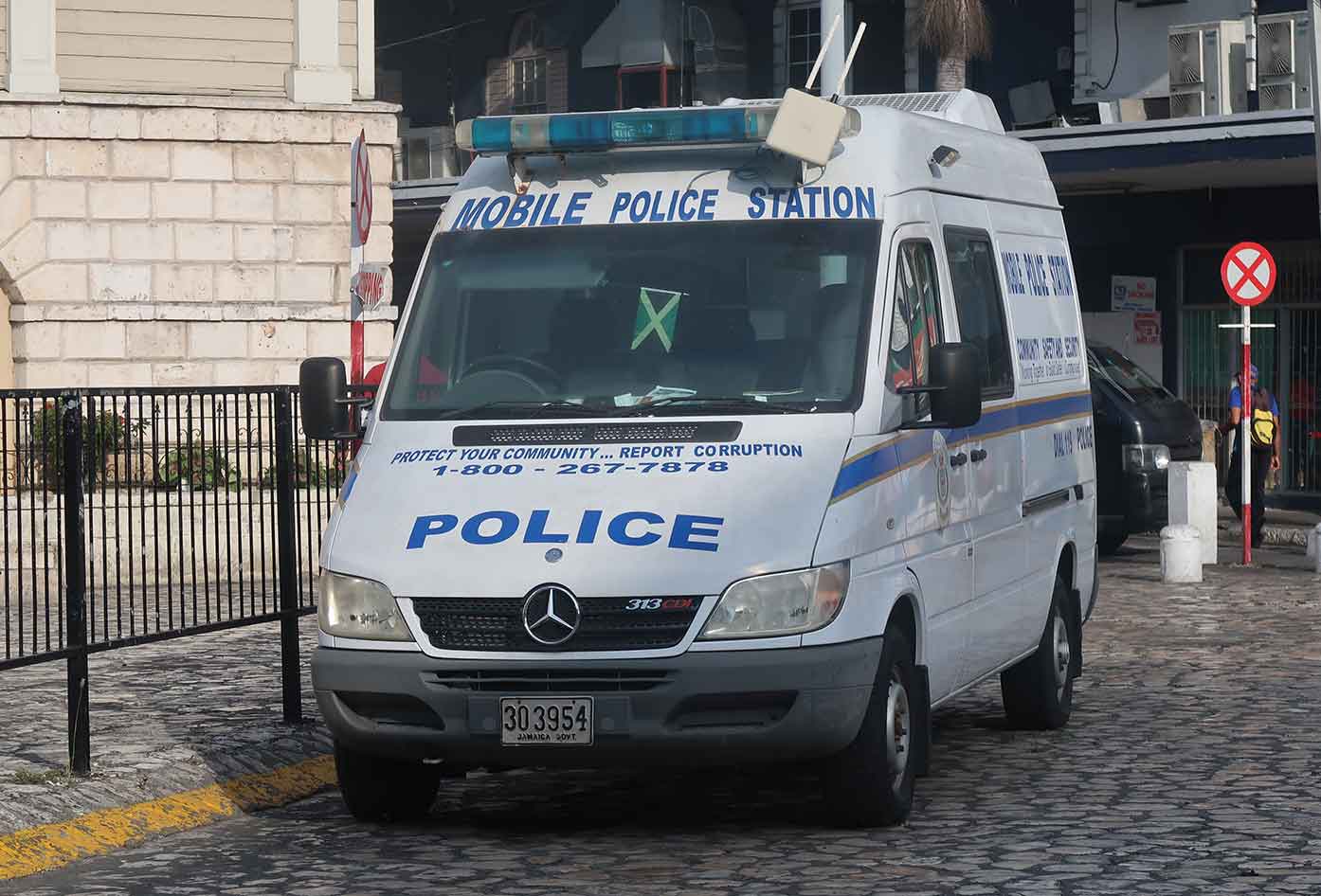 Despite all the Jamaica travel warnings seen in the news, I've found that speaking to locals is by far the most effective way to learn where to avoid.
Jamaica is full of culture, and locals are happy to share their history, cuisine, geography, and much more of their spiritual knowledge.
Also, getting the locals take on where not to go is a sure-fire way of avoiding the most dangerous places in Jamaica while on your travels.
Where is Jamaica on the map?
Use the map below to see where Jamaica is in relation to other countries and so you can begin to familiarize yourself with places on the island.
Remember to take your time, enjoy and embrace life here. There are even some cheap places to stay in Jamaica for budget travelers and backpackers.
So, as long as you listen to your host in Jamaica and/or any rules given to you on tours, you'll have no problem making the most of your time here.
Jamaica Crime Rate
Has your country issued any travel warnings for Jamaica? For example, the United States Government issued a level 2 travel advisory 2019 for people visiting Jamaica. Now, in 2023 the Government have raised it to a level 3.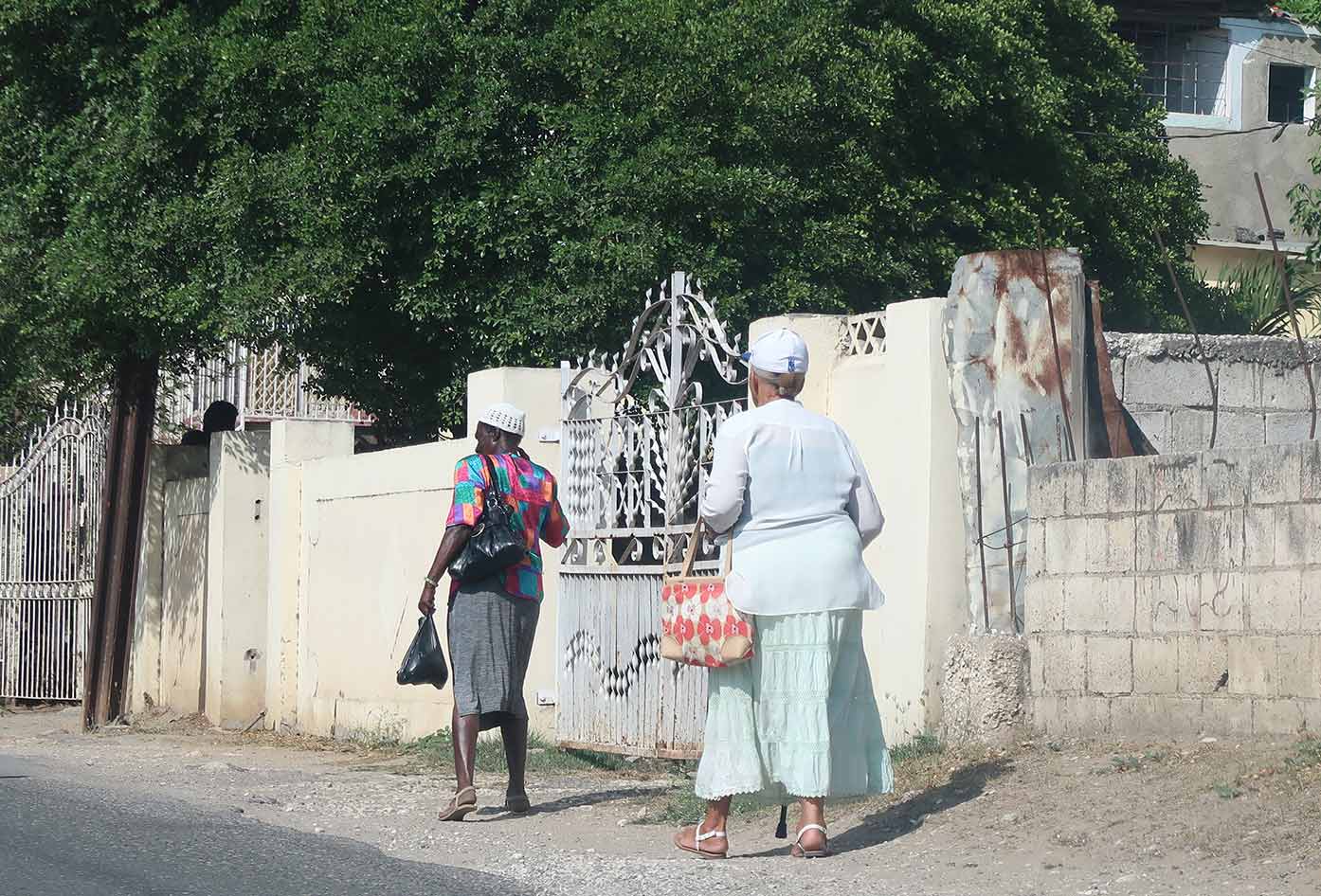 The British Government also issued travel advisories for Jamaica, too. Despite more than 225,000 visitors in 2019. But should you let this put you off traveling here, or perhaps visit another Caribbean island instead?
See some of the crime statistics for Jamaica below:
In 2017, over 217,000 British travelers visited the island with a vast majority of visits being trouble-free. Millions visit Jamaica each year and many have a fantastic time taking in the culture!
Crime against tourists is relatively low, but it does happen. There have even been reported cases of sexual assault at all-inclusive resorts.
Always remain aware of your surroundings, leave your valuables at home or in the hotel safe, and trust your intuition on the road.
Safety in Jamaica should always be a top priority. If you're traveling to Kingston you'll notice a much different vibe to that of Negril or Ocho Rios.
With all of this in mind, you should eventually be able to lie on the beach, relax, and enjoy your trip to Jamaica like never before.
What is the safest place in Jamaica?
In this section, we'll talk about some of the bad parts of Jamaica to avoid, and cover the beautiful parts of the island you must visit.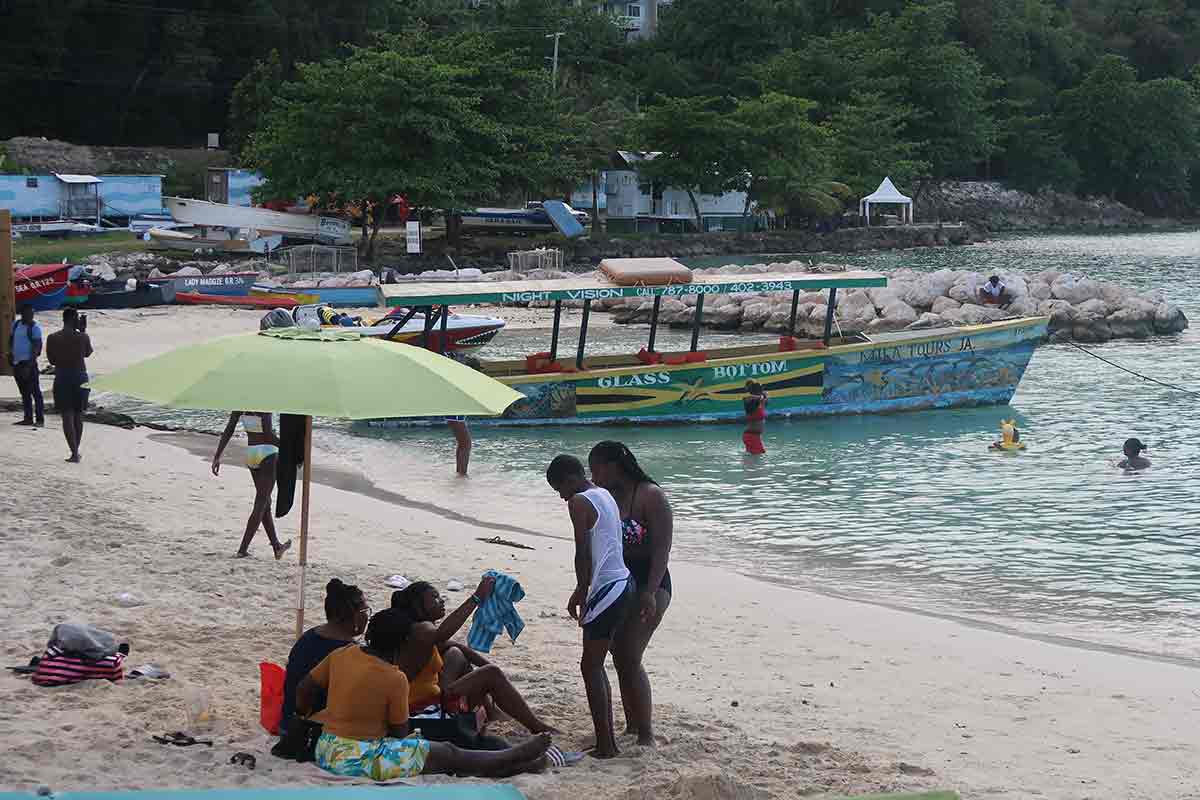 You'll quickly learn that it is more about avoiding the dangerous slums in Jamaica than it is about trying to find safe places in Jamaica per say.
There are plenty of good areas to see, so personal safety in Jamaica shouldn't be a problem. Especially once you've digested the tips below.
Bad parts of Jamaica to avoid
When considering the bad parts of Jamaica you may start to learn that they are generally areas that are currently under police or military occupation.
Places such as Denham Town in Kingston and even Mount Salem located in Montego Bay are known to have had a military presence.
In these areas, you'll encounter local curfews and a heavy police presence.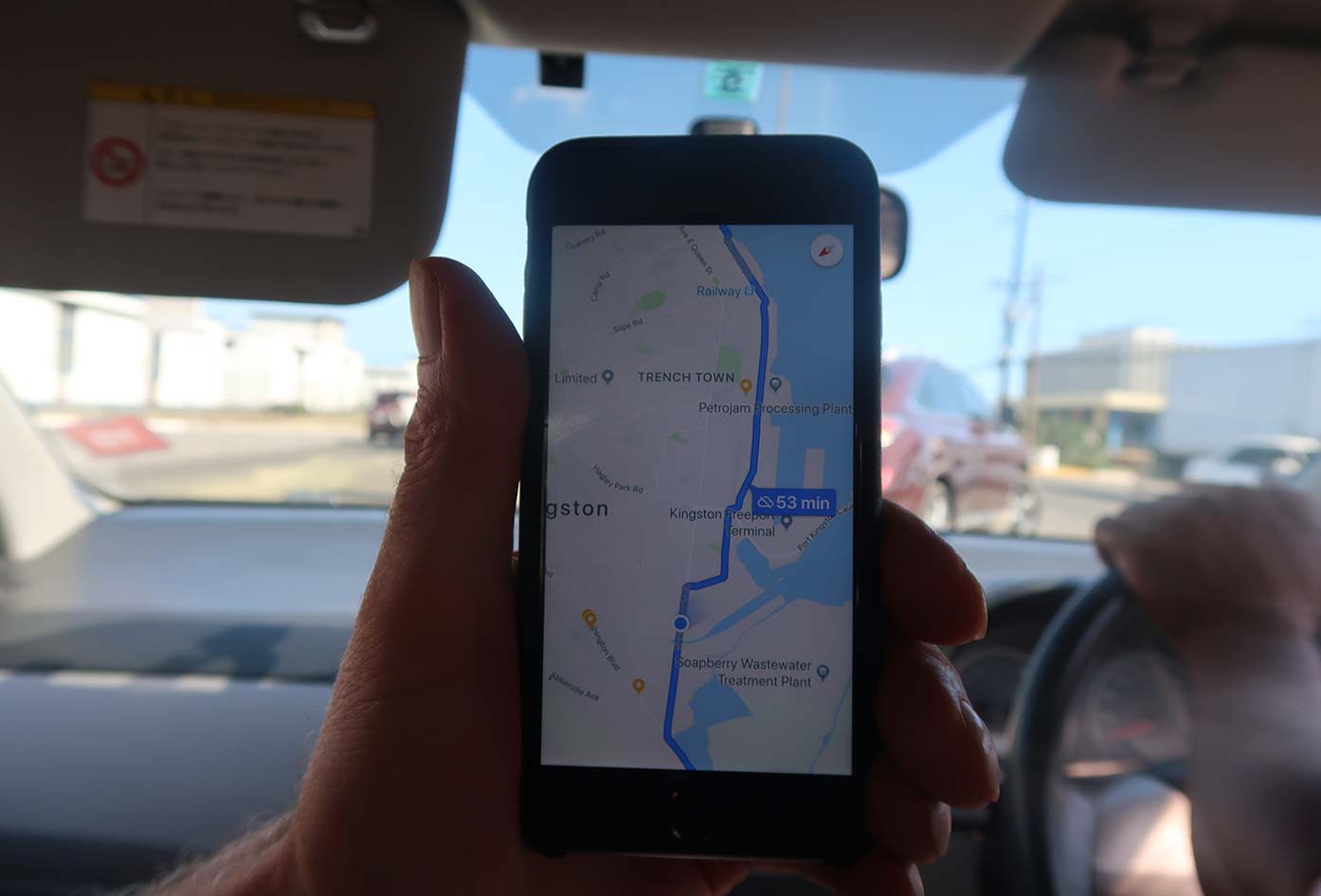 You can learn more about safety in Montego Bay as a visitor to the island on this blog. Also, if you pay attention to certain news articles you most definitely hear about gang violence going on in some of the local areas.
You could still venture into certain neighborhoods, to get some good old Jamaican street food but be careful and aim to avoid venturing at night.
Let's say you are in a closed resort or traveling with a trusted person that you already know from the island, that's different. It's wise to follow the advice of the person you are with providing they are to be fully trusted.
💡Smart Travel Tip
A bit of Patois goes a long way here on the Island. I practice with family and sometimes use books to increase my vocabulary click here to learn more.
Is jamaica safe for tourists?
Yes, of course! Whether you are visiting one of the famous landmarks in Jamaica or not, the key is to be polite, but firm in your dealings with people.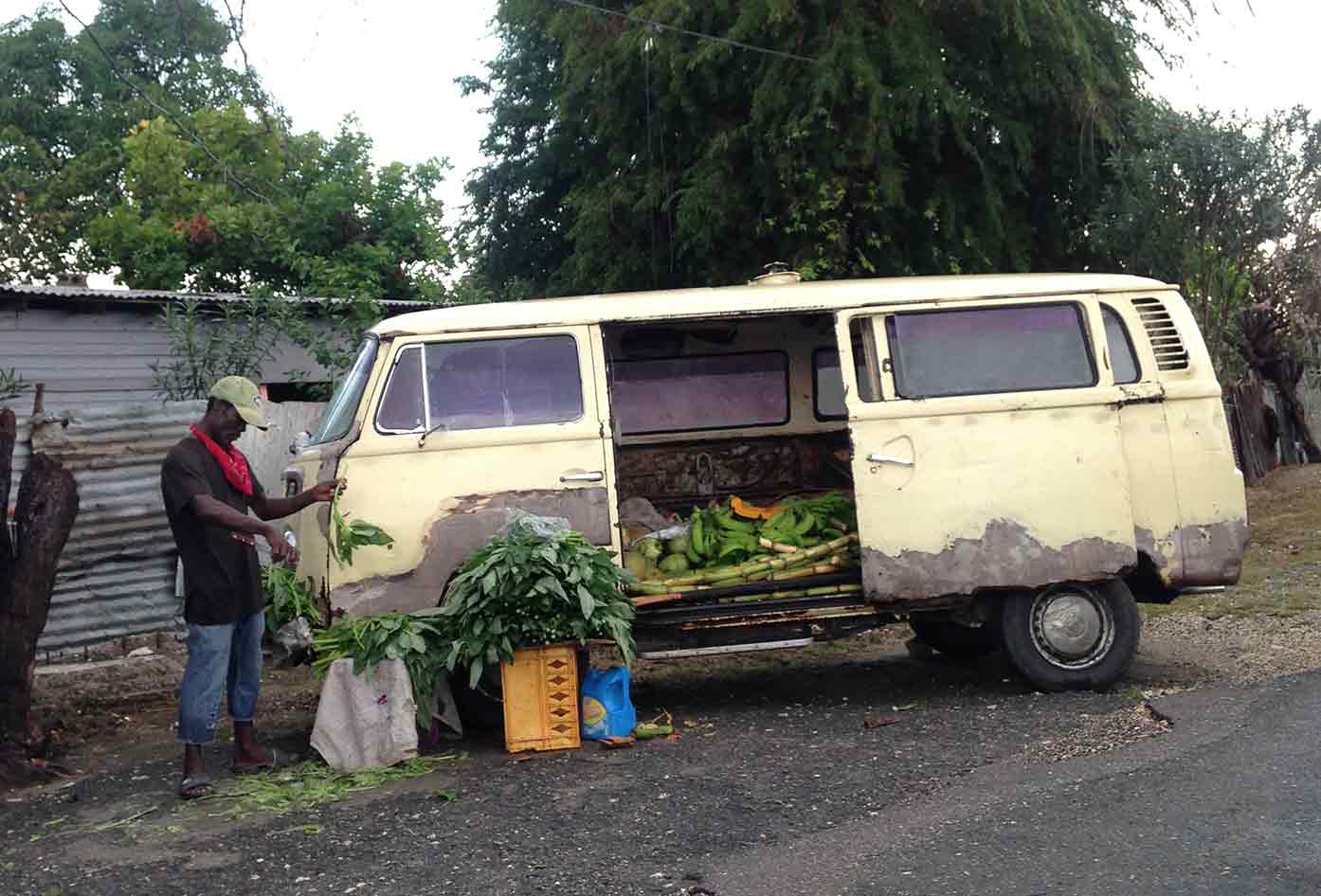 This way you'll avoid any kind of trouble between yourself and the locals.
You can set your boundaries and make sure they understand what you want and don't want very clearly.
No matter what you plan to do in Jamaica, even if it's just to go to see the sunset at Rick's Café or drink a cocktail, you can have a great time here.
Know your limits and stick to universal tips for safety in Jamaica. Generally, Jamaicans aren't shy when sharing their culture with visitors.
Consider these general safety measures when visiting Jamaica:
Avoid petty theft by keeping valuables out of sight and secure
Take extra precautions at night and consider a registered taxi service rather than walking too far
Always be aware of your surroundings
Be firm yet polite to people you don't know
I've listed a few cultural elements you may like to experience:
Leaning about Rastafarians and the spiritual side of Jamaica
Having a Jamaican bean to cup coffee experience
Visit Bob Marley's house and learn about his life
Jamaicans like it when you can speak their lingo, so don't feel embarrassed about saying Wagwan (What's going on) or one of the other greetings.
It goes without saying, the locals will already know you're not from the island so they will usually understand you are just embracing the culture.
Is it safe to travel to Jamaica alone
Not only will you want to work out the best time to go to Jamaica but if you're traveling alone be alert, and aware of your surroundings.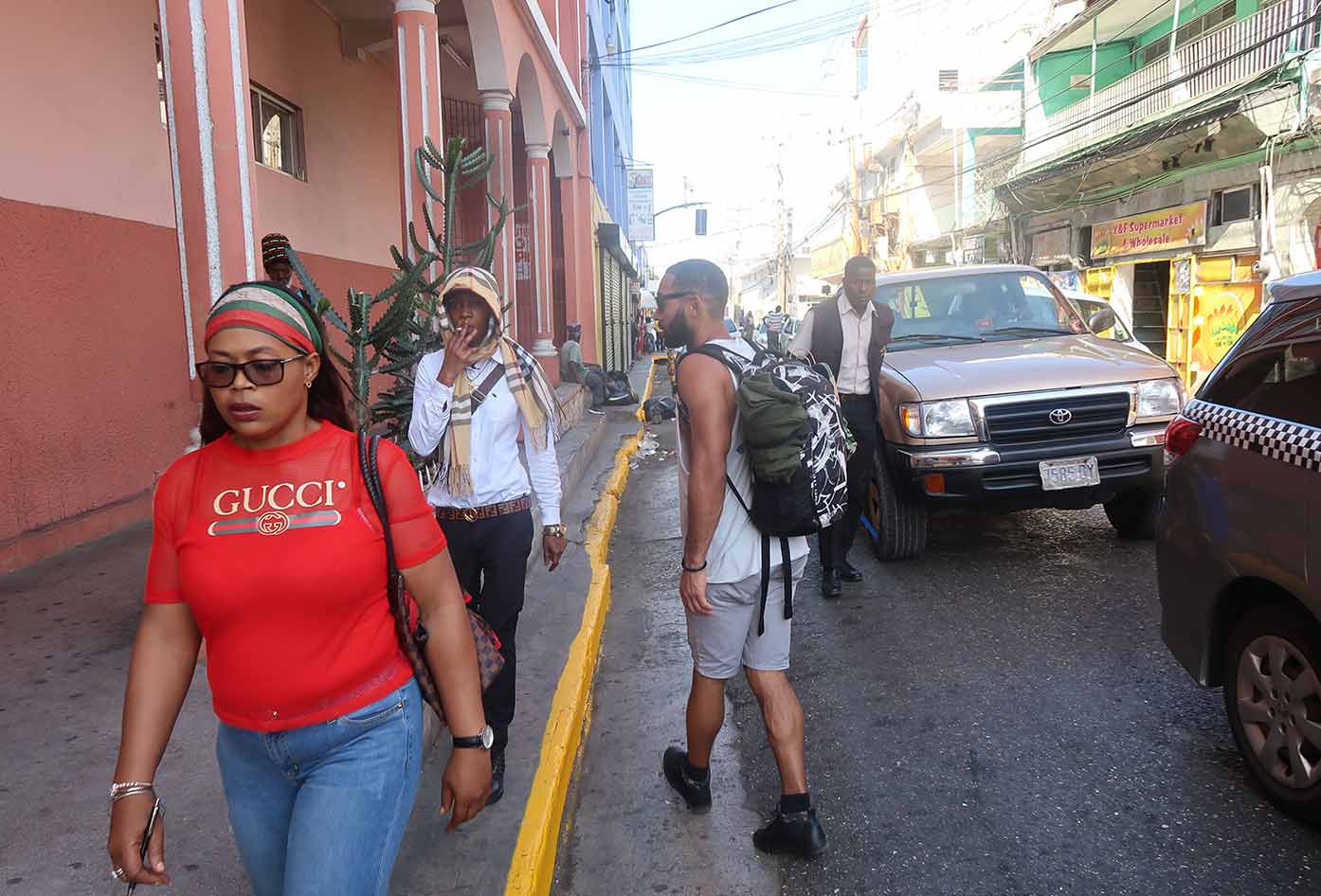 This applies not only when close to the notoriously dangerous area in Jamaica but all over the island. Especially on the outskirts of the cities.
Make sure that you plan ahead and if you are a female traveling alone in Jamaica, you are extra aware and alert of what's going on around you.
This is well documented online as there have been reports that females are often subjected to sexual harassment in Jamaica, which may (or may not) be based on past experiences that locals have had with female tourists.
Once you understand the cultural differences and get to grips with how people approach you, your safety in Jamaica shouldn't be such an issue.
Keep track of the following safety factors:
Watch what's going on around you
Be aware of everything
Use ATMs in busy areas
Don't look wealthy
Stay in busy areas
Don't create habits
Pay for a route taxi
Lock all doors and windows in transit
Avoid demonstrations
In many cases, you may find it rewarding to do excursions, for example, the Private Bamboo Raft Cruise is one of the most popular among tourists.
Is jamaica safe at night for tourists?
Under the cover of darkness, crime tends to increase. If you find yourself out at night, be aware of your surroundings, and avoid walking alone, especially at beaches and dimly-lit isolated locations.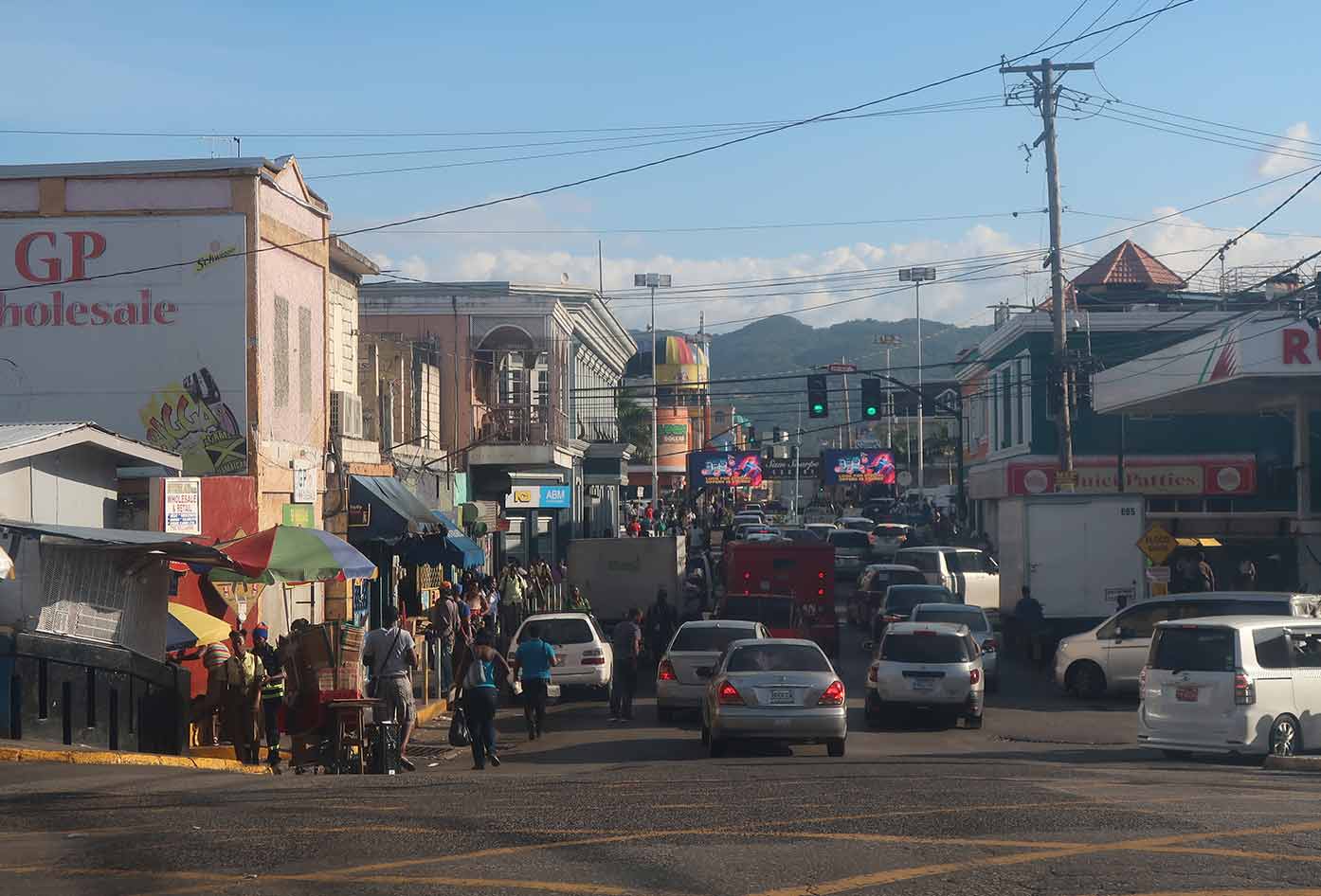 Avoid using public transportation in the early evening and at night.
Either hiring a car or staying within designated tourist destinations at night will make you less likely to become a victim of a crime.
Using public transportation in Jamaica is not as difficult as it appears and you'll find that the local buses are the most common for longer distances.
As you become more acquainted with Jamaica you'll quickly realize that there are a few different options for traveling around the island.
For example, if you land in Montego Bay, you may wish to go to Negril or Kingston. Or, even head down to Treasure Beach in the south of the island.
Is it safe to drive in Jamaica?
Are you thinking about hiring a vehicle and driving for yourself in Jamaica?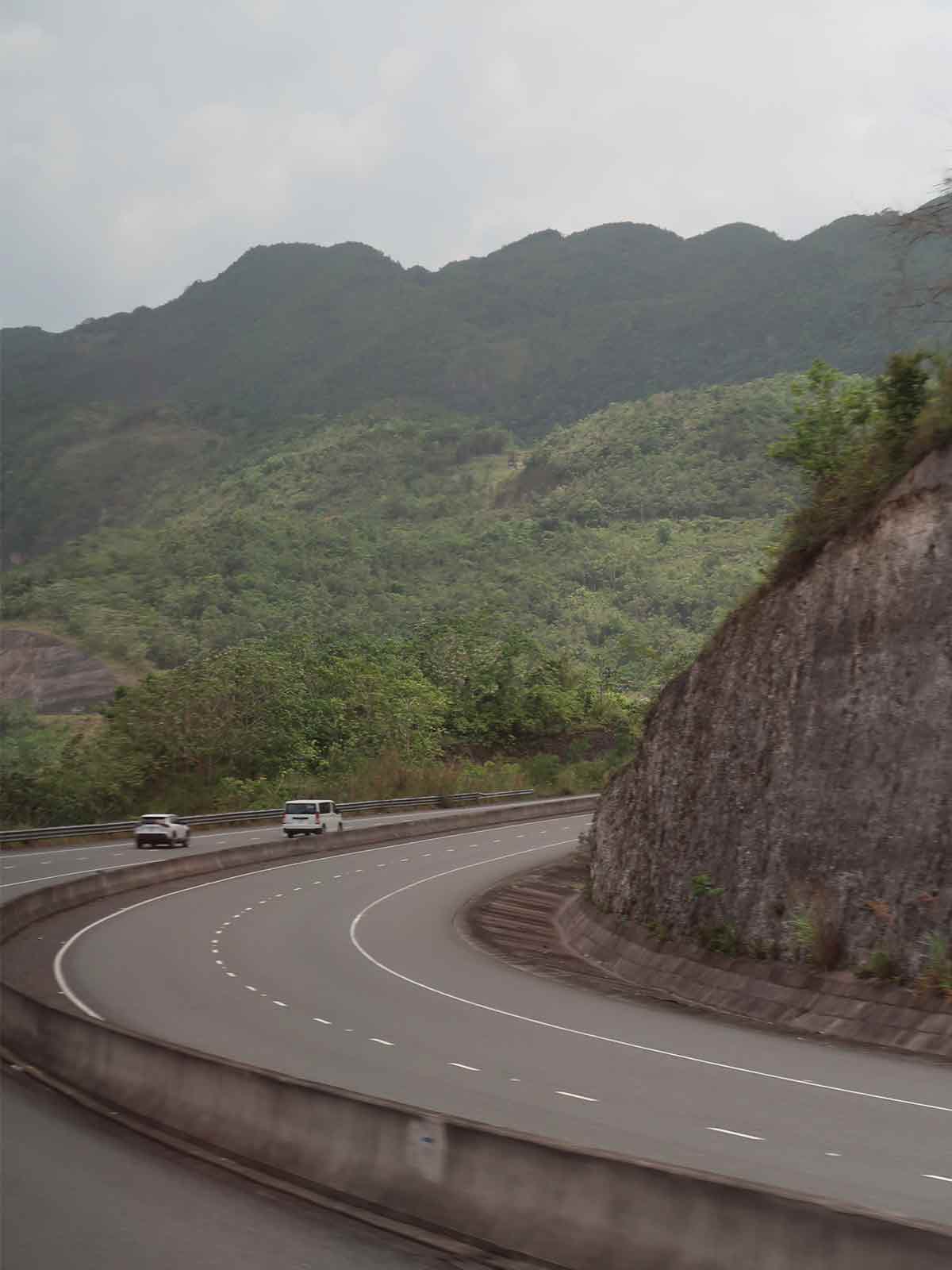 It's safe to drive, just make sure you know the rules of the road.
You can still maintain safety in Jamaica while driving if:
Drive on the left
Speed limits in kilometers per hour
Drinking limit is 35 mg
Speed limit is 110 kph or less
Must be 18 to drive
Must be 21 to rent
Hands free driving only
Call 119 for emergencies
You must wear a seatbelt at all times!
Now you know some the basics of driving in Jamaica and have looked at the options available, how will you choose to get in and around the island?
The general rule of thumb for Jamaica is the following:
1. Be Careful
2. Be Polite
3. Be Honest
With those three rules, you won't go wrong, and you'll be safer in Jamaica.
Is it safe to hire a car in Jamaica?
Yes, it is safe to hire a car in Jamaica. The best option is to pick up directly from the airport on arrival.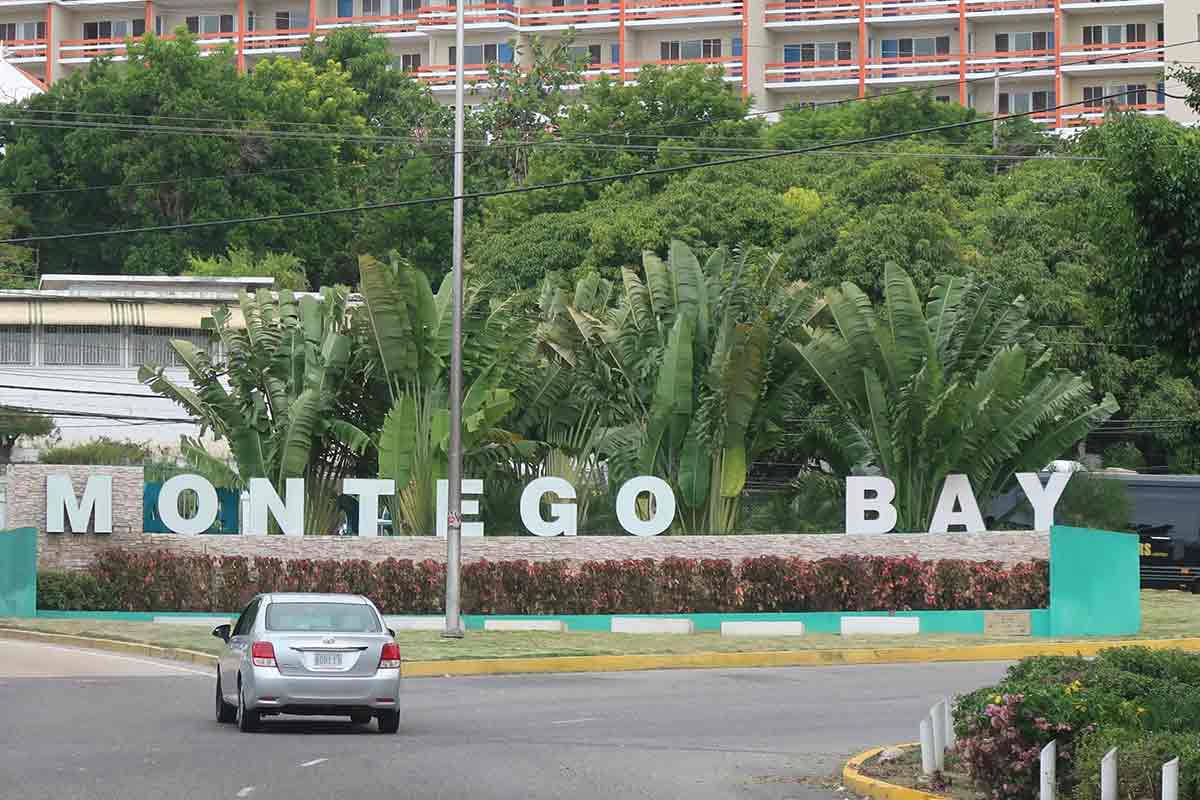 Not only does it usually work out cheaper but that way you can avoid getting ripped off by the taxi drivers who await you at the arrivals hall.
See these car rental prices to see how they compares to paying for taxis.
In my experience, when driving in Jamaica it has been more cost-effective to hire a car because while in tourist areas of Ocho Rios Montego Bay or Negril, you will get overcharged on most taxi fares.
In places such as Kingston and Spanish, you will want to move around on your own transport for safety reasons.
A few tips to take with you before getting a hire car in Jamaica:
Keep your windows up, especially at the stoplight
Take pics of all bodywork on the car before you leave
Note that Google Maps can lead you to the wrong destination at times
Always carry a cell phone with a local sim and sufficient battery
The other thing when it comes to renting a car in Jamaica be sure to have plans and places to go.
The last thing you want to be doing is driving around the same places lots of times throughout the day and throughout your stay.
You will draw attention to yourself and could run into issues with opportunistic locals who happen to spot you
Jamaica Travel Safety Tips
⤵️ Below are some useful tips to help you on your journey:
Finding out the best time to go to Jamaica and using common sense to stay safe goes a long way in preventing you from being a statistic.
Avoid wearing expensive jewelry and never EVER show large amounts of cash while out in public. Carry this money belt for extra safety.
Aside from the important factors I mentioned earlier, there are two very simple safety guidelines for Jamaica to follow. Which are;
When staying at places such as Mobay Kotch the staff go a long way in ensuring that you are well looked after and meet the right people.
While a majority of crimes against tourists are considered petty and property-related, some can be violent.
If you decide to go on a reggae cruise, spend a night out at a bar or do other late-night excursions, never leave your drink unattended or out of sight, and only take small amounts of cash with you.
Ensure that you're always aware of your surroundings. And, unless you're traveling alone, try to stay in a group of two or more people.
In some cases you may want to let the hotel or hostel staff know where you're going and what time you're planning on returning.
Why not take a look at this list of books about Jamaica to read up more about Jamaican culture before you arrive?
The tourist police patrol tourist destinations and hot spots. You can identify them by their uniforms, white shirt, hat and black pants.
Learn how to speak Jamaican Patois
You speak English, so why not try to talk like a Jamaican? As I mentioned earlier it is not seen as insulting here and displays cultural appreciation.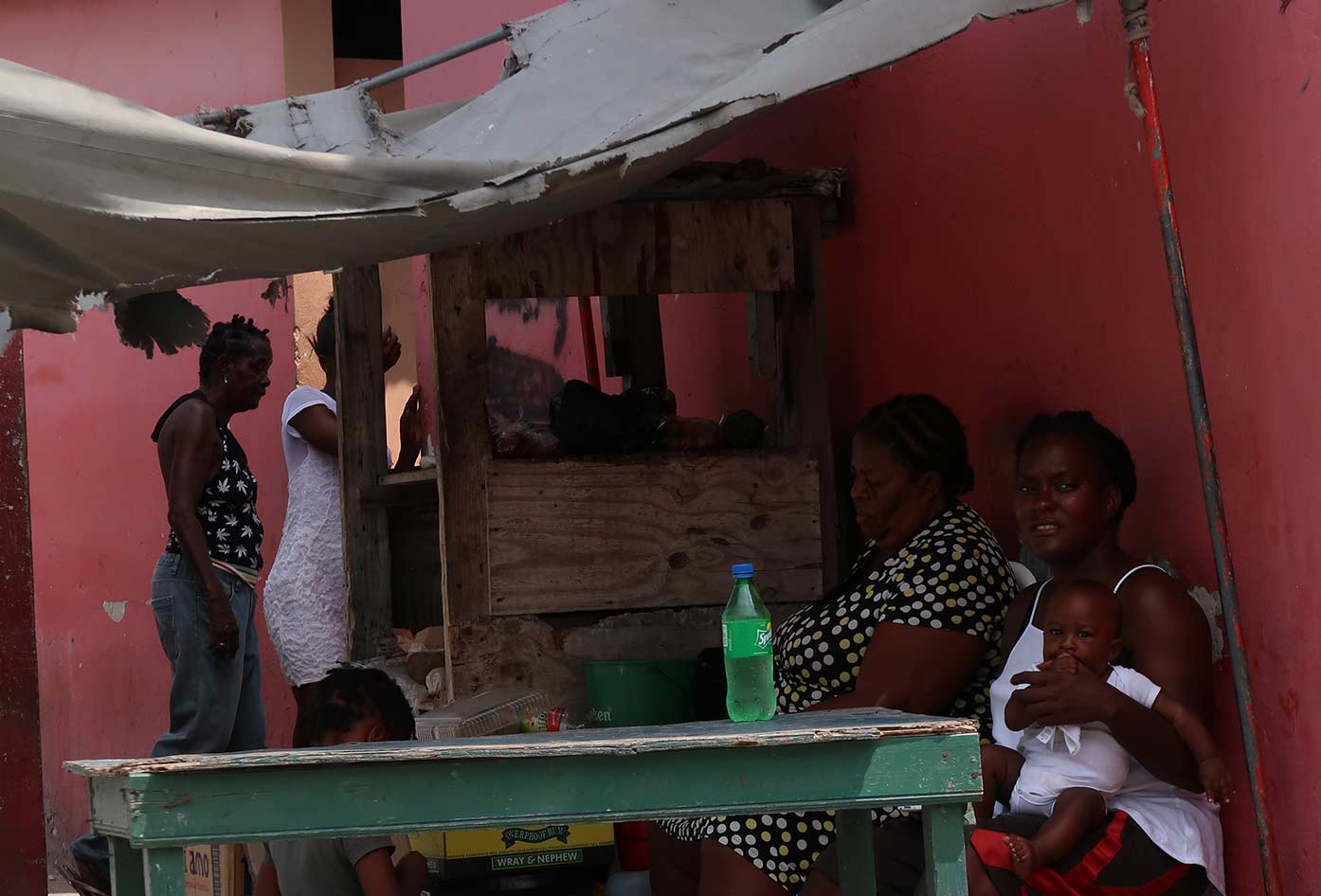 Although you can get by with English in Jamaica, there are a few common Jamaican words and phrases you'll need to familiarize yourself with to be able to connect with the locals on a deeper level (if that's what you want).
Find some great tips in this book to help give you a flying head start.
Got travel insurance for Jamaica?

Designed by travelers, for travelers, World Nomads covers more than 150 adventure sports and activities so you can explore your boundaries.
Jamaica Safety FAQs
See these frequently asked questions about safety in Jamaica:
---
Is Jamaica Safe 2023? Final words
As you get to know the island you learn that very few parts of the world are quite so open and as expansive – or liberal – as Jamaica!
With some of the best beaches in the Caribbean, a brilliant spot for food, lush landscapes, and majestic waterfalls Jamaica has lots to offer.
I hope you have enjoyed this safety guide to Jamaica and have taken away something practical to apply to your up and coming trip.
If you're in two minds still, why not read this travel guide which compares Jamaica vs Puerto Rico that also makes the ideal Caribbean getaway?
📌 Like this article? Pin it…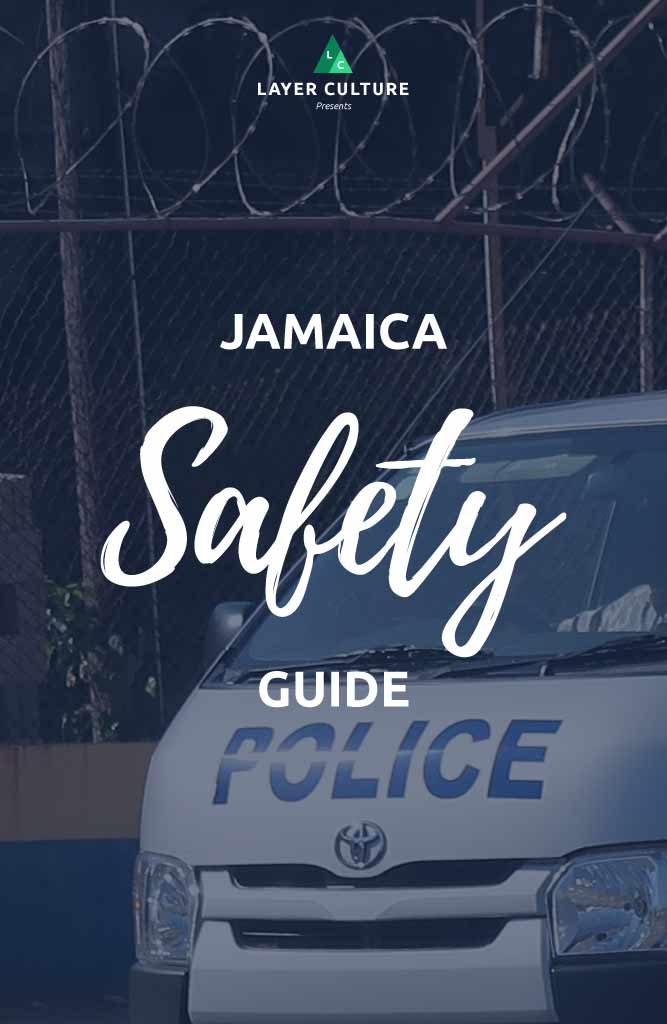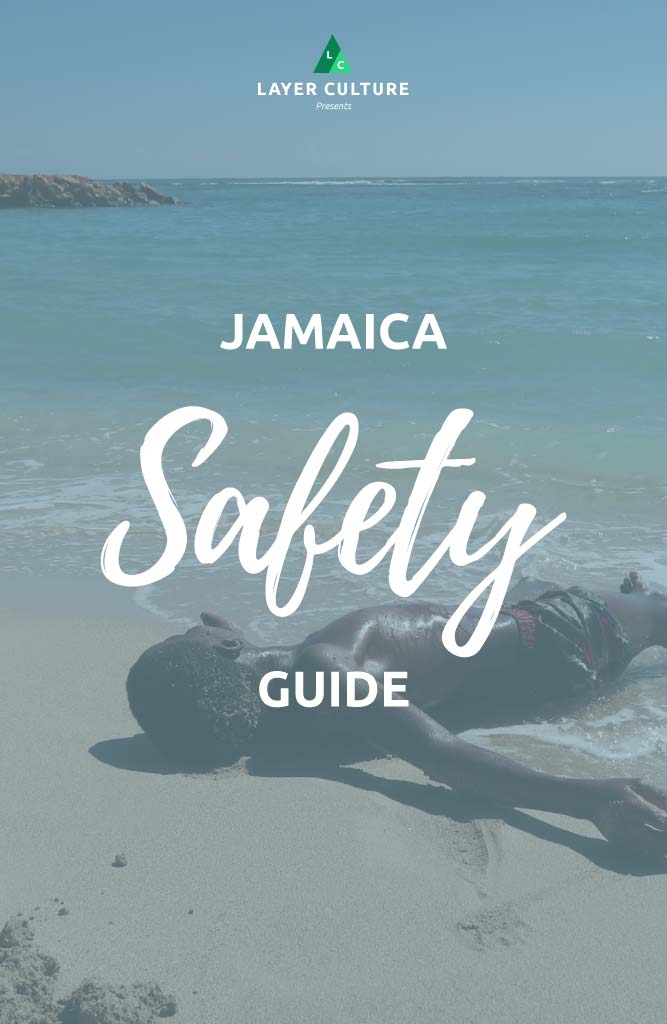 So, is Jamaica safe for you or is something stopping you from visiting?
💬 Leave a positive comment or lets start a conversation below!
---
"Dear friend! Some links in this post contain affiliate links. Meaning, if you click through and make a purchase, book a hostel or sign up for a tour, I may earn a small commission at no additional cost to you. Your support means a lot and helps me to keep traveling and maintaining the quality of this site for you."