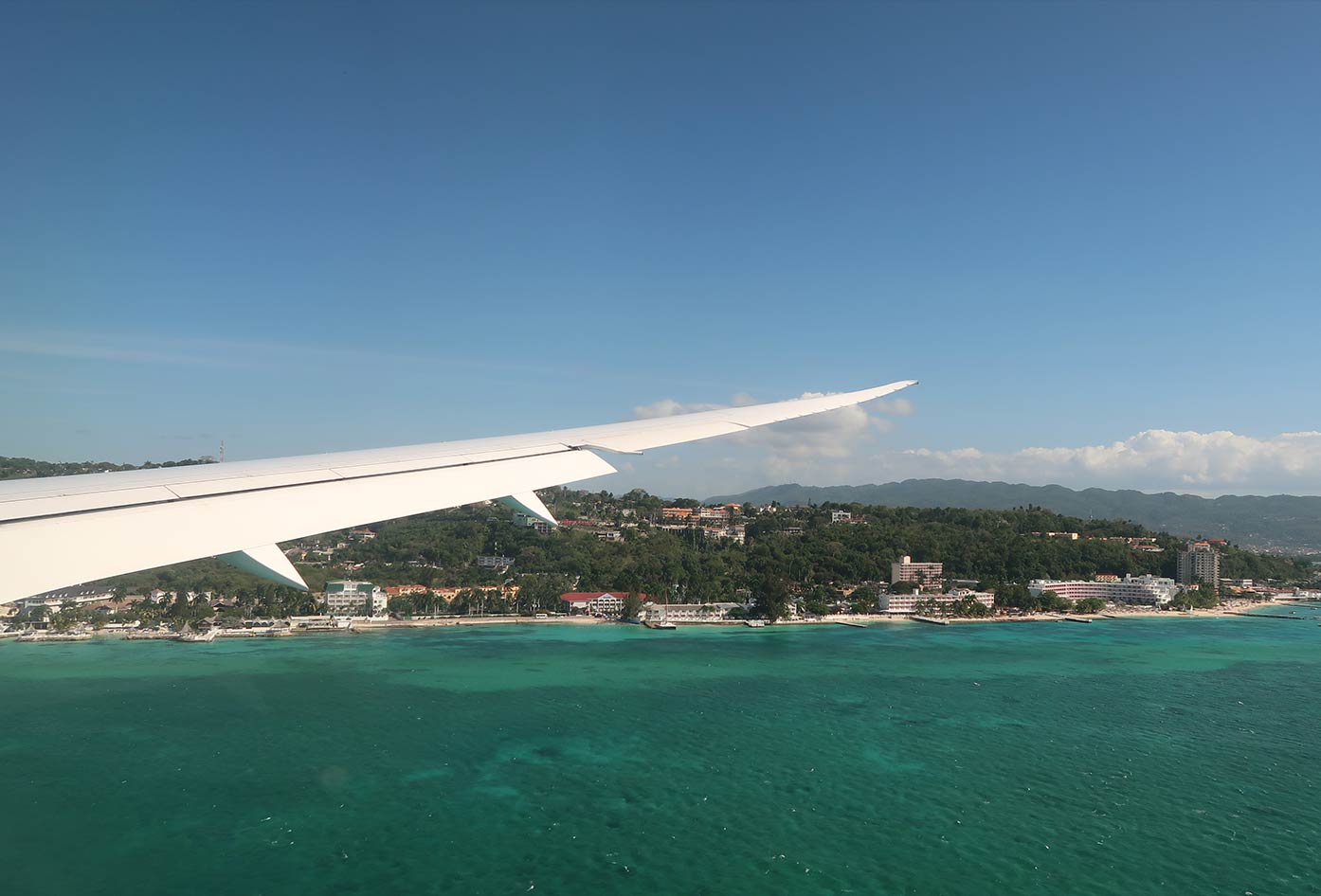 When comparing Montego Bay vs Negril which do you go for?
So you've decided to visit the proud island nation of Jamaica.
No problem! You've chosen the reggae, jerk chicken, and steel drums sort of vacation or travel excursion.
The dilemma of not knowing which is worth your time is sort of a privileged one as both spots are within quite close distance!
However, you already knew that! Let's look at the differences below.
Montego Bay vs Negril
Putting all ideas you may have about safety in Jamaica aside… Should you stay in Montego Bay, or should you fulfill a passion for Negril?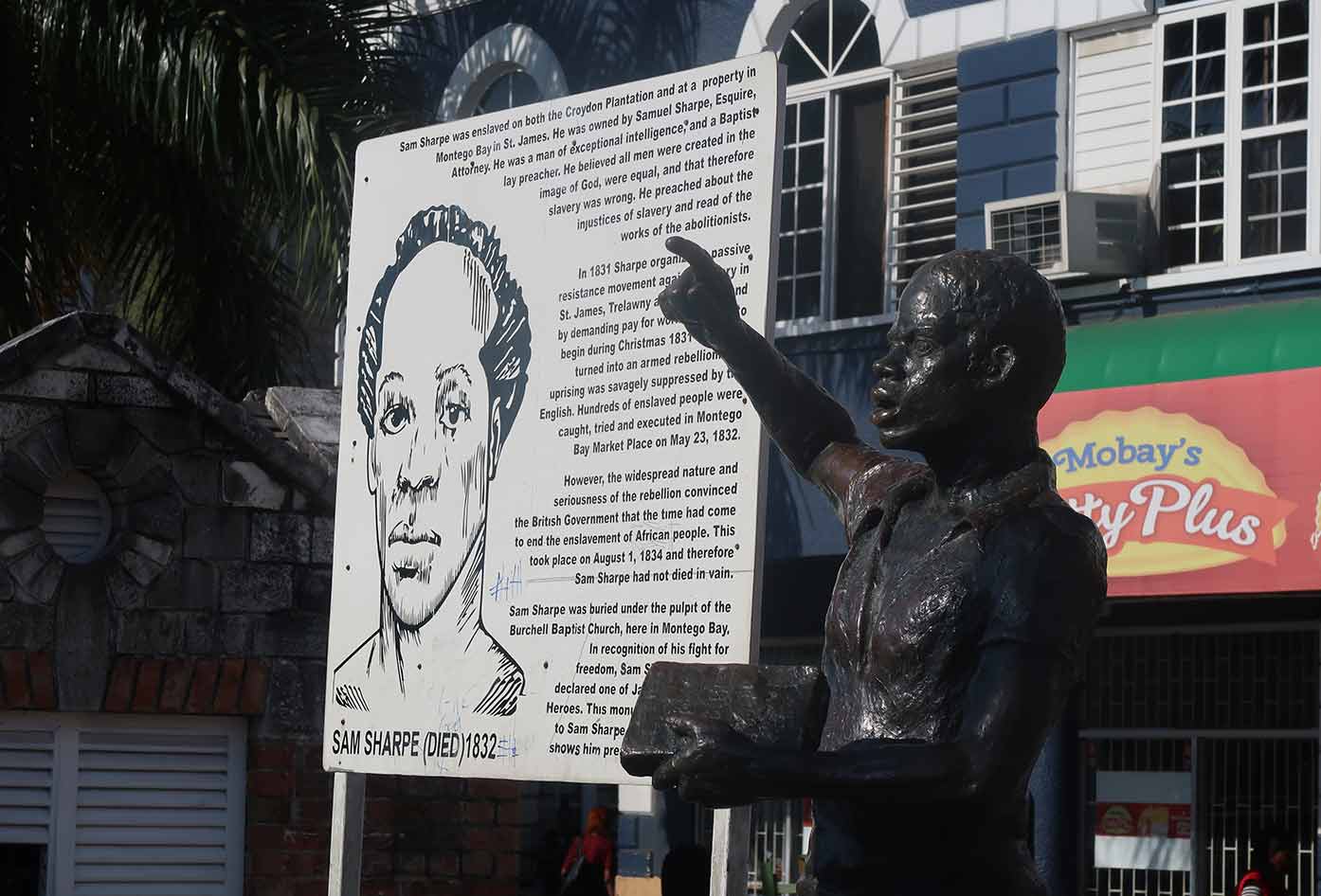 Rhyming aside, these are two of the best places to visit in Jamaica you can visit as a tourist and it is a question we get asked a lot.
So today we're pitting the two locations in a battle to see which is the best for your vacationing needs.
Let's get into it! We shall start with the one and only.
Montego Bay
The two most popular spots in Jamaica (apart from Kingston) are Montego Bay and Negril.
Both of them have beautiful white sandy beaches and clear turquoise sea, but so does the rest of Jamaica!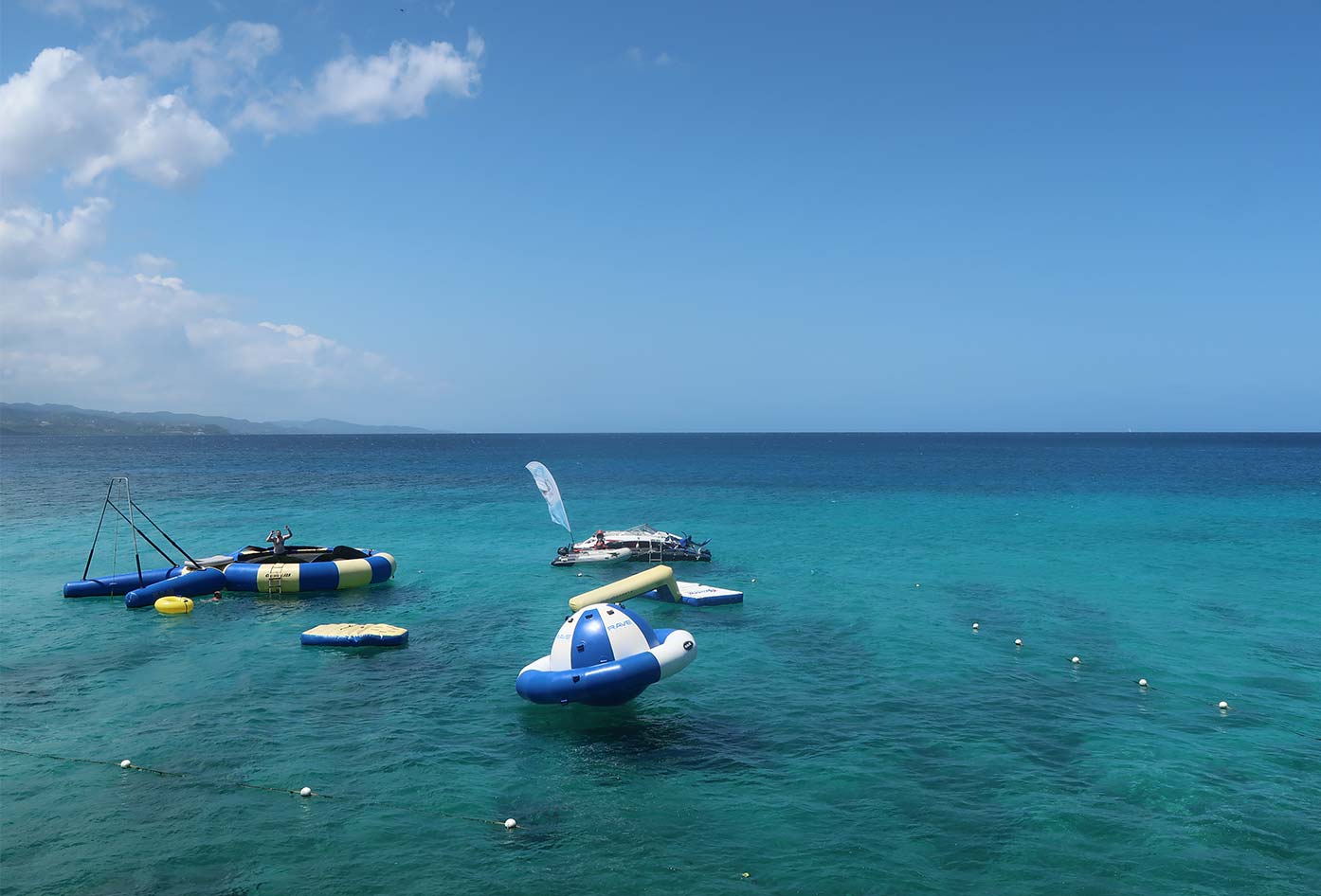 If you happen to be touring the island, see this guide on things to do in Kingston if you plan to visit Jamaica's capital.
However, there are a few differences between these two towns, and here are some aspects of Montego Bay you ought to know.
Where is Montego Bay?
The island of Jamaica has a strange shape to strictly name a section north or south since it is longer horizontally than it is vertically.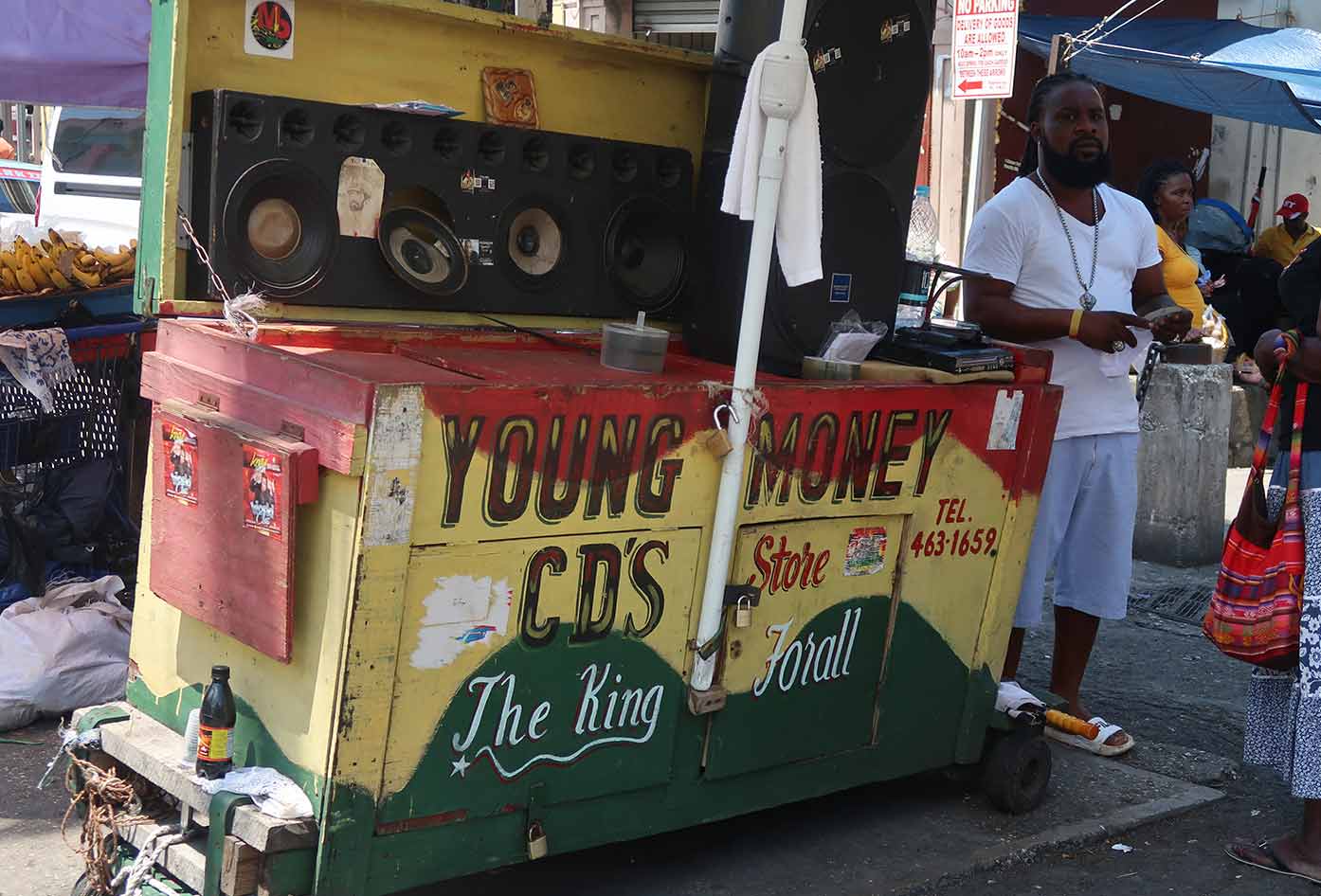 The important thing to know is that Montego Bay is the second-largest city in Jamaica, to the largest city (and the capital) Kingston.
Montego Bay is on the West side of the island facing north and Kingston is on the East side of the island facing south.
Jamaica is very mountainous, so you'll find that many of the main roads run along the coastlines of the island.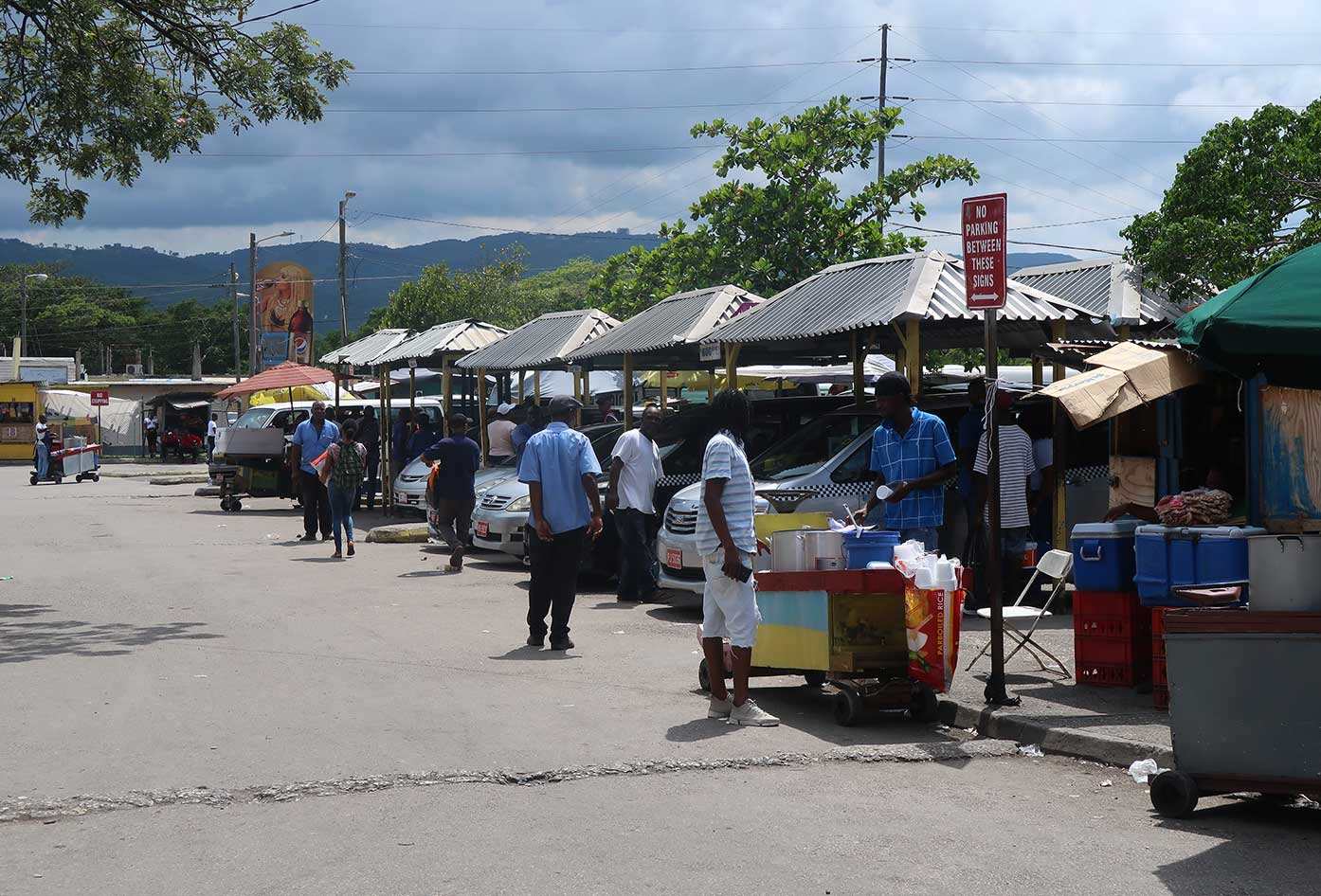 Directly ahead of Montego Bay's scope is Cuba and the Cayman Islands, whilst a couple of hundred miles off the east coast of Jamaica lies Hispaniola, with the nations of the Dominican Republic and Haiti.
If planning a trip to Cuba as well, you can get a flight from Jamaica which will likely stop in the Cayman Islands.
The nearest Central American nation to Jamaica is Honduras, which is several hundred miles away.
How far is Montego Bay From Negril?
If you're looking to reach Montego Bay, it does have its own international airport.
Sangster has many different incoming locations and outgoing departure locations.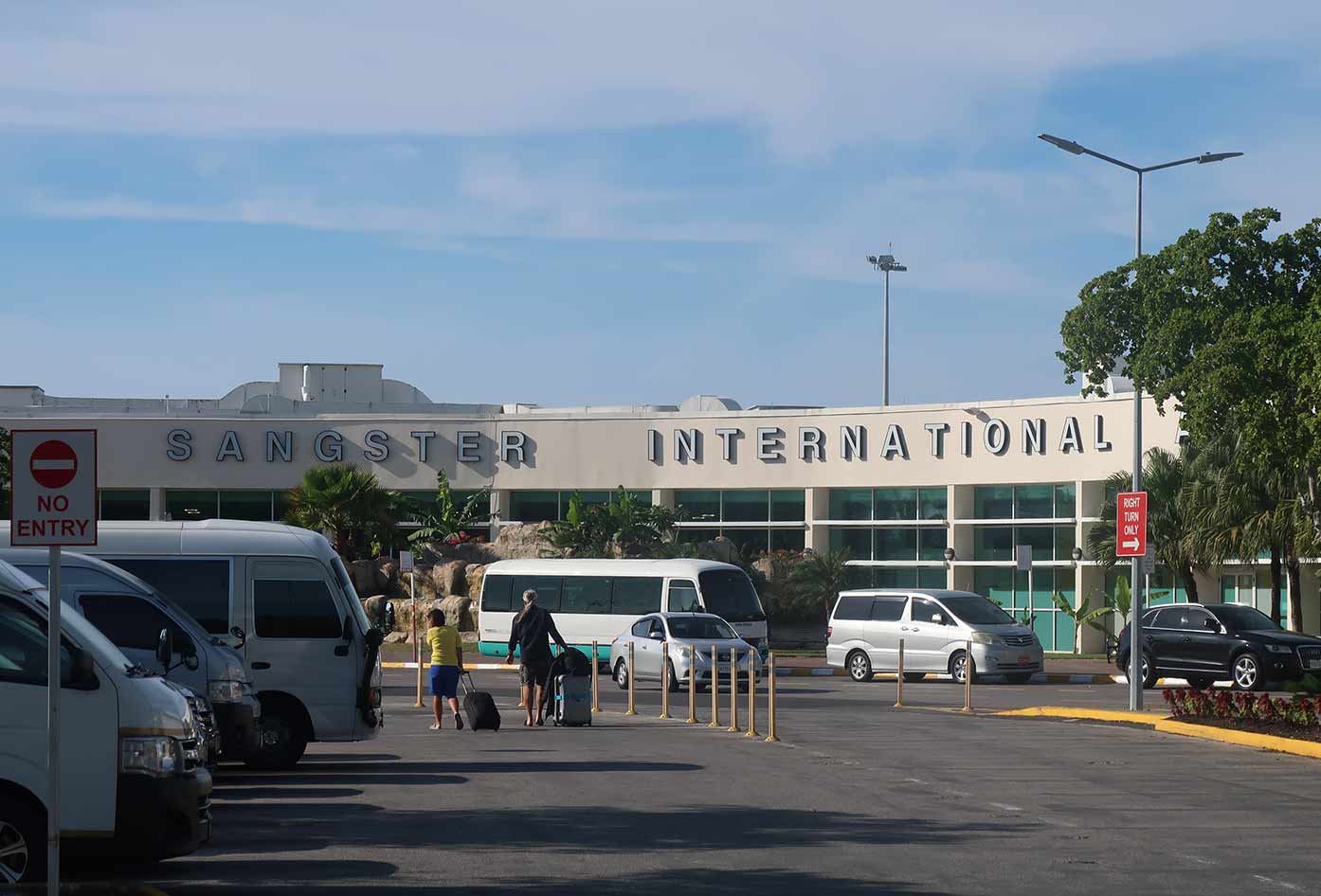 Kingston tends to have a larger volume of incoming vacationers due to the airport being larger.
Kingston's Airport, Norman Manley, has the necessary connections to other parts of the island.
You can easily get from Montego Bay to Ocho Rios as it's on the north coast of the island, but nearer to the east.
The other major airport in Jamaica is the Ian Fleming International airport near Ocho Rios. Which you may have read about in one of his famous novels.
Getting From Montego Bay To Negril
If you're looking to get to Negril, you'll have to be either incredibly rich, incredibly lucky, or both to get a flight there that isn't domestic.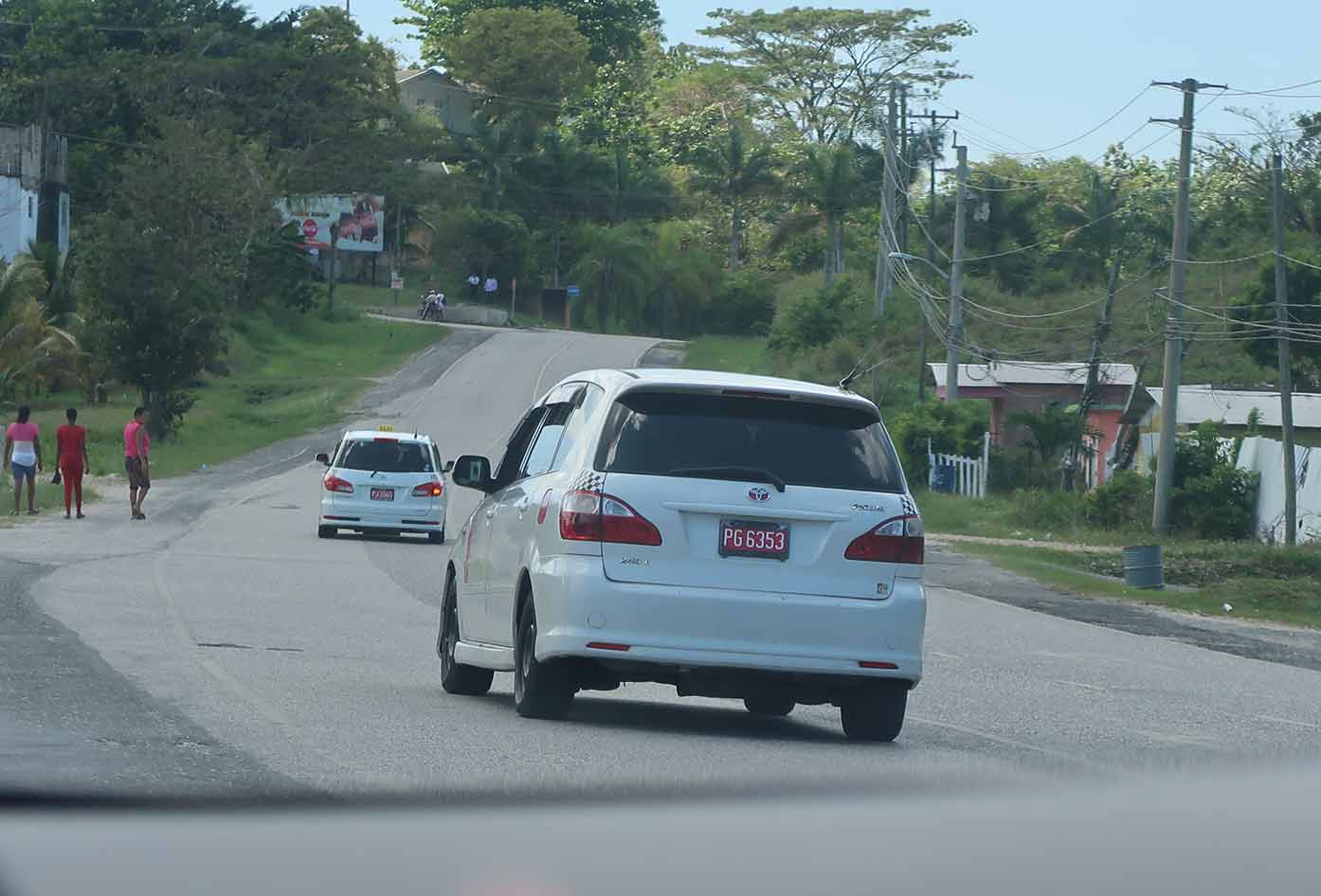 Negril does have an aerodrome, but the only flights that arrive there are the occasional domestic flights from Montego Bay.
Obviously you can rent a car here but most people who travel to Negril by bus, get a shuttle transfer, or a cab from Sangster Airport, which is about an hour and a half down the coastal A1.
Is Montego Bay Safe?
Montego Bay is a city, so it is not without crime.
But most tourists never encounter issues and if you exercise a normal level of care and concern, you should have nothing to worry about.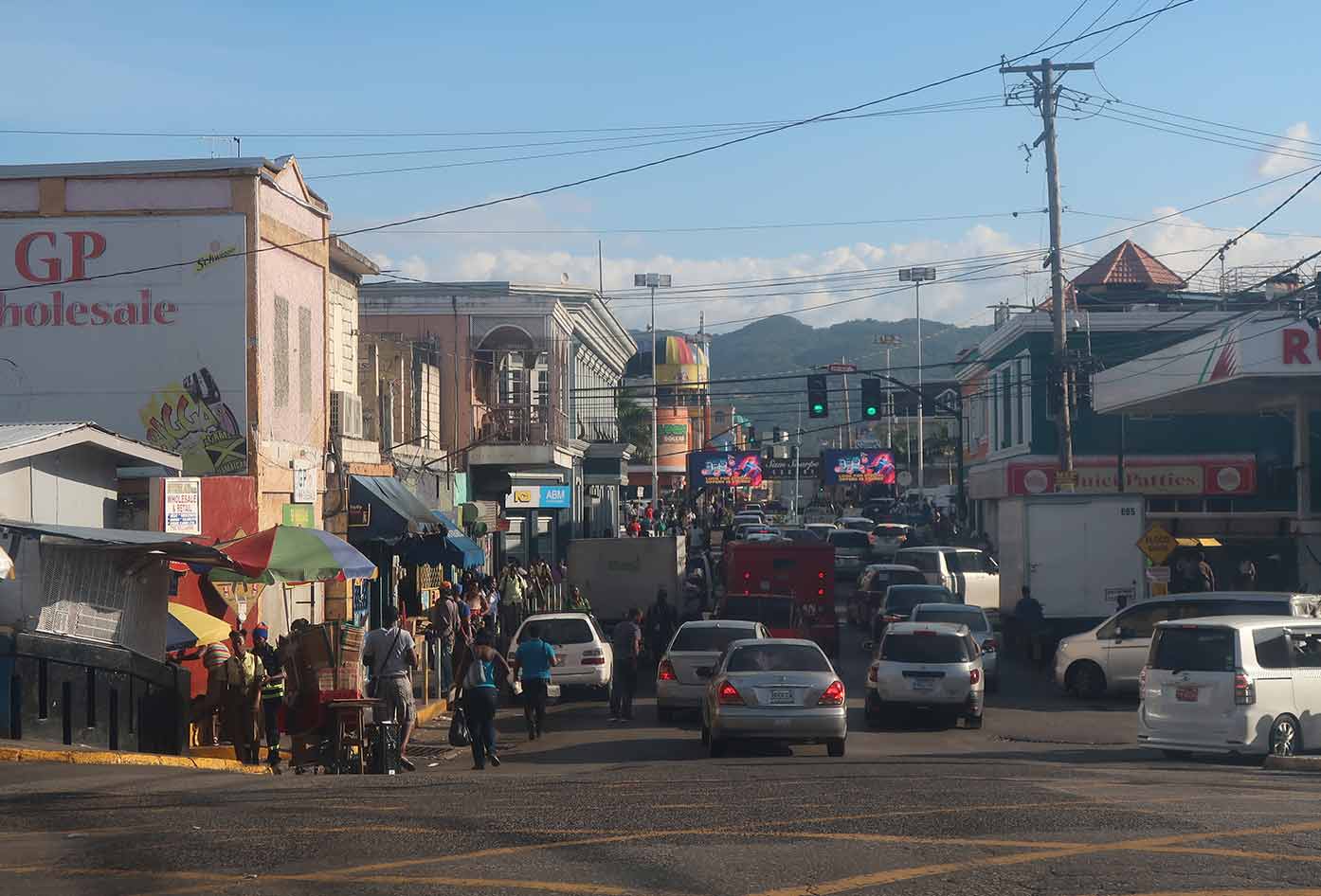 There are of course people who try to prey on tourists, so you don't want to leave cash or valuables in plain sight.
If you're traveling as a family or as a female solo traveler, you'd be better off and safer traveling by shuttle from the airport to your hotel or resort. See this guide to solo travel for tips on traveling alone.
Jamaica is infamous for its crime, but in reality, it doesn't take place until around the evening time.
Best time to go to Montego Bay?
Montego Bay has warm and pleasant temperatures throughout the year and there is little change in temperatures from month to month.
Because of its balmy climate and blue skies, the peak season for Montego Bay, and all of Jamaica for that matter, is between the months of January and March.
This is the most crowded season, most of the best beaches in Jamaica get busy and the hotels raise their room rates significantly.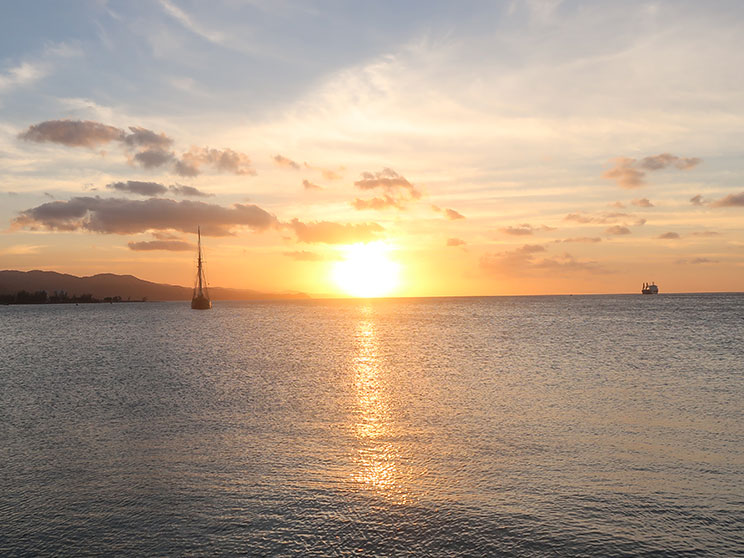 Rates at places such as the infamous S Hotel is much more reasonable during the summer and is located in a favourable part of Montego Bay for many.
You need to keep in mind that this is hurricane season – not a fun thing to experience. However, I wouldn't let that put you off booking your trip to the island.
The best time to visit Montego Bay is from November to mid-December when the weather is pleasant and the room rates are reasonable.
See this guide on the best time to go to Jamaica for more info.
Around this time, there are minimal showers but when they occur they never last more than ten minutes.
Negril
Negril is a small resort town, and it's famous for its beaches and turquoise water.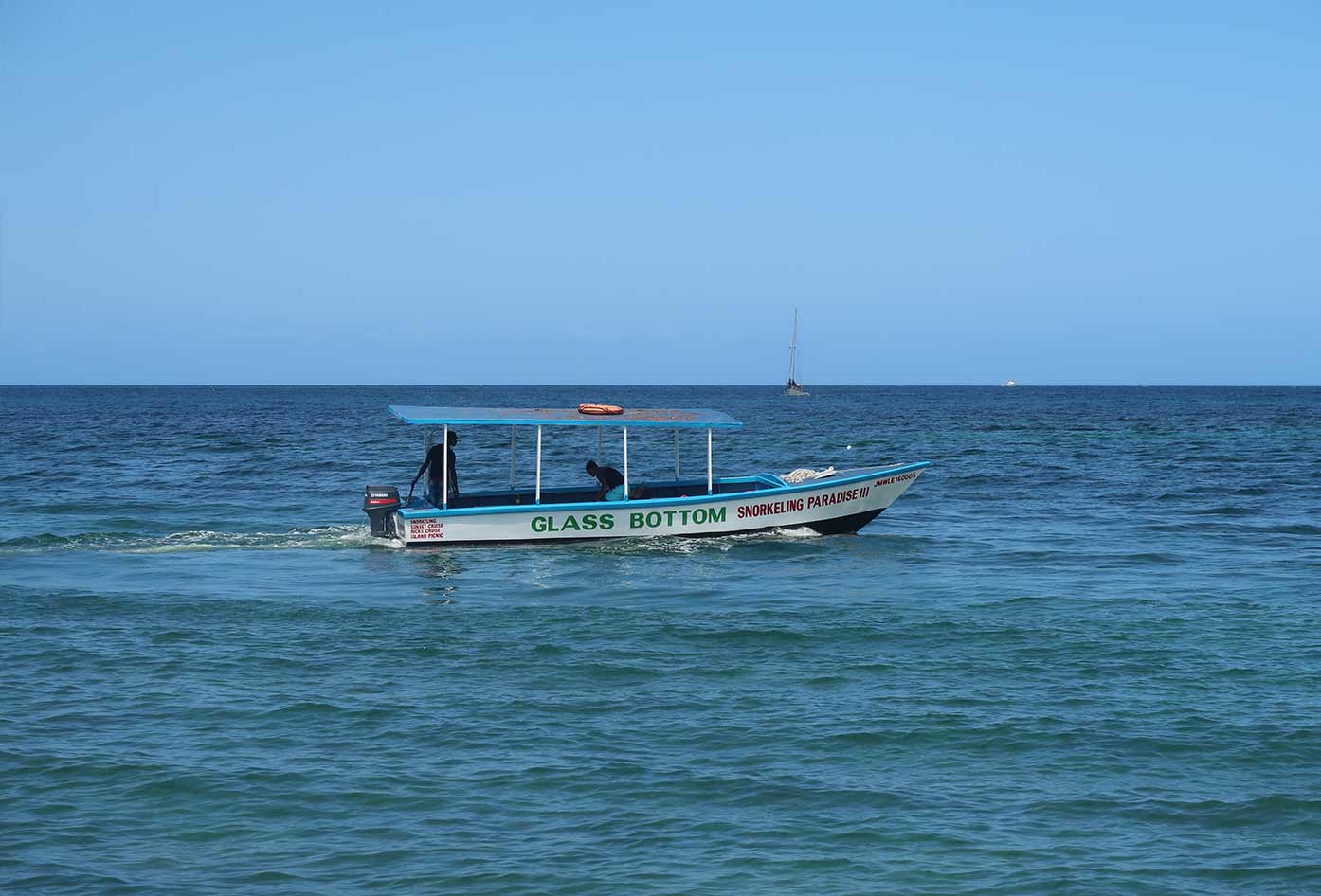 There aren't too many things to do there (like there are in Montego Bay), but it is the perfect spot for anyone looking to just relax.
There is a huge public beach, as well as a few private beaches that are very quiet and away from all the noisy complexes like near Montego Bay. This is what draws thousands of visitors a year: the quietness.
Where is Negril?
Negril is towards the Western tip of the island, with the nearest major links all heading east towards Montego Bay.
Aside from some of the best Jamaican Street food, you'll find. Negril has a plethora of beach options and resorts, but there aren't as many major tourist attractions as Ocho Rios in the north of the island.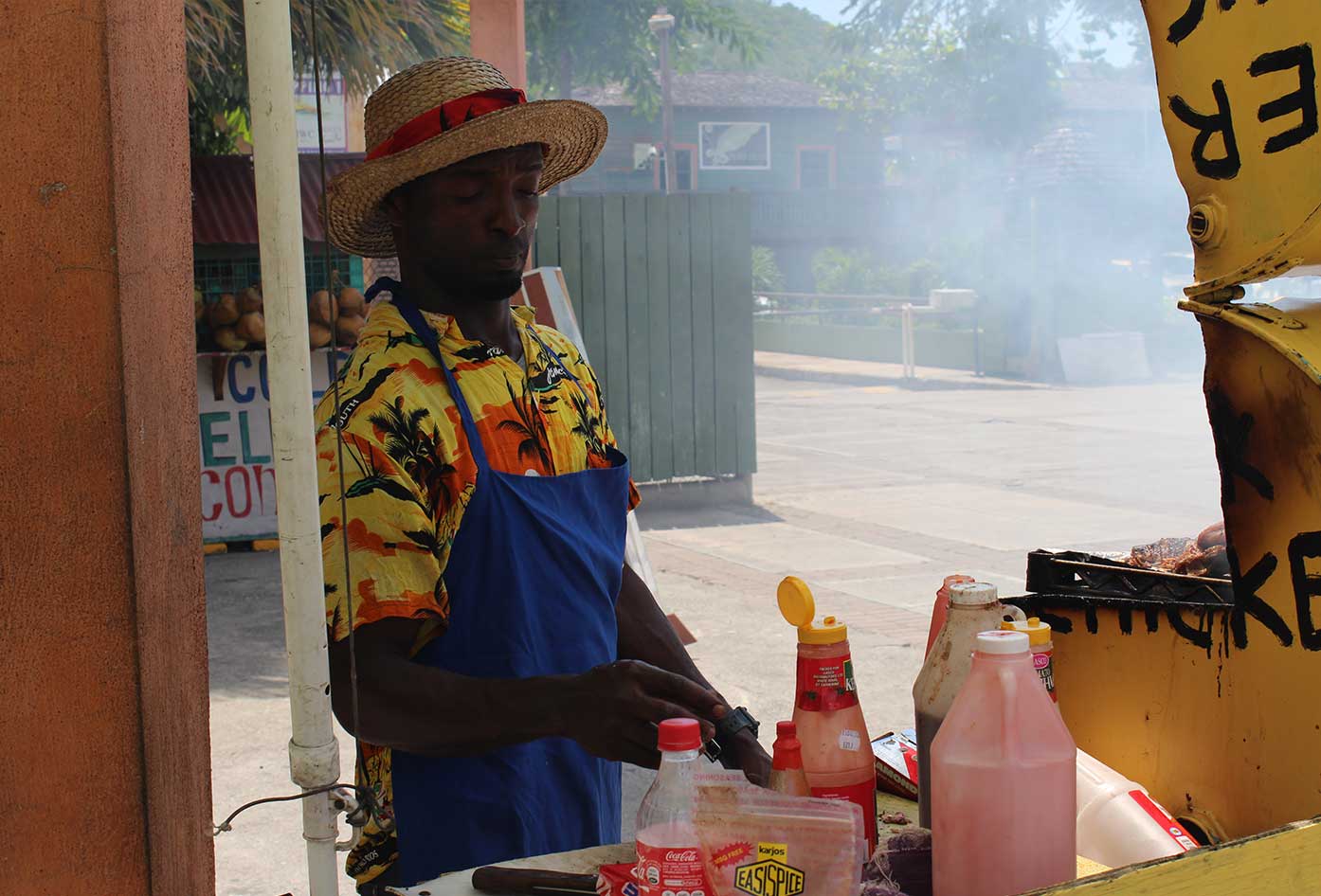 There are, however, a few spots for tourists to visit. See this guide on what to do in Negril for more ideas.
Kool Runnings Waterpark is great for the kids to play in and the Blue Hole Mineral Spring is an amazing naturally occurring pool/lagoon that's eerily similar to a Mexican cenote.
If you've read my guide on things to do in Riviera Maya in Mexico you'll know I talk about cenotes.
If you're looking for a lively spot to enjoy some music and laughter, then you have to check out Rick's Café.
Enjoy a bite to eat, listen to some live music performances, and jump into the sea all in the same place!
Is Negril Expensive?
Compared with the average prices in locations such as Cancun and other popular hotspots in the Caribbean, Negril is quite expensive.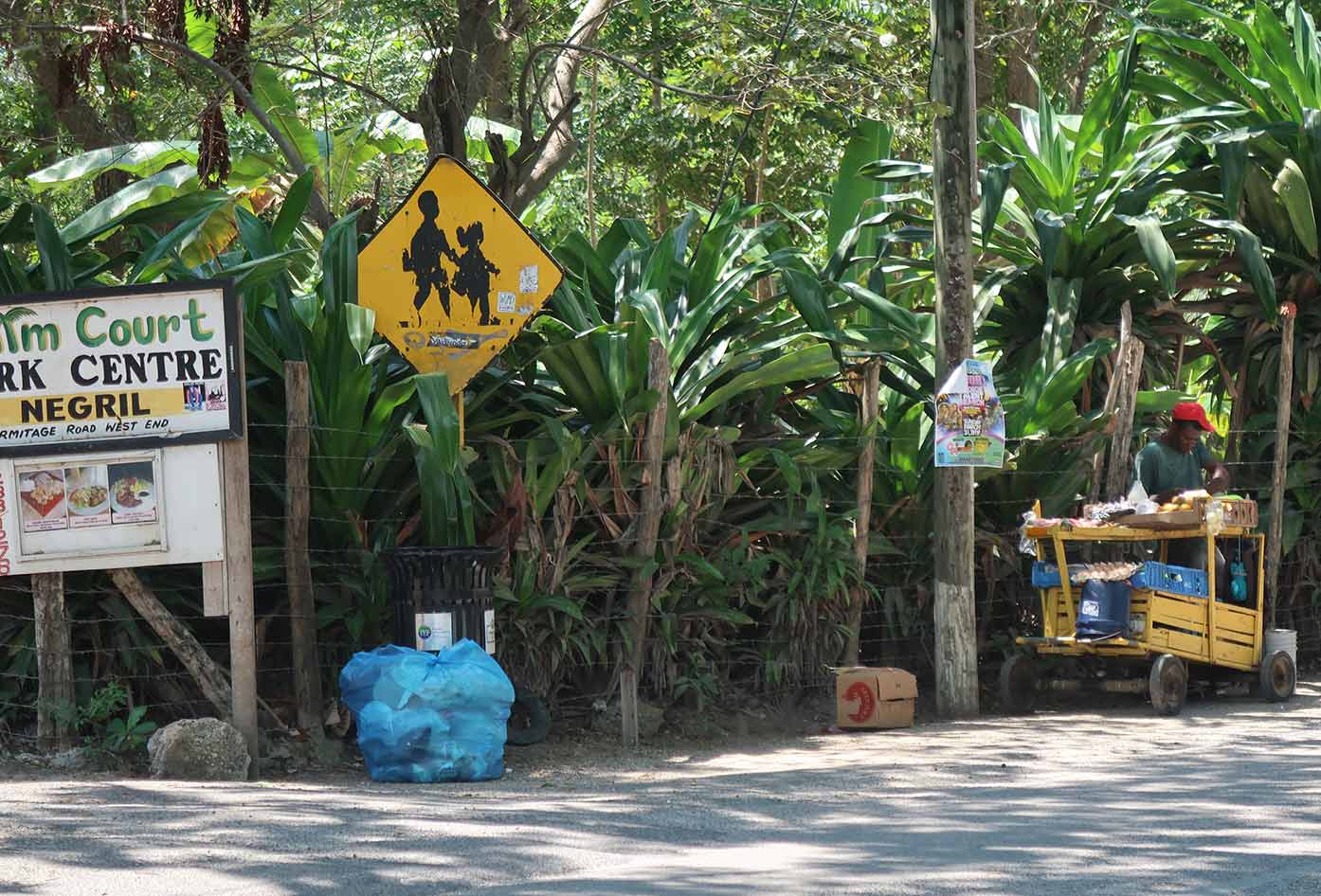 This is due to Negril's isolation and solitude compared to other spots in the Caribbean and the demand increasing prices slightly.
The average daily cost (including bed and board) for a trip to Negril is around $122 (USD) per day, which is slightly more expensive than a popular resort location such as Cancun ($97).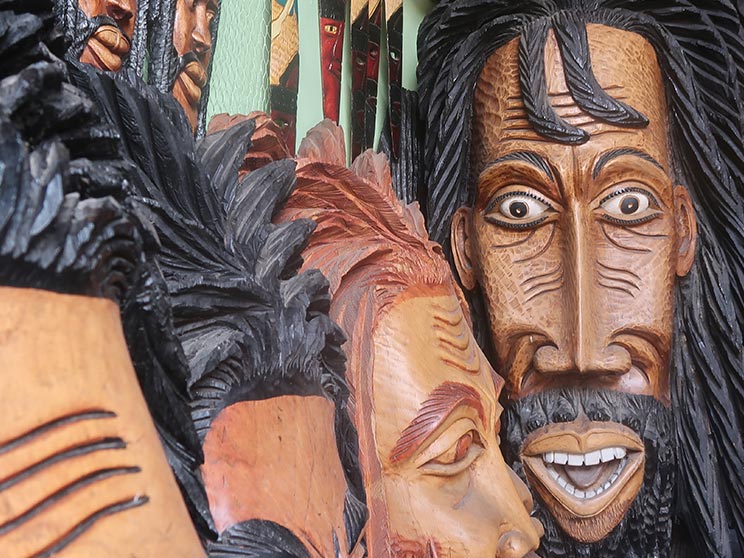 For a two-week luxury stay in Cancun, the average is $4,092 (USD) per person, whereas in Negril it's as high as $4,207 (USD).
Places such as SPA Retreat Boutique with its private beach and on-site restaurant is one of the most sought after places to stay in Negril.
This isn't at all surprising when you consider how Negril is considered the quieter alternative to the bustling resort towns such as Montego Bay and Cancun. You have to pay that little bit extra for privacy. However, I won't be the first to tell you that you can also visit Negril on a budget if you plan it right.
Is Negril Safe?
The simple answer is yes. In general, Negril is quite safe during the day time but we recommend taking precautions when traveling during the evening.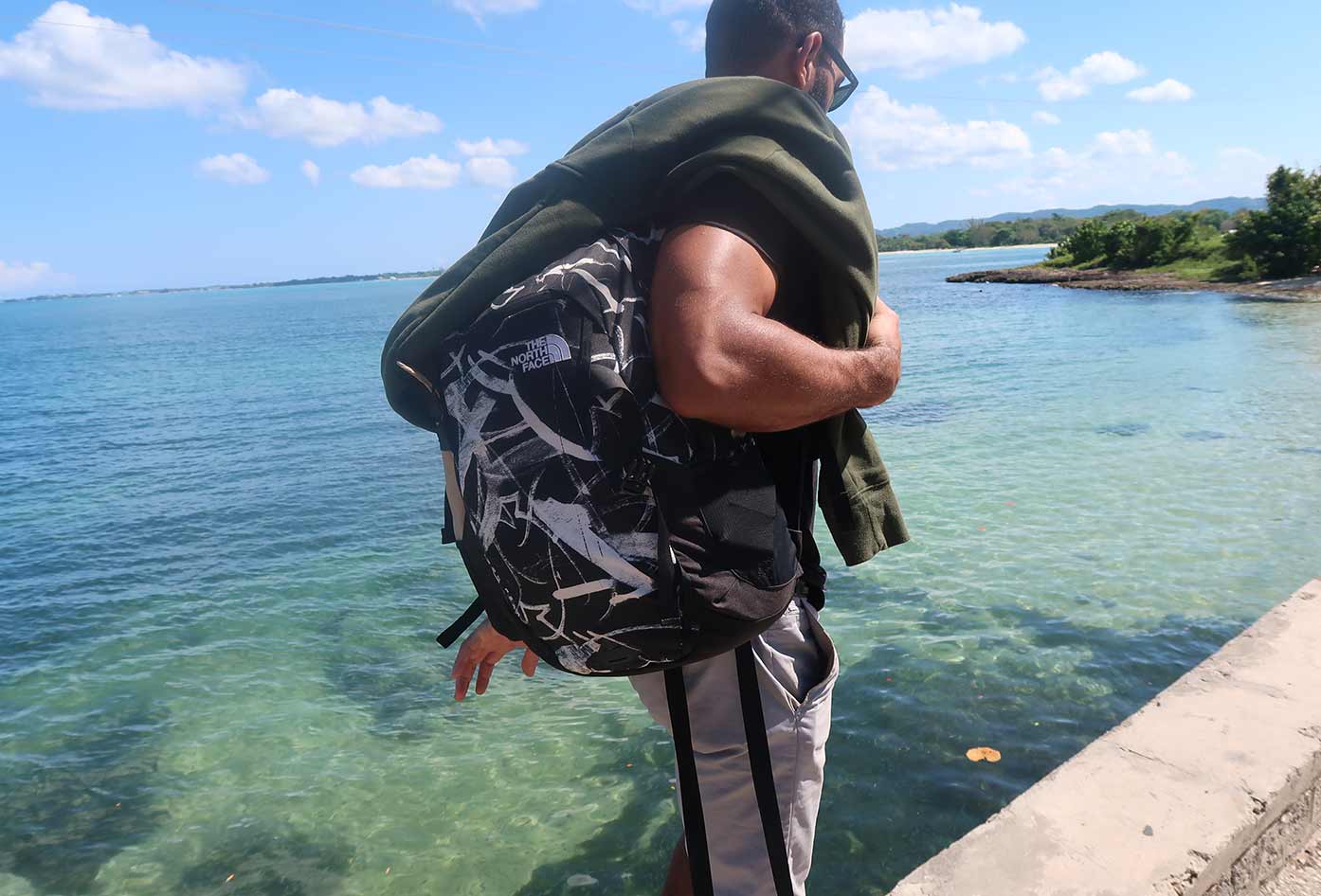 If you need to travel during the evening, be sure to take a taxi to and from your destination and avoid walking in the streets late at night.
Jamaica is a tropical climate, which means there will be tropical bugs and reptiles on your journey.
Make sure to pack sunscreen during your vacation in Negril and also make sure to pack a strong dose of travel bug spray which you should definitely apply often.
You may have to ask your doctor/gp about whether or not to take a jab before the trip.
Be sure to bring plenty of mineral water with you on your journeys and avoid drinking tap water to avoid potential health risks.
Best Time to go to Negril?
If you prefer a drier climate though, the best time to go to Negril is during the dry season which runs from December to April.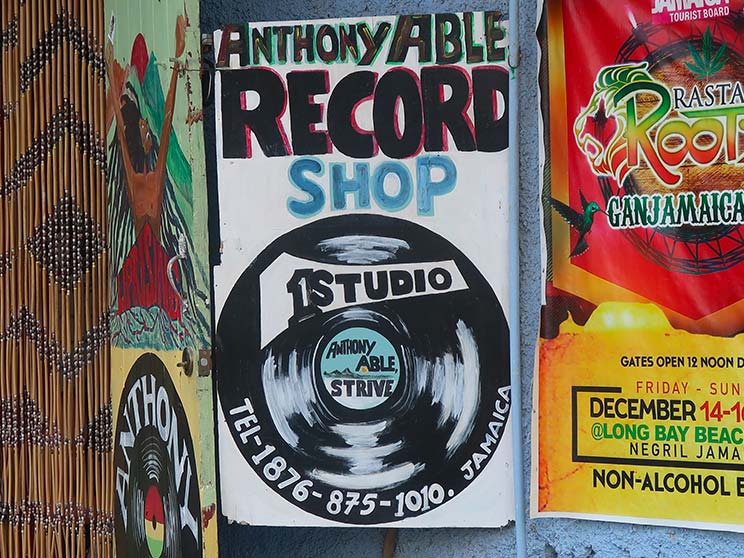 Temperatures are at their highest in the summer, with an average temperature of 27°C that often rises to the low-thirties at peak times.
Humidity levels are lower and usually remain steady at 70%-75%. However, there are many that consider October and November time to be a slightly less hectic time in terms of crowding and prices.
You can find cheaper rates during the Autumn months. Overall, the whole country keeps at a steady 27-32 degrees Celsius all year round, so there is guaranteed sunshine all year round!
Got Travel Insurance for Jamaica?

Designed by travelers, for travelers, World Nomads covers more than 150 adventure sports and activities so you can explore your boundaries.
Montego Bay vs Negril: Final Words
As you probably know, Jamaica is one of the prime locations for tourism in the Caribbean.
It has everything a visitor seeks in a vacation: guaranteed sunshine, amazing white sand, and marvelous natural wonders.
There's so much to do and some beautiful places to visit in Jamaica, that you won't even need to trudge through any city!
You'll find that the locations such as Ocho Rios and Negril feel a lot safer than Kingston and Montego Bay, however, everything you need is in both Negril and Montego Bay.
Overall, Negril might be worth the sacrifice of a long car journey once you've landed.
📌 Like this article? Pin it…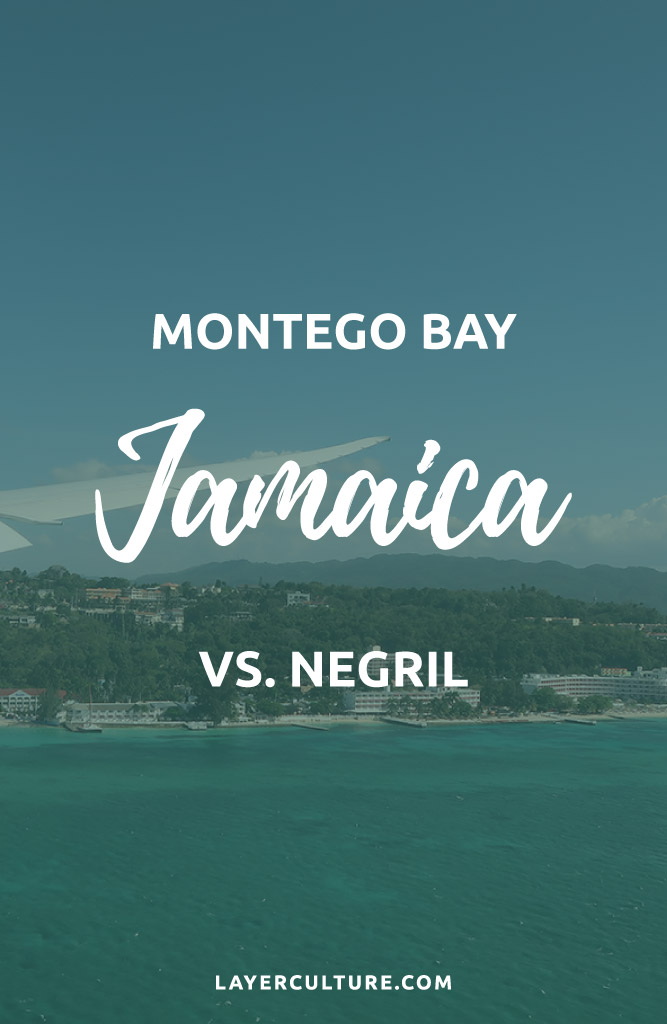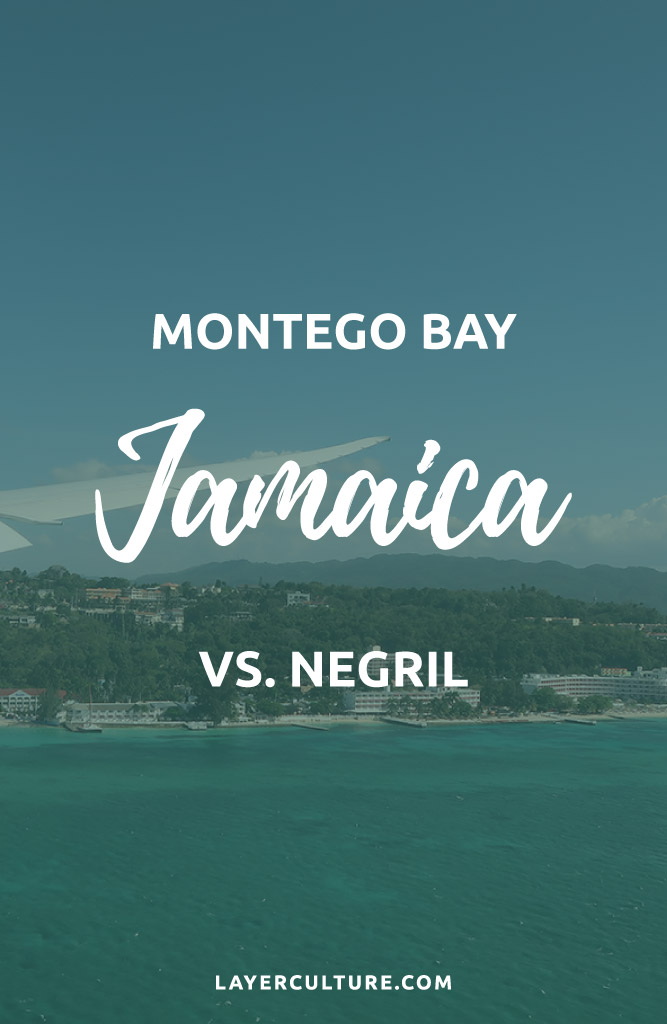 Are you thinking of traveling to Montego Bay or Negril, soon?
💬 Leave a positive comment or lets start a conversation below!
---
"Dear friend! Some links in this post contain affiliate links. Meaning, if you click through and make a purchase, book a hostel or sign up for a tour, I may earn a small commission at no additional cost to you. Your support means a lot and helps me to keep traveling and maintaining the quality of this site for you."