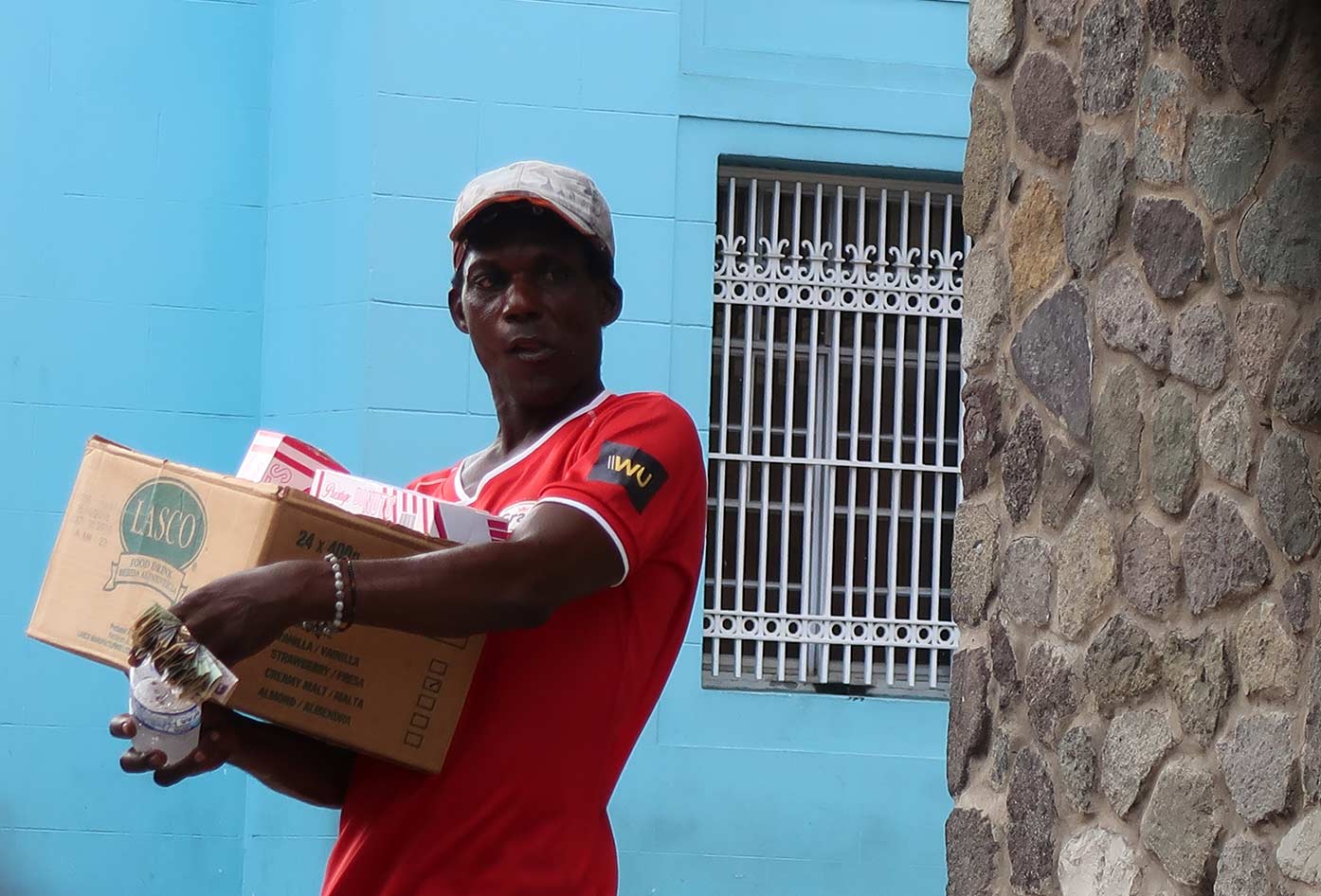 Have you ever tasted Jamaican street food?
If not, I invite you to learn about these common roadside foods that may give you a new perspective on what Jamaican food is all about.
In this article, I'll share some secrets of Jamaican street food and give you an insight into what food you can find in Jamaica.
You can even emulate some of these recipes from your own home.
Jamaican Street Food
Most food, found in Jamaica is found on the street so when we say street food we are not referring to anything new or using new words.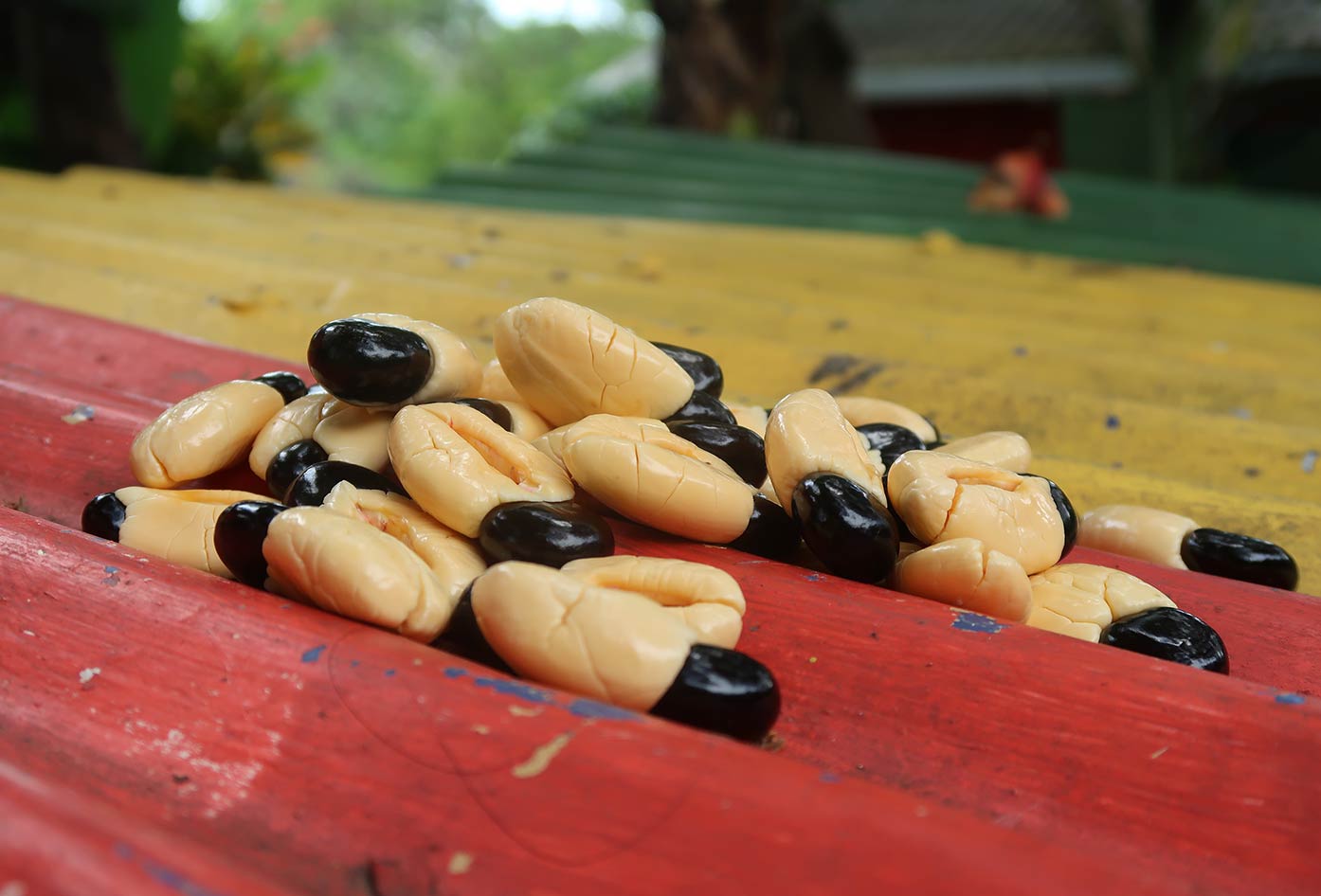 My point is: the word street food in tier 1 countries is often used as a marketing gimmick to sell expensive plates of food inspired by 'undeveloped' countries.
How do you feel about that?
Food courts around the world, I feel, sometimes exploit the essence of what defines street food and in this case 'Jamaican Street Food'.
The good news…
Jamaican food street stalls outside of Jamaica, for example, at Notting Hill carnival in London or Camden locks, I have found the food is usually served by Jamaicans and is authentic and tasty.
Facts About Jamaican Food
For the purpose of my cultural travel adventures in Latin America and the Caribbean; I like to look at factual information.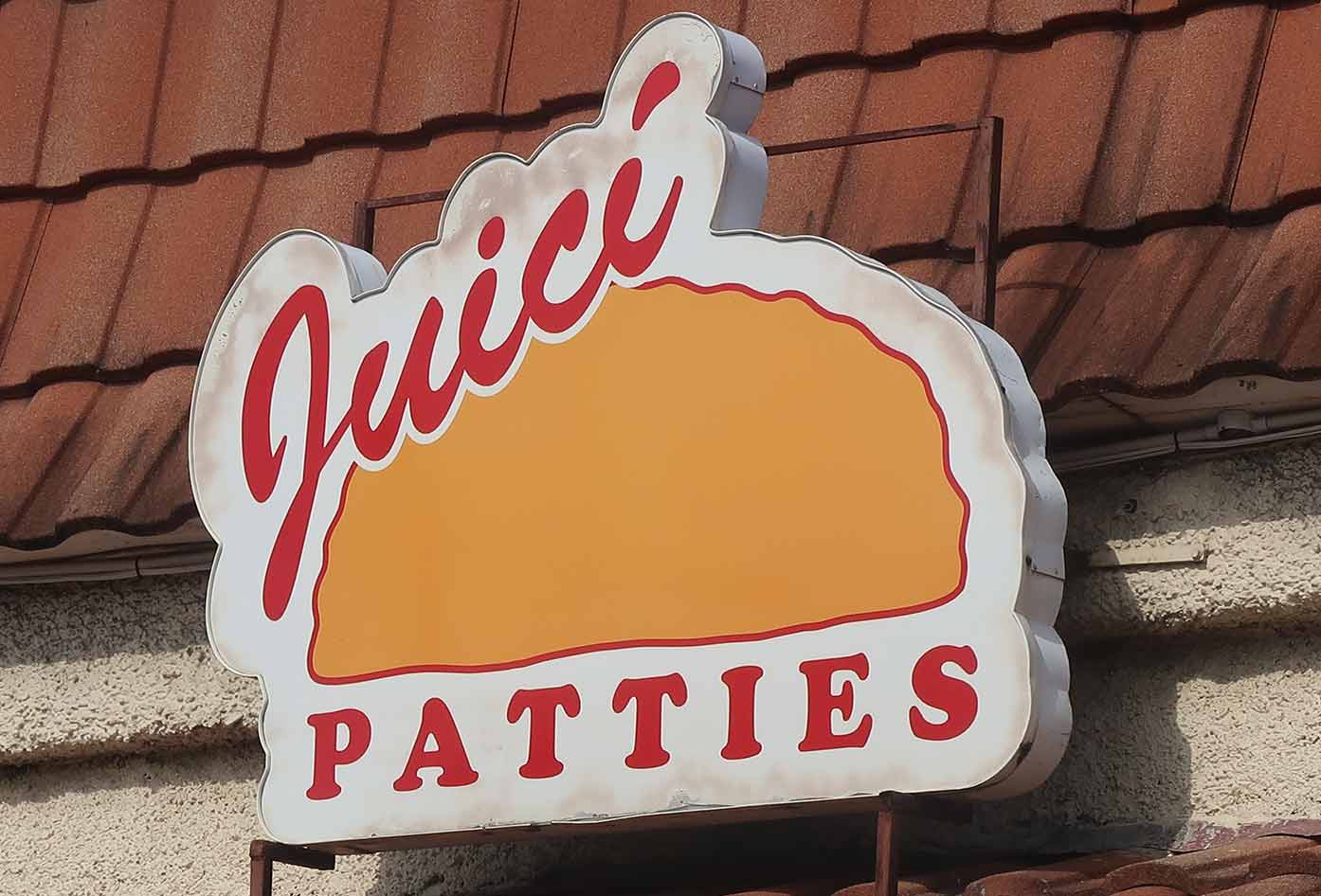 That way, I can ask better questions and get more insight into why things are the way they are.
Here are some observations I've made about Jamaican food:
Jamaican's value breakfast and eat very nutritional foods such as Porridge, Mackrel, boiled banana, Yam and sometimes, fried chicken.
Jamaican fast-foods: including KFC and Burger King are in the eyes and bellies of many of the younger generation on the island (I am deeply sorry to have to tell you this)
In many cases whist in Jamaica you'll find it work out much cheap to eat street than it does to buy from the supermarket and cook it yourself.
Street food usually is served in polystyrene trays imported from China which have a devastating effect on the environment.
***These are my own observation based on Jamaican people that I know.
Right, now to the meat of this article and the real-deal Jamaican food!
Whether that be made in the street or in my Grandma's kitchen – Jamaican food really is some of the tastiest food in the world.
Jamaican Street Food
To start off this Jamaican street food article we'll look at the different types of Jamaican food, as well as a few signature Jamaican dishes.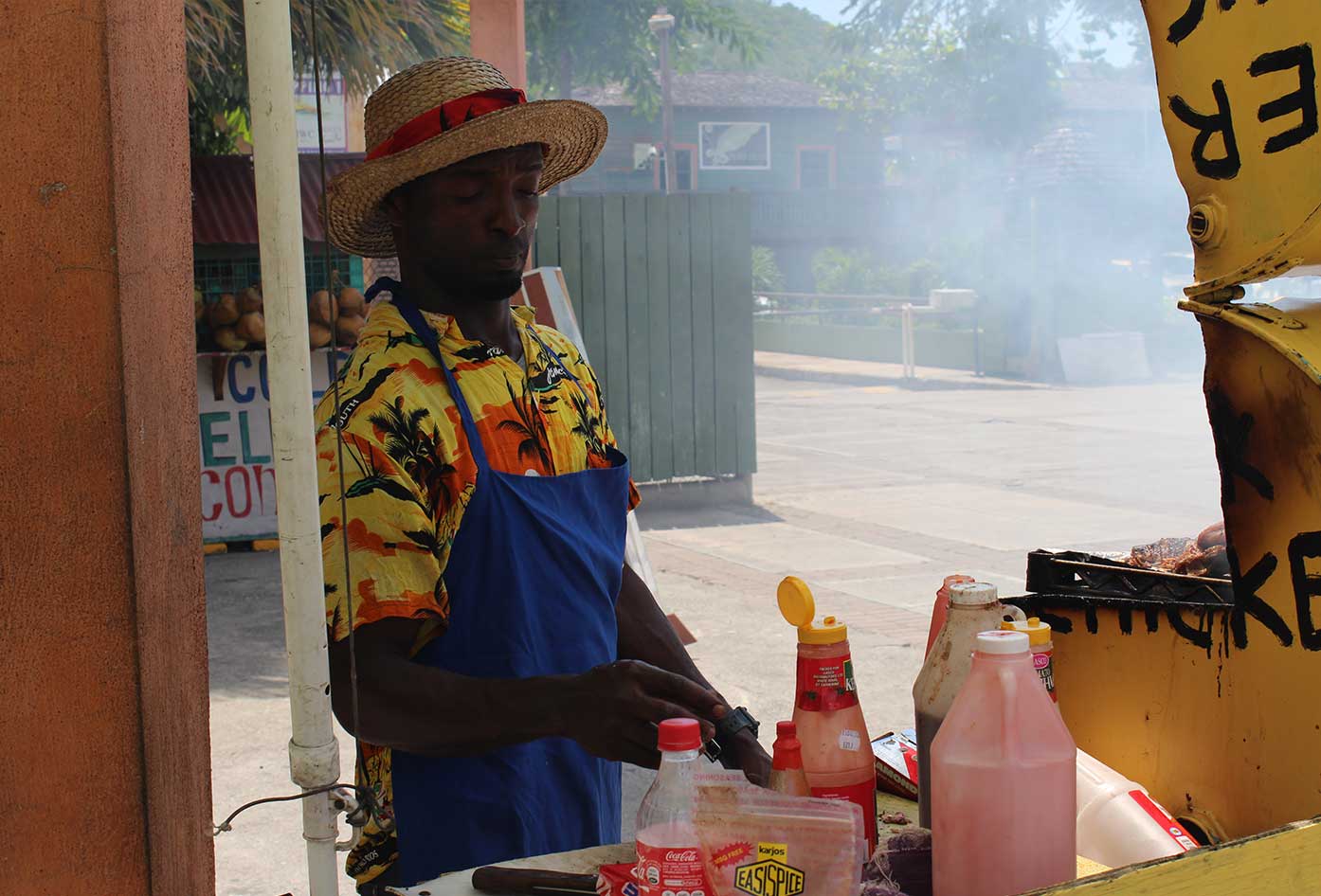 I will start with the most popular food that I see most Jamaicans start their day with. I'm not going to add KFC or Burger King to this list, so if you are Jamaican and reading this let's put that idea to bed for now.
Jamaican Patty
This popular Jamaican food is like an Empanada. It's a baked shortbread pastry filled with your favorite filling.
You will find these on the road but they're usually associated with Tastee or Juci Patties which are franchises you can find all over Jamaica.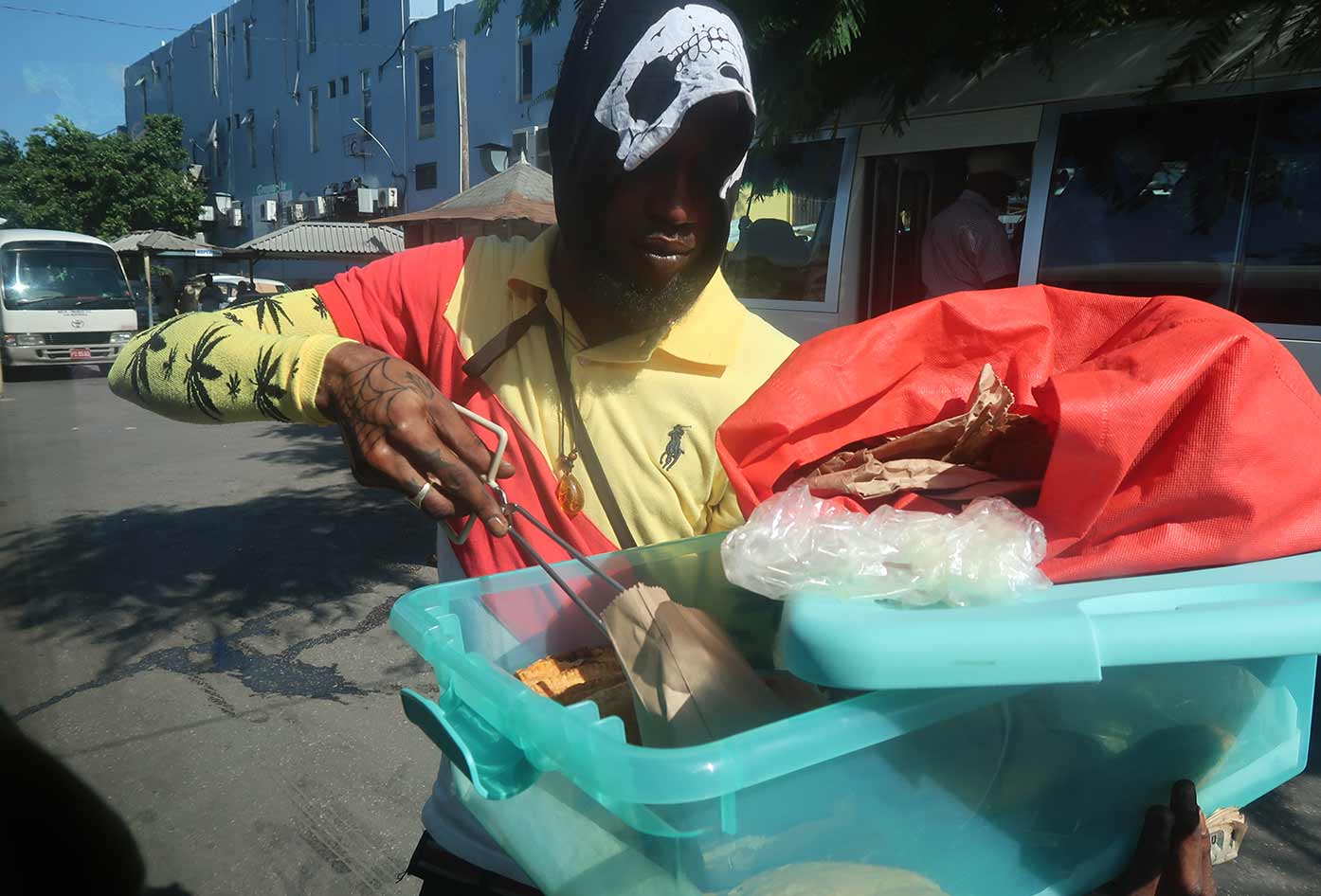 So, technically, eating at Juci Patties wouldn't be in the street but you'll see people carry their brown paper bag with a patty inside. Or even better, someone will bring it to you.
Here are some of the fillings you can expect to find:
Beef (most popular)
Chicken
Vegatble
Shrimp
Soy
Cheese
No matter whether you are in Kingston or Montego Bay, a Jamaican pattie is a great way to start the day.
Some Jamaicans go one extra mile further and wrap coco bread around the pattie to make it even more filling.
Fry Chicken
Yes, you read that right "Fry Chicken" not fried chicken. For any chicken lover, we all know too much fried food is bad for us, but we still eat it.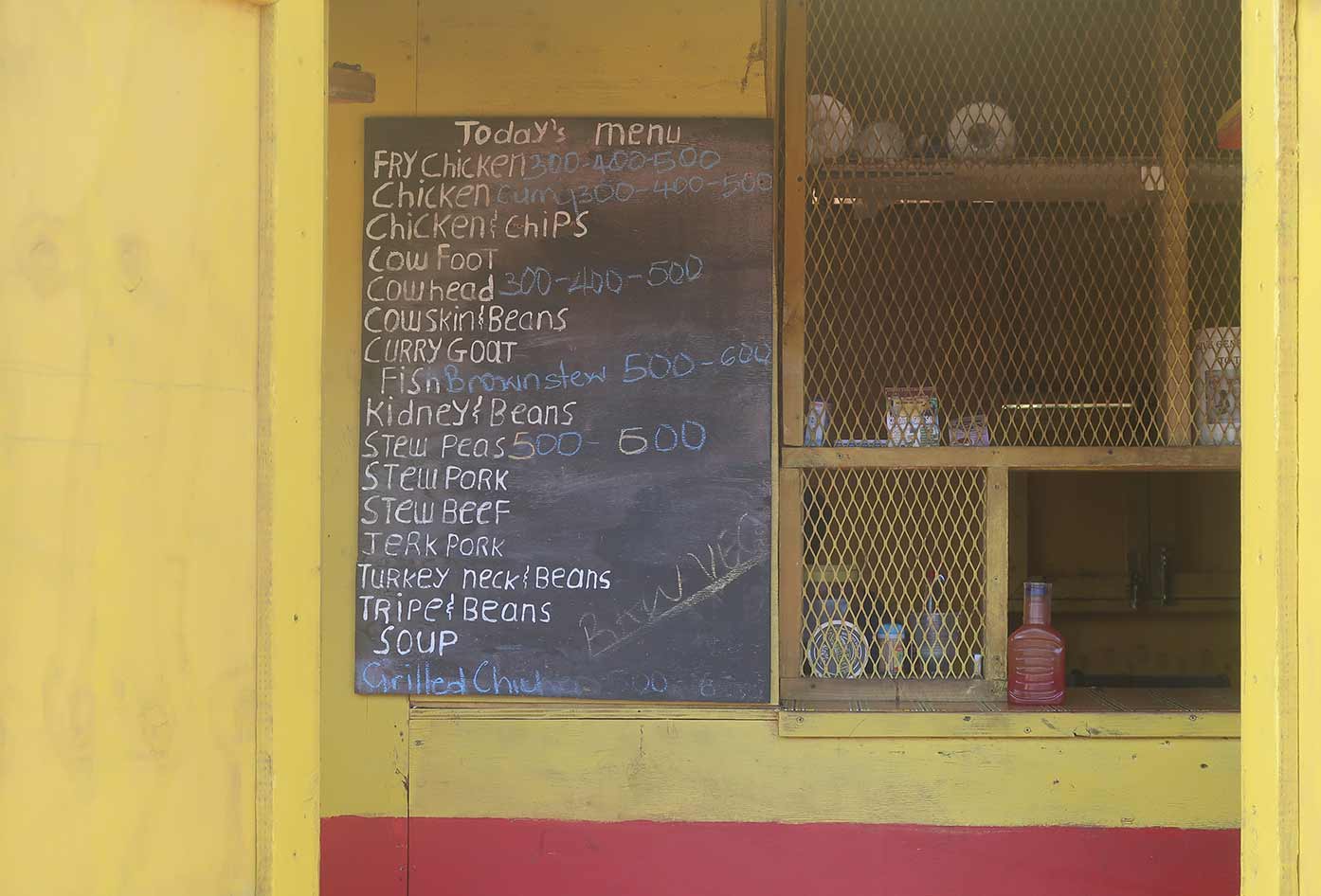 What's the difference between "Fry Chicken" and "Fried Chicken" you ask?
There isn't one, it is just spelled on the menu the way that it sounds. An amalgamation of words perhaps?
Who knows, but it tastes great! This is one of the most common forms of Chicken you'll find in Jamaica.
Jerk Chicken
We've arrived at the pinnacle of all Jamaican street food! Would you believe there are people that travel to Jamaica just to eat Jerk Chicken?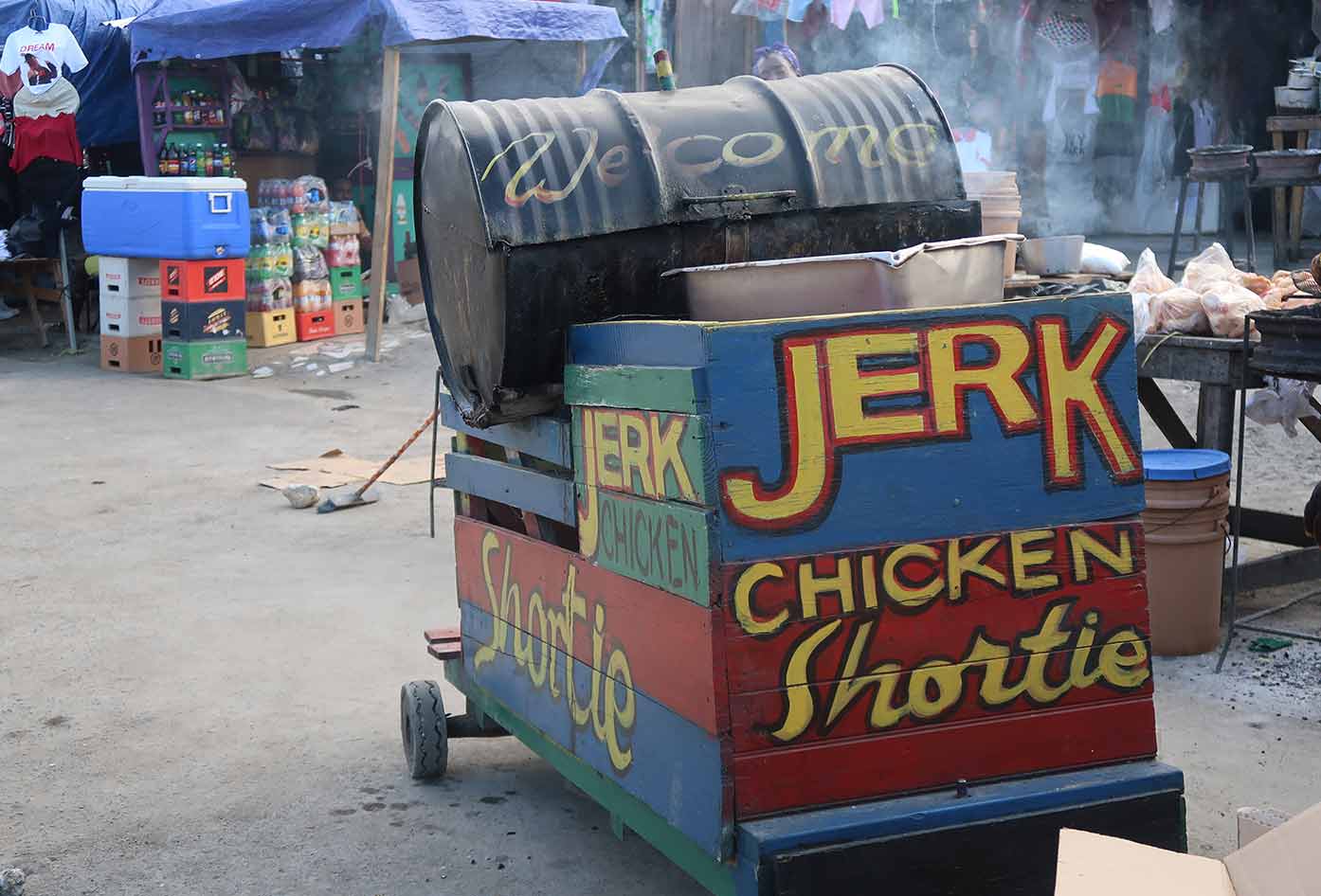 Me neither but the man I conversed with on the 7-mile beach road spoke about how he had a client in the United States of America and Canada come back to the same spot every year to taste his juicy Jerk Chicken.
You quickly begin to taste why the Jerk has made it into so many cookbooks and how even celebrity chefs (mentioning no names) *Cough* (Jamie Oliver) have even tried to fuse it into their recipe books.
Curry Goat
Curry Goat is a dish that for me was always a favorite. I'd love it when it was peppery and not too much fat; which is common with goat or mutton which is the preferred meat for the infamous mutton and rice dish.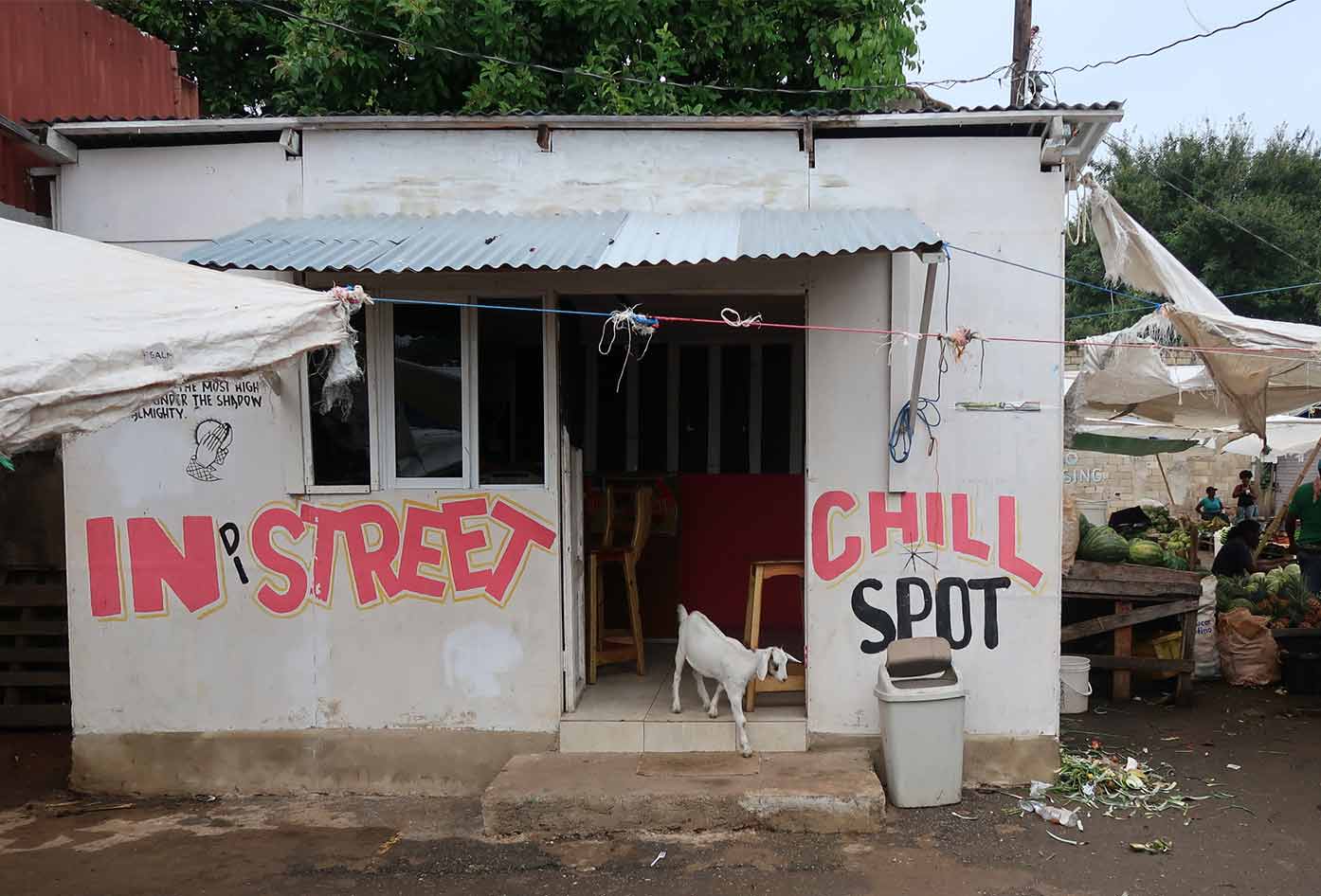 If you've never tried mutton and rice in Jamaica, it is a very rich meat that you could say tastes similar to lamb. One of my family members is a goat herder so I know where this free-range mountainside meat comes from.
As far as Jamaican birthday traditions go, curry goat is a popular dish to have at weddings too, not to mention, the most important celebration for most of Jamaica – funerals.
Curried goat is usually marinated the night before with curry powder and cooked in a duchy.
Served with rice and salad, it is really difficult to compete with this dish using anything other than the ingredients and cooking method that the Jamaicans use.
Roast Breadfruit
Let me tell you why this is a worthy Jamaican street food dish. You won't find it everywhere but if you do you must try it.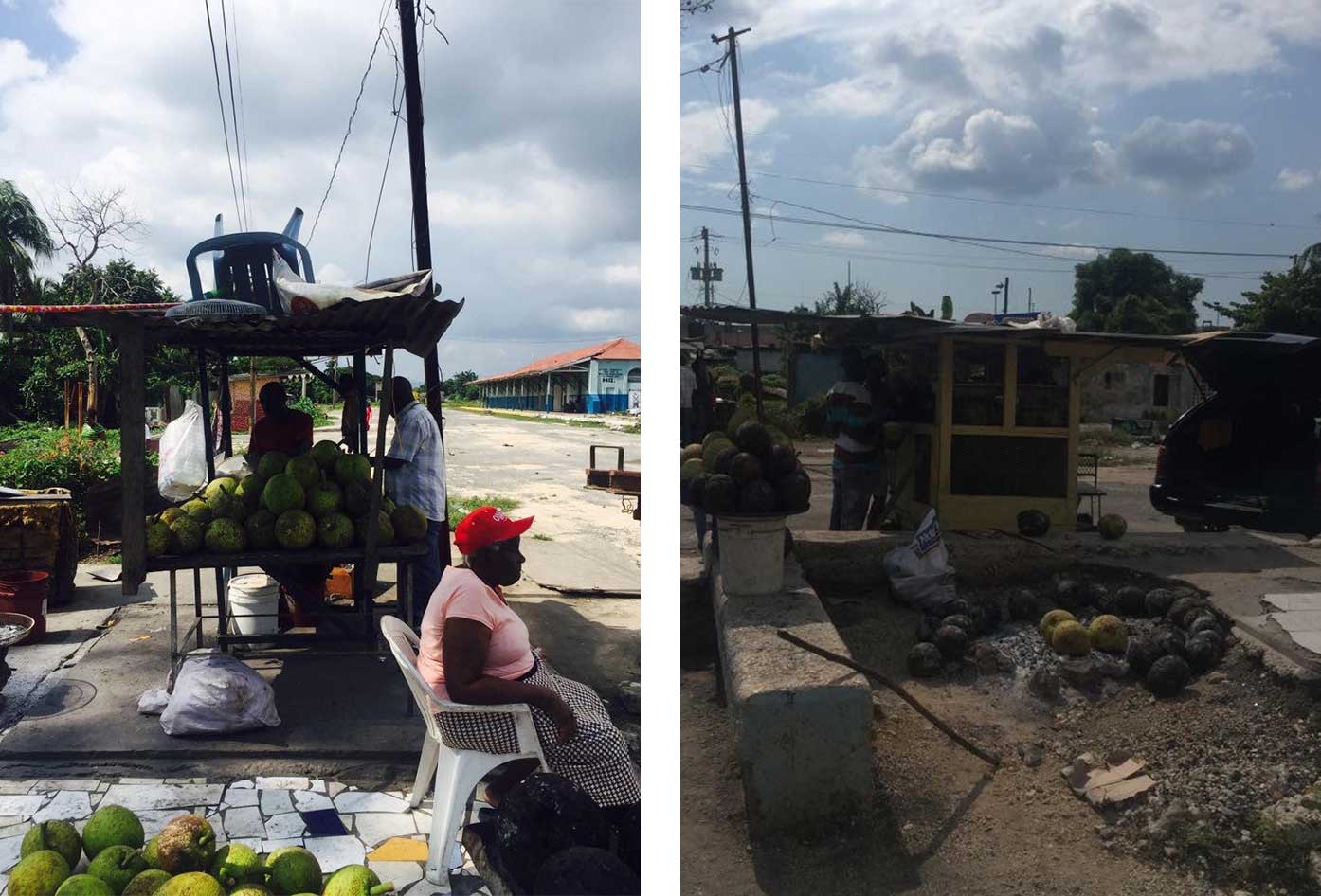 It is usually sold roasted as a whole, but if you can get the roast breadfruit slices you'll probably never have tasted anything like it.
The texture and nutty taste of this fruit is just second to none.
You can find breadfruit inside certain soups of "sips" which is boiled, but for me, I don't get the same sensation as I do from roasted breadfruit.
Pepper Shrimp
Those red things sealed in a little plastic bag hanging from a street vendors' arm, are shrimp?
Yes, a pepper shrimp can be found no matter where you find yourself in Jamaica. You are on an island after all.
When its Shrimp season you'll find the island is inundated with it. Road-side sellers tout these colorful spicy steamed seafood species like there's no tomorrow.
Frankly, you'll find that when it comes to Jamaican street food, this is a seasonal delight that is not for everyone but is loved by many.
My family members in Jamaica refuse to eat these freshwater crayfish as they say that they don't eat things that live on the bottom of the ocean???
Cooked in a moderately spicy sauce made from scotch bonnet peppers, vinegar, and an array of spices.
How to Cook Like a Jamaican
Whether you know a Jamaican who likes to cook, or you manage to find a jerk chicken joint in your neighborhood.
You too can learn how to cook like a Jamaican.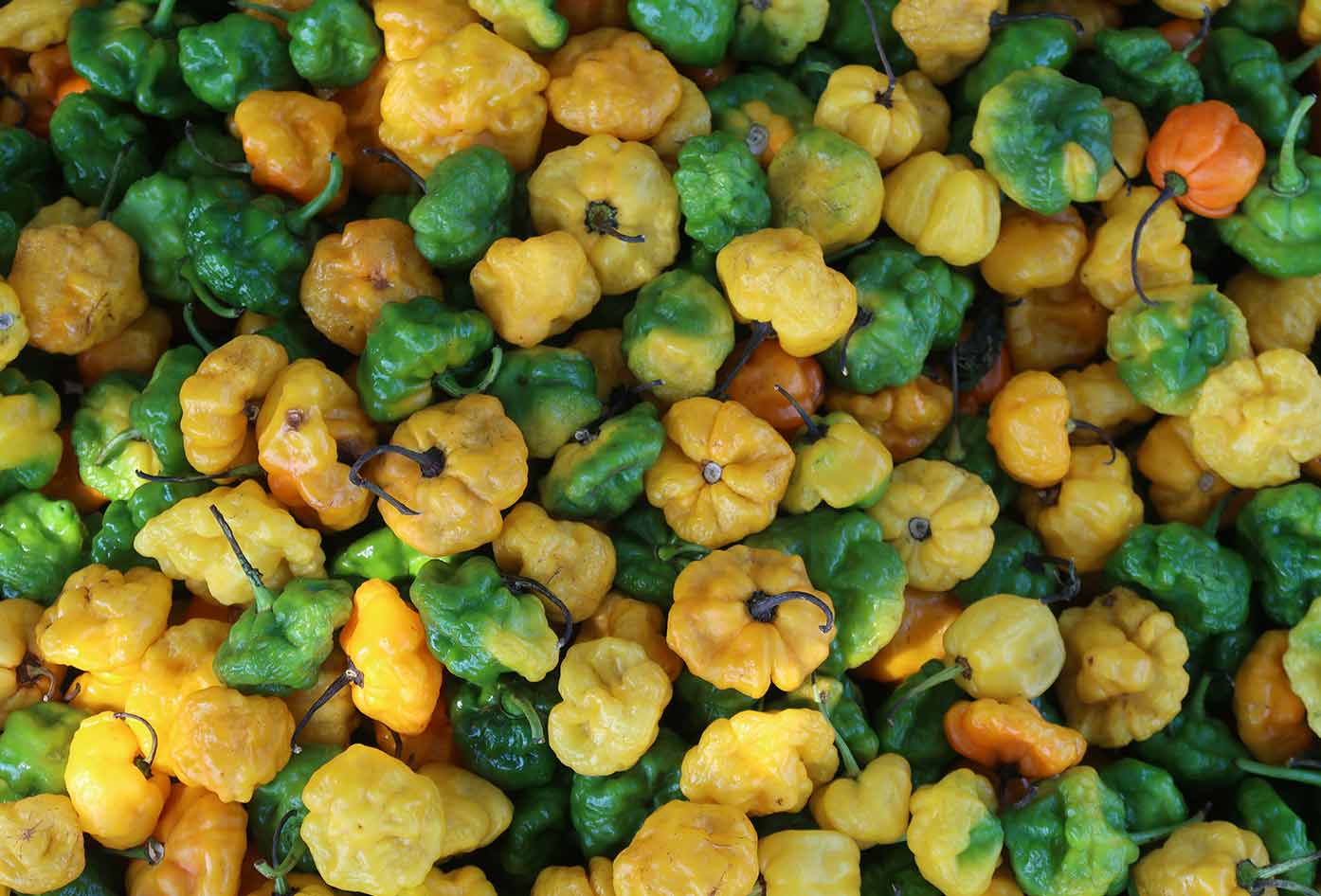 I was looking for Jamaican food near me whilst in the UK and you can find restaurants all over.
Websites like 'Just Eat' make Jamaican food available to the masses.
However, for anyone who wishes to learn how to cook like a Jamaican, there are a set of ingredients that you'll need to have in your kitchen.
How to cook Jamaican food – things you'll need:
So with this short-list, you can see that with some basic ingredients you can attempt to recreate some of your own Jamaican recipes.
Jamaican Street Food
Did you enjoy reading about my experience with Jamaican street food?
On my regular trips back to the island I will be adding more Jamaican foods and cultural gems that I encounter.
I don't write much about what I eat personally here on Layer Culture, but because food is such a big part of the cultural make-up of a place, it would be a shame for me not to capture these experiences.
Are you traveling to Jamaica soon, or slightly worried about your safety in Jamaica as a visitor? Don't be, as there's plenty of advice on this blog.
See my other posts about traveling to Jamaica and exploring off the beaten track in Jamaica.
📌 Like this article? Pin it…
So, is Jamaica Safe? Got, tips, tricks or your own advice to share?
💬 Leave a comment or let's start a meaningful conversation below
---
"Dear friend! Some links in this post contain affiliate links. Meaning, if you click through and make a purchase, book a hostel or sign up for a tour, I may earn a small commission at no additional cost to you. Your support means a lot and helps me to keep traveling and maintaining the quality of this site for you."