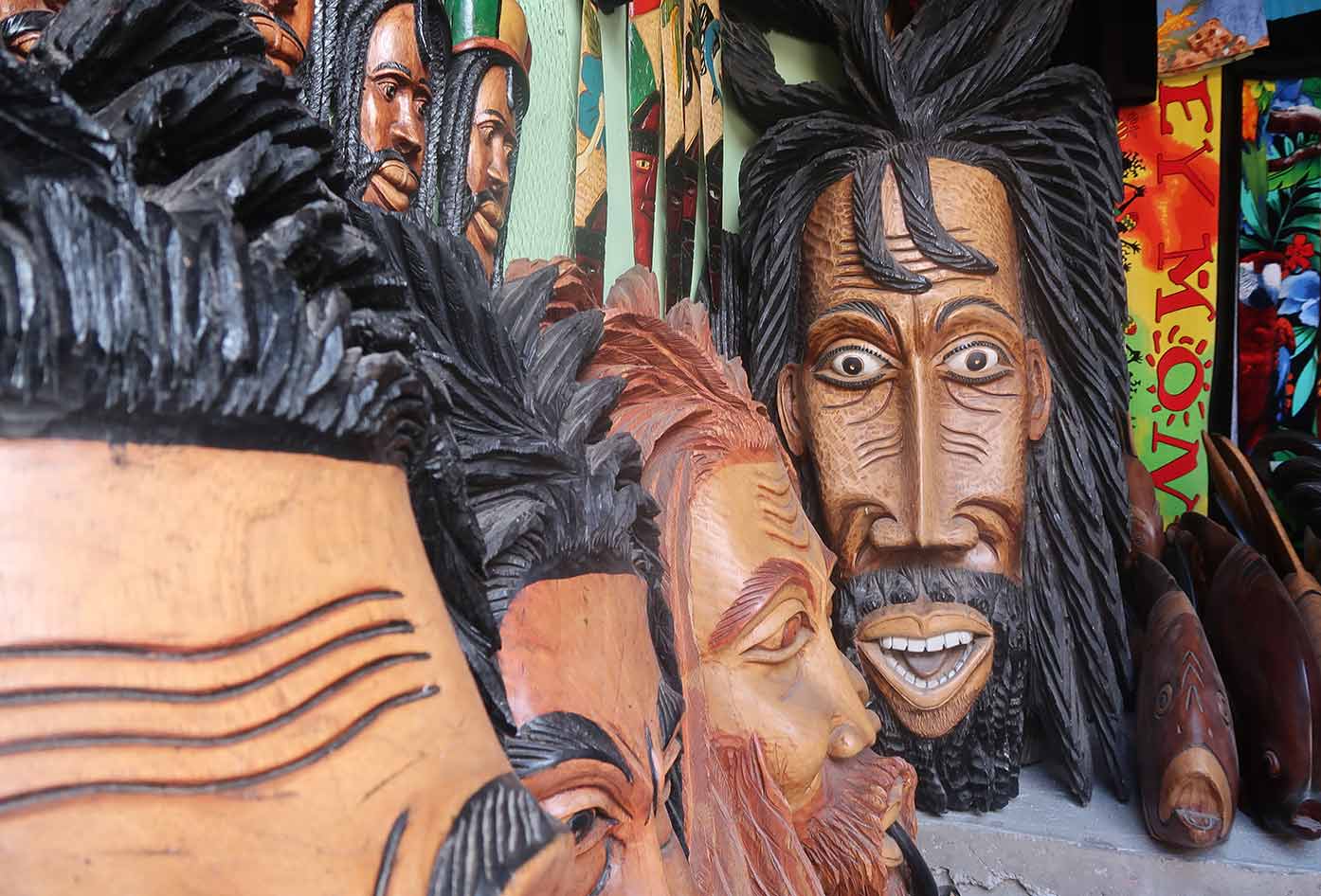 Are you looking for things to do in Montego Bay, Jamaica?
Montego Bay is easily one of the most exciting places in the Caribbean to come and visit: an outstanding experience that is sure to give you some very fulfilling, satisfying experiences to remember.
If you'd like to enjoy life in Montego Bay, then I highly recommend that you invest some time into reading the ideas on this page.
Things to do in Montego Bay
This guide explores some of the best activities in Montego Bay for any traveler spending anything from an afternoon to a couple of days in Jamaica's top west coast resort town.
Is Montego Bay worth visiting?
Montego Bay is a great place to experience authentic Jamaican culture and is also home to lots of interesting attractions.
The hip strip is a great place to browse unique art and also get some bargain souvenirs.
The iconic Doctor's Cave Beach is the place to go to bronze-up in the Caribbean Sun with turquoise waters at your feet.
Other activities include zip lining through the jungle, river rafting along the Martha Brae River and exploring Rose Hall and Greenwood houses.
Is Montego Bay safe?
No need to beat around the bush here; Montego Bay is one of the least safe areas in Jamaica. Whilst somewhat better than Kingston, there are still a lot of rough areas to be avoided here.
Some first-time travelers to Jamaica are concerned about safety in Montego Bay but if you stick to the landmarks mentioned in this guide, you're likely to avoid most of the so-called dangerous zones.
Always make sure to read up on safe neighborhoods before deciding on where to stay, and any current happenings too. Another common worry is gang violence which also occurs in this city.
Again, it's more between gangs and rarely ever targeted at tourists, but you'll still want to take necessary precautions.
These include not heading out late at night in dodgy areas and also dressing down to avoid attracting too much attention.
Things to do in Montego Bay
If you decide to take part in any of these activities, you should get to experience a touch of the uniqueness the island has to offer.
Hip Stip Aka Gloucester Avenue
Firstly, be sure to take the time to come and visit the commercial hub that is known to most tourists as the Hip Strip.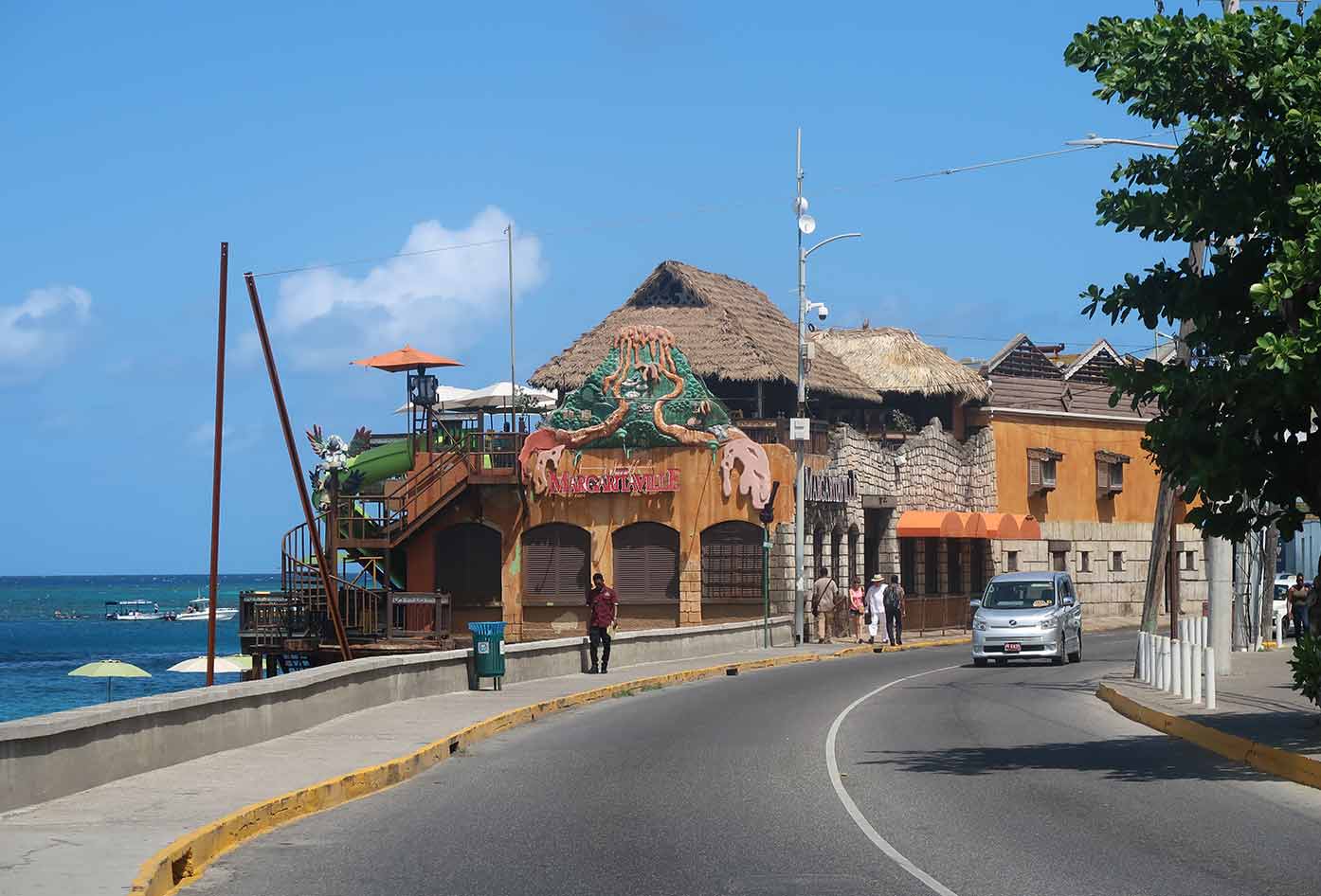 Found down on Gloucester Avenue, this will give you all of the chances that you need to pick up some suave souvenirs for those who are waiting for you back home.
A word to the wise, though; be smart with flashing your belongings here. All you'll do is attracted unwanted attention (good or bad).
As a popular hangout spot for everyone, you might attract the wrong kind of attention if you are too exterior with your items.
Maintain a low-ish profile in the evenings, and remember, as touristy as it may seem, shopping at the Hip Strip is a must-try experience.
Rose Hall
Be sure to visit the beautiful Rose Hall if you are here for some architectural and cultural sightseeing.
As one of the main things to do in Montego Bay, this Jamaican Georgian plantation house is now a museum of what used to go on here.
It boasts stunning coastal views and the property is in great condition having been restored after dilapidation set in during the 1960s.
An excellent historical tribute to the tragedies that took place here, with the history of the slave trade laid out for all to see.
Martha Brae River
If nature is your friend, then why not get a transfer over to see the beautiful Martha Brae River while you have the chance?
This is the kind of walk that you should definitely take in because it will have a massive impact on how comfortable you feel about this region. River Rafting is the main attraction here.
Its one of the most beautiful pieces of land you'll find in Jamaica (which says something), given the island's natural beauty, so you must come!
💡Smart Travel Tip
If you'll be traveling from Montego Bay to Ocho Rios at some point you can find similar jungle-like river experiences to be had there too.
A tremendous place to visit and one of the best things to do in Montego Bay – this is an experience you should make time for when you fancy a rest from the beach to try a more rustic experience.
Craft Market
Come to Jamaica, and you had best make sure you head home with some great gift to hand out to those you love.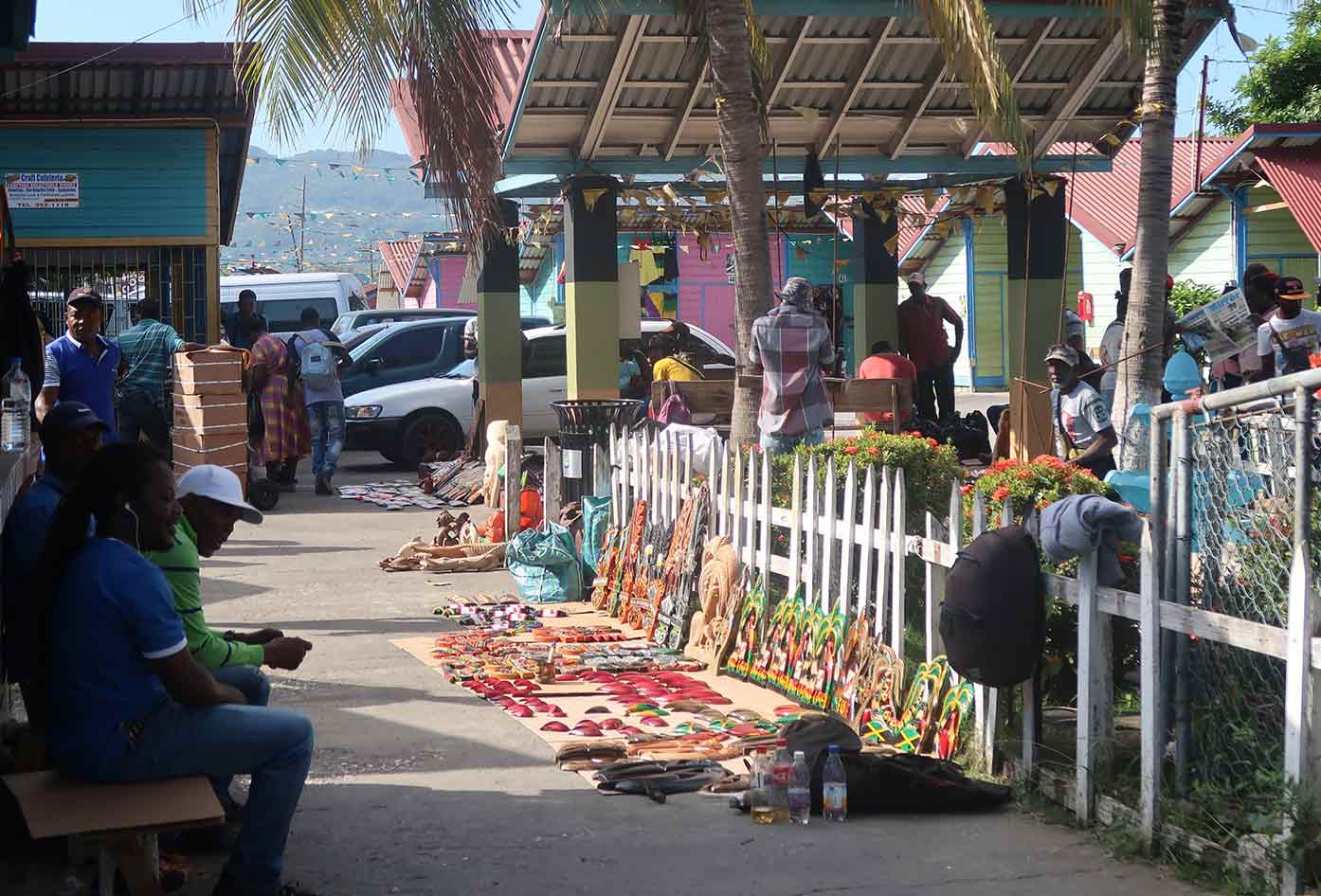 A trip to the Craft Market will ensure that is the case; a tremendous yard that is loaded with all sorts of crafts, finds, and discoveries.
It seems quiet but the colorful huts show you the intensity and energy that exists in day-to-day life!
Strike up any humane conversation here and should get a real understanding of just how different life is for those who live here in Montego Bay compared to what you're used to back home.
Sam Sharpe Square
If you want to see a truly awesome monument to a local legend, Sam Sharpe, you should come here.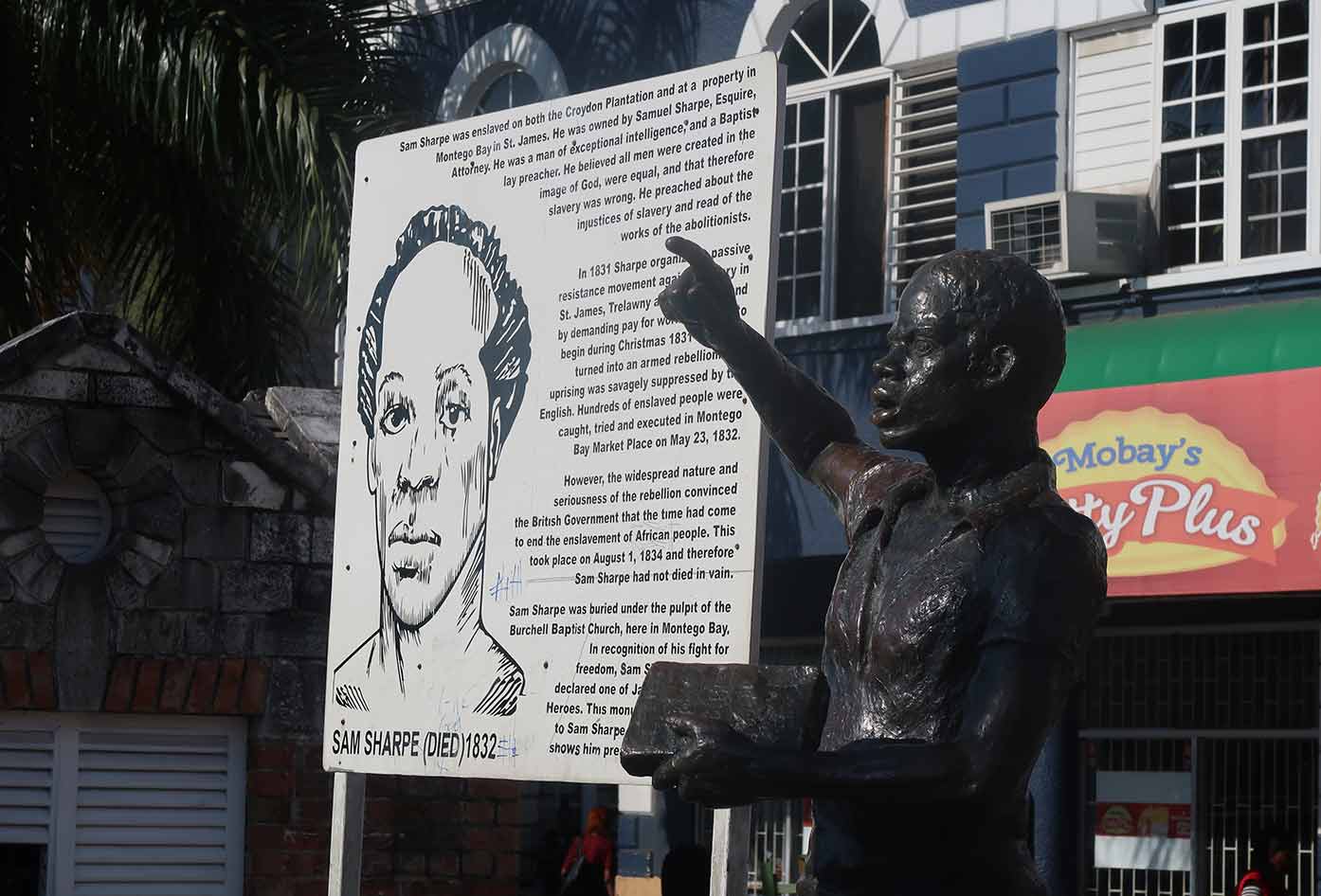 This little square is a shrine to the great national hero of Sam Sharpe, and it features The Cage: which was once a jail for runaway slaves.
This instantly reminds you how much Jamaica has been developed away from previous colonial desires and should stir up plenty of emotions within you as you go about your day in this amazing location.
Be sure to bring some time for recording and photo-taking, though, as Sam Sharpe Square has some impressive landmarks.
Sunset at Pier 1
The sunset is a truly beautiful thing, but few places make the sunset look as glamorous as Pier 1 in Montego Bay.
Come down here, enjoy some free time on the rocks, and relax. You will soon get to enjoy a satisfying experience spent on the sunset near one of the busiest parts of the city.
You will get to enjoy some truly mesmerizing sunset views; be sure to bring a smartphone or a cheap travel camera with plenty of battery.
When the sun begins to set at Pier 1, you want to make sure you get some snaps of it moving forward.
Doctors Cove Beach
If you are here for the warm sandy beaches to sip cocktails with little hats, then you should absolutely hit up Doctors Cove beach.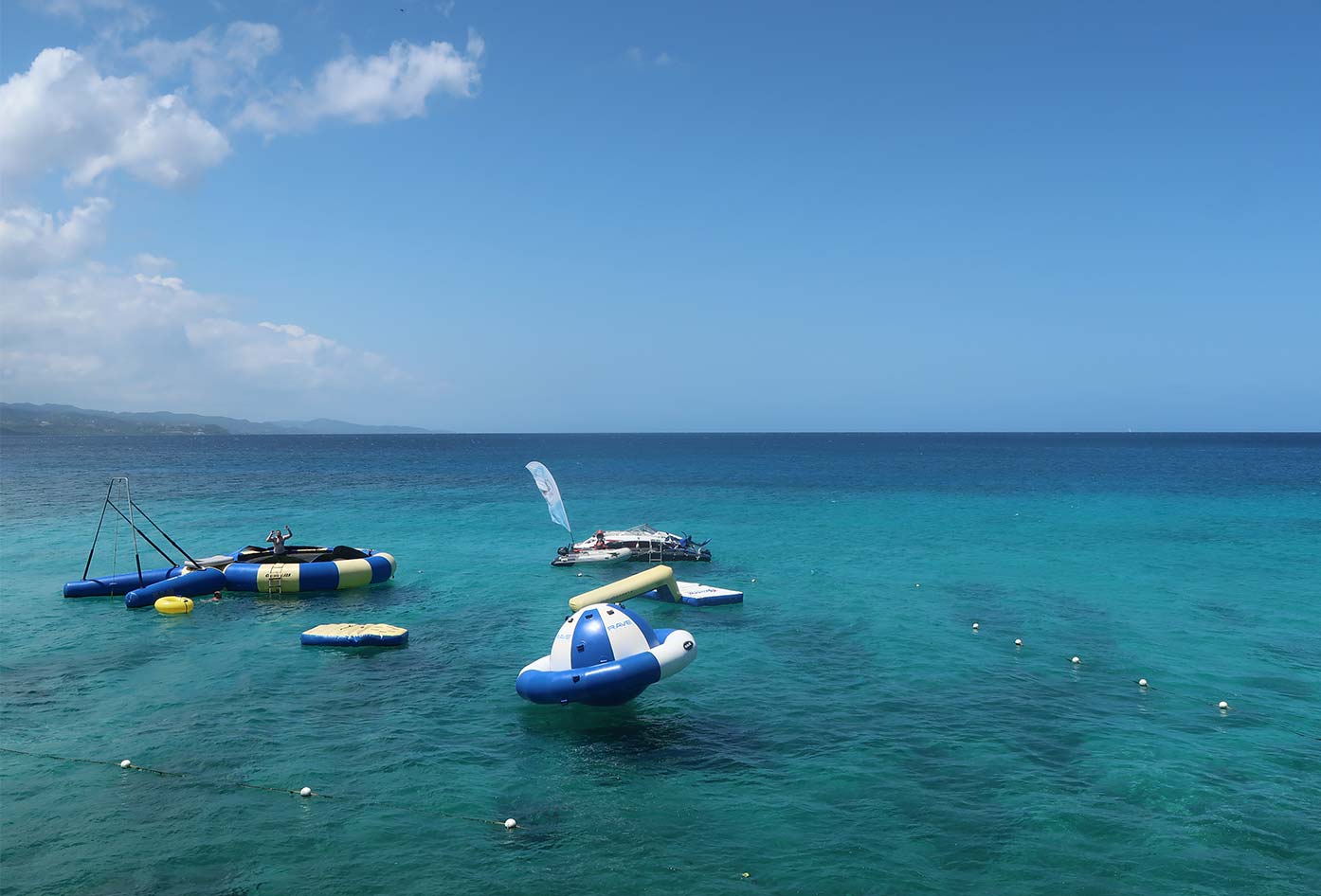 This is one of the most satisfying things to do in Montego Bay for most new visitors to the island. Not only because the view is truly idyllic but it's one of the easiest beaches to access from the Hip Strip.
Both Montego Bay and Negril have amazing beaches: but the lookout across miles worth of beautiful ocean is a must to enjoy here.
Whether it's to mingle with other travelers, have some fun with a football, or enjoy a few Red Stripes, you will find the entry to Doctors Cove beach is one of the smartest decisions to make when in Mobay.
Montego Bay Travel Tips
Read the tips below for travel to Montego Bay! I will update this section on a monthly basis based on my notes and reflections from my trips.
See advice from my Jamaica travel blogs and just apply them anywhere on the island. That way you'll be ready to navigate Jamaican culture.
Best Time to Vist Montego Bay
It depends on your personal preferences, but you'll find that summertime is the best time to visit Montego Bay if you love humid, excessively warm sunshine.
The average temperature can be around 29 degrees Celsius in the summer months, so be prepared for that.
If you're concerned by the weather, see this guide on the best time to go to Jamaica for more ideas on what to expect here.
However, even if you were to come in the rainiest month of the year, October, you would still get to experience warm, enjoyable weather and plenty of dry time as well.
This is a rather excellent place to visit at any time of the year, but especially if you come during the summer.
Got Travel Insurance for Montego Bay?

Designed by travelers, for travelers, World Nomads covers more than 150 adventure sports and activities so you can explore your boundaries.
Things to do in Montego Bay
With so much to do and often so little time, I recommend you prioritize these things to do in Montego Bay based on your personal interests.
As long as you ensure you see all of the above, though, I can guarantee you'll leave Montego Bay feeling like you've done something special!
Thinking of heading further afield? See this guide on getting from Montego Bay to Negril to see what you can find there.
📌 Like this article? Pin it…
Did this help you decide what to do in Montego Bay?
💬 Leave a comment below or let's start a meaningful conversation…
---
"Dear friend! Some links in this post contain affiliate links. Meaning, if you click through and make a purchase, book a hostel or sign up for a tour, I may earn a small commission at no additional cost to you. Your support means a lot and helps me to keep traveling and maintaining the quality of this site for you."