Do you need help getting from Montego Bay to Ocho Rios?
Below you can find out more about the ways to travel between the two locations, where to stay and more travel advice.
Having the freedom to travel in Jamaica and mix with locals is key. This guide shows the best and most effective way to get to Ocho Rios.
On this trip to Jamaica, I spend around 4 nights in Montego Bay before I decided to head over to Ocho Rios for a change of scenery.
If you're new to Jamaica you are going to love this journey.
In this guide, I will also recommend three different ways you can get from Montego Bay to Ocho Rios using public transportation.
Montego Bay to Ocho Rios
Although the zone appears quite small and very touristic it doesn't take much to go deeper into the everyday life of Jamaica.
As one of the best places to visit in Jamaica, there are many things to do in Ocho Rios. Prepared to be entertained and ensure you've got some cash in your pocket to be able to get involved with the activities.
The good news is, the route from Montego Bay to Ocho Rios is direct, so depending on which transport you take you'll have options.
If you've read any of my other travel tips for jamaica you'll know that I like to mix up my travel around the island.
I tend to like to use taxis and public buses for shorter rides. It's one of the best ways to learn more about what's happening locally on the island. See this Ocho Rios safety guide for more useful travel tips.
Distance From Montego Bay to Ocho Rios
So, how far is Ocho Rios from Montego Bay?
As you can see on the map below the distance between Montego Bay and Ocho Rios is around 100KM. I recommend you take this journey as early as possible. Preferably in the morning.
If you need transportation from Montego Bay airport to Ocho Rios you can easily order a private shuttle from right outside the airport.
No matter what time of day you travel, it's recommended that you always have a pre-determined destination for your arrival.
That way, when you arrive you know where you're headed. Especially when using public buses.
MoBay to Ocho Rios Travel Advice
Now, before you take any mode of transport in Jamaica there are some crucial things you should know.
I've listed some of the best tips in my guide to backpacking safe in Jamaica that I've written after my trips to the island over the years.
If you plan to travel from Montego Bay to Ocho Rios soon, see the relevant tips below designed to help you get the most out of your trip.
Here are some crucial things you'll need to know:
Expect the journey to be around 2 hours.
Catch the local bus from the downtown Montego Bay station.
Head to Montego Bay airport to get the Knutsford Express.
Not so important but useful things to know:
Carry water on your trip.
Travel with small bills for the journey.
Have your accomadation pre-booked.
Buy your ticket online to save valuable time.
Hopefully, you'll find these tips practical and they give you something to think about before deciding which mode of transport to take.
Along my travels in Jamacia, I have identified three main modes of public transportation in Jamaica you can take to get from Montego Bay to Ocho Rios let's take a look at them below.
Knutsford Express
If you are backpacking in Jamaica or just traveling around the island the Knutsford Express service will quickly become your best friend.
Knutsford Express is recognized as a safe and reliable bus service that will connect you 'with ease' to most of the main cities in Jamaica.
When you consider the distance from Ocho Rios to Montego Bay Knutsford Express is affordable, comfortable, and a great way to transport yourself around Jamaica.
I recommend you purchase your ticket from Montego Bay to Ocho Rios online as you'll find it guarantees your seat on the coach.
Not only that, it will even save you time going down to the station and waiting in any queues to purchase your ticket.
Taxi from Montego bay to Ocho Rios
One of the most entertaining ways to get to Ocho Rios. If you're not on a budget or traveling in a small group, I recommend using a taxi.
Purley for the knowledge you'll gain along the way.
Most Jamaican taxi drivers are very knowledgeable and have a good understanding of what is going on in the local areas, whether it be Jamaica's best beaches or some low-key food spots.
If you're not in a rush, you can charter your taxi driver to stop along the way at one of the many Red Stripe stops, or the Jerk Stands. You'll get to try some of the best food in Jamaica this way.
After arriving at your destination, you will realize using a private shuttle or taxi to get from Montego Bay to Ocho Rios was a great idea after all.
Roll down the window and take in the fragrant air as you transport yourself along the scenic coastlines of the Caribbean sea.
Local Bus
The Local Buses in Jamaica are by far the cheapest and most adventurous way to travel in Jamaica.
If you head down to the bus station in downtown Montego Bay you'll be able to easily jump on the next bus to Ocho Rios.
Are you traveling with a lot of luggage? I wouldn't recommend traveling on the local bus if you have anything more than one bag.
Jamaican buses are known for going overboard with passengers, meaning, there's not much space.
Buses don't leave until they are full, so remember the buses, although cheaper, are not a good idea unless you have minimal luggage.
Where to Stay in Ocho Rios
When traveling to new cities or towns, I usually pre-book some accommodation. Either a hostel or hotel depending on how I feel.
Are you familiar with some of the best hostels in Jamaica, already?
Here are some places to stay in Ocho Rios that I recommend you check out if you're planning on staying overnight.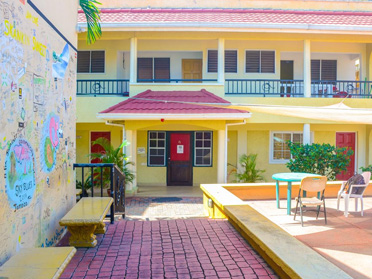 Reasons to stay here:
✓ Next to Ocho Rios Beach
✓ Beautiful roof terrace
✓ Excellent food
Reggae Hostel Ocho Rios is a laidback and fun-filled hostel! With its location and tourists' favorite – the roof terrace, you will have lots of fun chilling with music and food.
---
Having your accommodation in check before you arrive can save you a lot of time and frustration whilst on the road.
While ever traveling around Jamaica I always make sure I have a predetermined endpoint purely for safety reasons.
Got Travel Insurance for Jamaica?

Designed by travelers, for travelers, World Nomads covers more than 150 adventure sports and activities so you can explore your boundaries.
Montego Bay to Ocho Rios
Now you have a good idea of how to get from Montego Bay to Ocho Rios, how will you decide to get there?
My wish for you is to get to Ocho Rios as safely as possible and have an amazing time.
If you will be heading to Kingston from Ocho Rios be sure to see my guide so you know how to get to and from the capital using public transport.
📌 Like this article? Pin it…
Did you find this guide useful to be able to get to Ocho Rios?
💬 Leave a nice comment or let's start a conversation below!
---
"Dear friend! Some links in this post contain affiliate links. Meaning, if you click through and make a purchase, book a hostel or sign up for a tour, I may earn a small commission at no additional cost to you. Your support means a lot and helps me to keep traveling and maintaining the quality of this site for you."