This is my itinerary for visiting the Hidalgo state in Mexico.
Despite it only taking two hours to arrive from Mexico City the Hidalgo region receives less tourism than other places in Mexico.
Located to the north-east of Mexico City this region is full of surprises and local gems that you probably haven't heard of and can be great to add to any trip to Mexico.
Things to do in The Hidalgo State
In this guide we'll look at my Hidalgo travel itinerary, covering both the most popular activities as well as some off-the-beaten-path gems.
I recommend basing the majority of your stay in Pachuca.
This is what I did, and most of the destinations can be done in half a day. The exception is Tolantongo, which whilst could be done in a day, would be much easier if staying in the nearby town of Ixmiquilpan.
Pachuca
The capital of the state lies in the South and can easily be reached by bus from Mexico City, taking around 2 hours to arrive.
The bus station is located on the outskirts of the city, so you'll need to take a taxi/colectivo to the center where I recommend staying.
There are lots of small markets to explore in the center, which should be combined with a visit to the Monumental Clock Tower.
Take a few minutes to appreciate the incredible backdrop of the mountains behind.
Pachuca is also well known for its "colorful neighborhood", where there is a district on a mountain covered in bright, distinct colors.
To get here you should take a taxi, and for the best views, you should ask to stop near the highway, which is on the way to the bus station.
Tula Ruins
Mexico is full of ancient pyramids and sprawling temples, however, Tula offers a different kind of visual experience.
The Ruins of Tula are made up of several giant-sized, human-like statues on top of a pyramid. The Ruins are located close to the town of Tula de Allende.
It's one of the best photo ops in the region, and the site doesn't receive as much international recognition as it deserves.
Be sure to protect your skin with some UV sun cream and carry a shirt to keep you cool in the blistering sun during midday.
Getting here is simple, with buses departing from Pachuca and arriving within an hour and a half.
Ixmiquilpan
This pretty town is located a few hours north of Pachuca.
It is primarily visited due to its close proximity to the Tolantongo Grutas, so many will stay here in order to visit early before the crowds arrive. However, there are some cool things to do and see here too.
One is the Church of San Miguel Archangel, which is a beautiful monastery filled with murals. You'll also find it has a pretty fountain and plaza on its grounds. See Hotel Avenida for the cheapest stays nearby.
You should also visit the main plaza in the center, which is lined with lots of small souvenir shops where you can easily grab a bargain!
Maybe you've had a fair share of Mexican food already? Whilst here be sure to try out some Paletas, which are a Mexican desert similar to a lolly, but made from real fruit (and usually with chile added too).
Tolantongo Caves
This gem is arguably the most popular to visit on this list, and many Mexicans travel from all over the country to visit.
Dramatically based in the middle of two steep canyons, Tolantongo is made up of several cascading pools of bright blue water. See this detailed guide on getting to Tolantongo caves for more info.
The water is also pleasantly warm, as it passes through several complex river systems within the mountains.
You can arrive here within an hour from Ixmiquilpan, which has several tour bus departures from its main bus station.
One of the highlights is upon arrival, where you'll get astonishing views over the canyon as the bus makes its way down the steep, zig-zagging path. Not one for the faint of hearted!
Huasca de Campo
Another gem can be found in Huasca de Campo. The Balsatic Prisms of Huasca is essentially a waterfall that is surrounded by hundreds of basalt rock columns.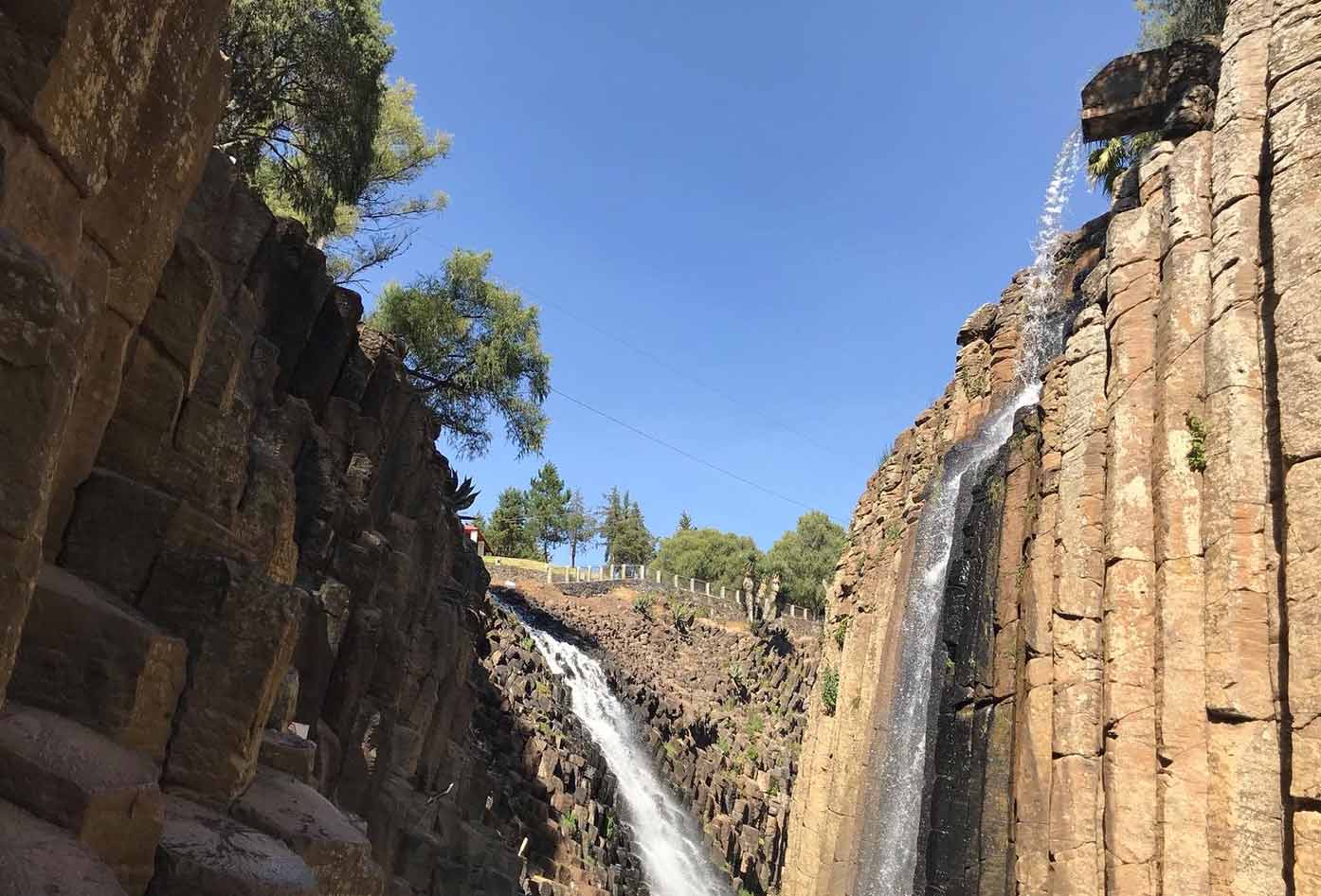 Perfectly shaped with either five or six sides, these spectacular columns can rise from 30 up to 60 meters high, making it a very odd yet unique formation to behold.
There's a bridge between the two edges which makes for a great viewing spot, and some novelty shops along with on-site restaurants.
Whilst most come for this gem, the town itself is pretty cool to check out, with lots of artisan shops where you can buy traditional clothing, mezcal, and more.
Evade the typical culture shock symptoms and support the locals by purchasing local crafts. This town is only located some 30km from Pachuca, making it an easy half-day trip.
Mineral del Monte
Designated one of Mexico's Pueblo Mágicos (A list of important Mexican sites/destinations, similar to the UNESCO sites).
This cute town is small in size but is great as a day trip from Pachuca. Also known as Real del Monte, there are lots of cool things to see.
One of the most interesting sites is the Panteón Inglés (English Graveyard).
This small graveyard is dedicated to a group of English men that came to work in the mountainous town a couple of centuries ago.
You should also check out the Acosta Mining Museum, which, despite the entrance to the mines being closed, there are still lots of cool artifacts and anecdotes to learn more about the town's history.
If you're into hiking, then this town is a good starting point to hike the El Chico National Park, which has some beautiful mountainous outcroppings and some camping sites.
Got Travel Insurance for Hidalgo?

Designed by travelers, for travelers, World Nomads covers more than 150 adventure sports and activities so you can explore your boundaries.
The Hidalgo State, Mexico
Thanks for reading this itinerary and guide to travel in Hidalgo.
Hidalgo as a lesser-known state retains much of its unique vibe, unlike other regions that have been over-exposed to tourism.
As you've seen, there are lots of cool things to do and see here. This includes visiting the towns of Ixmiquilpan and Real del Monte.
Oh, and how could I forget! Chilling out in the warm pools of Tolantongo, or witnessing the unique ruins of Tula.
I hope you enjoyed this guide to Hidalgo, and that it'll help you to plan your own trip to this beautiful yet under-appreciated state in Mexico.
See these other safe places in Mexico I've written about here.
📌 Like this article? Pin it…
Are you thinking of traveling to the Hidalgo state, Mexico soon?
💬 Leave a comment below or let's start a meaningful conversation…
---
"Dear friend! Some links in this post contain affiliate links. Meaning, if you click through and make a purchase, book a hostel or sign up for a tour, I may earn a small commission at no additional cost to you. Your support means a lot and helps me to keep traveling and maintaining the quality of this site for you."