Is Puerto Escondido Safe?
This Mexican paradise town is full of pristine beaches, a rising nightlife scene, and a real sense of community.
If you're feeling tired of the over-touristy beaches in the Riviera Maya, then this 'hidden port' may be just what you are looking for.
However, what is the safety situation like over here in paradise?
Is Puerto Escondido Safe?
Below we'll explore everything to do with travel to Puerto Escondido!
Many see this location as a perfect addition to their trip after doing all the things to do in Oaxaca City or simply need a break from city life.
But with this perfect paradise picture in mind, is Puerto Escondido as safe as people think, and is it worth your time visiting?
Is Puerto Escondido Safe for tourists?
The quick answer is yes! Puerto Escondido is safe but there are some things to bear in mind before traveling to this laid-back coastal town.
According to vice the crime rate is increasing. This could be to do with the influx in tourists and the need to gain control of the tourist dollar.
Petty crimes are on the increase and you can expect to hear about:
Home break-in
Being mugged or robbed
Cars stolen
Being offered drugs in Puerto Escondido
As a tourist who may be backpacking Puerto Escondido or staying on a luxury-style vacation, you needn't worry too much if you're staying in a popular area. So, with that said, should you still visit Puerto Escondido?
Is Puerto Escondido Worth Visiting?
Puerto Escondido is a popular location to visit in Mexico due to its beaches and laid-back attitude, yet it still maintains its tranquil vibe.
In this way, it's quite unique! As many other destinations like Cabo San Lucas and Cancun have become very touristy in recent years.
Find many things to do in the immediate town and nearby areas of Zicatela and La Punta.
Surfing is often regarded as the best in Mexico here, so as you can imagine people flock from all over the world to hit the waves.
The town is also a great area to base yourself in for visiting other parts of the region.
Looking at the map of Puerto Escondido below you'll see it connects well with other areas of Oaxaca such as Huatulco and San Jose del Pacifico, which can both be done as day trips if you wake up early.
There are some great beaches nearby such as Carrizalillo, as well as the bio-luminescent bay which lights up a cool blue from the plankton.
Other cool things include participating in a turtle release program or going to a nude beach. What more could you possibly want?!
Puerto Escondido: Travel Basics
🛏️ Lodgings:
When deciding where to stay in Puerto Escondido, Playa Principal, Carrizalillo and Zicatela all provide a great selection of accommodation suited for all travelers. You can expect to pay anything from 10-15 USD for the most basic options.
🍽️ Dining:
Puerto Escondido has a ton of delicious Oaxacan dishes in the immediate area. Whether it be local dishes or international dining, can all easily be found in La Punta Zicatela. Also check the Mercado Benito Juárez to immerse in the culture.
🚌 Transport:
For most backpackers, the most common way to get around in Puerto Escondido is by taxi or shared taxi. Renting a car or bike is another option but using taxis is cheap enough, and will help you'll avoid accidents.
🎟️ Activities:
Would you like to release sea turtles? Swim in bioluminescent waters? Or maybe take surf lessons. There are many tours and activities that can be found in Puerto Escondido. You can find tours starting from US$20.
When backpacking Mexico, you'll find the area moderately priced on (a budget) when picking and choosing the above travel basics wisely.
Below, we'll look at the different ways of getting to Puerto Escondido from Oaxaca, the best things to do and see, including surfing, spotting turtles, and an array of beaches for you to enjoy.
How To Get To Puerto Escondido From Oaxaca?
Located in the state of Oaxaca, Puerto Escondido is nestled on the Southern Coast, with the Pacific sitting on its doorstep.
Most people landing in Puerto Escondido arrive from Oaxaca City, as it naturally forms part of the typical trail through Southern Mexico.
There are night buses leaving daily and take around 10 hours to arrive. See this Mexico bus guide for advice on Mexican bus services.
I'd personally recommend using the bus as it's quite cheap, and the timing works well as you won't be losing any daylight.
You can also choose to fly from Oaxaca to Puerto Escondido, which is a popular option with travelers but not so typical for backpackers.
Although more expensive, it'll only take an hour to arrive, and you'll avoid the windy mountain roads that shock most travelers on route!
Things to do in Puerto Escondido
Let's look below at some of the best things to do in Puerto Escondido!
These are some great recommendations, especially for those arriving with limited time in this paradise location.
Zicatela and La Punta
These areas are more popular to stay in and to be honest, I would recommend over the town itself in Puerto Escondido, which feels a little more commercial.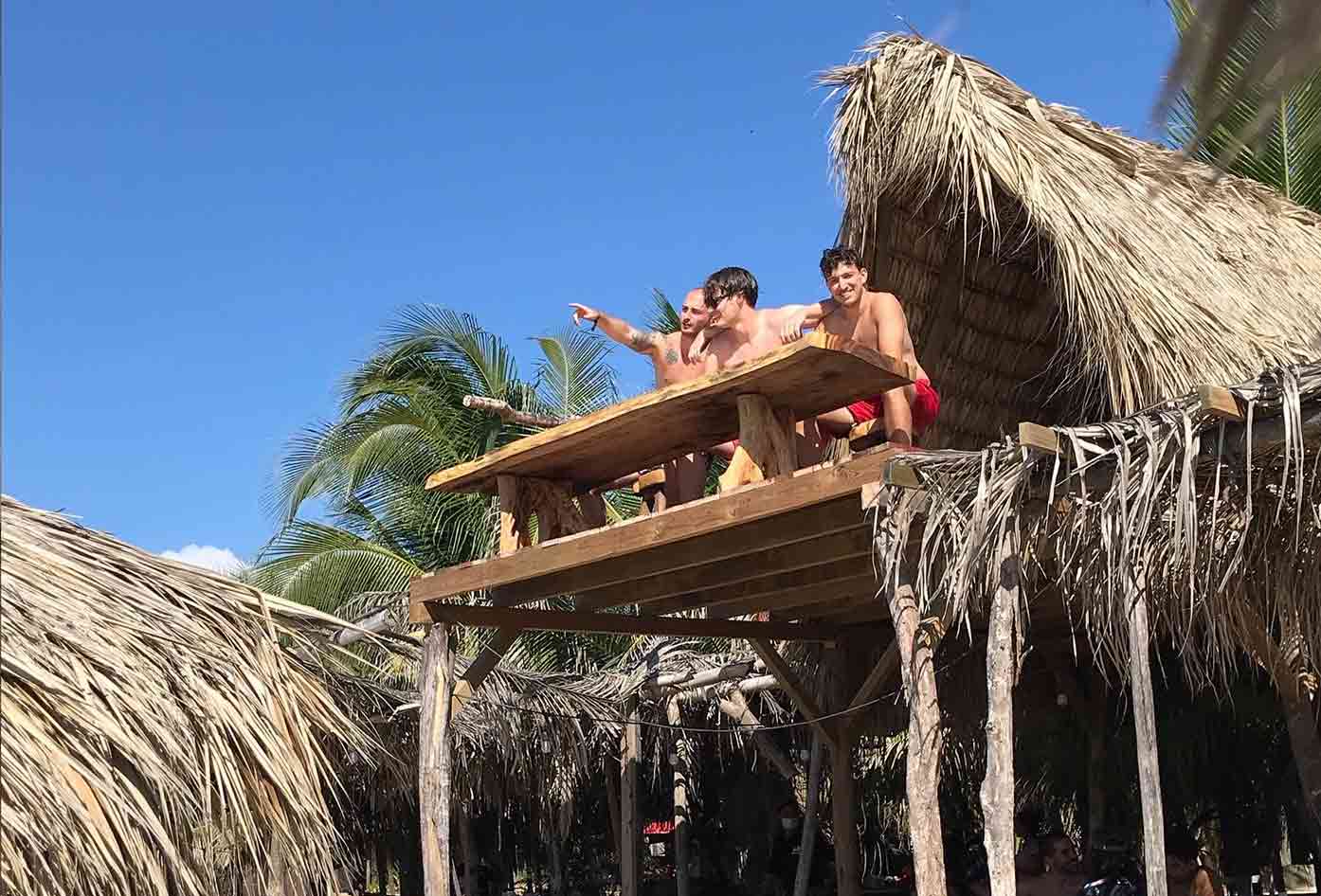 When comparing Puerto Escondido and Tulum you'll be glad to know that Zicatela has a single road that runs adjacent to the beach, lined with lots of great restaurants and bars.
Zicatela is a good overall central location, although the beach is not as popular.
La Punta is the upcoming area, with lots of bars and nightclubs, and overall, more people out and about. Again, the best area depends on what you want from your vacation.
Bacocho Beach Turtle Sanctuary
Puerto Escondido is also a popular place for turtle releases, and the season runs from November until around May.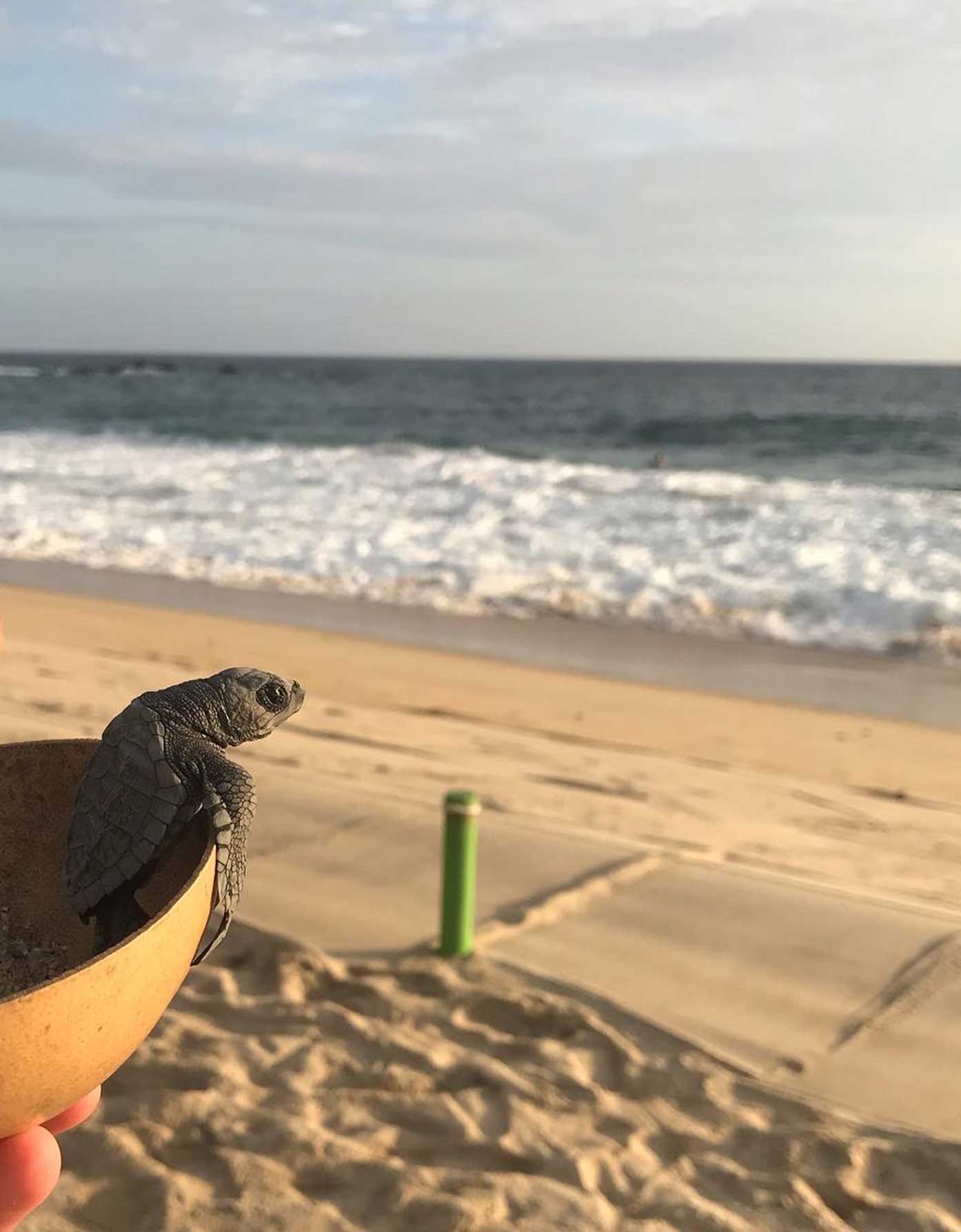 This sanctuary itself is located on Bacocho beach, and turtle releases happen around 5 pm daily.
It's a special visit, and honestly, I'd come back just to do it again!
You will need to pay a 100MXP fee which helps conservation efforts, and then you'll be able to release your very own baby turtle out into the sea. Or, you can book in advance here to reserve a spot.
Surfing in Puerto Escondido
Arguably one of the best surfing spots in Latin America; Puerto Escondido is home to some truly massive waves.
I'm not an expert surfer, however, having swum in the sea I can tell you that the current is ridiculously strong.
Zicatela Beach is an absolute no-go unless you are advanced.
If you want to take surf lessons or are worried, then La Punta and Carrizalillo are a lot tamer and more enjoyable.
Again, be sure to talk to some of the locals, or other surf sites in order to get better acquainted with the area.
Zipolite Nude Beach
Zipolite is (officially) Mexico's only nudist beach, and as a result, is very popular with travelers around the world looking to strut their stuff.
It takes about two hours to arrive by bus from Puerto Escondido, so you'll need to wake up early to make the most of this beautiful destination as a day trip.
Despite its popularity, it's still low-key, and you can find many restaurants and bars that line the beach area.
Beaches in Puerto Escondido
Big, white sandy beaches are a dime a dozen in this part of Mexico!
Zicatela beach, which is close to the town of Puerto Escondido is usually quiet, as the waters are not considered safe for swimming.
There are lots of beach bars and restaurants on-site, so it is a great area to wind down and relax from last night's antics.
With a good selection of hostels in Puerto Escondido aim to get close to the beach. Also, be sure to check out La Punta, about a 30 minutes walk down the beach.
There are lots more people in the area, with surfers and swimmers flocking to the area.
Last but not least we have Carrizalillo beach, which is often considered one of the most beautiful beaches in Mexico.
It's a lot smaller but has a much more cozy and private vibe compared with the others.
See this guide on the best beaches in Oaxaca for even more beaches you can visit in this region.
Puerto Escondido Travel Tips
See my list of travel tips for Puerto Escondido to ensure you have a satisfying stay whether you are on vacation, backpacking, traveling with friends, or just looking for new cultural gems to visit in the region.
If you want to get off the beaten track in Puerto Escondido you may want to rent a car or even motorbike to head out into the mountains.
Dan's Travel Tips For Puerto Escondido:
Puerto Carrizalillo is a great beach for swimming and learning to surf and the months with the best waves are July and August.
Remember that the rain season in Puerto Escondido is from May to November. Carrying some travel mosquito repellent is a must if you go during those months.
Puerto Escondido is a great place to swim with Bioluminescent Plankton in a lake. You can book tours online competitive prices.
Check out Club Cañabrava for cheap drinks and an amazing seafood soup.
From Puerto Escondido go kayaking in Manialtepec Lagoon that is one of Mexico's most impressive natural sights.
If you like waterfalls, be sure to check out La Reforma Waterfall, which is a one and a half hour trip from Puerto Escondido.
Check out the central market "El Mercado" where you can find fresh fruits and vegetables as well as local crafts and handmade items.
If looking for the best hostel be sure to check out Selina hostel for budget dorms and private rooms.
Visit the town of San Pedro Tututepec to connect with local indigenous people and learn more about key archeological sites in the local area.
Go off the beaten path and take a trip to Huatulco for the perfect secluded escape within the Sierra Madre mountain range.
Map of Puerto Escondido, Mexico
Are you in the middle of planning your trip to Mexico? See this map of Puerto Escondido to get a better idea of the surrounding area:
If you're backpacking Mexico Puerto Escondido offers you a chance to do much more than surfing and beach activities. Do a trip to San Pedro Tututepec to meet local indigenous people and see their way of life.
Got Travel Insurance for Puerto Escondido?

Designed by travelers, for travelers, World Nomads covers more than 150 adventure sports and activities so you can explore your boundaries.
Is Puerto Escondido Safe?
Thanks for reading this guide to safety in Puerto Escondido.
Popular with surfers looking for an authentic beach destination in Mexico, Puerto Escondido still retains its vibe, unlike other destinations such as Cancun and Puerto Vallarta you could argue.
It's a great location to stay in if you plan on doing activities, such as surfing, visiting beaches, or participating in the turtle release program.
After reading this guide, you should know how to get to Puerto Escondido, things to do, as well as the other areas such as Zicatela and La Punta that you should definitely spend some time in!
I've made a list of some of the safest places in Mexico you could visit during your stay by planning accordingly with the time you have.
📌 Like this article? Pin it…
Did this guide help you feel safe traveling to Puerto Escondido?
💬 Leave a comment below or let's start a meaningful conversation…
---
"Dear friend! Some links in this post contain affiliate links. Meaning, if you click through and make a purchase, book a hostel or sign up for a tour, I may earn a small commission at no additional cost to you. Your support means a lot and helps me to keep traveling and maintaining the quality of this site for you."