Are you looking for the best things to do in Bogota?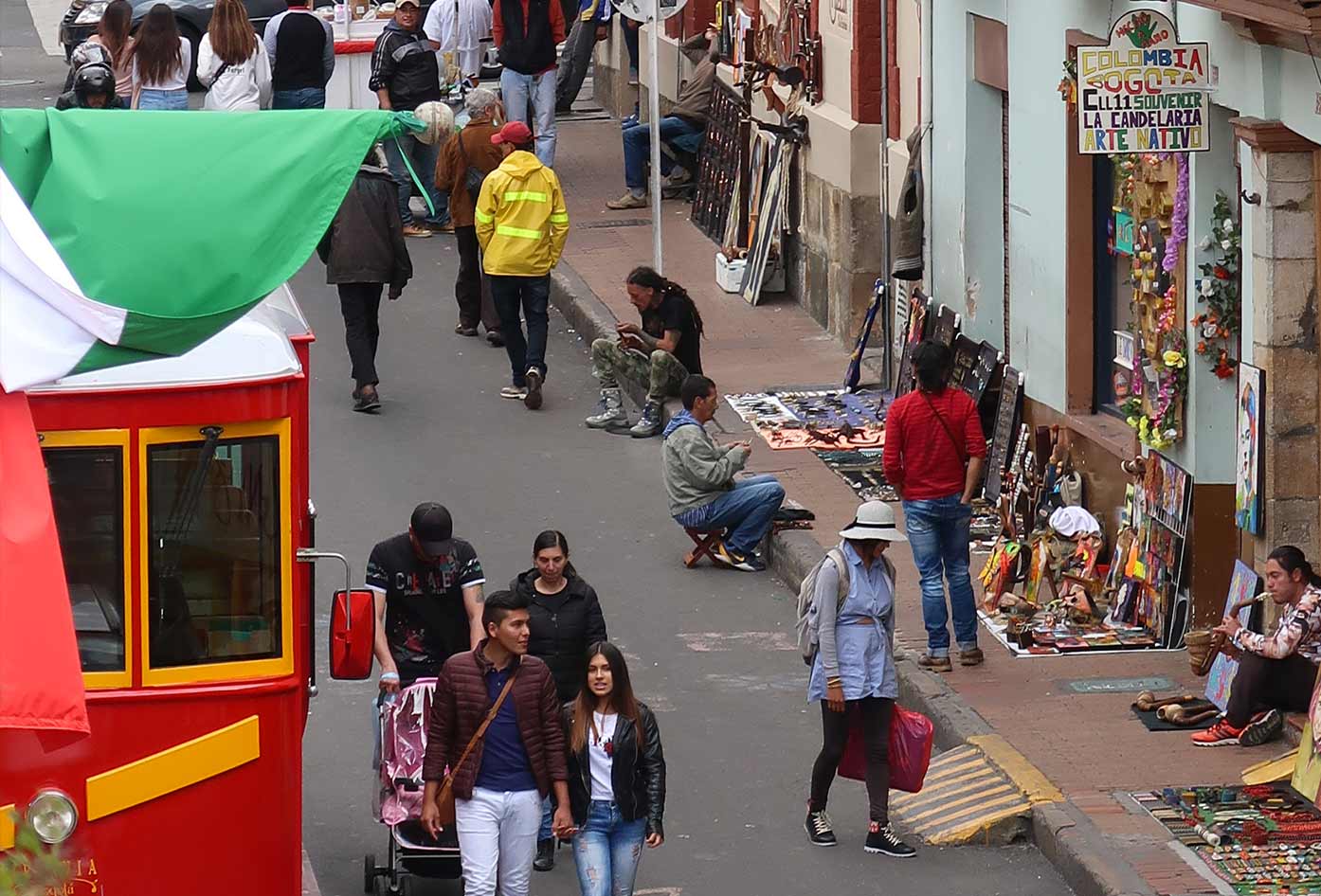 Bogota is a mammoth city and not an easy city to navigate at all.
Whether you're backpacking Colombia or on vacation, you'll be interested to know what to do in Bogota within a short space of time.
It is worth knowing that Bogota is the capital and largest city in Colombia and is also the capital of the Cundinamarca Department.
Things to do in Bogota
Continuing my Spanish learning journey, I visited Colombia's capital, an entry point to begin my journey towards Medellín in the northwest.
Upon arrival to Colombia, I began to compile a list of the best things to do in Bogota. Below are some of the landmarks I visited.
Is Bogota worth visiting?
The Colombian capital is usually used just for its airport, with travelers leaving sooner rather than later.
However, there are tons of cool things to see. Take the cable car up to the peak of Monserrate for the best views of Bogotá, and also explore the historic center to see the Plaza de Armas plus other landmarks.
There are also some great museums here, such as Botero for its unorthodox art, as well as the Gold Museum with over 34,000 gold objects and other pre-Colombian artifacts.
Arriving to Bogota
Most likely you will be flying into Bogota or maybe arriving by bus, from one of the nearby regions if you are already in Colombia.
The first time I arrived to Bogotá was from JFK with my trusty backpack.
Aeropuerto El Dorado is the main hub of Avianca Airlines – a more upmarket airline that serves all of Colombia.
💡Smart Travel Tip
Getting a taxi outside the terminal when heading to La Candelaria or Chapinero is the best transport option, you'll pay around 30,000COP.
If you're traveling to Bogota via plane be sure to book early to get the best prices and try to avoid booking during Días Festivos (bank holidays) if you want to save money and reduce travel complications.
Bogota Typical Costs and Budget
Cost Breakdown:
🇺🇸 1USD – 🇨🇴 3.8KCOP
My daily budget:
Up to 150K COP daily
Suggested budget:
90K-180K COP
Is it possible to travel to Bogota on a Budget? Of course 🙂
Below, I'll share my best Bogota travel tips that can save your hard-earned cash so you can reserve it for more important things.
Bogota: Travel Basics
🛏️ Lodgings
:
For places to stay in Bogotá neighborhoods such as
La Candelaria
,
Zona Rosa
and
Chapinero
are popular. Find cool
hostels in Bogota
as well as fancy hotels. Expect to pay 7-15USD for the most basic options.
🍽️ Dining:
Food in Bogotá is incredible. From traditional dishes like Ajiaco to international and fancy dining. The offer is almost infinite visiting Zona G, Zona Rosa, Chapinero, Parque de la 93, and La Candelaria.
🚌 Transport:
Bogotá has the Transmilenio public transport system. It's the most efficient transport so it's crowded during rush hours. Get a rechargable Tullave card at Transmilenio stations it every time you need more fares.
🎟️ Activities:
Bogotá is a cultural experience itself. Street art, concerts, theater, and beautiful parks to visit. Also, there are many urban and countryside tours. You can find tours starting from US$15. Every day you'll have a plan.
Best Things to do in Bogota
Bogotá Graffiti Tour
If you're looking for one of the best activities in Bogota, Colombia, look no further. The graffiti tour is one of the best in the country.
If you're a big fan of street art and can get the tour on a quiet day, it could be one of the most rewarding experiences you'll have in Bogota.
Not only will you see Bogota's street art hall of fame, but you'll also get to learn the name of every artist.
The knowledgeable guides tell you all the background information on each artist. You'll see the work of more than 20 unique artists.
I suggest you carry a small travel journal to note down the names because it's easy to forget who's who with so much inspiring artwork.
This tour is one of my top things to do in Bogota. Learn about the rise of graffiti in Bogota, not only the struggle of the artists vs. the police.
You'll hear about how many rising female artists paved the way for newborn street artists. Many of these artists use this art form to depict their stories of sexual violence and exploitation.
You may also be interested to know that the tour organizers lead tailor-made tours for tourists.
Just ask the organizers, and you'll get tours on all aspects of street life, including food and dining, politics, and general culture in Bogota.
So if you're traveling to Colombia, make sure you add Bogotá Graffiti Tour to your list of cool things to do in Bogota.
Cerro Monserrate
You'll get epic views of the city and definitely has the most appeal if you like hiking when compared with other Bogota attractions.
Not only is Cerro Monserrate an attraction, it's worth going just for the scenic view alone. It's so high, I started to feel dizzy at one point.
💡Smart Travel Tip
If you can't stand heights or tend to feel sick or dizzy at high altitudes and don't recommend this attraction
Once you get to the top of the hill, you'll encounter a beautiful little garden that provides a stark contrast from the busy streets of Bogota.
You'll also find a cute church at the top and some cool places to buy gifts. Try not to spend too much of your travel budget on the top of the hill as you'll find much of the same cheaper in the city.
I took a cable car to the top, but you can actually walk. I wanted to walk, but because it was wet that day, they had closed off the steps.
La Candelaria
If you were to ask me what to do in Bogota for one day, I'd recommend you head straight to La Candelaria.
While it's surrounded by tourists and hostels, it shows a lively part of Bogota, which is popular with young people due to the University.
This is one of the best places to stay in Bogota and hard not to fall in love with the neighborhood, especially on a nice sunny day in Bogota.
Get your travel camera ready; this is Bogotá's old core. Within a few blocks, you'll find amazing and colorful colonial-style buildings.
Many of these buildings have some interesting history to accompany them. La Candeleria is one of my top 10 things to do in Bogota by far.
Aside from the charming old houses and buildings, nearby you'll find a few key sites such as the cathedral, the Plaza de Bolívar, and many historic churches.
La Candelaria is made up of many narrow streets and attractive pieces of architecture. Keep your eyes peeled and you'll find some quaint eateries exploring the cobbled paths and sloped sidewalks.
I found the Candelaria safe compared to other areas. If you're wondering where to stay in Bogota, do your research, you may lose yourself as you explore the city deeper.
It's by far one of the places you must visit in Bogota, Colombia.
The food tour
If you class yourself as a foodie, then the food tour is by far one of the most fun things to do in Bogota, Colombia. Bogota is famous for many food dishes around Colombia, one being Ajiaco.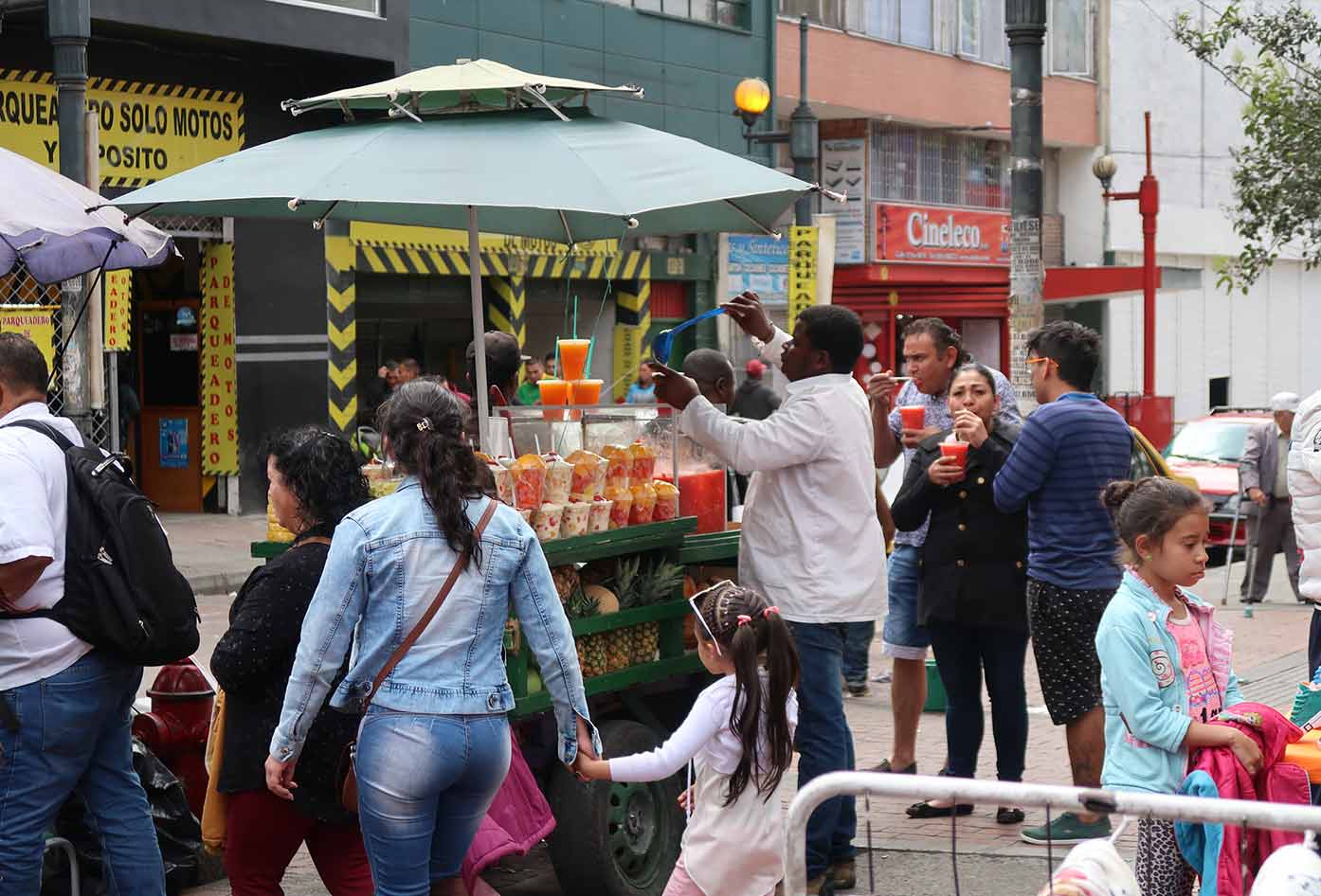 I usually like to explore the market by myself without help. However, like some other countries I've visited in Latin America, I get stuck on what to eat because I don't know the local dishes.
Bogota's local market is massive, and for various reasons, most locals don't recommend there visiting alone.
The food tour gives you a reason to get to know it via a local food expert and get acquainted with all those exotic fruits on display.
You'll also learn many new things about the city while you're stuffing your face. It's one of those touristy, non-touristy things to do in Bogota where you get the best of both worlds.
💡Smart Travel Tip
Mark my words, do NOT eat anything before the tour. The idea is to arrive hungrily and leave happy with a full belly.
Museo del oro
For some people, it's seen as one of the top things to do in Colombia. I agree; it's an interesting place to visit.
Especially if you're already in the La Candelaria area, but I'm not sure if I'd put it on my list of fun things to do in Colombia.
See how the natives worked metals and its connection with politics and religion. The museum holds an amazing collection of gold that can be seen from before the colony.
The exhibition spreads across four floors, and you'll see a great collection of pieces of small and large gold items. There are audio tours and informative videos that you can sit down and watch.
This place is one of the most important points of interest in Bogota, especially for people who like history and want to know more about pre-Hispanic culture in Colombia and much more.
💸 Why not try going here on a Sunday for free entrance? Downstairs can be a quiet place to enjoy a tinto if you have time.
You'll also find many Pre-Colombian gold art pieces, so expect to get a rare glimpse into the ancient civilizations of Colombia.
Most information is presented in English, which is good to know, especially if you're not yet fluent in Spanish or not learning Spanish.
Zona T, Zona Rosa
Do you like to party? Are you looking for things to do in Bogota at night? Then Zona T awaits you, also, known as the Zona Rosa.
Not only will you find a huge concentration of bars, pubs, and clubs but also many other activities to do with your time in Bogota. Zona T is home to some of Bogota's best shopping centers.
I didn't party in Bogota per se, but I got the opportunity to walk around this area at night and witnessed the shenanigans in this area for myself.
Be sure to carry a light bag. I carried a leather duffel bag, and check out Museo del Chicó, which is a hidden gem tucked away in a park.
It's worth noting that there's also a surrounding public park called Park 93 with a playground. This is perfect if you just want to get away from the hustle and bustle of the city for an hour or so.
Usaquen Markets
I love the markets. If you're still wondering what to see in Bogota, there's nothing like getting lost inside a local market.
You can practice your Colombian Spanish and grab a street snack from them. After, I like to wander around while I'm taking in the vibe.
The market starts around 10 AM, and if you'd like to arrive early, you'll see the vendors setting up and probably scoop some early bargains.
💡Smart Travel Tip
Note that the Usaquen Flea Market is only open on Sundays also it's best to arrive early as possible
What I like most about these types of markets is that you can haggle the price. The Usaquen Market is a colorful and exciting place to find unique souvenirs that you may not find elsewhere.
The whole area is reminiscent of other small heritage towns in Colombia that you wouldn't want to miss out on.
Here, you'll find the streets are filled with stalls selling everything from crafts to clothes, jewelry and more.
You'll find the neighborhood Usaquen is a beautiful place! It's filled with shops and restaurants with a variety of cuisines, styles, and prices.
Plaza Bolivar
Plaza de Bolívar (Plaza Bolivar) is a very important square in Bogota – just walking there, you feel the importance of its location.
The Plaza is home to some impressive and very important buildings, such as the Congress, City Hall, the Supreme Court, and the Cathedral.
If you've been to Buenos Aires, this is like Colombia's version of the Plaza de Mayo Square. It should be on your list of things to see in Bogota, even if you're just passing through.
In the big square, you'll see lots of people and even more pigeons. Actually, I think there are more pigeons than people.
💡Smart Travel Tip
There are many beggars and pickpockets who operate in this area so watch your pockets, especially in the most crowded times.
There's also a big cathedral nearby, and the surrounding area is surprisingly busy, all day long.
It's mainly filled with locals, tourists, and some street vendors. If you're looking for cheap things to do in Colombia, I always go to these types of spots because I find them very entertaining.
I would say this is one of the best things to do in Bogota, but it's just a stones-throw away from La Calendaria, so it's well worth a visit.
The plaza is very photogenic with numerous historic buildings, so make sure you get your Instagram selfies here.
Bogota Travel Tips
Here are some of my best travel tips for Bogota.
Throughout this blog, I will always note little tricks and tips for South America that I feel can enhance your experience, or save you money.
I have spent months on end backpacking Colombia over the years and can help you gain new insights and knowledge on this country.
Dan's Travel Tips For Bogota:
If you need cash, go into the bank to make your withdrawal. It is safer than withdrawing from ATMs on the street.
As usual in big cities, it's common to hear about pickpocketing. Be careful with what you carry, especially using the Transmilenio buses.
Visit 3 important baroque churches: Iglesia San Francisco, Santuario Nuestra Señora del Carmen and, Iglesia Museo de Santa Clara.
Rent a bike to enjoy the Ciclovía on Sunday. On Sunday in Colombia's main cities, most locals go for a ride on the main street. Ask in your hotel where you can join it.
Check out The Botanical Garden José Celestino Mutis, a peaceful gem for walking and be quiet. Also, take some beautiful pictures.
Visit Paloquemao another market where you'll find fresh fruits and vegetables, typical dishes, and have a great cultural experience.
Take a day trip to La Chorrera waterfall located outside Bogotá. Perfect for people in a good physical condition. Carry some boots, a waterproof jacket, light backpack, and cash for lunch.
From Bogotá, you can even go to Lake Guatavita Laguna Guatavita in 1-2 hours. It's a perfect option for a day off surrounded by nature.
Remember pollution is a big issue in large cities. Bogotá and Medellín are the most polluted cities in Colombia.
When in Bogotá check out the cultural agenda. As the capital, there are multiple events you can be interested in.
Wondering what to carry on a trip to Bogota? As mentioned many times before on this blog, I like to travel as light as possible.
Check out my travel gear page, which has some recommendations you can take with you – without weighing yourself down too much.
Travel Insurance for Bogota
I always recommend backpackers and travelers (no matter who you are) use World Nomads Insurance for fully comprehensive cover.

If you are due to travel soon, you can get a Get A Free Quote by clicking the link or the image above and filling out your details – that way you'll get instant cover from the exact date that you choose.
On many occasions World Nomads has provided me with reliable insurance cover for travel in Latin America and the rest of the world.
Best things to do in Bogota
Now you have ideas of the best places to visit in Bogota, even if visiting on a layover and curious to know what to do in Bogota for the day.
I urge you to visit La Candelaria as a starting point and head out to the Salt Cathedral in the nearby town of Zipaquirá if you have time.
If you want to read my personal story where I talk about the best things about Bogota and my experience backpacking in South America, check out my post on how I stayed safe safe in Bogota.
📌 Like this article? Pin it…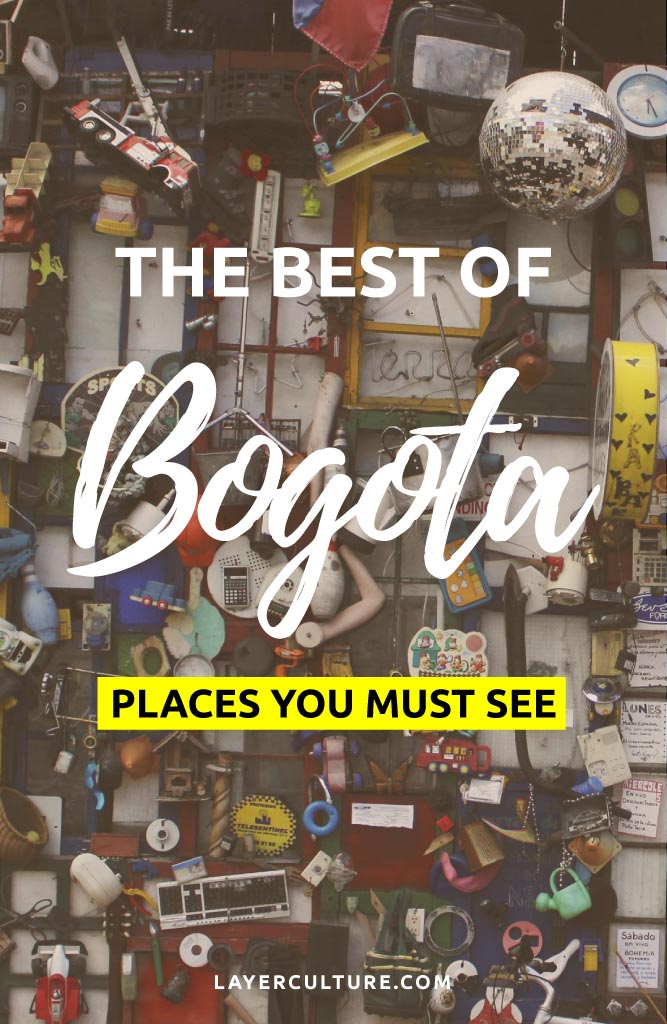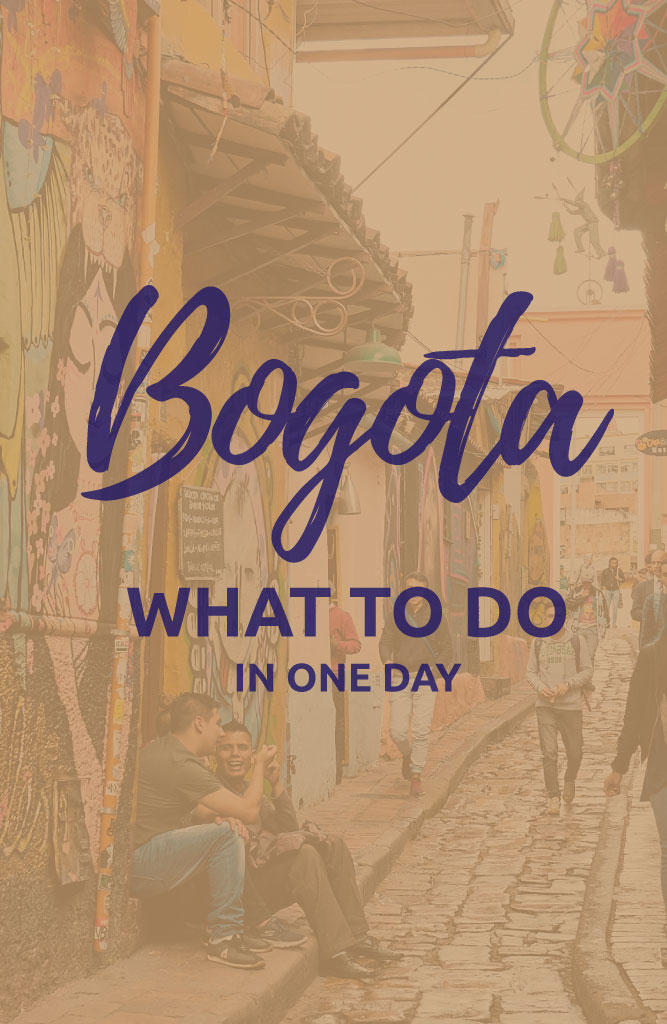 Did I miss something? Got tips, tricks and advice we can learn from?
💬 Leave a nice comment or let's start a conversation below!
---
"Dear friend! Some links in this post contain affiliate links. Meaning, if you click through and make a purchase, book a hostel or sign up for a tour, I may earn a small commission at no additional cost to you. Your support means a lot and helps me to keep traveling and maintaining the quality of this site for you."