Were you wondering: is Riviera Maya safe or not?
The Yucatan is Mexico's most visited region in terms of regular and irregular tourist visits. Why would this one region have the most visits, why not the capital Mexico City or the border regions with America?
It's simple: popular destinations such as Cancun and Chichen Itza.
Not only are the most popular and safe tourist destinations in this region, but it's also the home of countless historic landmarks.
Is Riviera Maya Safe?
Yucatan is extremely popular with a wide host of international tourists, so there are risks to be run when it comes to overcrowding.
With millions of visitors a year, anyone who's just passing through might feel overwhelmed in this region.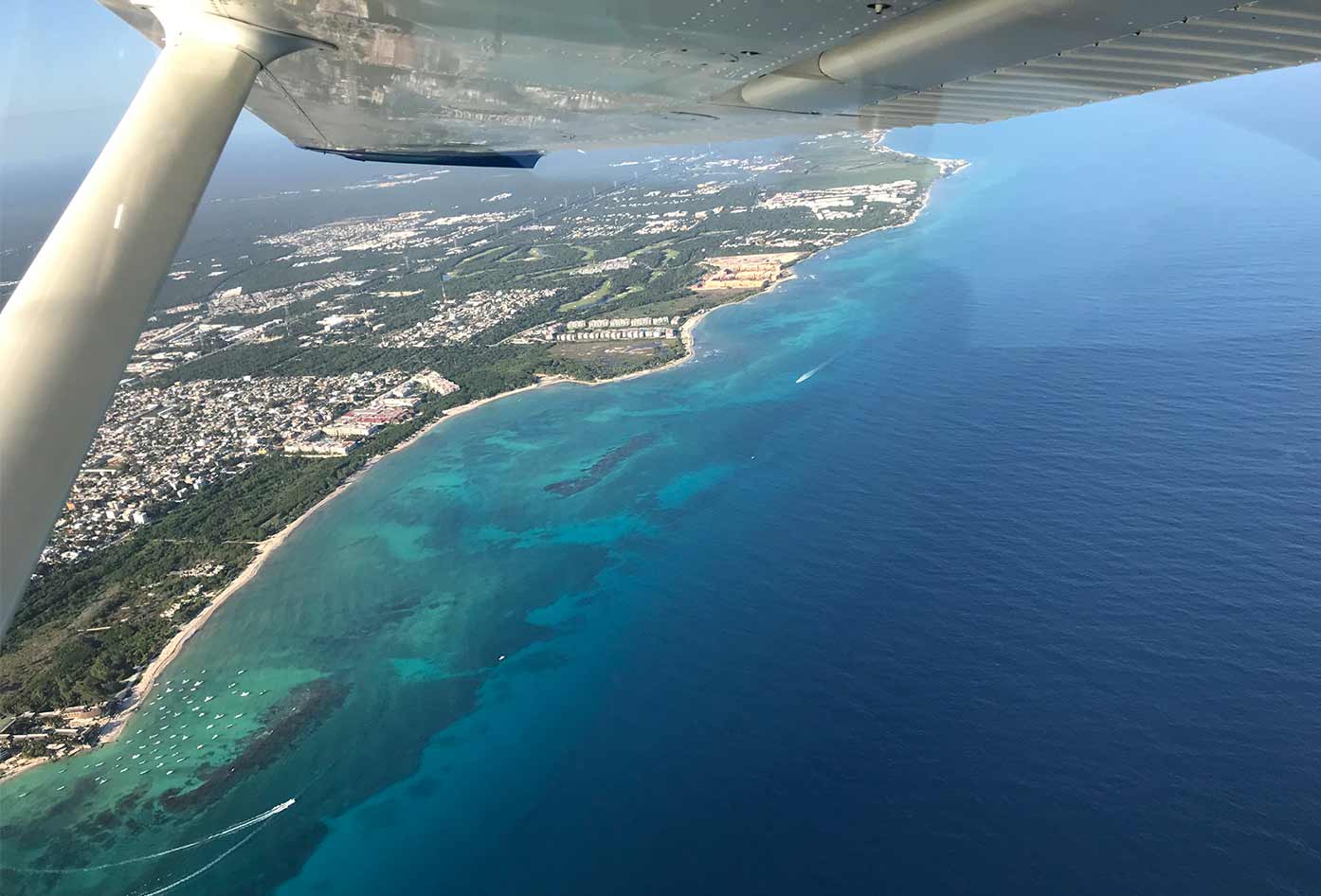 Compared to nearby locations such as Cancun there are destinations in Riviera Maya that have all the benefits of being in the best region of Mexico whilst also being a quieter getaway.
It's the perfect spot for the passing traveler looking for a break or an excursion to an all-inclusive Quintana Roo holiday.
Safety in Riviera Maya
Most visitors looking for things to do in the Riviera Maya arrive for the incredible Cenotes and other swimmable lagoons.
Many travelers pass through Riviera Maya or even stay for an all-inclusive holiday getaway on par with Cancun or Playa del Carmen.
Is it Safe to Travel to Riviera Maya?
Thousands of tourists travel to this part of Mexico every year and it's become one of the safest regions in Central America because of it.
Cancun is viewed as the tourist capital of Mexico, but Riviera Maya is an alternative for the more adventurous when it comes to the natural world.
Like Puerto Vallarta and it's surrounding areas, the Yucatan as a whole is an amazing place to visit and explore.
Visitors shouldn't be scared to venture out of their complexes or buy hotel packages in the first place.
Get acquainted with all the Mexican traditions and activities on offer. You can even explore the depths of the ocean whilst snorkeling.
Or, take guided tours exploring the land which are usually the best part of any trip to Riviera Maya.
Safety Facts About Mexico
Here are some eye-opening safety facts about Mexico to jog your memory with before we look at safety in Rivera Maya in more detail.
The intentional homicide rate in Yucatan is 3 per 100,000. That's better than the US homicide rate which is 5.
According to the UK Government, over 576,971 British nationals visited Mexico in 2017 with most visits being trouble-free.
Also according to the UK Government, Major tourist destinations like Cancun, Playa del Carmen, Cozumel, Los Cabos, Riviera Maya, Puerto Vallarta, and Nuevo Vallarta have mostly not seen the levels of drug-related violence and crime experienced elsewhere in Mexico.
Cities such as New York and Chicago have higher crime rates than Yucatan.
The increasing dangers within the Yucatan/Quintana Roo regions are road-related. Increased traffic in this area has seen more accidents and crashes occur.
As you can see with over 576,971 British nationals alone, not to mention our friends over in the USA, this gives you even more reason to consider booking a trip to Mexico.
Is Riviera Maya Safe to Travel Alone?
Riviera Maya is perfectly safe to travel alone. Towns like Bacalar make it easy to escape the commercial tourist crowd.
The general advice is to stay within the confines of the beach areas and trust your instincts.
That way you'll be sure to have a wonderful vacation. You'll find top-rated hostels in Playa del Carmen for meeting like-minded travelers.
You'll need to abide by the necessary precautions when traveling to Central America such as don't go out at night, don't trust strangers, don't flash expensive items, etc.
It would definitely help if you knew some basic Spanish since Mexicans very much appreciate English speakers who learn it as a second language.
I also recommend you read this comprehensive guide to bus travel in Mexico for a primer on Mexican bus systems.
Booking day trips, hotels, and bus rides are much easier when you speak Spanish. You can negotiate prices that way.
But since the area is tourist-centric due to the hub of Cancun it isn't as much of a necessity as with the rest of Mexico or Central America.
---
---
Backpacking Mexico Safety
Backpacking Mexico can be tricky since most of the bordering regions with other countries have a difficult reputation.
However, as mentioned earlier the Yucatan and Quintana Roo are extremely safe as compared to the rest of Mexico.
Mexico is an amazing country to navigate, but you definitely need to look up which regions should be avoided when backpacking.
Yucatan can be the starting point for many backpackers taking the long route down through to even South America and beyond.
Riviera Maya is a must-travel for anyone backpacking this region.
Not only are the beaches some of the best in Mexico, but there are incredible ruins and unforgettable cenotes in this one place alone.
The Quintana Roo region and its many towns and cities are safe compared to the rest of the Central American region, but it will still pay back in dividends if you exercise the right precautions.
Quintana Roo: Travel Safety Tips
Don't take any part of Mexico lightly, as petty crime can happen anywhere and tourists tend to be the target of pickpocketing.
Here are some tips to help you on your journey:
Only travel to Mexico once the borders are open and the COVID-19 situation has resolved itself. Keep safe and keep a social distance of 6 feet at all times if possible.
There is still a risk of contracting the Zika virus. Visit Travel health pro for more information on this visit.
Don't accept offers of drugs. Not only is it illegal, but it's dangerous and you're helping an industry wrought with crime that the government is trying to stop.
Keep dummy wallets for pickpockets and keep your money hidden away. Bras, a money belt or secret bag compartments will do.
If you are a person that suffers from typical culture shock symptoms see our tips on adapting to new surroundings on this blog.
If you think you're being overcharged for a taxi, just know that most taxis shouldn't cost any more than 35 pesos.
Make sure to use trusted and accredited hotels/hostels. Then once you've booked your room, book taxis or buses through the hotel.
Carry sunscreen. This is the hottest region of Mexico and the ocean breeze may fool you.
If you want to take expensive equipment such as cameras or smartphones, keep them hidden, locked away, and on your person. A PacSafe backpack is perfect for this.
Don't go where there are few other people in the vicinity; this includes camping in secluded places. A simple rule: if there are families around, you're probably safe.
Avoid leaving any valuables unattended while you swim. Run-and-grab thefts by people lurking in the woods are a common occurrence.
Be wary of attempts at credit-card fraud. One method is when the cashier swipes your card twice (once for the transaction and once for nefarious purposes). It would be best to only use cash, by keeping most in your hotel safe and taking small amounts out with you.
Although many may seem obvious to you, with these things in mind – you should have no problem on your travels.
Whether that be you on vacation, backpacking, or doing a bit of both.
If you decide to rent a car whilst in this region stick to the speed limits and make sure you carry your identification with you at all times.
Traveling Riviera Maya in Colectivos
The 14-person white minivans dubbed 'Colectivos' are the most popular buses used in the area.
They run up the main highway from Cancun to Playa del Carmen and beyond to transport both tourists and locals from spot to spot.
Taxis in Riviera Maya are another easy way to get around, though fares generally run higher than Colectivo rates.
A trip from Playa del Carmen to Tulum can cost more than ten times the rate of a Colectivo but have the tendency to be quicker and safer if book through the hotel concierge.
Travel Insurance for Mexico
I always recommend backpackers and travelers (no matter who you are) use World Nomads Insurance for fully comprehensive cover.

If you are due to travel soon, you can get a Get A Free Quote by clicking the link or the image above and filling out your details – that way you'll get instant cover from the exact date that you choose.
On many occasions World Nomads has provided me with reliable insurance cover for travel in Latin America and the rest of the world.
Riviera Maya Safety: Conclusion
If you've always wanted to dive into the cenotes of Riviera Maya or dive into Mexican heritage, there's no better place than this.
Whether you're a backpacker passing through or a two-week all-inclusive tourist, Riviera Maya has it all. Not only is it quite safe, but it's extremely popular.
Book your trip today, and before you do, be sure to look at this guide on things to do in Riveria Maya for more travel inspiration!
📌 Like this article? Pin it…
Missing something? Got tips, tricks & advice we can learn from?
💬 Leave a nice comment or let's start a conversation below!
---
"Dear friend! Some links in this post contain affiliate links. Meaning, if you click through and make a purchase, book a hostel or sign up for a tour, I may earn a small commission at no additional cost to you. Your support means a lot and helps me to keep traveling and maintaining the quality of this site for you."