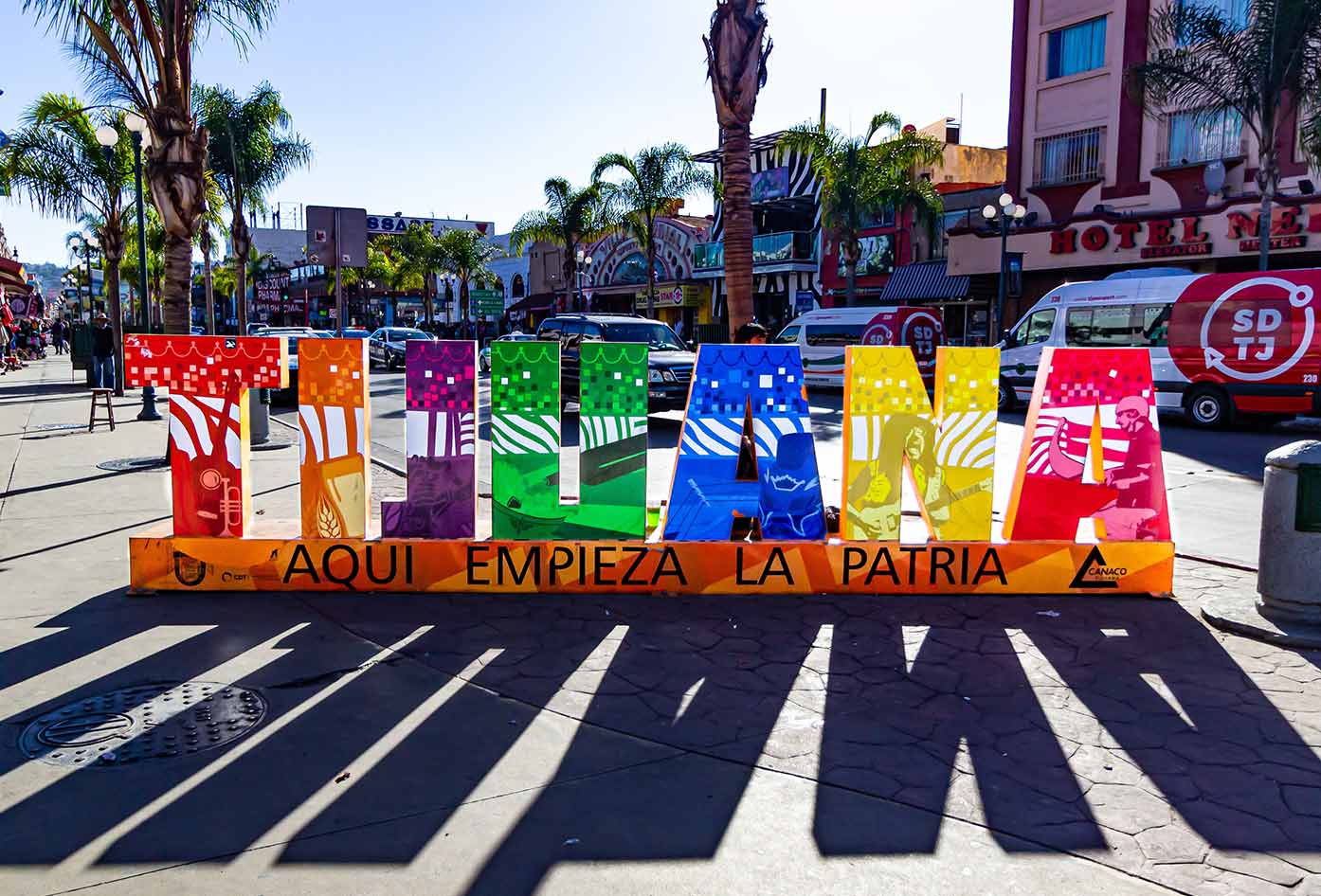 Are you on the lookout for things to do in Tijuana, Mexico?
Since 1542, Europeans have visited this historic city on the American border for its incredible culture.
Just a stone's throw away from San Diego, it boasts a lot more than its reputation may muster.
For one thing, it has a lot more history than the likes of Los Angeles and San Francisco just north in the American state of California.
Things to do in Tijuana
It's the fifth-largest metropolitan area in Mexico and is also Mexico's westernmost city.
But what does Tijuana have? Is it just the entry point into the country for the Californians (party people visiting Tijuana from San Diego)?
Or, is it merely just a stop-off point for backpackers looking for other safe places in Mexico along their travels?
This helpful guide can help you new find things to do in Tijuana.
Tijuana Food Garden
The best place to get a bite to eat in Baja California bar none. From the best breakfast spots to some of Tijuana's best taco joints.
This gastro park has it all, and it's quite a unique place for tourists to visit. You can get a bit of everything here, including some the famous must-try Mexican dishes, and, it's all available in one space.
Food trucks, small eateries, and micro-breweries all flocked into one location to become the most popular gastro spot in the region.
Many Americans cross the border just to get lunch and return home. Download the app and pre-order your food today!
Mercado Hidalgo
If you're looking for the best spot to do some shopping during your day trip to Tijuana, then look no further.
Tijuana is filled to the brim with dodgy and suspect market stalls set up on the busy high streets, but this is the crème de la crème.
Not to be confused with the state of Hidalgo which is another amazing place you should try to visit whilst in Mexico one day!
The market stalls are very regional and authentic, with fruits, vegetables, spices, and sweets to match anyone's tastes. There truly is something for everyone in this incredible market mecca.
As far as Mexican traditions go, this place has everything from restaurants, cafés, piñatas, art, and crafts; it has everything!
The parking is completely accessible and it's also one of the safest and cleanest spots to do some shopping too.
Just don't flash the pesos too much! Be smart and carry a hidden neck wallet or the equivalent for added peace of mind.
Cine Tonala
Situated downtown, the Cine Tonala has the best guacamole in the city. The food is incredible and it has an amazing atmosphere.
Who knew that such a classy establishment existed in Tijuana?
Most Americans, we're guessing. What attracts patrons to this authentic Mexican restaurant?
The TV of course! Cine Tonala has a program of films and TV shows that they love to project for the restauranteurs to enjoy whilst they dine. Time to fine-tune your Spanish conversation skills for this one.
The best part about this is the atmosphere. Not to mention, they also sometimes have live music whilst you dine, which has divided opinions due to the volumes…
La Caja
This galleria is off the beaten track, but it is well worth the visit.
An art gallery displaying some the very best in outsider art, it displays local artists and Mexican elites alike.
13 years ago, it was opened to the public to the highest praise. It's set inside an abandoned warehouse, which was repurposed and refurbished with 100% recycled and repurposed materials.
It describes itself as "for exhibition, creation, and promotion of art in Tijuana."
If you're interested in perhaps purchasing a piece of art as a keepsake, this can also be arranged during your visit.
All in all, La Caja is an artistic symbol for the city and a must for anyone going to Tijuana.
Tijuana Cultural Centre
Nicknamed by the locals 'La Bola' (the ball) for its inherently 80s looking aesthetic, the Cultural Centre of Tijuana is one of the locations most visited by international tourists.
Not only is it one of the best places to go in Tijuana. Millions of tourists visit this Cultural Centre, as it holds concerts, conferences, movies, documentaries, and exhibitions designed to cater to all ages.
You'll find permanent exhibitions, a large esplanade, and the only IMAX cinema in the area.
It's also extremely close to the American border, making it visible from the U.S.
There is a small café inside for any visitors seeking refreshments during their visit. Enjoy a small bite to eat after a fun day at La Bola.
Try Local Tequila
Nothing compared to actually visiting Tequila but available in Tijuana is a vast array of tasting tours. None of which match the sheer popularity and esteem as the tequila tasting.
Unlike the other places to go in Tijuana, this allows you to join experts on a journey of the senses to learn all about tequila and mezcal.
You'll learn the history and traditions, how they are made, and of course, get to taste the finest spirits around!
For many people embarking on a day trip to Tijuana, these tours are very casual. They emphasize the variety of artisanal brands available locally.
All the tours are led by bilingual, knowledgeable, friendly, and passionate local guides that provide unforgettable experiences. You can't get a more authentic view of the city than with a Tequila tour.
Pasaje Rodriguez
One of the best places to visit and experience for free in the bustling city area, the Pasaje Rodriguez is effectively a shopping mall center with some of the best graffiti and street art in the city.
It's very easy to just breeze past this place without realizing it's there, but once you've found it, you'll be glad to have discovered it.
Not only are there some amazing pieces of street art, but some authentic and lovable small businesses.
These are the types of shops and stalls that cater to the locals rather than the tat shops you'll find in the tourist hotspots. Keep your eyes peeled for this little gem.
La Mona de Tijuana
One of Mexico's most strange and unique landmarks, the infamous Mona stands in a provocative pose amongst a residential area.
It's a giant statue of a naked woman that's intentions were to celebrate the centennial year of the city itself.
Armando Garcia was an art student when he decided to build the five-story tall sculpture which he based on his girlfriend at the time. Not only did he build the structure, but he made it his home.
It's completely liveable and still functions as a house today. As this structure stands in a 'ghetto' of the city, a walking tour would help when discovering it.
Tijuana Travel Tips
Below are some useful tips on traveling to Tijuana for the first time.
No matter whether you are walking across the US border with Tijuana or renting a car be sure to get your passport stamped on both sides.
Carry all the relevant paperwork if traveling to Mexico by land and see these options on where to stay in Tijuana if you have limited time.
When crossing this international border you must ensure you have the relevant document at hand.
For those traveling to Tijuana from San Diego the San Ysidro border is the most popular for people visiting Tijuana for the day.
You easily transport yourself further down into Mexico as you look for other things to do in Baja California and the surrounding region.
Got Travel Insurance for Tijuana?

Designed by travelers, for travelers, World Nomads covers more than 150 adventure sports and activities so you can explore your boundaries.
Tijuana Nightlife
No day trip to Tijuana would be complete without experiencing Avenida Revolucioń as this one street is the reason why millions of tourists visit the city.
Avenida Revolucioń is the tourist hotspot for people going to Tijuana and the primary reason why many visit the city in search of debauchery and enact a bohemian sensibility.
This is where the Caesar salad was invented, Jai Alai was perfected and zonkeys (donkeys painted as zebras) are seen on every street corner.
It's the Vegas of Mexico, for its plucky inventiveness and hustle and bustle nature.
Some advice for the budding tourist:
Watch your wallet/purse
Do not display any dangling jewellery
Buy nothing on the sidewalk
Never take the first price offered to you
For the most part, many will visit here for the nightlife, so here are some of the more popular spots on the Avenida:
Caesar's
Did you know the world-famous Caesar's restaurant is known all over the world as the birthplace of the Cesar Salad?
The restaurant was opened by an Italian immigrant named Caesar Cardini in 1923 and has become one of the most essential spots to visit in the whole of northern Mexico.
In recent years, the restaurant has also opened a bar to cater to the growing nightlife on the infamous Avenida.
El Copeo
With some of the cheapest drinks on the Avenida, El Copeo is one of many bars that visitors choose for bar-hopping.
It shows sports on TVs located on the walls and has an amazing array of Tequilas to taste and try out. Why not listen to live music? Your favorite rock hits and Spanish language classics in one spot.
La Justina
Around the corner from Caesar's is one of the best bar/grill combinations in the area.
Although a little pricey, it has some amazing cocktails to choose from using locally sourced ingredients. It's also available online at Uber Eats!
Bar 20
If cocktails are your thing, then look no further. Some of the best bar drinks in the area with the best décor too.
It's located inside an office building, but it's just opposite another bar called Mision 19 making it a popular spot for bar hopping.
Nortico
Nortico is an exceptional speakeasy hidden inside Oryx Capital, an upscale restaurant in a nice area of Tijuana.
As you make your way to the men's room in the rear, you'll notice a metal door with an Oryx Capital sign on it.
Knock on it 3 times and a window slot will open, at which point you'll need to ask to be let in.
Once inside, you'll find a compact but modern and trendy lounge area with a variety of drinks available.
Travel Insurance for Tijuana
It is recommend that backpackers and all types of travelers to Latin America use World Nomads Insurance for a fully comprehensive cover.

If you are due to travel soon Get Your Free Quote by clicking the link or the image above and filling out your details – that way you'll get instant travel insurance cover from the date of travel that you choose.
Day Trip to Tijuana: Final Words
This guide should have given you some ideas on what to do in Tijuana for the day!
Tijuana is often overlooked as a safe spot for tourists, despite becoming safer every year.
Although it can be a hotbed for crime in the rougher areas and neighborhoods, it is also extremely catering and reliant towards the tourism industry. Without tourism,
Tijuana wouldn't survive as a city. Tijuana doesn't have to be a fly-over or a pass-through kind of city.
It has a unique history, a tasteful art scene, and a lot of great food and spirit tours.
Why not give it a visit and discover for yourself why millions of visitors love their trips every year?
And, if staying longer than a day Tijuana, see this backpacking Mexico guide for more ideas on where to go.
📌 Like this article? Pin it…
Are you thinking of traveling to Tijuana, Mexico soon?
💬 Leave a comment below or let's start a meaningful conversation…
---
"Dear friend! Some links in this post contain affiliate links. Meaning, if you click through and make a purchase, book a hostel or sign up for a tour, I may earn a small commission at no additional cost to you. Your support means a lot and helps me to keep traveling and maintaining the quality of this site for you."