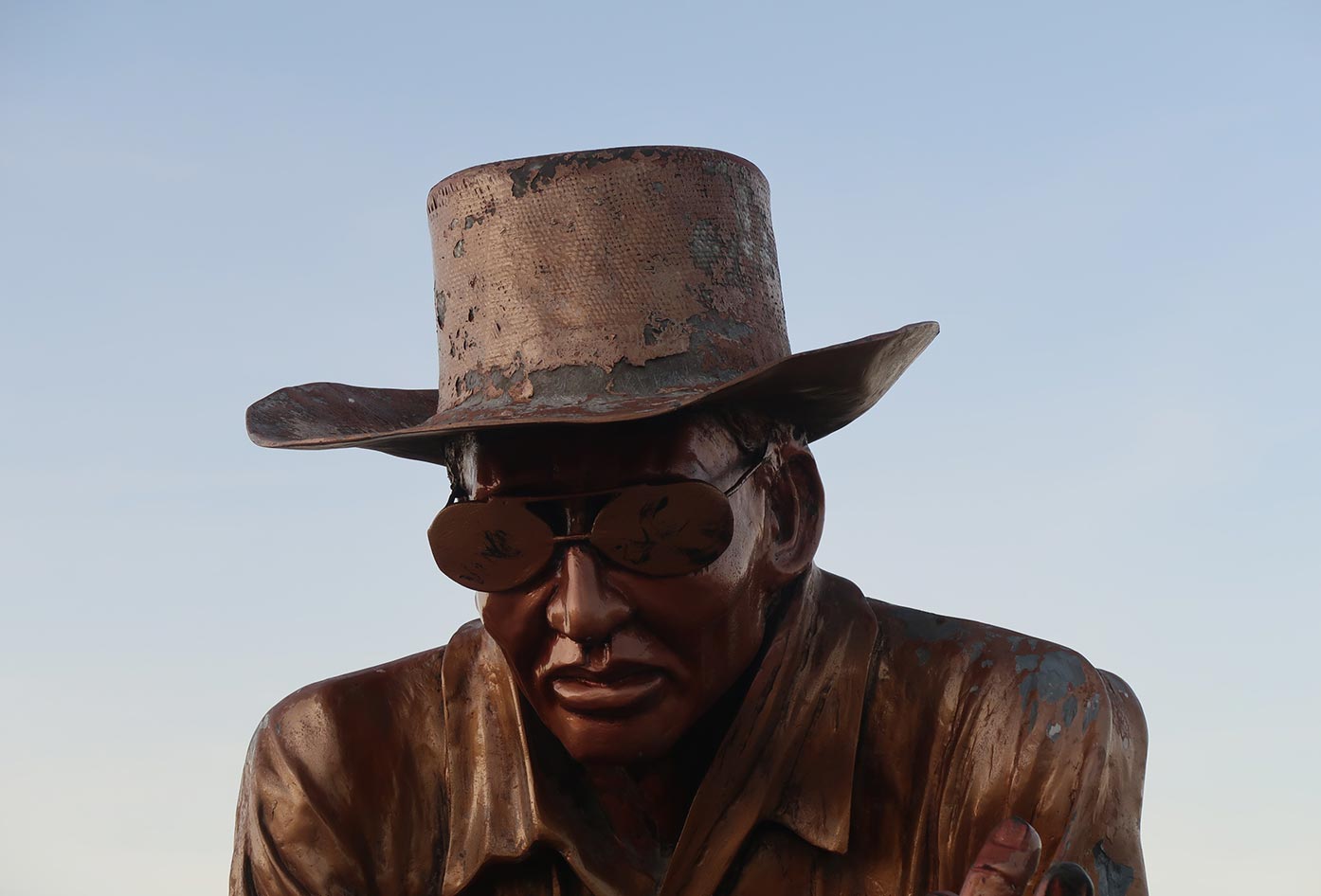 Welcome to this travel guide on La Guajira, Colombia.
The Guajira Desert is a vast wilderness located up in the northernmost point of Colombia (and of all of South America).
La Guajira gets listed on very few travel blogs, and can be considered one of the true last "unknown" adventures of the continent!
La Guajira, Colombia
In this guide we will explore the region, how to get around, the destinations as well as why I view it as a great cultural destination.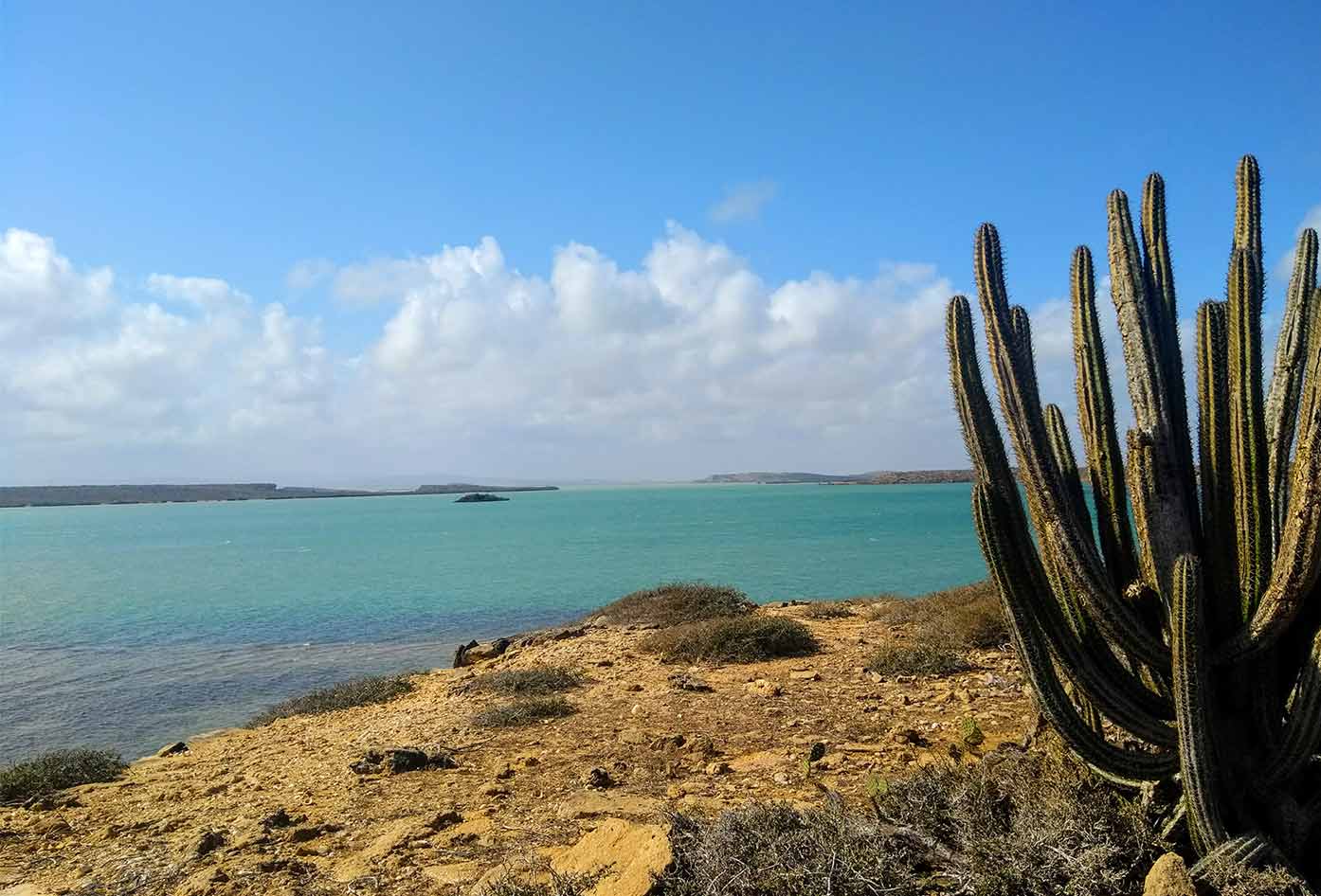 This is a true off-the-beaten-path backpacking experience! Not to mention, by far one of the best places to visit in South America.
The Guajira Desert is a fascinating and hard-to-reach region for most travelers. Those that arrive here are left with a lifelong impression.
The Guajira Desert: Why Travel Here?
As well as the unearthly landscapes and un-spoilt beaches, the Wayuu people (an indigenous tribe) are native to this region.
Having arrived in the area as early as 150A.D, there's been almost no lifestyle change. This was fascinating and surreal for me to learn.
These people used traditional paint and clothes to identify each other, as well as hunting and fishing as part of their self-sufficient lifestyle.
💡Smart Travel Tip
Remember that trade is of utmost importance to keep this tribe alive, and due to the harsh conditions a lot of them live in extreme poverty.
They are experts in making bags and hammocks, so organize a visit to their stalls once you arrive!
How to get to La Guajira Desert
Getting to the region itself is an experience. For me, the journey was almost as good as the destination, as it really summed up an off the beaten path, spontaneous trip.
There are a few points of entry, including from Venezuela, however, for the easiest access (presuming you're already in Colombia), we'll begin in Santa Marta, the popular city break destination.
Starting on your first day, you will want to wake up relatively early and head to Santa Marta's main bus terminal on the outskirts of town.
If you've seen my one-week itinerary for this region I mention how you can get to this from Riohacha which is a place that you shouldn't miss out on if you have an extra night, (or two), to spare in this region.
💡Smart Travel Tip
From Riohacha you can organize the full trip to both Punta Gallina, Cabo de la vela by speaking to one of the local tour operators.
Buy a ticket headed for the city of Macao, let the driver know that you want to get off at 'Cuatro Vias' (he'll know what you mean).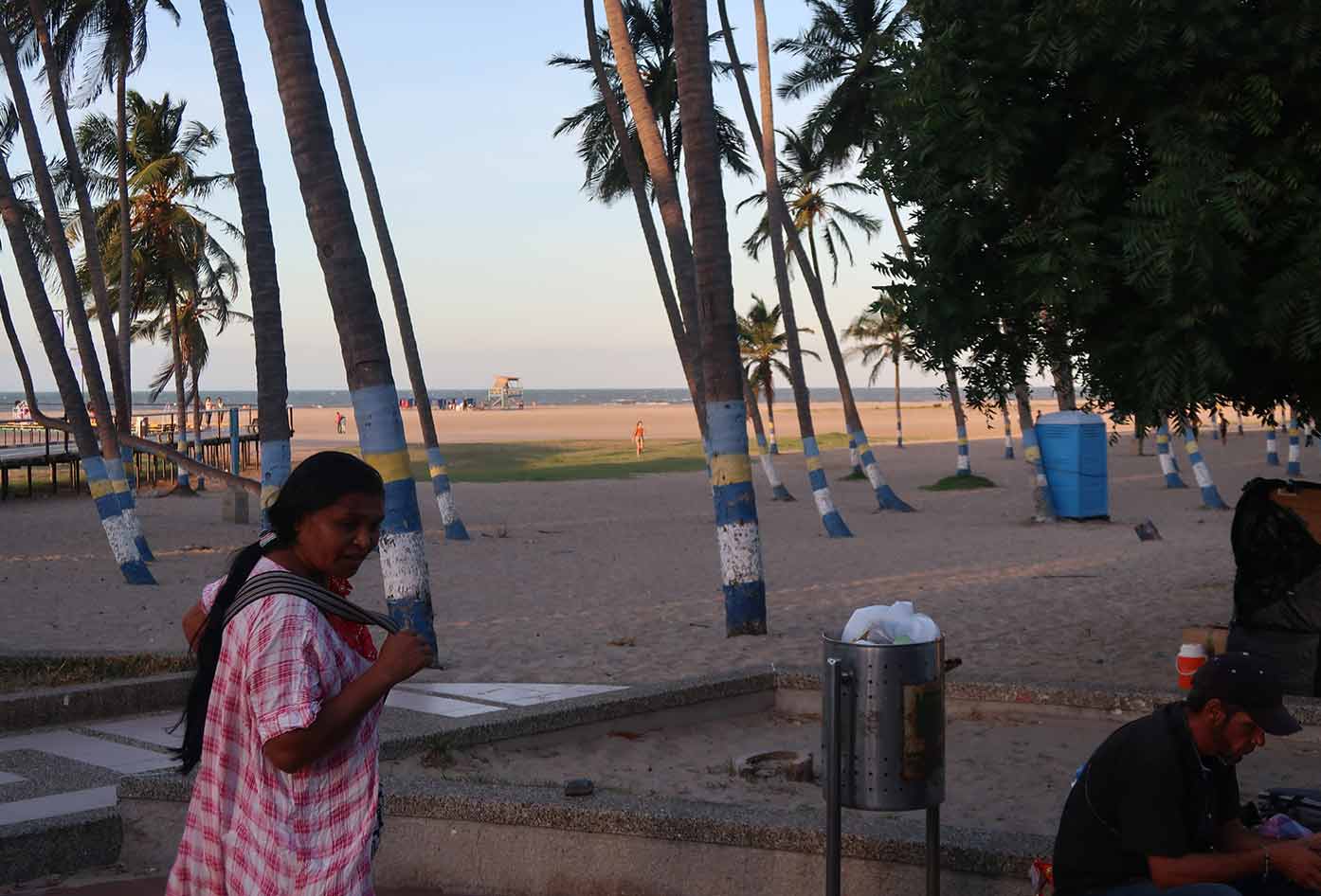 Cuatro Vias is an unofficial stop along the dusty highway, and literally has four roads connecting and nothing much else, apart from vehicles moving loads and some wooden shacks selling food.
Once you arrive (after about four hours on the bus), you want to head to Uribia, the capital of the region.
Ask around with the locals and they will guide you to the next leaving truck or taxi. The drive up will take about 45 minutes.
Arriving in Uribia
Once in Uribia, you are technically in the Guajira zone, but the journey has not ended yet! From Uribia, ask around for anyone heading to Cabo de la Vela and be sure to have some small bills with you.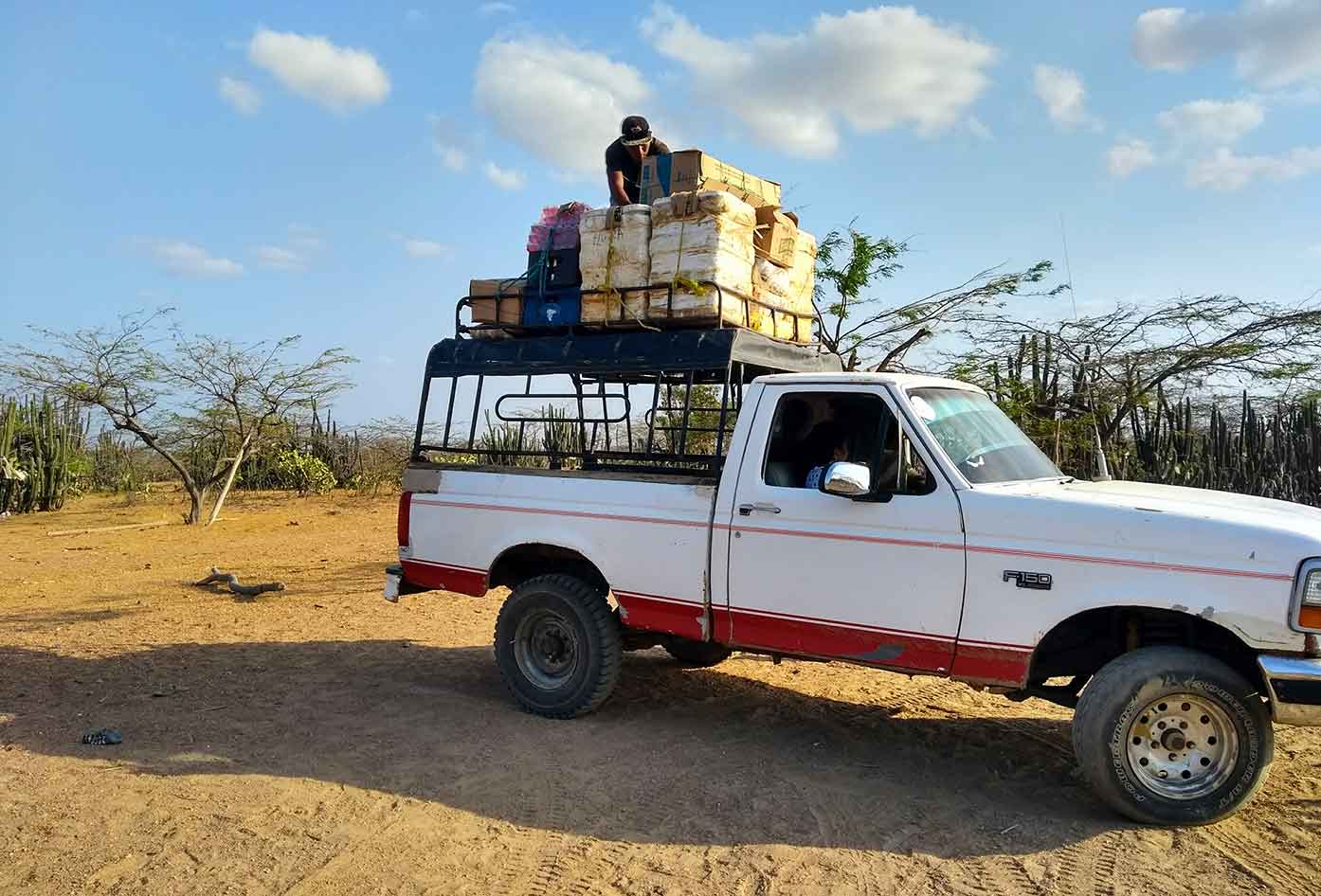 Trucks head there with resources such as food and toiletries, so you can hitch a lift with them! Knowing a bit of Colombian Spanish goes a long way in this region when it comes to getting what you want.
These leave up until around 3 pm, so it is key to start traveling early from Santa Marta, otherwise, you will need to spend an extra night in Uribia which is not at all necessary.
For the best experience, find one of these trucks driving to Cabo and not a taxi. Make sure you hold on to your belongings tight here; keep valuables even closer. Maybe carry a neck wallets for good measure.
This is because they stop in the middle of the desert on the way, serving tiny communities with resources such as food and water.
La Guajira Transport from Uribia
When you arrive in Uribia, try and track down some of the trucks that will make the trip, instead of using a taxi.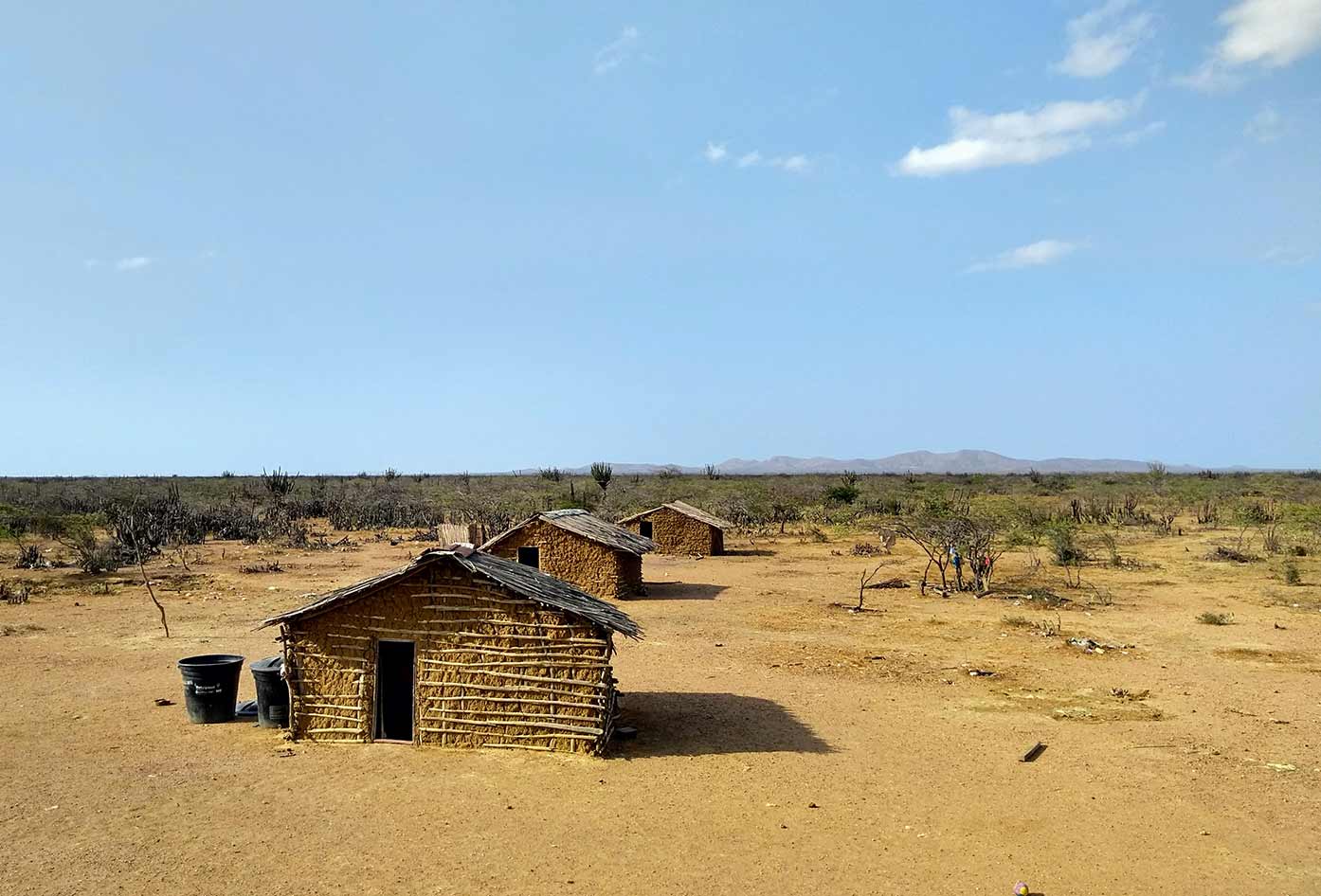 It's one of the best ways to see the real Guajira, as they drive through seas of cacti and desert to service the tiny, indigenous villages.
Another recommendation is to take the motorcycle tour in Cabo!
Again, locals know best as always and will be able to help you see everything in the region.
This will give you the chance to see some of the more off-the-beaten-path gems: like the underground cave and parts of the desert which are less easy to access.
La Guajira: Travel Basics
🛏️ Lodgings:
Deciding exactly where to stay in La Guajira should be the first step. Then you'll continue your the journey to Punta Gallinas. You'll find hostels from 10-15USD for the most basic options. One night should be enough.
🍽️ Dining:
Riohacha has some tasty seafood dishes! In the desert, you'll be limited to basic options offered by the providers of the tours, or wherever you choose. Remember to pack snacks and some canned food.
🚌 Transport:
In La Guajira, you'll find buses, trucks, and 4x4s. The bus service goes from Riohacha to Uribia, from there to Cabo de la Vela the transport will be the 4×4 trucks. In Punta Gallinas you'll mainly see 4x4s and motorcycles.
🎟️ Activities:
What's more exciting than crusing through a remote Colombian desert in a 4×4? Or, diving in pristine blue waters? Here you'll connect with locals and find tours from Riohacha starting from US$150.
Things to do in La Guajira Desert
Aside from Uribia, which serves as the capital and also the first point of entry into the region, there are two main destinations you can visit.
Each of these is also home to other cool trips and experiences, and some will require determination and grit to get to!
Cabo de la Vela
A small, sleepy beach-side village, Cabo de la Vela gets some visits from tours but is still off the radar of most. It is a popular area for wind sports, given its conditions and location.
Unlike Palomino, you'll not find many traditional hostels here. However, there are a few places next to the sea with some really cheap rooms and hammocks to stay in (I paid $3 for a private room).
There are lots of small gems dotted around, and the best thing to do is to get yourself on a motorcycle tour.
Near the South-end of the main road, which cuts through the middle of the village, you will find a group of motorcycles.
💡Smart Travel Tip
Check with the locals but for around $7, you can get a half-day tour of the area! Ensure you have plenty of battery life in your camera.
As well as driving out into the desert, you will visit Cerro Pilón de Azúcar, a vantage point on the coast as well as Ojo de Agua, an underground cavern which jets out into the sea.
You can ask to visit El Faro, which with its west-facing location across the Caribbean, is the place to be when the sun is beginning to set!
Punta Gallinas
Punta Gallinas is famous for being the Northernmost point in all of the continent and provides a unique and authentic travel experience.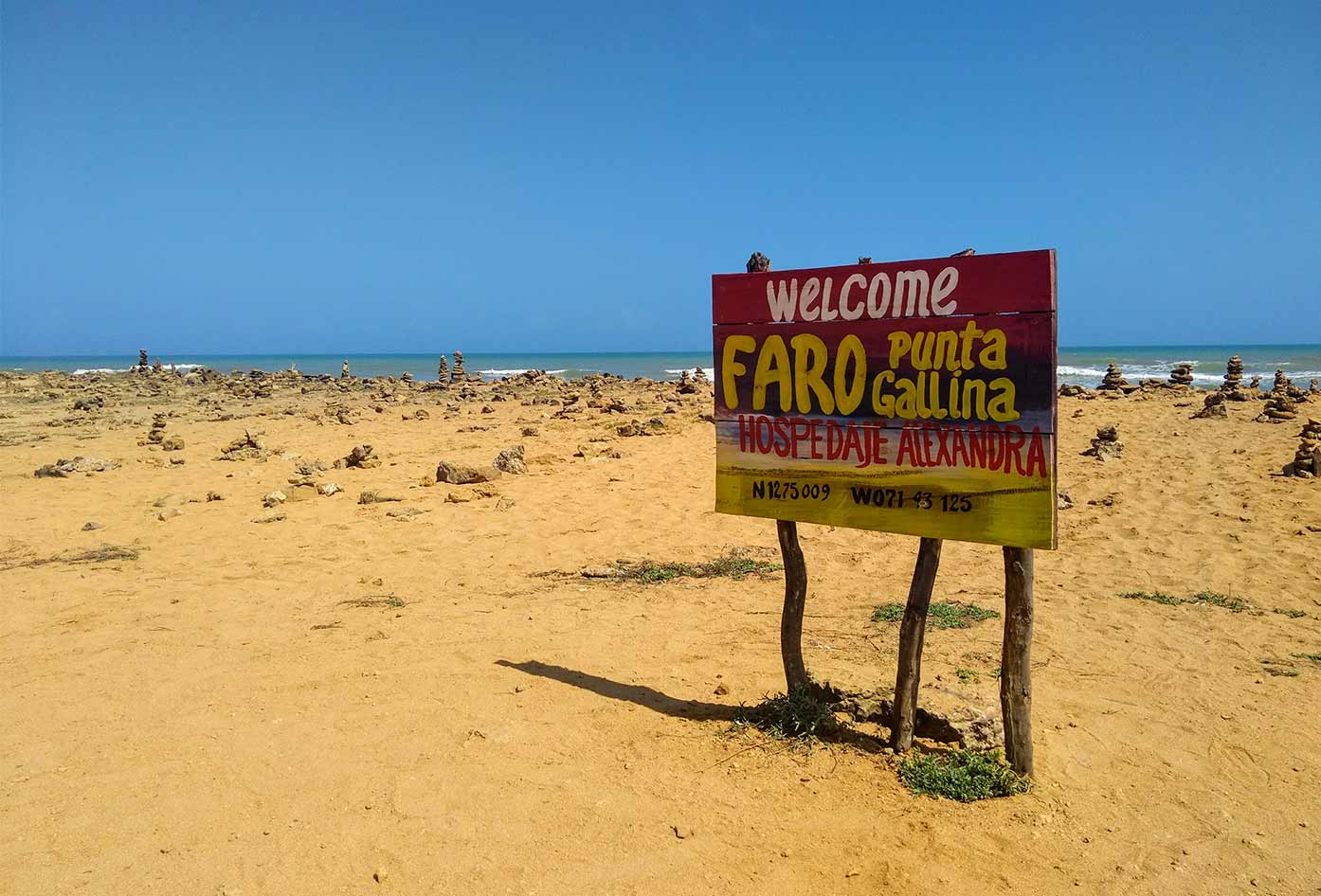 The area derives its name from an old story, that once upon a time, a ship disembarked and thousands of chickens escaped along the coast! Punta Gallinas can literally be translated as The Chicken Point.
To head here, book yourself onto a tour (the desert is quite difficult to access as well as government presence to protect the area and tribes).
Again you can ask the locals as they know where the tours are organized in town. You will leave early on a 4×4, and spend a half-day traveling through several terrains.
Expect a few breakdowns, as these were common during my trip!
You will visit one of the best beaches in Colombia, Dunas de Taroa (big sand dunes), and stop off at a beach-side accommodation for the evening, where the hosts will prepare a locally produced meal for you.
You will get to see the sunrise over the beautiful landscape, before heading back to Cabo de la Vela.
La Guajira Travel Tips
See these travel tips for La Guajira to ensure you have the best stay whether you're on vacation, backpacking, or traveling with friends.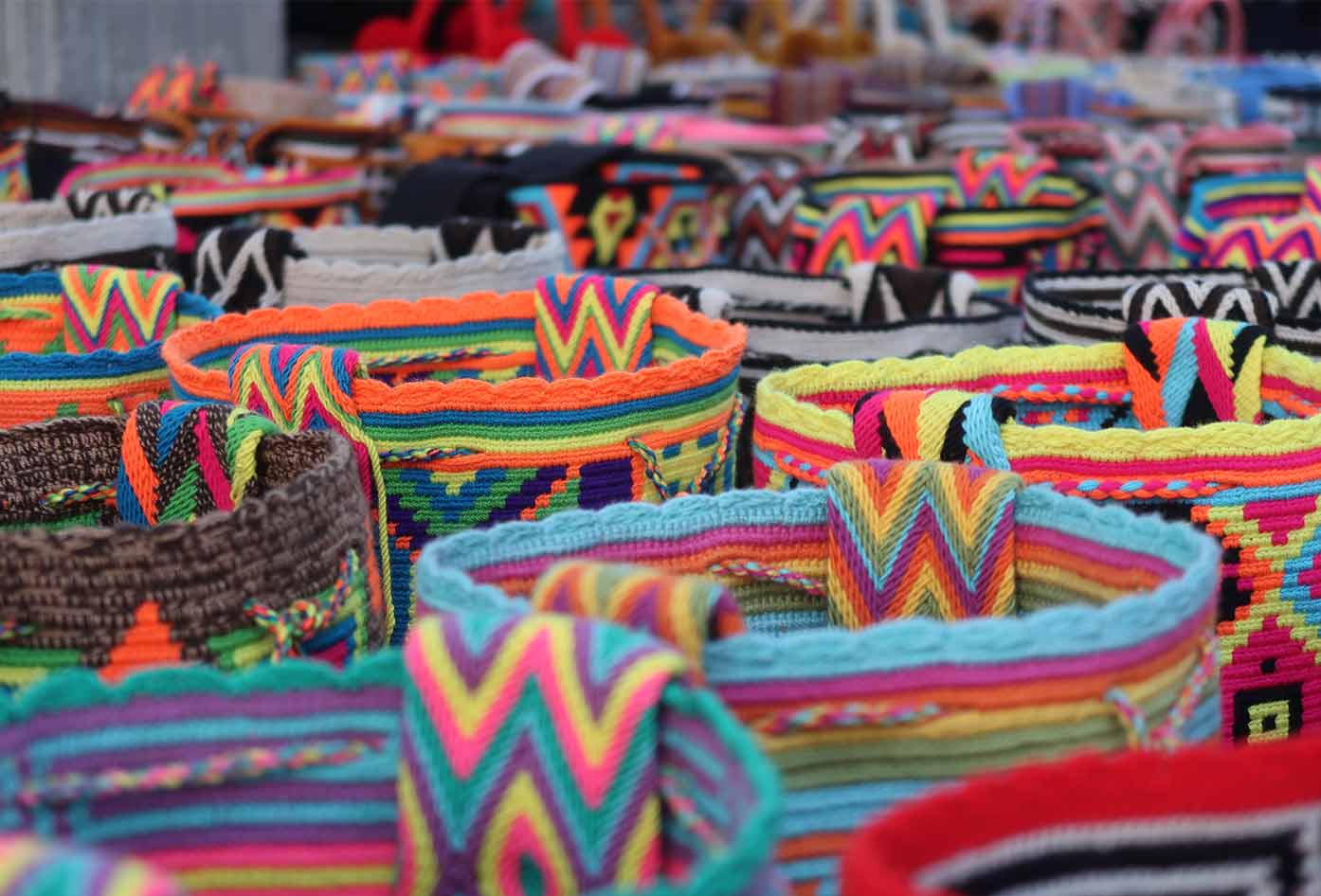 ⤵️ Dan's Travel Tips For La Guajira:
Check out the capital of La Guajira Riohacha for at least one night and look at all the "Mochilas Wayuu" on the Malecón on offer there.
When in Riohacha, avoid walking on the streets during the night, it can be unsafe. But walking in the Malecón and Muelle (next to the beach road and the pier) as well during the day and night is ok.
Palomino makes a good pit-stop whilst in this region. There some good activities you can do and some amazing hostels you can stay in.
Visit Santuario de Fauna y Flora Los Flamencos Park (National Reserve Los Flamingos). It takes 30 minutes from Riohacha and you can book a day trip experience visiting the Natural Park, going to Playa Camarones, and to learn learn about the biodiversity with lunch.
In Uribia is the last ATM on the road to Cabo de la Vela. So, withdraw what you need for the rest of the journey.
If going to Punta Gallinas, pack some canned food. You can save money if you don't feel good with the price and quality.
Buy some water before going to La Alta Guajira (Cabo de la Vela, Punta Gallinas). The potable water is limited and obviously expensive.
Buy or carry a hammock because nights in Cabo de la Vela are chilled. You can always rent if you don't have the option to carry one.
Carry food to give the Wayuu people on the road; think cookies, rice, something you can share. There is a high level of poverty in the region, you'll see rudimental toll roads designed to receive food from visitors.
As always being able to speak basic Spanish phrases and expressions will go a long way. You'll need Spanish to enhance your experience.
Map of La Guajira, Colombia
See this map of La Guajira to get a better idea of the surrounding area:
I have spent months on end backpacking Colombia over the years and can help you gain new insights and knowledge on this country.
Best time to visit La Guajira?
With the region being described as xeric shrubland and the fact it is a desert, it will not surprise you that some parts of the desert receive very little if not no precipitation all year.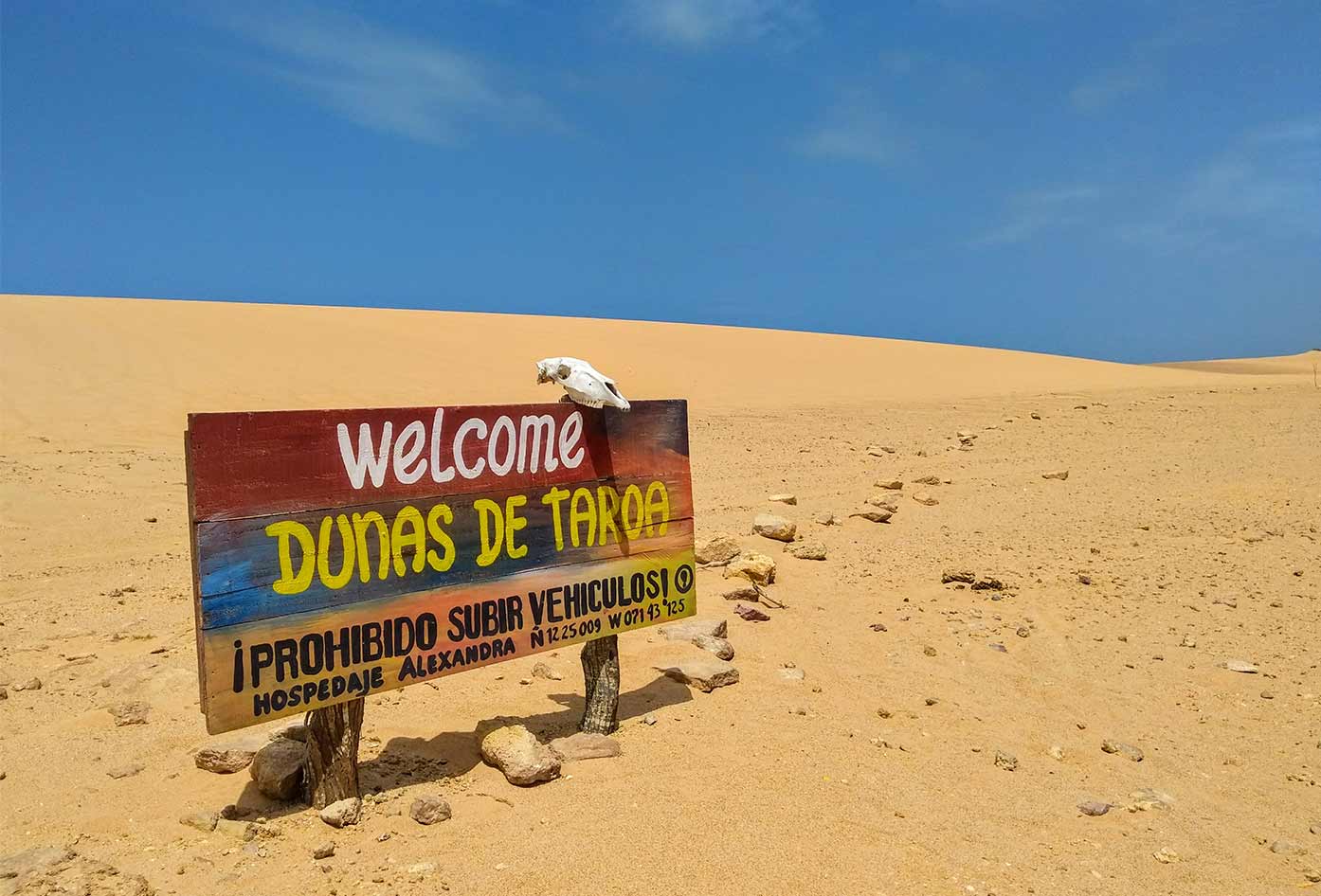 In Cabo de la vela, the temperatures hover between 80°F and 90°F throughout the year, meaning a trip here can be taken whenever you want with guaranteed hot and sunny weather!
Cabo de la Vela does receive more rainfall in October and November.
In the desert itself, temperatures regularly soar above 95°F and sometimes above 105°F, so bring lots of water, ideally an eco-bottle you can refill and try to stay in the shade as much as you can.
Overall the area is safe as you'll be amongst local guides, and you can visit pretty much any time of the year. Pack lots of sunblock as the sun will reflect off the sand, making it feel even hotter.
Got Travel Insurance for La Guajira,?

Designed by travelers, for travelers, World Nomads covers more than 150 adventure sports and activities so you can explore your boundaries.
La Guajira, Colombia: Will you Visit?
I hope you enjoyed this article. In this guide, we have looked at the Guajira Desert, how to get there as well as some pretty interesting destinations you can visit there.
As you have seen, the weather is pretty consistent so you can head there whenever.
For the most authentic experience, you should head there now before all the crowds catch the drift, where you can still explore an untouched region full of beauties!
For more Colombia inspiration see my backpacking Colombia guide!
📌 Like this article? Pin it…
Missing something? Got tips, tricks & advice we can learn from?
💬 Leave a nice comment or let's start a conversation below!
---
"Dear friend! Some links in this post contain affiliate links. Meaning, if you click through and make a purchase, book a hostel or sign up for a tour, I may earn a small commission at no additional cost to you. Your support means a lot and helps me to keep traveling and maintaining the quality of this site for you."