How many days in Bogota are needed for a well-rounded trip?
The Colombian capital is a very underrated destination, which is often overlooked in favor of places like Medellin and Santa Marta.
However like many other capital cities in South America, here you'll find a city bursting with authentic culture, numerous cultural museums and sites.
Not to mention, Bogota is a gateway for those looking to escape the hustle and bustle to take part in some unique day trips into the nearby region.
How many days in Bogota?
This article will explore the city of Bogota, how many days you should spend as well as my top suggestions on where to stay and what to do.
Is Bogota worth visiting?
Yes – Bogota is worth visiting and one of the many great things about Bogota is the fact that it has something in store for every type of traveler.
1. Hike up Monserrate Mountain
2. Visit a Cathedral made entirely out of Salt
3. Explore unorthodox art at the Museo Botero
4. Go Paragliding in the surrounding Andes
5. Blow up Dynamite for Fun with locals
I started my backpacking Colombia journey in the capital of Bogota and although I was overwhelmed by all it had to offer in the beginning, the city turned out to be one of my most memorable experiences in Colombia.
How Many Days in Bogota is enough?
Bogota is a very diverse city, and you'll want to take your time to settle into the culture, as well as to see various sites and gems.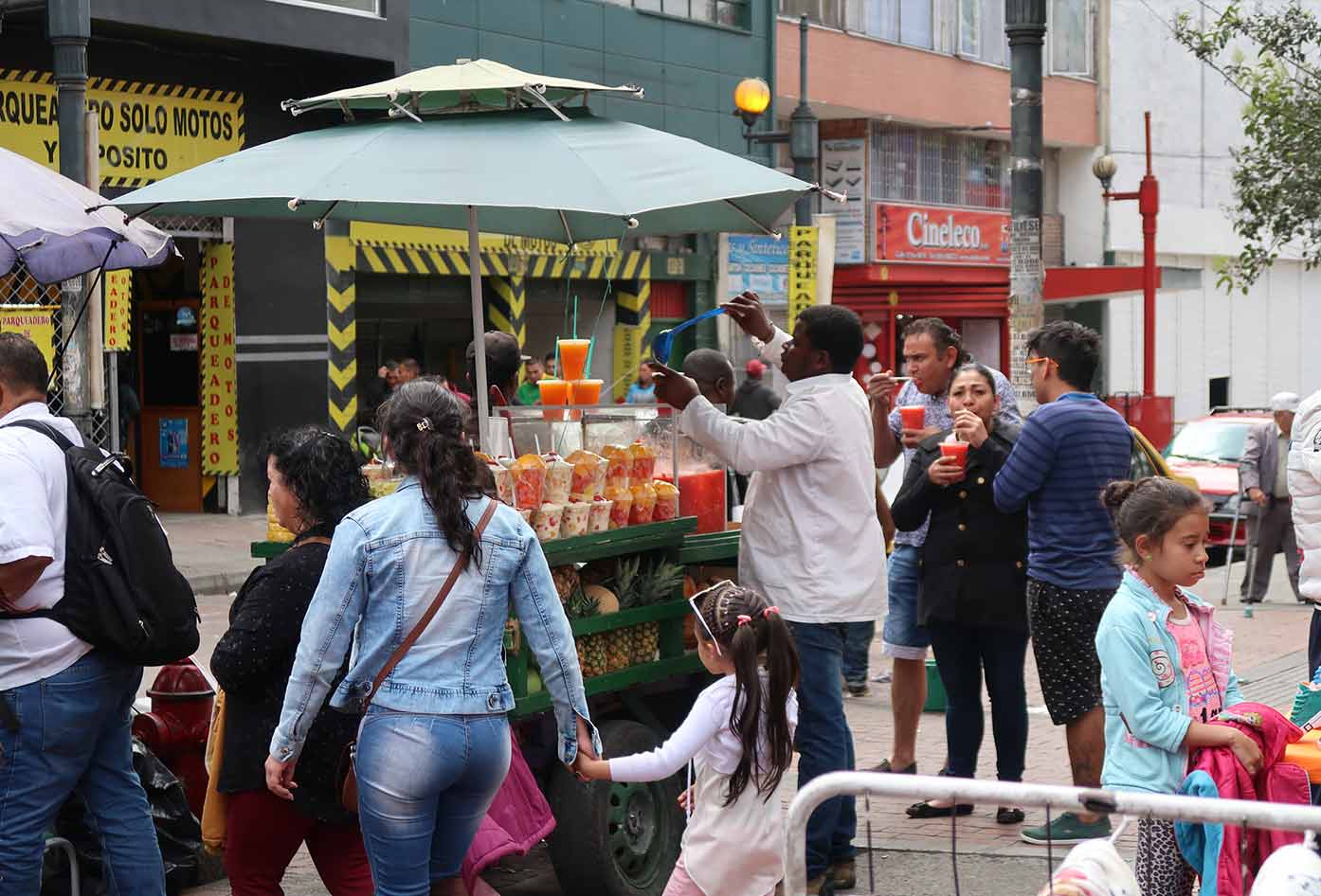 I recommend spending a total of 4-5 days in Bogota, which will give you a perfect introduction into real Colombian culture before heading elsewhere.
With 5 days in Bogota you'll get to visit many beautiful sceneries during this time too. Then if you decide to do a bike tour you'll see even more here.
Is one day enough for Bogota?
Given it's the best-connected city of Colombia (and a good contender for the continent too), many use Bogota simply as a transit stop.
It's definitely possible to experience parts of Bogota in one day, however it will require some proper planning beforehand and depend a lot on traffic.
Firstly, know that the airport is located quite far from the centre, however once you've arrived you can head straight to Candelaria drop off your bag and begin to explore the beautiful buildings of the Plaza de Bolívar.
If you've not yet booked a place to stay, see these hostels in the Candelaria which are perfect budget conscious travelers. I suggest this area for first timers because it caters for visitors and has everything you need close by.
From here you can then visit the Botero Museum (also known as Museo Botero), which is known for its comprehensive art collections which include some unorthodox takes on already-famous Paintings.
Nearby, you can also visit the Museo de Oro – which with over 30,000 gold artefacts – is one of the largest of its kind on earth!
In the late afternoon you can head up the mountain of Monserrate, which is home to a monastery as well as some superb views over the city.
Is 2 Days in Bogota enough?
Whilst one day will require more urgency and planning, with two days you can relax a bit more and still diversify your time visiting various attractions.
You can follow the first day as outlined above, where you can also spend time finding an authentic Colombian restaurant to eat a Menu Ejecutivo (a two-course local meal which is really cheap and tasty).
On your second day I recommend waking up really early, and heading to the nearby town of Zipaquirá. It's best known for its incredible cathedral, which is made entirely out of salt and carved into a mountain!
Here you can climb inside, where you'll see an altar, various Christ statues as well as a giant room used for religious ceremonies.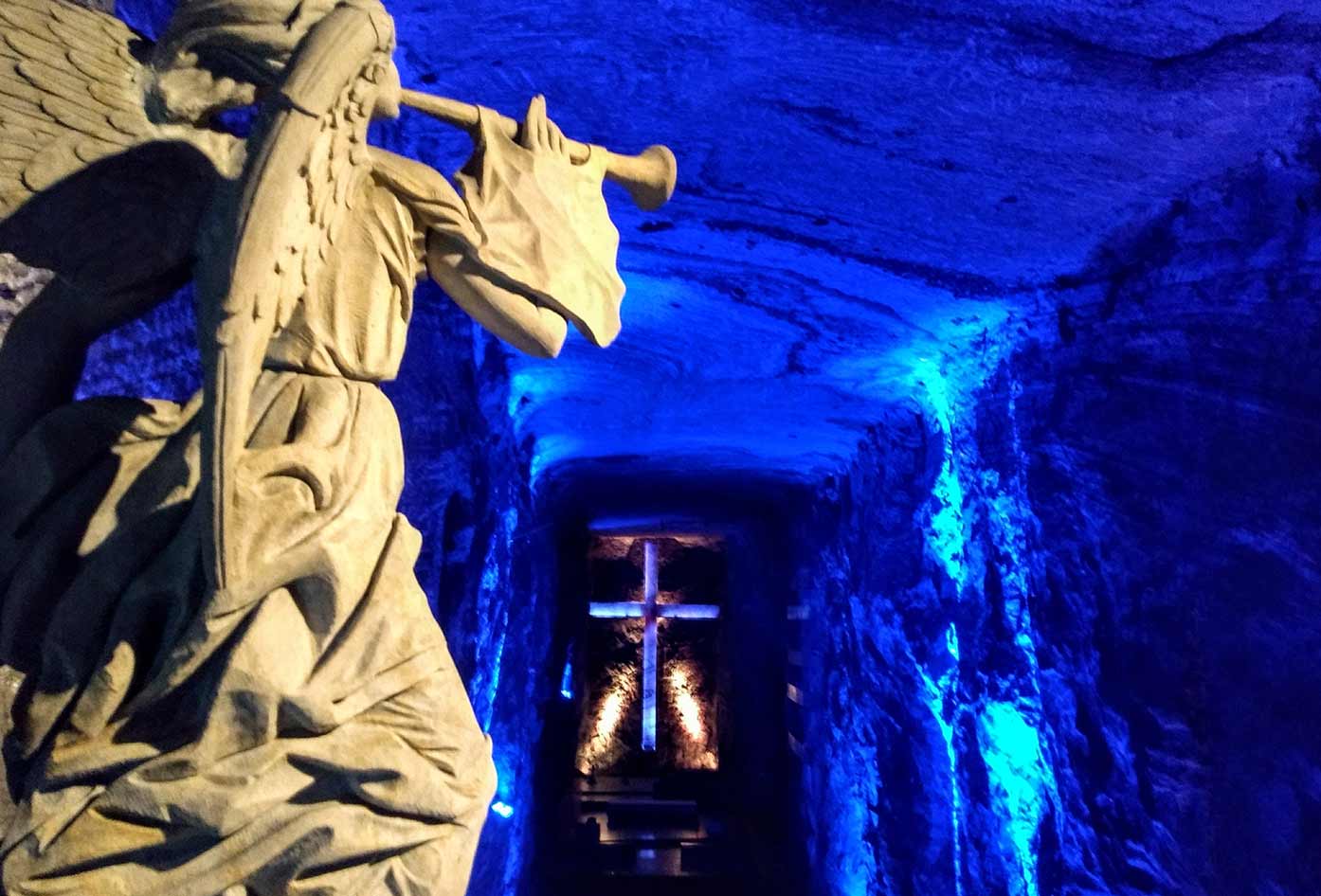 Back outside in the town, you can walk around the Parque Principal, which is home to many gorgeous buildings such as the Casa de Gobierno as well as the Diocesan Cathedral of Zipaquirá.
Depending on whether you moving onto another region (Antioquia and Quindio are popular departments) or leaving Colombia , from here you can then head back to Bogota on the same bus to catch your flight out.
To save time you'll be best doing this as a day trip but you can see this guide on getting to Zipaquirá from Bogota for tips on how to do this trip.
Is a week in Bogota too long?
Travellers who have more time to spend in the capital may be wondering if a week is too much. It really depends on what you plan to do. If you're more laid-back and like city highlights, then we think 4-5 days is better.
7 days in Bogota is much better for exploring the nearby region, such as to Lake Guatavita, which is a sacred lake where much gold has been found (ancient tribes threw gold objects into the lake as an offering to the gods).
Those who love a good adrenaline fix can also go Paragliding, with the windy conditions and rugged terrains of the Andes perfect for taking flight.
Back in the city you'll also have plenty of time for some rather, well, unusual activities too. One of these is the local game of Tejo.
Tejo is where you try to hit your opponent's ring which subsequently triggers an explosion of dynamite. It's a pretty fun way to mingle with others, and also to enjoy a few beers before and after too.
Got Travel Insurance for Colombia?

Designed by travelers, for travelers, World Nomads covers more than 150 adventure sports and activities so you can explore your boundaries.
Where to stay in Bogota?
Below are some of the very best accommodation options for travelers who are keen on exploring Bogota and have limited time to spend in the city.
Budget – Hostal R10 is by far one of the very best budget accommodations you can stay in Bogotá. Located in the heart of Candelaria, you'll be close to many top sites, have a comfortable dorm bed as well as breakfast included in the room rate.
Boutique – Hotel Casa de la Luz is the perfect mid-budget option located right next to the Plaza de Bolívar. Here you'll be staying in a sleek private room, where there is also an on-site restaurant and bar.
Luxury – Hotel BH Bicentenario is great for those looking for top-tier luxury. Located in a plush area next to the picturesque walkway of Carrera 2A. You'll get a spacious room with great balcony views of the nearby Monserrate mountain. There's also a restaurant on-site too.
Best Guided Tours in Bogota
As we've already seen, there's lots of awesome things to see and do in Bogotá. You only have to step outside your comfort zone once here to begin to understand how much there is to discover.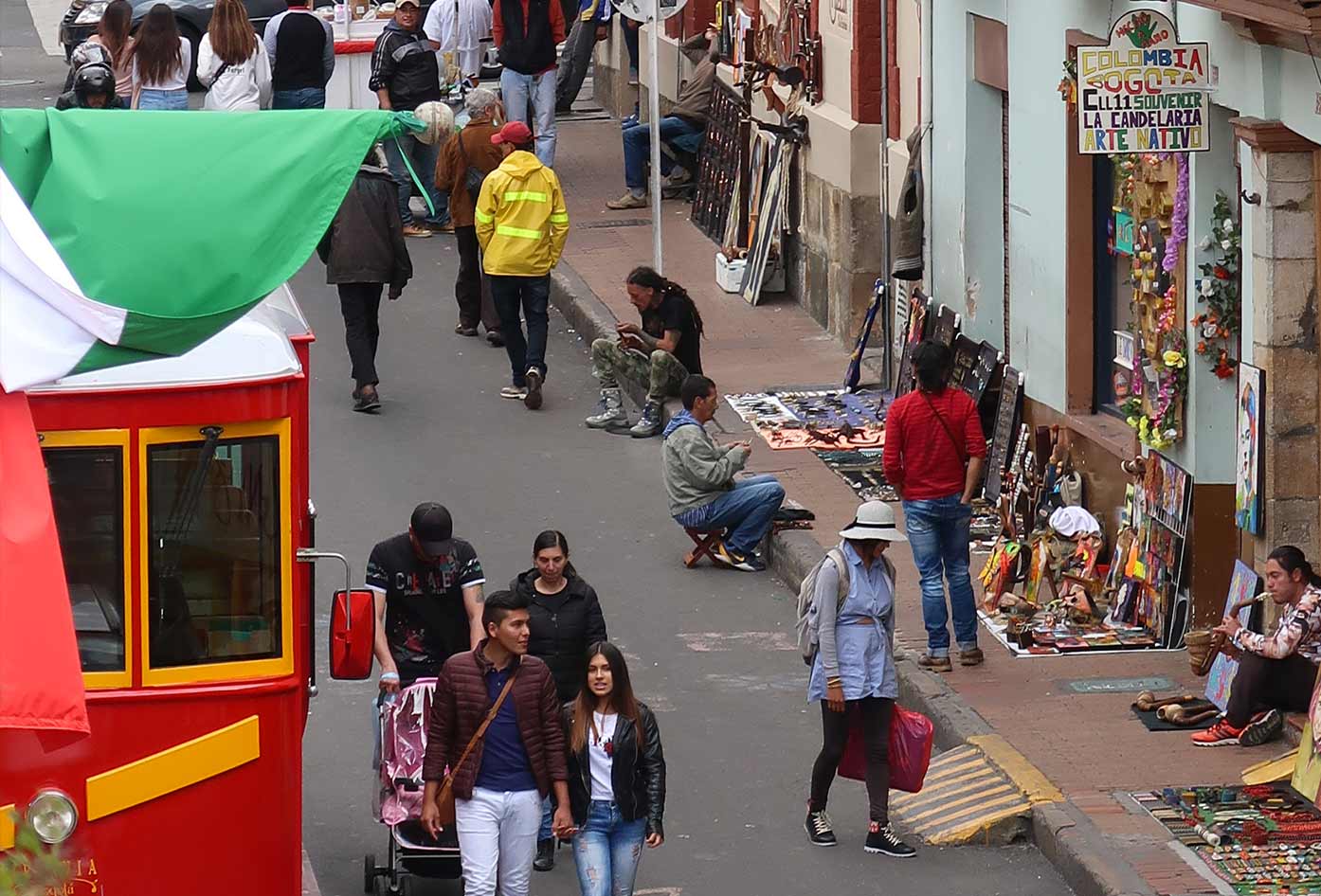 Below we'll take a look at some of the very best tours you can head on when in the capital. Some of these tours will take you outside the city but will no doubt give you inspiration to do and see more while you are here.
Walking Tour in La Candelaria
For those looking to see as much as possible, a walking tour is by far one of the best ways of getting to know any new mammoth city such as Bogota.
In fact, while here in Bogota, a knowledgeable local with years of experience will show you the best highlights such as the Plaza Bolivar and Concordia Market. You'll also have coffee and fruit tastings included too.
Guatavita and Salt Cathedral
By far one of the best tours to do from Bogotá as you'll visit the incredible salt cathedral as well as a hike around the stunning Lake Guatavita.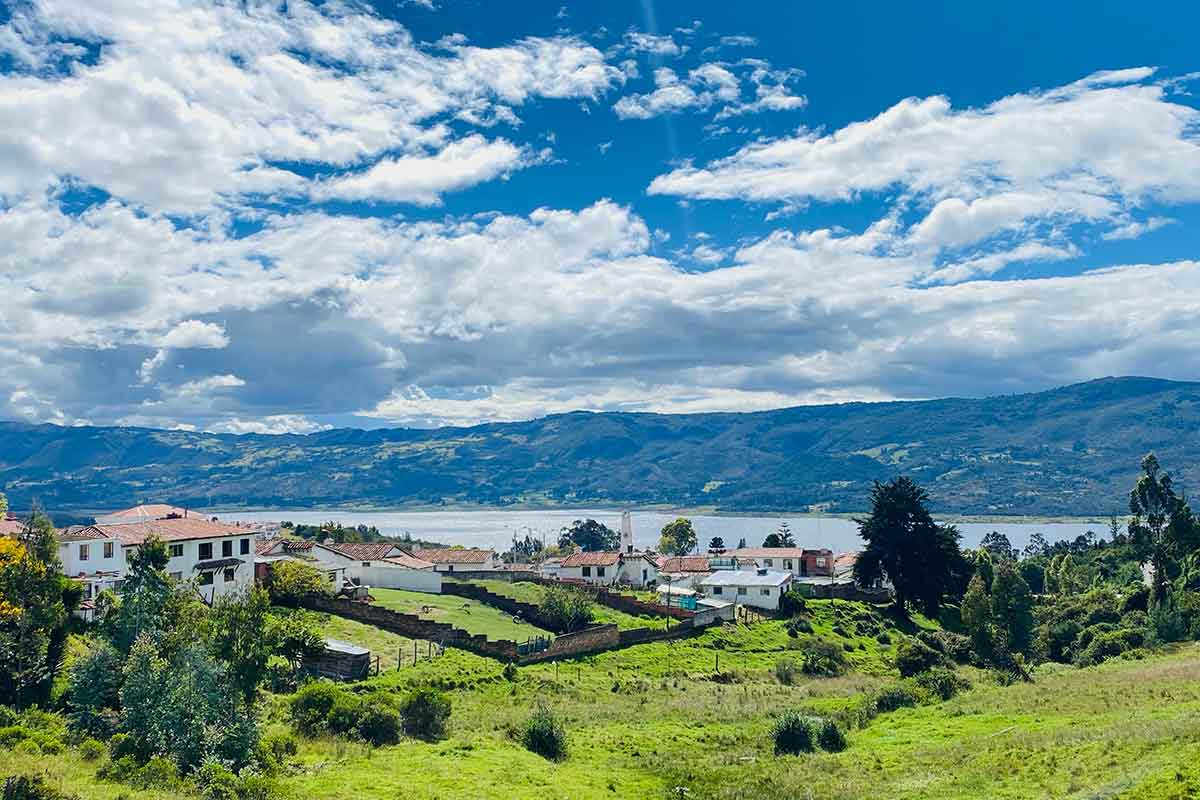 As well as having all transport included, you'll also have a fast-track entrance into the Salt Cathedral.
Colombian Coffee Tour with Farm Visit
Those who love coffee will want to head on this experience tour, where you'll visit a plantation close to the town of Fusagasugá.
As well as trying the best stuff and learning from the locals, you'll also have fruit juice tastings included too.
El Paraíso Favela Tour with Cable Car
Here you can get to know a more unique side of Bogota in this infamous Favela Tour. It's safe as local tours work with the Favela leaders, where you'll also meet them and get to know what everyday life is like here.
How many days in Bogota
That's all for this quick guide on how many days to spend in Bogota. Contrary to what many believe, the Colombian Capital is actually home to many awesome areas and activities to see and do.
From learning about the varying cultural groups that reside here to trying different food and exploring many incredible landscapes, you'll want to take full advantage of whatever time you have when visiting Bogota.
This guide has looked at how to spend various timeframes in Bogota, as well as where to stay and some worthwhile tours to do when here too.
Be sure to check out this all important Bogota safety guide to ensure you know how to stay safe when exploring this awesome city.
📌 Like this article? Pin it…
Did this guide help you decide how many days to spend in Bogota?
💬 Leave a positive comment or lets start a conversation below!
---
"Dear friend! Some links in this post contain affiliate links. Meaning, if you click through and make a purchase, book a hostel or sign up for a tour, I may earn a small commission at no additional cost to you. Your support means a lot and helps me to keep traveling and maintaining the quality of this site for you."