Welcome to this Zipaquira, Colombia travel guide.
Located just a few hours from Bogotá, Zipaquira is relatively unknown as a destination with the most first-time travelers to Colombia.
However as you'll see, there are many points of interest here. In this guide, we'll explore more of this off-the-beaten-path gem!
Zipaquira From Bogota Guide
Zipaquira has gained some notoriety on the travel path as it is home to an underground Cathedral made entirely out of salt.
In terms of authentic destinations in Colombia, this one is very unique!
Whilst this is the main reason people visit, there are also lots more to do including a visit to the main plaza, a stunning cathedral, and more.
Why Travel to Zipaquirá?
Zipaquira is a very friendly town, and you can easily stay here with many accommodation options.
Another draw is the pleasant weather, which is great year-round.
With so many things to do in Bogota, you may not feel the urge to leave; and that is understandable for such a culturally rich capital.
However, sometimes you need a break from the heat of some of the other places in Colombia, and this colonial town is perfect for that!
How to get to Zipaquira
Most likely you'll be visiting Zipaquira as a day trip from Bogotá. It only takes a few hours to get there, assuming you are using public transportation and not renting a car.
Starting from the capital, you'll first need to use the city metro to head to the outskirts on a stop called Portal del Norte.
From here you can use a bus that will take you through the mountains until Zipaquirá.
It will drop you on the main road, about a 5-minute walk from the main plaza.
Places to see in Zipaquira
On arrival to Zipaquira, what is there to do and see? The first port of call from most visitors is the Salt Cathedral but let's look below to see what else you can do in this quaint historical town.
Zipaquira Salt Cathedral
The Catedral de Sal is the most visited gem by far in Zipaquira, and it is no surprise why.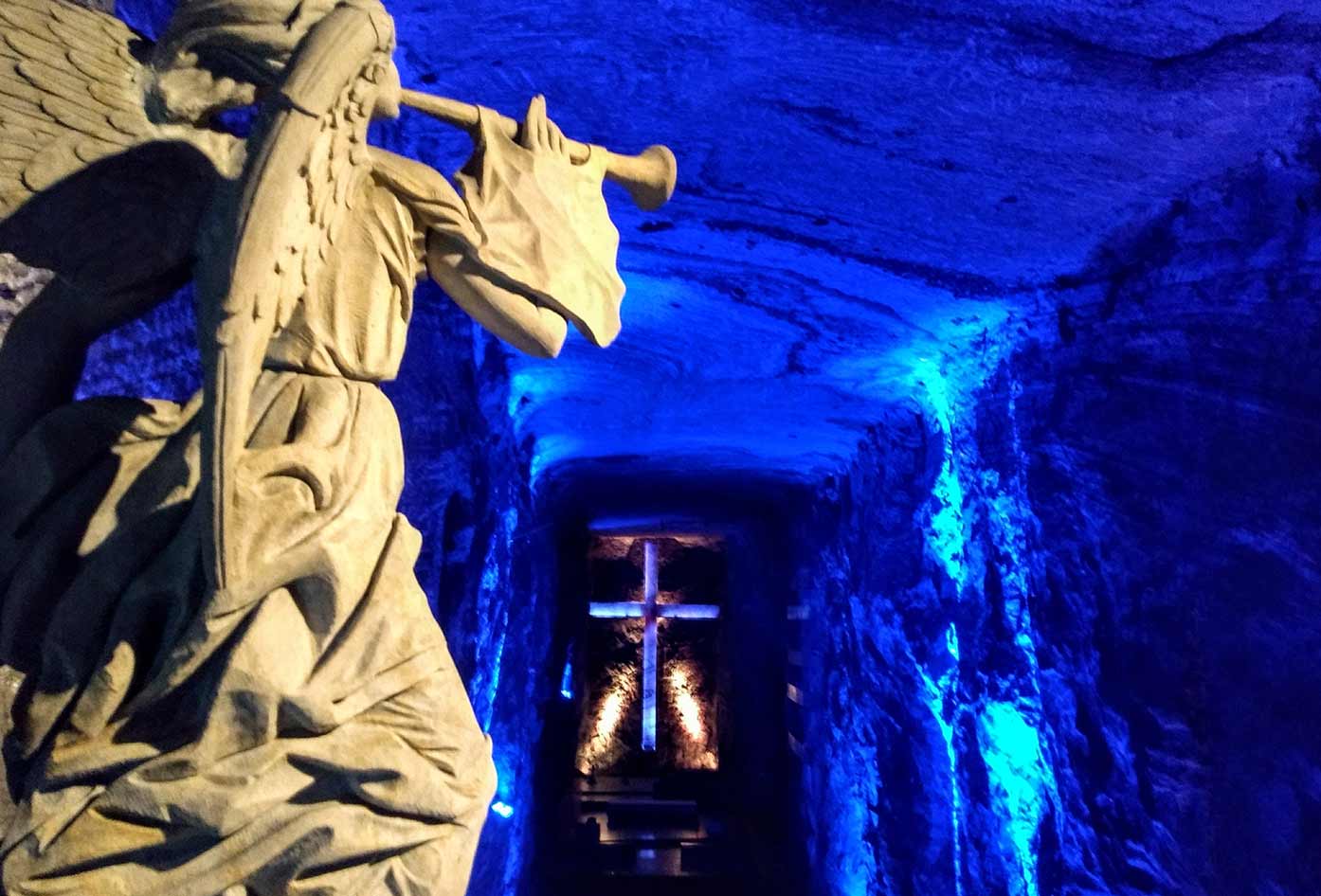 The walls are covered in salt minerals, and as well as a fully functional cathedral, you can see a number of crosses made out of salt.
One of the highlights is the very large open cavern that features a massive altar and religious structure.
As you'll be underground, it can get quite chilly down there, so I'd recommend bringing an extra layer or two.
To get here, you simply need to walk up the slope of the town and you'll see the signs. Simply ask locals if you get lost and they'll probably point you before you even say a word!
The entry fee is relatively modest. Once at the entrance, you'll then descend a larger number of steps into the salt cathedral.
Diocesan Cathedral of Zipaquirá
The Zipaquira cathedral is a pretty, colonial church located right in the middle of the Plaza de la independencía.
Aside from the salt cathedral, it is one of the best photo ops in the area.
If arriving to Zipaquira by bus, you'll get off at the main road near the Idime Zipaquirá Hospital. From here, it's just a short 5-minute walk until you reach the church.
Whilst open for masses and religious ceremonies, you can still have a look around inside and explore the colonial murals and architecture.
Plaza and Local Gems
In the main square, known as Plaza de la Independencia, there are lots of small cafes to relax and have a drink in.
Calle 4, which is only a couple of streets away, has lots of souvenir shops and a small shopping plaza.
Be sure to visit some of the artisan shops on the way to the Salt Cathedral, as souvenirs inside the site are guaranteed to be more expensive!
Zipaquira, Colombia Travel Tips
If traveling to Zipaquira independently, then I recommended you start your day early! The guys at Vieja Aduana can help you get everything prepared for your day.
If heading from Bogotá, where all the tour buses tend to come from, you'd be best getting up around 6 or 7 am.
This way the salt cathedral will not be as busy. Of course, using a tour company is useful if you strapped for time, as they'll arrange everything for you. See these day trips from Bogota for more ideas.
Best Time to go to Zipaquira
As Zipaquira is situated in the mountains of the Cundinamarca region, the weather is a lot cooler than other parts of Colombia.
The weather tends to be quite consistent, with highs of 75°F and lows of 45°F throughout the year. Precipitation tends to be at its heaviest in the Spring and Autumn months.
Like Medellin, Zipaquira is a good destination to visit year-round, but you can expect some rain due to its geographical positioning.
Travel Insurance for Zipaquira, Colombia
I always recommend backpackers and travelers (no matter who you are) use World Nomads Insurance for fully comprehensive cover.

If you are due to travel soon, you can get a Get A Free Quote by clicking the link or the image above and filling out your details – that way you'll get instant cover from the exact date that you choose.
On many occasions World Nomads has provided me with reliable insurance cover for travel in Latin America and the rest of the world.
Zipaquira From Bogota: Overview
Thanks for reading this Zipaquira guide, one of the lesser-known gems in central Colombia!
As well as looking at the infamous salt cathedral itself, we've explored some of the other sights including the cathedral and local gems.
Zipaquira is a great destination to visit year-round, and I hope this guide has inspired you to visit!
See this guide to backpacking Colombia for more tips on where to go and what to see here.
📌 Like this article? Pin it…
Are you thinking of traveling to Zipaquira, Colombia soon?
💬 Leave a comment below or let's start a meaningful conversation…
---
"Dear friend! Some links in this post contain affiliate links. Meaning, if you click through and make a purchase, book a hostel or sign up for a tour, I may earn a small commission at no additional cost to you. Your support means a lot and helps me to keep traveling and maintaining the quality of this site for you."