When comparing Cozumel vs Playa del Carmen, which do you choose?
Most travelers who are planning a trip to the Mexican Riviera Maya will likely be spoilt for choice when it comes to tourist destinations.
Playa del Carmen and Cozumel are two beautiful yet very different places worth visiting, but how much time will you be able to allocate, realistically?
Whilst Playa del Carmen remains one of the biggest hubs to stay in, Cozumel also offers its own slice of paradise worth looking into to.
Cozumel vs Playa del Carmen
This guide explores both destinations of Cozumel and Playa del Carmen. Both of which are relatively close so you can easily visit both during a stay.
It compares both using factors such as the best time to visit, food, cost of travel and things to do. That way you can start to plan your travel budget.
Knowing some of these basic travel factors will hopefully give you a better idea of which destination is best for you to base yourself in for a trip here.
If you are concerned about safety you can see this Playa del Carmen safety guide or my Cozumel safety guide to get a better idea of what to expect.
Best time to visit Cozumel vs Playa del Carmen
Given both destinations are just 17 km from each other, there's hardly any change in weather between the two. Average temperatures throughout the year range from 73-81°F, with highs of up to 90°F and lows of down to 66°F.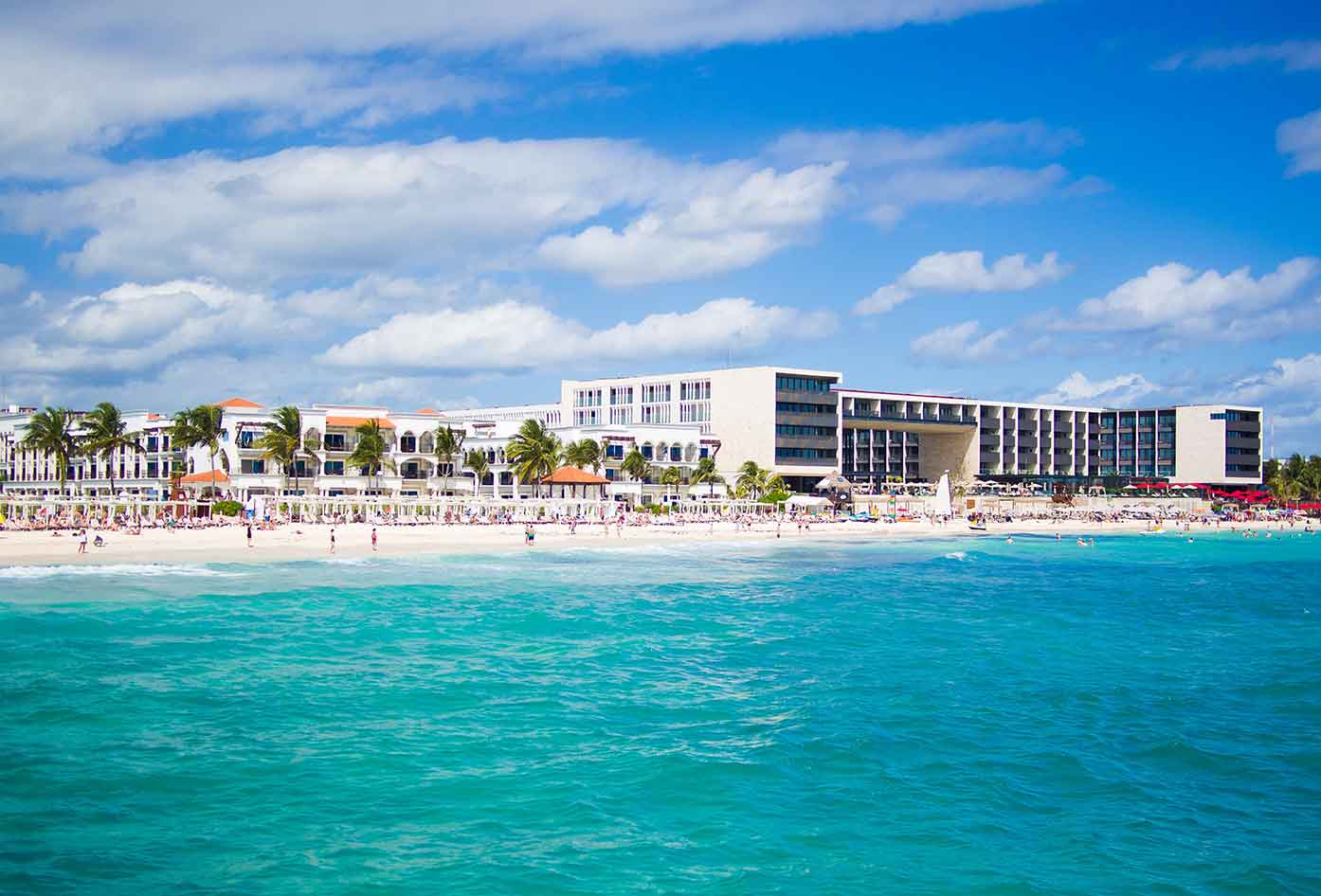 Rainfall is almost identical too, with the dry season seeing between 1-2 inches falling in each month (December until April), whilst the wet season has between 3-6 inches of downpour each month (May until November).
Holiday seasons however can affect the levels of tourists in each area, and overall Cozumel will be the much quieter of the two.
The shoulder months of October and November are some of the least busy. Be sure to carry sunscreen here since it can get very hot.
December, January and April are some of the busiest (especially in Playa del Carmen which is one of the biggest tourist hotspots in the Riviera Maya).
🏆 Winner: Draw
Food in Cozumel vs Playa del Carmen
Whilst accommodation prices tend to be more expensive in Cozumel, you can still find good food for great prices if you look around.
Places such as Burritos Gorditos have a great variety of options, where you can eat local food for around $6-8 a meal.
In town there are other budget options too, as well as various international cuisines. Along the east coast you'll find all kinds (from cheap to very expensive), so it's just a case of getting out there and exploring!
In Playa del Carmen there are all kinds of food option on offer. Along the Quinta Avenida tends to be the most expensive, with both gourmet restaurants such as Alux and fast food joints literally all over the place.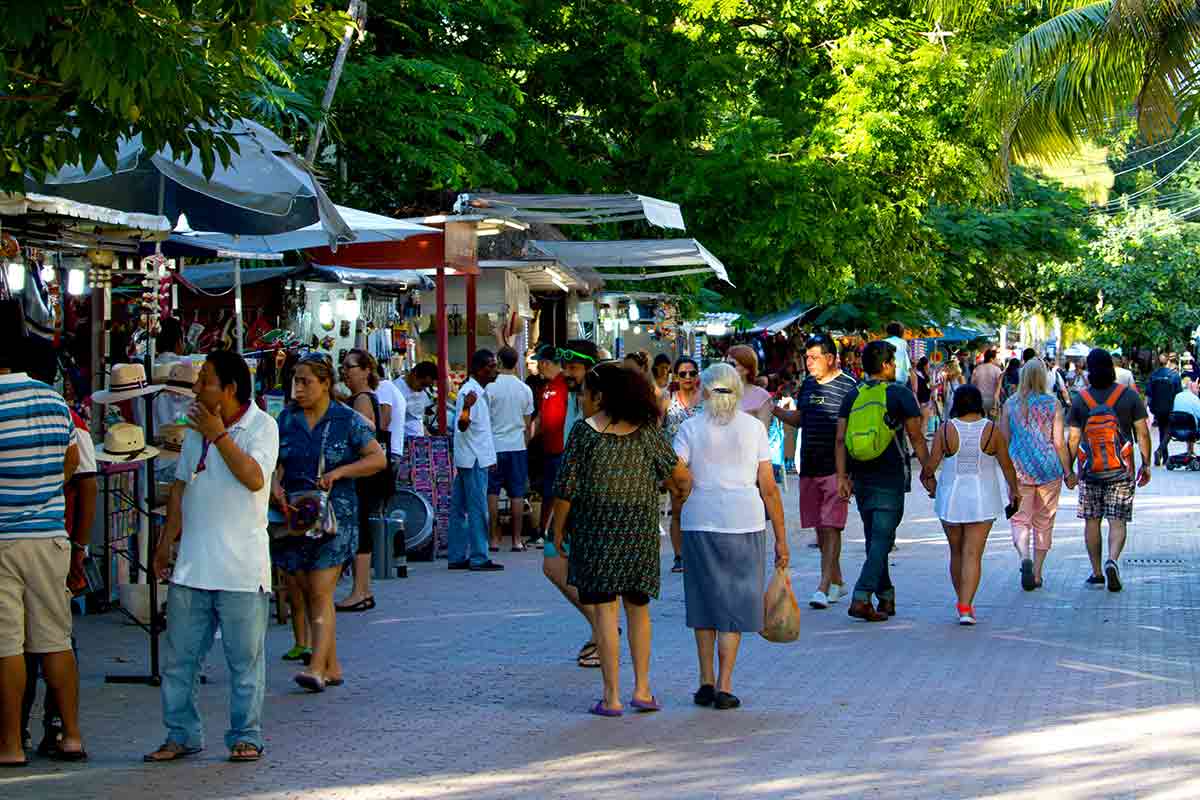 Depending on what you want these can cost upwards of $10 per person for the most basic dish, so it is best for those with a more relaxed budget.
If your goal is to keep things cheap and cheerful, then you can find local Mexican restaurants further in-land (between Avenida 15 and Avenida 30). Despite paying less, rest assured, the food will still be very tasty!
Alternatively you can check out this local food walking tour to get one foot deeper into the food scene while exploring Playa del Carmen.
🏆 Winner: Playa del Carmen
Cost of Travel to Cozumel vs Playa del Carmen
As a whole, Cozumel tends to be the more expensive destination of the two. Whilst you can find hostels, they are more expensive, and also the luxury accommodation prices also tend to shoot up too.
Budget travelers heading to Cozumel will want to budget around $30-35 a day, which includes staying in a hostel and eating local meals in town (or going shopping and preparing your own meals).
Those after more comfort will need to budget between $50-55+ each day, where you can upgrade to a nicer hotel and eat at restaurants.
Playa del Carmen caters to literally every kind of budget, and with all the cheap hostels backpackers will find it easy to keep costs lower here.
They can expect to spend roughly $20-30 a day, staying in a social hostel such as Che Playa which usually has a pool. There's also many nice local restaurants to eat at too which don't break the bank.
Travelers who want a more private experience will need between $40-50 a day, where you can stay in a private room and eat out along the Quinta Avenida more often.
🏆 Winner: Playa del Carmen
Things to do in Cozumel vs Playa del Carmen
Cozumel is a haven for beach lovers, who can find miles of deserted white sands along the eastern coast of the island.
The water visibility conditions here are also known to be some of the best in the Caribbean, making it a perfect place to go snorkeling or diving.
For example, with this snorkeling experience you can spot everything from Trumpetfish to Sea Turtles and Stingrays, and if you head between May until September then you can also swim with Whale Sharks too.
Playa del Carmen as a town mostly has its beach and endless amenities, which vary from Mexican restaurants and beachside bars to booming nightclubs.
The beauty of Playa is that it's located close to many superb sites. One of the very best are the cenotes, which are caverns filled with emerald and bright blue waters. Some of the best to visit include Aktun Chen and Gran Cenote. Here, you can learn more about Cenotes and what they entail.
From Playa you can also visit various Mayan ruins on day trips, including those of Chichén Itzá and Tulum. With tours you get picked up and dropped-off at your hotel so you don't have to worry about transport.
🏆 Winner: Cozumel
Tourist attractions in Cozumel vs Playa del Carmen
Cozumel is a much more relaxed destination, and is likely what you think of when you hear the words "Caribbean relaxation".
This is especially true along the wilder eastern coast, where there's less bustle and longer stretches of untouched beaches. It's the perfect place to wind down and do something such as a Cacao workshop in the afternoon.
You can also find some atmosphere on the western coast, especially in town where tourists and locals mix together.
Playa del Carmen is much louder than Cozumel. Given it's arguably the most popular tourist town in all of Southern Mexico, this means hotels, restaurants and even public walkways will always be filled to the brim.
This means that the nightlife is good here, where you can find everything from beachside bars to the crazy antics in clubs like Cocobongo and Mandala. See this Coco Bongo Experience for for a personalized visit.
🏆 Winner: Playa del Carmen
Getting Around Cozumel vs Playa del Carmen
Whilst most think Cozumel is a small island, it's in fact much larger (over four times bigger!) than Playa del Carmen.
This means you'll need to rent a car or take taxis to get around the island, especially when going from one coast to another.
Given that this is an area to chill out and enjoy nature, walking or hiring a bike is a popular way of getting around. If you're just staying near the busy town center on the west coast, then you can walk everywhere with ease.
Playa del Carmen is quite a big town, however you'll also find that walking is enough to get around most parts. This is especially true when heading to the beach or along the Quinta Avenida.
Now when heading out into the town or further away, then using a taxi could be a good idea (especially at midday when the sun is really strong).
When exploring other towns or beaches from Playa del Carmen as day trips, you can easily use the ADO buses or local colectivos to get around.
See this guide that goes into more detail when it comes to bus travel in Mexico and how to get around the different regions (just like the locals do).
🏆 Winner: Playa del Carmen
🏅 Summary: Having read this guide you should now hopefully have a better idea on which of these popular beach breaks is best for you.
They each have a much different vibe, so it really depends on what you want (or even visiting both which is highly recommended).
It's worth doing some extra research to see which destination better suits your particular trip preferences.
Got Travel Insurance for Mexico?

Designed by travelers, for travelers, World Nomads covers more than 150 adventure sports and activities so you can explore your boundaries.
Cozumel vs Playa del Carmen
Thanks for reading this guide on Cozumel vs Playa del Carmen, looking at two incredible, yet vastly different Mexican beach-side destinations.
It's looked at various factors such as things to do, the food scenes, costs and how to get around. Personally I prefer Playa del Carmen out of the two.
However, you'll go to from Playa del Carmen to get to Cozumel in most cases so it all depends on what it is that you're looking for on your travels.
I highly recommend doing further research on both of these Mexican travel destinations to see if there's any other factors worth considering.
If you're still concerned about safety, why not take a look at this guide on the safe states in Mexico to learn more about safety in this region?
📌 Like this article? Pin it…
On comparing Cozumel and Playa del Carmen do you now have a favorite?
💬 Leave a positive comment or lets start a conversation below!
---
"Dear friend! Some links in this post contain affiliate links. Meaning, if you click through and make a purchase, book a hostel or sign up for a tour, I may earn a small commission at no additional cost to you. Your support means a lot and helps me to keep traveling and maintaining the quality of this site for you."