Did you just ask yourself the question: are cenotes safe?
In this guide, we are going to dive deeper into the world of cenotes and answer a few popular questions about their safety.
Also, we will look at some of the best Cenotes in Mexico you can visit whilst on your adventures in the Riviera Maya region.
Are Cenotes Safe?
A "cenote" (pronounced say-no-teh) is a natural sinkhole created where a cave ceiling has collapsed, a window to this amazing world.
Cenotes were the only source of water in the jungle for most of the Mayan civilization and are considered sacred by the Mayan people.
Effectively acting as a well, Cenotes are now considered extremely photogenic and worth diving into.
What is a Cenote?
To understand why cenotes exist, unfortunately, we need a geography lesson. The Yucatan peninsula is basically a flat piece of limestone, which used to be a gigantic reef millions of years ago.
That's until the sea level dropped and revealed what we now know as the Yucatan Peninsula and the sublime sinkholes we know and love.
The landmass is scattered with caves and sinkholes, making a vast network of fractures that drain rainwater from the surface into many vast underground river systems.
It's very difficult to know the exact number of how many cenotes are out there in the Yucatan, but there are over 7,000 cenotes, over 2,200 have been registered.
And at least 900 of these are considered to be a part of the 'Ring of Cenotes' located near the city of Merida which is known as the cultural heart of the Yucatán Peninsula.
Types of Cenotes
To understand the types of cenotes, you need to use your imagination. Imagine the ground you're standing on has a cave directly below you. That's a cave cenote.
A hole forms from the surface creating an entry point; that's a young cenote.
Over time, more of the ground-level earth caves into the cenote leaving no precipice of land perpendicular to the bottom of the cave. This becomes a mature cenote.
If you travel to Akumal you can access Aktun Chen which is a very popular cave cenote with visitor to the Riviera Maya.
Perhaps even more time passes and the huge hole in the ground gets filled with earth perhaps because of mudslides or animal interference. This is called a dry cenote.
How safe are Cenotes?
Although every guide who takes you into a Cenote must be at least certified as a cave diving guide, you may find that the dangers involved in Cenote diving are more than you realize.
Plenty of divers returning from the Cenotes report being in groups with very inexperienced divers for who it maybe would have been better to stay in the open water.
The safety of cenotes is all dependent on the group you travel with. The most visited cenotes are as safe as you treat them to be.
Respect is key.
Swimming in Cenotes: Is it Safe?
Cenote diving does not require you to have a cave diving accreditation because you are technically not entering the cave.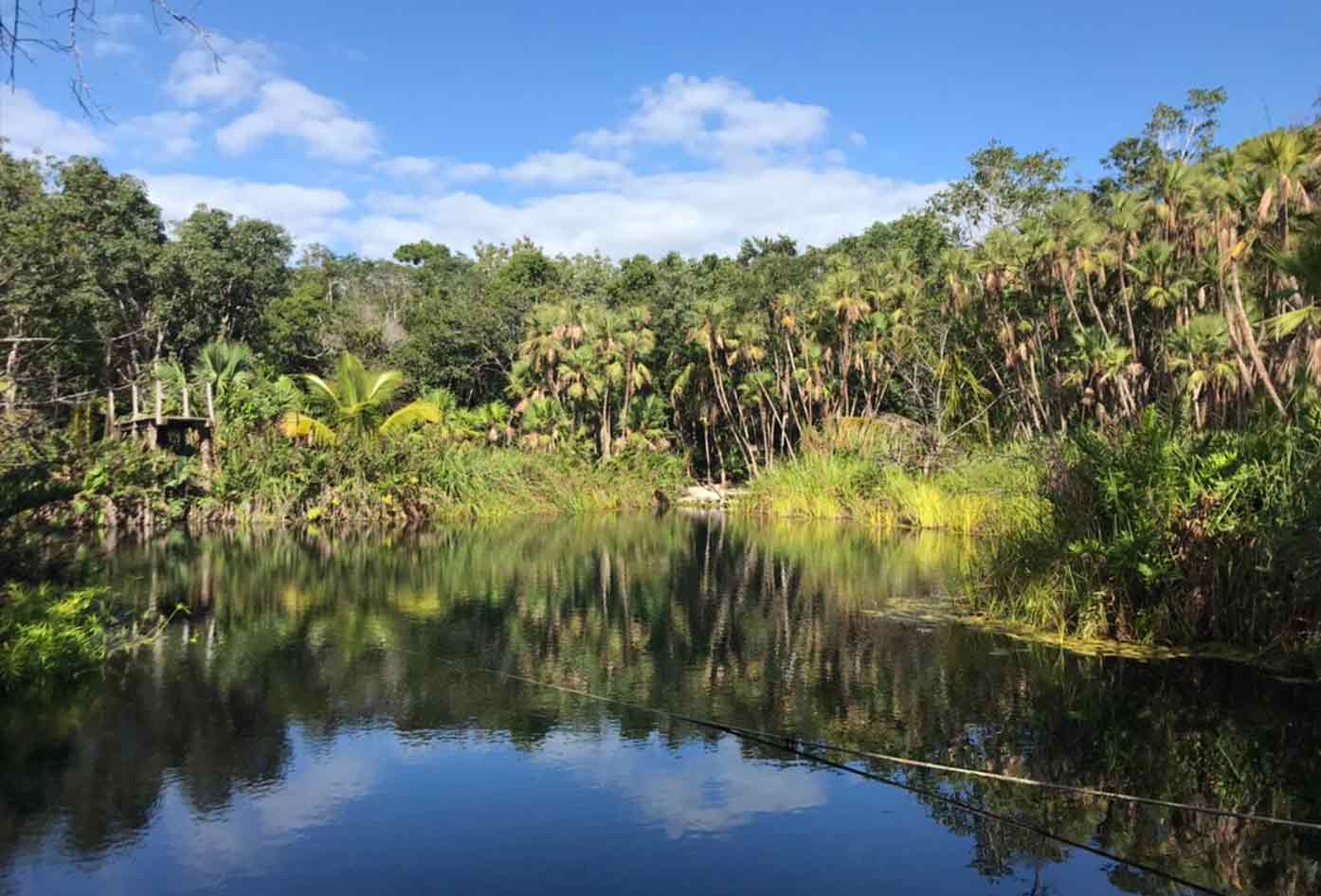 Diving Cenotes without a cave dive certification would be a cavern dive, which is technically different.
This means when you're diving in a Cenote you should always be able to see natural light.
Theoretically, offering you a direct way out of the cavern system! However, don't be fooled into thinking this makes it an easy dive.
Swimming is safe for the most part, but make sure you know what you're doing.
Can you visit cenotes without tour?
The Yucatan is home to some of the world's longest underground cave systems.
The Sistema Sac Actun, located in the Riviera Maya, is the world's longest underground cave measuring 350 km with its deepest measuring 119 m and home to roughly 226 cenotes.
It would be disrespectful to the locals if you decided to put yourself in harm's way by thinking you can discover all of it on your own.
It is possible to come across a cenote and jump in, but it's highly recommended you go with a guide or one of the many small-group tours that are on offer.
Archaeologists have discovered 9000-year-old human bones as well as the bones of animals that walked the planet around the time of the ice age.
Best Cenotes in Mexico
Here are some of the best Cenotes in Riviera Maya for anyone looking to explore deeper.
I love these, not only for their beauty but for their photogenic-ness!
Grand Cenote – Touted as the best in all of the Yucatan
Ik Kil – Best Cenote nearest to Chitzen Itza: the most popular attraction
Sac Actun – Most Popular Cenote In Mexico by way of visitors alone
Suytun Cenote – Best Cenote found nearest to the city of Cancun
Calavera – Best Cenote For Scuba Diving specifically
Tak Be Ha – Best Cenote For Snorkelling or Scuba specifically
Yaxbacaltun – Best Cenote For Swimming: in emerald blue lagoons
Chihuan – Best Underground Cave Cenote: requires training for the dark
There are some unique cenotes in the Yucatan! Hopefully, you find the perfect one for you.
Read more on safety in Rivera Maya for tips on where not to go when traveling alone.
Cenote Diving in Mexico
There is a distinction between cave and cavern diving making it possible for anyone with an open water qualification to dive in the cenotes.
For example, cavern diving is the exploration of overhead environments such as caves always keeping the entrance insight.
Cavern divers do not go any further than 60m without access to the surface. They use a guideline to prevent getting lost that is already attached to the cave floor.
Even though there is always some light during a cavern dive it can still get pretty dark and places and divers always carry a light during a cavern dive.
To dive in caverns a special qualification is not a requirement, but cavern diving specialty courses are offered by PADI and TDI to equip you with the skills to safely and with confidence dive in caverns.
The PADI cavern specialty includes theory and 4 dives during which you will learn the following:
Emergency procedures.
Reel and line handling.
Use of lights.
Redundant breathing systems.
Avoiding disorientation and anti-silting techniques.
As well as improving your dive planning and air management skills for cavern diving.
Got Travel Insurance for Mexico?

Designed by travelers, for travelers, World Nomads covers more than 150 adventure sports and activities so you can explore your boundaries.
Are Cenotes Safe? Final Words
Cenotes are an integral part of the Mayan culture in the Yucatan.
They will always be preserved and protected within their legal means, but that doesn't mean they are completely safe and that all guides take the necessary safety precautions.
The fact is, they are inherently hazardous so you can't always assume they'll be safe. However, the safe tours with the best guides are extremely fun and gratifying.
I'd recommend you do some diving or at the very least a brush-up swimming lesson. Book your trip to the Yucatan and dive into the cenote fun!
Visiting cenotes in Mexico makes up part of my recommended things to do in Rivera Maya so see this blog for more ideas.
📌 Like this article? Pin it…
Missing something? Got tips, tricks & advice we can learn from?
💬 Leave a nice comment or let's start a conversation below!
---
"Dear friend! Some links in this post contain affiliate links. Meaning, if you click through and make a purchase, book a hostel or sign up for a tour, I may earn a small commission at no additional cost to you. Your support means a lot and helps me to keep traveling and maintaining the quality of this site for you."