Welcome to this guide to bus travel in Mexico.
Mexico is a vast country with many of its idolized destinations located in all corners and beyond.
It'll be no surprise to you that getting to and from these destinations can raise questions among visitors – especially first-timers to Mexico.
When we consider practical things such as safety, the most economical way, and the quickest way – buses come up top trumps.
Bus Travel in Mexico
In this guide, we'll explore everything you need to know about bus travel in Mexico to help make your trips smoother than ever.
This includes all the different bus providers, pros and cons of bus travel here as well as some personal tips from my own experience.
Bus Stations in Mexico City
You'll most likely begin your trip here in the sprawling capital.
The saying that all roads in Mexico lead to here is true, which getting around by bus is fairly easy.
There are four main bus stations which each point towards the North, East, West, and South of the country.
All are easily accessible by metro, with all equipped with a variety of dining options and seating areas.
The North station
The North station, which is known as the Terminal Autobuses Central del Norte, links up with the state of Hidalgo, Veracruz, Queretaro, and other close-by states toward the North.
It also passes up to the Northern states such as Chihuahua and Nuevo Leon and connects with some of the Southern States in the US.
This is by far the most popular bus station used in Mexico City.
The South station
Terminal Central de Sur is found in the South of the city.
It covers everything from Acapulco on the west, down to Oaxaca and towards the Caribbean destinations such as Cancun on the east coast.
Quite a versatile station, it is the smallest of all four in CDMX.
La Tapo
The East of Mexico is covered by La Tapo.
Similar to the South station, it covers all states along the so-called Gringo Trail until Quintana Roo (Tlaxcala, Puebla, Oaxaca, Veracruz, Chiapas, Tabasco, Campeche, Yucatan and Quintana Roo).
Observatorio Bus Station
Last but not least is Terminal Central del Poniente, also known as Observatorio, the which covers the West portion of the country.
It heads up along the coast from Guerrero and Michoacán, up through the Pacific Coast and up until Sonora in the North.
So just to recap you have four main bus stations in Mexico City:
Terminal Autobuses Central del Norte
Terminal Central de Sur
La Tapo
Terminal Central del Poniente
You can easily get a taxi to any one of these stations from the city.
It is always wise to double-check your final destination against the bus company (and timetables) before you arrive.
Bus Services in Mexico
There are three main levels of bus service in Mexico. We'll also discuss the pros and cons of each level of service, and what you can expect.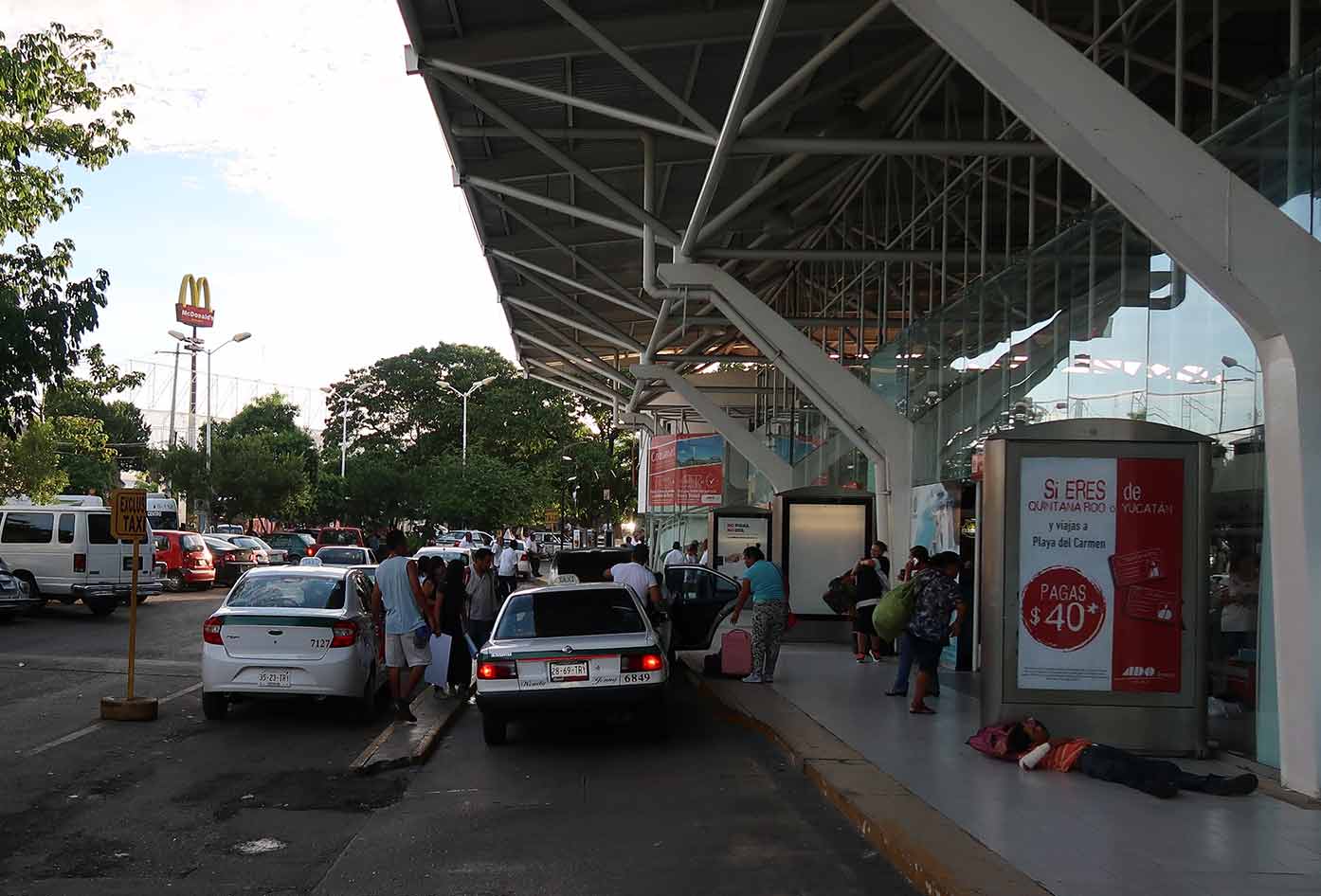 Many locals told me to only travel via Executive Class, especially for longer distances.
I suggest you take this into account when budgeting for your journey – it is for your own peace of mind.
Executive Class
Known as ejecutivo in Spanish, this is as luxurious as they come.
The buses are much more spacious than the other services, with each seat reclining as well as being slightly wider.
Each seat is also equipped with its own personal tv and control, making it a small entertainment center for your journey.
These buses tend to carry fewer passengers too, so there is a good chance you'll not be cramped up to some strangers along your route.
Another benefit is that your ticket will include a free beverage and meal on your route, although the quantity will depend on your particular leg and how long you'll be traveling for.
The obvious drawback is the price, which may deter many from upgrading their tickets.
First Class
The happy medium, the Primera buses tend to be the most popular with budget travelers who venture through Mexico.
Featuring luxurious reclining seats, these buses have bathrooms on board, and sometimes also include free beverages in the ticket price (dependent on the company and specific route).
Whilst not equipped with TVs for each seat, these buses do have some screens located around the bus, and they actually tend to play some pretty interesting films during the journey.
💡Smart Travel Tip
The films that you'll see during your bus journey in Mexico will be in Spanish, so this is a great way to brush up before you head out!
Economy Class
The económico buses are the cheapest options. As you can imagine, the buses are of lesser quality, although they'll have air conditioning.
Most locals tend to use this bus service, so you can expect the buses to be at full or almost full capacity, depending on the routes.
The seats are smaller, and there is sometimes no bathroom onboard (as there are many stops, you can get off to use the bathroom whilst the bus waits).
These buses tend to make multiple stops along any route, so it can make what should be a short trip a really long one.
Whilst this may put you off, it does give you the opportunity to see lesser-known areas, especially as lots of the stops are non-touristy and more authentically Mexican.
Main Bus Companies in Mexico
With over 200 different bus service providers in Mexico, it will be impossible to cover all in this article.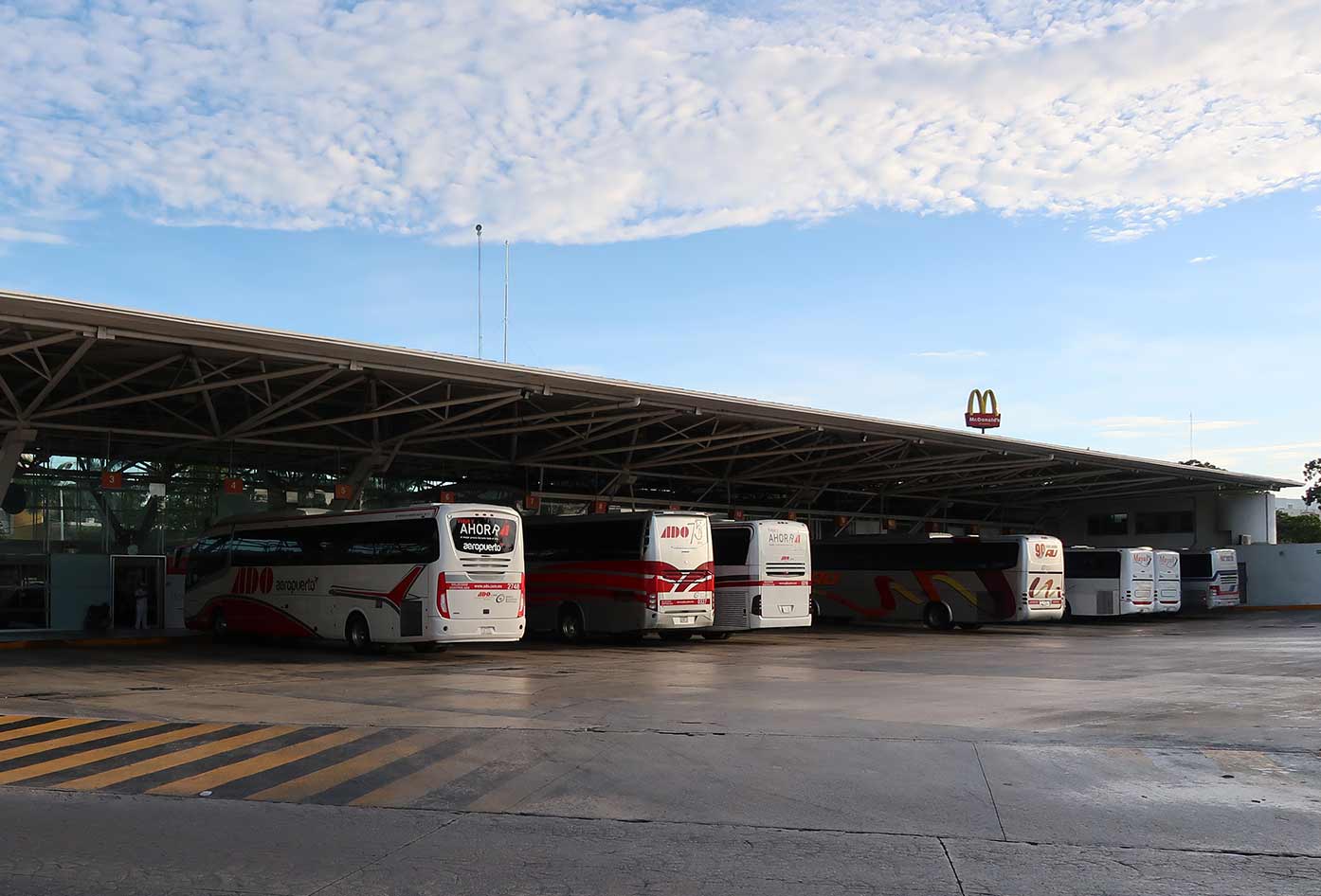 I'll only talk about the ones I have used and can offer my advice on.
Below are some of the most used bus services in Mexico:
ADO
The most-known on this list, this service is great and reliable, with executive, first-class, and second-class options. It covers the Central-Southern regions of Mexico (Mexico City, Oaxaca, Riviera Maya etc). This tends to offer the most departures per day in the popular areas, and if choosing first-class or executive, then most are actually on time!
Grupo Senda
This will be your best bet for travel in the Northern regions of Mexico, starting from Mexico City up through Queretaro, Aguascalientes, and San Luis Potosi up to the border with the USA.
Omnibus
One of the most extensive providers in Mexico. It covers all states bar Baja California, Yucatán, and the Southern States, which are actually some of the most popular.
So, if you're looking to get more off the beaten path, then Omnibus should be your first bet.
All of these services offer a great amount of diversity or routes and flexibility (both in regards to schedules and levels of bus service).
Bus Travel in Mexico: Pros and Cons
Let's now look at some of the main pros and cons that I have identified that should help you to see the reasons why traveling by bus in Mexico is a good (or not so good) idea.
For anyone traveling around Mexico or looking to only travel to the safest places in Mexico, you'll find the bus to be the most cost-effective in most cases – but not in all.
Let's begin by looking at the pros of traveling by bus in Mexico.
Buses in Mexico: Pros
By far the biggest advantage of bus travel is how inexpensive it is.
The other main forms of getting around are really only flights, with train travel virtually inexistent aside from the Copper Canyon Express in the North of the country.
Whilst domestic flights should be looked at as they can also be very cheap for certain routes, using the bus will be your first bet as it will help save your wallet.
Another great advantage is – believe it or not – the reliability of bus times and services. Buses are generally on time, as many of the main roads have been improved as well as improved service.
Also, there are often multiple buses leaving daily for the major routes, and you can most likely get away with buying at the bus station (I always recommend purchasing online if possible, though).
Last but not least is the quality of the buses.
Of course, traveling on ADO Plus will give you the best experience, however in my experience, even the second-class buses have proved to be very comfortable.
The only drawback is the cold, as most will keep on the air conditioning into the night, so it would be sensible to bring a spare jumper, hoodie, or a comfy travel blanket on board with you.
All buses are cleaned after any route is complete, and even more so now with COVID looming.
Buses in Mexico: Cons
As many destinations can be far from each other, the first obvious con to note is time.
Some routes are pretty much unavoidable if heading through the main travel route (for example Oaxaca to San Cristobal), so get ready for a long night!
Most of the longer bus routes are usually departing at night, so you will sleep through most of the journey.
This of course can bring in the question of whether using domestic flights may be more efficient for your trip, which we'll explore below.
Another con of bus travel is safety. Whilst uncommon, there are reports of bus jackings, especially with night buses in certain areas.
Whilst fear-mongering is a real thing; newspapers will make you think they happen all the time, it still is a risk in certain states.
This is more apparent in states such as Guerrero, Michoacán, and those in the North of Mexico.
Be sure to read up on travel advisories for more local, up-to-date recommendations.
As well as this, there is the safety of your luggage. You really have no idea who is getting on the bus with you, so be sure to protect your belongings with locks and keeping them close to you.
Some people will even go as far as adding some type of GPS luggage tracker to their bags, just in case it goes walkies.
This is especially true on second-class buses which make more frequent stops, which only increase the odds.
Mexico Bus Travel Tips
Whether you are traveling on local buses or across states in Mexico here are some practical tips to assist you.
No matter how long or short your trip is, try to travel with extra caution when carrying your personal belongings around with you.
Buses in Mexico Tip 1: Buying Tickets Online
Unless you're a true free spirit who doesn't mind being stuck out somewhere, then there is a good chance you want to make sure you can actually get on the bus to the next destination when you want.
Although it's rare, there have been cases where I turned up to a bus station (after looking at tickets online) to be told they had sold out, so I either had to wait a good 5 hours at the station or come back later.
You can remove this uncertainty by buying bus tickets online. Bus Bud is a great service that covers Mexico very well, and I personally use it for the comfort of knowing I have my seat already booked.
Buses in Mexico Tip 2: Bring Extra Layers
Mexico is (mostly) a warm country, and so it can be easy to make the mistake of packing too light and forgoing any coats or jumpers.
If you know the best time to go to Cabo before traveling or visit Cancun for a week and stay around the area, you'll have no problems.
However, if you take a bus, or head to cooler regions then I definitely recommend bringing a blanket or extra jumper on board.
The buses keep the air con on the whole time, mostly for air regulation: it can be a nuisance if on a long trip especially when traveling at night.
This is where that beloved travel hoodie comes in to save the day.
On my first long-distance bus ride in Mexico, I froze! I wondered why everyone was looking at me – in their jeans and jumpers! They were as puzzled as I was whilst I was queuing in my vest and short.
Take an extra layer and make the ride more comfortable – it'll be much easier to get a good sleep if not freezing to death!
So, do check out the best time to visit Cancun before booking your trip to avoid disappointment and so you carry the correct attire.
Buses in Mexico Tip 3: Safety on-board
Like with any country, it is important to have a few safety checks when using public transportation.
It can be easy to forget about the everyday life of travel, and you'll still most likely have no issues. Regardless, take note of the following.
First, make sure to bring a lock for any bag going into the hold, and also keep a baggage ticket for when it is stowed (keep it in your phone case or wallet).
Second, bring an extra lock on board if taking a small backpack.
It may seem over-neurotic but on night buses you never know who'll sit next to you, so it's always best to add a little extra security (rather than scratch your head when you wake up to find a few things missing!).
I always put my legs through the bag straps too – it seems over the top, but hey my things are all there with me when I arrive.
Buses in Mexico Tip 4: Compare Prices Online
Whilst buses are cool and a very important tool, why use them if you could fly to your destination in 1/10 of the time for the same price?
Domestic airlines are very cheap in Mexico, and if you're in a major city such as Mexico City, Cancun, or Monterrey, then there is a good bet you have options regarding travel to your next destination.
The rule of thumb tends to be that, between big destinations (think Mexico City to Cancun) there are lots of flights daily, which tend to be cheaper to due price competition between airlines.
However, going off-route to a smaller airport will cost you more, with only one flight or less per day (such as Mexico City to Torreón).
Got Travel Insurance for Mexico?

Designed by travelers, for travelers, World Nomads covers more than 150 adventure sports and activities so you can explore your boundaries.
Bus Travel in Mexico: Final Thoughts
If traveling through Mexico, then it'll be pretty much unavoidable that you don't take a bus or two given its sheer size.
That's also without mentioning that many popular destinations are quite rural and far from any airport.
However, as you have seen, the experience can actually be quite nice, especially if you are taking the executive or first-class options.
This article has explored the pros and cons of bus travel in Mexico, the bus providers you'll use, and the different service qualities.
Be sure to use some tips I have listed here to have the best experience. You may find you actually don't mind an overnight bus given how comfortable it is and what you can save!
So, which bus will you take? See this travelers guide to backpacking Mexico for ideas on which places to visit during your travels in Mexico.
📌 Like this article? Pin it…
Did this help you with using the buses in Mexico?
💬 Leave a positive comment or lets start a conversation below!
---
"Dear friend! Some links in this post contain affiliate links. Meaning, if you click through and make a purchase, book a hostel or sign up for a tour, I may earn a small commission at no additional cost to you. Your support means a lot and helps me to keep traveling and maintaining the quality of this site for you."