When comparing Cancun vs Mazatlan, which do you choose for a visit?
Located several thousands of miles away from each other, Cancun and Mazatlan sre two popular beachside breaks for both locals and tourists.
Each offers something slightly different to the other, so it's worth reading on to know what to expect from both destinations.
Cancun vs Mazatlan: Which is Better?
This guide explores both cities of Cancun as well as Mazatlan both of which host thousands of tourists every year flocking to their sun-kissed beaches.
As well as talk about some key differences this guide will compare factors such as the best time to visit, food, cost of travel and things to do.
This will hopefully give you a better idea of which spot is best for you or give you the inspiration to visit one first and the other later, if time permits.
Best time to visit Cancun vs Mazatlan
Although they're located on different coasts, the weather in Cancun and Mazatlan are similar (although Mazatlan fluctuates more overall).
Cancun has daily average temperatures of 74-83°F, where highs can reach up to 90°F and lows of down to 67°F. The dry season runs from December until April, where between 1-2 inches will fall throughout each month.
You'll need to carry sunscreen here since the days get really hot. The wet season begins in May and lasts until November, where you can expect anywhere between 3-6 inches of rainfall each month.
In Mazatlan, daily average temperatures range from 66-83°F, with highs of 90°F and lows of 56°F. The dry season in Mazatlan begins in December and lasts until May, where you'll see anything from 0.1-0.8 inches of rainfall falling throughout each month.
The wet season continues from June until November, with anywhere from 1.3-6.6 inches falling within any of these months.
🏆 Winner: Draw
Food in Cancun vs Mazatlan
Both Mexican cities offer great food, although Mazatlan is better-known for its variety of popular local dishes.
In Cancun you can find pretty much anything and everything. The Hotel Zone is lined with resorts that provide cuisines from all over the world, as well as some more touristy Mexican restaurants.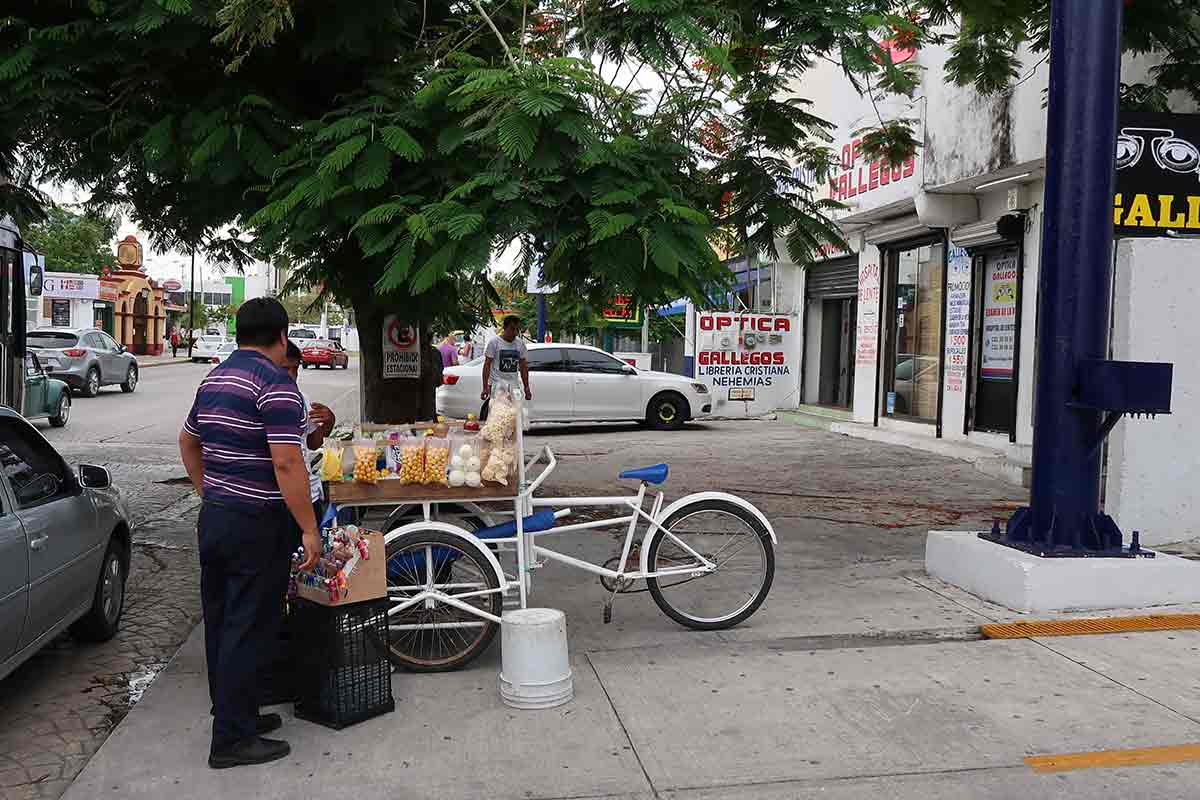 You can find more local style food in the center of Cancun, with Tacos de Cochinita Pibil a popular choice (it actually originates in nearby Yucatán but is also a favorite here).
I suggest trying a restaurant called Mextreme for some authentic Mexican food. Those with a sweet tooth will definitely want to try a Marquesita.
Mazatlan is a seafood-lovers paradise, and here you may be glad to know you can find all kinds of fresh catches served up on the same day.
Ceviche and Shrimp Tacos can be found in most beachside palapas, whilst those walking along the Malecón will find several elote stands (corn on the cob served with different sauces).
There's also a big hotel scene here within the Golden Zone, which is perfect for those like to feat on mix of different cuisines without lifting a finger.
Another (more interesting) way to taste the local cuisine in Mazatlan is with this barrio bites tour where you can try foods along with a local tour guide.
🏆 Winner: Mazatlan
Cost of Travel in Cancun vs Mazatlan
Both cities can be traveled either on a budget or with luxury, and have many options catering for both kinds of travelers.
Cancun has slightly more variety of the two, given that more tourists are arriving annually (it has one of the largest international airports in the country, after all).
Budget travelers could easily spend just $20-30 a day in Cancun, staying in a hostel such as Selina Laguna Hotel (my favorite) whilst still enjoying food from the region in local restaurants in the center.
If you're after a more deluxe experience, then you'll spend anywhere from $60+ per night (and even more so when staying in the Hotel Zone).
Mazatlan caters well to budget travelers, who will want to stay in the south of the city (close to the Plaza Machado).
A reasonable daily budget could be between $20-30, where you'll stay in a dorm room and stick to self-prepared meals and food at local markets and restaurants.
If you're after a nice hotel (or staying in a resort in the Golden Zone), you stay at a place such as The Inn for a more luxury stay or you can budget for between $40-55+ each day and get somewhere slightly cheaper.
Things to do in Cancun vs Mazatlan
Cancun (especially with its surrounding region) can satisfy all kinds of travelers. Those who love water sports and relaxing on beaches need not head anywhere but Playa Delfines, as well as around the Hotel Zone.
If you want to visit more local beaches, then nearby Puerto Morelos is a good option. You can also take a boat ride out to Isla Mujeres, or the nature reserve of Isla Contoy.
You can even travel from Cancun to Valladoid if you fancy a day trip. There's also lots of archaeological ruins to visit close-by too, such as the pyramids of Chichén Itzá.
Mazatlan is best known for its surrounding islands, which are home to some truly stunning beaches. Isla de la Piedra is one of the best, where you can explore the coast on an ATV.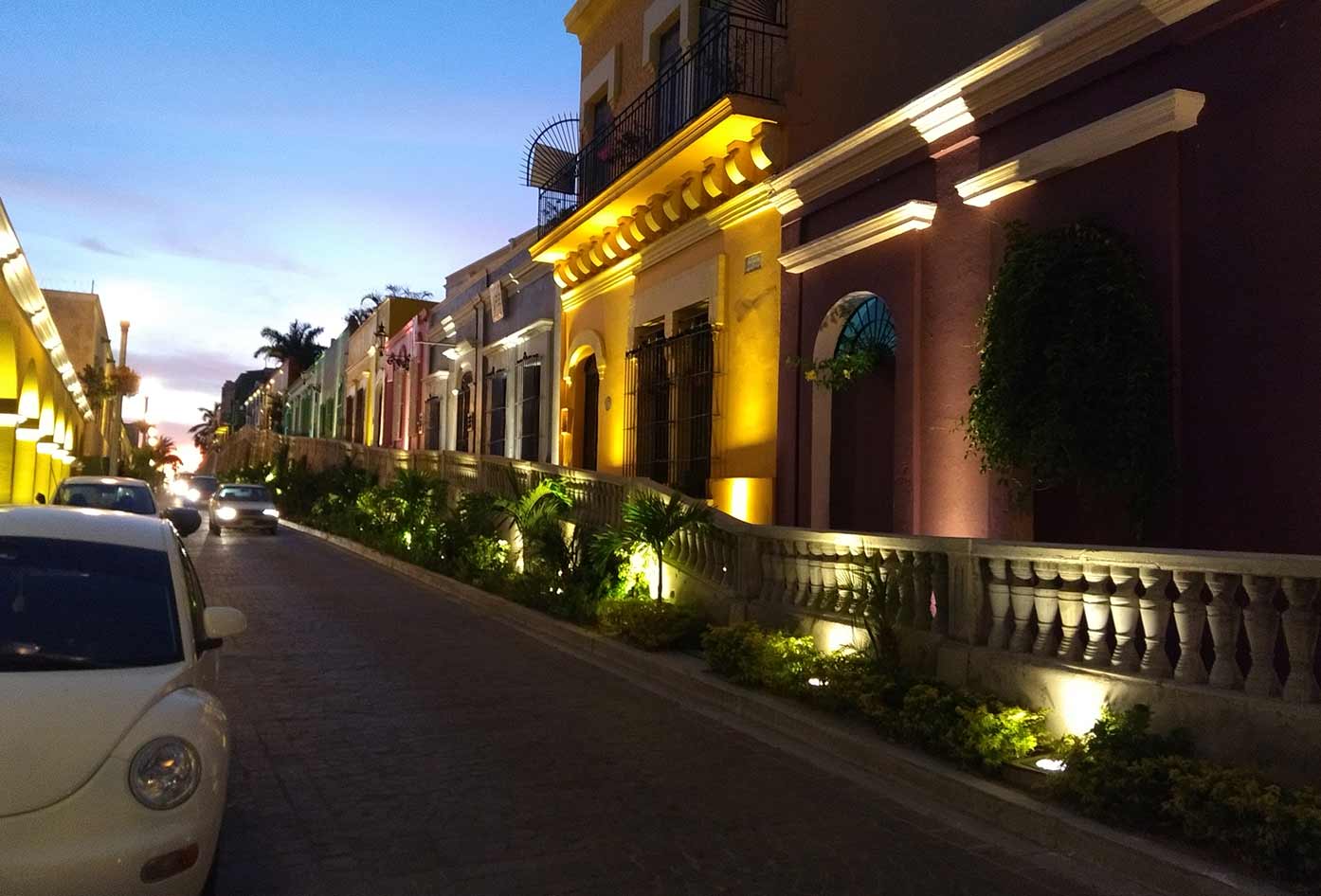 Isla de los Pájaros is another, which is great for hiking and getting lost in nature. In fact, there's a few islands off-shore that may interest you.
Those who love history will want to wander around the Plaza Machado, which is home to many important colonial buildings such as the Angela Peralta theater. You can also go bargain hunting in the Pino Suárez market to pick up some neat souvenirs.
All in all, there is lots to do and as far as Mexican traditions go, if you happen to visit Mazatlan in September you have Las Fiestas Patrias where you'll see parts of the city decorated with Mexican flags and ridbbons.
🏆 Winner: Cancun
Tourist attractions in Cancun vs Mazatlan
Cancun has two very different areas. The Hotel Zone is the first, which has "good vibes" all day and night and is perfect for those who want to live it up during their time in the city.
Here there's some incredible beaches, restaurants and nightlife nearby, although it does lack authentic charm.
Then you have the centre as known as 'downtown Cancun', which is much more local, and is better for those after a real Mexican experience.
From here it's also easier to visit gems just outside of the city, such as ancient Mayan Ruins and cool cenotes.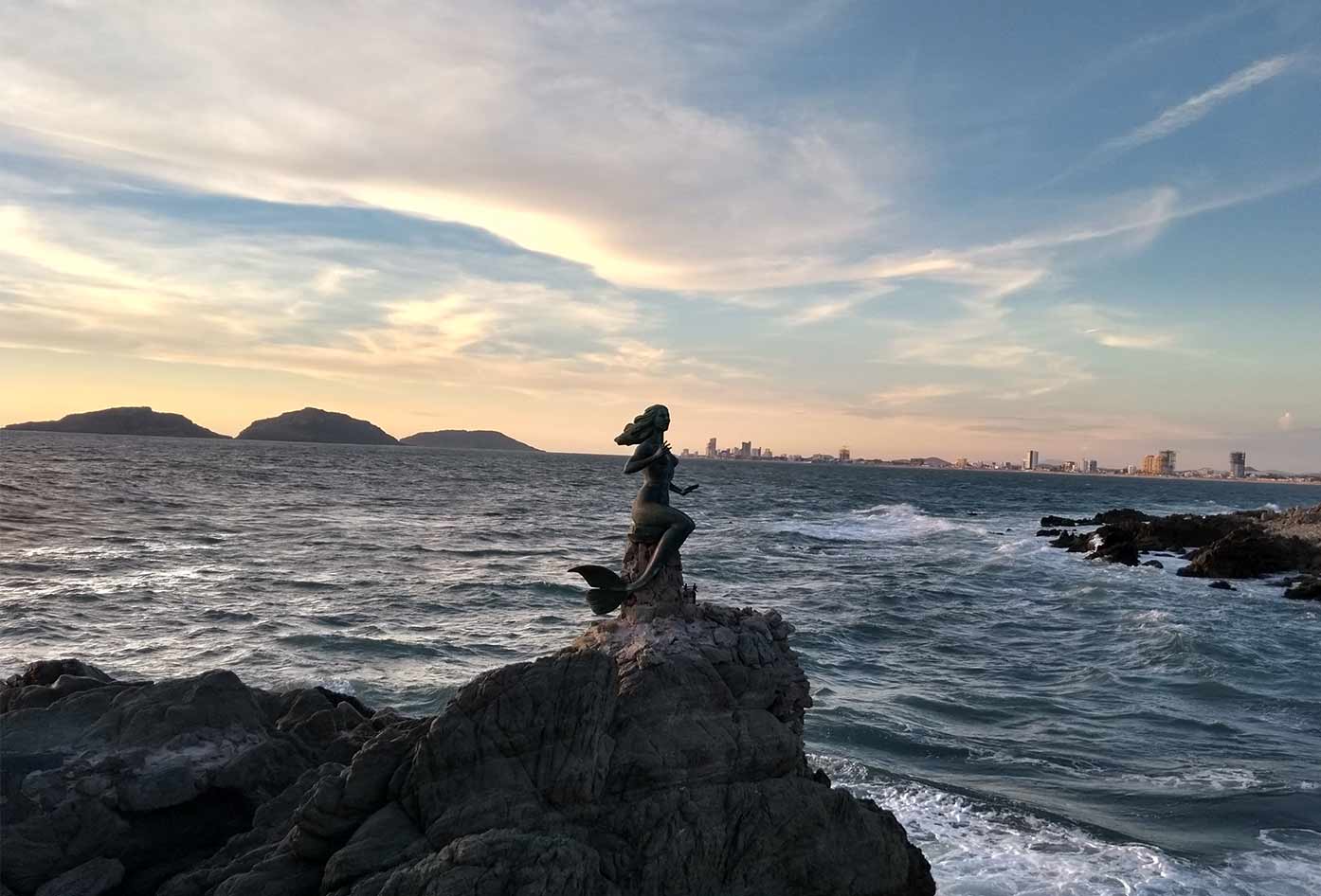 Mazatlan definitely has more charm than Cancun, which can be felt best when in the historic center.
Here you can walk around Plaza Machado, the nearby markets and also along the Malecón. The beaches are also easy to access from the city.
The Golden Zone is where all of the big hotels and resorts are located, and as such has a much different vibe going on.
It's best for those who want an all-inclusive experience, as well as for easier access to the beaches and nearby islands.
🏆 Winner: Mazatlan
Getting Around Cancun vs Mazatlan
Both cities are pretty big, however there's numerous transportation options within for all kinds of budgets.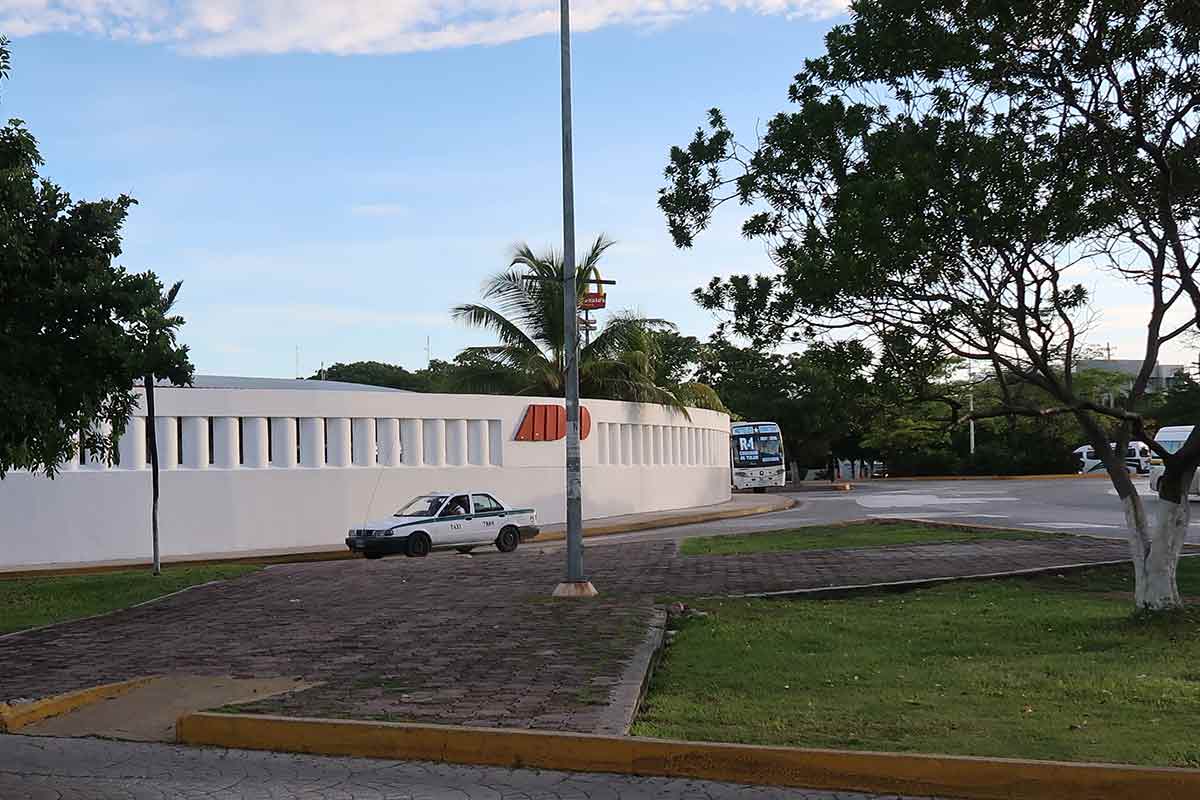 Most tourists either stay within the center or Hotel Zone, which are both areas that you can walk around during the day with ease.
However the main difference is at night, where the center can feel more seedy (and dangerous) in parts.
It's best to use taxis when heading to and from, and to avoid getting absolutely plastered. You can explore the nearby Riviera Maya region with ease, either using the ADO buses or cheaper local colectivos.
When it comes to safety in Mazatlan you have to be aware that is is quite a big city, and this often surprises travelers who arrive for the first time.
Similar to Cancun, if you are just sticking to the popular areas (such as the historic center or the Golden Zone) then you can easily walk around both during the day and night.
When heading between different areas of the city, you can either use a taxi or local pulmón (a mototaxi which is super cheap).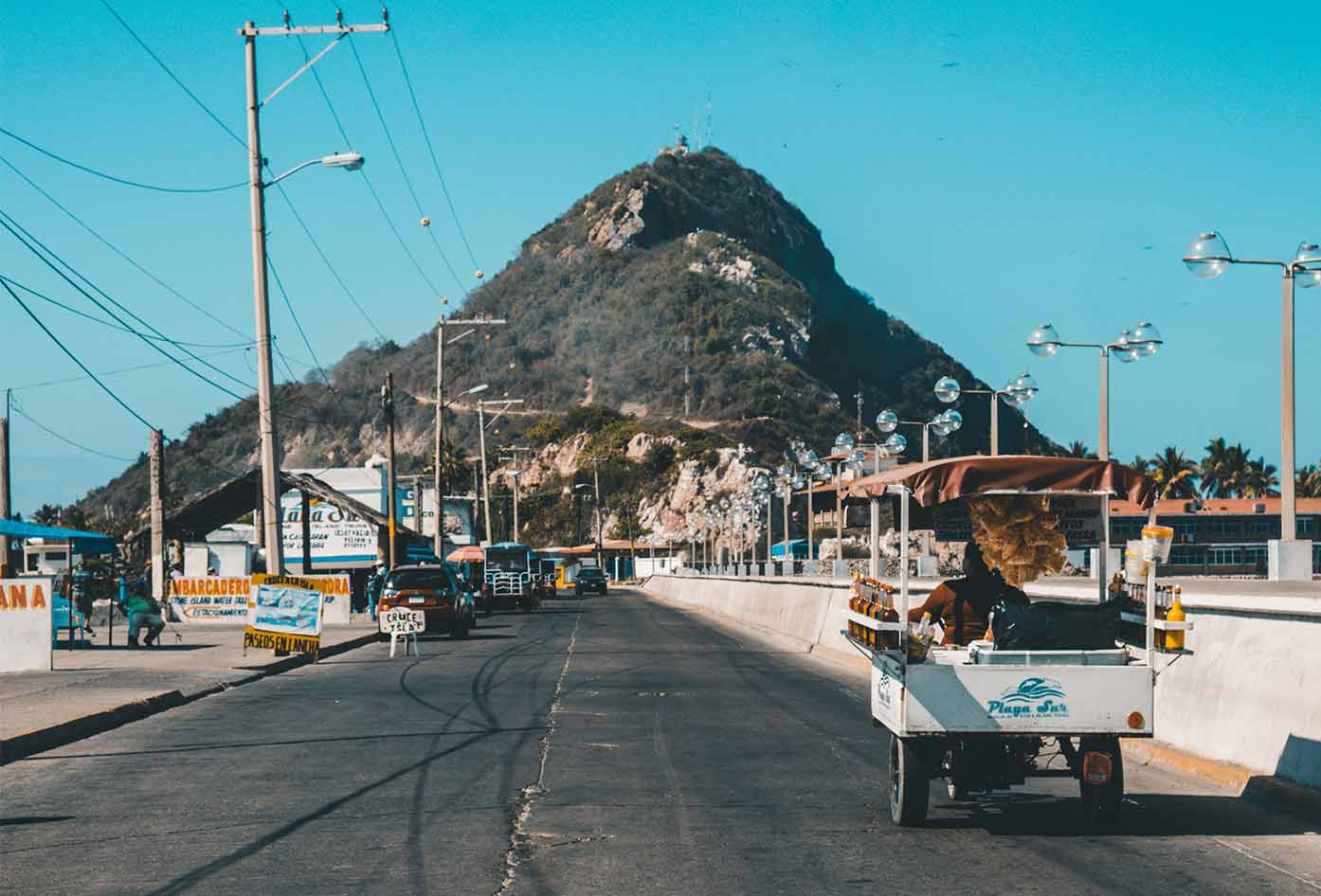 🏅 Summary: Having read this guide you should now hopefully have a better idea on which of these popular beach breaks is best for you.
Although both seem similar on the surface, each offers slightly different experiences. As always it's worth doing some extra research to see which destination better suits your particular trip preferences.
🏆 Winner: Mazatlan
Got Travel Insurance for Mexico?

Designed by travelers, for travelers, World Nomads covers more than 150 adventure sports and activities so you can explore your boundaries.
Cancun vs Mazatlan: Which is for you?
That's all for this Cancun vs Mazatlan guide covering two of the most popular beach destinations in Mexico, and how they vary from the other.
It has compared factors such as things to do, the food scenes, costs and how to get around. Personally I prefer Mazatlan of the two for a trip.
However, it's important to remember that everyone has their own tastes, and what you may prefer is really down to you and your own interests.
This is why it's important to do further research on both destinations to see if there's any other factors worth considering.
For those concerned about safety, I suggest you take a look at this guide on the safest states in Mexico to understand each region with more clarity.
📌 Like this article? Pin it…
On comparing Mazatlan vs Cancun do you now have a favorite?
💬 Leave a positive comment or lets start a conversation below!
---
"Dear friend! Some links in this post contain affiliate links. Meaning, if you click through and make a purchase, book a hostel or sign up for a tour, I may earn a small commission at no additional cost to you. Your support means a lot and helps me to keep traveling and maintaining the quality of this site for you."