Despite what they say, is Mazatlan safe or not for travelers?
Mazatlan is a Mexican town in the Sinaloa region. It has incredible beaches on the Pacific coastline and tourists travel here for its resorts.
Mazatlan has all the appeal of tourist-centric Mexican towns such as Puerto Vallarta, but with more history and culture when it comes to the Mesoamerican peoples.
This is where thousands of tourists flock in the summer to soak up some rays and have a relaxing time.
Is Mazatlan Safe?
Mazatlan prides itself on its immaculate Mexican cuisine and traditions inherited from the Cáhitas such as ball games.
The landscape of the area, with an urban tinge to the rolling hills set behind the glorious coastline is best described as the reason thousands of people visit.
I invite you to see all the amazing things to do in Mazatlan for yourself.
However, most travelers are worried about its vicinity to the dangerous areas of Mexico.
Since Mexico itself is still ruled in a few areas by cartels, there are parts of Mexico that the US and UK governments advise never to travel to.
Sinaloa itself is home to the largest cartel in the western hemisphere, but this is in cities outside of Mazatlan.
Is it Safe to Travel to Mazatlan
It's incredibly safe to travel to Mazatlan since thousands of tourists visit every year. The police in the area are clamping down on any petty or tourist-targeted crime in the area, so it's very safe.
In the Golden zone, Old Town, or on the Malecon, it feels extremely safe. Visitors can even travel around these areas at night if they so wish, as they come to life at night.
One thing many travel professionals in the industry have had to deal with in recent years is the huge influx of fake news or misleading statistics regarding safety in Mexico.
This includes sensational headlines or crime reports that don't provide the full context of the situation.
The irony of this is that most visitors to this region describe the area as safer than most American cities. You may even want to compare Mazatlan vs Puerto Vallarta to see the subtle differences.
The most dangerous risk when traveling to Mazatlan would be a simple petty crime that's found in most countries.
It's a touristy location to travel to, so the emphasis on safety and the upkeep of security is already better than in most of Mexico.
Safety Facts about Sinaloa
What must be mentioned before providing these harrowing statistics about the region, is that these are not for Mazatlan.
Mazatlan has little to no crime at all, especially with serious crimes such as homicide or terrorism.
The cartels don't go near the touristy region, they mostly gather in Culiacan, which is a three-hour drive away.
According to the UK Government, Major tourist destinations like Cabo San Lucas, Cancun, Playa del Carmen, Cozumel, Puerto Vallarta, Nuevo Vallarta and Mazatlan have mostly not seen the levels of drug-related violence and crime experienced elsewhere in Mexico.
Also according to the UK Government, over 576,971 British nationals visited Mexico in 2017 with most visits being trouble-free.
According to the BBC, the states with the highest homicide rates are: the tiny western state of Colima in the west, followed by Baja California, Chihuahua in the north and Guerrero.
The number of homicides in Sinaloa is on the decline: they were down 17% last year compared to 2018 and by 58% compared to 2010, the state public security secretary said on Tuesday.
Is Mazatlan Safe to Travel Alone?
Mazatlan is perfectly safe to travel to alone.
Use your common sense when taking excursions outside of resort hotel areas. Don't expect complete safety during the late hours, and stick to the confines of tourist areas.
It would help if you knew some basic Spanish since Mexicans very much appreciate English speakers who learn it as a second language.
Booking excursions, hotels, and bus rides will be a lot easier if you did speak Spanish.
Backpacking Mazatlan Safety
Backpacking across Mexico can be tricky since most of the bordering regions with other countries have a difficult reputation.
Consider staying at a hotel or one of the many top-rated hostels as a secure location when deciding where to stay in Mazatlan.
Mexico is an amazing country to navigate, but you definitely need to look up which regions should be avoided when backpacking.
It is suggested that backpackers who find themselves in Mazatlan wanting to travel north or south, find a coach service that can take you to Mexico City and travel around from that starting point.
Either that or if you're moving south along the Pacific coast, make the trip to Puerto Vallarta.
Mazatlan: Travel Safety Tips
This region of Mexico is quite safe, but it still smarts if you exercise the right precautions.
As with most places on the Gringo trail and beyond, remember not to take the touristy areas lightly just because there are other travelers.
Tourists are targeted in all locations around the globe, so keep on the lookout for petty crime.
Mazatlan is extremely welcoming, but almost to too many people!
The homelessness rate in Mazatlan is quite high, based on the number of Mexican citizens flocking here looking for work.
⤵️ Here are some useful tips to help you on your journey:
Make sure to use trusted and accredited hotels/hostels. Then once you've booked your room, book taxis or buses through the hotel.
Keep dummy wallets for pickpockets and keep your money hidden away. Bras, money belts or secret bag compartments will do.
There is still a risk of contracting the Zika virus. See Travel Health Pro For more information on this visit
Make sure to take sunscreen. The ocean breeze may fool you, but this is a part of Mexico that still has a dry heat.
Remember the cost of living in Mexico can vary drastically. So as a safe bet aim stay vigilant no matter what region you travel to.
Don't accept drug offers. Not only is it illegal, but it's dangerous. You're funding cartels which means they'll keep taking over parts of Mexico.
If you are a person that suffers from typical culture shock symptoms see our tips on adapting to new surroundings on this blog.
Don't leave any valuables unattended while you swim. Run-and-grab thefts by people lurking in the woods are a common occurrence.
Don't go where there are few other people in the vicinity; this includes camping in secluded places. A simple rule: if there are families around, you're probably safe.
If you want to take expensive equipment such as cameras or smartphones, keep them hidden, locked away and on your person. A PacSafe backpack is perfect for this.
Be wary of attempts at credit-card fraud. Either use cards for emergencies only or take cash out at trusted atm's either in shopping centers. Ask where you're staying for the nearest safe atm.
Women traveling alone should be particularly alert when traveling on public transport.
From to Puerto Vallarta From Mazatlan
Many travelers visit Mazatlan from Puerto Vallarta which is the travel epicentre of this side of Mexico.
You can take a bus that lasts approximately 7 hours and costs around $30. This is the cheapest and most cost-effective option, but it isn't necessarily the safest.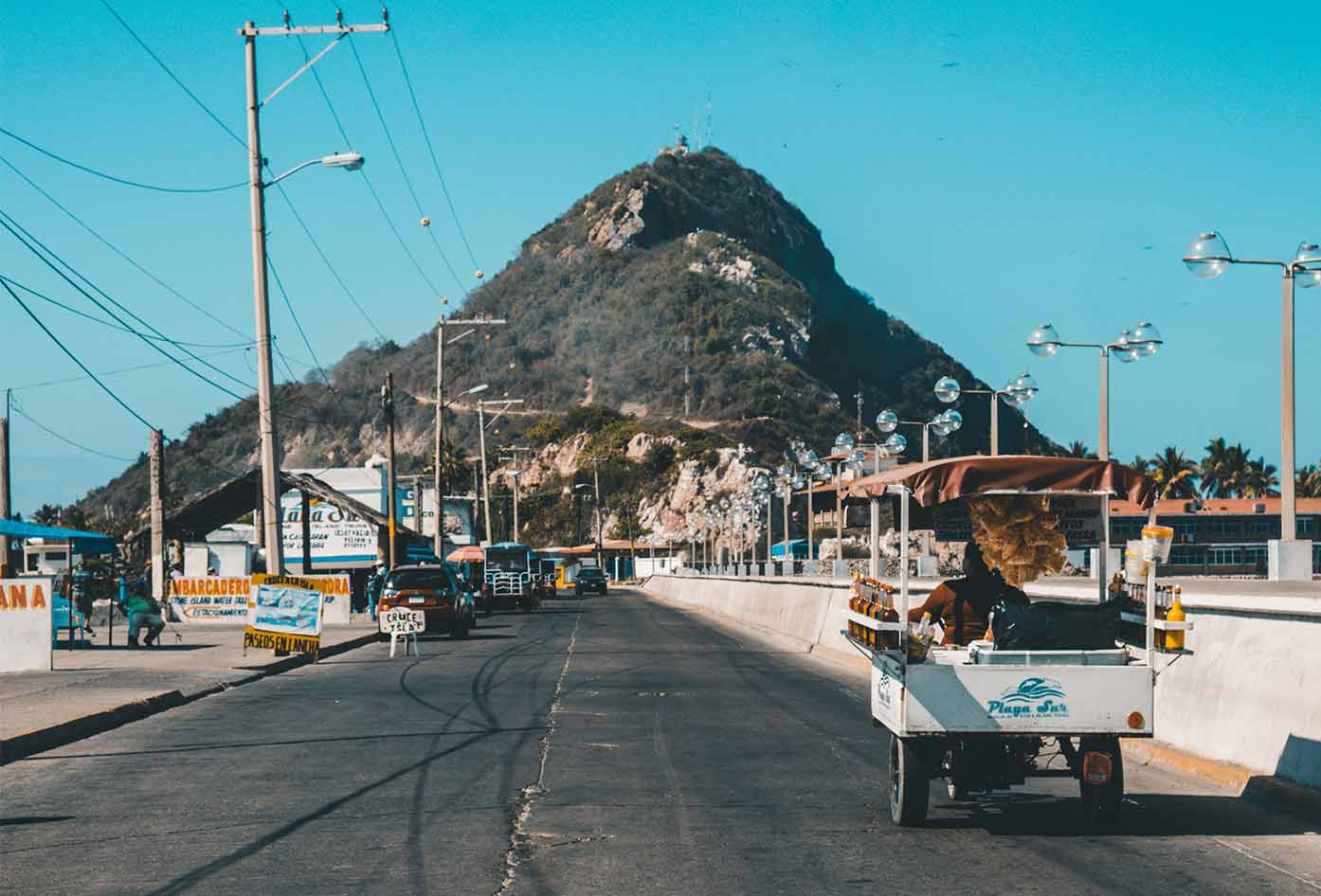 If you get an accredited taxi service that's tried and trusted, the journey can be safer and as short as 5.5 hours. However, it will probably cost the equivalent of $160.
If you're traveling as a part of five, however, this is around the same price per person as a coach.
However, it can work out cheaper to rent a car in Mazatlan when you bear in mind the freedom driving can offer you.
Driving Safely in Mexico
When driving, avoid isolated roads, and use toll roads ('cuotas') whenever possible. Keep car doors locked and windows closed, especially at traffic lights.
There have been a number of violent car-jackings and robberies along the Pacific Highway so be careful when traveling on this route.
Those traveling in large camper vans or sports utility vehicles (SUVs) have been targeted in the past.
If you have decided to rent a car and suspect you're being followed or watched, drive to a police station or other safe place.
Be particularly alert on public transport, at airports, and in bus stations.
Theft on buses is common. Keep an eye on your belongings at all times!
If I was you, I'd take some notes of this comprehensive guide to bus travel in Mexico for a primer on Mexican bus systems.
Where possible, travel on first-class buses using toll roads, which have a lower rate of incidents than second and third-class buses traveling on the less secure free ('libre') roads.
Most first-class bus companies perform security checks when passengers board the bus.
Travel Insurance for Mazatlan
I always recommend backpackers and travelers (no matter who you are) use World Nomads Insurance for fully comprehensive cover.

If you are due to travel soon, you can get a Get A Free Quote by clicking the link or the image above and filling out your details – that way you'll get instant cover from the exact date that you choose.
On many occasions World Nomads has provided me with reliable insurance cover for travel in Latin America and the rest of the world.
Best time to visit Mazatlan
Located along the Pacific coast, Mazatlán has both a clear dry and wet season which we'll investigate below.
The dry season runs from late November until May and has daily average temperatures of 66-71°F. Highs can reach up to 84°F, with lows of 56°F (January and February are the coolest months to visit Mazatlán).
Rainfall is barely existent during this time of year, making it great to visit the beach. You can expect anywhere from 0.1-0.8 inches to fall throughout each of these (April is the driest month of the year).
The contrasting wet season runs from June until October, where daily averages rise to around 80-83°F. Highs can reach up to 90°F (July is the hottest month of the year), with lows of 72°F.
Rainfall gets progressively heavier the further into the summer we head, with 3-4 inches falling in June and July, 6-7 inches falling in August and September, and then a drop back down to around 3 inches for October. September is the wettest month of the year to visit Mazatlán.
Is Mazatlan Safe?
Mazatlan is the spiritual and cultural home of a whole race of indigenous people that existed before the Spanish arrived. It has some of the best beaches, weather, and food in all of Mexico.
It truly is an underrated location in Mexico, so it almost seems untouched. It's extremely safe with the police around at all times, but don't venture out of the tourist spots.
Feeling inspired to travel to this part of north America already? See more of the safe places in Mexico you can visit whilst on your travels!
📌 Like this article? Pin it…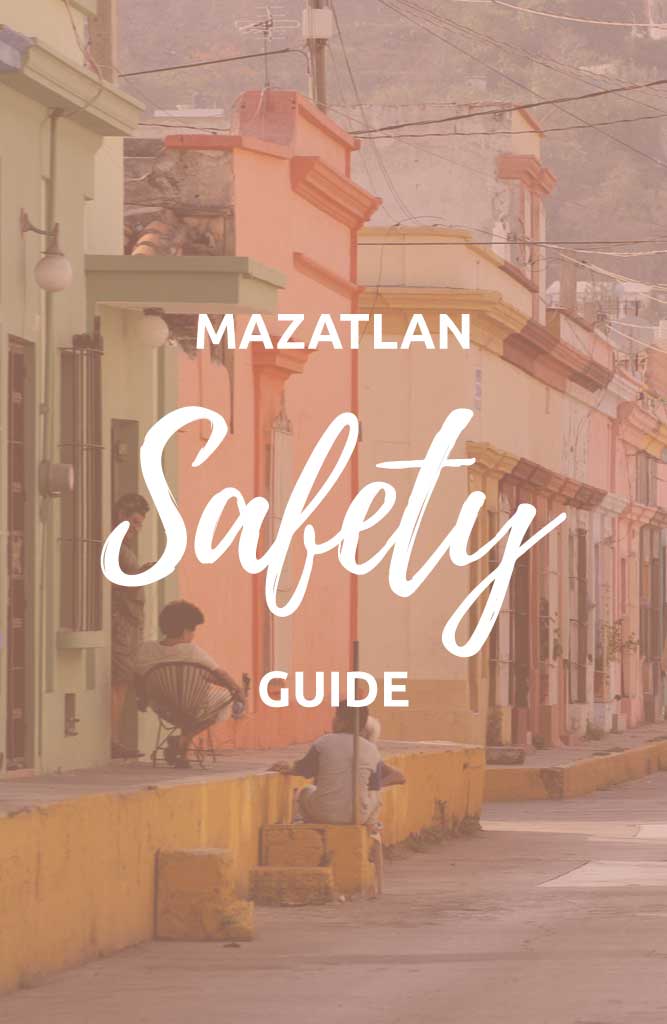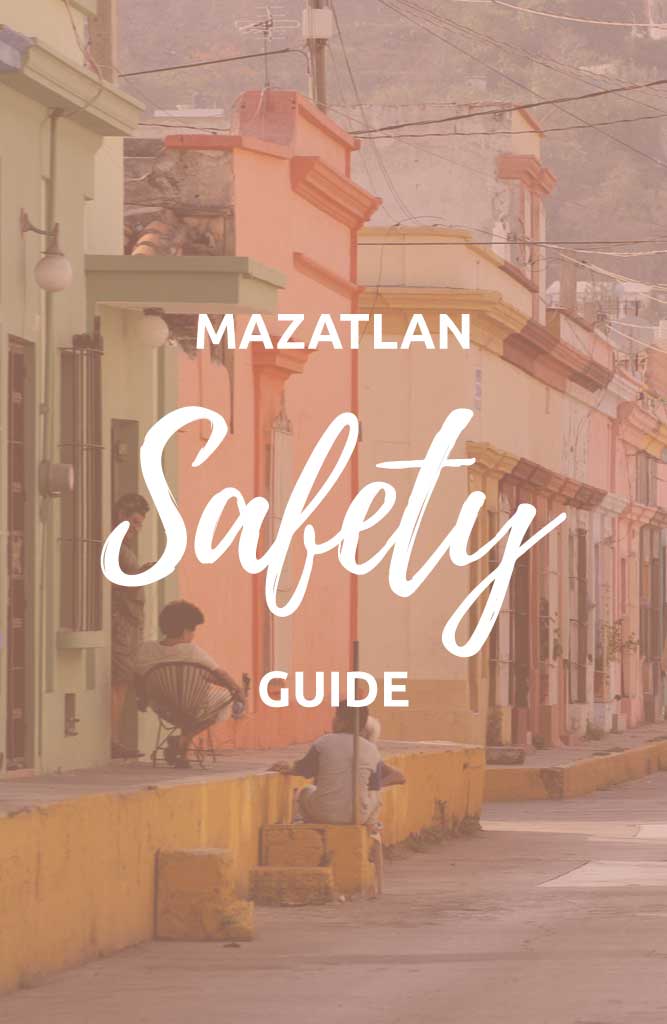 Have you got any tips about traveling to Mazatlan we can learn from?
💬 Leave a nice comment or let's start a conversation below!
---
"Dear friend! Some links in this post contain affiliate links. Meaning, if you click through and make a purchase, book a hostel or sign up for a tour, I may earn a small commission at no additional cost to you. Your support means a lot and helps me to keep traveling and maintaining the quality of this site for you."