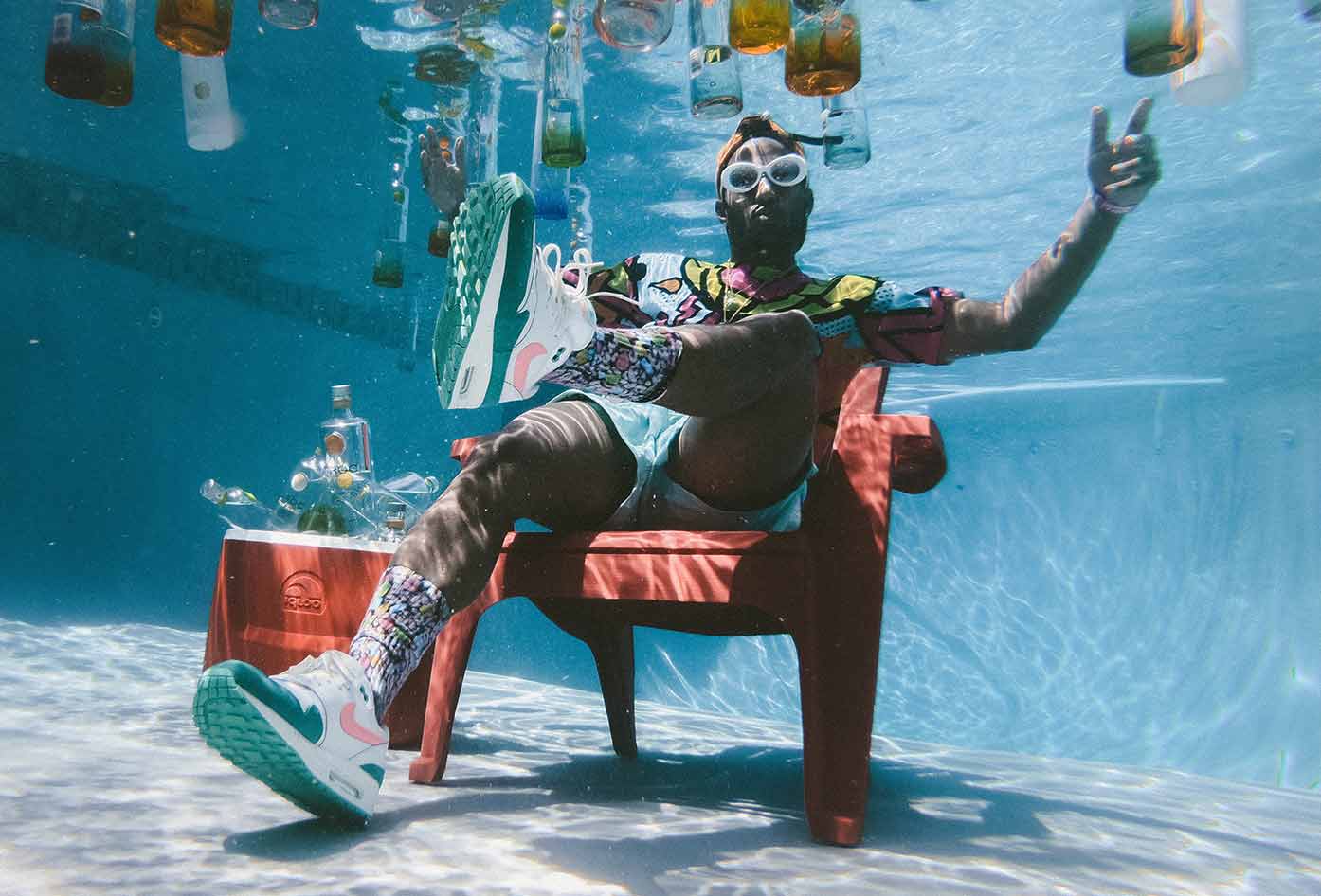 Are you curious where all the best party hostels in South America are?
Many backpackers seeking cultural experiences who like to learn from their travels in South America also want to have fun during their stay.
---
Quick Answer: Party Hostels in South America
---
The good news is, over the year South America has seen thousands of new party hostels open up. Some may never have started like that but with time gained a reputation.
If you are in backpacking South America and looking for an excellent night, you will most likely be able to find a party hostel in any major city or beach town in South America.
Best Party Hostels in South America
Let's look at some party hostels in South America that I've heard of and been recommended over many years of traveling in Latin America.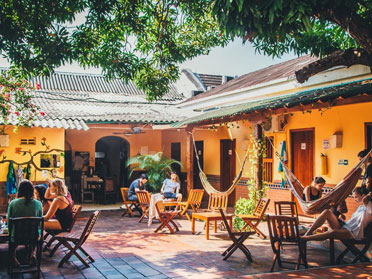 Reasons to stay here:
✓ Tremendous standards
✓ Cheery staff members.
✓ Top-Notch hygiene standard
What a great place to come to if you want to stay fresh and clean. Got a great location within the city, and is just 10 minutes from the Rafael Nunez International Airport.
---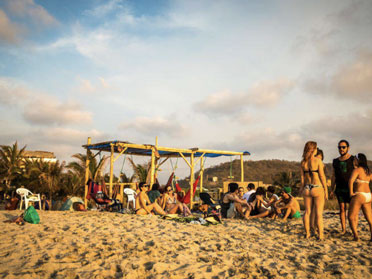 Reasons to stay here:
✓ Excellent, ideal location.
✓ Rooms stay clean.
✓ Staff are excellent
This makes a great base for any kind of party trip, you should find that this is a good choice for most trips. It's got a lot of good stuff nearby, including a lot of local amenities well worth trying out.
---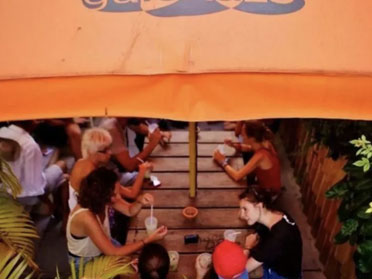 Reasons to stay here:
✓ Near cultural venues
✓ Staff are outstanding..
✓ Location is ideal
Located near the Pelourinho which is also a famous UNESCO World Heritage Site. Hostel Galeria makes a great choice for any party-goer and a fine starting point for just about any trip around the local area.
---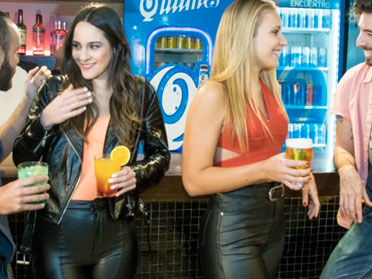 Reasons to stay here:
✓ Great for newbies
✓ Tremendous city location
✓ Excellent cleanliness standards.
A fine choice for those who want to see Buenos Aires but don't know where to begin. You should find it easy to mingle and meet with others and then explore.
---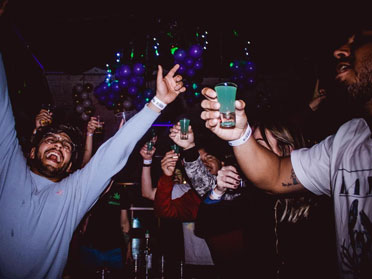 Reasons to stay here:
✓ Top quality location
✓ Tremendous parking options
✓ Staff are awesome
This is the ideal place to come to if you are looking to just let loose and have some fun. You can meet some pretty amazing people through this hostel, too!
---
Reasons to stay here:
✓ Staff are so friendly.
✓ Pod-style rooms
✓ Great for storage
Stay safe and confident all at once with the help of the Wild Rover. A fine place to come to for those who want to enjoy parties around the community pool.
---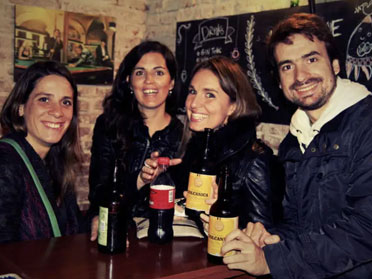 Reasons to stay here:
✓ Near Barrio Sur
✓ Rooms are very clean
✓ Staff are very kind
Come here and you can feel like you are staying with a family member. The staff is very kind and you should have no problem settling in once you arrive here.
---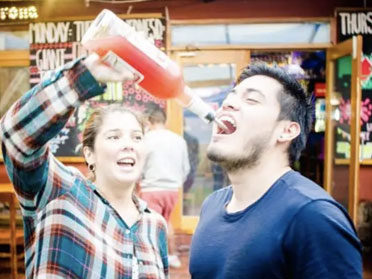 Reasons to stay here:
✓ Tremendous for parties
✓ Based near amenities
✓ Staff are full of knowledge
Come to the Loki Cusco and you can make getting to know this part of town so much easier. Based near the Cusco main square, ideal for parties.
---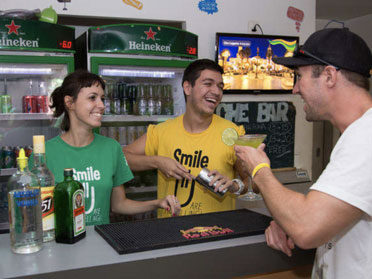 Reasons to stay here:
✓ Tremendous, funny staff
✓ Spacious, safe rooms
✓ Regular cleaning carried out
Stay here and you can feel like you are staying in a dynamic, ambitious little hostel area. It's got Wi-Fi and internet-ready PCs for easy itinerary building and fun-seeking.
---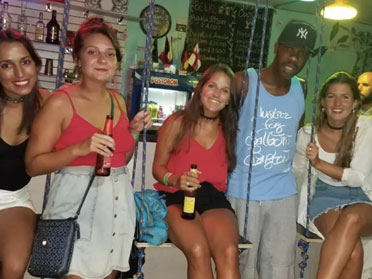 Reasons to stay here:
✓ Great for exploration
✓ Staff are sociable
✓ Many varied guests
Stay here and you should find it ludicrously easy to just rest, relax, and have a bit of fun. A very enjoyable place to come and visit if you are looking to mingle and make some new friends along your journey.
---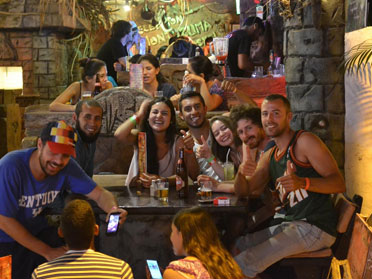 Reasons to stay here:
✓ Near local amenities
✓ Free Wi-Fi provided
✓ Bar and restaurant
Settling in is easy at the Montezuma. You should have no problem getting to the local nearby areas, such as Olon Beach. This should allow you to get to the local hot spots and party spots without having to look too hard.
---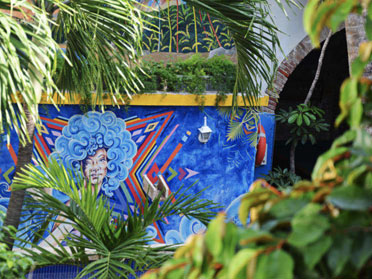 Reasons to stay here:
✓ Great outdoor patio
✓ Rooftop swimming pool
✓ Staff are spectacular
Enjoy a simple and easy resting experience with the help of the Media Luna. A fine hostel for most people, with its location in Cartagena meaning you can get to the latest hot spots and party zones with consummate ease.
---
Tips for Booking Party Hostels
Whilst looking for part hostels in South America there are some traits you may want to look out for.
See these tips and ideas below to help you avoid any disappointment, and allow you to ensure the experience will be as great as you expected.
Location
No matter where you like to party, as a backpacker, choosing the right location is crucial. If your travel budget is low, and you want to party, choosing a party hostel will save you time and money.
Price
No need to pay entry fees to nightclubs or swanky bars, especially if you've not packed adequate clothing for those venues. Select hostels that have nightlife and drinking activities can save you lots of money.
Look for two similar priced party hostels in South America and make a decision based on your priorities.
Comfort
It can be difficult to get a good night's sleep in these party hostels.
You'll probably not want to part more than a few days in a row otherwise you'll be compromising your health.
I recommend you don't get too comfortable in party hostels, keep moving and find the perfect balance.
However, if you really do just want to party in South America and not do any cultural travel or meaningful trip.
Consider the following:
Finding a hostel with a private bathroom
Requesting a room away from the bar area
Avoid hostels with a super early check-out time
I have learned that comfort is subjective so we are the ones that must define what we need to be comfortable with before choosing a bed.
Many party hostels in South America are disguised as normal hostels so an assessment of the hostel's reviews is always a good idea, no matter whether you have high expectations or not
Hostel Activities
At most party hostels you can find group activities and social games you can take part in. Which many include alcohol, in fact, some hostels in Latin America that I visited offered free drinks to newcomers.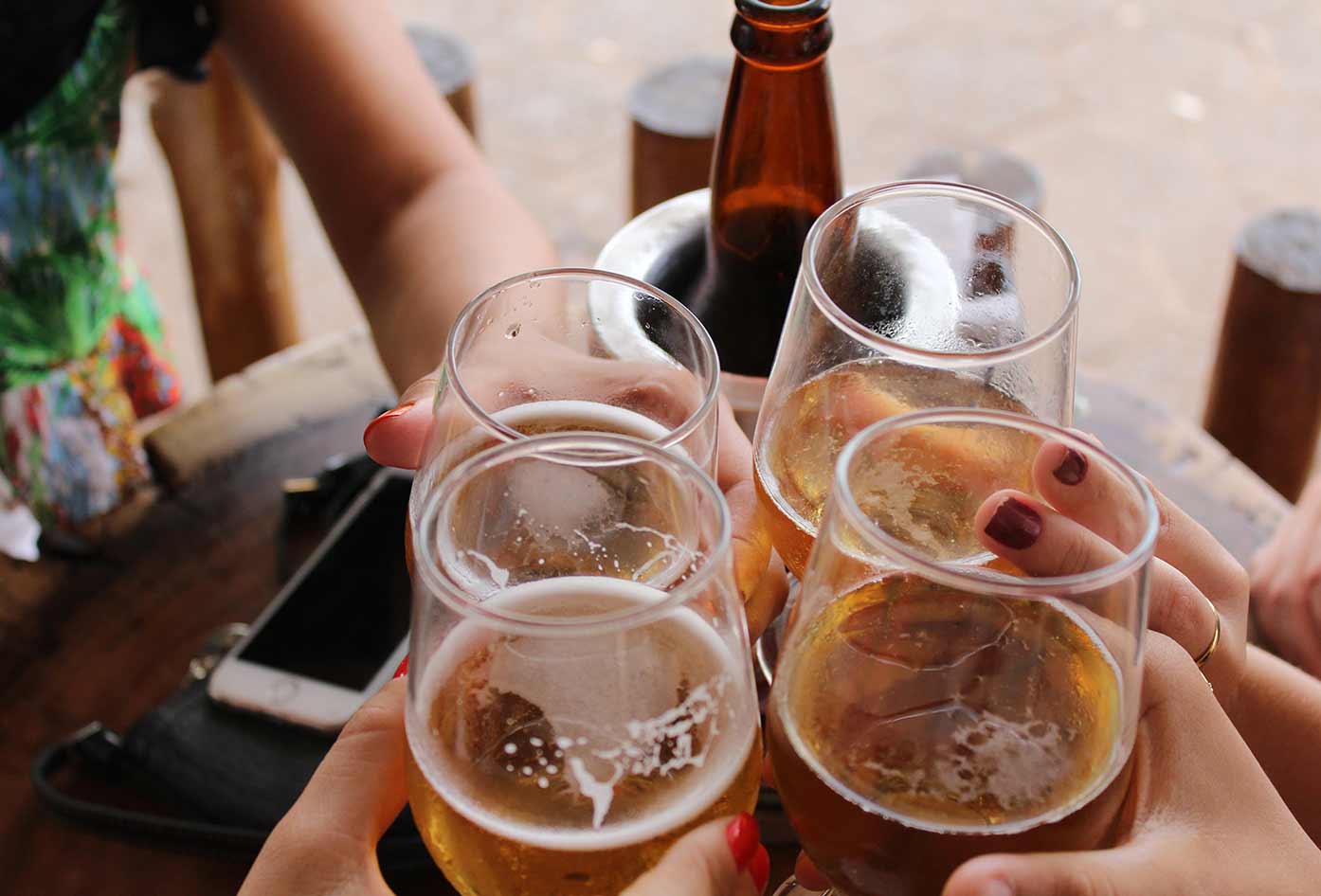 When comparing prices, hostels also have some great offers on things to do in the local area. They'll offer you deals that you can take part in and meet new people you may have seen around the hostel.
These pointers should have given you something to think about when looking for a party hostel in South America.
Got Travel Insurance for South America?

Designed by travelers, for travelers, World Nomads covers more than 150 adventure sports and activities so you can explore your boundaries.
Best Party Hostels in South America
Now you have a better idea of where to go, what to look out for, and a good idea of how much it costs to stay in one of these fabulous hostels in South America.
Remember to drink responsibly and don't put yourself at risk whilst drinking.
📌 Like this article? Pin it…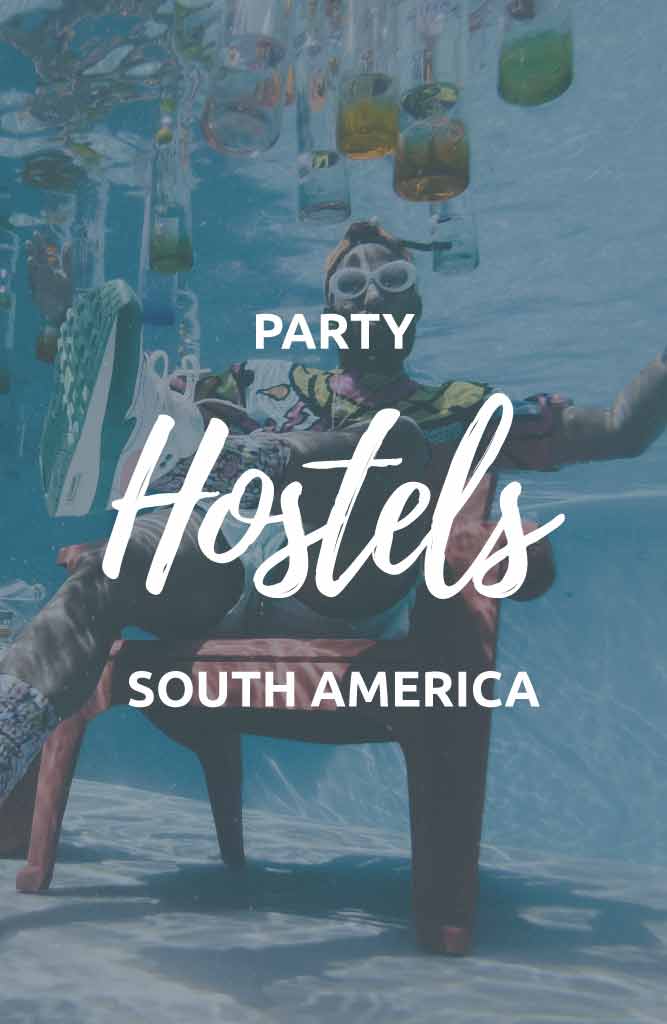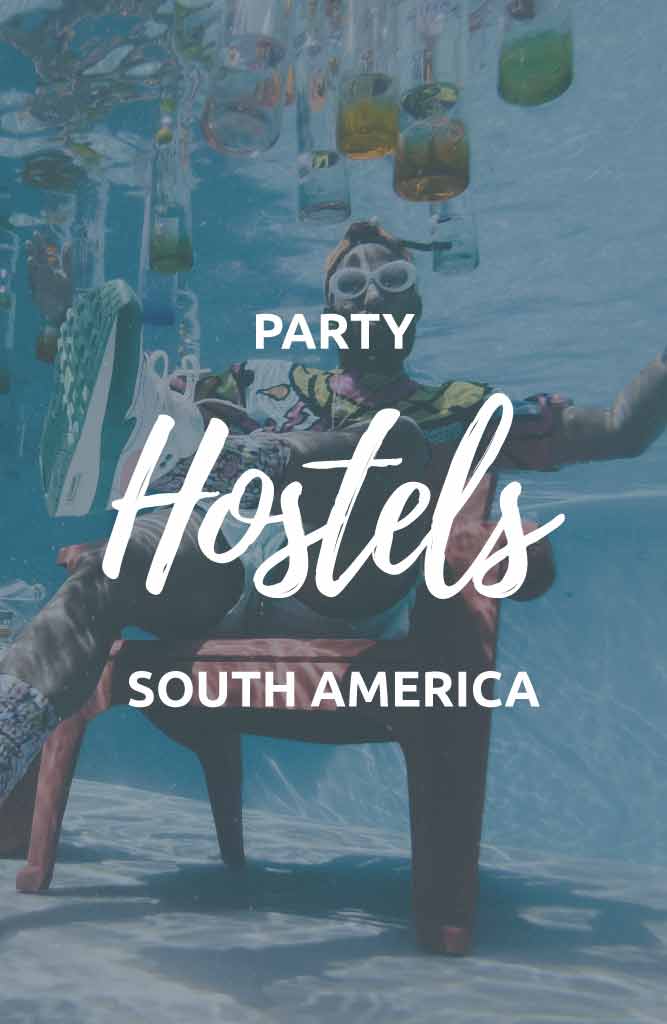 Did this help your search for party hostels in South America?
Need More Hostel Inspiration?
Hopefully, you've found the perfect hostel to stay in during your trip.
Do you want more ideas for where to stay? I've got you covered:
Will you be traveling with lots of valuables? Check out these GPS luggage trackers for keeping your eye on your belongings.
---
"Dear friend! Some links in this post contain affiliate links. Meaning, if you click through and make a purchase, book a hostel or sign up for a tour, I may earn a small commission at no additional cost to you. Your support means a lot and helps me to keep traveling and maintaining the quality of this site for you."