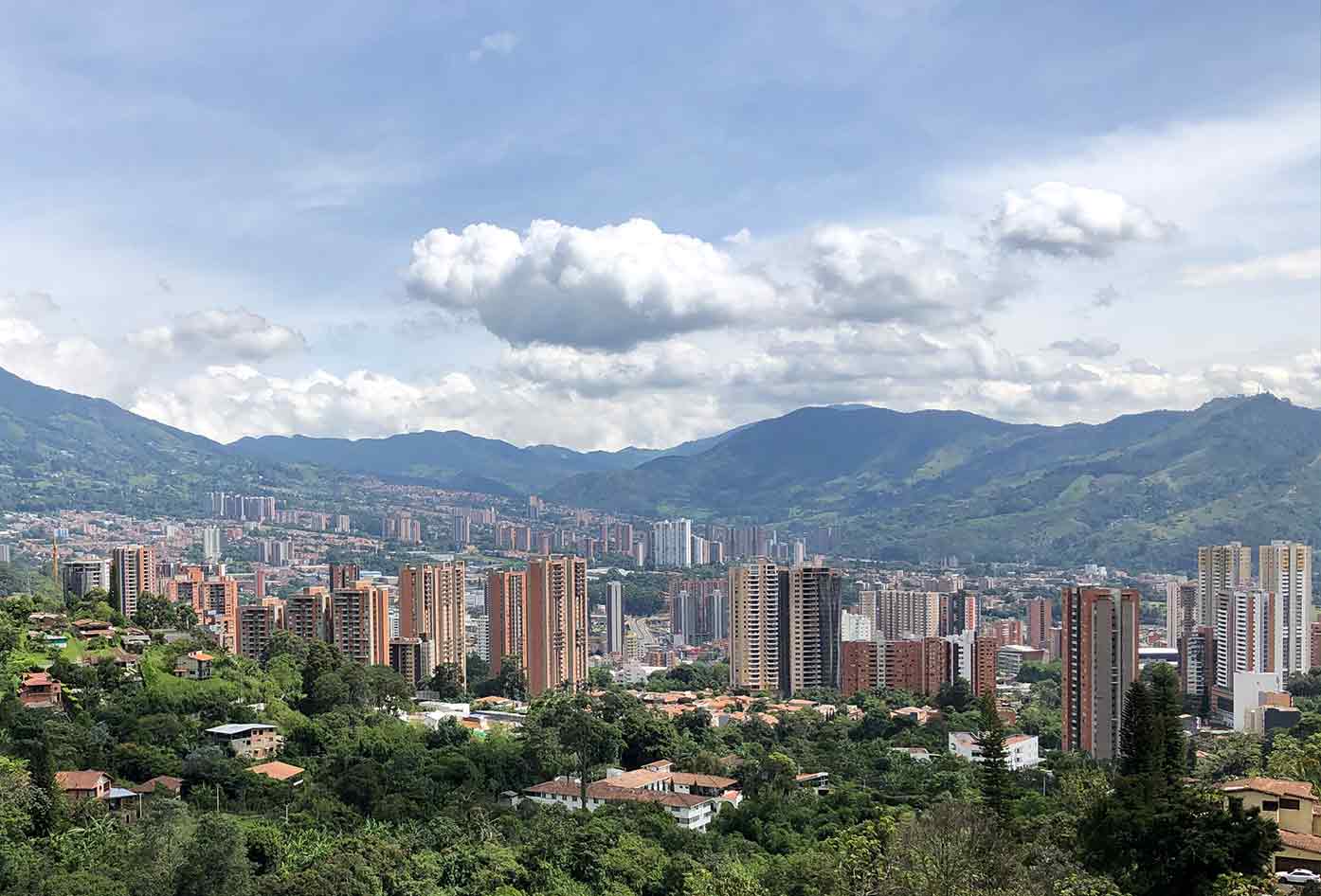 Welcome to Sabaneta, the smallest municipality in Colombia
Located in the south of the Aburrá valley snuggly fitted between Envigado and Itagüí lies a multiplicity named for its flat grassland.
Sabaneta is known as the pueblo that you won't want to leave due to its friendly neighborhoods and abundance of traditional-style establishments that can only be found outside of the bigger cities.
In this guide, we'll explore Sabaneta, Colombia some quirky things to do, how to get there, what to see as well as the best time to visit.
Sabaneta, Colombia
Before we go further, if you're already in Medellin and looking for a different vibe let's look at why Sabaneta is a place you may want to visit.
Whether you are reading about Sabaneta for the first time or have heard about it through Medellin's thriving ex-pat community, it makes sense to understand why you're visiting before arriving.
Is Sabaneta worth visiting?
As it happens, Sabaneta is one of the most attractive places right now with people traveling to Medellin. Not only for its traditional street food venues and larger-than-life Bueñelos. But for new living opportunities.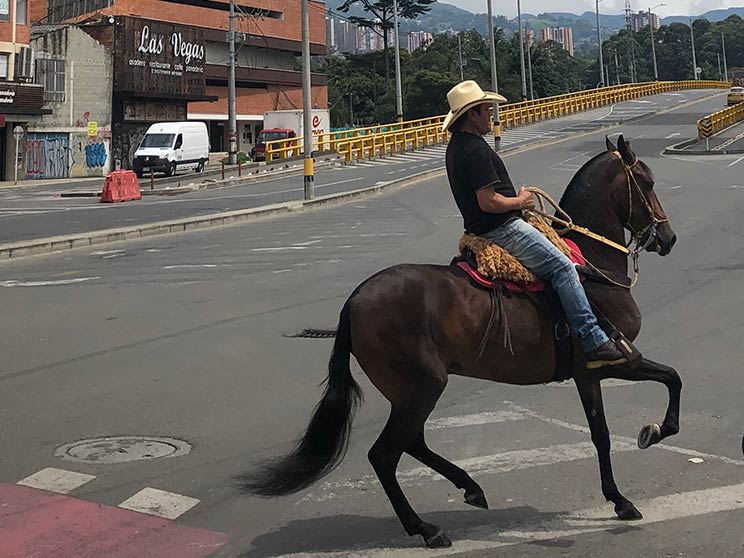 The city has somehow managed to retain its original pueblo feel due to its local culture and the Sabaneteños have strong pride in their homeland turf.
Sadly, there are lots of developments going on, which in recent years, have seen some of the oldest residents pushed out of their houses.
As a visitor for the day though, you needn't worry yourself with all that!
If it's raining all day in Medellin, why not just come here? It's easy to talk about Sabaneta as if it was another city far from Medellin, however, it is literally just 5 stops on the Metro from El Poblado, to be exact.
How to get to Sabaneta
If you're staying in Medellin you can get to Sabaneta by Metro, Bus or Taxi. I suggest visitors get a Civica card if they'll be using the metro a lot.
The easiest, most effective way, though, is by taxi! But with traffic on the increase, you may find that the Metro is the quickest from El Pobalodo or anywhere else in the city that has a metro station close by.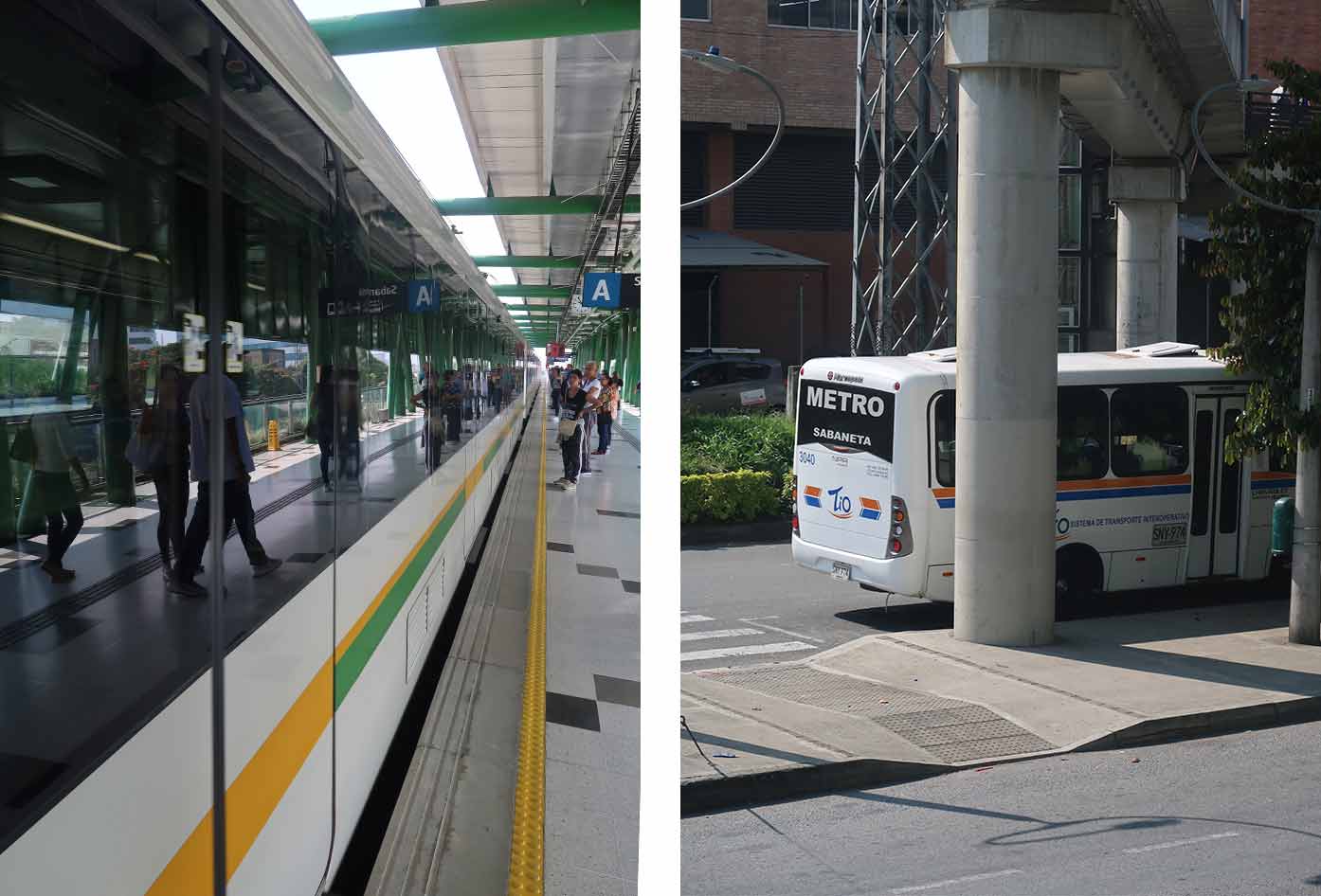 Taking the bus is the cheapest option but it can take up to 1.5 hours in rush hour from El Poblado or 45 minutes on a clear run with no traffic. From Envigado you could walk to Sabaneta in the space of an hour.
Is Sabaneta Safe?
Sabaneta, much like most towns and cities in Colombia, has built-up areas for visitors and you should not encounter any troubles at all here.
However, always follow my Colombia travel safety guidelines written on this blog, and you'll be well equipped for most pretty crimes happening.
Things to do in Sabaneta
Now you know a little more on what to expect from one of Antioquia smallest municipalities, let's now look at what to do in Sabaneta for anyone passing through for the day looking to see what's on offer.
Eat Buñuelos
For more than 25 years the famous buñuelos recipe has been shared at El Peregrino, a cafetería that is famous for its gigantic buñuelos.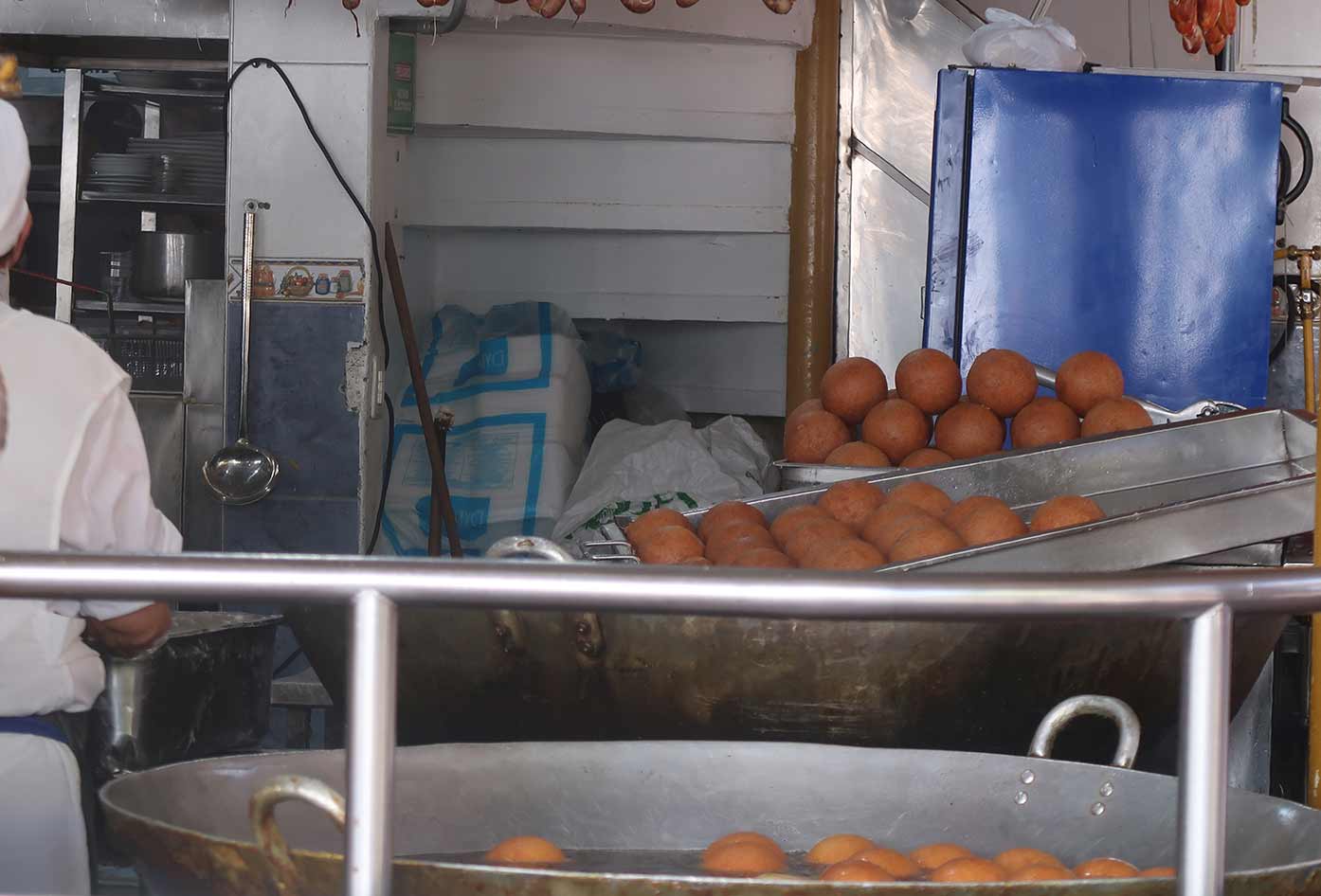 Imagine, these fried balls are crispy on the outside and soft like a sponge in the middle. Make no mistake about it, these are recognized as the biggest buñuelos in the country (and if not, the world).
Colombia already has the record for the world's heaviest mango so I'm sure it's capable of getting the same recognition for its buñuelos, right?
Eat Traditional Colombian Food
Locals from the surrounding towns and cities, such as Medellin, know that Sabaneta is the place to come for food. Especially on Sundays!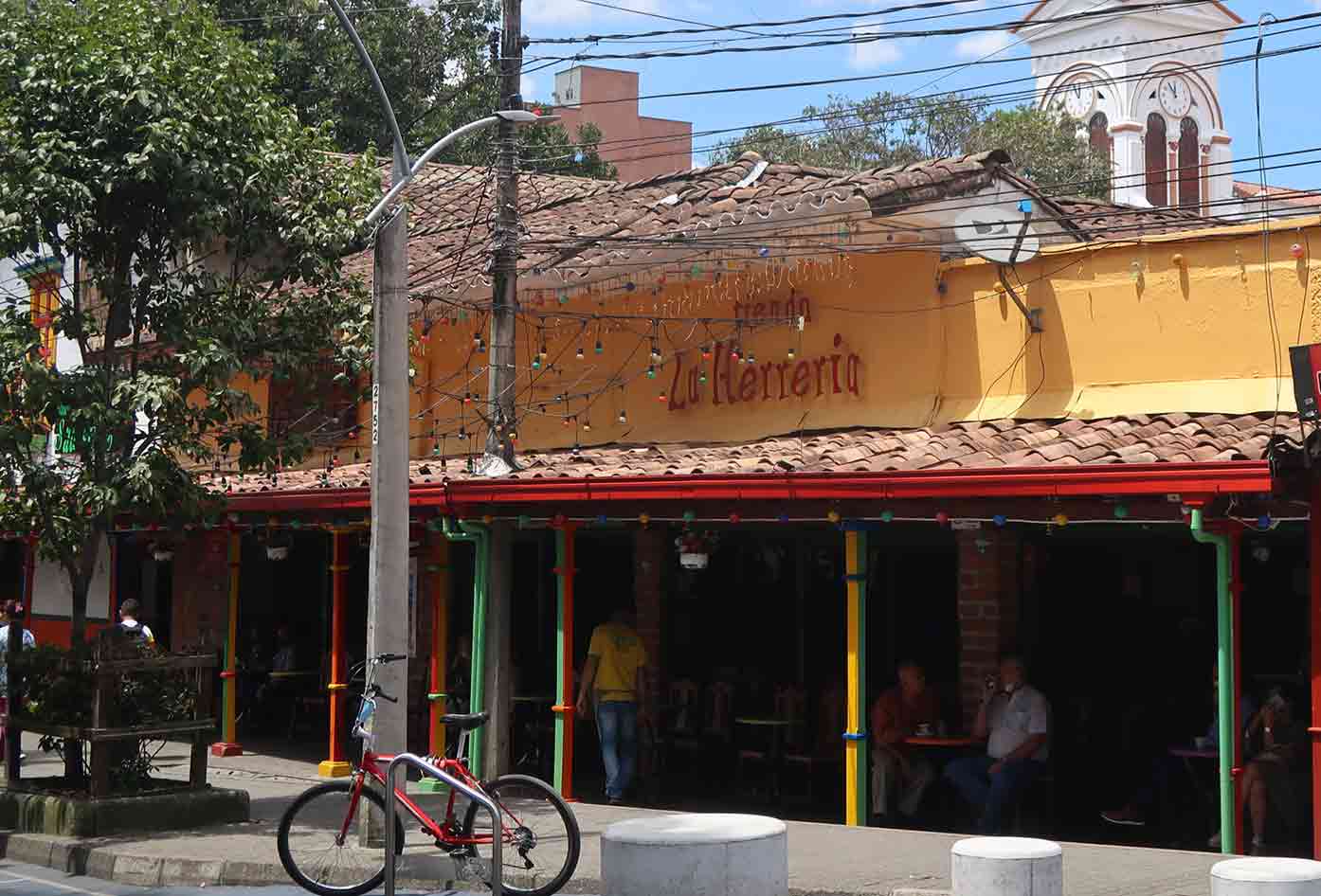 There are many food stands, food halls, and more established restaurants that have been visited by generations of Paisas.
Traditonal Restaurants in Sabaneta include:
Restaurante La Doctora
Donde Estella
Viejo John
El Peregrino
Expect traditional Colombian dishes such as Picadas, Truchas, and huge slabs of meat that are designed to leave you (literally) full to the brim.
Sabaneta Park
As any Sabaneteño will openly tell you, this is one of the best parks to visit for the traditional pueblo life atmosphere.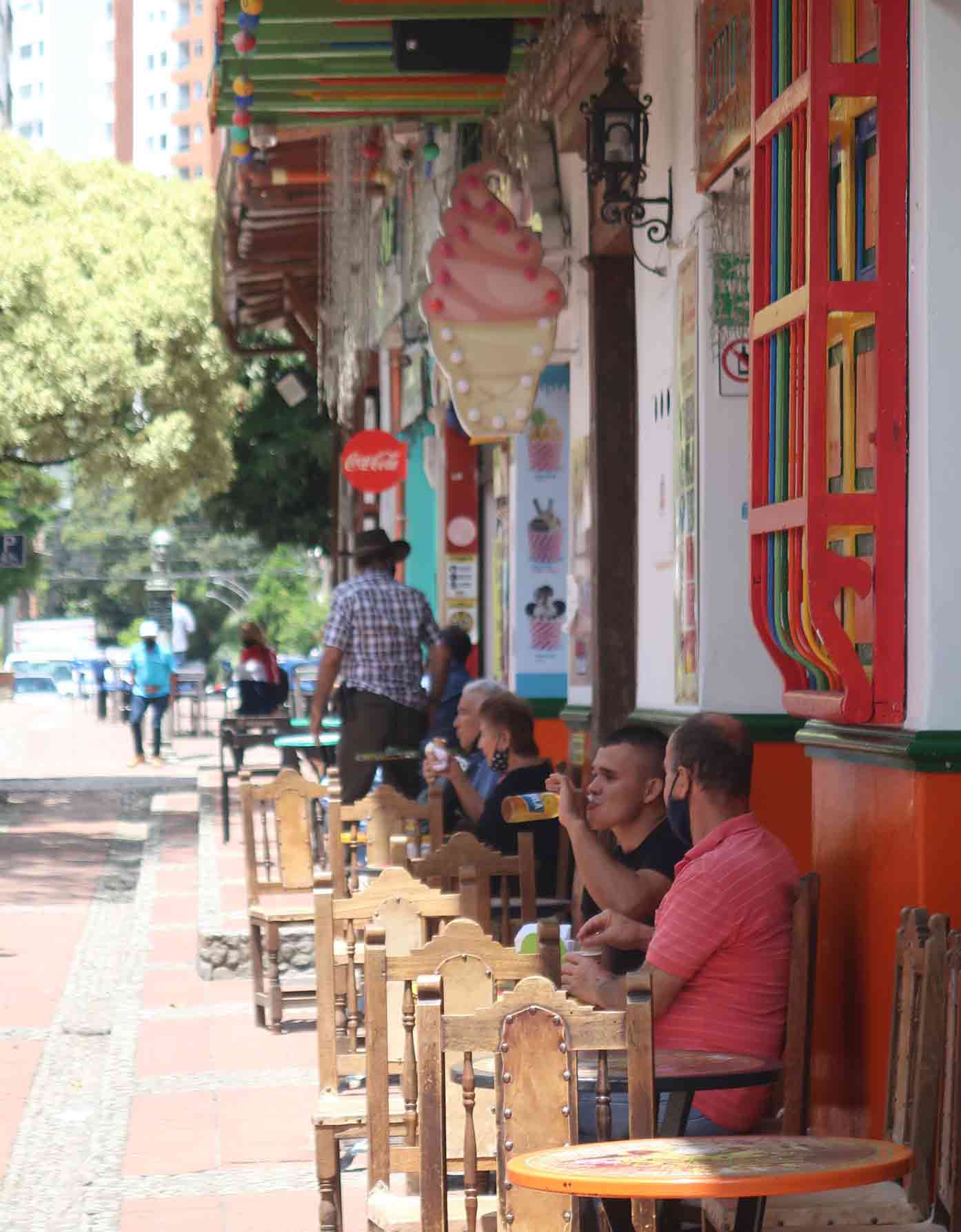 As mentioned, street food is the main attraction. You'll regret coming here having already eaten, so be sure to arrive on an empty stomach.
You can expect to find food such as:
Chunchurria: The way that chitterlings are prepared in Sabaneta is famous. They are usually served alone, or with with yucca.
Empanadas de carne: or empanaditas de papa. A classic fried pastry filled with meat and potatoes. You can find empanadas filled with just potatoes. The best dips are Ají and Guacamole.
Buñuelos: A traditional Christmas treat in Colombia (eaten during the whole year for breakfast or when visiting a café). In Sabaneta you'll find the world's largest buñuelos.
Bandeja paisa o cazuelita de frijoles: If a Bandeja paisa is too much, choose the cazuelita. Trying the frijoles (beans) is a must.
Papa sucia: These handmade chips are a great snack while walking around. There are two options: chips or chips and banana chips.
Obleas con arequipe y queso: Traditional thin wafers from Colombia are a must try in Sabaneta. They are spread with caramel (arequipe) and you can ask for toppings like cheese, jam or condensed milk.
The street gets packed, but with all the food, and the blaring music fused with jolly smiles, makes it a fun place for people of all ages.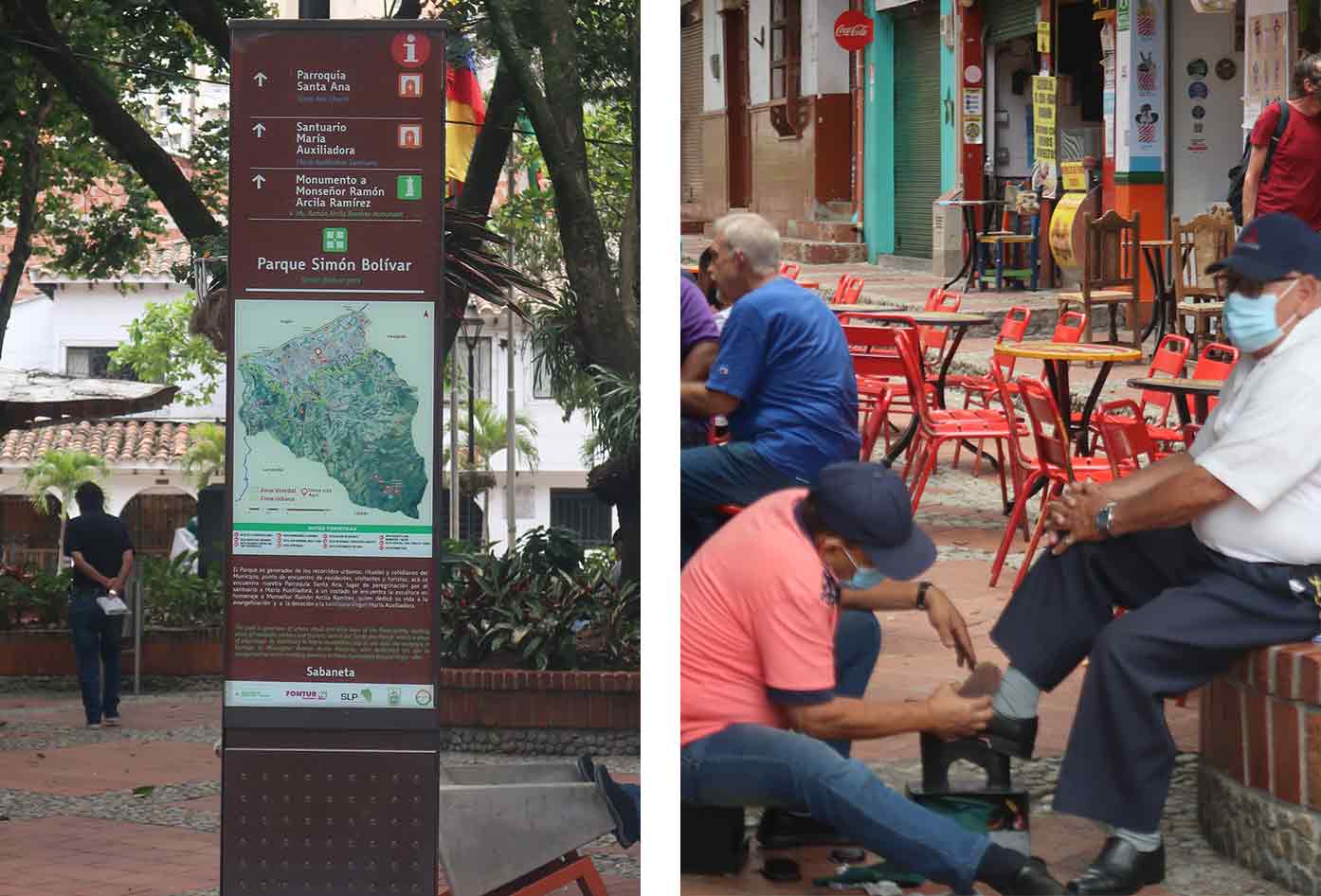 Thoughts of ice cream on a hot afternoon! The glistening church, the cheap liquor stores and the lingering smell of Chunchurria at night are all especially good during the seasonal month of December.
People don't usually visit Sabaneta solely for its shimmering lights and Christmas decorations. Sabaneta park has much more to offer.
Casa de la Cultura
An enchanted garden-like residence with the chance to sit back and relax in the heart of the city. If you manage to get in this place it offers memories, history, and culture from the local area.
Inside you'll find art sculptures and traditional architecture. They are very few of these buildings in Sabaneta left.
It may be worth calling up first to check that it is open. On various occasions have tried to revisit and it has been closed.
Sabaneta Library
Libraries are always interesting places to check out. Not only for their cultural significance in the community but to seek new knowledge.
This library has over 12,000 books. If you are a digital nomad and looking for new places to work, you can find free wifi here and a co-working space which is equipped with a computer table.
Hike to La Romera
If you've planned your visit, or you're returning to Sabaneta, then one thing it does offer is the chance to escape into the nearby countryside.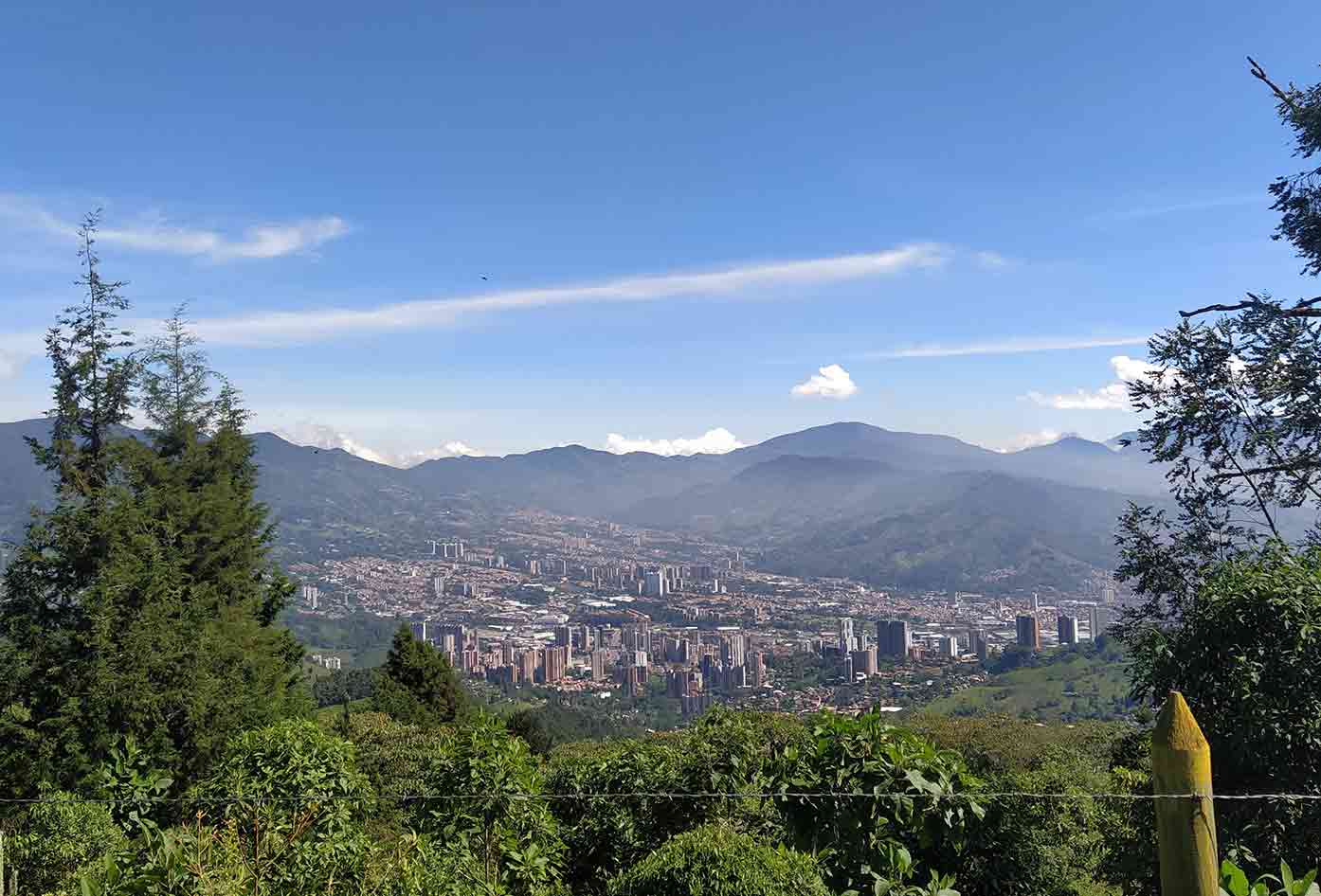 La Romera is an ecological reserve you can walk to. It's a 2-hour(ish) walk from Sabaneta Park so you'll need to set off early in the morning.
Along the way, you'll see hundreds of trees, flowers, birds, butterflies, and other unique features of nature.
Not to mention, the breathtaking views of the Aburrá Valley, which on a clear day, make the 2-hour hike even more worthwhile.
This is not for the faint-hearted! The uphill walk is crazy but the reward is tasting some of the freshest/cleanest air (which you deserve after spending any amount of time in the heavily polluted city of Medellin).
Just be sure to carry some travel bug spray or an equivalent insect repellant to protect yourself from getting bitten by insects.
Visit religious shops
Whether you believe in finding God or not, these hard-to-find Church supplies (and religious items) can be found in Sabaenta.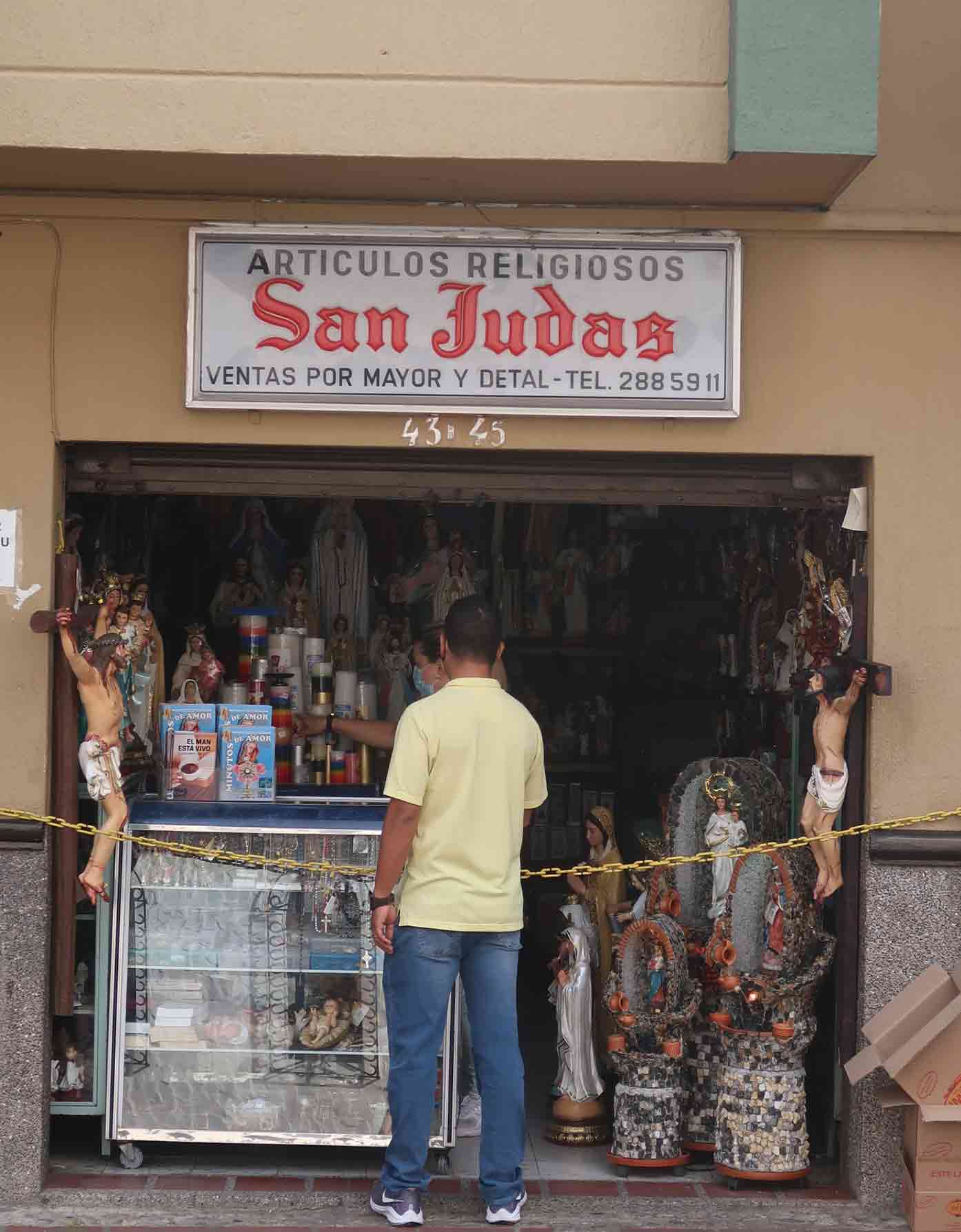 These shops are worth a look at, not only for their cultural significance but for the fact they're non-existent in more modern areas of the city.
As mentioned earlier, you feel like you are in another pueblo far from the city when you see these kinds of shops, as they are a million miles away from the shops you find in the local Mayorca shopping center.
Visit Coffee Shops
Coffee lovers in search of tasty Colombian coffee will be glad to know that there are some opportunities to get specialty coffee in Sabaneta.
If you've tried places like Pergamino in El Poblado or La Alma you'll likely what to drink something that is on the same level.
Coffee shops in Sabaneta worth visiting:
Café Zendaya Studio
Café Bosque Adentro
Expect to pay 2,500 COP for a well-done Americano with lots of crema in either one of these two coffee shops.
Not only do they both have good coffee, but they have some pretty strong Wi-Fi too! So if you need a pit stop to take care of any online duties, you'll have no problems feeling at home.
Also, ordering coffee is a great way to practice your Spanish conversation or if you are just starting out learning, the guys at Zendaya Studio speak some pretty good English.
Sabaneta Travel Tips
See these travel tips for Sabaneta to ensure you have the best stay whether you're on vacation, backpacking, or traveling with friends.
⤵️ Dan's Travel Tips For Sabaneta:
Sabaneta is a great way to 'get out of Medellin' and experience other walks of life in the Aburrá valley. Take time to explore what's on offer.
It rains more than expected in Sabaenta sobe sure to carry an umbrella or a waterproof travel jacket with you to avoid getting soaked.
Aside from the things mentioned in this guide take time to explore the neighbourhood streets and see the way people live here.
Along with the attractive colourful decorations and memorabilia Los Rieles & La tienda de Tocayo offer an traditional atmosphere and a great place to share some drinks with friends.
The Fiestas del Platano offer a week full of festive activites to visitor who plan to go go to Sabaneta in the month of October.
Know for having over over 5 million lights on display during Christmas the Alumbrados in Sabaneta are worth a visit in December.
Colombian-style bars and fondas are a feature in Sabaneta so take advantage of them by visiting during the evening time.
If travelling to Sabaneta directly from José María Córdova airport in Rio Negro you can expect to pay around 100,000 pesos.
Map of Sabaneta, Colombia
See this map of Sabaneta to get a better idea of the surrounding area:
Note that from Sabaneta, you can also reach places such as Itagui and Envigado if you are thinking of exploring other areas.
You will want to spend some extra time here if you are thinking about residing in Sabaneta for an extended period as it can be a tiring journey (to say the least) traveling to and from Medellin on a daily basis.
Remember to visit Sabaneta with an open mind and take the opportunity to practice your Colombian Spanish and pick up any inside knowledge from (very friendly) locals.
Got Travel Insurance for Sabaneta?

Designed by travelers, for travelers, World Nomads covers more than 150 adventure sports and activities so you can explore your boundaries.
Best Time to Visit Sabaneta
The weather in Sabaneta is moderate and the temperatures feel very pleasant all year round.
The hottest months (July, June, August) have been variable over recent years and Sabaneta sees more rain than usual during those months.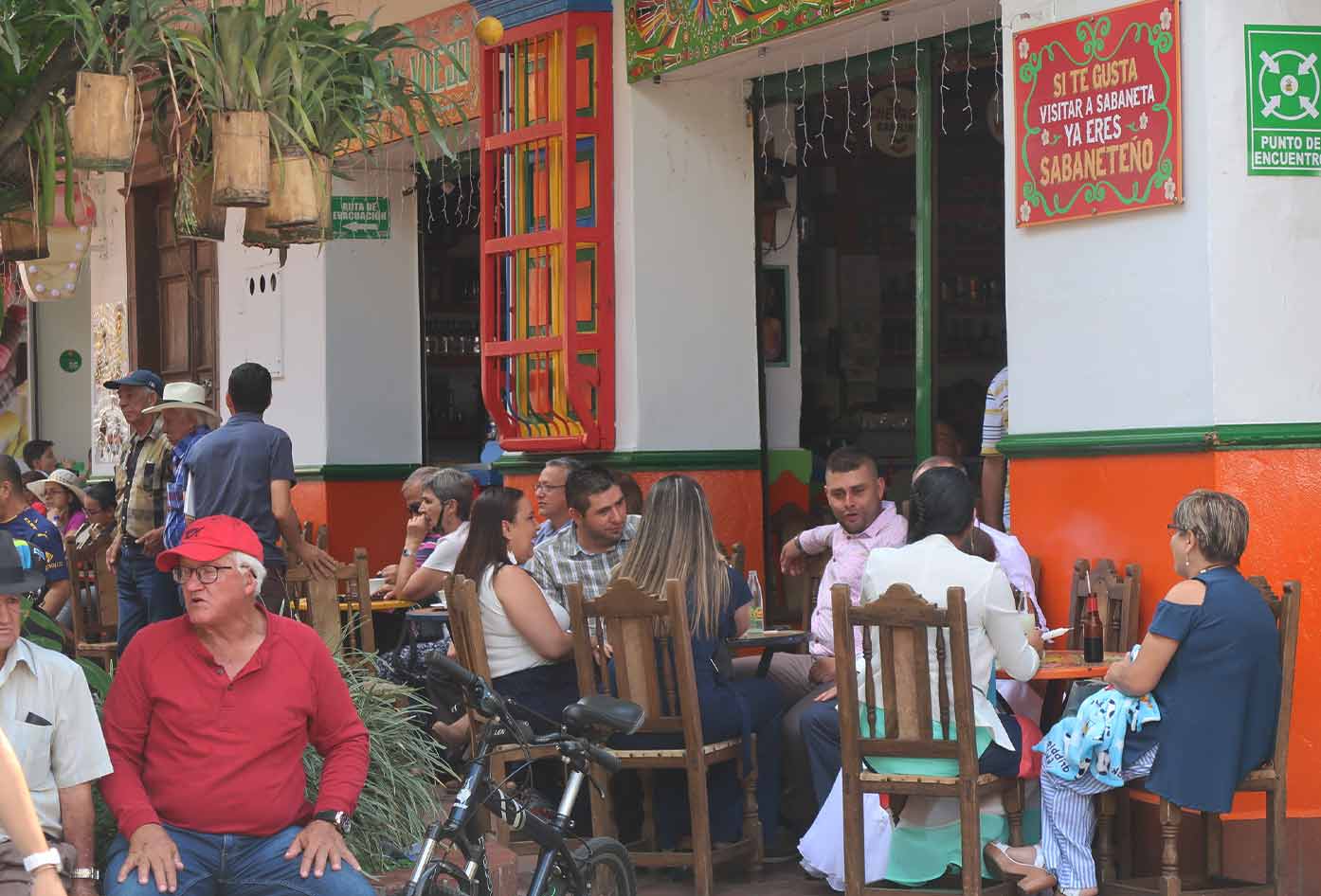 December and January are summer months so expect hotter days with temperatures up to 84.3°F (29.1°C) and sometimes more, especially around 12 pm-3 pm which is usually the hottest part of the day.
Note that the temperature drops considerably during the evening, which makes it very pleasant to walk around during the nighttime.
Temperatures rarely drop below 63.5°F (17.5°C) at night. At dawn, it can drop further requiring the use of an extra blanket in most cases.
Sabaneta, Colombia: Final Words
Thanks for reading this guide to Sabaneta, Colombia.
Known as a street food paradise and a place to get a taste of pueblo life in the city, Sabaneta is a place that is becoming more and more popular with locals and visitors, and it's not hard to see why.
With towering apartment blocks flying up left, right, and center… as well as access to the Metro and transport routes, a visit to Sabaneta is a must if you are already in Medellin and you're feeling like a change.
I invite you to read more Colombia travel guides on this blog to learn more about towns and cities worth visiting in this amazing country.
📌 Like this article? Pin it…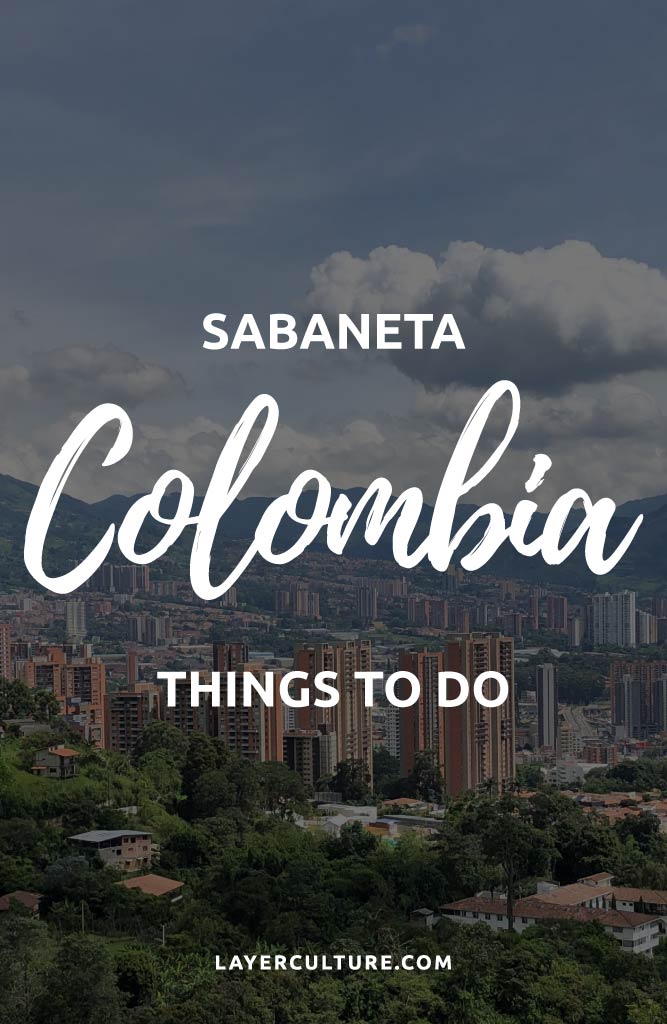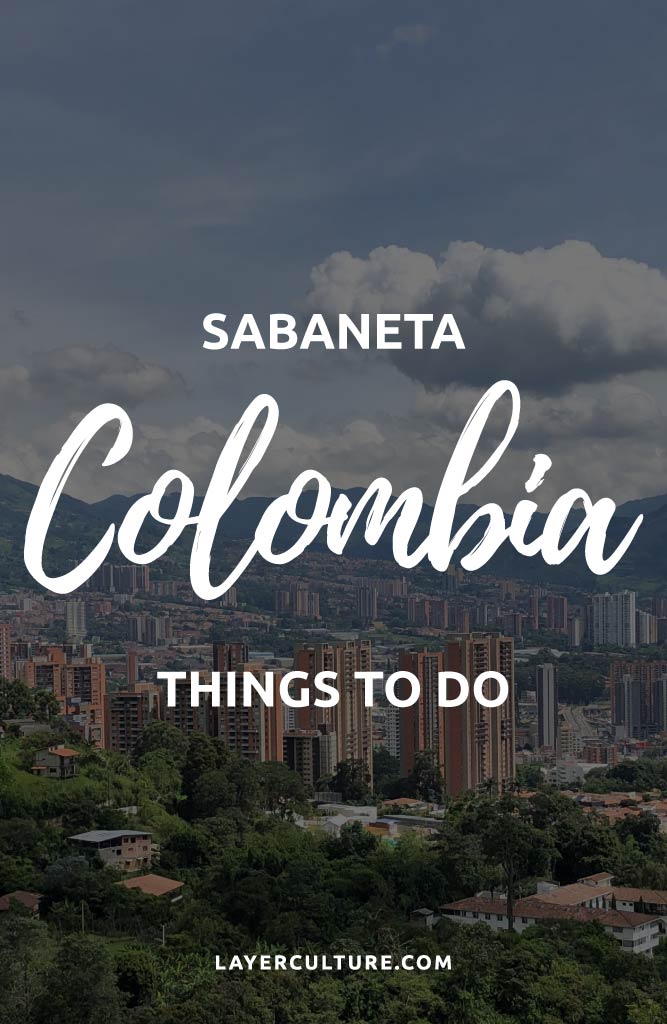 Missing something? Got tips, tricks & advice we can learn from?
💬 Leave a nice comment or let's start a conversation below!
---
"Dear friend! Some links in this post contain affiliate links. Meaning, if you click through and make a purchase, book a hostel or sign up for a tour, I may earn a small commission at no additional cost to you. Your support means a lot and helps me to keep traveling and maintaining the quality of this site for you."