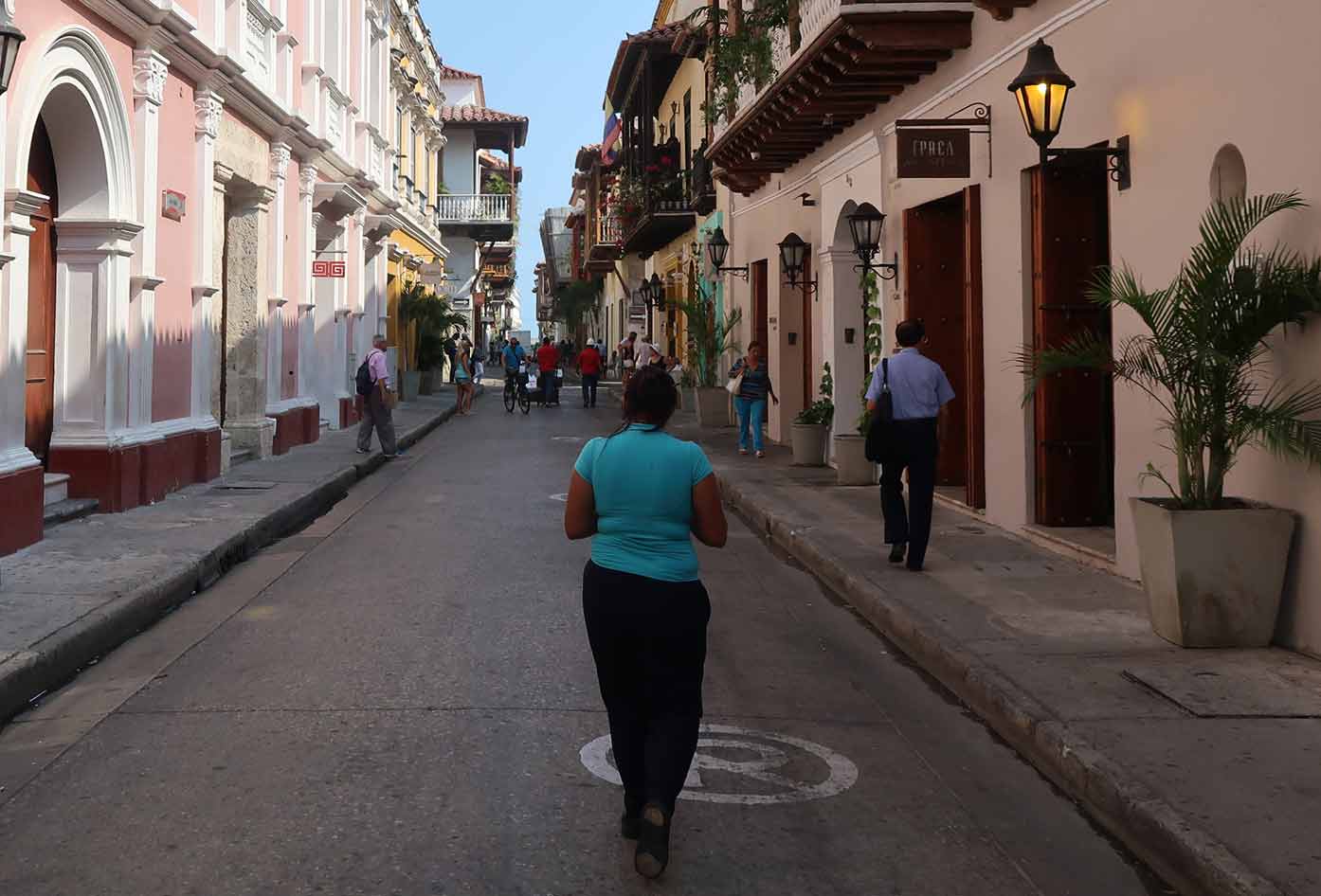 Were you wondering: is Cartagena safe to travel or not?
If you are thinking about traveling to Cartagena in Colombia then you should definitely do so and not let alarming crime statistics put you off.
After traveling to Cartagena various times on my adventures backpacking Colombia and the Caribbean coast, I've found it nothing but welcoming.
However, unexpecting tourists visiting Cartagena can have a totally different experience when they are unaware of certain safety rules.
Is Cartagena Safe to travel to?
This Cartagena safety guide is designed to give you some tips on what to expect and how to maneuver the city.
Admittedly, Cartagena can be a touch rough and ready at times, but it's by no means a dangerous place to visit.
Is it the right place for you, though?
The high-paced tourist environment is what many tourists thrive on, but is it suited to you? Let's answer this question for you below. But first…
Where is Cartagena?
Cartagena is a large city situated in the extreme northwest of Colombia. It's located along the Caribbean coast, thus being home to some truly incredible white sand beaches and turquoise waters.
Cartagena is located within the diverse region of Bolívar, which is bordered by its fellow states of Atlantico, Magdalena, Cesar, Santander, Antioquia, Cordoba and Sucre.
Cartagena is located roughly 120km away from Barranquilla, the most nearby big city, and also 1035km away from the capital that is Bogotá.
Best time to Visit Cartagena
The dry season runs from December until April. Average daily temperatures range from 80-82°F, with highs of 87°F and lows of 76°F.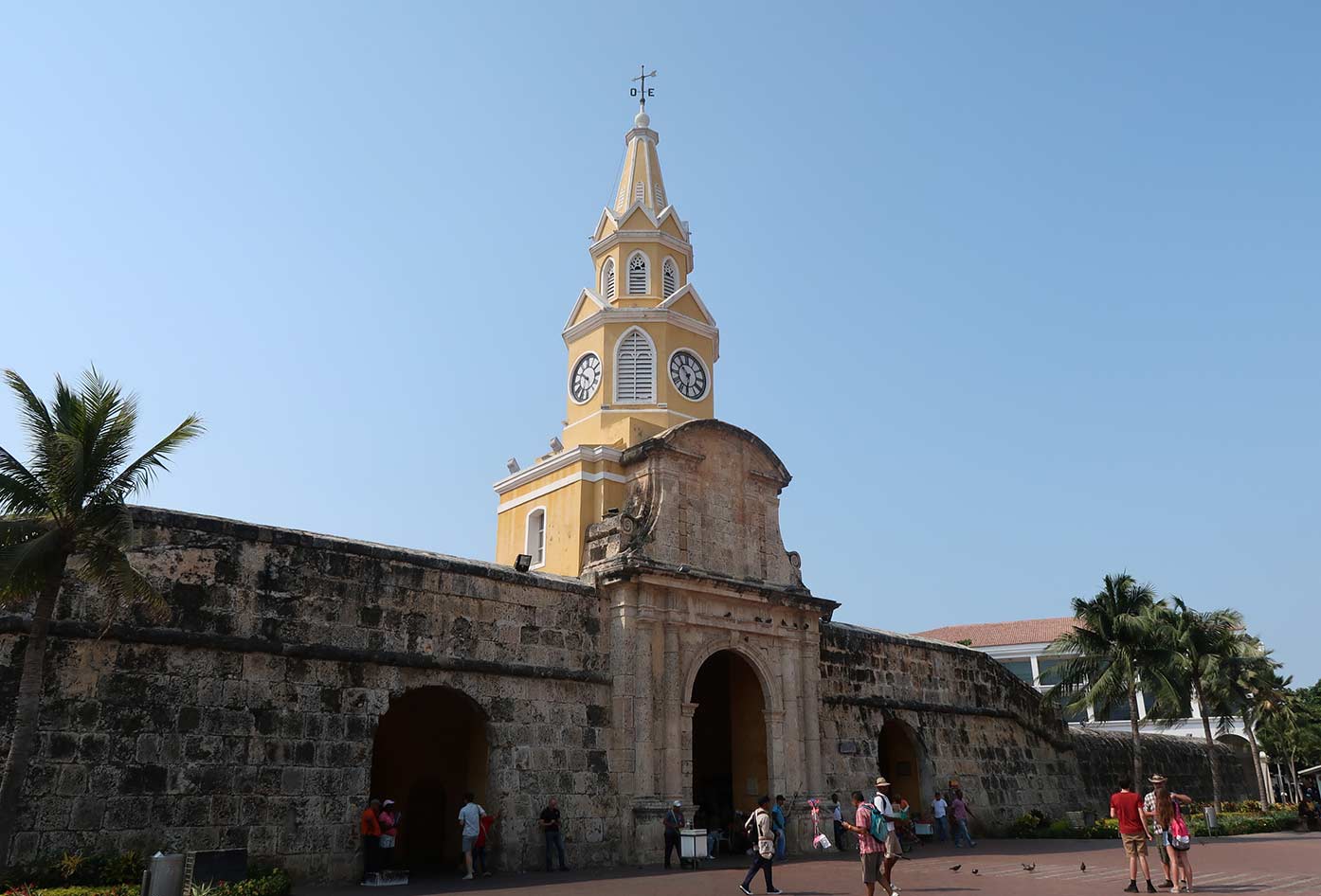 Rainfall during this time of year is at its lowest, with between 0-1 inches falling each month (January until March is the driest period for a visit).
The contrasting wet season runs from May and through the summer until November. Average daily temperatures hover between 82-83°F, with highs of up to 88°F and lows of down to 78°F.
As we enter the wet season, we see an increase in monthly precipitation. We can expect anywhere from 3-6 inches falling in each month (with October the overall wettest month of the year).
See my page on the best time to go to Cartagena for more advice.
Where to Stay in Cartagena?
The Centro Histórico is the best place to stay for the best sights. It's one of the safest too, with police presence on most street corners.
Getsemani is the overall best to see the authentic Cartagena. With lots of cheap hostels, restaurants and bars, it's a perfect area for living it up.
You'll also see lots of cool artwork and graffiti along most streets too.
The hotels around Boca Grande are best for those staying near the beach, where you'll also be close to the ferry port to head to Isla Baru.
Is it safe to travel to Cartagena?
Yes, Cartagena is 100% safe to visit!
Especially Cartagena's Old town which is located within the famous barrier walls where you can appreciate the colonial architecture.
Cartagena is rated as a great place to spend your time, and one of the safest places to visit in Colombia.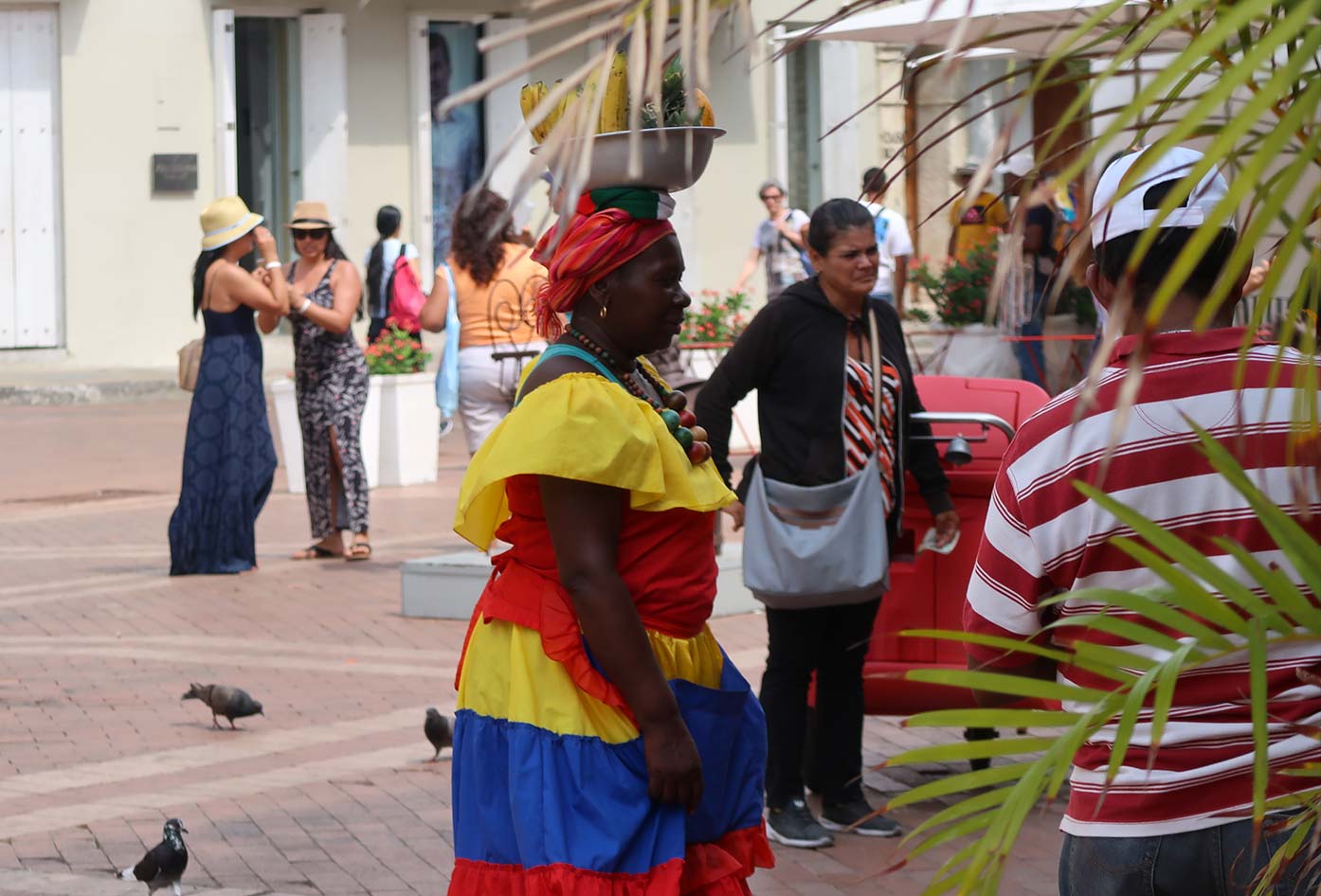 While it obviously has some issues with crime, as many parts of Colombia do, it's by no means a dangerous location to visit.
The main worry that you might have when visiting Cartagena is making sure you stick to the right locations.
As long as you choose one of the many accredited places to stay in the Walled City then you can almost guarantee your safety.
Safety facts about Cartagena
So long as you don't flaunt your wealth, or float outside the normal tourist zones – it's a great place to be.
See some of these Safety facts about Cartagena below:
Despite being seen as 'dangerous', crime rates are lower than many parts of the USA.
When negotiating with vendors remember that the cost of living in Colombia is relatively low compared to United States.
It's major tourist hot spots, like The Old City, are rated as among the safest in the country.
Cartagena has been officially voted as the safest city in the entirety of Colombia.
Low crime rates and a solid standard of living means that crime is lower here compared to other parts of Colombia such as Medellin.
Don't accept offers of drugs. Not only is it illegal, but it's dangerous and you're helping an industry wrought with crime that the government is trying to stop.
If backpacking, or on a budget use trusted hostels in Cartagena and then once you've booked; book taxis or buses through the hostels.
If you do further research on on Cartagena you find that tourist-specific crimes in Cartagena are among the lowest in the country.
Of course, you can go outside of the walled city and see other attractions.
In fact, Cartagena is a strategic point to reach some of Colombia's best beaches and islands. Think islas rosario, isla baru and San Bernardo.
So despite what you may have heard in the media or by word of mouth, safety in Cartagena is a reality.
Is Cartagena Safe to Travel Alone?
Absolutely! As solo travel in South America becomes more popular traveling alone to Cartagena is a great idea for many visitors.
I traveled to Cartagena alone, and although I don't usually visit places with such a high concentration of tourists. I really enjoyed this trip.
Cartagena is one of the safest tourist cities in Colombia.
Going to Cartagena means that you can enjoy a simple and easy trip, free from the usual pressures.
You may get approached a few times to purchase local gifts or crafts.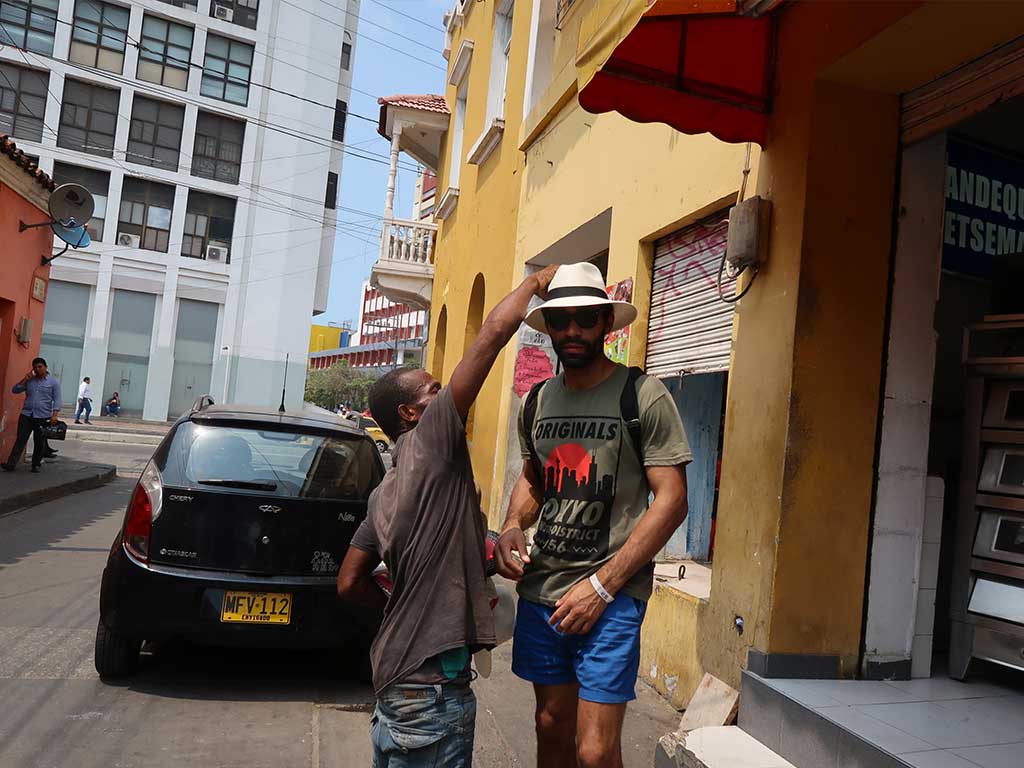 However, this is part and parcel of the culture in Colombia and life in Latin America. Learning how to manage interactions is part of travel.
It's just a little more than usual but not aggressive whatsoever.
Public and private transport is abundant, and streets are often packed with people and law enforcement to help deter crime.
Unless you go looking for trouble, you shouldn't find any as long as you are sensible when traveling alone in Cartagena.
Is Cartagena safe for solo female travelers?
In Cartagena as a solo female traveler, you are definitely free to roam around and soak up the tourist attractions. However, I would not recommend walking so freely during the night in Cartagena.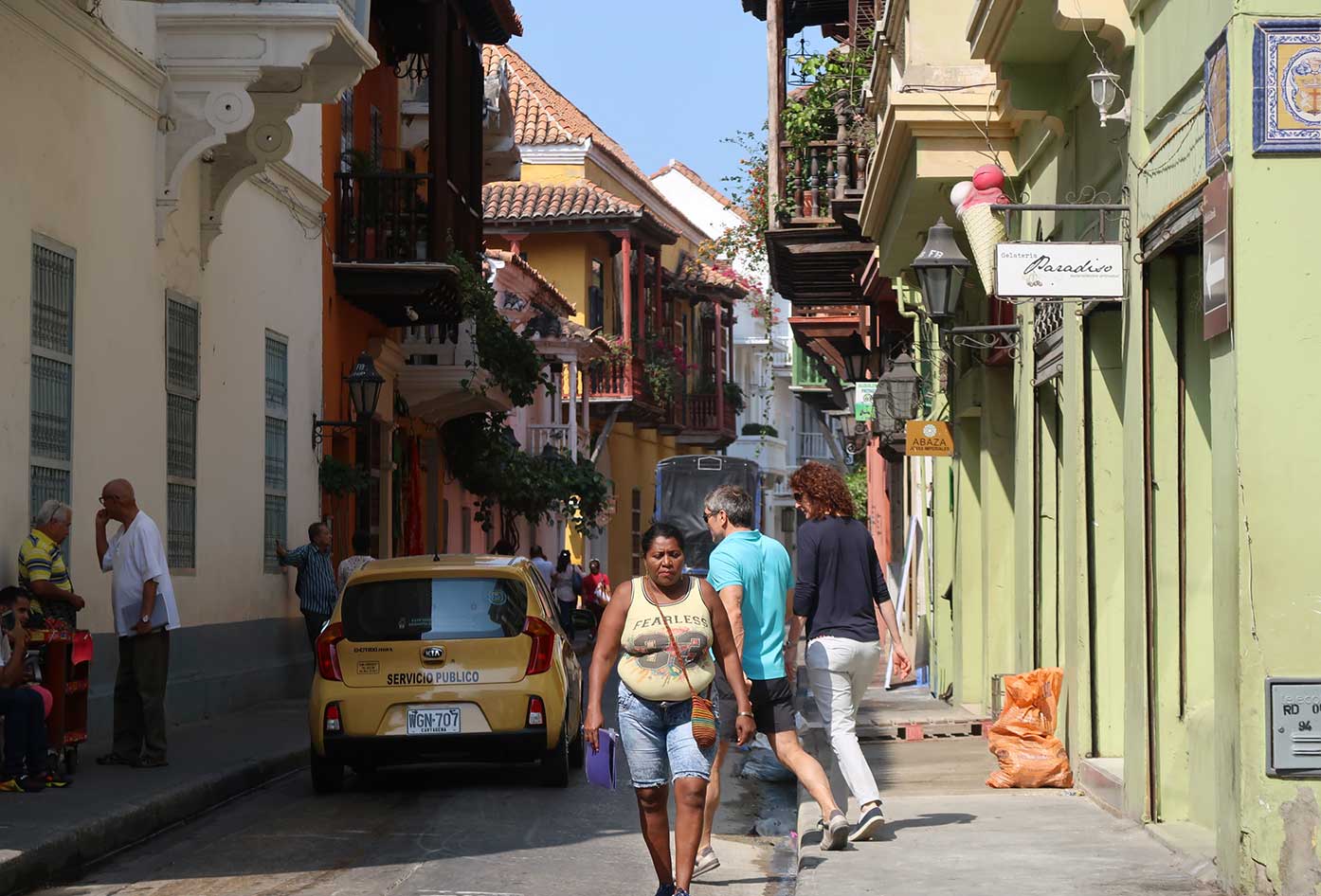 Heading out with a group of friends is normal, however, as a female, I would suggest going out at night only if you have a male presence with you, either as a couple or within your group.
This will reduce the risk of being approached at the night and having to deal with any unwanted attention.
Cartagena Nightlife
One of the top areas for nightlife is Getsemani, where you'll find a real mix of more authentic clubs and trendy bars.
El Patio and Demente are some of the best bars, and you'll also be able to board the wild Chiva buses that wizz around the coastal city.
The historic centre is another popular area, which is also safer too with more police presence.
Delirium is one of the best bars here. Boca Grande (the strip lining the beach) is full of hotel bars, and is better for a more upper-market night out, with lots of trendier venues at hand.
Is Cartagena safe at night?
Cartagena is not as safe at night as it is during the day.
However, as long as you stick to the busy streets and don't walk down random streets and alleyways you can reduce the risk of danger massively.
So the no 1 rule when exploring Cartagena by night is to always stick to well-crowded streets and have a travel friend or companion walk with you.
Cartagena: Travel Safety Tips
If you are visiting Cartagena soon, take into account the following tips:
I answered the question: is cartagena safe at night above, but if you do decide to go out late at night, remember not to walk around alone.
Avoid neighborhoods – stick to commercial areas.
Don't flaunt money or show your goods off.
You can get a tour to places like Playa Blanca or the Rosario Islands to get acquainted with some of Colombia's more exotic beaches. Tours are the best way to explore the islands here.
If you've heard about Cartagena kidnappings or other horror stories don't let them worry you. In the the old town you'll be fine. Remote areas of Cauca, Antioquia, Arauca, Nariño, Norte de Santander and Putumayo are very high rist for kidnappings.
Stick to places with high populations of people around and you should have no reason at all to worry.
See this culture shock symptoms guide for new visitors to Colombia.
Keep things like smartphones and tablets hidden.
Always keep spare cash hidden away.
I traveled to Cartagena solo, but if you're in Cartagena with the family you may want to stay within the walled city.
Even if you are visiting some of the best restaurants in Cartagena, never drink in excess or walk around intoxicated while alone in public.
Get access to emergency local services from you hotel or hotel to make sure you know who to call in an emergency.
If you were wondering: is Cartagena safe for American tourists? then the answer is yes. As long as universal safety laws are practiced and drugs and prostitutes in Cartagena are avoided.
Stick to these tips, and you will find that Cartagena is extremely safe for even the late person.
Areas to avoid in Cartagena
There's nowhere I think you should avoid within the walled city in particular. Just take care during the evening and the early mornings.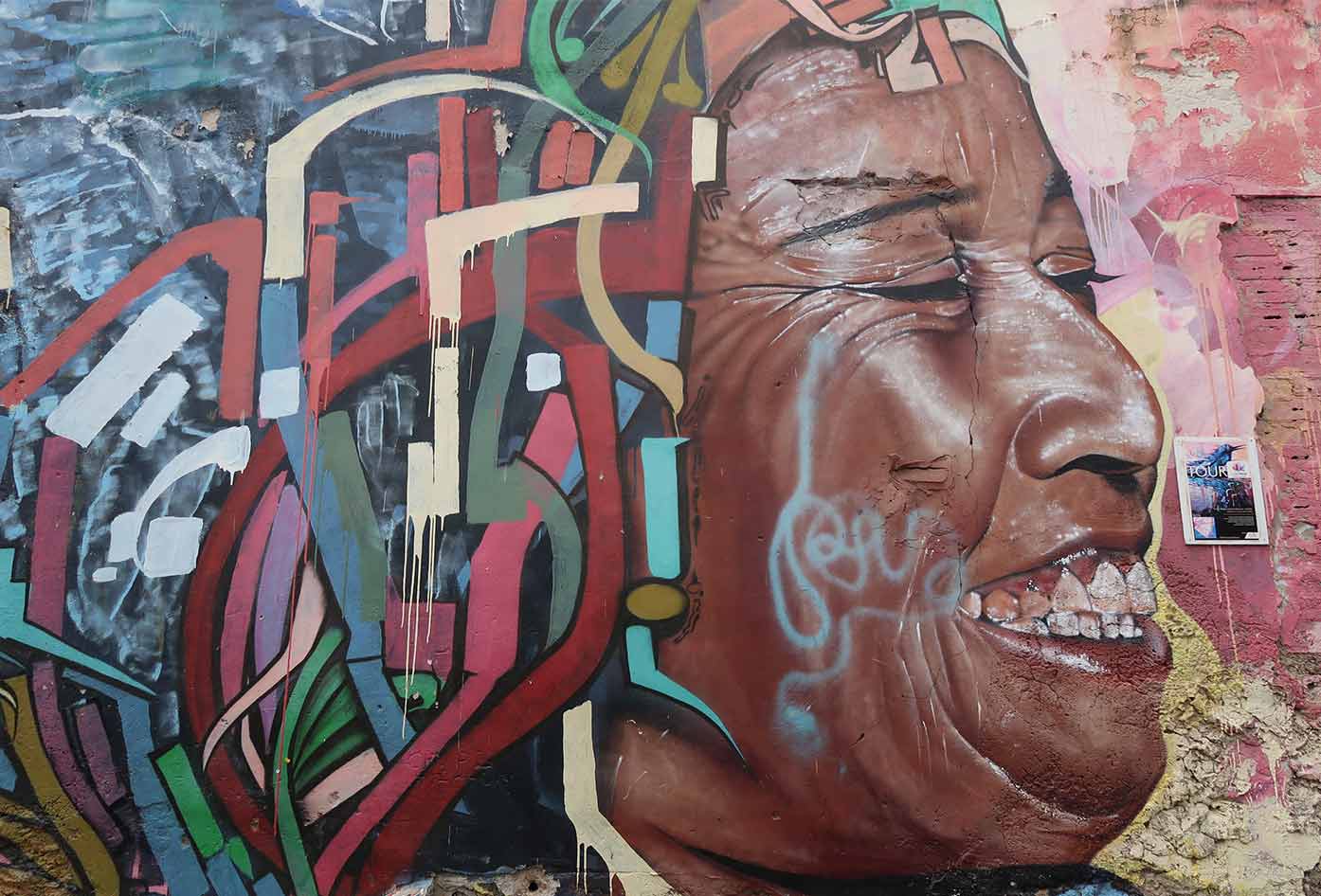 However, leaving the walled city you will encounter other neighborhoods that don't have the same level of security.
Outside of the walled city, you'll find neighborhoods such as:
Getsemani
Bocagrande
Crespo
Manga
I recommend you use the public service i.e taxi for exploring areas outside of the old town.
Don't make the mistake of walking into local neighborhoods, just stick to more local and commercially driven areas.
Got Travel Insurance for Cartagena?

Designed by travelers, for travelers, World Nomads covers more than 150 adventure sports and activities so you can explore your boundaries.
Cartagena Safety FAQ's
See these frequently asked questions about safety in Cartagena:
---
Is Cartagena Safe 2022? Final Words
Cartagena in Colombia is a place with a needlessly negative history surrounding it, people attach old and outdated clichés to this city.
Like any other city in the world, so long as you're sensible you should be able to enjoy Cartagena without having to worry about crime.
If you're thinking of heading further afield see this guide on getting to Santa Marta from Cartagena by using public transport.
📌 Like this article? Pin it…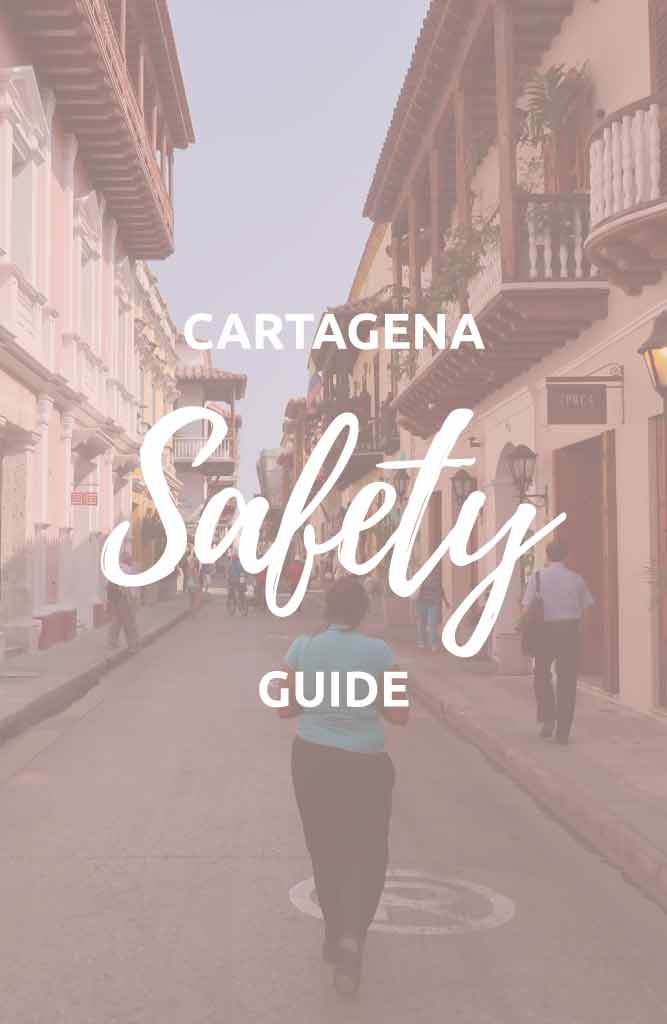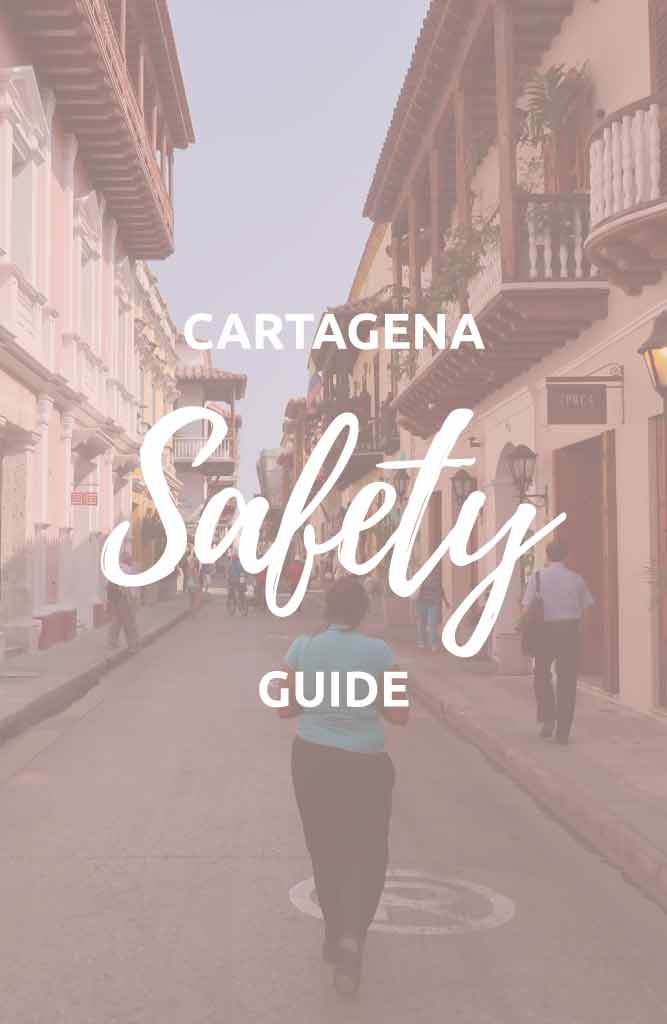 So, is Cartagena safe for you? Or would you prefer to visit Santa Marta?
💬 Leave a nice comment or let's start a conversation below!
---
"Dear friend! Some links in this post contain affiliate links. Meaning, if you click through and make a purchase, book a hostel or sign up for a tour, I may earn a small commission at no additional cost to you. Your support means a lot and helps me to keep traveling and maintaining the quality of this site for you."