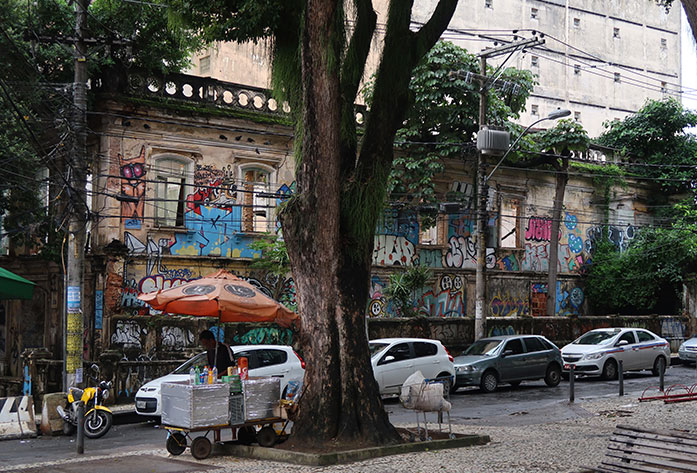 Are you looking for the best things to do in Salvador, Brazil?
Below I'll list a few things to do in Salvador that will quickly get you acquainted with the beauty of one of my favorite places in Brazil.
No matter what your interests, you'll find something for yourself. Many people visit just for the beach and the amazing sunset.
I loved roaming the streets ogling at the untouched 17th-century architecture and the diverse mix of African identities.
Things to do in Salvador Bahia, Brazil
On this trip, I arrived in Salvador Bahia from Rio de Janeiro by plane.
It was late June, and most days were very cloudy, so you may want to check the weather in Salvador before arriving.
Before diving in, take a moment to appreciate the fact that Salvador de Bahia as it's called in Portuguese, was once Brazil's capital city.
But is it worth traveling here from other cities in Brazil?
Is Bahia Worth Visiting?
Located along the northeastern horn of Brazil, Bahia is one of those truly incredible "must-visit" regions.
Best known for its stunning beaches, here you can stroll for miles and dip into some incredible deep blue waters such as those in Salvador.
There are also many others located in small towns along the coast, such as Itacaré that are worth visiting if you have the time.
Bahia is also the place to come to experience a more African-style Brazil with its strong roots of the continent, as well as the region, being the birthplace of the passionate Capoeira and Samba dances.
Things to do in Salvador Bahia
Now let's look at some the things to do here:
Walk around Pelourinho
Taking into account that this is a UNESCO World Heritage site; I can guarantee you'll not be disappointed by its beauty.
The Pelourinho district is the official historical center of Salvador Brazil, and it's oozing with history and culture.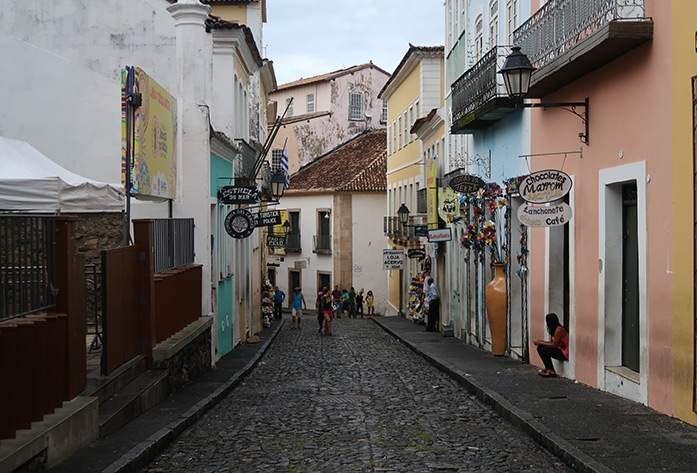 While looking for things to do in Salvador Bahia, it's worth knowing that the city is split into two different zones:
Cidade Alta (upper city)
Cidade Baixa (lower city)
Prepare for some West African flavors. Pelourinho is full of life and soul, and after doing research, I learned it is named after the word: pillory, which means the place where slaves were sold publicly.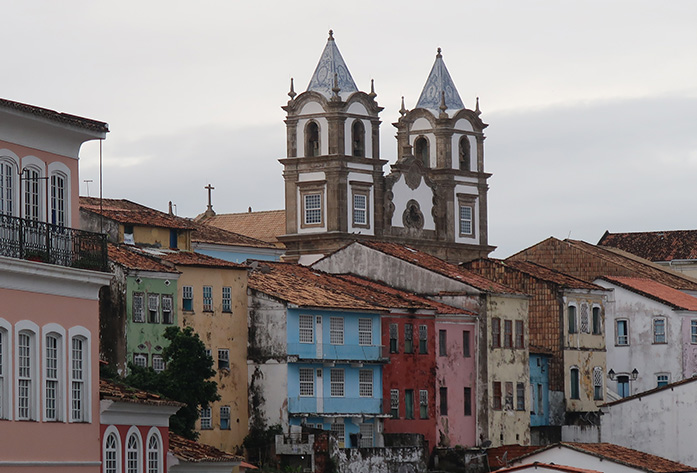 As one of Brazil's UNESCO world heritage sites, the old colonial neighborhood of Pelourinho has become one of the best places in Brazil to learn about Afro-Brazilian heritage here in Brazil.
You will find that Pelourinho is located within the upper city.
💡Smart Travel Tip
In Salvador use Uber for getting around. In many cases, it works out cheaper than public transport and you get to your destination quicker.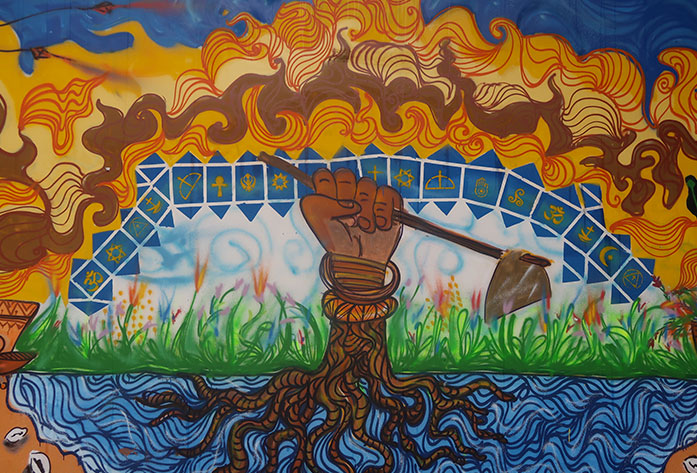 Like the Spanish conquistadores arriving in Old town Cartagena, it's no secret that the Portuguese were using African slaves for building their complex churches, cathedrals and luxury villas.
In a 5-minute walk you'll become acquainted with the prudent mix of old-world and new-world charm scattered around the neighborhood.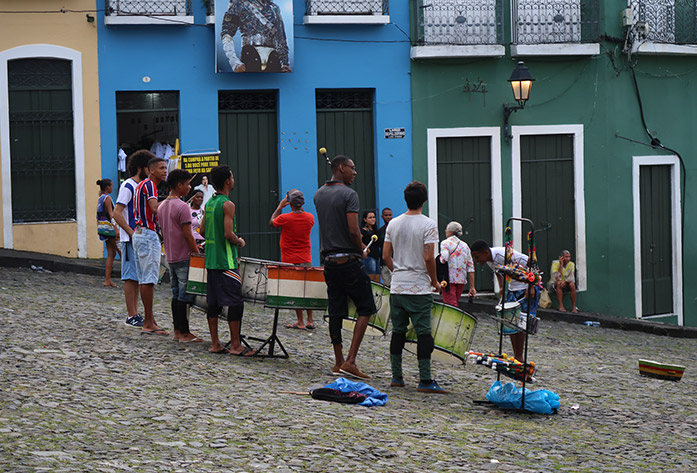 Despite all the heritage, people advise staying out of the area during the evening. But I'd say, don't miss the evening if you can.
If you fancy it, this area is known as one of the best places to hear live African drum beat ceremonies.
Walk around Barra
Arriving at Barra Salvador, you feel a chilled vibe. The thing to do is to grab yourself a coconut and take a stroll around.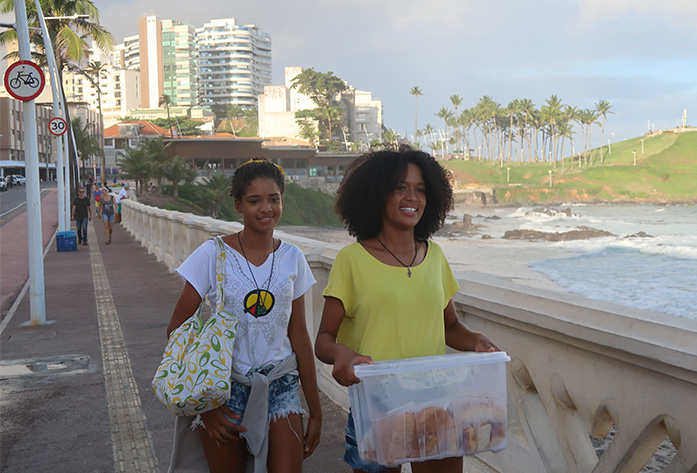 This is the tourist center of Salvador; it has a bohemian feel, and you can find some amazing street art. You can easily rent bicycles too.
If you've not heard about the other world-famous UNESCO site in Barra, which is the Lighthouse; you can't miss it.
This is actually the first lighthouse in the Americas – How about that for history? It looks absolutely beautiful at night as well.
I love this landmark hence why I have added it to my list of unique places to visit in South America for future visits.
Go to Porto da Barra Beach
Don't walk around Barra in Salvador Brazil without going to the beach.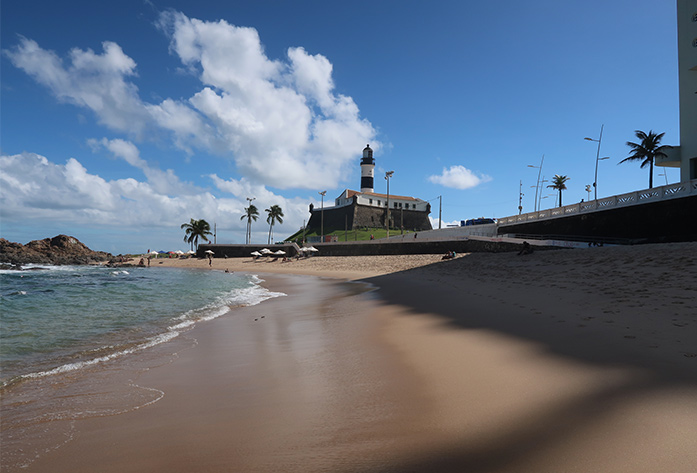 I was greeted by a man asking if I'd like a sun lounger and coconut. Along with a huge smile, he offered to bring water to refresh my feet.
There are some amazing beaches in Bahia to visit. I found myself on the main beach at Barra Salvador, which is called Praia do Porto da Barra.
Best places to stay in Salvador:
I saw one of the most beautiful sunsets in Barra. The beach is within close walking distance of Praia Farol da Barra and Forte da Santa Maria.
💡Smart Travel Tip
Although it can get very crowded at times, don't let the crowds put you off. This is a perfect way to connect with locals in the daytime.
At certain times, you'll feel like you're getting approached a little too much, especially if you sit amongst the crowds, but you can find another spot.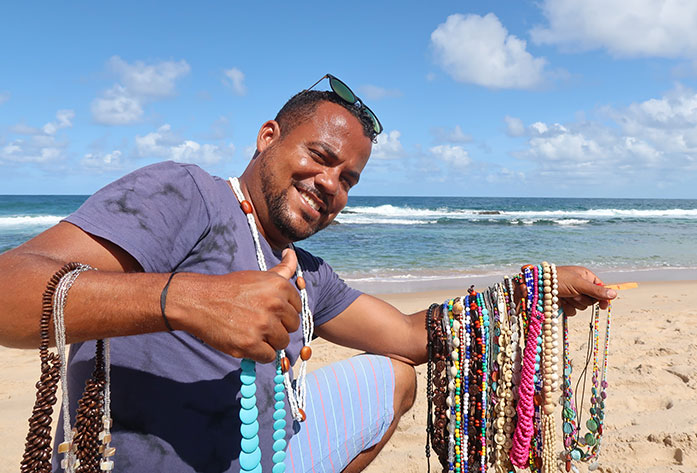 This is one of those beaches in South America where you'll find strong waves. I also saw surfers passing by as I walked along the promenade.
---
---
Head out to Chapada Diamantina
There's everything from green landscapes, peaceful paths and small villages to breath-taking waterfalls.
Visiting Chapada Diamantina with the right guide would give you the perfect all-around experience. This is adventure travel at its best.
Many backpackers have heard of Chapada Diamantina but have yet to see it. Arriving at the top of the mountain peaks, take time out and get yourself a new perspective on life.
Check out for yourself the best time to visit Brazil before you go!
The treks through Chapada Diamantina park can be tough and challenging in the blazing heat.
Visit the Museu de Arte Moderna
Located inside an old sugar processing factory, the Museum of Modern Art in Bahia is famous for its Jazz music concert Jam no MAM.
If you're lucky enough to be in Salvador on a Saturday night, you'll find live Jazz music outside from around 6 pm.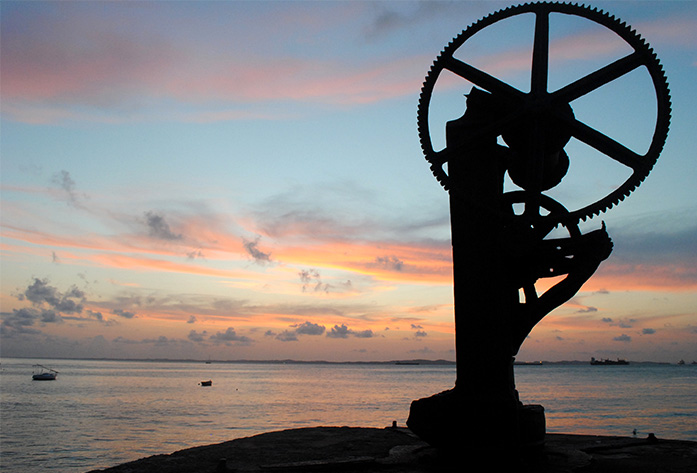 While searching for things to do in Salvador, make sure the museum is on your list. Neatly situated along the water, the museum is a popular spot to go in the early evening to watch the sun go down.
Ride the Elevador Lacerda
A ride in the elevator will take you from sea level to another endearing UNESCO site. I'd say it's definitely the most fun way to go about it.
There's a beautiful view of the ocean that awaits you at the top.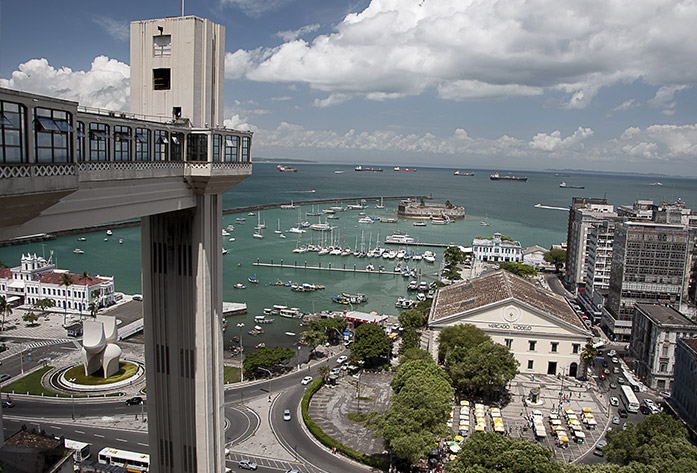 A ride on this baby is only R$0.15, which from my experience, must be the cheapest thing you can buy in Brazil.
The construction of Elevador Lacerda begun in the year 1869. You could look at this as just an elevator, but you have to learn the history to really understand its true value and significance for Salvador, Brazil.
The elevator makes the connection between the upper city and lower city, in which you'll find various Brazilian tourist attractions to visit.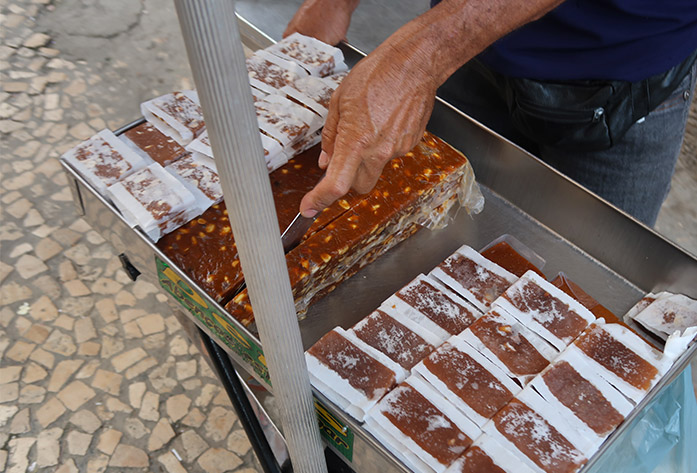 You'll also be glad to know there are other points of interest depending on your personal tastes.
African Heritage Tour
If you're really interested in the remarkable presence of West African people in Brazil; I invite you to consider taking part in the African Heritage Tour.
If you've read my article on being black in Latin America you'll know that one of my trips of growth was to learn more about my ancestors.
This specially designed tour has been noted for its special knowledge about the transatlantic slave trade.
In a nutshell, here's what the tour involves:
Sightseeing tour of Pelourinho
The Afro-Brazilian Museum
Rosary of the Blacks
The Society for Black Protection
Craving deeper knowledge on this subject, or finding it interesting to learn more about the heart and soul of Salvador itself, this tour is highly recommended for you.
Got Travel Insurance for Brazil?

Designed by travelers, for travelers, World Nomads covers more than 150 adventure sports and activities so you can explore your boundaries.
Things to do in Salvador, Brazil
Named as the first-ever capital of Brazil, if you're not already raring to go, then forever hold your peace.
Salvador offers a vibrant blend and identity, history and culture.
Spending a week exploring this picturesque location with my backpack this was one landmark in Brazil I felt I didn't want to leave.
Whilst wondering what to do in Brazil, I hope this inspires you to travel to Bahia. As you now have some great ideas on what things to do in Salvador.
Fancy some more ideas? See some of my South America travel blogs to enrich your South America travel plans even more.
📌 Like this article? Pin it…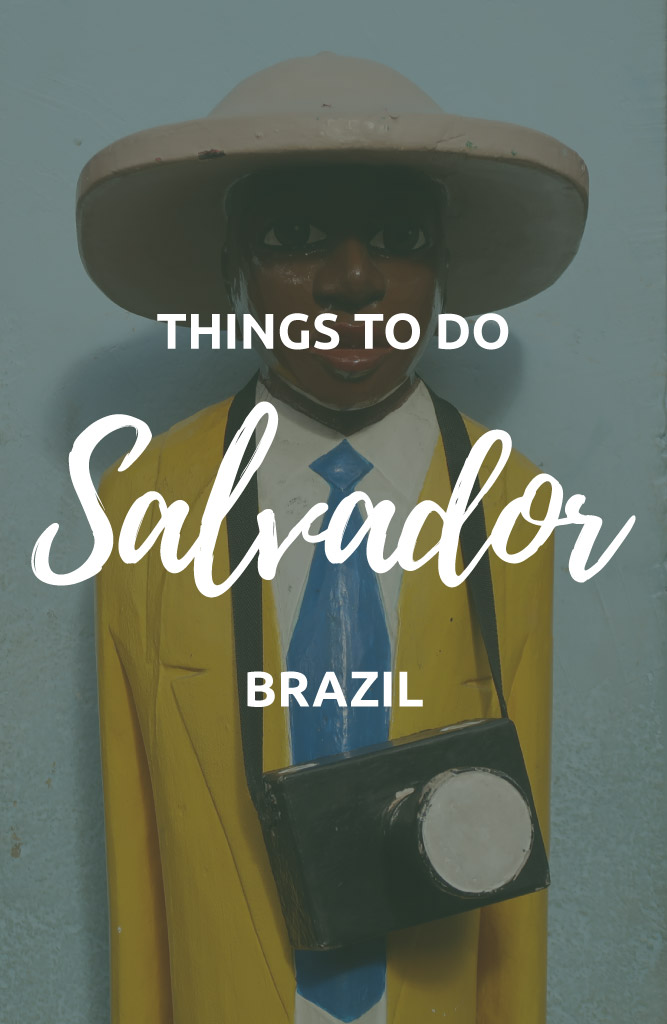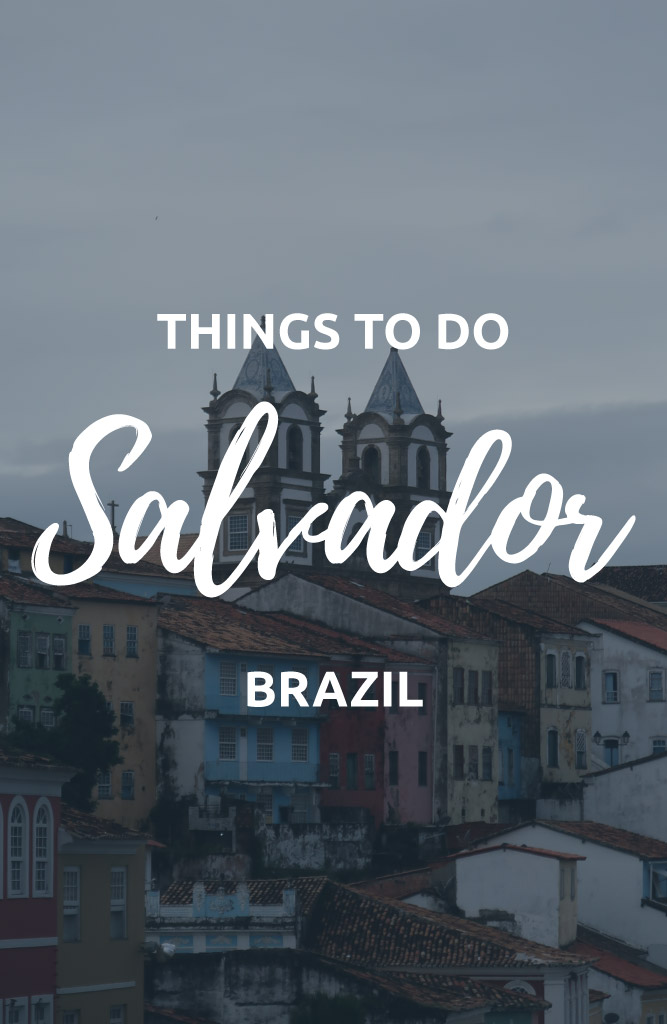 Missing something? Got tips, tricks & advice we can learn from?
💬 Leave a nice comment or let's start a conversation below!
---
"Dear friend! Some links in this post contain affiliate links. Meaning, if you click through and make a purchase, book a hostel or sign up for a tour, I may earn a small commission at no additional cost to you. Your support means a lot and helps me to keep traveling and maintaining the quality of this site for you."