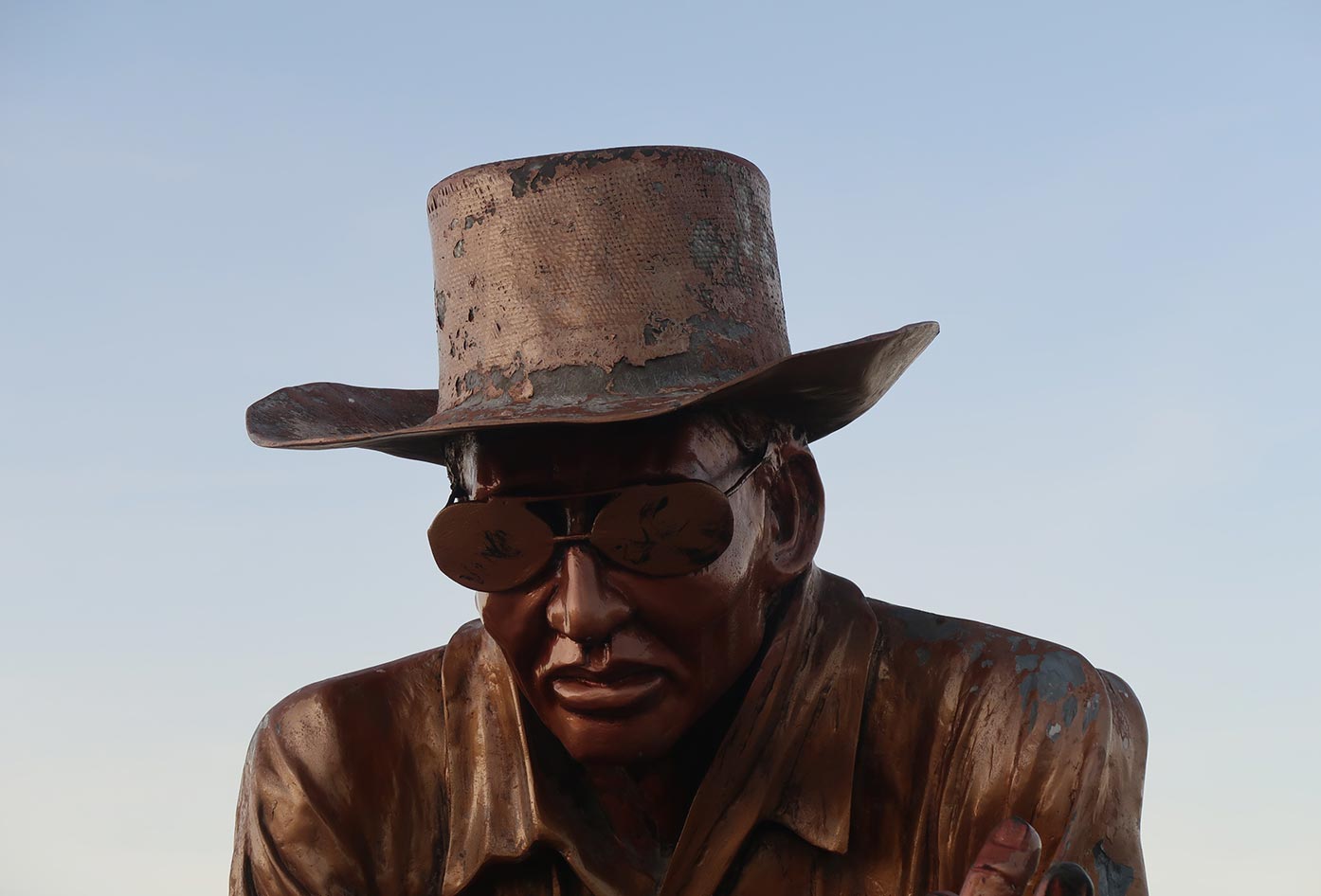 Are you looking for things to do in Riohacha, La Guajira in Colombia?
Read about its grand beach, palm trees, and lively but yet laid-back atmosphere, this guide offers ideas on how to spend your time here.
As a strategic stop for most travelers to get to a place like Cabo de la Vela, what is there to do here in this laid-back city?
Riohacha, Colombia Travel Guide
As part of my one-week in Colombia itinerary, I decided to come to Riohacha to see what it has to offer.
If you're a traveler or backpacker that may either be just passing through or want to spend a couple of nights here.
This guide was designed for you.
Below you'll learn about the destinations and things to do in Riohacha, Colombia.
Centro Histórico / Plaza José
So, let's imagine you've just arrived in Riohacha! Depending on what time of day you get here you'll likely gravitate towards the Malecon.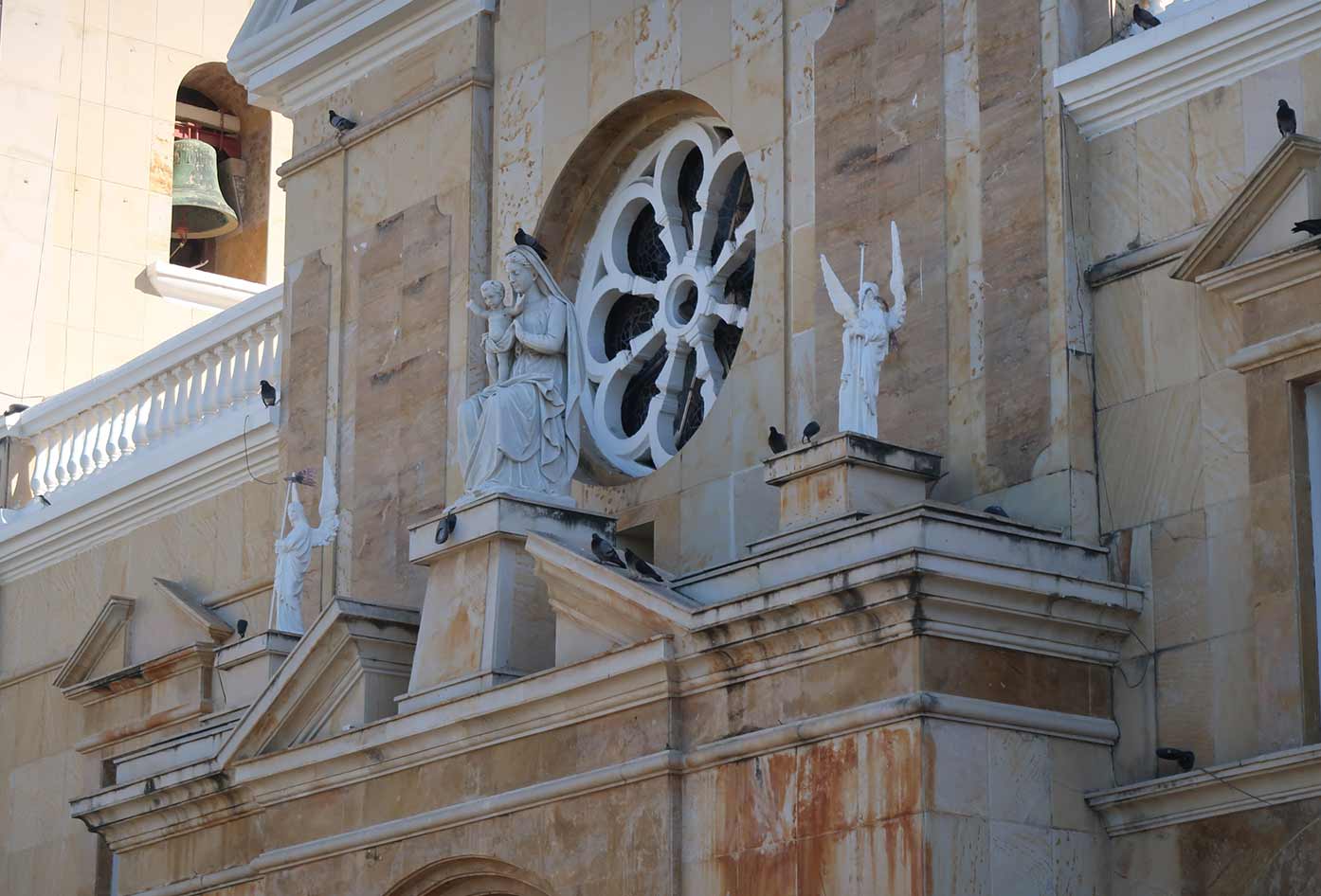 Located in between the market and the beach you'll pass Plaza José which is the central square.
Admittedly there is not much on offer here in terms of attractions, however, you should ogle at the statue and maybe even take a sip on an ice-cold coconut.
Also, the church offers an amazing view, and worth taking a few photos of it'd facade.
Cabo de la Vel
As you may already know, Cabo de la Vela is the main reason many people come to the Riohacha department.
The city of Riohacha serves as a base for travelers who want to take a rest the night before or the day after heading to Cabo de la vela.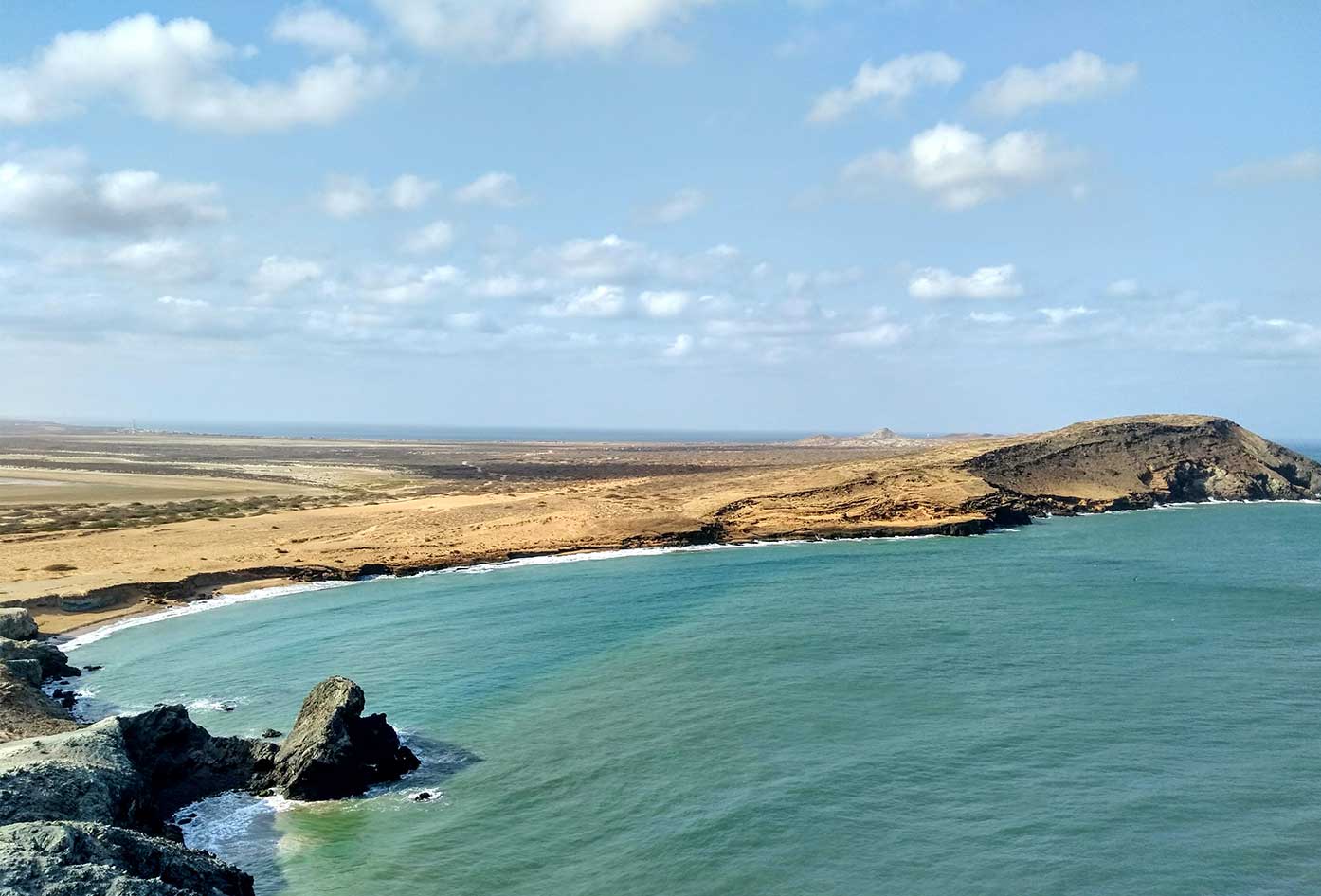 If you have plans of heading to Cabo de la vela you'll find many offers to get there from Riohacha.
In many cases, it's wise to purchase a tour or excursions or tour before you arrive, in this case, I'd wait until you arrive here.
Prefer to have something solidified before arriving? Check out this tour that covers most of the unique landscapes in La Guajira Desert.
In fact, you can even negotiate the price along with the number of days you wish to spend at Cabo de la vela.
It's recommended that you do two nights as there as other stops you can take along the way.
Malecon Beach
After arriving at Riohacha beach from Palomino I was in awe with the size and space available.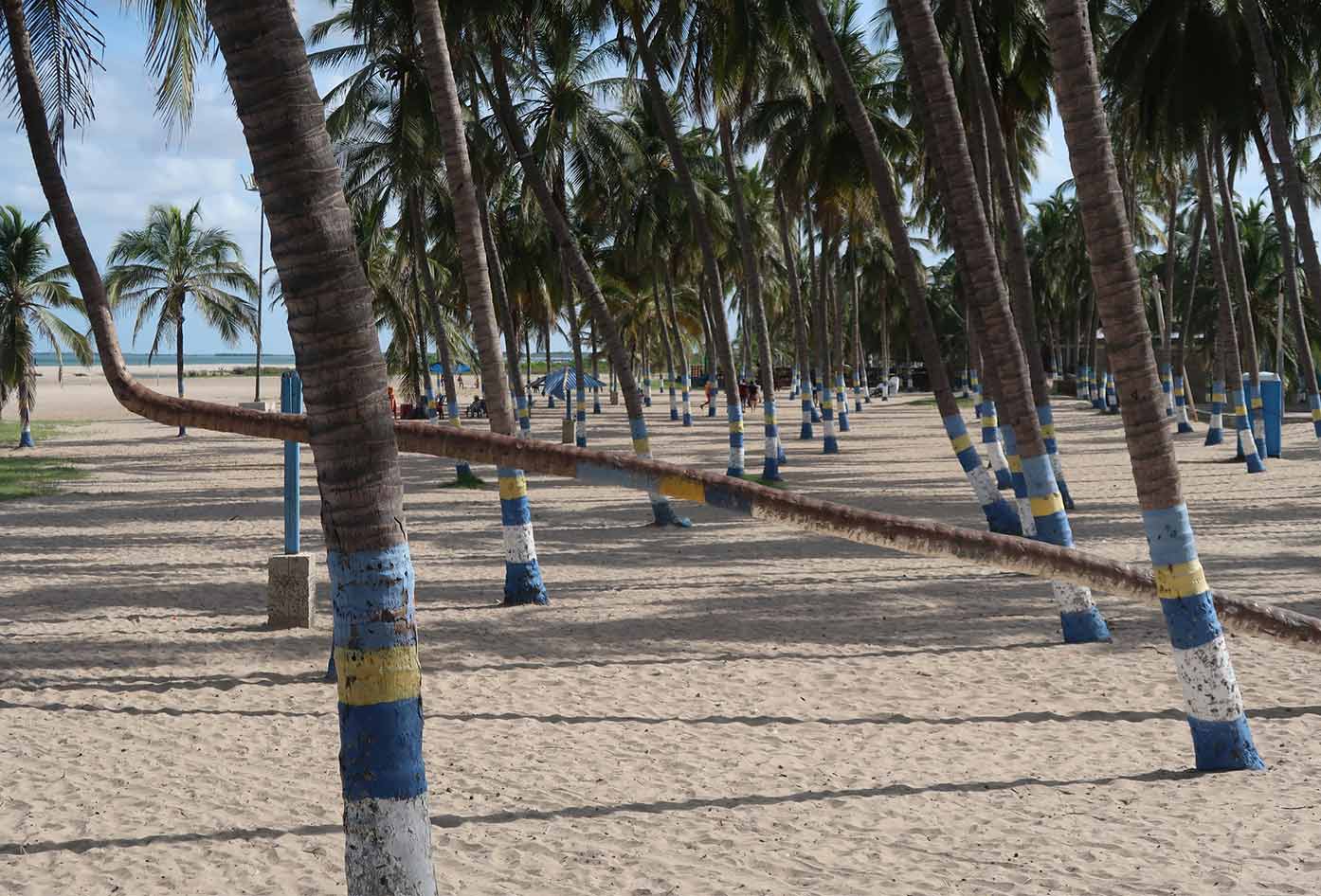 In fact, it seemed like the perfect beach after seeing what the tide has done to the beach at Palomino which is not the best beach for relaxing.
The view of tall Palm trees and swift ocean breeze made a perfect combination.
Carry some durable flip-flops with you, though, as the sand can get really hot I almost burned my feet and had to hopscotch over to the shade.
Shop for a Wayuu Bag
My first memory of arriving in Riohacha, right before looking at the ocean was the stacks of Wayuu bags lined up in neatly packed rows.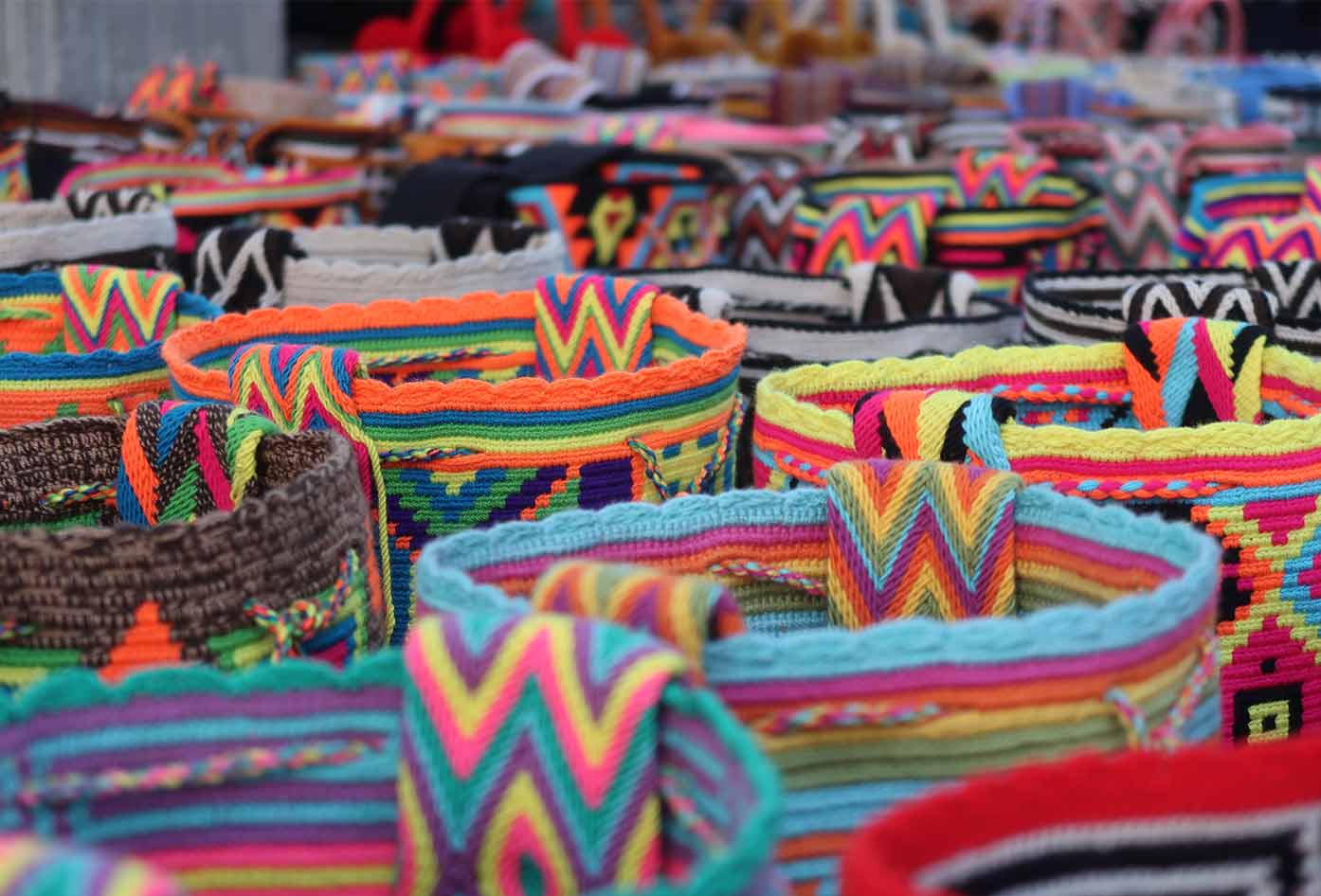 Residing in northern Colombia and northwest Venezuela, the women of the Wayuu tribe have been weaving these bags for generations.
Every single bag that you see is different and unique, Riohacha is the perfect place to pick one up.
I saw tribal designs, colors, and patterns here that I have not seen sold in other parts of Colombia. Pick one up for around $35,000COP which is half the price you find the Wayuu Bags for in major cities.
Take a self at Riohacha Sign
Many people miss this! I recommend you brush up on your Spanish and ask one of the locals for directions.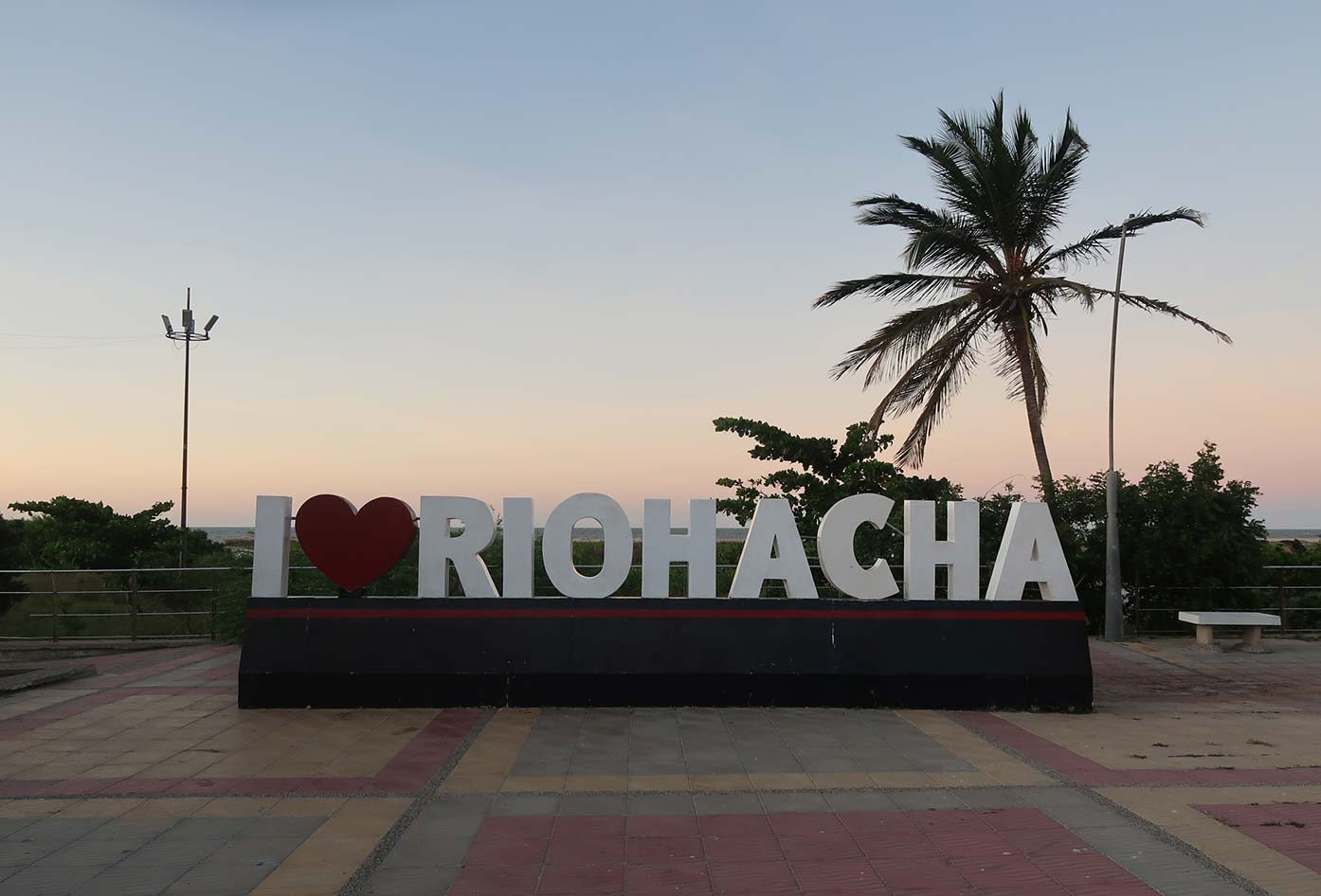 For some strange reason, it's located right at the end of the Malecon. When facing the beach walk right and keep moving until you reach the sign that reads I Love Riohacha.
Walk out on the boardwalk
Whether day or night, taking a stroll along the boardwalk was one of the favorite things to do in Riohacha.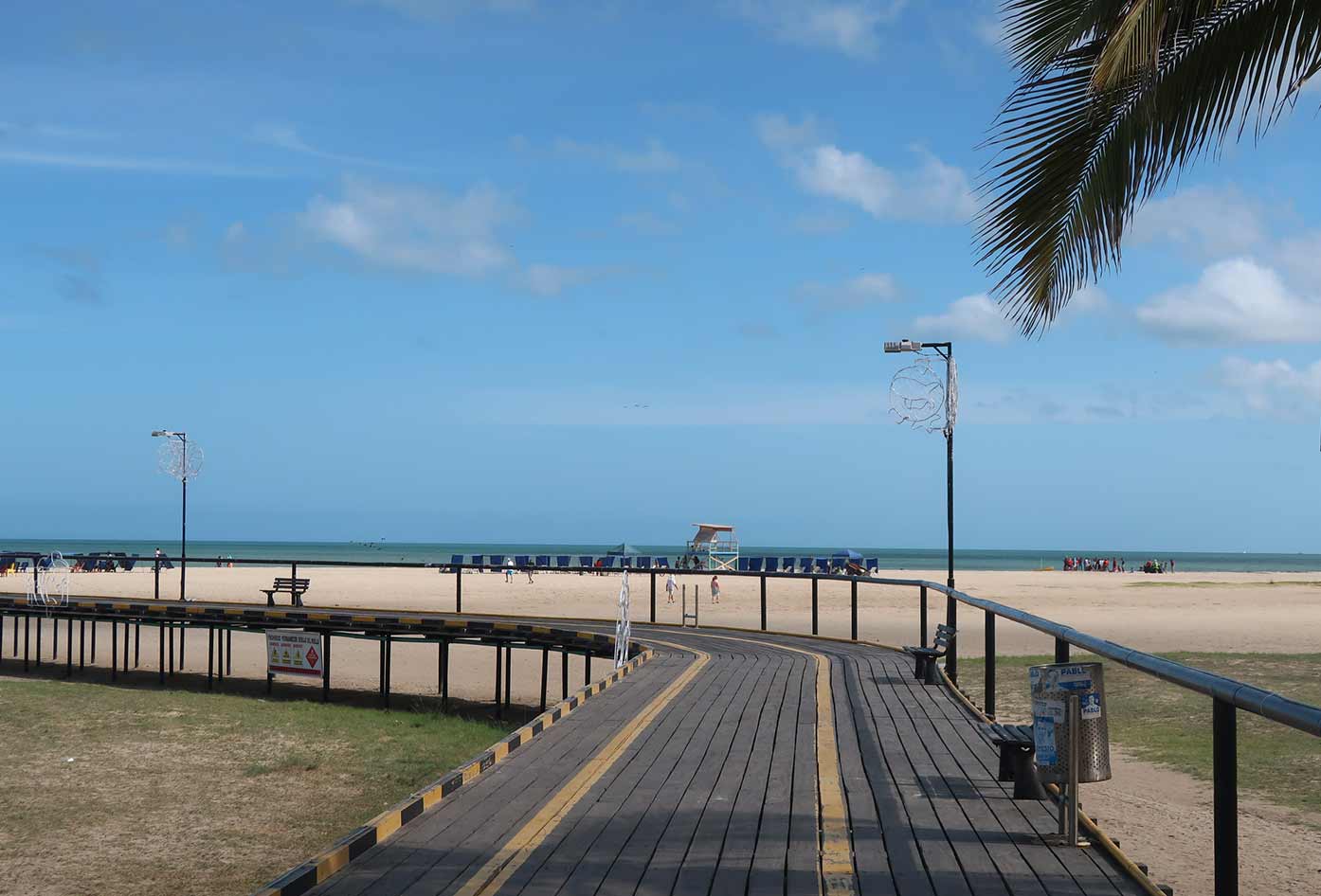 The boardwalk allows you to walk out into the sea to get infinity views of the ocean and a cool breeze. It is located close to el camellon where you can find restaurants and people selling unique handicrafts.
Punto Gallinas
Now if you already know about Punto Gallinas, hats off to you. This is one place in Colombia the average travelers and backpackers don't make it to.
As one of the most northerly points of the South American continent, you'll need to block out a few days for this trip.
Did you read about my adventure to Tataco desert? Well, this is another dessert that's much larger so you must be prepared.
Mayapo Beach
If you plan on spending more than one or two nights in Riohahca then you must head over to Mayapo beach.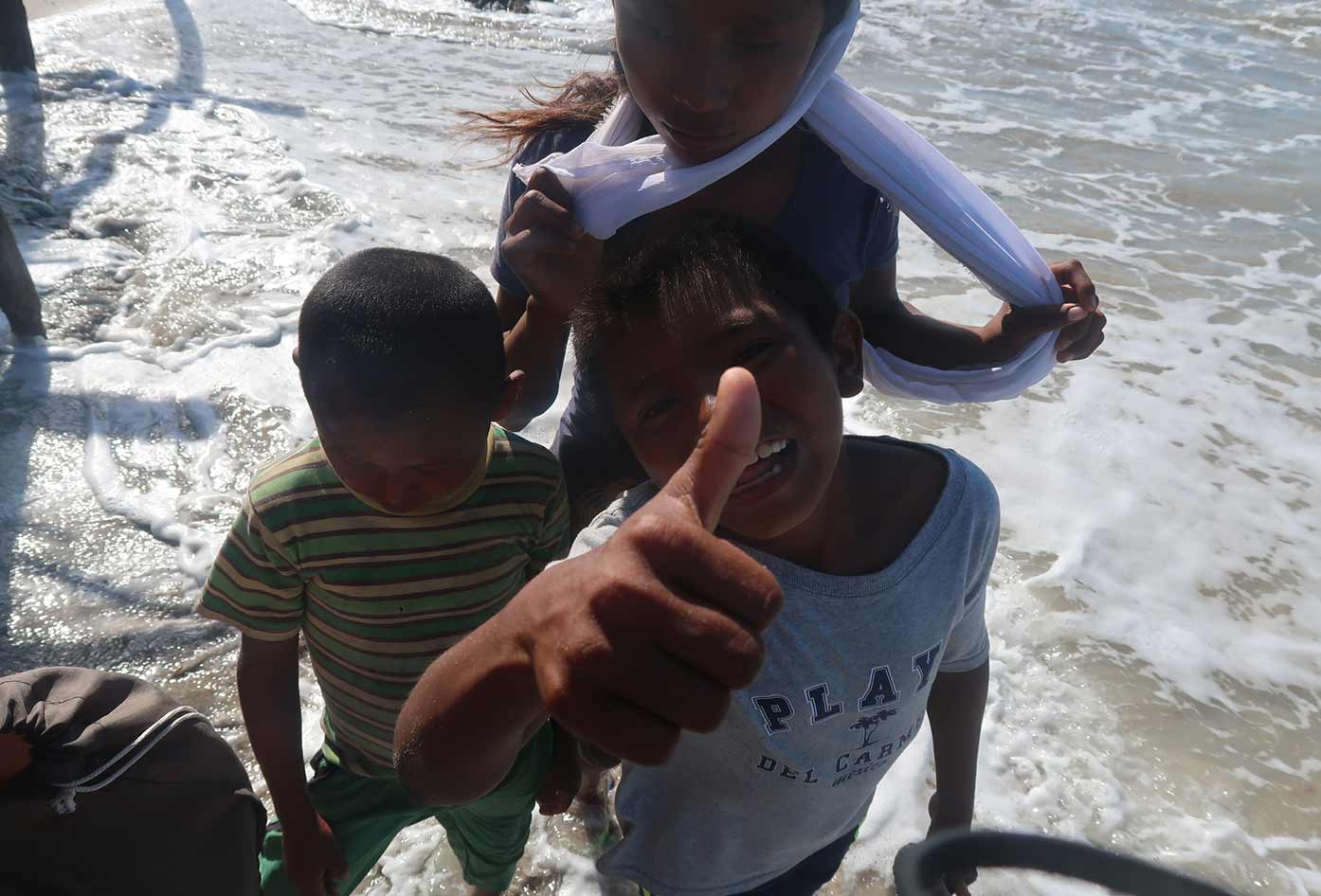 For just 7,000COP you'll find a taxi to take you here from the market area.
Mayapo Beach is in the middle of nowhere and as you transport yourself the scenery beings to change into a more desert-like atmosphere.
I recommend you spend a few hours here and keep your options open in case you feel like returning sooner.
This beach is very rustic and the sea is fairly rough, but it's worth a visit.
Find Seashells on the beach
This for me was quite therapeutic. Fishing for shells on the beach isn't something I usually do, however, I could not help notice the sheer quantity of shells scattered all over the beach.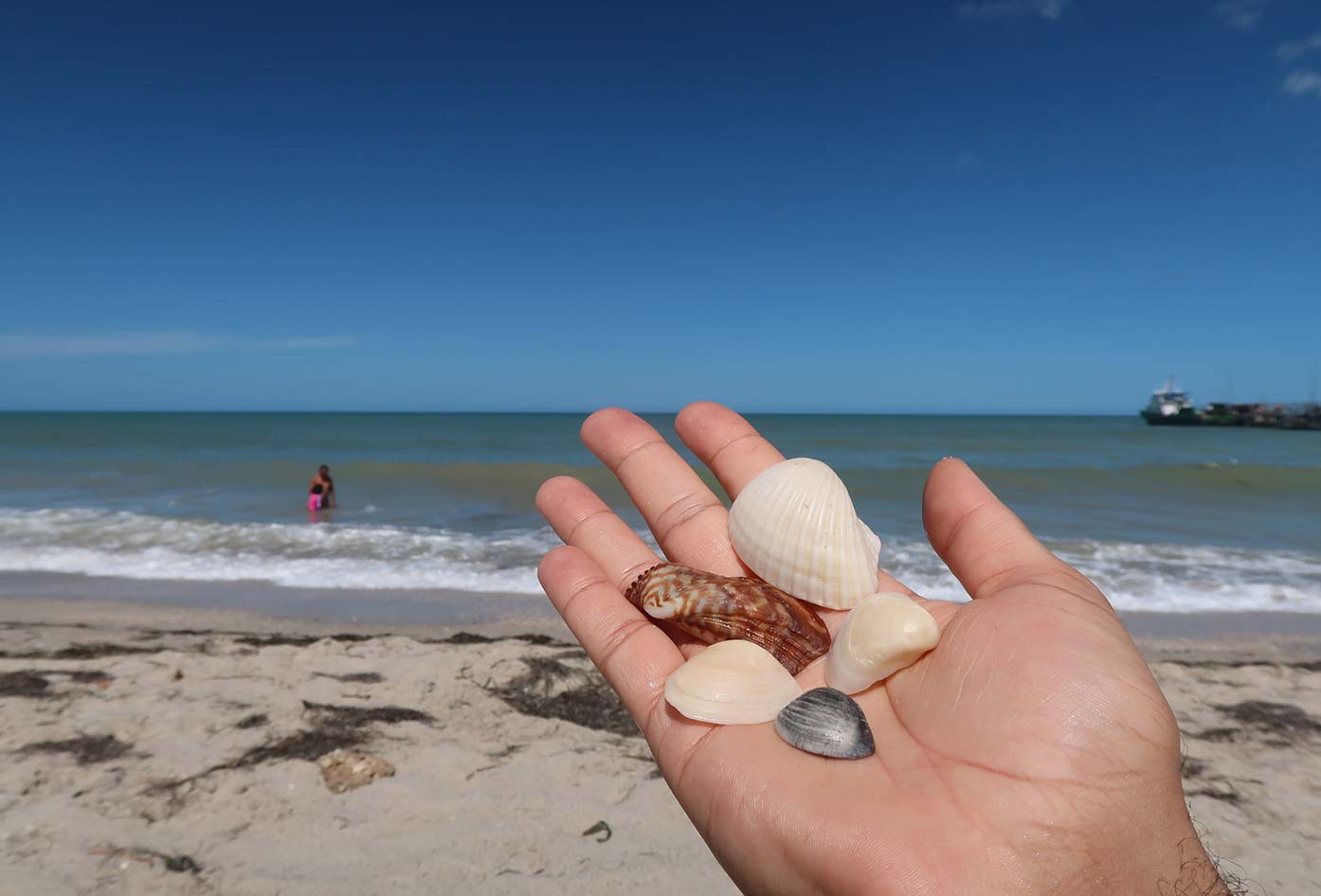 They were all stuck to the bottoms of my feet. My thinking wasm why not embrace this and see what type of shells I can find.
Collecting one or two unique shells to carry back as a gift, is always a nice token to give for a friend or family member.
Coffee and cake at Casa Vieja
If you've been in Medellin or any within the coffee region you may feel you've missed out on your fair share of 'good coffee' whilst being on the Caribbean coast.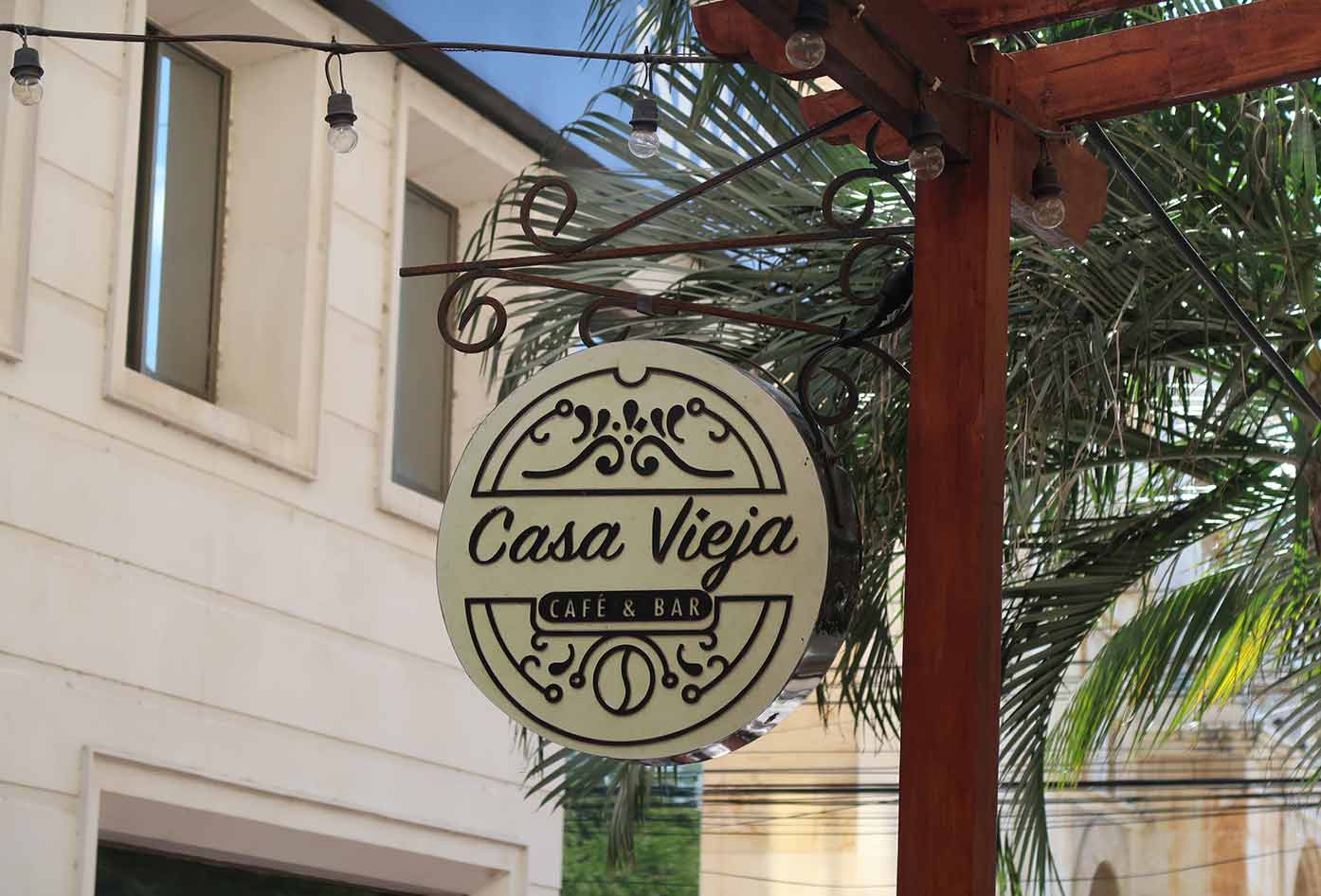 Lucky for you there are a few decent coffee shops scattered around. In Riohacha the best place and only place (close to the beach) I found was Casa Vieja.
Once you've tried a Colombian coffee (and one of the amazing cakes) from here you may want to stay in Riohacha a bit longer.
They serve coffee from two local coffee farms, one of which was organic. Plus, you can also buy some of the beans to take with you.
Walk along the pier
I've listed this as separate from the boardwalk because you have to keep walking to see all of what is on offer.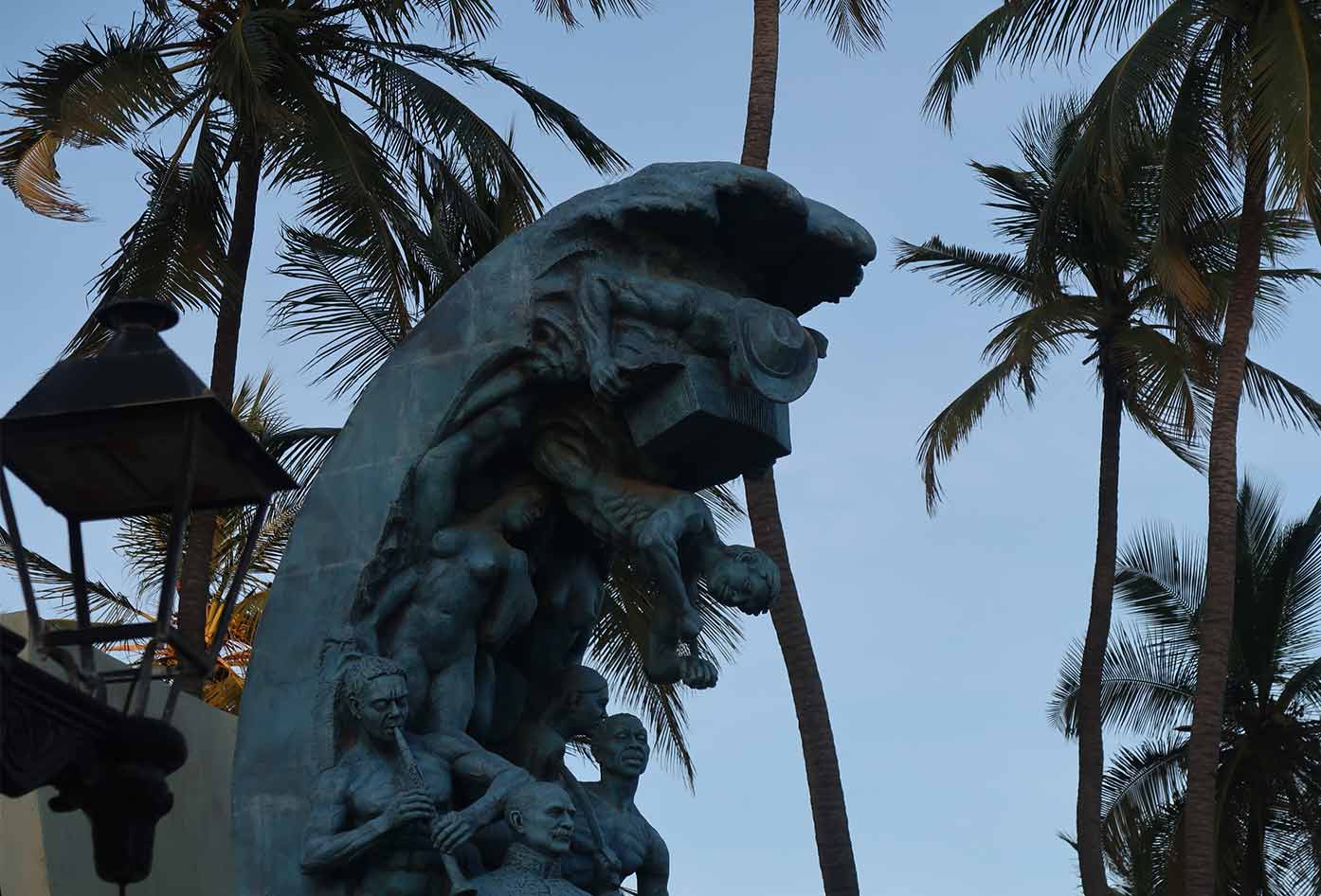 Along with the Malecon you'll not only see more street vendors but also various monuments and statutes which are important representations of the indigenous and tell a story about the people of Riohacha.
Riohacha Travel Tips
After traveling to this region I wrote a few tips that may help make your visit to Riohacha and La Guijara a more enjoyable stay.
Places to stay in Riohacha
There are some great places to stay in Riohacha. For me, I wanted to stay close to the beach.
I took at look around at various of places to stay in Riohacha and took alike to the following: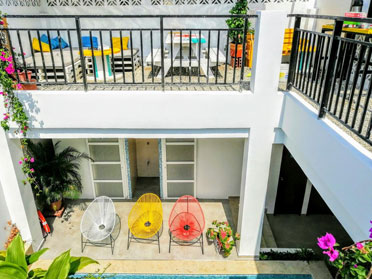 Reasons to stay here:
Hot Showers
Tour Booking Services
Exceptional Breakfast
This hostel is perfect for couples! Their lovely terrace is also an ideal place to relax in the evening before getting a peaceful night's sleep.
---
You can see my list of best hostels in Riohacha if you want to see which other you may like.
However, if you want to be in a place that has a fresh modern feel, a swimming pool, and connect other cool people, Bona Vida Hostel is definitely at the top of my list when I return.
Other things to Consider
One last tip is that I recommend you are smart with what you pack for this region.
I traveled super light and did my best to have adequate space to buy some gifts.
Here are just some of the things I carried to Riohacha:
Those four items I found were imperative for me to feel comfortable.
Remember it gets extremely hot in this part of the continent and the further into the desert you go the hotter it gets.
Got Travel Insurance for Riohacha?

Designed by travelers, for travelers, World Nomads covers more than 150 adventure sports and activities so you can explore your boundaries.
Riohacha, Colombia Travel Guide
So, now you should have a better idea of what to do in Riohacha, Colombia.
I hope this guide can help you plan your trip and organize what you're going to do in this Caribbean location.
See more of my Colombia travel blogs for inspiration on where to go and what to do in this amazing country.
📌 Like this article? Pin it…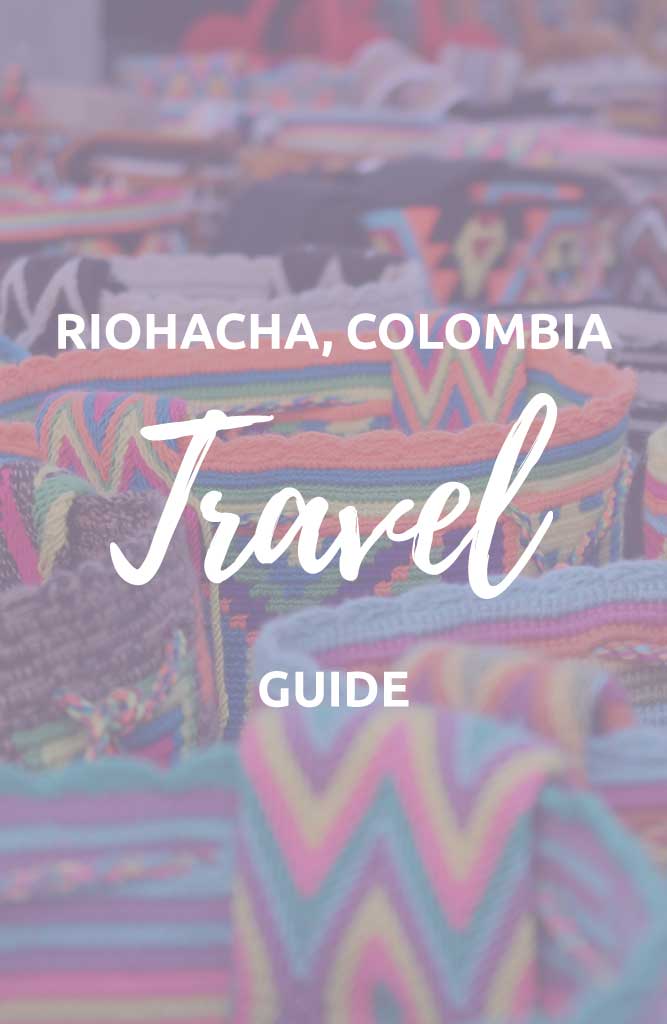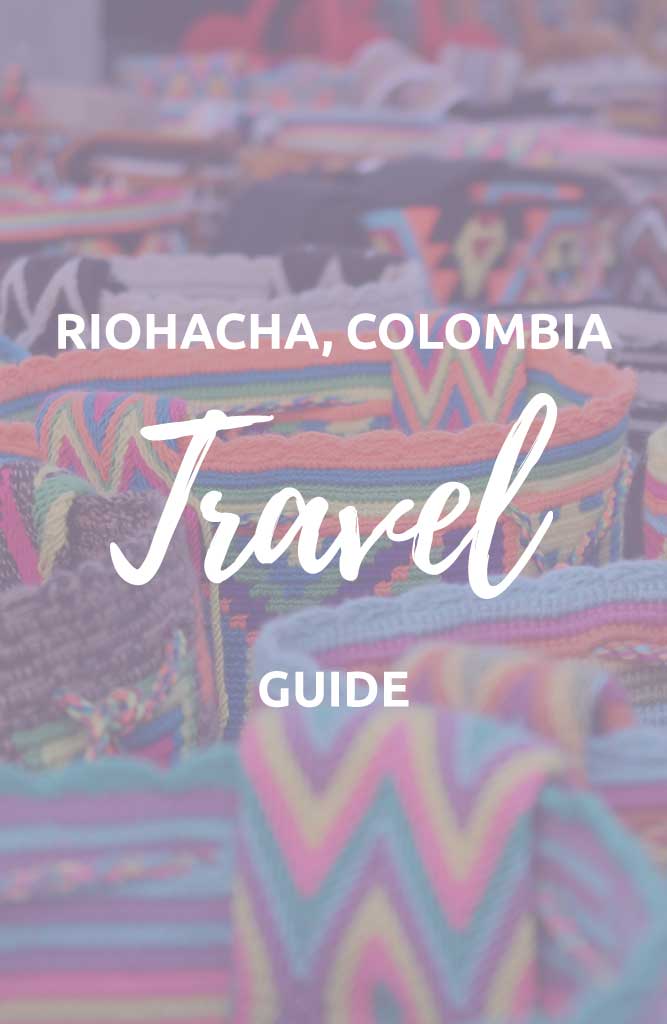 Missing something? Got tips, tricks & advice we can learn from?
💬 Leave a positive comment or lets start a conversation below!
---
"Dear friend! Some links in this post contain affiliate links. Meaning, if you click through and make a purchase, book a hostel or sign up for a tour, I may earn a small commission at no additional cost to you. Your support means a lot and helps me to keep traveling and maintaining the quality of this site for you."