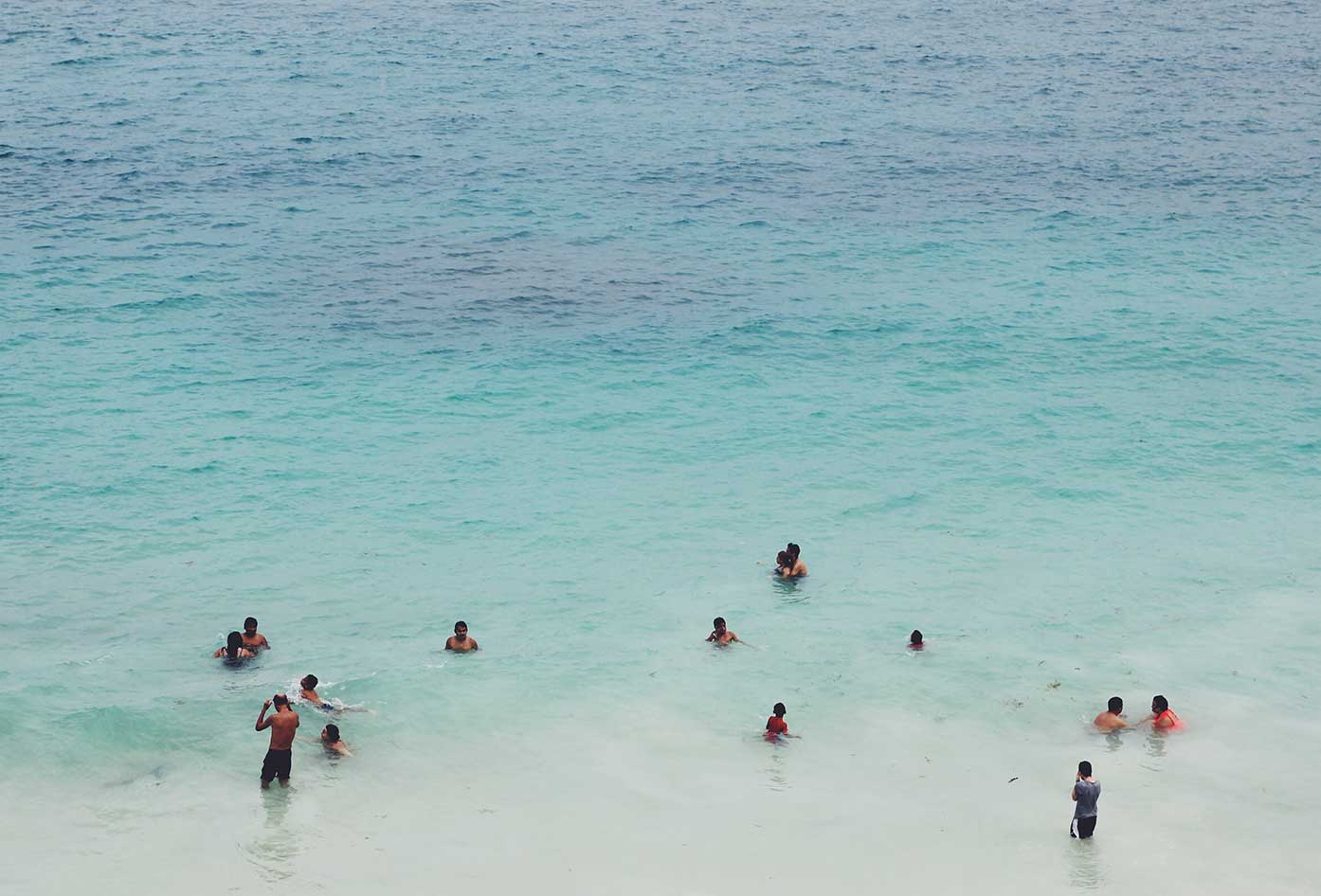 Are you looking to get from Playa del Carmen to Akumal?
In this guide, you'll learn exactly how to get to Akumal and even get some ideas on things to do in Akumal once you get there.
Akumal is a small town on the beach just north of Tulum, located in the region of Quintana Roo in Mexico. The name Akumal derives from the Mayan language, in which means "place of the turtles".
Playa del Carmen to Akumal
For a long time, it was one of the best-kept secrets of the area, and despite being more on the radar nowadays, it is still a great destination to visit with a variety of cool and interesting things to see and do.
In my other guide, we explore things to do Akumal and surrounding areas as well as tips and tricks on how to get the most out of a trip here.
Why Travel to Akumal?
Below you'll find more about the journey and the information you'll need to get from Playa del Carmen to Akumal without any complications.
First, let's look at some reasons why you may consider a trip to Akumal.
Located about 2 hours south of the popular-serving international airport of Cancún, this area is very accessible with many airlines offer daily flights from around the world to Cancún.
It is because of this that the area is so popular, with magazine brochures constantly featuring the white sand beaches and built-up touristy areas.
Whilst this may already deter some of the more off-the-beaten-path travelers, Akumal is still well worth the trip as flight prices are competitive between airlines and therefore cheap.
A round-trip from the States is usually around $200-$300, although these can wildly vary depending on tourist seasons.
Akumal itself offers miles upon miles of sandy beaches and great temperatures all year round.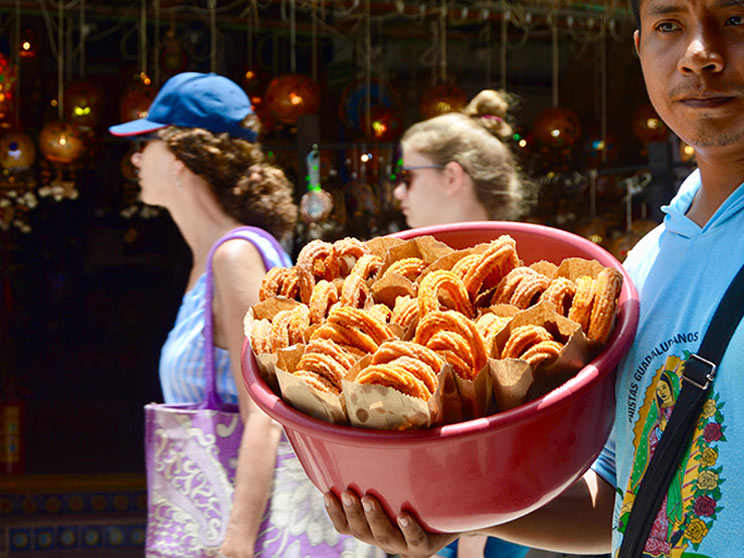 Although this rustic town is significantly less popular than the neighboring hubs of Playa del Carmen and Tulum, the travel industry has caught on.
As a result of this, there are more options for accommodation and a much safer feel here than in some other parts of the region.
Another popular reason to visit is the proximity to many interesting things to do and see, such as the cavernous cenotes that offer some of the best diving in the world.
Akumal From Playa del Carmen
Getting to Akumal is relatively straightforward once you are in Mexico.
Presuming you have not arrived yet…
If you are flying into Cancún, then you simply head to ADO bus station near the end of the departures area and buy a ticket headed to Tulum.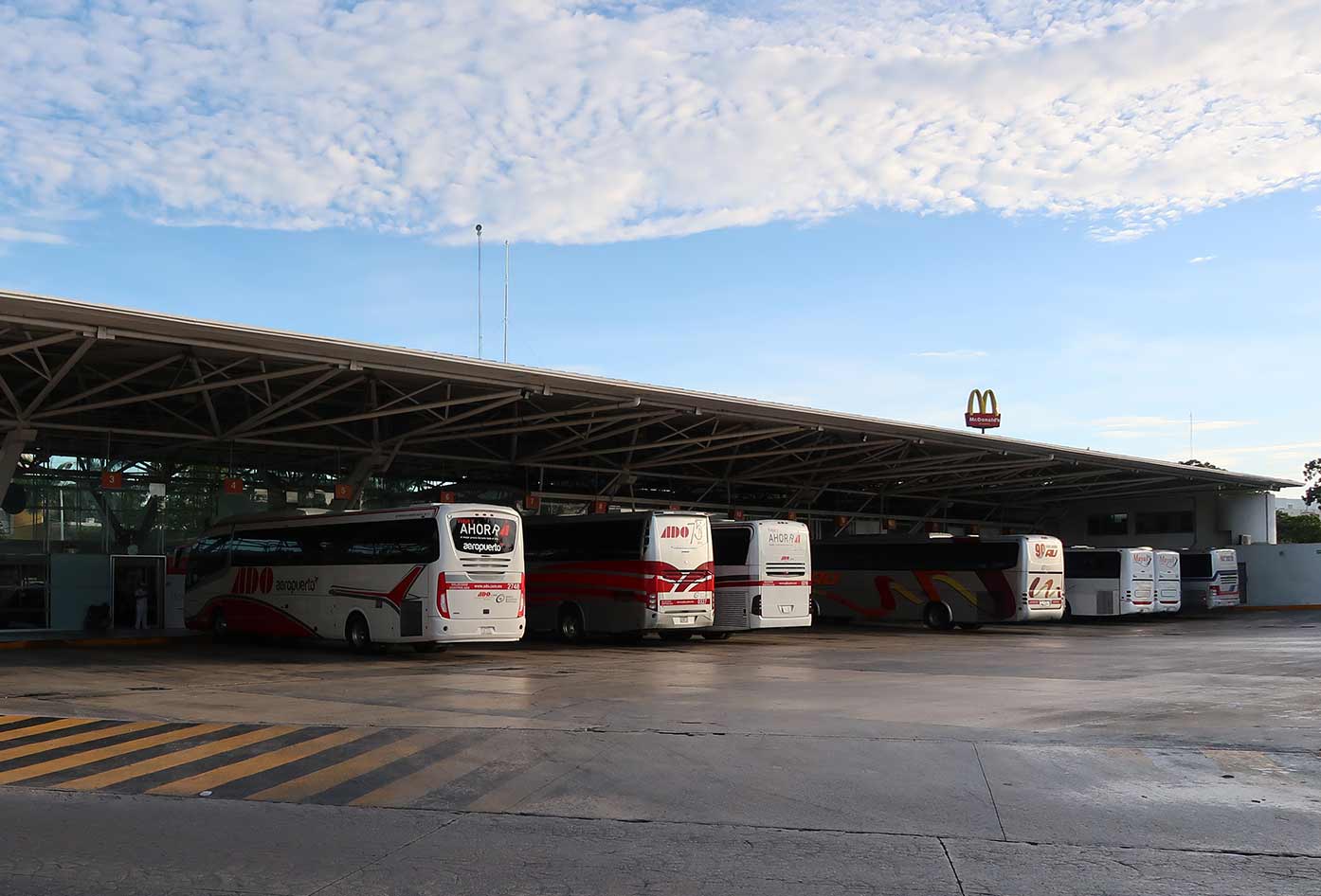 💡Smart Travel Tip
You can even take the bus headed to Playa del Carmen (it doesn't matter which, as the next step will be the same for both).
The trip will take between one and two hours, and then you will need either a taxi or colectivo (local minibus) to finish off the trip.
You can of course shave off time and any possible uncertainties by taking a taxi, however, these will dig into your pockets.
If you are already in the region or close by, then simply use the well-connected bus system to travel overland to Tulum or Playa.
Again once you arrive at one of these towns, just track down the colectivos which are seemingly always lined up on the main road.
If you are already in Playa del Carmen…
As you'll already have encountered the majority of the main area in Playa del Carmen is a hot spot for tourism. I've had even referred to it as a tourist trap before but compared to Cancun it is a breath of fresh air.
The key here is that you don't get overcharged for your journey from Playa del Carmen to Tulum which I have written about before. That journey takes around 30-40 minutes with the Ado bus.
Akumal From Playa del Carmen Map
From the map below you'll see the distance from Playa del Carmen to Akumal isn't too far.
I took the ado bus to Tulum which took around 30 minutes from which I found a collectivo.
As the distance from Playa del Carmen to Tulum is not that far you can travel at whatever time you like.
Try to travel in the morning or during daylight if you can though.
It's a good idea to have a pre-defined destination in the form of a hostel or hotel to arrive at. That way, when you arrive, you know exactly where you're going if anyone asks.
Playa del Carmen to Akumal: Travel Advice
As you may have already guessed, the best way to get to Akumal from Tulum is by using the local collectivos and let me explain why.
But, before I do that, there are some crucial things you should know.
Here are some crucial things you'll need to know:
If taking a collectivo ask them to tell you when you arrive
Make sure you have small domination bills with you
Note these safety tips for Playa del Carmen before travel
Try not to bring big luggage or suitcases on the colectivos
Not so important but useful things to know:
Private taxi is a good option if you want to make pit stops
Carry a bottled water for the journey
Ask the price before you get in any collectivo
These universal tips should apply to your journey and hopefully, help you decide which method of transport to take.
Now, why is collectivos the best way to get to Akumal? The main reason is that it's the only way, other than hiring a private taxi of course.
My Recommendations
Akumal is a great place to stay when wanting to check out the Riviera Maya region.
One of my biggest recommendations is to visit a cenote, and with such a variety to choose from, you should easily find an option that you will enjoy. Or if not then visit multiple as the entry prices are relatively cheap.
Another great activity is snorkeling with turtles, as you can probably guess given its Mayan name. This is one of the best areas in the entire region to go and experience this.
You can either go by tour or try to spot them yourselves around Akumal beach or Half moon bay.
For those who want to see more wildlife, then there is the Akumal Monkey sanctuary in town as well as the Yal-ku lagoon for spotting tropical fish and (you guessed it) turtles.
My final tip: head to some of the more off-the-beaten-path beaches.
💡Smart Travel Tip
The touristy beaches of Playa del Carmen, Tulum, and Akumal can easily become overrun in the more popular months unless that is what you want! Head to Xpu-Ha or Puerto Aventuras for more chill vibes.
Akumal, Mexico: Travel Tips
See some quick travel tips below that will be useful for your trip.
Traveling to Akumal is worth your time if you were weighing up whether to come here over another location on the Riviera Maya.
Where to Stay in Akumal
Accommodation is not tricky to find here, but if your location is important to you, as in my other guide I recommend you check out the Jungle Hotel.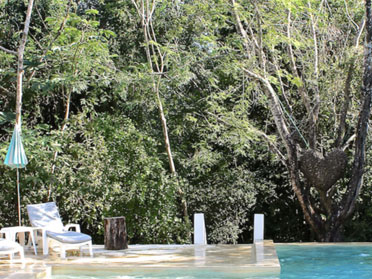 3 reasons to stay here
Jungle-based location
Breathtaking views
Delicious food on offer
With its proximity to the beaches and restaurants, Akumal Jungle Hotel offers a superior option for those wishing to get from the town.
---
Also take a look at this list of hostels for more ideas of places to stay but if you have a set of specific preferences in mind for hotels.
Got Travel Insurance for Playa del Carmen?

Designed by travelers, for travelers, World Nomads covers more than 150 adventure sports and activities so you can explore your boundaries.
Playa del Carmen to Akumal
So, now you have all the info you need to be able to get to Akumal from Playa del Carmen, when will you go?
Aside from visiting cenotes and swimming with turtles, there are many cool things to do in Akumal that you get to take part in.
Hopefully, with my recommendations, you found this guide useful to be able to delve deeper into this region of Mexico.
See my guide that looks at more safe beach towns in Mexico worth visiting.
📌 Like this article? Pin it…
Did this help get you get from Playa del Carmen to Akumal?
💬 Leave a positive comment or lets start a conversation below!
---
"Dear friend! Some links in this post contain affiliate links. Meaning, if you click through and make a purchase, book a hostel or sign up for a tour, I may earn a small commission at no additional cost to you. Your support means a lot and helps me to keep traveling and maintaining the quality of this site for you."