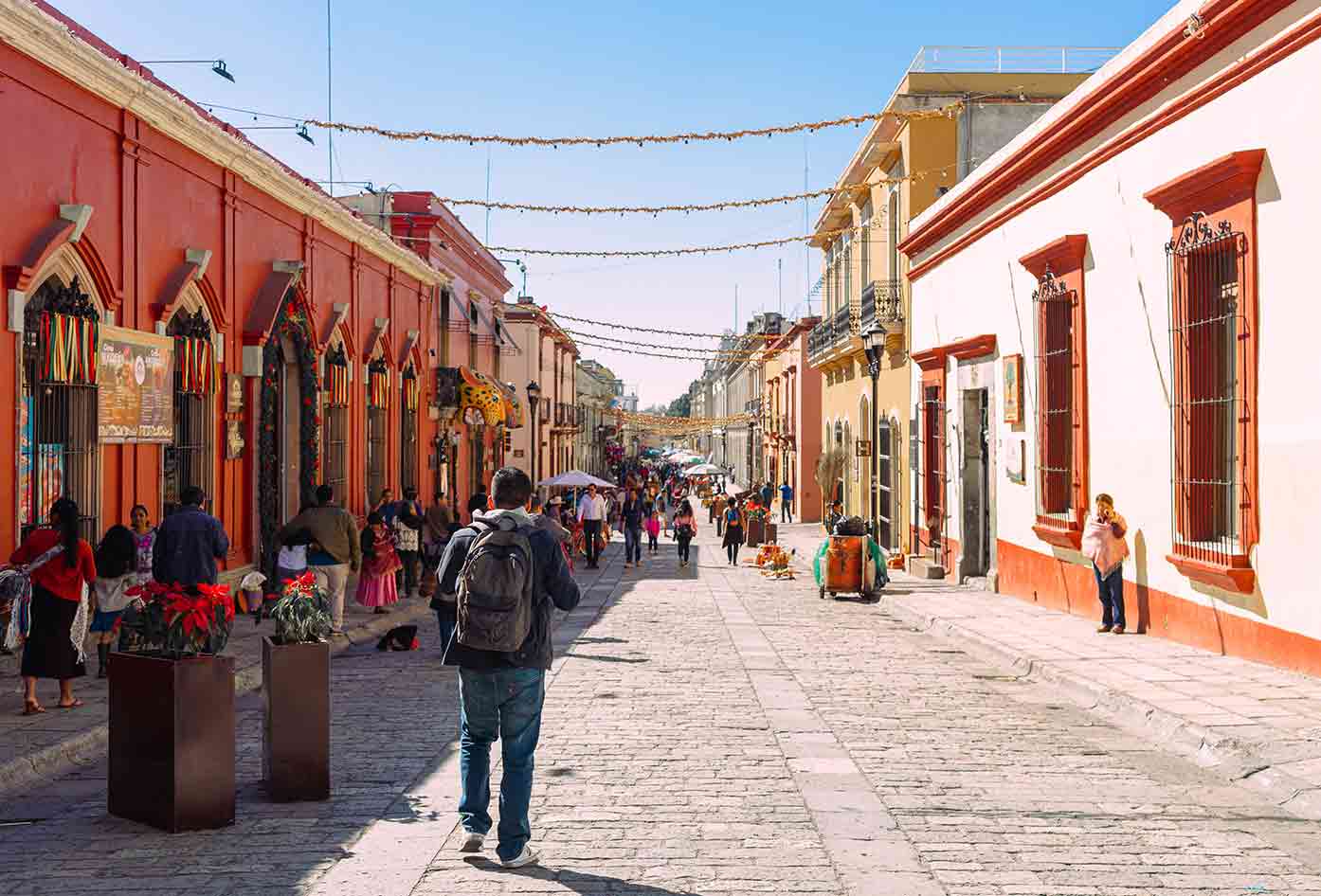 Are you wondering: is Oaxaca safe to travel to or not?
For anyone thinking about traveling to Oaxaca in Mexico, you'll need to be prepared for both the best and the worst.
This is a tremendous place to be, but it's also quite different from many other places in Mexico.
Eating crickets, people dancing in costumes around the streets? For first-time visitors, it can be a bit of a culture shock to go through.
This article will shed some light on what to avoid as well as give you tips on what to expect from a trip to Oaxaca.
Is Oaxaca Safe?
Quick answer: Yes! While Oaxaca might have a bit of a negative reputation in the past in some quarters, it was unfairly gained in my opinion.
Like Mexico as a whole, some parts of Oaxaca are not safe. That is the same for any city in the world, though, right?
You have no reason to fear traveling to Oaxaca; it's not a place that you should be worried about visiting whatsoever.
For most, the experience is only going to be a positive one.
Where is Oaxaca on the map?
The capital of the Oaxacan region, Oaxaca City is located in the heart of this authentic and arid Mexican state.
It's situated some 460km south of Mexico City and is surrounded by mountains, making for an enjoyable and memorable ride into the city.
You can get here by taking a bus from Mexico City's south bus terminal, which takes around 7 hours.
Traveling from Puerto Escondido to Oaxaca you can expect a longer journey of around 10 hours through the winding mountainous roads.
Safety Facts about Oaxaca
Like in most places you'll need to abide by the necessary precautions when traveling to Mexico. See the general consensus below:
Like the Riviera Maya, it has the lowest advisory warning in Mexico.
Highway driving can be dangerous, with various warnings laid out.
Oaxaca is among the safest states in Mexico, with a low crime rate.
Crime is extremely low in the overall area, but also in Oaxaca City.
The cost of living is among the best in the country, minimizing crime.
Even Puerto Escondido is considered a 'dangerous' location by some?
Is Oaxaca Safe for Tourists?
Are you aware of the current U.S. Department of State Travel Advisory?
The current U.S. Department of State Travel Advisory at the date of this report's publication assesses Mexico at Level 2. indicating travelers should exercise increased caution due to crime and kidnapping.
However, if you've been to Mexico, you'll already know about how the U.S. government likes to broadly sweep over the whole country as if the heart of Chihuahua is just as dangerous as Cozumel or some other beach island.
Oaxaca Crime Rate Facts
Oaxaca and all along the Riviera Maya has, according to the U.S. advisory boards, the lowest advisory warning in Mexico.
This region is known for its dangerous highways, as it has some of the highest numbers when it comes to driver warnings issued.
The cost of living is the best in the country, making the desperate crime rate drop considerably compared to the rest of Mexico.
Belieive it or not, Oaxaca is known by visitors as one of the safest states and cities in the whole country.
Most pretty crimes (especially along the Gringo Trail) can be avoided as a tourist. Exercise caution if you go out at night, don't trust strangers, avoid flashing expensive items, and don't accept offers of drugs.
Not only is it illegal, but it's dangerous. You're funding the cartels which means they'll keep taking over parts of Mexico.
Is Oaxaca safe to travel alone?
If you're backpacking Mexico safely by taking precautions about where you go and what you do; you'll find Oaxaca a rewarding place.
I recommend you travel with at least one other person. You can easily meet other like-minded people here by staying in hostels or hotels.
If you're backpacking try to connect yourself with the best hostels in Oaxaca before arriving to get help with directions from the station.
If you travel alone be vigilant about the potential for issues. Ensure that a close family member knows your current location.
💡Smart Travel Tip
Don't purposely make yourself stand out from the crowd, and do what you can to blend in with those around you.
Traveling to other tourist attractions in Oaxaca's region such as Puerto Escondido can be done using the Ado bus.
Or, if don't fancy Monte Alban, why not learn about the Zapotec culture by hiking up to Pueblos Mancomunados in the Sierra Norte Mountain range.
Just remind yourself…
Oaxaca is extremely safe compared with the rest of Mexico, but it wouldn't hurt to carry out the necessary checks before traveling.
How can you be sure you won't be targeted by pickpocketers?
You can't! Unless you keep valuables hidden!
However, you could be if you find yourself in the wrong place at the wrong time, which surprisingly can also be widely prevented.
To reiterate consider staying at a hotel or one of the top-rated hostels as a secure location when deciding which place to stay in Oaxaca.
Is Oaxaca safe at night?
Yes, it is safe to walk around Oaxaca city at night, especially around the historic center.
You will find that much of the city comes to life at night with everything from restaurants to street food vendors and entertainers on display.
However, in the wider region of Oaxaca, you will want to be more cautious of where you are traveling at night and keep your movement to a minimum. I suggest keeping your travel around the region to the daytime.
Is Oaxaca safe for solo female travelers?
Yes, Oaxaca City is definitely safe for solo female travelers. Many of the females I spoke to on my travels in Mexico spoke highly of Oaxaca.
The most common thing to look out for is petty theft, such as leaving bags and/or belongings unattended. Also, be careful of what you eat (see these tips on how to avoid getting sick in Mexico for the inside scoop).
Being a solo female traveler in the region of Oaxaca when visiting other places such as Puerto Escondido or Mazunte you may want to look at the best times to travel first. If you stay at one of the hostels in Oaxaca city you will easily be able to find some friends to explore the region with.
Is Oaxaca safe from cartels?
No, there is the Oaxaca Cartel. Yes, Oaxaca does have a lower crime rate than other states in Mexico, but this does not make it exempt from Cartel activity.
This does not mean that you will have any dealing with the cartel, it just means that they operate within the state.
In fact, most visits to Oaxaca are trouble-free and in many cases, those who travel to Mexico to try drugs are usually the ones who put themselves in a position to be one step closer to the cartel's tentacles.
Where to Stay in Oaxaca
The historic center is by far the best area for a stay.
Not only is it close to all of the landmarks and best sights, but it's also here when you can experience lots of authentic events which include parades (more often than not with this region loving a party or two!).
The Zócalo is a good place to base yourself with all of the markets, restaurants, and nightlife options right here.
Hotels such as Hotel Casona offer great value for money.
This area is also a lot safer too, whereas some neighborhoods further from the center can be not so safe for a tourist to wander around.
Oaxaca Nightlife
Oaxaca City is one of the best places in Mexico for authentic nightlife.
Its main selling point is its abundance of Mezcal bars. Mezcalería In Situ is one of the best, with over 200 different varieties to be tried!
Again, the historic center is the best place to head for nightlife, and here you'll find many bars along the old cobblestone streets.
Sabina Sabe is the best for cocktail enthusiasts, whilst La Tentación has a social vibe with live bands playing anything from salsa to cumbia.
Oaxaca: Travel Safety Tips
As you will know, tourists can be targeted in all locations around the world, not just in Mexico so keep an eye open for petty crimes.
⤵️ Here are some useful tips to help you on your journey:
If you suffer from culture shock symptoms see our tips on this blog.
Never promote yourself as a tourist or a traveler and don't flash gadgets or goods if you can avoid it.
Many travelers visit to be able to experience some of the beaches in Oaxaca and explore what the Pacific coastlines have to offer.
Always keep spare cash hidden away and keep things like large luggage kept in a secure place.
Aim to get padlocks for everything – even for your bag that you know will be stored inside a locker!
See this guide that covers 3 days in Oaxaca if you want some ideas on what to do here.
Always wear clothing with zip-up protection.
Avoid trying to stand out in crowds; stay low profile to avoid attention.
If you want to take expensive equipment such as cameras or smartphones, keep them hidden, locked away and on your person. A PacSafe backpack is perfect for this.
Make sure to use trusted and accredited hotels/hostels. Then once you've booked use the staff as your knowledge fountain to gain more information.
Don't have ice with drinks and only drink from factory sealed bottles.
Taxi drivers may try taking you to restaurants or hotels. These establishments will overcharge immensely and give the driver a commission. Try using a taxi booked through a hotel or Uber.
Keep dummy wallets for pickpockets and your money hidden away. Bras, travel neck wallets or secret bag compartments will do.
Don't go where there are few other people in the vicinity; this includes camping in secluded places. A simple rule: if there are families around, you're probably safe.
Be wary of attempts at credit-card fraud. Either use cards for emergencies only, or take cash out at trusted ATMs.
You can never be too careful wherever you may find yourself in Mexico. However, another tip would be to rid yourself of any Mexican myths.
As you may well know Hollywood is notorious for damaging Mexican stereotypes with both lazy and dangerous assumptions of all kinds.
That way, you should find the whole experience to be trouble-free, but of course, at the same time, it doesn't hurt to exercise caution.
Oaxaca is a region with many backpackers taking the long route down from Mexico City or other popular places such as Puebla.
Best Time to go to Oaxaca
To avoid the mad rush of tourists in the Summer months and visit during the Dia de Los Muertos unless you're interested in the event.
I would suggest visiting during September/October time. However, Spring is also a sweet time to visit Oaxaca.
Room rates and crowds aren't at the heights of summertime, and even though temperatures are high (average highs hover in the upper 80s Fahrenheit) there is less average precipitation than in the summer.
Major earthquakes quite often happen during the months of June and July too, but they mostly happen off-shore.
Traveling around Mexico by Bus
I suggest that if you're visiting Oaxaca then you travel by bus when you can and be sure to check the bus out before getting on board.
If you feel uncomfortable with the people on board, wait for the next bus. Using Ado bus you shouldn't experience anything unruly.
Read this comprehensive guide on bus travel in Mexico for an excellent primer on Mexican bus systems and services.
Traveling via bus around Mexico via bus is possible, but it's easy to feel unnerved if you do so.
It's not unsafe to travel by bus, but it's important to remain vigilant.
Try to divide long-distance travel up into shorter journeys.
For example, 6-7 hours may be your threshold.
Some trips around the country can be up to 18 hours long so keep that in mind when planning. If you're thinking of renting a car whilst in Oaxaca try to take the toll roads and always keep cash on you.
Best Time to visit Oaxaca?
Oaxaca City is known to be much cooler than its coastal counterparts, which is a nice break during the hot summer season.
The wet season, which runs from June until October, has daily averages of 69-71°F, with highs of up to 80°F and lows of 61°F.
Rainfall is at its most, with between 6-7 inches falling throughout each of these months (June on average is the wettest month).
The dry season is a stark contrast in terms of weather in Oaxaca, which runs from November until May.
Average temperatures during this season can really range. November until February has daily averages of 64-65°F, with highs of 78°F and lows of 47°F (January being the coolest month of the year).
February until May gets a lot hotter, with daily averages of 75°F, highs of 87°F and lows of 55°F (April is the hottest month to visit Oaxaca).
Rainfall is very low during this time of year, with 0.2-0.4 inches falling throughout each month. December is the driest month to visit.
Got Travel Insurance for Oaxaca?

Designed by travelers, for travelers, World Nomads covers more than 150 adventure sports and activities so you can explore your boundaries.
Is it Safe to Travel to Oaxaca?
As you can see, then, going in and around Oaxaca is not something you have to worry about per se.
It's a fun and enjoyable region to spend your time, but you just need to be prepared to keep your wits about.
Do that, though, and your time here will be productive. See this list of safest states in Mexico you can visit for more ideas on where to go.
📌 Like this article? Pin it…
Missing something? Got tips, tricks & advice we can learn from?
💬 Leave a positive comment or lets start a conversation below!
---
"Dear friend! Some links in this post contain affiliate links. Meaning, if you click through and make a purchase, book a hostel or sign up for a tour, I may earn a small commission at no additional cost to you. Your support means a lot and helps me to keep traveling and maintaining the quality of this site for you."