Are you wondering if is Guadalajara safe or not?
When you travel anywhere, you want to make sure everything is safe.
In this article, I've listed tips on staying safe as well as everything you need to know about Guadalajara and what to do while you're there.
Is Guadalajara Safe For Tourists?
Guadalajara is Mexico's second-biggest city, home of the much-loved tequila and well-known historical sites like Zona Centro to Zapopan with a growing nightlife and arts scene.
Like everywhere, before you go somewhere, you need to make sure that you are safe.
Be it from pick-pocketers to more severe crime, you can find yourself asking 'Is Guadalajara safe?'
Here I've compiled the ultimate checklist on going to Guadalajara as well as keeping yourself safe and secure.
The last thing you want to do is worry that when being in Mexico, Guadalajara isn't safe.
This worry can sometimes be enforced because the Guadalajara crime rate is known to be high, which can be a concern when it comes to Guadalajara safety.
These worries are precisely the reason this go-to guide has been created.
So that you can calm any concerns about traveling and prepare for any curveballs that Mexico may throw your way.
I've packed in everything from the best places to go, and where to stay in Guadalajara, from how to use the transport to what to avoid.
Whether you're traveling as a backpacking group, or as a single female traveler, I've got you covered.
How Safe is Guadalajara Statistically?
Did you know that Guadalajara is the second biggest city in Mexico?
Guadalajara has been ranked the 6th best place to visit in all of South and Central America, and Mexico!
Filled to the brim with history and traditions, never is there a dull moment between the gorgeous cathedral and the stories behind the architecture of every building.
As of 2019 however, tourism in Mexico has dropped.
While this initially may seem like a bad thing, for those of you looking for a unique adventure, having fewer tourists makes that journey all that more special to you.
You get priority for whatever you want to see and it has nothing to do with Guadalajara's safety.
Is Guadalajara dangerous?
Keep in mind though, that when traveling, it is essential to know that the Guadalajara crime rate is known to be quite high, and can make you think 'is Guadalajara safe?' when deciding where to go in Mexico.
However, it is lower than the biggest city in Mexico, Mexico City, which is an even more popular tourist destination.
You may want to compare Guadalajara vs Mexico City for a better idea.
From 0 being not a concern, and 100 being a severe concern.
Numbers from Numero show the overall crime index of Guadalajara to be 59.52, compared to Mexico City with 67.83.
Take into account that Mexico City is visited by many more tourists each year.
Consider staying at a hotel or one of the many top-rated hostels as a secure location when deciding where to stay in Guadalajara.
So long as you take with you your common sense when thinking of places to visit in Guadalajara you'll be fine.
Also, learn to understand the culture and not disrespect it. Protect your valuables, and triple-check before getting into a taxi.
There are some really good anti-theft backpacks on the market today that can assist you in concealing your valuables in an intelligent way.
That way you are as safe as you would be in another city in Mexico. Just keep your wits about you.
Where is Guadalajara?
Located in the center of western Mexico, Guadalajara is the capital of the state of Jalisco.
Also, a popular tourist destination is located 200 miles east of Puerto Vallarta along the Pacific Ocean.
Many people think of it as one of the most beautiful places to visit in Mexico. You will find that not only is Guadalajara the largest city in Jalisco but it is also Mexico's second most densely populated city.
Guadalajara Weather
Guadalajara ranges from 12-35 degrees Celsius all throughout the year, says travelsafe-abroad, which ranges from 6-8 degrees changes on average from one season to another.
The summer months are when it rains the most, July tends to be the wettest with May being the warmest.
According to visitguadalajara.com winter's are usually temperate and dry with January being the coldest month all year, and March the driest. Take into account the weather you are hoping for when you travel.
You wouldn't want to pack your best travel shorts and vests for your entire journey only for it to rain the whole time you're there!
How safe is Guadalajara in 2023
Overall Risk – Medium
All types of crimes and risks are considered when thinking about Guadalajara's safety, especially considering the Guadalajara crime rate.
Still, it can be regarded as a medium to safe city based on current events.
This accounts the low risk of terrorism and natural disasters. But understand that some robbery, drug-related crimes, and pickpocketers can be worrying for tourists who wonder is Guadalajara safe.
As it is a large city, Guadalajara is expected to have crime, and as mentioned before has a lower crime rate than Mexico City.
Pick Pocketers Risk – Medium
As in most tourist locations, pickpocketers will use the big distracted crowds to their advantage.
Sometimes they may even work in large groups, spill drinks to cause a distraction, or also have a motorbike to make a quick escape.
Make sure that you keep your valuables on your person if you need them in a place that cannot be reached by somebody else, and know where it is at all times.
Transport and Taxis Risk – Medium
Always check that any taxis that you enter are clearly marked and registered.
This means they are safe and reliable for you to use, whereas modes of public transport tend to be a lot more unsafe, due to overcrowdedness.
This can lead to pickpocketing, bag snatching, and even armed robberies. However, when getting in a taxi, it is best to make sure that you know where it is exactly you would like to go.
The driver may not take you a direct route as they sense you are not very aware or knowledgeable of the area. Make sure to stay alert and possibly have the way planned.
For example, when deciding where to stay in Guadalajara, ensure you know the route there. That way you can make yourself aware of any changes that may happen. As an alternative, see Janine's guide which explains how the buses in Mexico work.
Mugging Risk – Medium
Kidnapping and mugging can be a real problem when thinking whether Guadalajara is safe to go to. As soon as there has been any type of kidnapping, virtual or real, it should be reported to the police immediately.
An example of a virtual kidnapping would include sending a text to loved ones on a stolen phone, or demanding money from their families.
A lot of the time, the victim who they are threatening doesn't exist, and thieves rarely do any physical harm. All they are after is money after all.
Scams Risk – Medium
Scams can include the following:
A taxi driver taking the long route towards a destination
scamming more money out of you
somebody charging extra money for an attraction
All because they think you don't know, the real cost or simply because you are a foreigner.
Or, even somebody calling you up, tricking the victim into transferring money to save a family member.
These types of ransom calls are on the rise, so be sure to let the police know as soon as possible as you get a call like this.
Terrorism Risk – Low
Terrorist threats are everywhere in the world, so Guadalajara's safety isn't an issue as it is considered to be one of the low-threat locations in the world for terrorist activities.
Natural Disasters Risk – Low
Guadalajara has barely any hazards when it comes to natural disasters, the closest thing to anything that may cause a threat is some of the Pacific hurricanes that may occur or earthquakes.
Still, it is best to check up on what is predicted to happen whenever you are traveling, as you don't want to show up just after an earthquake has struck.
While this may not be anything significant, it is better to be safe than sorry when it comes to traveling anywhere.
Women Travelers Risk – Low
Female travelers, especially when by themselves, need to be cautious in any setting, this can be even truer when traveling to another country.
Unfortunately, there are reports of sexual harassment, usually centered in bars and nightclubs in the area.
If you remain vigilant and avoid areas like this without the proper precautions being made, then the risk of anything happening is low.
Especially during the daytime when there are many people around.
So don't feel like you have to change your plans on places to visit in Guadalajara because you are a woman.
Where to Stay in Guadalajara
There are many great areas depending on what you're looking for.
The Zona Centro is the best for seeing it's history and stunning architecture, captured in its infamous landmarks such as the Guadalajara Cathedral and the Plaza de Armas.
For those looking for vibrancy and nightlife, look no further than the area around Chapultepec, which is home to the best bars and clubs in the region. Check out some of the best hotels to stay while here.
Zapopan is a safer area, perfect for families with lots of amenities nearby, however without the bustling crowds that the central parts have.
Guadalajara Nightlife
This city is home to some of the best nightlife in Mexico, with everything from trendy clubs to authentic Mezcal bars.
The legendary area of Chapultepec really is king in Guadalajara, and this strip is full of top bars and clubs.
Some of the best here include Bar Américas which hosts some of the best DJ's from across the continent, as well as Cantina Mexicaltzingo which is a more authentic option with great food and parties.
Lola Lolita is another great option in Guadalajara with a range of themed parties and events held throughout the year.
Places to visit in Guadalajara
If you are going to be looking for things to do in Guadalajara, here are some great ideas.
Usually, I find that every individual place I visit when traveling has a set of things to do that are not to be missed.
So, while you're looking for things to do in Guadalajara be sure to check out the following.
Day Trip to Tequila with Tasting
Lasting 8 hours, taste the various tequilas that Mexico has to offer, the very thing that makes Guadalajara popular.
You can even explore Tequila in Jalisco, the renowned tequila production town, and stop for a tasting at one of the most famous tequila distilleries worldwide. Or, go to one of the more nearby places to visit in Guadalajara that offer tours.
Half-Day Tour in Guadalajara and Tlaquepaque
A half-day tour around some beautiful historical landmarks including Guadalajara cathedral.
5 hours of amazing monuments, finished off in the village of Tlaquepaque for unique souvenirs and perfect photo-taking opportunities.
All-Inclusive Zoo in Guadalajara
Perfect for a day out with the family or those of you who are marine enthusiasts.
Home of over 390 species, a relaxing train ride alongside an opportunity to see animals from above in an exclusive Sky cable car, both trips included in the ticket. A perfect day.
Travel to Guadalajara Safely
Here are some tips practical tips that you should consider whilst you travel. Whether you are visiting Guadalajara's tourist sites or simply visiting family or friends.
Check and Double Check Taxis
Whenever going to take a Taxi, always make sure that they are clearly marked and licensed before you even consider getting into it.
Another tip, take a picture of the number plate, send it to a friend, and call somebody to let them know what you're doing (or pretend to call somebody).
This can make the driver feel like they can be tracked if they ever do anything.
Understand the Local Language
Knowing a little bit of Spanish, be it just 'please', 'thank you' or other common phrases could take you a long way when it comes to traveling.
It is not only polite in Mexico, but it makes you more than just another ignorant tourist that is visiting.
Knowing some basic Spanish phrases will make the locals happy to know you are putting the effort in to understand.
Limit the Amount of Money you Carry with You, Cash and Card
Try not to carry a million and one cards in your wallet or cash, because it will make you a bigger target for anybody wanting to steal from you.
By having a lot of money, especially if you are showing off the amount of money that you have.
Hide Any of Your Valuables from Sight
If you have any expensive watches or your wallet, keep it out of sight so that you blend in as much as possible.
By keeping these things on display, it makes you a large target for organized crime, so the easier you mix in, the better
Close your Bag and Keep it Close to You at All Times
Keeping your bag closed is another layer of security if your bag is open, it makes you an easy target for those who aren't "skilled" in pickpocketing.
If you can, keep any zippers or buttons facing your person at any one time.
It will be much harder to access and will turn away those looking for something easy to steal in a crowd.
Keep an Eye out when Withdrawing Money from an ATM
When taking money from an ATM, it can be different from at home. Make sure there are no hidden cameras pointed toward you, and no people watching.
There will be those trying to know your PIN so that they can take your card and spend it before you know it is missing.
Keep your Phone in your Pocket or Bag as Much as Possible
The last thing you want to do is to have your phone out, broadcasting the fact that you not only have a phone but that you are distracted as well.
By having your phone out, you are oblivious to your surroundings.
This makes it easy to snatch your phone from your hand and make a run for it, or take other things on your person, like sneakily taking stuff from your pocket and bag.
Stay in Tourist Areas if you are Ever Unsure
The last thing you want to do is to travel somewhere without being sure what will happen.
People may take advantage of you by leading you astray, charging more, surrounding you so that you are distracted and take things from you in an unfamiliar area.
Things which are much less likely in a more tourist area, as it is more controlled.
Don't Drink too Much as it is Easier to Influence you if Drunk
Drinking in a typical environment makes it easier for people to influence you into anything, and so getting drunk, even tipsy, can be a risk in unfamiliar territory. So, make sure that if you are drinking, you are doing so safely.
Best time to go to Guadalajara
The dry season runs from November until April. Here, daily average temperatures range from 57-70°F, with highs of up to 87°F, and lows of down to 41°F.
Rainfall ranges from 0-0.7 inches per month (April is the driest month to visit).
The wet season continues in from May until early November. Here, daily temperatures hover between 61-73°F, with highs of up to 88°F and lows of 54°F.
Rainfall ranges from 4.5-7 inches per each of these months (with July being the overall wettest month to visit Guadalajara).
Got Travel Insurance for Mexico?

Designed by travelers, for travelers, World Nomads covers more than 150 adventure sports and activities so you can explore your boundaries.
Guadalajara Safety
So, how safe is Guadalajara? Now you have a better idea of what to look out for. Plus, the risks you run by not considering some of the safety tips, you should feel more at ease.
Most pretty crimes and scams happen to people who don't follow simple safety rules and take precautions when on road.
As well as all the other places you'll likely visit in Mexico during your travels, have an equally as great experience in Guadalajara.
See this list safe states in Mexico for more ideas on where you can visit.
📌 Like this article? Pin it…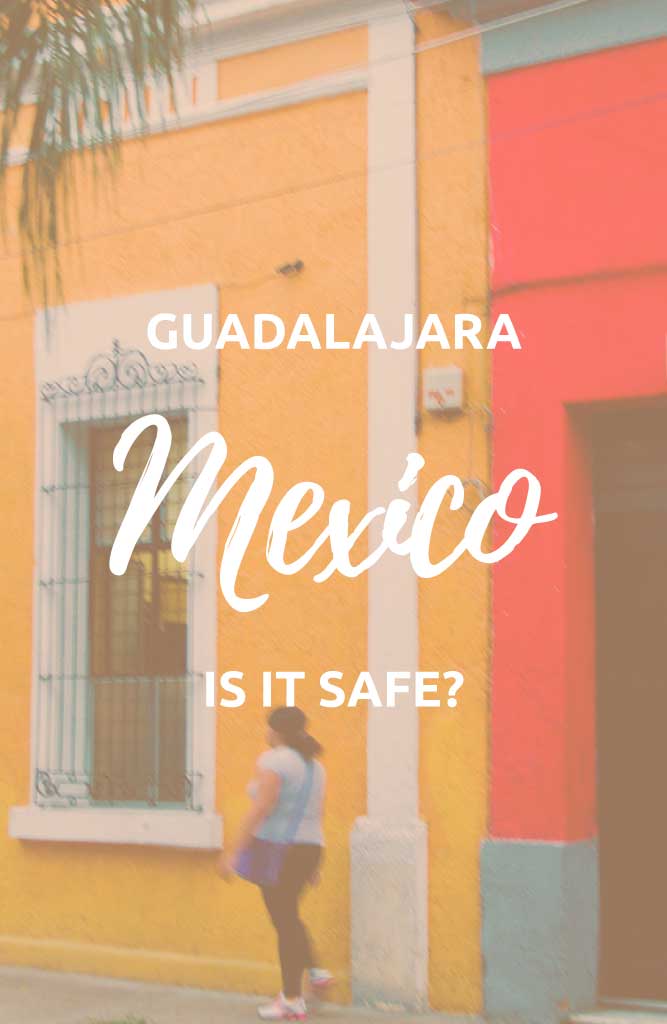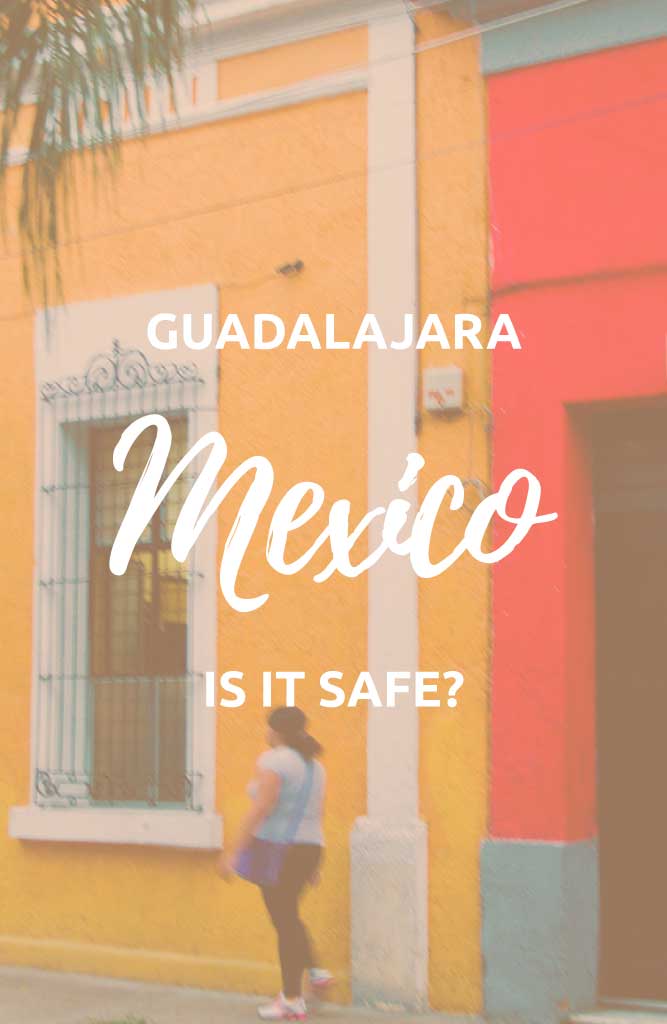 Missing something? Got tips, tricks & advice we can learn from?
💬 Leave a positive comment or lets start a conversation below!
---
"Dear friend! Some links in this post contain affiliate links. Meaning, if you click through and make a purchase, book a hostel or sign up for a tour, I may earn a small commission at no additional cost to you. Your support means a lot and helps me to keep traveling and maintaining the quality of this site for you."