Are you looking for free things to do in Mexico City?
In this article, I'll show you what I learned after finding free activities in Mexico City when I was backpacking on a tight travel budget.
If you have ever wondered what Mexico City is known for, I'm about to give you a slice of what the city has to offer without spending a cent.
After reading this useful travel guide, you'll know what to see in Mexico City for free and be more than ready to start exploring.
Free Things to do in Mexico City
First, prepare yourself for the crowded streets of Mexico City.
Like many other cities in Latin America, one of the best free things to do is to walk around and get yourself acquainted with the city.
I spent 5 days in Mexico City with a local exploring both free and paid things to do. Lets look below at the things I suggest you do for free.
Walk around the Centro Historico
There is no better place to do this than the historic center of Mexico City which is on many other lists of top things to do in Mexico City.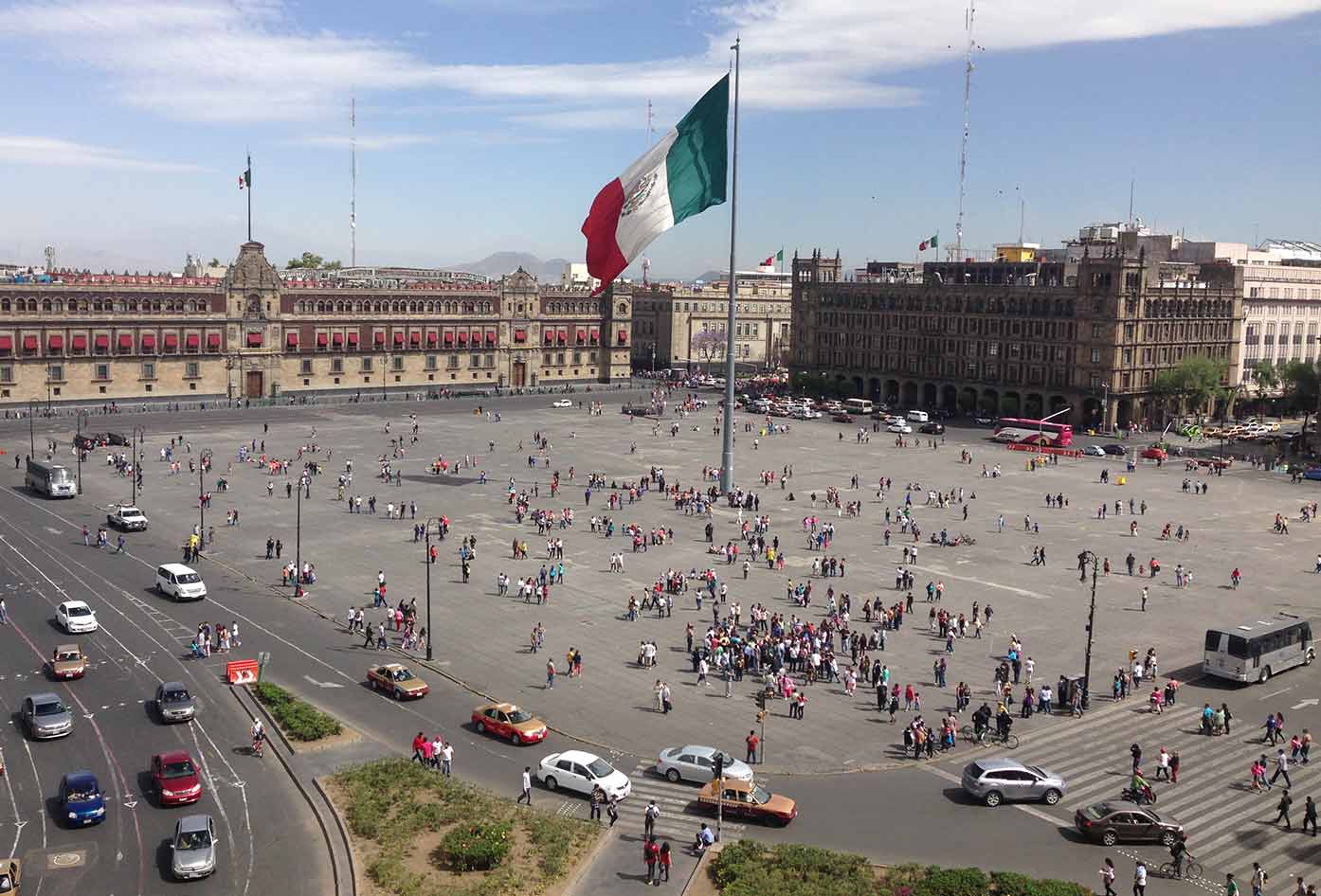 The Zocalo is the name for the city's main square. It's actually one of the biggest in the world. For this reason, it's one of the most popular things to do in Mexico City.
The south-east corner of this square is said to be the spot where Hernan Cortes met Montezuma, the ruler of Tenochtitlan, which was the Aztec city that came before Mexico City.
La Ciudadela Market
I'm a big fan of markets in Latin America. Whenever I land in a new place, one of the first things I do is go to look for the nearest market.
One of the best things to do in downtown Mexico City is to explore at least one of the many markets they have.
So, why this market is on my list of what to do in Mexico City?
As far as Mexican traditions go La Ciudadela Market is one of the best places to see in Mexico City I've visited.
If you are truly looking for one of the best things to do in Mexico that is also free, I can't recommend this place enough. The market itself is so colorful and clean, you can't help but be enticed by its beauty.
There are many markets in Mexico City, but this is my favorite traditional style Mexican market, and best of all; it's easy to access.
It's located on the southwest corner of Mexico City's historic center.
Get ready to find genuine Mexican artisan products, unlike other markets, which are becoming filled with products made in China.
There's a humongous amount of stalls, so ensure you've got ample time to look around.
The market itself is a short walk from the subway (between Balderas and Juarez on the #3 olive green line).
It's worth noting that there are some fantastic places to eat within the market, so you may want to plan lunch here.
El Angel de la Independencia
By far, one of the most symbolic monuments of Mexico City and will literally take your breath away. I'd love to take my travel drone here.
It's not only one of the free things to do in Mexico City; it's also a statue with a lot of historical significance.
If you're in the mood, you can even climb the stairs and get a view Chapultepec Castle, which is located just a few blocks away.
When traveling to Mexico City to do a spot of photography, this one makes an impressive shot for your Instagram feed.
It once tumbled down during the earthquake in 1985 before they repositioned it to look down and over Reforma Street, and it's been guarding Mexico city ever since.
💡Smart Travel Tip
If you want advice about what not to do in Mexico, avoid taking public transport in rush hours, especially in places like this.
Catedral Metropolitana
After years of backpacking Latin America, I've seen my fair share of Cathedrals. This is the greatest one I've seen and quite rightly so.
It's the biggest and on this list of free things to do in Mexico City, not only because it's free; but because I'd like you to be able to say you've been to the oldest and largest cathedral in all of Latin America.
The Mexican people are very religious and depending on what time of day you go, you'll encounter several masses, so it can be tough to pick a perfect time to visit when it's not crowded.
Bosque de Chapultepec
You could easily take a day trip to the floating gardens. However, if you're looking for a quieter time, get ready for Bosque de Chapultepec; it's much more than just a park.
Not only is it one of my favorite free things to do in Mexico City, but it's also a place I found myself passing hours walking around and exploring its beauty.
Bosque de Chapultepec has something for everybody. Here's a list of things below that you may be interested in doing:
People Watching
Eyeing up Street Food
Talking to Souvenir Vendors
Bird Watching
Sunbathing
Taking a bike ride
There's much more you could do. As you may know, Mexico city has a reputation for a lot of pollution.
When you're inside Bosque de Chapultepec, the thought of a smoky city instantly fizzles out, and you feel more at one with nature as much of the area remains natural and green.
It's also home to some of Mexico City's zoos and museums.
Even the street leading up to the park is filled with interesting sculptures. You'll be greeted with food carts and souvenir stands.
If you're in a hurry, you can even rent a bicycle and enjoy a ride through the park.
Or maybe you want to run in El Sope athletic track. Both are fun things to do in Mexico City, which is surrounded by fresh air.
Palacio de Bellas Artes
As mentioned in my Mexico City travel blog Palacio de Bellas Artes is a place you must visit.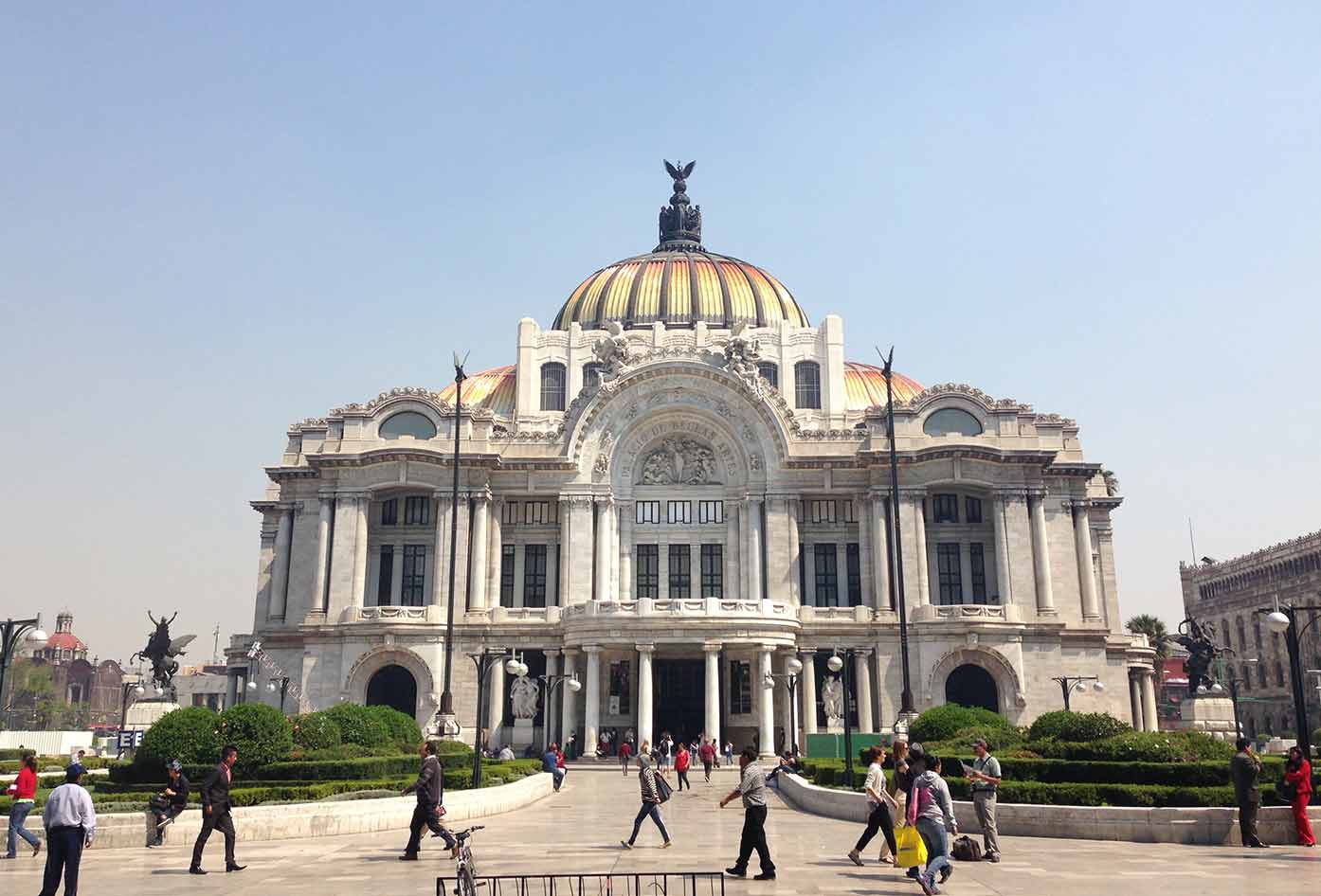 It makes it on this list of free things to do in Mexico City for its cultural significance and architectural feats.
The building is just outstanding. Also if you feel like it, you can always watch a show.
The prices are very reasonable, and the shows are very good quality; it's truly a world-class venue that should not be missed in my opinion if you are looking for things to do in Mexico City.
Take the free walking tour
One of the best things about Mexico City is that there are so many free activities. For me, one of the cool things to do in Mexico City that is highly recommended by many is the free walking tour.
I would say try doing this free tour on your first day as it will help you get more acquainted with the city.
That way, when you're walking around solo, especially if you've not met with locals, you'll feel more comfortable exploring Mexico City.
You'll get a great introduction to the city as well as some epic stories, not to mention great tips about the city.
It is an excellent way to discover and learn about the rich history and yet again, another one of those great free things to do in Mexico City.
💡Smart Travel Tip
When taking the tour, don't forget to carry water, sun lotion, and a hat to protect yourself from that blazing sun!
The guides speak both English and Spanish, so no problem if you've still not brushed up your Spanish skill.
One of the things not to do in Mexico is assume that almost all local people know English. Many people do, but you should learn some basic expressions to get you by.
Are you thinking of getting some practice in before you go? See this guide on basic Spanish conversation I wrote designed to help you.
Go to the Museum for free
One of the coolest things in Mexico is to explore the sheer amount of history and culture the city has to offer.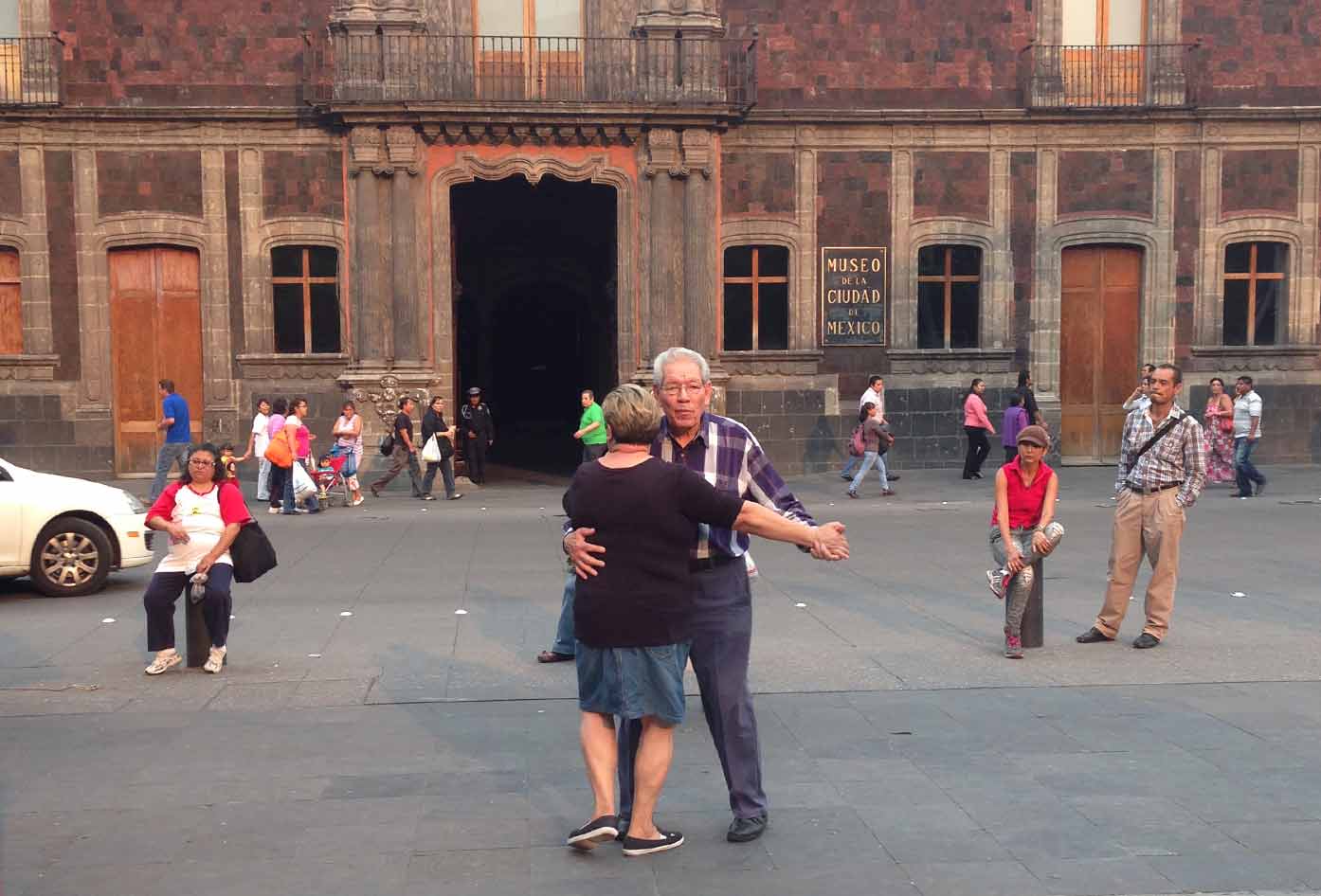 By far, visiting museums are Mexican things to do you shouldn't miss.
If it's the culture that truly inspires you, you won't be left disappointed.
I found that not all the museums were free, but I collated a small list of the ones that were. Sometimes, it depends on the day that you go.
Here's a list of the museums that offer free entry:
The Museo Soumaya
Museo de la Charrería
The Museo Dolores Olmedo
Galería OMR
Make sure you check the day before you go as sometimes, they swap the days around or may have special exhibitions. Timing is the essence, especially if you only have one day in Mexico City.
💡Smart Travel Tip
Sunday is a great day to check museums as they offer free pass days.
Observe the Street Performances
Do you know what a Mariachi is? Have you seen the Voladores (known as the birdmen) perform before?
If you're still adding things to your list of stuff to do in Mexico, you can't miss these performances.
Some are more advanced than others, but most of the street performers I saw in Mexico City have talent in their own right.
My favorite was watching the Aztec dancers in costume. They perform traditional ceremonies and dances in and around the Zocalo area.
When looking for cheap things to do in Mexico City, please don't overlook the street performers because they make up the heart of what the culture has to offer and channel it in their unique way.
UNAM Campus
Many people will recommend that you visit the UNAM Campus, even locals. It's by far one of the top 10 tourist attractions in Mexico City. The murals of the Biblioteca are simply breath-taking.
It's not only because Mexico's National Autonomous University is one of the country's UNESCO World Heritage sites.
Rather, it's the library plus you can enter and see the architecture, not only from the inside but the outside of the building. It has four interesting points of view.
I have added this landmark as one of my favorite non-touristy things to do in Mexico City if you want to check that list out too.
The north view shows the pre-Hispanic heritage. The South view shows the colonial stage. The East shows the contemporary world, and the west shows the University and mid-1900 Mexico.
On a sunny day, if you can time it right, it's the perfect place to buy yourself a Raspado (flavored ice), sit and observe the building.
I did this with a family friend, Araceli, who first introduced me to all these fun places in Mexico City. If you're familiar with bus travel in Mexico you can easily get here via public transport.
💡Smart Travel Tip
If you like the arts, this is a great place to take pictures and admire the work of famous Mexican muralists, such as David Alfaro Siqueiros.
Got Travel Insurance for Mexico?

Designed by travelers, for travelers, World Nomads covers more than 150 adventure sports and activities so you can explore your boundaries.
Free Things to do in Mexico City
Now you have no problem knowing what free things to do in Mexico City. Best of all, you can do all these things without spending a cent.
Most activities listed here are centered around the daytime. So, if you've chosen a neighborhood in Mexico City to accommodate your stay, you shouldn't have a problem traveling to the center.
I hope if you read up to this point that you have a better idea of Mexico City's tourist sites and feel confident to visit them.
Taking the free walking tour will help you significantly more if you can make it one of the first activities you do.
Use it to get yourself acquainted with Mexico City and ask any questions before you explore the streets of Mexico City alone.
Search in and around this blog if you're looking for more things to do or interested in other attractions in Mexico not mentioned here.
📌 Like this article? Pin it…
Got free things to do in Mexico City? Share your tips and tricks…
💬 Leave a positive comment or lets start a conversation below!
---
"Dear friend! Some links in this post contain affiliate links. Meaning, if you click through and make a purchase, book a hostel or sign up for a tour, I may earn a small commission at no additional cost to you. Your support means a lot and helps me to keep traveling and maintaining the quality of this site for you."