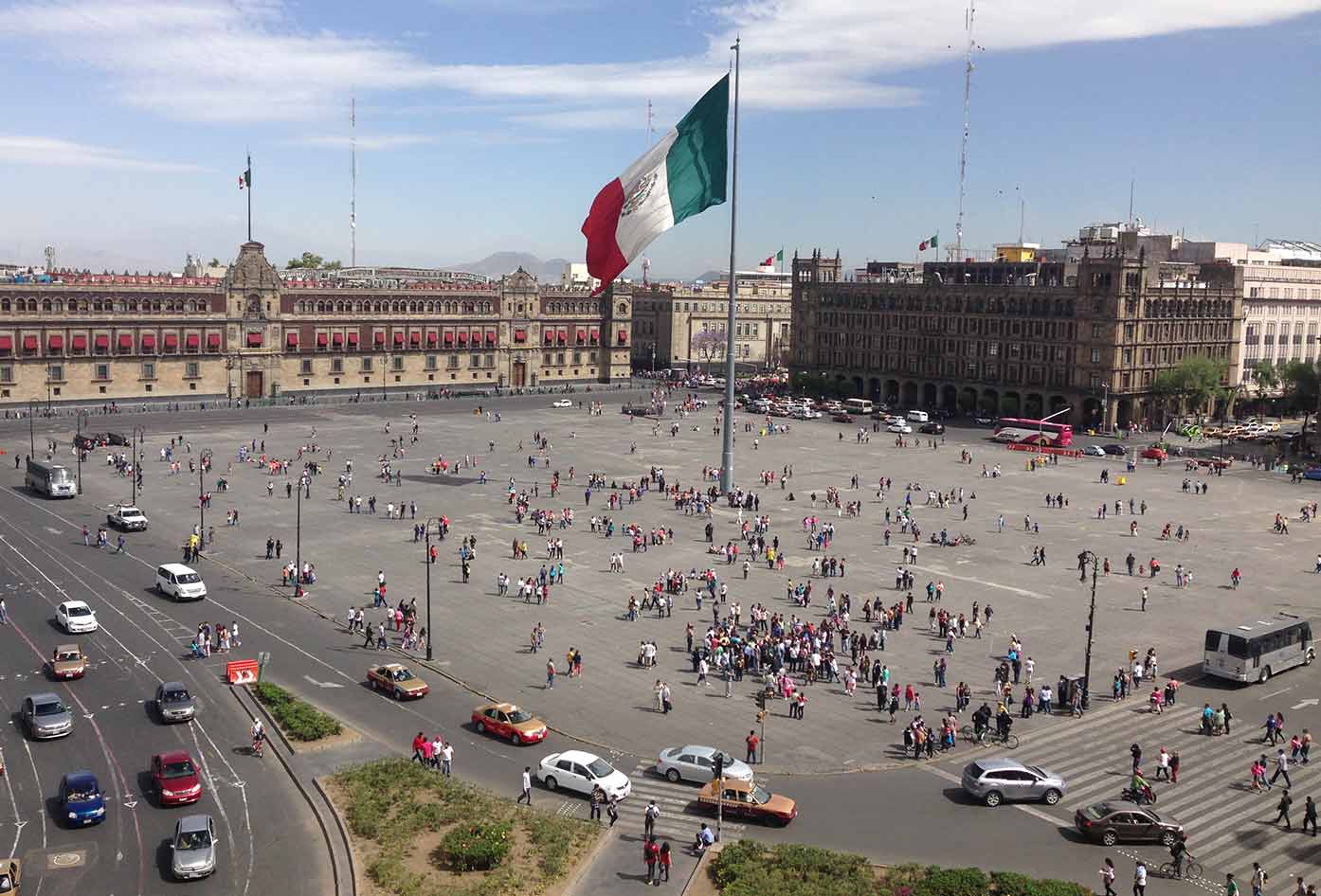 Chicharron is one food that I noticed all over Mexico.
At first, I thought it was a coincidence, but no, apparently the Mexicans add Chicharron to (almost) everything.
In this travel blog, we will look at the Chicharron and its significance in Mexican culture. Also, the types of Chicharron you can find here.
Chicharron
As I progressed onto my Central America travel route I found Chicharron was in other countries in Latin America, not just Mexico.
On my first trip to Mexico City, I had the pleasure of seeing (and tasting) a plethora of Mexican street food.
Back then, I was open to trying all the food I could get my hands on! And, as gross as it sounded, I wasn't going to stop at fried pig skin.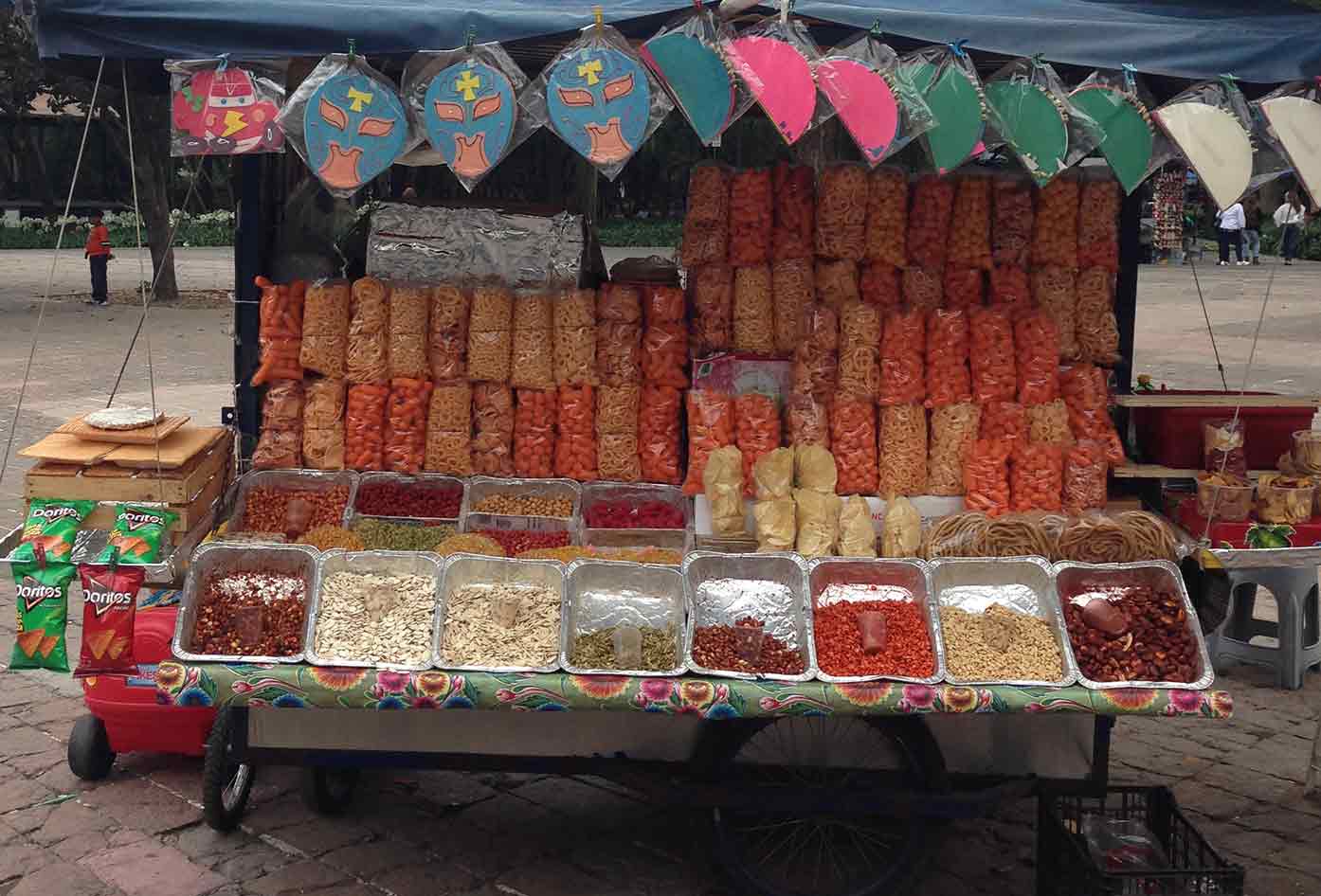 Mexican Tortas was my favorite food in Mexico, but I could not avoid the fact that Chicharron was an option on almost every menu!
So I began to question: what is Chicharron, and how is it made?
What is Chicharron?
Chicharron is a food dish that is found all over Mexico and in many other parts of Latin America, for that matter, especially in Colombia – where I have seen it included in most platos fuertes on the menu.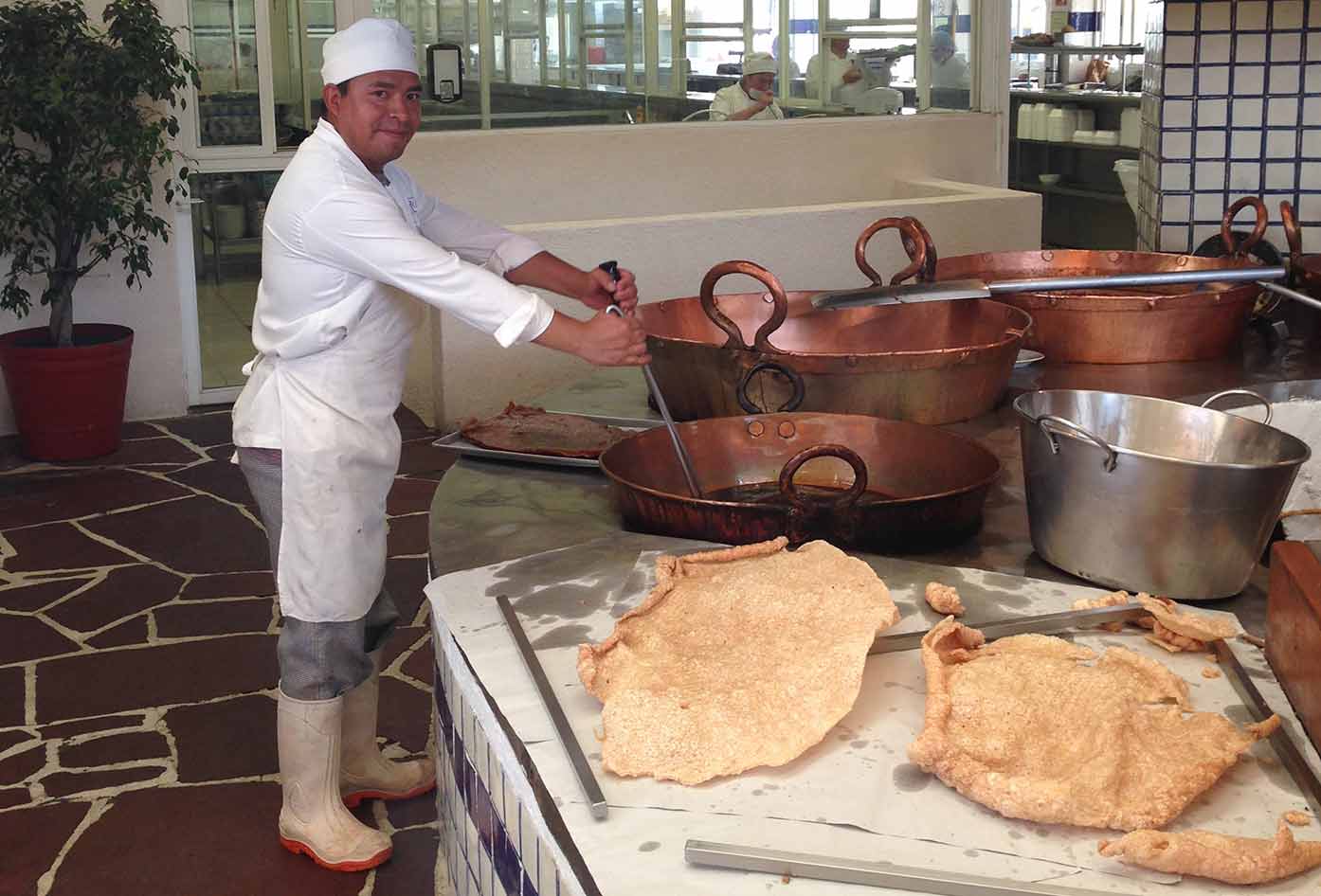 In Mexico, though, Chicharron is known as a seasoned then fried pigskin that consists of few ingredients and made with a basic cooking process.
Like with many Mexican traditions when it comes to food, it is the simplicity of the Chicharron is that makes it so widely enjoyable.
It made me wonder how something can be so simple, but at the same time be so complex with flavors. This is a unique combination that offers millions of people a snack that can be enjoyed in many different shapes and sizes.
What is Chicharron Made From?
Mexican chicharron, like most others (but not all) is usually made with pigskin or in some cases pork belly.
You will notice that the Chicharron made from pork belly has much more fat than skin so you get a richer, and in some cases, moist bite.
Chicharron is served up into all different types of snacks! It can be served from Mexico's most prestigious restaurant down to a food stall that you'll find on most street corners throughout Mexico.
You eat Chicharron in salads, soups, on tacos, and it is used as a topping for many other Mexican food dishes.
From the outset, it seemed like the most versatile food in Mexico.
How are Chicharrones Made?
After speaking to a local chef that I met in Mexico City, he explained to me how making chicharrones was very simple.
The process begins with selecting the meat and cutting the pigskin into small slices. Depending on how big your frying pot is, you can make the slices longer.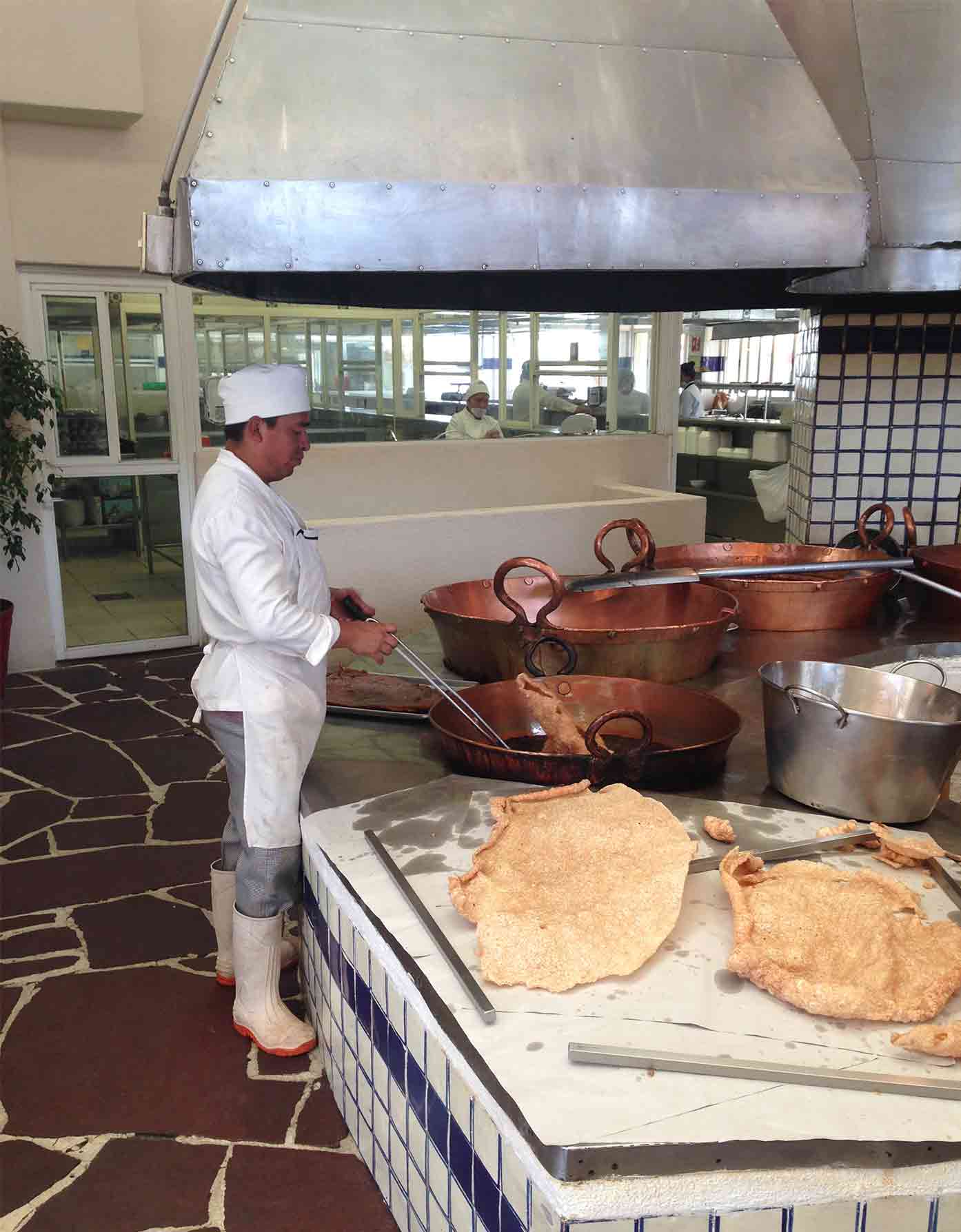 I spoke to one animated chef who was frying up some of the longest pieces of Chicharron that I had ever seen, and it was that which attracted me to go and talk to him in the first place.
He said the frying time all depends on how deep you fry them.
The chef also explained to me that some other chefs in Mexico leave the pig fat on – for a fuller flavor. However, this can make them overly thick and too chewy for most people's taste.
He went on to tell me that the majority of Mexican's expect chicharrones to have a nice firm and crispy texture.
Once cooked and served, you can add your own condiment (usually Salsa Valentina) which adds yet more flavor or spice.
Chicharrones Preparados
With this newfound knowledge about Chicharrones. The next thing I inevitably stumbled across after exploring Mexico City on a budget was a unique street food called Chicharrones Preparados.
This is derived from the chicharrón de harina, something I'd not learned about from the chef I'd spoken to but I had already sampled.
What are Chicharrones Preparados? How did I stumble across them?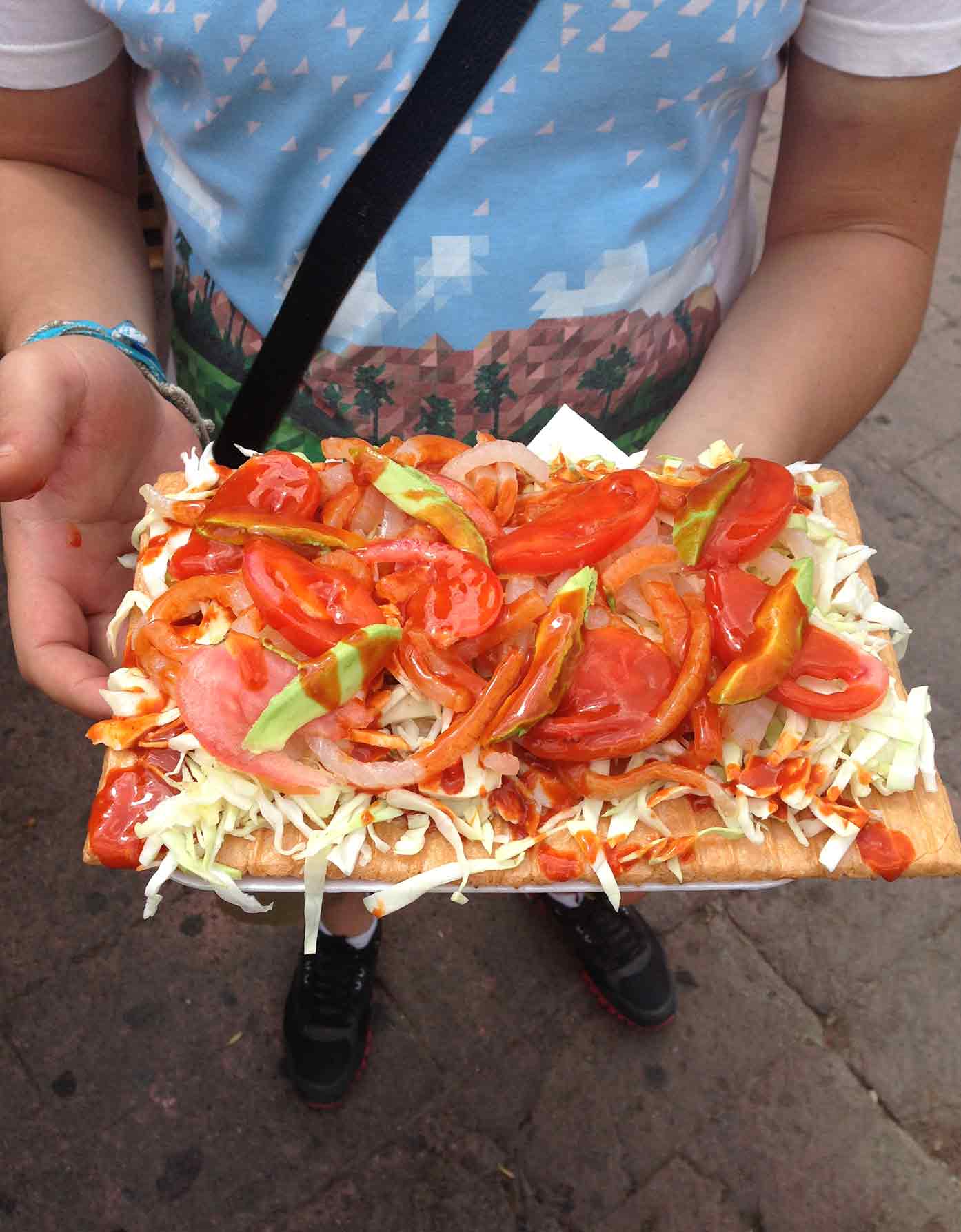 Chicharrones Preparados are made on a large rectangular slab of Chicharron de harina which from a distance resembles a Pizza slice.
This slab acts as a bed that is topped with things like shredded cabbage, tomatoes, sour cream, cheese, avocado, cueritos, and another dose of hot sauce.
If I had not been with my local friend Omar at the time, there is no way I would ever have tried a thing like this at first glance.
The look of it sounded weird when I saw a group of Mexican eating it outside a food stand at one of the local parks.
To be honest, I'd never heard of half of the ingredients until my good old Mexican friend insisted that I try it.
All in all, if you find yourself in Mexico definitely try one as every bite will bring you one step closer to the authentic taste of Mexico.
Mexican Chicharrones
Learning about Chicharron and how it is made was intriguing at the time as I had never seen it before.
Isn't it interesting to see how such a simple fried food with little in the way of sophistication can be enjoyed by so many people?
Learning about things related to food and culture in Latin America is what keeps me traveling over and over again.
Learn more about my travels backpacking Mexico on this blog.
📌 Like this article? Pin it…
Did this help you learn something about Chicharron?
💬 Leave a positive comment or lets start a conversation below!
---
"Dear friend! Some links in this post contain affiliate links. Meaning, if you click through and make a purchase, book a hostel or sign up for a tour, I may earn a small commission at no additional cost to you. Your support means a lot and helps me to keep traveling and maintaining the quality of this site for you."