Are you in Mexico and wondering how to get to Tolantongo caves?
As you may well probably know, Tolantongo is a popular Mexican tourist attraction made up of several, natural hot pools and rivers.
Situated within the rural part of Hidalgo, it's surrounded by canyons and forests, and features numerous caves and other attractions.
Traveling to Tolantongo Caves
In this guide, we'll explore the amazing natural phenomenon, including how you can get there, what you can expect plus amenities.
I will also list a host of other tips based on my own experience. This makes the perfect side trip from Mexico City so get ready to be in awe.
How to get to Tolantongo from Mexico City
Getting to Tolantongo requires a few stops, especially if you're traveling from Mexico City to Tolantongo or other major cities.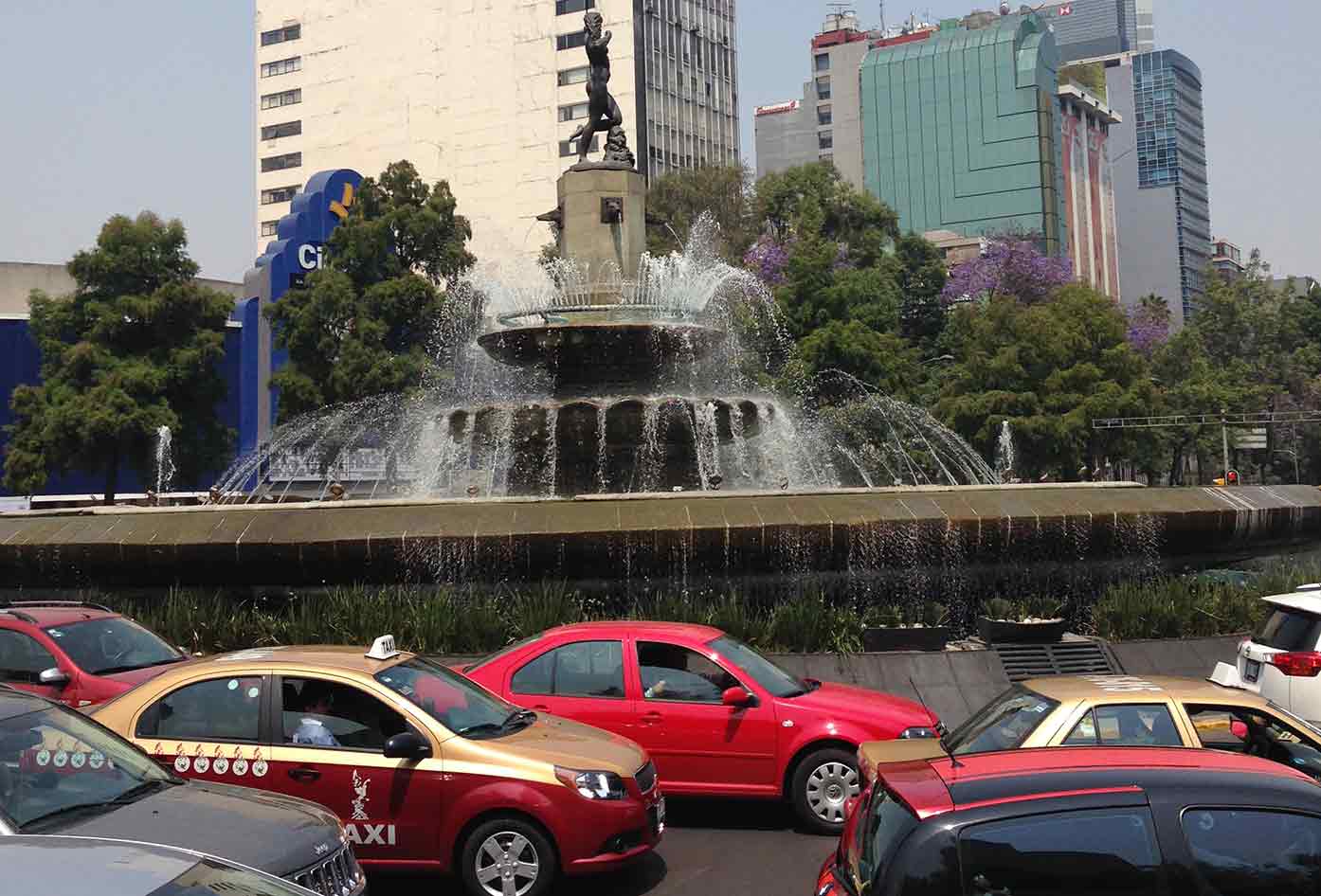 The closest town to the city is Ixmiquilpan, which is located some 20km away. You'll first want to catch a bus here.
It takes 3 hours from Pachuca (the capital of the region).
There are no direct buses from Mexico City, so you'll first have to stop off in Pachuca and then connect there.
Are you unfamiliar with using public transport in Mexico? See my guide to traveling by bus in Mexico for a primer on buses in Mexico.
Once in Ixmiquilpan, head to the unofficial shuttle site, which is located close to the market.
If you are lost, then head to the brightly colored church of San Miguel Archangel and follow the signs from there.
Once there you'll see lots of shuttles, so just ask for Tolantongo and they'll let you know what time they set off.
From memory, they have shuttles leaving every couple of hours from 8am until 5pm. It is more or less the same schedule on return too.
If you prefer to get picked up and taken to Tolantongo via a private day tour you can always do that option which takes around 5 hours.
Visiting Tolantongo
You'll most likely start off arriving by shuttle from Ixmiquilpan, and the journey itself is definitely a memorable part of the experience!
As you get close, you'll start to descend into the large canyon, following steep, winding roads.
Once you arrive, you'll have to get off the shuttle and pay the entry price before moving on.
At the time I went, this cost 150 MX, which is around $7 USD. The bus will then continue until the main entrance.
Here you can find changing rooms and the bathrooms.
The attractions and restaurants are a bit of a walk from here, so be sure to use them before heading-off.
During the walk, you'll arrive at the vantage point where you can see the crystal blue river with the dusty canyons setting the backdrop.
💡Smart Travel Tip
There is also a cool tree that has slanted over for another photo op! Carry a water filter bottle when hiking around this location.
You will now arrive to the main area. Here you can rent a locker to put away your bags and other clothes.
There are a couple of restaurants here that provide some shade as well as a nice variety ofMexican food and beverages.
From here, you can visit some of the different attractions of the site. We'll go through each of them below.
Tolantongo River
The river at Tolantongo is one of the most impressive, natural parts of this site. The water is heated underground in several cave complex systems before pouring down the edge of the caves.
From here, there are several pools that overlap where you can relax and soak in the warm water. You can dip in the heated pools too.
I personally didn't visit these; however, these are the attractions that usually draw people to the area.
There are several "jacuzzi" style warm springs that are located on the edge of the cliff. Arguably one of the best photo ops here!
You can also visit a couple of caves here too.
Starting near the lockers, head up a few flights of steps. The main cave will be the first one that you see.
It's a massive cavern of lukewarm water, with a thundering waterfall through the middle of it.
See if you can swim through it, as it has an immensely powerful push!
Upon exiting, you can head up a few more steps to the top to reach the second cave.
Here, you will walk through the river, which is warm, however, there is a cascade of cold water coming from on top so brace yourself!
Once through, you can enter the small cavern which has a tiny pool. There isn't much light or space but it's still a cool experience, nonetheless.
The main site is open from 8:00 am until 5:00 pm
So it's wise to arrive as early as possible to get the most out of the local amenities and attractions.
The restaurants and shops open until 9 pm. Since the last bus leaves around 5 pm, these are only useful if staying close to the main site.
Tolantongo Travel Tips
You'll find that getting to Tolantongo is quite a trek to reach. It's important to thoughtfully plan so you can have many hours relaxing here rather than arriving and leaving a couple of hours later.
Although I started the trek from Pachuca early in the morning, I would advise against this if possible.
It's much better to stay in Ixmiquilpan or even nearby Tolantongo (if you have the budget and time).
Places such as Hotel Avenida Ixmiquilpan will provide a well-positioned base for you to be able to get to the caves.
It's better to think of Tolantongo as more of a "mini-resort" rather than simply an attraction. Be sure to carry enough funds with you.
I did not budget effectively as I found myself running low. After adding up the bus fares, entry, locker rental, and food, you'll still need funds, so be sure to bring extra with you. Also, why not treat yourself?
Ixmiquilpan to Tolantongo
Unlike a lot of the other attractions in this region, this is one where you can come and wind down, so go ahead and book the day off to come here, properly relax and enjoy yourself!
My last recommendation would be to take the earliest shuttle to Tolantongo, which departs around 8:00 am from near the market (in a small car-park – there are lots of signs pointing towards this).
This way you'll beat the mid-afternoon crowds. It gets very busy here.
How many days to Spend at Tolantongo?
I recommend you try to spend three full days at Tolantongo. This small itinerary for Tolantongo will give you a clear idea of what to do.
Tolantongo Itinerary:
Day 1 – Bathing in the hot springs and the cool water swimming pool + the cave entrance (Aka Gruta)
Day 2 – A hike towards Paraiso Escondido and enjoy the thermal pools and onsite restaurant
Day 3 – Exploring La Gloria, a scenic waterfall/bathing pool area (access from Tolantongo via bridge across the river.)
As mentioned you'll need to budget well for this trip. Some attractions noted in the Tolantongo itinerary require a separate admission fee.
Also, be mindful of the many holidays and Mexican traditions that can play out including the anniversary of the Mexican Revolution.
These types of cultural events will see an influx of visitors and you may have difficulty getting a room, especially during weekends.
Best Time to Visit Grutas de Tolantongo
The dry season of Tolantongo runs from November until April, and is the overall best time for a visit.
Here you can expect daily average temperatures of between 61-64°F, with highs of up to 79°F and night-time lows of 46°F. Rainfall ranges from 0.2-1 inches overall throughout each month.
The wet season runs from May until October, and has daily averages of 64-70°F. Highs can reach up to 80°F, whilst lows sit around 54°F. Rainfall ranges from 1.5-3 inches per each of these months.
Got Travel Insurance for Tolantongo?

Designed by travelers, for travelers, World Nomads covers more than 150 adventure sports and activities so you can explore your boundaries.
Visiting Tolantongo from Mexico City
I hope you enjoyed this guide to Tolantongo!
A relatively untraveled paradise in the region of Hidalgo, is a must for anyone who passes through Central Mexico.
With picture-perfect scenery (great photo ops), a variety of warm water pools, and a relaxing area, this attraction is more of one for relaxation rather than strenuous activity.
It's also another great reason to visit the region of Hidalgo, which has lots of under the radar gems ready for exploration.
Get even more ideas of safe places to visit in Mexico if you're looking for more places to visit whilst on your travels.
📌 Like this article? Pin it…
Are you thinking of traveling to Tolantongo, Mexico soon?
💬 Leave a positive comment or lets start a conversation below!
---
"Dear friend! Some links in this post contain affiliate links. Meaning, if you click through and make a purchase, book a hostel or sign up for a tour, I may earn a small commission at no additional cost to you. Your support means a lot and helps me to keep traveling and maintaining the quality of this site for you."