When comparing Tulum vs Playa del Carmen, which do you choose?
From whatever angle you look at it, Mexico is one of the top destinations for holidaying in the western hemisphere.
Attracting millions of people every year, there are many aspects to its culture and landscape that make it so appealing.
You've decided that the Caribbean coast is the best spot for you, but where do you want to stay and where do you wish to visit?
Each different little town has its appeals, but you also want dedicated service, a multitude of activities, and at least some budgeting.
Tulum vs Playa del Carmen
Tulum and Playa del Carmen are two of the popular spots with some of the best reputations.
But which one is the best? Let's pit the two destinations against each other, to see which one suits you.
Playa del Carmen vs Tulum
Tulum is a small-ish town on the Caribbean coastline of Mexico's iconic Yucatán Peninsula. It's best known for its beaches and well-preserved ruins of an ancient Mayan port city.
There aren't many left, so Tulum is a treasure in that regard. The main building itself is a large stone structure called El Castillo, perched on a rocky cliff above the white sandy beach and turquoise-colored sea.
Near the ruins is the Parque Nacional Tulum, a coastal area with mangroves and cenotes, many of which visitors enjoy diving into.
You can compare Tulum Ruins with Chichen Itza before you get here to save you doubling back on yourself and heading back to Cancun.
Where is Tulum?
Tulum is a town located in the Mexican state of Quintana Roo, Mexico.
One of the handfuls of states on the Yucatan Peninsula, it lies on the Caribbean coastline overlooking the Caribbean Sea.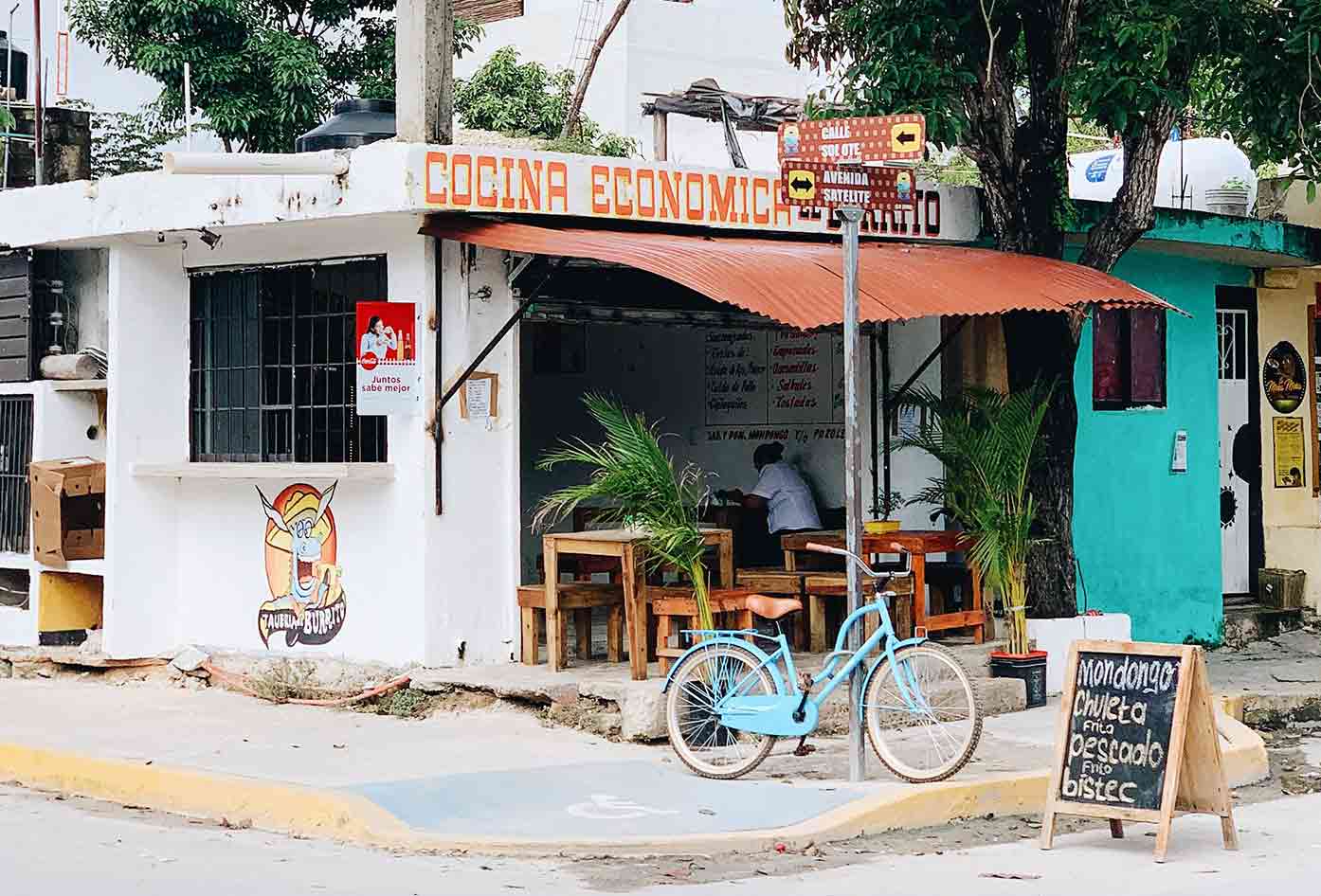 When you arrive in Tulum, you'll notice that it's divided into two general areas:
Tulum Playa (where the beaches are located)
Tulum Pueblo (where real town-looking places such as restaurants are)
You'll find things to do in Tulum no matter where you stay but keep in mind that Tulum Pueblo offers a more rustic experience.
Cancun Airport (CUN) is the nearest airport to Tulum, so you have to pass through the likes of Playa del Carmen to reach Tulum anyway. See this guide on getting from Playa del Carmen to Tulum for more.
Is Tulum Safe?
Tulum is a pretty awesome destination with a lot to offer. Set on the Maya Riviera, it's a coastal town that happens to also be home to literal Mayan ruins.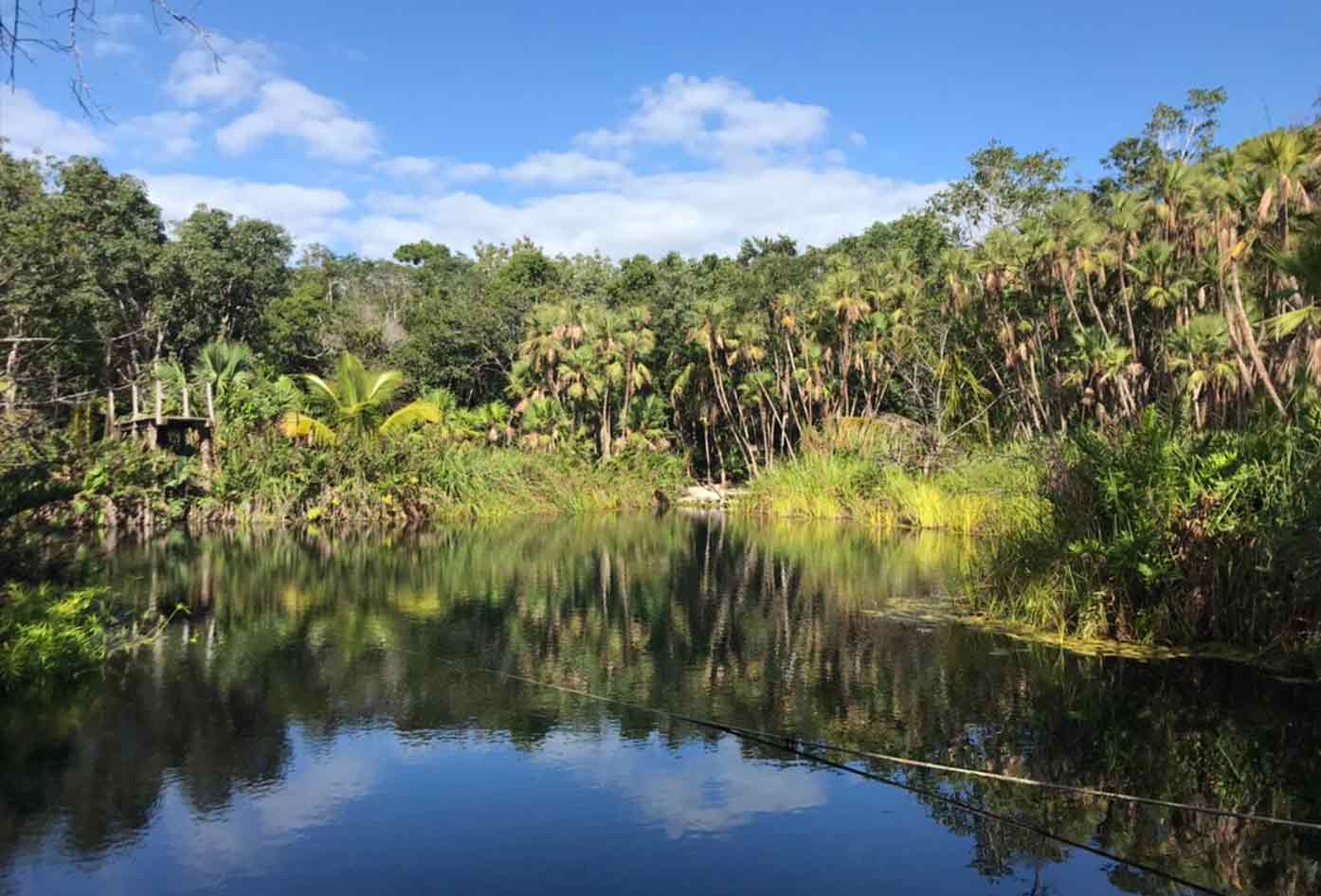 There are also nearby relics and jungles to explore if you feel adventurous. If that wasn't enough, there are Centoes and a great party scene and beautiful beaches to laze around on all day.
This cool town may be in Mexico where danger is possible, it doesn't face loads of issues with gang violence.
Still, Tulum does have a few issues with petty crime, getting things stolen on the beach isn't unheard of. Carry a locking beach bag to secure any valuables you carry and for peace of mind.
Isolated incidents of robbery do occur. Nature-wise, there are hurricanes and poisonous creatures to watch out for, a quick Google can help this.
Drink-spiking for female travelers is, unfortunately, more common than you might expect. Make sure your drink never leaves your sight.
Is Tulum Expensive?
A vacation to Tulum for one week usually costs around M$3,918 for one person.
This amounts to about $201 according to the exchange rate of January 2021.
So, a trip to Tulum for two people costs around M$7,837 for one week; about $402. A trip for two weeks for two people costs M$15,673 in Tulum; about $804.
If you're traveling as a family of three or four people, the price person often goes down. This is due to child tickets being cheaper and family rates driving costs down.
When traveling on a budget, places such as XscapeTulum offer great value for money.
If you travel slower over a longer period of time then your daily budget will also go down depending on whether the hotel you stay at is all-inclusive. See these resorts in Tulum for more inspiration.
Two people traveling together for one month in Tulum can often have a lower daily budget per person than one person traveling alone for one week.
Often for backpackers, most of Tulum's best hostels offer a relatively high standard when comparing to places you may find in Mexico.
Tulum Nightlife
Tulum has an unexpectedly popular culture of nightlife compared with Playa del Carmen, which many young travelers revel in.
Whether you're downing drinks and dancing at Oriental, inspired Casa Jaguar, Full Moon clubbing with superstar DJs at Papaya Playa Project, or dancing under the stars.
If you haven't heard of such a thing, places such as cenotes and Mayan ruins hold impromptu (and illegal) beach raves. Tulum boasts a fun and eclectic mix of nights out, with many options on its menu.
No super-huge clubs here, just super-cool crowds of happy clubbers partying till dawn.
Famed for its hedonistic monthly full moon parties (not to be mistaken with Thailand's tacky full moon parties), PPP is something of a legend on the Tulum party scene.
Held on the Saturday night nearest the celestial full moon, expect the town's chicest party people to come out and play.
Models, artists, trendy tourists and Tulum cool kids dance to tracks spun by some of the world's most famous superstar DJs.
Best Time To Visit Tulum?
Being strategically located in the Caribbean, Tulum's climate never really dips and the weather stays quite sunny all year round.
Expect highs staying well within the 70s and 80s Fahrenheit.
Even in December, the temperature never falls below 60 degrees, so you'll always find a tropical climate to escape to wherever you travel from.
Tulum's rainiest months are June, September, and October, so we would advise against traveling during these months.
The three-month stretch from October to December is the best time to visit when hurricane season is slowing and the weather is warm but not sweltering hot.
January through March see the biggest wave of tourists, so avoid that time if you're not a fan of crowds.
However, if you're staying further north you may want to check the best time to visit Cancun also to make sure you're not missing anything.
Playa del Carmen vs Tulum
Playa del Carmen isn't off the beaten track by any means, but it has always sat in the shadow of Cancun to the north and Cozumel off the coast.
Below you'll get the ins and outs along with an unbiased view. Playa del Carmen is one of the top spots to visit in Mexico, and we're going to see how it compares to Tulum.
Where is Playa del Carmen?
Comparing Playa del Carmen vs Cancun you'll realize it is one of the most popular spots in Mexico due to its location.
It sits in one of the safest parts of Mexico, where there is little to no crime except for the petty crime found in all popular locations around the world.
Just like Tulum, it's situated in the northern part of the Yucatan Peninsula, one of the most popular tourist regions in the world.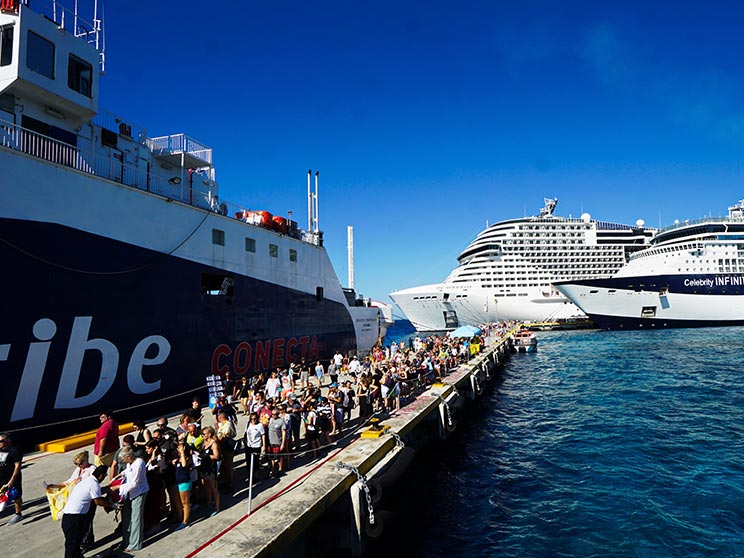 It overlooks the Caribbean Sea, but just off the coast is an equally popular island called Cozumel, which many visitors to Playa tend to also visit.
If you're looking to move around the area and explore, the 307 passes right through the town and can connect you to the Yucatan region, Cancun and Tulum.
You could say it's in a more pivotal location than Tulum, as it's the in-between of all the major locations of the area.
Tulum is an hour's drive south of Playa, easily accessible by the 307 which has bus and coach routes. See this guide to buses in Mexico to get a better idea of how to get around the region.
Is Playa del Carmen Safe?
As mentioned before, Quintana Roo is one of the safest spots in all of Mexico.
Not only in terms of the crime rate but by the fact that there is little to no gang activity since it is so far away from bordering countries as well as the cartel hotspots.
You won't find suspicious activity in Playa, but you may find the odd petty theft at night, but not at all often.
Most visitors find their stays to be very, safe, secure and held to a high standard. You don't necessarily have to stay within your resort's complex, but most tourists do which is a shame.
The region has a lot to offer, including some of the best cenotes and beaches in the world. For more information about how safe Playa is, just visit this page is Playa del Carmen safe for more info.
Best Time to Visit Playa del Carmen?
Playa is fun all year round, but it's useful to know when the busy periods and slow periods are.
For the most part, it's very similar to Tulum since it's only an hour's drive away, but there is a difference.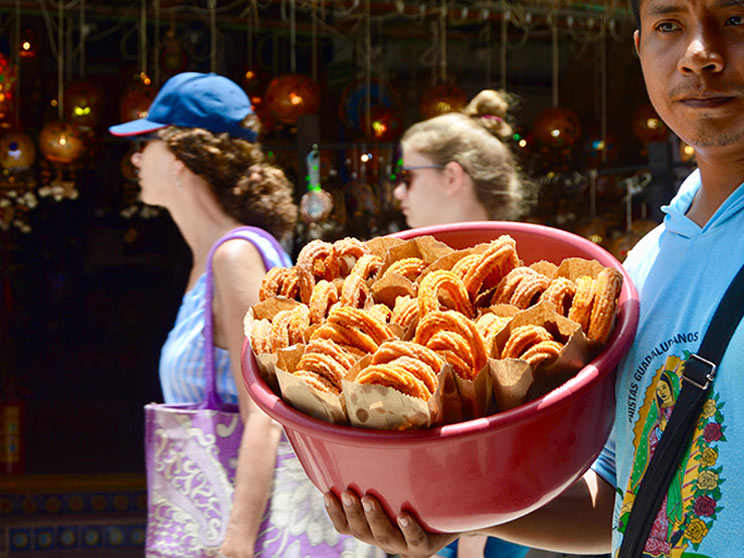 Playa is slightly louder and more crowded compared to Tulum, so we would actually suggest going during a quieter time of year.
This doesn't sound like the best idea, but it's one of the best seasons for the weather and you won't get the same numbers as Cancun. Many people check the weather in Cancun and travel from there.
The busiest time period is December to April, which is why many from the colder regions of the western hemisphere love to visit when it's cold in their homelands.
Things To Do In Playa del Carmen
One of the best places to visit is Parque Fundadores for a relaxed afternoon out.
Enjoy the Voladores de Papantla, an ancient ritual still performed today involving dance, song, and the climbing of a pole.
Four of the five at the top attach themselves to the pole with a rope around their waists before launching themselves off backward, to elegantly spin with the pull of gravity toward the ground.
The fifth remains atop the pole playing the flute. Parque Fundadores is the perfect place to enjoy ice cream and watch the ritual take place, located right next to the beach.
Don't forget to donate a few pesos to the park after the performance is over.
Another popular activity is taking the ferry to Cozumel, an island like no other off the coast of Mexico with plenty of relaxing spots and interesting natural heritage.
Got Travel Insurance for Mexico?

Designed by travelers, for travelers, World Nomads covers more than 150 adventure sports and activities so you can explore your boundaries.
Tulum vs Playa del Carmen
Based on location and all-roundedness, we have to say Playa.
Tulum is the favorite when it comes to party spots in the peninsula, but Playa has everything you need for an enjoyable getaway.
What do you think of these options? Be sure to see the rest of the things to do in the Riviera Maya before you book your trip!
📌 Like this article? Pin it…
On comparing Playa del Carmen vs Tulum do you have a better idea?
💬 Leave a nice comment or let's start a conversation below!
---
"Dear friend! Some links in this post contain affiliate links. Meaning, if you click through and make a purchase, book a hostel or sign up for a tour, I may earn a small commission at no additional cost to you. Your support means a lot and helps me to keep traveling and maintaining the quality of this site for you."