See these travel journal ideas below for some great inspiration.
There are many travelers out there that will throw caution to the wind and just hit the road with no planning or forethought.
They come home with limited memory of their experiences and decide they have to visit again if they were to memorize all the happenings and events. This doesn't have to be you!
Travel Journal Ideas
Travel journals not only act as a useful note-taking tool for your travels, but they also double up as keepsakes and souvenirs that are more personal than a tacky fridge magnet.
Unless you just fly into a city and stay in the airport for your delightful getaway, you have tickets, maps, and receipts from your travels.
These can all be incorporated with your travel journal, as they are not only useful to carry around but leave a lasting memory that you can revisit at any time. I do this with my own backpacking trips.
You meet a lot of people on your journey, both locals and fellow travelers. You may exchange contact info at some point (if there isn't an exchange of social media details).
The end result, after some notes and doodles, is a travel journal that locks your memories between two leather leaves. You'll have a notebook that Nathan Drake and Indiana Jones would be proud of.
Travel Journal Examples
So considering that travel journaling is a creative process which means you are free to do what you like.
What are the most most popular ways of writing a travel journal?
Plus, what other ways can you explore note-taking if the traditional methods are not your preferred choice?
Using a Notebook
The classic method that thousands of people still use today.
The classic written leather travel journal that millions of people still use today. It's a handy method of detailing certain elements of the trip that need writing down.
Some people find that using a pen and paper takes longer than typing or texting, but it still has its perks.
Grabbing a journal and making a quick note is very handy when you're making a note whilst listening to someone telling you vital information.
Writing tables, drawing your favorite animals, or sketching a map of your travels like the Hobbit. These are all the best reasons as to why you should use a notebook.
The major downside to a notebook is that if you wish to add tickets or other paraphernalia, there is a high chance of it falling out and being lost forever. (Something which for me would be a nightmare!)
This is why using the right tools is key to this idea. Add clippings, draw what you see, print the pictures you've taken, and stick them in.
With this method, there is a lot of wiggle room and a space to be as creative as you feel.
If you've ever kept cards or foreign newspapers, this is a great place to dispose of the junk and condense it down in size to become more meaningful.
Using a Phone
There is an alternative to the traditional method which has caught everyone off guard as to how much better it is in certain aspects.
Apps such as Penzu re-live the experience of creating a physical travel journal but include all the aspects of the journal writing journey that backpackers cherish.
Take this idea for example you take hundreds of pictures on your smartphone, but you can't print them. An app such as Penzu has everything you need when it comes to images.
It's difficult to purchase a map, to mark where you traveled, and then stick it with shoddy glue or tape into a notebook.
Using an app, you can use GPS to track exactly where you've been on a map and simply screenshot it as an image, and there you have it.
Smartphones make the whole experience so effortless, especially with tickets or cards you may have kept in your Android or Apple Wallet.
Taking screenshots and editing quickly can be used to your advantage in creating your travel journal on the go.
Penzu's journal software allows you to access your journal from any computer, smartphone, or tablet.
Penzu will be your travel journal app; all you need is your mobile phone or tablet and can write in it, with or without wifi.
You never have to miss an entry or forget a moment, as Penzu can come with you around the world. No internet necessary.
How to Make a Travel Journal
Although there is no right or wrong answer when it comes to a travel journal entry!
Choosing the correct travel journaling medium for you will decide how successful you are when it comes to consistency.
With the 100's of ways you can write in a travel journal and a plethora of ways you can achieve it with your smartphone…
How do you decide which is best for you?
With all of these notions in mind, let take a deep dive and look at all the tools at your potential disposal:
iPhone and Android Travel Journal Apps:
Travel journal apps make the rounds for chronicling your best trips and using GPS to show your friends where you've been in the world.
However, many avid travelers suggest using these apps to plan trips and make outlines.
Apps such as Polarsteps act as social media platforms that could be the inspiration for your next big trip to South America or Europe.
One of the best apps out there when it comes to the nitty-gritty of writing.
Immersive experience with full integration with access to images.
Works offline when you're out of WIFI's reach.
Free with the chance of upgrading to premium.
Unlimited cloud storage for photos and journal entries.
Organising folders and storage optimized by top-class UI.
A fully immersive world map with GPS capabilities.
Save trips according to Geocaches on images from smartphones or digital cameras.
Not the diary entry sort, more of a world map of personal images and tracks.
Helps inspire new journeys and discoveries.
Stripped down and easy to get into.
"Minimalist" and thus very simple in UI and in input.
The ability to export into PDF is one of the best features.
Completely free. No upgrades, just gratis.
With those tools, you should have a great starting point if you're looking for fully integrated tools.
Note Taking Apps:
These are the apps that you can use in a hurry, in a tight spot, or to make ideas written and chronicled.
However, these apps are also integral in the planning stage of a trip. You may bump into an old friend who recommends a location, and you need to make a note of where the best spots are in that area.
Note taking is one of the most important stages of planning a trip abroad, so use them wisely.
Completely free to use, downloads alongside the latest MS Office applications.
A notebook page is a complete free-form experience with customisation.
Supports stylus, can be a digital version of a doodle ring binder.
100gb OneDrive cloud storage is only $1.99/month.
The very best note taking app for organisation.
Sort notes into folders upon sorted folders effortlessly.
Throw everything in there; text, images, audio, emails, websites, slack conversations.
Create multiple notebooks.
Free initially but with a $7.99/month Premium subscription.
Integrates with Google Chrome (the most popular web browser) and Gmail (the most popular email service).
Appears in a sticky-note format on mobile which many deem useful for studying or keeping cluttered thoughts for later re-shuffling.
A brilliant addition for those who are well-immersed into the Apple Ecosystem.
Convenient for its integration with Siri and ergonomic bare-bones UI.
Completely free, if you have the Apple hardware that supports it.
The choice to upload onto cloud storage or keep on device only.
These convenient apps make an excellent starting point for anyone gravitating towards functional note-taking apps.
Photo Based Apps:
Photo-based apps allow you to take notes in creative ways. You can create your own style with the freedom that they offer.
All the capabilities of standard editing software but easier to use.
Integrates well with Apple and Google Photos.
Some of the best free editing software anywhere, even including on PC or OS.
Adobe's free-to-use Photoshop tool for smartphones.
Great for those already using Adobe Creative Cloud.
Smart filters. The crazily amazing world of smart filters.
Not an image-taker but more of a world-class video camera.
Used by journalists in the field as a professional creation app.
The most advanced video camera app on the market today.
The award-winning camera app that takes image-taking to a whole new level.
The best pro camera tools on the App store.
One of the only apps which lets users take images with either Smart HDR/Deep Fusion, but also the chance to take RAW images.
With these apps, you can create a visual travel journal that will stand the test of time. Not to mention be fun to look back at.
Itinerary based Apps:
Most itinerary based apps will allow you to import everything from airline tickets to hostel bookings.
A very straight-forward service.
$49 per year subscription gains you real-time flight alerts and seat tracking.
Sync with calendar and email.
$6 per year subscription.
Very similar to TripIt, gives option for Uber once you arrive.
Shows you your seat on the plane.
Perfect for tourism and business travel.
Suggests the best restaurants and hotels based on your budget.
Maps with detailed routes and available times for every spot it suggests.
These apps offer you another fresh approach to traveling journaling which you may not have considered before.
Free Blogging Platforms:
Blogging and travel blogs are the most popular ways for travelers to document their trips and share them with the world.
Powers more than 39% of all websites online.
Has its own hosting service, which has many pay options including free.
Open source platform that encourages using new ideas.
A very simple and easy to use platform.
Legendary blogging service that has stood the test of time.
No hassle, just a bare-bones blogging service which is easier to use than Twitter.
Whether you go with a self-hosted or free host platform you may have a bit of a learning curve depending on your technical abilities.
Travel Journal Prompts
If you have ever found yourself struggling with what to write, or ideas for your travel journal then travel journal prompts are maybe what you need.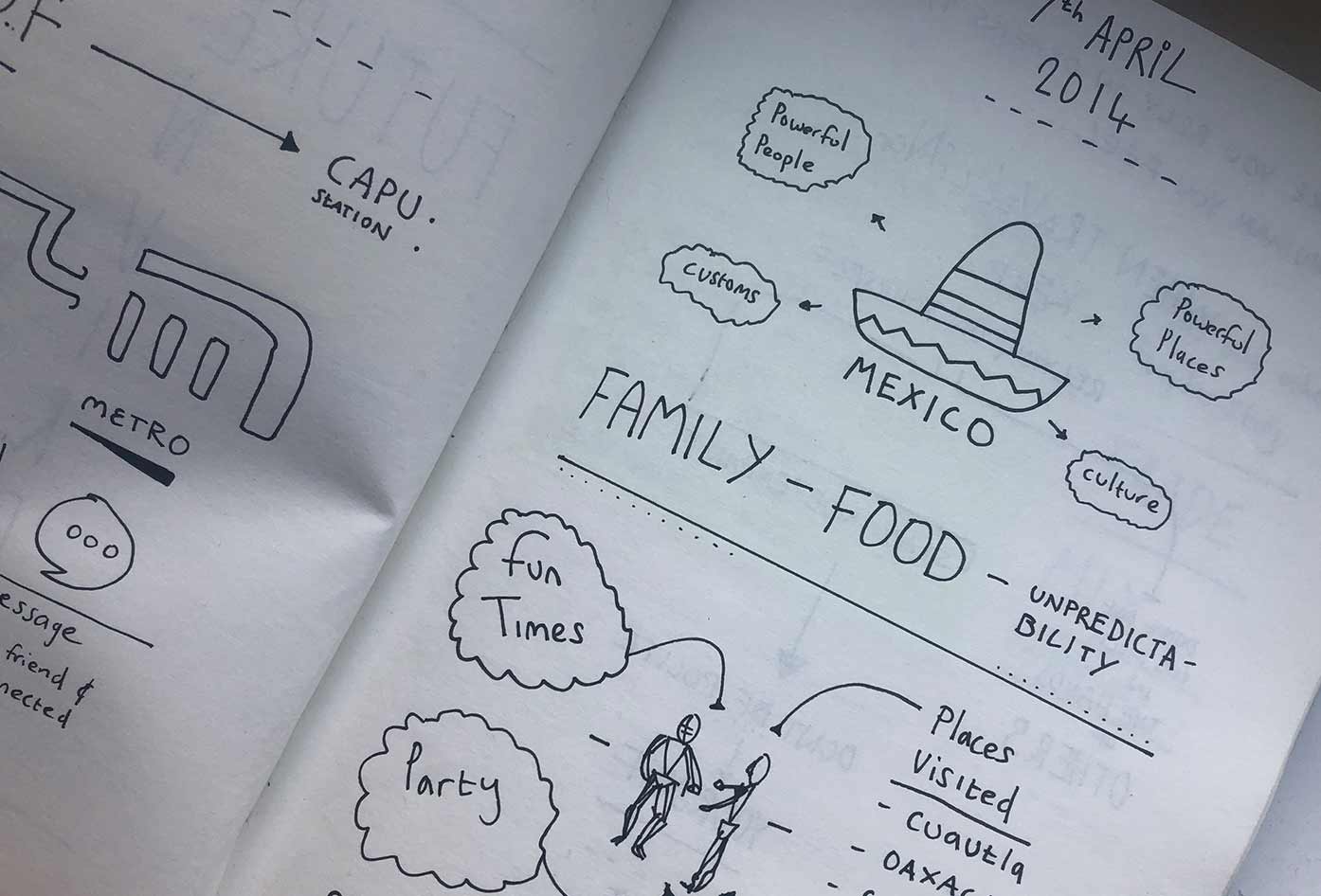 Travel Journal prompts are designed to inspire you to get started writing. They'll give you instant power to create amazing memories from your adventures without thinking too hard.
See these easy to follow journal prompts below:
Is this journey similar to one you've had before?
Write a postcard to family, maybe someone who's been where you're visiting.
Think about a problem that has been bugging you and write what your solution would be.
If you could go on a trip with anyone, dead or alive, who would you go with?
Has this trip felt like a book you've read or a film you've seen?
If you could visit this location at another time in the past, when would you go?
If you were to re-do this trip, what would you do differently?
Where would you like to travel to next?
These should give you a helping hand in starting your journal routine.
As you may already know, there is nothing worse than staring at a blank page in your journal.
Not only is it frustrating, but hard work when you don't create a routine for your travel journaling.
Travel Journal Ideas
When it comes to travel journals, there's so much choice.
If you think that journaling is for you, then choosing the perfect medium is key.
Whatever suits your needs, whether you want to cut down on clutter and just use images from your smartphone, an app will do the trick.
If you want the classic leather-bound notebook with cut-outs of tickets and doodles, you may wish to not write anything at all and just use it for keepsakes.
Either way, travel journals are perfect for planning as well as execution, so don't forget to use your journal before you travel.
Learn exactly how to write a travel journal to get tips on how to get started once you've chosen your preferred method.
📌 Like this article? Pin it…
What did you think to these travel journal ideas and methods?
💬 Leave a comment below or let's start a meaningful conversation…
---
"Dear friend! Some links in this post contain affiliate links. Meaning, if you click through and make a purchase, book a hostel or sign up for a tour, I may earn a small commission at no additional cost to you. Your support means a lot and helps me to keep traveling and maintaining the quality of this site for you."