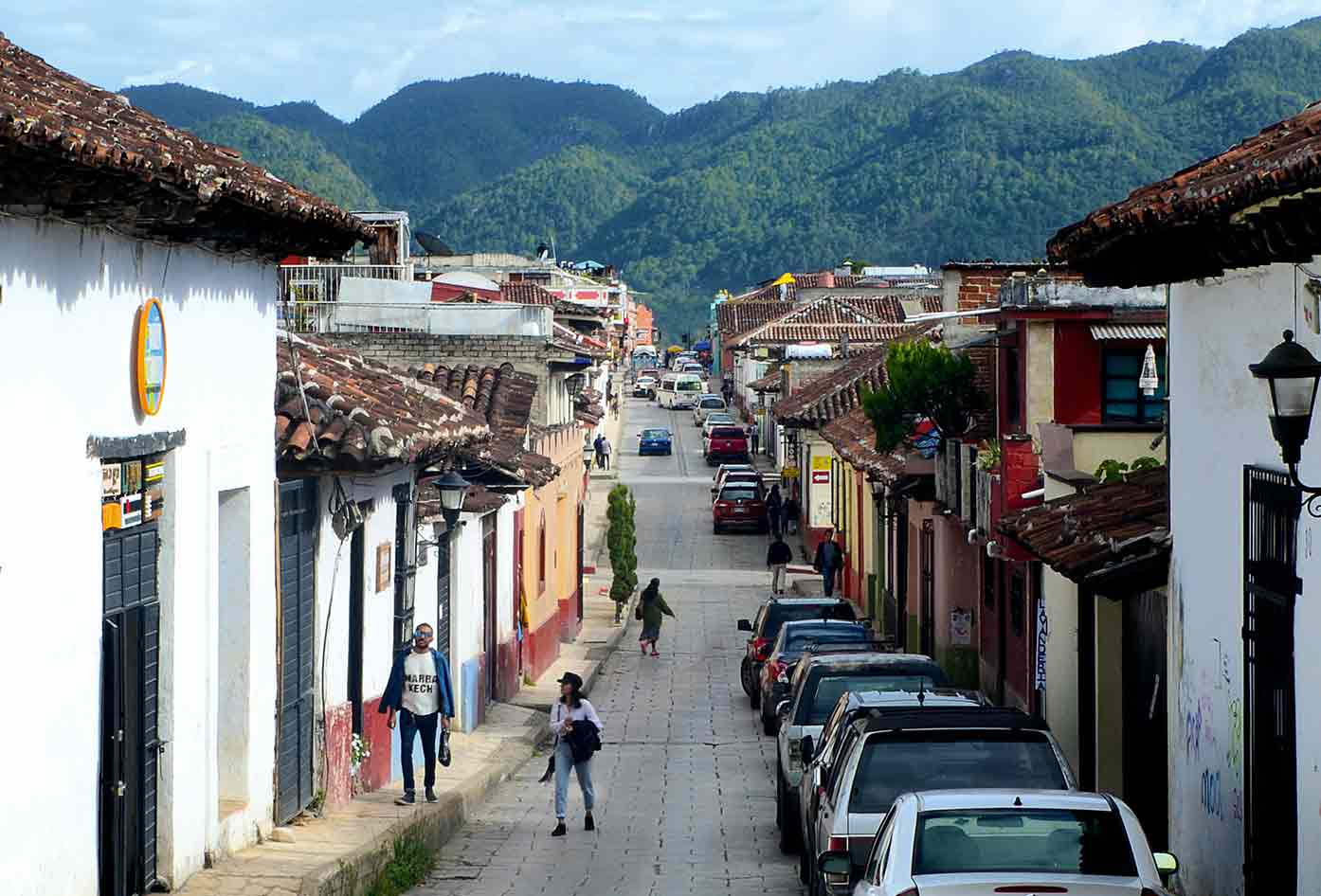 Are you heading to San Cristobal in Mexico?
If so, there is no doubt you'll be looking for things to do in San Cristobal de las Casas and wondering if it is worth your time.
San Cristobal is located in a wonderful part of Chiapas, which in itself has 124 municipalities, so it can seem a little hard to 'get' at first.
You may be overwhelmed with an area so rich in Mexican culture and history. This guide is designed to provide you with some inspiration.
San Cristobal de las Casas
First of all, we all know that the distances in Mexico are long, so why would you visit the Sovereign State of Chiapas?
San Cristobal de las Casas Mexico is the place backpackers base themselves when thinking about the best places to visit in Chiapas.
Why Visit San Cristobal de las Casas?
It's a quaint and lively town inhabited largely by indigenous peoples.
For many people, this makes it one of the main Chiapas points of interest, especially for those who love history and culture.
If you look where Chiapas is on the map, you'll notice that this region is on the border with Guatemala which is known for its volcanoes.
Through this region runs the major mountain range in Central America.
In this way, the mountain location of San Cristobal de las Casas also makes it very appealing for many travelers who enjoy hiking.
Not to mention other outdoor activities that are on offer throughout the surrounding area.
San Cristobal Saftey
There's been a history of violence in the wider area of Chiapas.
However considering this is one of the most beautiful regions with the most wonderful countryside, amazing people and food in Mexico.
I wouldn't let that put me off.
See some of the other things to do in Chiapas for more ideas.
Even with limited Spanish the locals I spoke to with limited English helped me out and were nothing but warm and friendly.
There or often "strikes" in the area, and these can occur at any time.
I believe these strikes are more disruptive and not violent but can have an effect if traveling on or around the same time.
When visiting places like Palenque or other remote places I recommended you stay safe by using normal universal precautions.
The same precautions you'd use in all of Latin America.
See my tips on safety in Mexico for basic ideas on protecting yourself. A little common sense can go a long way when following the basics.
San Cristobal de las Casas: Travel Basics
🛏️ Lodgings:
When deciding where to stay in San Cristobal, the Guadalupe neighborhood has a great selection of hostels and hotels suited for all travelers. Expect to pay anything from $10-15USD for the most basic options. Also, check the centre.
🍽️ Dining:
The Real de Guadalupe street (in the centre) has plent delicious food offer. Whether it be local dishes or international dining. Trying local food is a must! Many vegetarian and vegan options are found here too.
🚌 Transport:
San Cristobal is a perfect location to explore by foot. You can also take a taxi or a colectivo which are cheap. Consider renting a car if you are planning to do a Chiapas road trip, if not, it may not be worth it.
🎟️ Activities:
Fancy visiting a coffee farm or a stunning canyon? How about spotting wild animals or visiting the Palenque archaeological site? You can find amazing tours starting from less than US$25.
Things to do in San Cristobal
Now with all that said, and a better understanding of why people travel to Chiapas, Mexico.
First off, I recommend that you take a look at this simple and effective list of things to do in San Cristobal de las Casas for some ideas.
I can guarantee that by following some of the tips in this guide you'll make your trip to Mexico a touch more enjoyable!
Visit the Markets
Out of all the things to do in San Cristobal de la Casas, you might just find that a trip to the markets makes perfect sense.
All manner of hand-made ornaments and jewelry exist, alongside local produce and items that you might simply have never seen before.
A great opportunity to try authentic Mexican food and a must-see visit for anyone who loves to visit markets.
Sumidero Canyon Tour
A trip to the Sumidero is a must-see in Chiapas. This is a quick way to help get an idea of the unique expanse of land that you stand upon.
The Sumidero Canyon is a natural beauty to behold, and a tour boat is a great way to relax as you take in the sights on a tour-operated motorboat.
The ride lasts for around two hours, and as you go deeper and deeper into the canyons, you'll see them grow larger with each passing minute.
There are plenty of points of interest to stop off, including a natural waterfall. These are the type of places to see in Mexico if you're an adventurous person.
Just make sure you have a decent travel camera, as it's not uncommon to see Spider Monkeys here and even some cool looking crocodiles!
These parts aren't the most stable, and the wrong foot could be quite dangerous. Always listen and pay attention accordingly.
El Chiflon
El Chiflón waterfalls are one of the most Chiapas tourist attractions.
This amazing expanse of natural land should make it easy for you to see a unique nature that surrounds you.
It's a must-see, though I do recommend that you come as part of a tour group for the added safety and security it brings; like the Sumidero, a wrong step could be a dangerous mistake on your part.
One of the best things to do in San Cristobal de la Casas, though, is taking the day trip to the Palenque.
As one of the most important places to visit in Chiapas, Palenque is best visited as part of a group.
These Mayan ruins are part of the UNESCO World Heritage, so visit them should be on your list of what to do in Chiapas.
It's a time-consuming journey, but one that you should have no problems embracing.
Make sure you carry a decent camera for this excursion, trust me.
You'll see many awesome stops and meet interesting people along the way. Definitely, something to consider for travelers who like to mingle.
Walk around the Coolest Neighbourhoods
The best thing you can do when looking for things to do in Chiapas, and San Cristobal de la Casas, is to visit the local neighborhoods.
From walking around the Zocalo to a trip to City Hall, you can get a unique and lasting appreciation for the warmth and beauty of the people here.
A few parts of the city will pass you by if you're willing to walk around. There is something to see in just about every area that you visit, for sure.
San Juan Chamula
If you're an animal lover and have riding experience, a horseback ride through the mountains to San Juan Chamula is the perfect way to spend an afternoon or simply take a village tour instead.
Chamula is largely inhabited by natives, who happen to be extremely friendly. The idea of visiting is, rather than hire a bicycle, or moped, you hire a horse.
Coffee Farm Visit
For many, the morning doesn't truly begin until you enjoy that first heavenly mouthful of coffee. Unfortunately, many of us are used to freeze-dried instant coffee.
Do you consider yourself a bit of a coffee lover? A visit to a coffee farm in San Cristobal should be high on your itinerary.
If you come to Finca Argovia you will see how 60% of the world's coffee is produced and will sample endless coffee-related delights along the way.
Whilst backpacking in Mexico, make sure this is one of the first things you do, especially if you're a coffee lover.
That way, you can pick up some potent coffee nice and early to carry along with you.
Where to Stay in San Cristobal
I stayed in a beautifully converted building while backpacking San Cristobal de las Casas. Actually, by staying there, you're well-positioned to be able to find other adventures and tours in Chiapas.
It's located at a very high altitude, so make sure you're prepared for the drop in temperature, especially in the mornings and evenings.
While searching for accommodation in San Cristobal, I found some quirky, bohemian style hostels scattered around. This is a place that is 'booming with backpackers' but in a good way.
You'll find the town is inhabited by many indigenous people, and that's what we love to see.
You'll find a bed for the night quite cheap compared to accommodation in Mexico City. Make sure you start searching well in advance as I found many of my favorites had already been taken.
Find yourself a Airbnb rental. Three reasons I use Airbnb:
Practice Spanish
Get inspiration from locals
To have a private space
Many people backpacking Mexico prefer hostels, which is great; here are my three reasons why hostels in San Cristobal work.
Although I like to solo travel in Mexico, hostels are social places for those lonely and extrovert types. They're also good for:
Sharing your experiences
Group tours
Meeting new people
If you're considering solo travel in San Cristobal, I can recommend staying in a hostel. Use them as a way to connect with like-minded backpackers during your adventure.
One word of advice: be equipped with the correct travel gear in hostels. Ensure you have everything to make your stay as comfy as possible.
Where to Eat in San Cristobal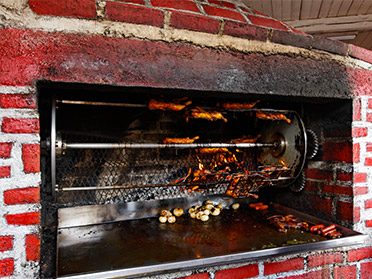 Chiapas and Oaxaca were by far my favorite regions to eat food in Mexico. If you're looking for the best places to eat in San Cristobal, here are my top three:
Frontera Café: Belisario Domínguez 35, Barrio del Cerrillo
Cacao Nativa:Calle Pedro Moreno (Cjon. Libertad)
El Caldero:Insurgentes 5A, town center
San Cristobal is one of the best places to visit in Mexico for seeing indigenous peoples and to experience unique Mexican culture on display.
You'll also find an interesting culinary fusion of Mexican and indigenous food in San Cristobal, plus many European-style dishes.
I'm no food expert, but the variety was vast. I enjoyed the traditional food found via street vendors more than anything.
The rotisserie-style chicken seemed very popular amongst locals. Like always, I recommend heading up to the market to get a real feel for the local food before trying anything else.
Whether passing through or staying for a few weeks, San Cristobal de las Casas will not disappoint when it comes to food options. This bustling little town has much more than a mouthful to offer.
San Cristobal Travel Tips
See these travel tips for San Cristobal to ensure you have the best stay whether you're on vacation, backpacking, or traveling with friends.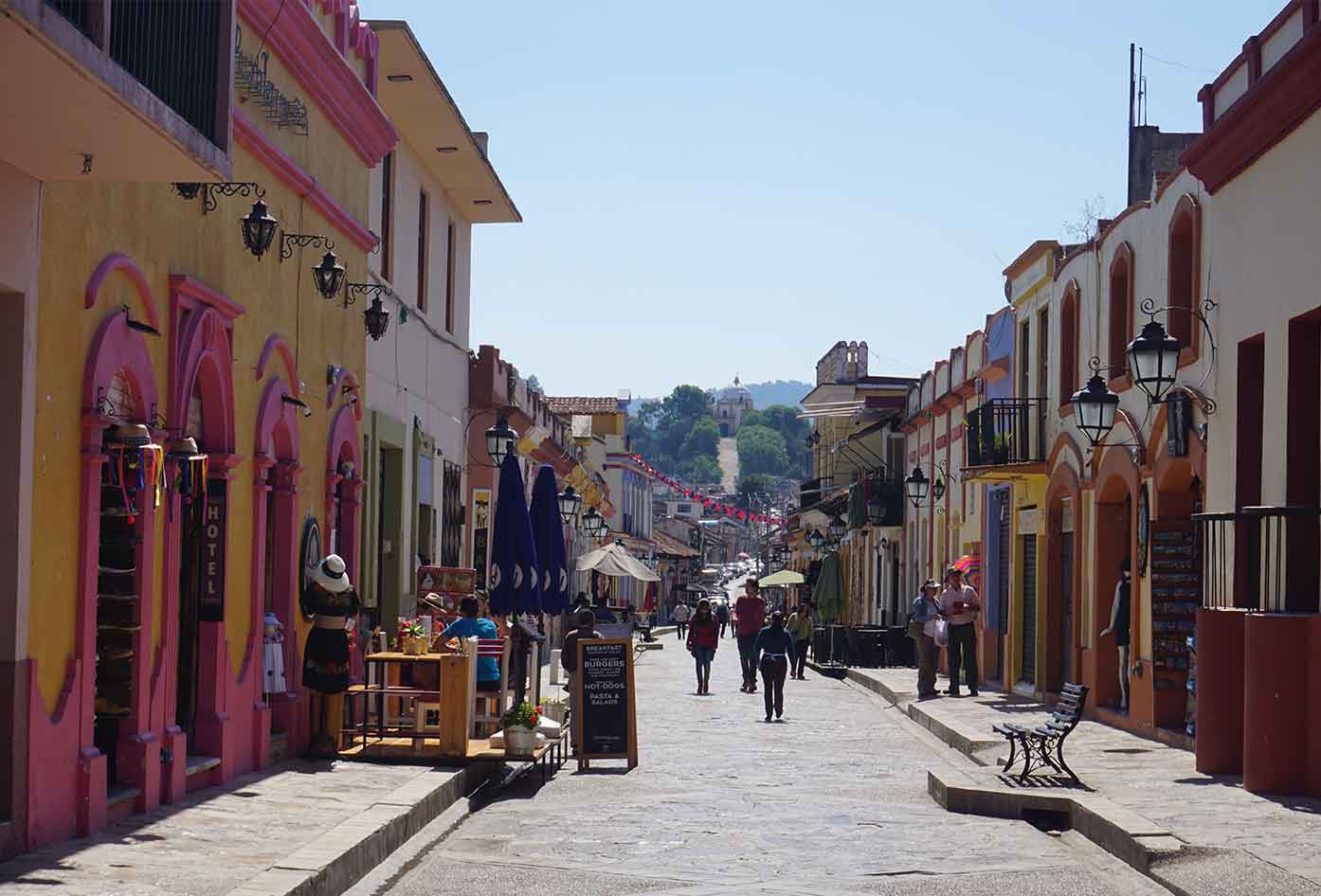 Throughout this blog, I will always note little tricks and that I feel can enhance your experience, or even save you money.
⤵️ Dan's Travel Tips For San Cristobal:
If you like visiting museums, be sure to go to Centro de Textiles del Mundo Maya where you'll find an incredible collection of textiles from Mexico and Central America.
Asociación Cultural Na Bolom is a highlight recommended if you're interested in history and photography of Mayan people.
From San Cristobal you can go to Lagos de Montebello (Montebello Lakes), a wonderful place to connect with nature.
Check out Guadalupe Church, even if you are not religious. You'll find a beautiful view of San Cristobal from the top of the 80 steps you'll climb to get there.
If you like extreme activities, be sure to zipline in El Chiflon.
Visit La Viña de Bacco, the perfect place for good wine and tapas food, located on Real de Guadalupe street.
If you take a tour to Palenque or visit solo, be sure to include a visit to the stunning Misol Ha Waterfall.
Buy something handwoven in the Artisan Market and take some vibrant pictures.
Take a free walking tour through the San Cristobal streets, you'll find graffiti and colorful walls.
Be sure to visit the craft and sweets markets, a small place for finding delicious candies of the region.
Got Travel Insurance for San Cristobal?

Designed by travelers, for travelers, World Nomads covers more than 150 adventure sports and activities so you can explore your boundaries.
San Cristobal de las Casas
So, if your Mexico trip brings you to San Cristobal, you certainly have some options to get you exploring.
Whether you want to see how coffee is produced, enjoy a relaxing boat tour, or ride horses in the mountains.
Be prepared for the altitude if you're traveling from Oaxaca to San Cristobal as it may be a shock to the system. It definitely was for me.
I arrived in San Cristobal de las Casas directly from Oaxaca with Ado's first-class overnight bus service.
While finding things to do in San Cristobal de las Casas may seem tough at first, now you shouldn't feel so overwhelmed by all the options.
📌 Like this article? Pin it…
Still not sure on what things to do in San Cristobal de las Casas?
💬 Leave a nice comment or let's start a conversation below!
---
"Dear friend! Some links in this post contain affiliate links. Meaning, if you click through and make a purchase, book a hostel or sign up for a tour, I may earn a small commission at no additional cost to you. Your support means a lot and helps me to keep traveling and maintaining the quality of this site for you."