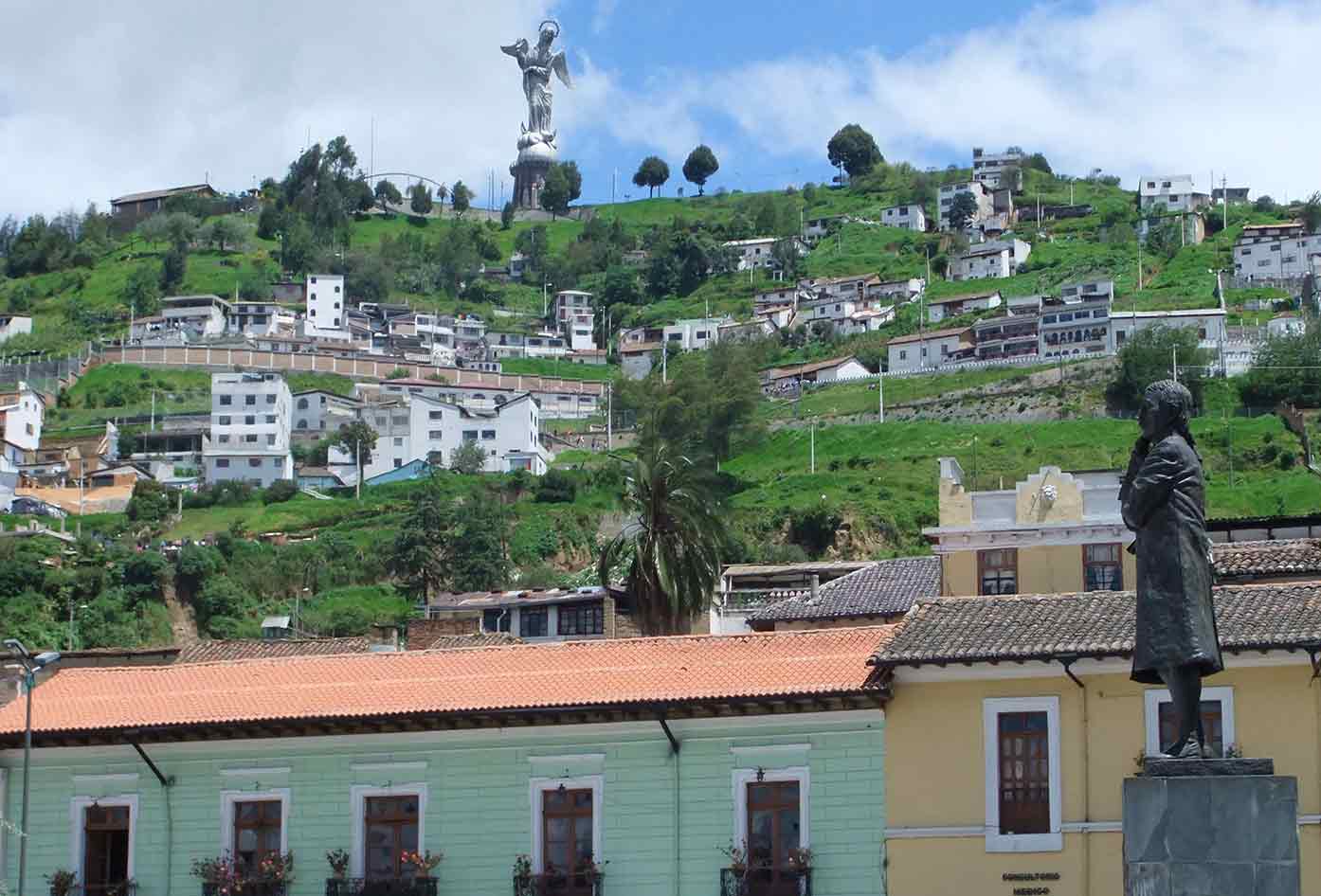 Are you looking for things to do in Quito, Ecuador?
The capital of Ecuador is one the most popular Andean destinations to visit in all of South America.
Quito is known for its striking historic center, which is full of colonial buildings, plazas, and other architectural delights.
It's also a great place to base yourself when exploring the surrounding region, which is home to stunning volcanoes, peaks, and cultural gems.
Things to do in Quito
In this guide, we'll explore Quito, why visit, how to get there, the best things to do, as well as tips for getting the most out of a trip.
Is Quito Worth Visiting?
Quito is a great destination for exploring the authentic Andean culture. Nestled up at around 2850m, the Ecuadorean capital is one of the best high altitude destinations in the continent, with tonnes to see and do.
Some of the best things include a visit to the historic center as well as ascending the highest cable car in the world, both of which we'll explore in more detail.
Quito is also known for its proximity to the Cotopaxi National Park, home to the 5900m volcanic beast which looms over the horizon.
It's also a very popular ascent for hikers who visit Ecuador.
Other popular day trips from the capital include visiting the Equator Line (and taking "that" photo with one leg in each hemisphere), wandering around the bustling Otavalo market as well as exploring the emerald green volcanic lake of Quilotoa.
How to get to Quito
Quito has one of the best-connected international airports in all of South America. The bustling capital receives tonnes of incoming flights from around the continent and also has direct flights to Europe too.
If you're already in Ecuador, then, of course, you can fly from other popular cities such as Cuenca and Guayaquil if you're strapped for time.
However, the best way of getting to Quito will be by bus. Ecuador is actually one of the smaller countries in Latin America, and as a result, most bus journeys can be completed overnight.
From Guayaquil, a bus to Quito will take around 7 hours. It will also take 8 hours to arrive if heading from Cuenca.
Is it safe to visit Quito?
Let's not kid ourselves here, although Ecuador is known as one of the safer countries in South America, Quito can feel pretty seedy at times.
The historic center, whilst most known for its stunning architecture, plazas, churches, convents, and monasteries, it's also not the safest.
If staying here I suggest avoiding walking alone at dusk, as it's known for mafia groups who operate in the area who often target tourists.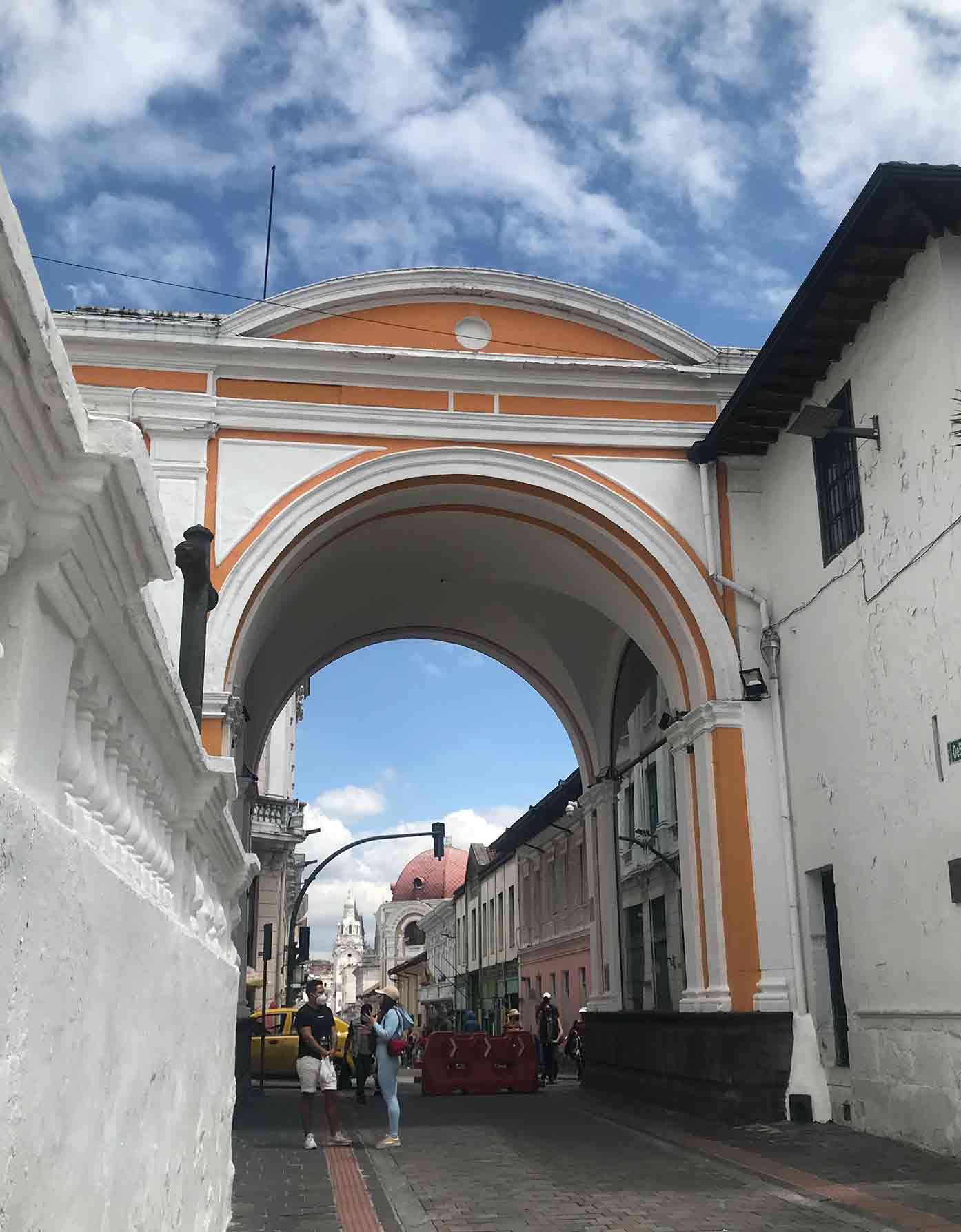 During the day you'll want to take care as well when exploring some of the plazas, and even more so with the bus stations.
The other popular area to stay is in Plaza Foch, which is about 20 minutes north of the Historic Centre. Whilst it does feel a little safer, there is still poverty in the area so be sure to dress down a bit.
It's known for its bustling and touristy center, so heading out alone at night here is more viable, just take care and don't drink too much if heading out alone. Check out this Quito safety guide for more tips on what to expect.
Things to do in Quito
There are tonnes of interesting sights and cool things to do when in Quito. Here we'll cover some of the very best.
La Ronda
One of the oldest streets in all of Quito, La Ronda has been important historically for many centuries.
Many politicians, important musicians, and poets have once lived here, each leaving their influential mark on Ecuadorean history.
Nowadays you can walk down the pretty cobblestone street, wander around and see all of the now renovated buildings which still stand from its oldest times.
Backpackers looking for budget stays can find Selina hostel closeby which is somewhat of a haven for those looking to connect with others.
There are lots of shops and cafes here too, making it a great place to enjoy lunch or dinner. La Ronda is located in the historic center, just a block away from the large and well-known Plaza de Santo Domingo.
Basílica del Voto Nacional
This stunning neo-gothic church is located in the historic center of Quito. At 30m tall and 140m long, it is officially the largest neo-gothic basilica in all of the Americas.
Some of its best features include the giant bronze doors that open into the church, as well as its murals and colorful-stained windows.
There's also a large spiral tower that can be climbed to give some really stunning views over the historic center of Quito.
Teleférico Cable Car
The teleférico of Quito (known as the TelefériQo) is a gondola that heads up the side of the Pichincha volcano for the best views of Quito.
It's one of the highest-lift gondolas in the world, which rises almost 1000ft from the bottom to the top (3,117m to 3,945m).
At the top, there are also lots of hiking trails which is good for getting out of the smog of Quito and into nature.
Due to the higher altitude, it's recommended to bring an altitude sickness tablet as symptoms can start to appear around this height.
Cotopaxi National Park
This stunning park is one of the best nature experiences in Ecuador. It's home to Cotopaxi Volcano, which at 5900ft is one of Ecuador's tallest.
You can join a tour where you hike up to the refuge for some insane views of the countryside, as well as see the peak in all its glory.
If you're in good fitness then you can opt to do the 2-day tour which will take you to the top of the volcanic peak.
As well as this beast, in the park, you can see many beautiful lakes, wild shrubs as well as animals such as condors, bears, and pumas.
You can easily explore this gem independently by taking a bus to the nearby town of Latacunga from Quito and then onto Cotopaxi.
Alternatively booking a tour makes it all easier, providing all logistics as well as seeing many hidden gems that only the locals know about!
The Middle of the World City
One of the major bucket list gems to complete in Ecuador (and also on many South America itineraries).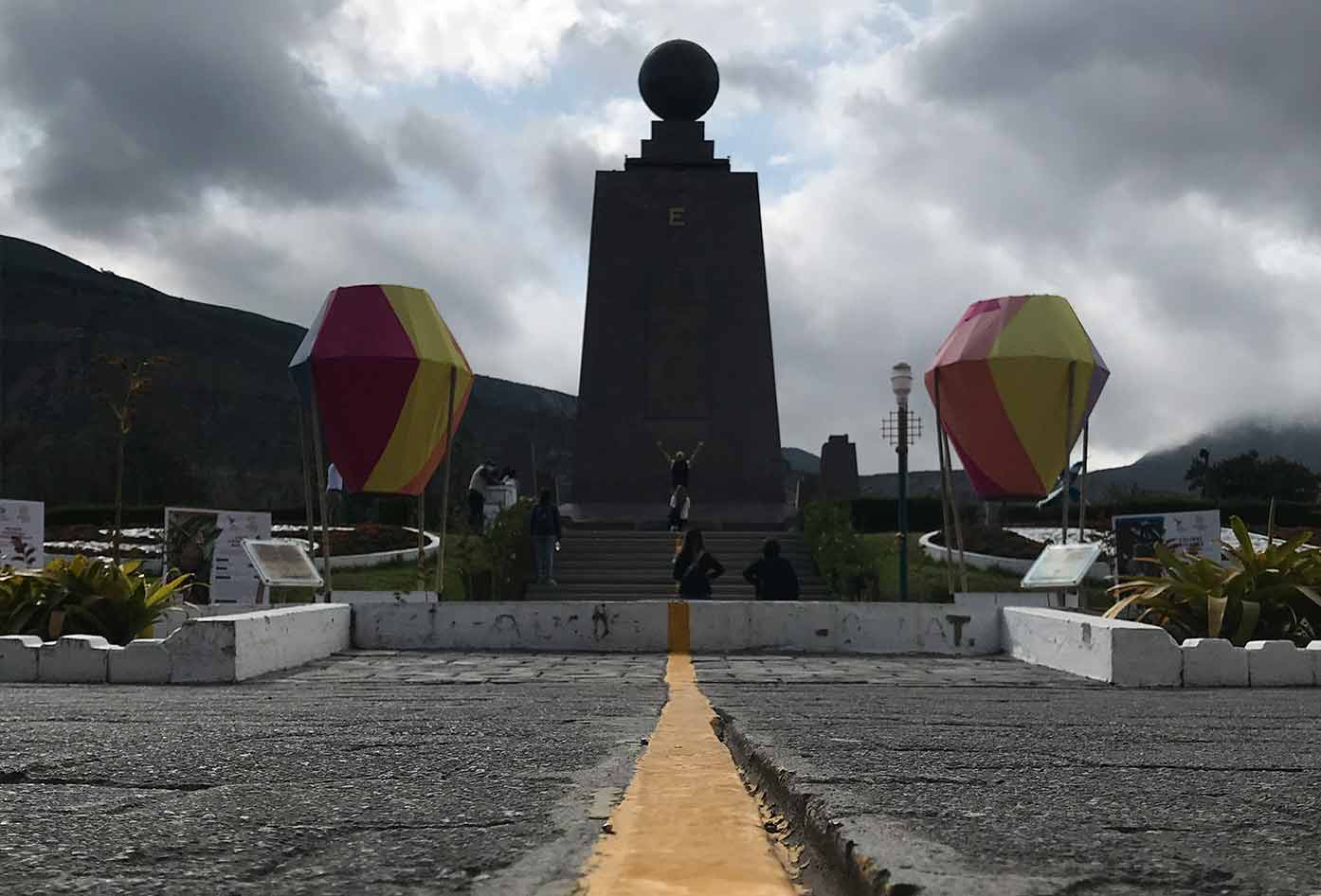 The Middle of the World (known locally as Ciudad Mitad del Mundo) is just that – a town located smack bang in the middle of the world.
There is a long yellow painted line that marks the Equator line, diving the great North and Southern Hemispheres from each other.
There's also a large monument as well as a museum which is cool to explore, not to mention many restaurants and shops nearby.
Of course, the classic "legs in each hemisphere" photo is a must, but also consider doing some experiments which can be found online.
Some of these said experiments show the bizarre effect of what happens when you stand between the polar forces!
Quito Travel Tips
See these travel tips for Quito to ensure you have the best stay whether you're on vacation, backpacking, or traveling with friends.
⤵️ Dan's Travel Tips For Quito:
First and foremost, I recommend really checking out reviews of different hostels before heading to Quito. Even the touristy areas have had safety issues before, so be sure to brush up on neighborhoods and reviews to help you make the best-informed decision.
Be sure to check out the best-rated hostels in Quito before booking anything to ensure you have the most comfortable stay possible.
In terms of how long is needed, I recommend a minimum of 5 days in Quito. There are a lot of landmarks and interesting things to do in the city, and that's not even accounting for hiking trips and visiting some of the smaller towns and gems dotted around the region.
Of course, you can always stay instead in places like Otavalo, however, for those strapped for time are the best lodging in the capital and making use of the extensive and reliable bus system.
From exploring Cotopaxi Volcano and its national park to wandering the bustling market of Otavalo as well as straddling both hemispheres in Ciudad Mitad del Mundo, you'll be best located in Quito to explore all with relative ease.
Map of Quito, Ecuador
See this map of Quito to get a better idea of the surrounding area:
Despite the cities heights, you'll find the Centro Historico is the main attraction with museums, theatres, and cafes to visit during the day.
Check out the restaurants and food carts that sell local Ecuadorian dishes and almuerzos for as little as $2.50 and are prevalent.
Remember to carry some comfy walking shoes and practice your Spanish to be able to pick up any inside knowledge from locals.
Got Travel Insurance for Quito?

Designed by travelers, for travelers, World Nomads covers more than 150 adventure sports and activities so you can explore your boundaries.
The Best Time to visit Quito
Quito is located at roughly 2900m way up in the Andean mountains. As a result, it's generally quite cool year-round, with temperatures rarely varying due to its close location to the Equator.
Average temperatures hover between 55-57°F, and can get somewhat chilly at night, so always keep an extra layer with you. Lows vary from 46-48°F, with highs of up to 66°F.
Rainfall on the other hand is quite sporadic, with no clear prolonged wet of dry season. The driest months to visit Quito are June and July, with between 20-40mm of rainfall for each.
February, March and October are the wettest, with anywhere from 80-100mm of downpour throughout each. The rest of the months fall somewhere between 50-70mm each.
Things to do in Quito
And that's all for our guide to travel in Quito. The capital of Ecuador is one of the most popular destinations to visit in all of Ecuador.
With its unique culture mixed with Spanish history, you have a vibrant city filled with beautiful architecture and many interesting things to see.
Quito is also a great place to base yourself to explore the surrounding region and nature such as Cotopaxi Volcano and Otavalo.
This guide looked at reasons to visit Quito, how to get there, the best things to see, when to visit, as well as my top tips for traveling to Quito.
Read about some more of the places to visit in Ecuador if you will be traveling around the country and looking for ideas on where to go.
📌 Like this article? Pin it…
Got better idea of what to expect visiting Quito?
💬 Leave a comment below or let's start a meaningful conversation…
---
"Dear friend! Some links in this post contain affiliate links. Meaning, if you click through and make a purchase, book a hostel or sign up for a tour, I may earn a small commission at no additional cost to you. Your support means a lot and helps me to keep traveling and maintaining the quality of this site for you."