Are you looking for ideas on what things to do in Oaxaca, Mexico?
With so many things going on in Oaxaca City, this guide will help you discover ways to experience this unique piece of Mexican culture.
Most cities in Mexico have some fun things to do. I'm going to show you what makes Oaxaca an amazing place people love to visit.
Things to do in Oaxaca
No matter where you're traveling to or from, if your backpacking Mexico adventure brings you to Oaxaca – consider one of these activities if you have time to explore this charming city.
Is Oaxaca Worth Visiting?
As one of the most popular cities to visit in Mexico, Oaxaca is often considered the cultural capital of Mexico, and for good reason too.
The beating heart of the city is the best place to stay, with it being home to some of the best attractions, not to mention also foods of the country which include Tlayuda and Memelas.
There's also the Templo de Santo Domingo and Mercado 20 de Noviembre which both must be visited.
Whilst Oaxaca has become more touristy, it retains an authenticity that can be felt when walking around the old colonial streets and the plaza.
People watching in Oaxaca
The best way to fall in love with this city is to look at the people; simply people watch. Grab a coffee, perch on a wall, and watch the day go by.
Enjoying the culture through seeing how people interact with each other is always on my list of things in Mexico. With Latin American countries in general, you can learn for free.
When it comes to safety in Oaxaca don't worry, just be sure not to stare too hard or too long; people will want to know what your problem is!
Overall, though, the people-watching experience is one of the best ways to buy into this amazing town.
Monte Alban
A trip to the stunning Monte Alban should be high up on the list of what to do in Oaxaca. This stunning venue is a perfect example of vintage living, with some amazing Aztec artifacts waiting for you.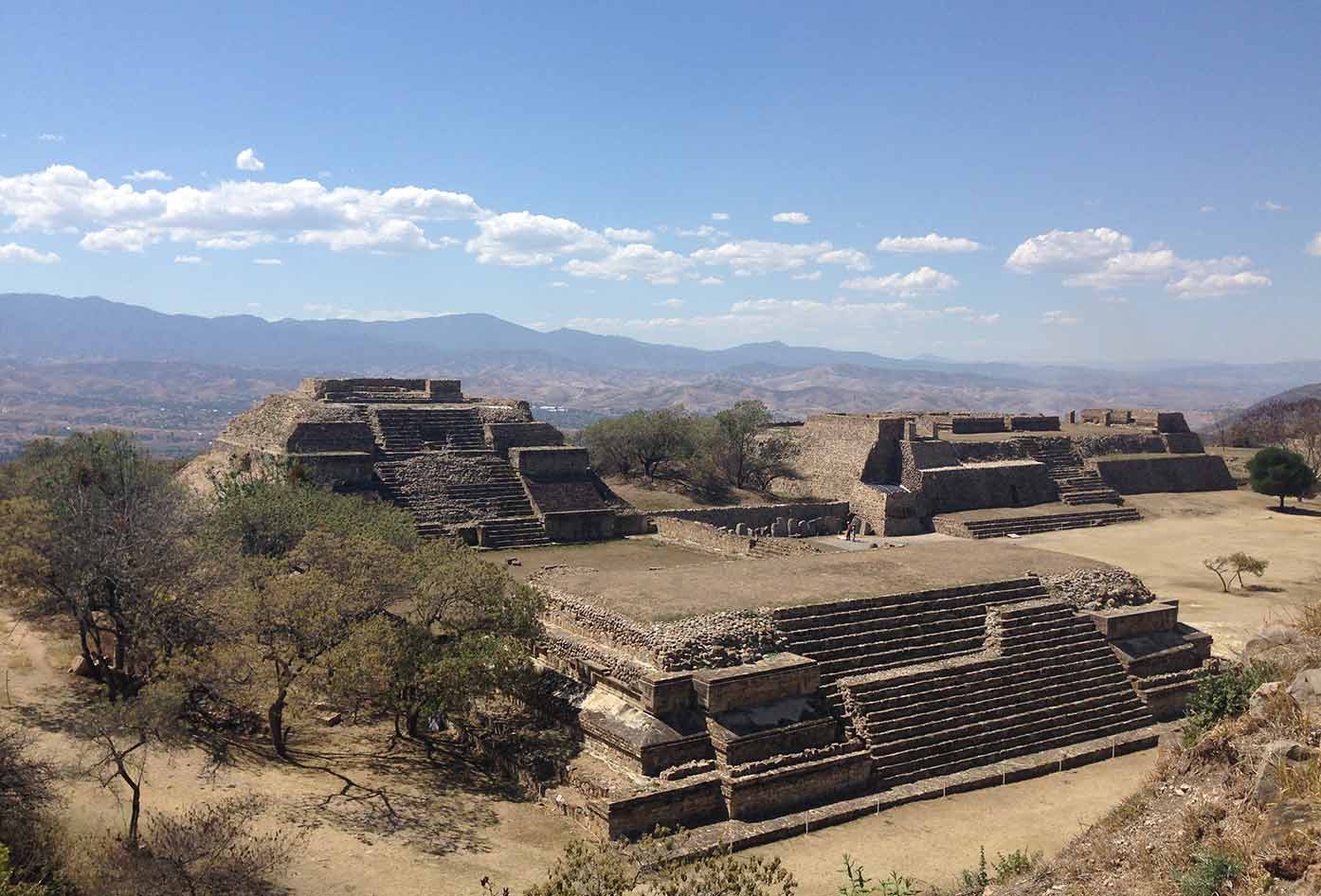 The reason why Monte Alban should be on your list of things to do in Oaxaca as the pre-Columbian archaeological sites are often impressive, but few are quite as impressive as this.
If you feel like you have seen enough of the Aztec world or don't fancy Monte Alban, learn about the Zapotec culture by hiking up to Pueblos Mancomunados in the Sierra Norte Mountains of Oaxaca.
However, making time to visit Monte Alban would be one of the best things to do in Oaxaca from a cultural perspective. You'll be glad to know that it's part of UNESCO World Heritage.
Mercado Benito Juarez
One of the best things to do in Oaxaca is visit Mercado Benito Juarez.
There are 5 markets in Oaxaca and this is one of the largest. It's a fun and easy place to enjoy and offers a unique take on Oaxaca's culture.
If we can agree that culture is an attraction of the city, the cuisine is another thing Oaxaca is very well known for.
El Mercado Benito Juarez is the perfect place for tasting Oaxaca's gastronomy, which is so delicious and exotic.
Have you heard of Chapulines by any chance?
Have the most satisfying food experience by adding this market tour to your list along with the other places to visit in Oaxaca you plan to see.
Be respectful when visiting, as loudness or brashness draws public ire. Do what you can to remain polite, humble, and quiet (when possible).
Visit the Templo de Santo Domingo
There are plenty of churches and cathedrals, but the Templo de Santo Domingo is a very popular place that is really something special.
Dating back more than four centuries, this grand church is a sight to behold, largely because the interior is coated in gold.
Stroll through the Street markets
Oaxaca isn't known as the culinary capital of Mexico for nothing.
Everywhere you turn, you will likely see something food and drink-related, and if you want to see where the quality ingredients are sourced from, a walk through the markets is a must.
Here, you'll not only find the freshest ingredients you could imagine, but you'll also pick up non-edible items such as flowers, ornaments, and local arts and crafts.
Try to arrive here on an empty stomach because there are countless Mexican dishes to try, and many stalls will hand out free samples.
The Ethnobotanical Garden
A truly stunning example of nature, this fine mixture of stunning indigenous art and local culture is one of the most amazing public gardens you will find anywhere on the continent.
It's got an amazing range of different features, with each one really going the extra mile to show you the unique combination of nature and artistic craft rolled into a truly special experience.
Enough reasons to consider it as one of the best places to visit in Oaxaca. You'll feel like visiting a Jurassic place.
You should know the Garden can only be visited on guided tours. The good news is if you prefer you can choose an English tour!
The Museum of Cultures
The Museum of Cultures, too, makes it very easy for you to enjoy and experience a more harmonious living experience in general.
If you are looking for where to go in Oaxaca to learn and understand about the pre-Columbian era, this is the perfect place.
You'll find some amazing throwbacks to the old-school culture here as well as classic pieces of jewelry and other ornaments from previous cultures and eras. Be sure you won't feel disappointed.
There's plenty of museums here, yet many consider the culture museum to be the best. It's not only are the exhibits here that are stunning, the grounds where the museum is located are also too.
That's because it is housed on the site of a former monastery, which dates all the way back to the 1600s.
Visiting the museum is worth it purely to look around the grounds, and that's before you consider the stunning exhibits on display.
Where to Stay in Oaxaca
There are some great Accommodation options in Oaxaca, and before traveling, I suggest booking your stay in advance.
I found some of the best hostels were fully booked. Although I didn't stay with a family there, I saw homestays with local families, which can be arranged with the help of Spanish schools.
In my Travel Bible I've explained how I usually go about doing that.
I also like to use AirBnb for three reasons.
Connecting with locals
Authentic experiences
Get my own private space
If you prefer staying in hostels, here are three reasons why I use hostels. I find hostels are the perfect choice if you like connecting with other travelers, especially if you're thinking of traveling alone.
Meet other travellers
Get invites to local activities
Travelling with a low budget
I suggest looking at this list of amazing hostels in Oaxaca as a way to connect with other backpackers during your adventure. There's nothing like feeling lonely while you're backpacking.
My preferred type of lodging while backpacking through Mexico usually depends on where I am and what type of mood I'm in.
I try my best to use all three of the above methods of accommodation. Not to mention, I aim to travel lighter every time I travel.
I only carry a few items and sometimes, even reversible clothing to help me cut back on unnecessary items in my backpack.
Where to Eat in Oaxaca
Food in Oaxaca offers something for everybody. The dishes are more flavorsome than most I've sampled in other parts of Mexico.
Like most of the other regions within Mexico's borders, the street food is top-notch.
While in Oaxaca, you're actually in a food paradise. Typical foods include Mole, Tlayudas, Chapulines (a local specialty), and Tamales, not to mention a healthy dose of Mezcal. Try these places to eat in Oaxaca.
Calabacitas Tiernas:Calle Porfirio Díaz 1105
Nanixhe:Curtidurías 121, Centro,
Los Pacos:Los Pacos
So, while you're looking for things to do in Oaxaca, ensure food tasting is right at the top of your list.
Walking around Oaxaca's nicely paved streets, you cannot miss the colorful selection of food and desserts that the local people are effortlessly enticing you to sample, so enjoy.
Oaxaca is another food lover's dream come true, so if you are a self-confessed foodie, or if you want to enjoy some authentic and traditional Mexican cuisine, Oaxaca is your dream destination.
Oaxaca Travel Tips
See these travel tips for Oaxaca to ensure you have the best stay whether you're on vacation, backpacking, or traveling with friends.
⤵️ Dan's Travel Tips For Oaxaca:
Be sure to try Mole, it's a must if going to Oaxaca and Puebla in the state of Mexico and goes best with chicken.
Always drink bottled. The water is not potable and if you're extremely sensitive, use bottle water (even for brushing your teeth).
Be smart when looking for veggie options at restaurants, and most especially, on the street.
There're vegetarian options, but you should be clear when asking.
The whole city can be explored on foot. Which is perfect if you are on a budget. And, remember the Ado buses in Mexico offer a great public service for traveling in Mexico.
Be sure to join a chocolate workshop. It's a wonderful experience.
Pack some nuts and emergency food if you're vegetarian, or even if you are usually quite sensitive to changes in food.
Carry diarrhea and upset stomach tablets. The food and spicy ingredients in Oaxaca can make you feel ill.
Bringing a good pair of walking shoes and sandals, they will be enough for exploring the city and joining the tours.
Go hiking to Hierve el agua, termal pools and waterfalls. My recommendation is to take a day trip. The landscape is breathtaking.
There are some establishments with fast Wifi but don´t trust all the cafes, hostels and coworking places.
Best Time to visit Oaxaca?
Oaxaca City is known to be much cooler than its coastal counterparts, which is a nice break during the hot summer season.
The wet season, which runs from June until October, has daily averages of 69-71°F, with highs of up to 80°F and lows of 61°F. Rainfall is at its most, with between 6-7 inches falling throughout each of these months (June on average is the wettest month).
The dry season is a stark contrast in terms of weather in Oaxaca, which runs from November until May. Average temperatures during this season can really range.
November until February has daily averages of 64-65°F, with highs of 78°F and lows of 47°F (January being the coolest month of the year).
February onwards until May gets a lot hotter, with daily averages of 75°F, highs of 87°F and lows of 55°F (April is the hottest month to visit Oaxaca).
Rainfall is very low during this time of year, with 0.2-0.4 inches falling throughout each month. December on average is the driest month of the year to visit.
Got Travel Insurance for Oaxaca?

Designed by travelers, for travelers, World Nomads covers more than 150 adventure sports and activities so you can explore your boundaries.
A trip to Oaxaca might seem rather tame at first, but there are many things to do in Oaxaca Mexico.
Things to do in Oaxaca
From seeing colonial architecture to interacting with local culture and taking part in the Day of the Dead experience, there's loads to do!
No matter whether it's to pick up some fresh chilies at the market, or enjoy the many churches and museums on offer.
Oaxaca is a destination you won't want to miss if you're anywhere near south-central Mexico.
Even if you only have as little as three days to spare here.
This can make it nice and easy for you to enjoy a much more satisfying experience than normal.
Known for vibrant culture, electric food, and beautiful beaches, you can see why visitors choose to come to this rich and culturally deep part of Mexico – not just once, but time and time again.
📌 Like this article? Pin it…
Did this guide help you with what things to do in Oaxaca?
💬 Leave a nice comment or let's start a conversation below!
---
"Dear friend! Some links in this post contain affiliate links. Meaning, if you click through and make a purchase, book a hostel or sign up for a tour, I may earn a small commission at no additional cost to you. Your support means a lot and helps me to keep traveling and maintaining the quality of this site for you."