Are you on the lookout for things to do in Mexico City?
Despite the endless things to do in this huge city, for most newbies, it can be overwhelming to know where to start their trip.
Having re-visited on more than one occasion, I have listed some of my notes from my personal travel journal to be able to share this guide on what to do in Mexico City. I'll also add other useful travel tips.
Even if you only have a short stay, there is something for you too!
Things to do in Mexico City
From the smells to the sights to the sounds. Everything you ever thought about Mexico all conjured up into one big bad boy city.
The only thing that you could say is missing here is the beach, but hey, this is not Rio de Janeiro after all. That's what the Rivera Maya is for.
Arriving to Mexico City
If you are arriving via plane it is likely that you want to head to the Centro Historico one of the popular neighborhoods such as Roma Norte or La Condesa to start your trip there.
No matter where you are staying I found Uber the safest way to get directly to my destination, especially when arriving at night.
If arriving during the daytime you may want to consider the Metro as a more cost-effective option at just 5 pesos per one journey.
Mexico City Typical Costs and Budget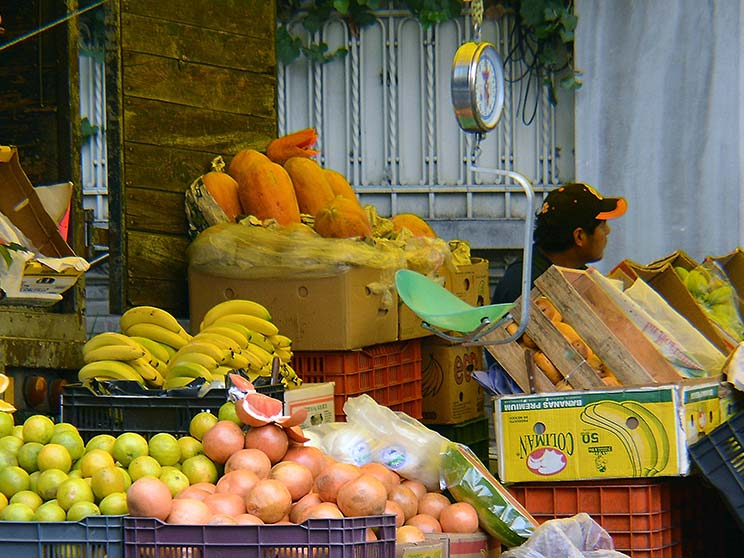 Costs Breakdown:
🇺🇸 1USD – 🇲🇽 20MXN
My daily budget:
Up to 800 MXN
Suggested budget:
800-2K MXN
Is it possible to travel to Mexico on a tight budget? Of course 🙂
In this article, I'll also share some of the best travel tips for Mexico City that can hopefully save your hard-earned cash for more experiences.
Mexico City: The Travel Basics
🛏️ Lodgings:
When deciding where to stay in Mexico City, the Centro Historico has a great selection of hostels and hotels suited for all travelers. Expect to pay anything from 4-5USD for your most basic option.
🍽️ Dining:
With so much food on display, knowing where to start can be tricky. Here you'll find everything from fine international dining, to local and regional street food dishes.
🚌 Transport:
Expect to find taxis, buses, eco-taxis, pedal bikes, and the metro for getting around. You can buy tickets from the kiosks when you want to ride the Metro. Uber serves as a great option for transport in Mexico city also.
🎟️ Activities:
Fancy learning more about the Aztecs? Or maybe scaling visiting the house of Frida Karlo. There various tours for one person or more that can be found in Mexico City. You can find tours starting from US$20.
With so much to do, if you're only staying in Mexico City for one or two days you may want to pick and choose what interests you the most.
Map of Mexico City
See this map of Mexico City to get a better idea of the area:
After a few days of settling in (acclimatizing + food/culture), you'll start to find that you are able to get deeper into what the city has to offer.
If your Mexico City itinerary has less than 4 or 5 days, you may want to create a time-effective plan to make the most of your time here.
Is Mexico City Safe?
Great question, especially for first-time visitors. Many thousands of tourists arrive in this capital each year and it's not difficult to see why.
However, still follow the universal safety laws (which can be found in this guide on safety in Mexico City via this blog) before you arrive.
You may be (or may not be) surprised to know that crime is much lower in this region than most people coming from abroad think it to be.
As noted in my safety guide: 99% of the time criminal activities do not involve unsuspecting visitors or tourists. But it can happen sometimes.
This is one reason why knowing some basic travel safety laws helps.
Things to do in Mexico City
Even if you only find yourself in Mexico City for one day or even two, you can enjoy a slice of the action in a short space of time.
Let's look below at some the things you can do whilst here:
Polanco Food Tours
A great way to have fun in Mexico City is to try out the local cuisine. Why not go on one of the Polanco food tours for the afternoon?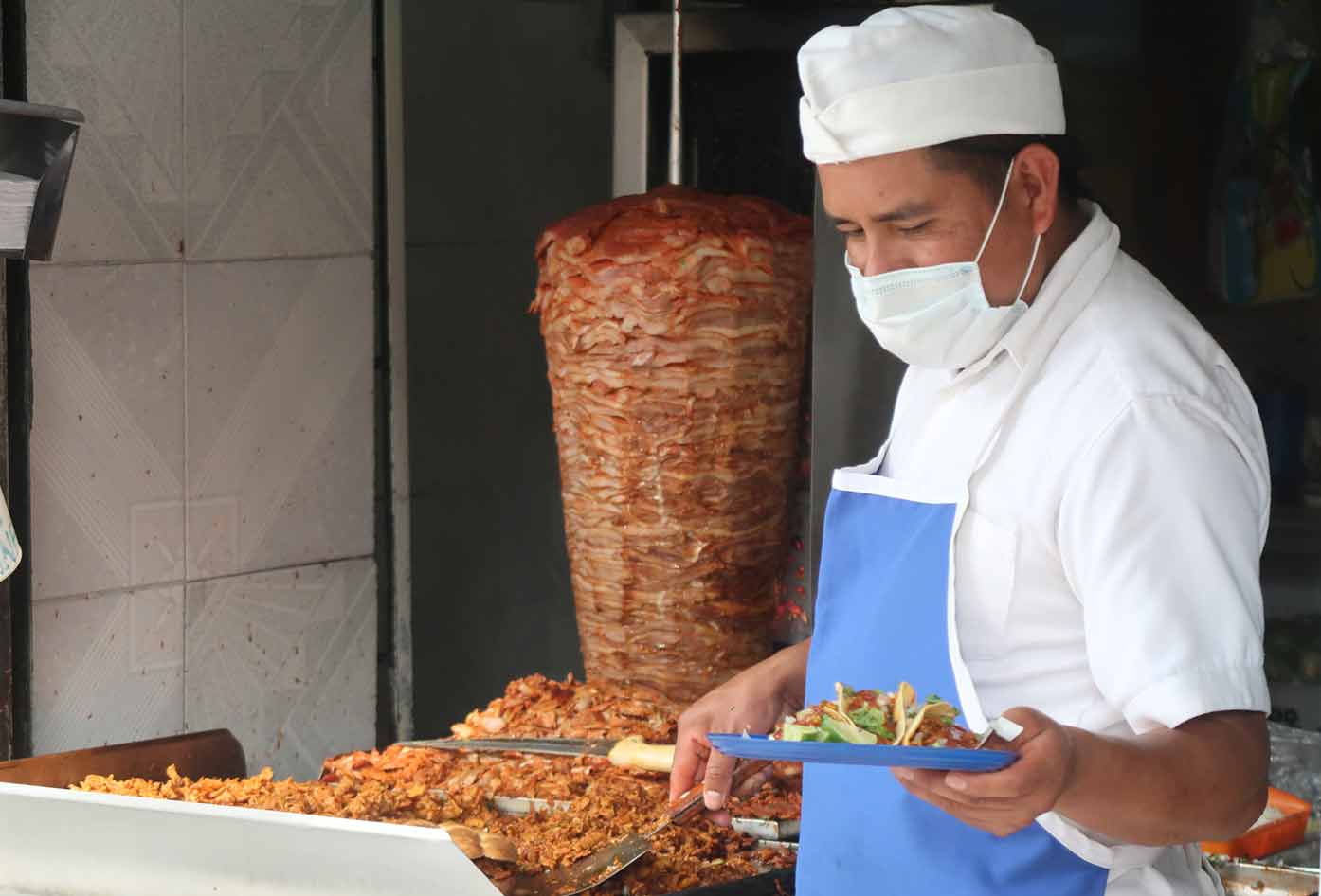 These food tours are easily among the best things to do in Mexico City if you want to whet your appetite for a range of Mexican food dishes in a short space of time.
Obviously, you'll try out some local cuisine too, so be prepared to have your palate and your appetite tested.
Now's the time to put any Mexican stereotypes to rest. If you're not used to real Mexican food, the first thing you'll notice is the 'particular' dishes to try out, so keep an open mind to avoid insulting the locals!
Frida Kahlo Museum
One of the most important people in history, Frida Kahlo is a truly legendary individual.
Visiting the Frida Kahlo Museum in Mexico City is a must for fans of history and of important people from Mexico.
Snuggly located in the Colonia del Carmen neighborhood of Mexico City. here you'll learn about easily one of the most important people of her, or any era.
Meet many like-minded people here due to the fact that Kahlo had such a strong impact on political thinking for so many, including people today. Please note: there is a small charge for taking pictures here.
Teotihuacan
I don't usually encourage drinking alcohol but make sure you take the time to take on one of the tequila tasting tours in Teotihuacan.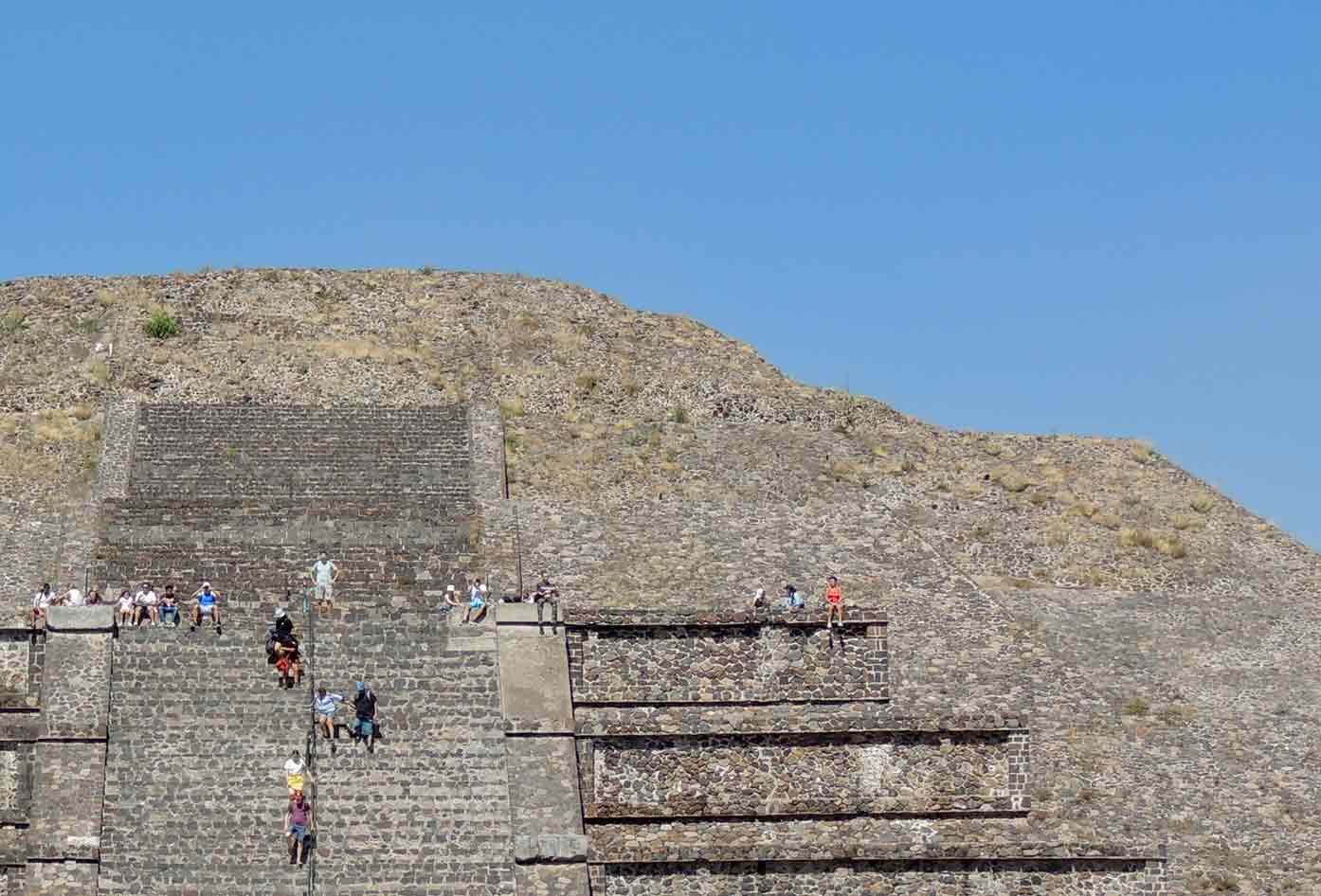 Here you'll enjoy learning about the ancient culture of the region, as well as enjoy some amazing local tequila.
You'll meet some awesome people along the way on your journey, making this easily one of the best things to do near Mexico City.
See my Mexico City itinerary for ideas on the best way to add this attraction to your trip if you have limited time.
Lucha Libre Experience
A huge part of Mexican sporting culture revolves around wrestling. Why not take part in a Lucha Libre Experience event one evening?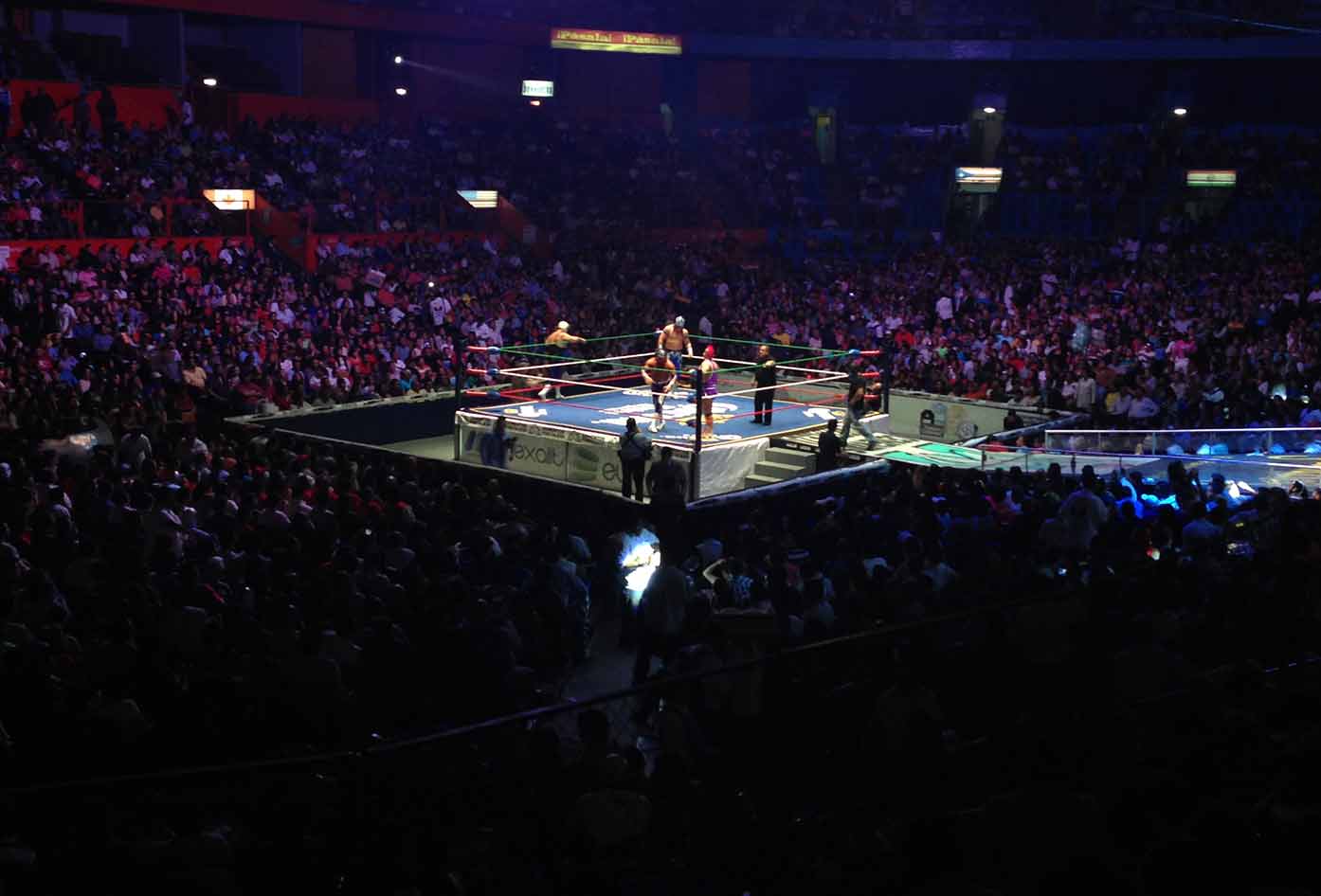 Get to enjoy something truly special as you make your way through a very complex and enjoyable evening.
It's like theatre for fans of competitive sport! Arrive with an open mind, and you will leave with a full heart.
As a visitor to Mexico's capital, this event is by far one of the best ways to enjoy Mexican culture up-close and personal with no filter.
The Luchadores of Mexico are renowned for their high-flying and technical wrestling styles, where they will put on entertaining matches and do things with their bodies you would never have imagined.
Trust me, watching a 250 plus pound man perform a somersault from the top rope is very impressive. As any traveler will tell you, you can't come to Mexico city and miss this unique sporting event.
Churros in El Moro
As you may know, Churros are deep-fried pieces of bread coated in sugar, chocolate, and cinnamon plus they taste simply wonderful.
Every Mexico city travel blog should include El Moro! Located in the heart of the city, this is by far one of the best things to do in Mexico City for fans of sugary, doughy, sweet bundles of fried heaven.
With close to one century of Churro-making experience, El Moro will not disappoint.
Imagine, from wrestling and cinnamon sweet Churros to art and culture all served up in one day. Mexico City really does cover all the bases. Let's see what else this guide has in store for you to do below.
Balloon Tours
If you lack the time to go and see the pyramids close to Mexico City up close and personally, then you should take one of the balloon tours.
They are quick and easy and should give you all the time that you need to take in some very impressive views. Like getting the best photos?
During the balloon tour the guides will give you a hand snapping some incredible shots. Tours can be shared or private, it's your choice.
Roma Norte
No list of things to do in Mexico City would be complete without getting a peek of the Roma Norte neighborhood.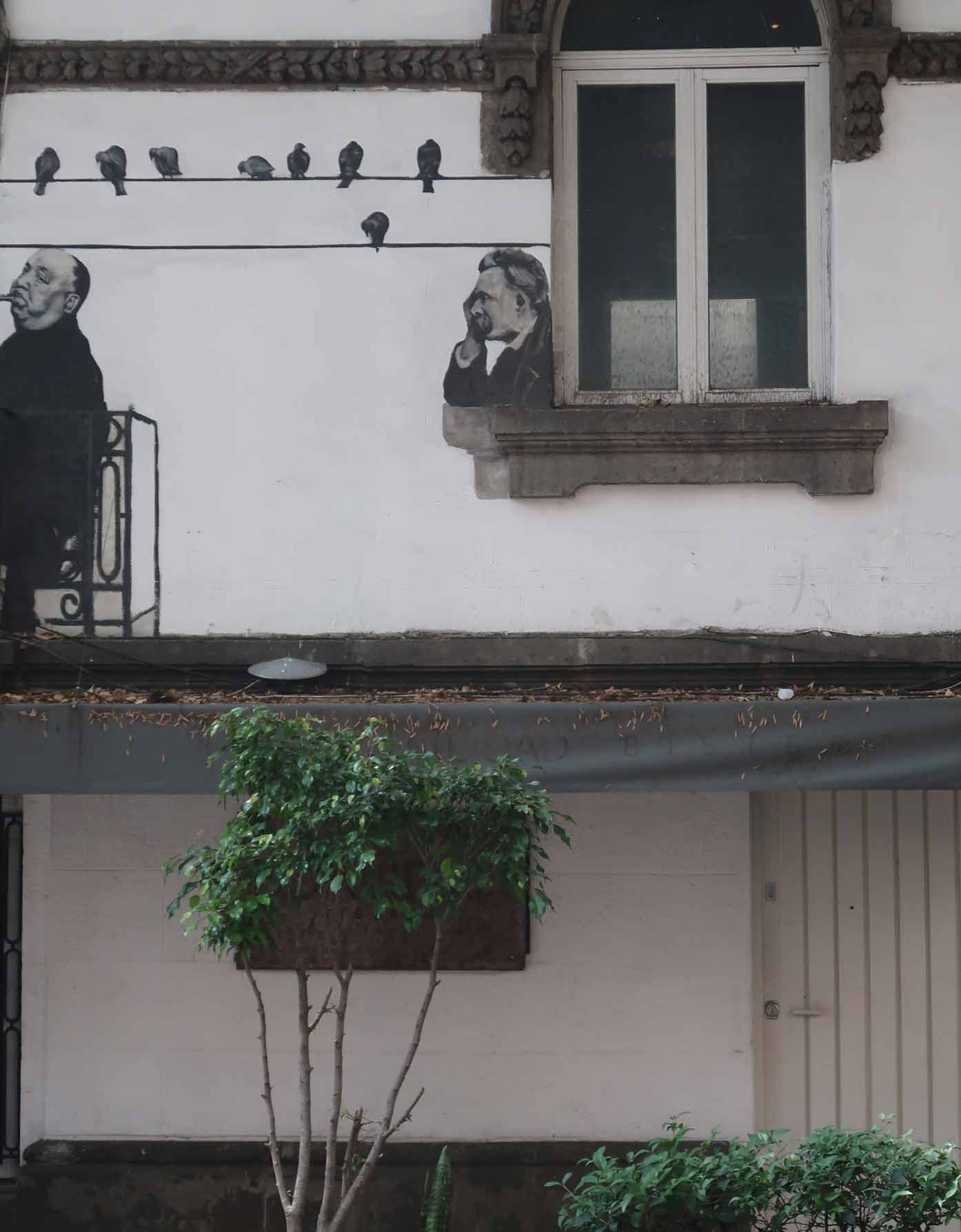 Staying in the Centro Historico is a must but if you have more than 3 or 5 days in Mexico City and you make it to Roma Norte for a night out.
After a walk around you may find yourself wondering why you didn't choose to stay in one of Mexico city's coolest neighborhoods earlier.
It feels a bit like walking around Recoleta in Buenos Aires!
With the sight of mezcalerias, up-market Taco joints, and bakeries… you'll experience a feeling of happiness that aligns beautifully with the airy plaza and blooming jacaranda trees.
After visiting the super walkable Roma Norte neighborhood you'll know exactly where to stay in Mexico City on your next visit. Or maybe you'll prefer the authentic and historic feel of the historic center?
Explore the Centro Historico
The Centro Historico Historic center of Mexico City is a great starting point for anyone arriving in Mexico's capital.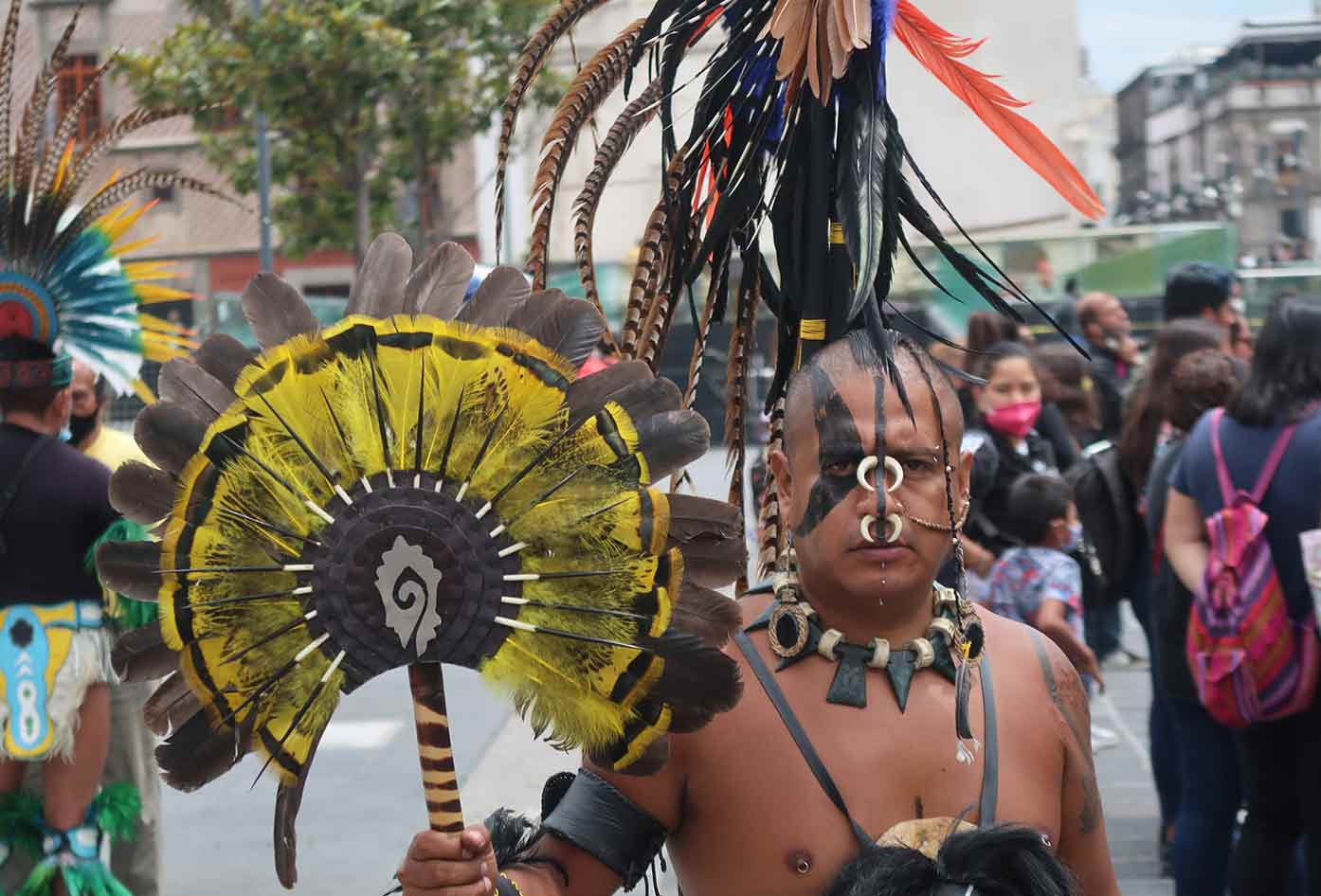 With attractions such as Plaza de la Constitución aka Zócalo you can get aquatined with various architectural styles.
If you are not so much into history and want to experience the hustle and bustle of the city, from the Zocalo you can always veer off onto Madero Avenue which is the main pedestrian street in Mexico City.
Or take a walk on along Calle Cinco de Mayo and head towards the Palacio de Bellas Artes which is yet another noteworthy cultural center in Mexico City you won't want to miss out on.
There is so much more to see in the Historic Center of Mexico City so see my dedicated travel guide that covers more things to do there.
Stay at Casa Pepe
If you like to mix it up a little don't miss out on the opportunity to book a stay at Casa Pepe before you leave. And not just for its appealing name, but all lively fun vibe and activates on offer.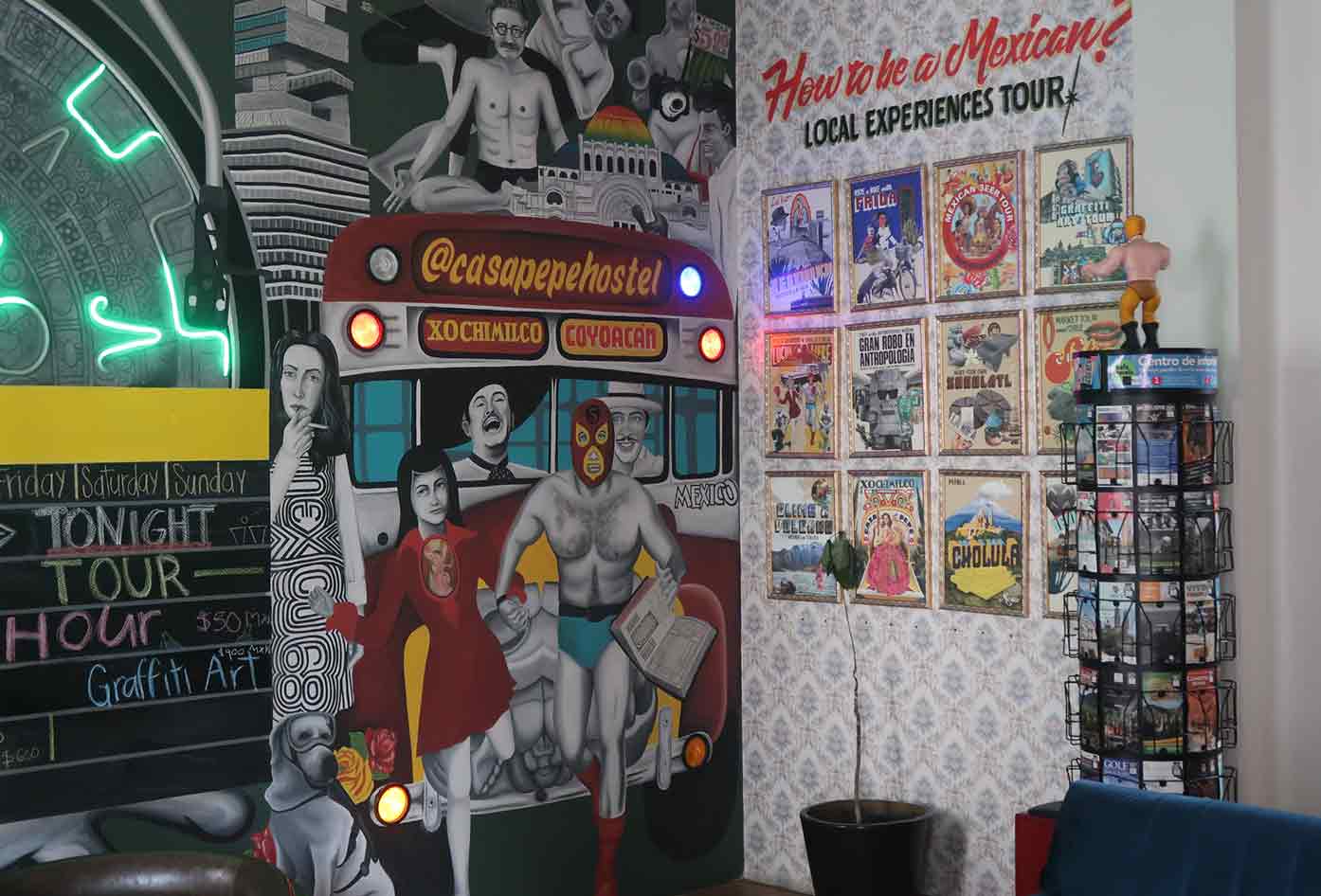 Whether you are traveling alone, with friends or family you can take advantage of this social environment to learn more about Mexico City.
I was surprised by how much inside knowledge I was exposed to just by speaking to the people working there. If your Spanish conversation is not up to stretch – don't worry. Everyone speaks good old English there.
Mexico City Travel Tips
See the list of travel tips for Mexico City below to ensure you have the most pleasant stay whether you are on vacation, backpacking, traveling with friends, or just looking for a new place to visit.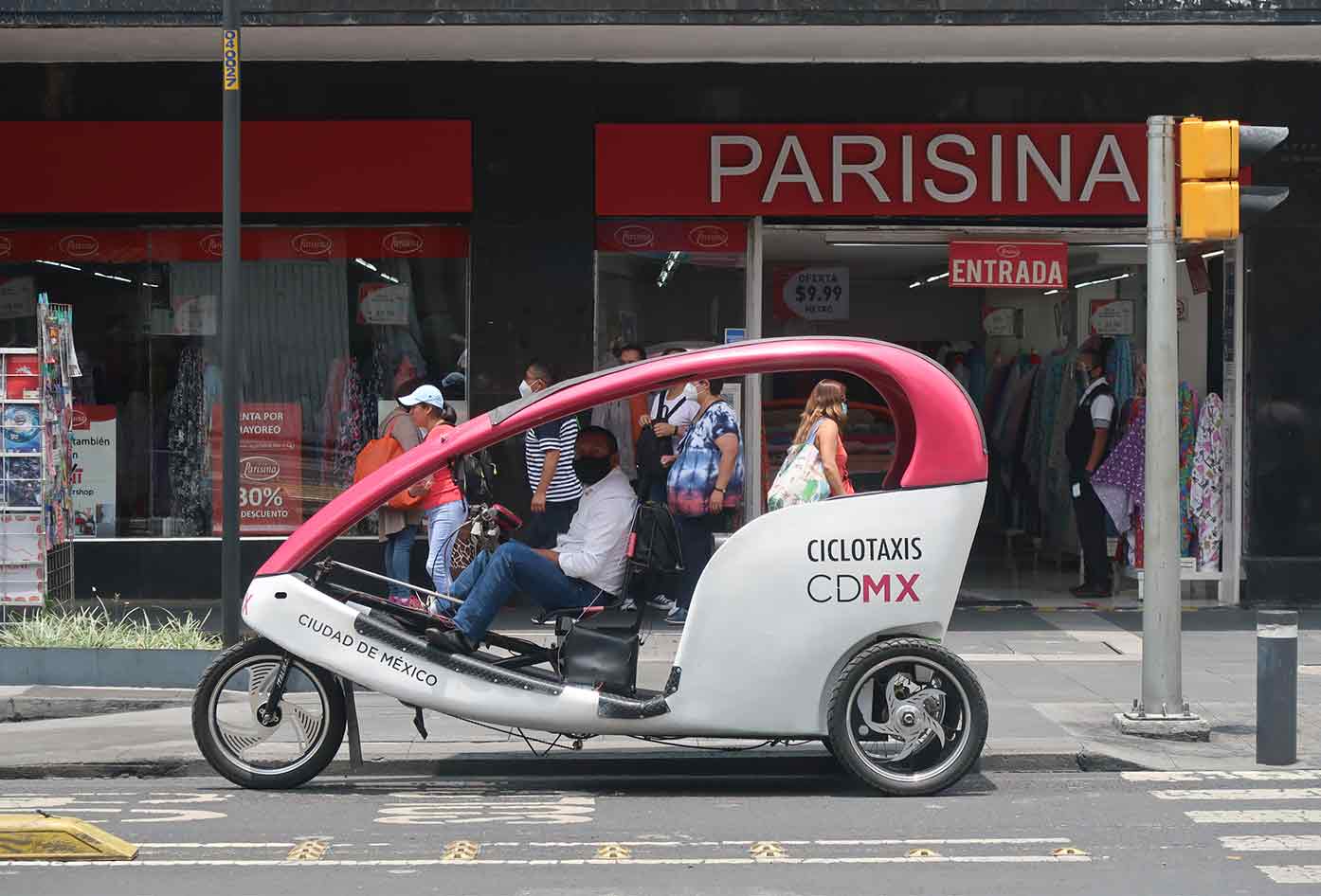 Remember, in Mexico City you should avoid drinking tap water as you cannot trust the source, especially with it being a heavily polluted city.
It is not uncommon to meet someone who has already experienced Montezuma's revenge (known as diarrhea) from eating street food or drinking contaminated water.
⤵️ Dan's travel tips for Mexico City:
Check out the list of day trips from Mexico City that you can do and return during the same day.
Another great visit is the Museo Nacional de Antropología, which is the biggest and most visited museum in all of Mexico.
Aim to avoid the more dangerous areas of Tepito, La Lagunilla, Doctores, and Mercado Merced.
Carry lightweight gear for the day and see these for clothes for hot climates if you've not packed anything yet.
Take a walk to Chapultepec Park – one of the biggest man-made parks in the whole of Latin America.
Mexico City has high levels of pollution so places such as Chapultepec Forest (located close to the Polanco district) make a great places to get some fresh air.
Use the metro where you can since it connects the whole city including the airport. Perfect for when on a budget, costing 5 pesos per ride.
You may need to carry some travel bug spray and suncream as the climate is hot and quite humid during the summer months.
Some of the best street food in Mexico City includes Tlacoyos, Tacos al Pastor, and Tamales.
You'll find the Police patrol most tourist areas so aim to stick around those zones and avoide walking around late when alone.
Carry a pair of comfortable shoes, this is not the place for flip flops.
One other thing you may want to do is get a sim card as soon as you arrive. Telcel is a great option if you don't want to pay high roaming rates from your provider back home.
Got Travel Insurance for Mexico City?

Designed by travelers, for travelers, World Nomads covers more than 150 adventure sports and activities so you can explore your boundaries.
Things to do in Mexico City
I hope you found this guide on what to do in Mexico City useful.
It's a popular city for backpackers from all around the world and a perfect launchpad for those looking to explore other regions of Mexico.
In this guide, we've covered some of the best things to see and do, such as visiting Teotihuacan, experiencing the Lucha Libre as well as taking a street food tour of the city.
We've also looked at the best times of year to explore, as well as some starting points for where you should stay.
Take a look at this guide to backpacking Mexico if you'll be going further afield during your time in this amazing country.
📌 Like this article? Pin it…
Did this give some ideas of what to do in Mexico City during your stay?
💬 Leave a nice comment or let's start a conversation below!
---
"Dear friend! Some links in this post contain affiliate links. Meaning, if you click through and make a purchase, book a hostel or sign up for a tour, I may earn a small commission at no additional cost to you. Your support means a lot and helps me to keep traveling and maintaining the quality of this site for you."