Welcome to this guide on things to do in Manizales, Colombia!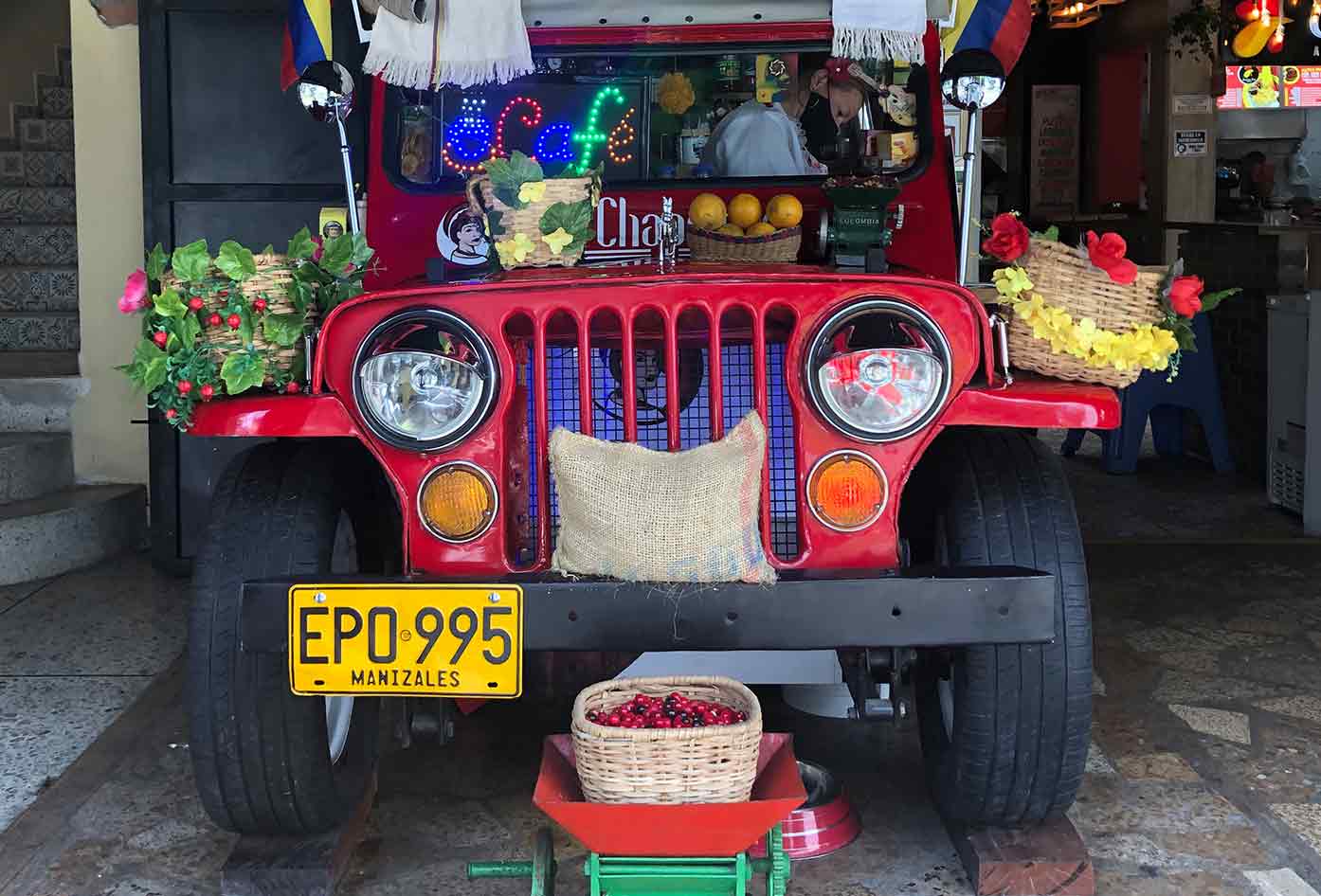 Manizales is a city that lies in the heart of Colombia's coffee-growing region with direct access routes from both Medellín and Bogotá.
Known for welcoming its visitors with open arms, the abundance of wildlife and the opportunity to connect with nature are endless.
In this guide, we'll explore Manizales, things to do, how to get there, how to stay safe, as well as the best time to visit.
Things to do in Manizales
Before looking at these things to do, let's first look at reasons why you may want to add Manizales to your current Colombia itinerary.
If you're reading about Manizales for the first time, it makes sense to know why you'd come to this region of Colombia and what you'll find.
Why visit Manizales?
Despite the dull weather, the Manizaleños were chirpy enough to keep things interesting. Food markets, amazing view a beautiful cathedral, and Los Nevados National Park, and more.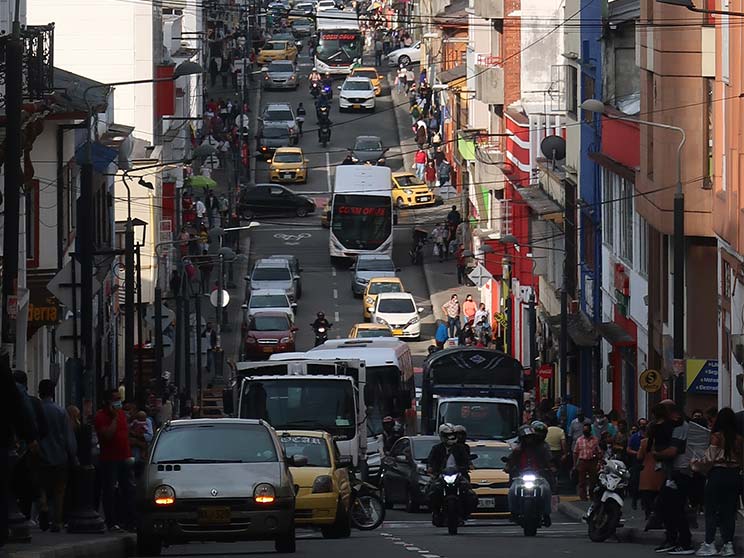 In Manizales, you can immerse yourself in traditional life at one of the haciendas or fincas and connect with some of the country's best bird-watching spots.
If you are a curious traveler interested in ecotourism and learning about Colombian Coffee then you are in the right place.
The coffee culture and cultivation of Colombia's drink is celebrated in the region and you will find many opportunities to immerse yourself.
Medellin to Manizales
The road to Manizales from Medellin can be a long one if you don't plan it correctly. There are direct buses which should take around 6 hours.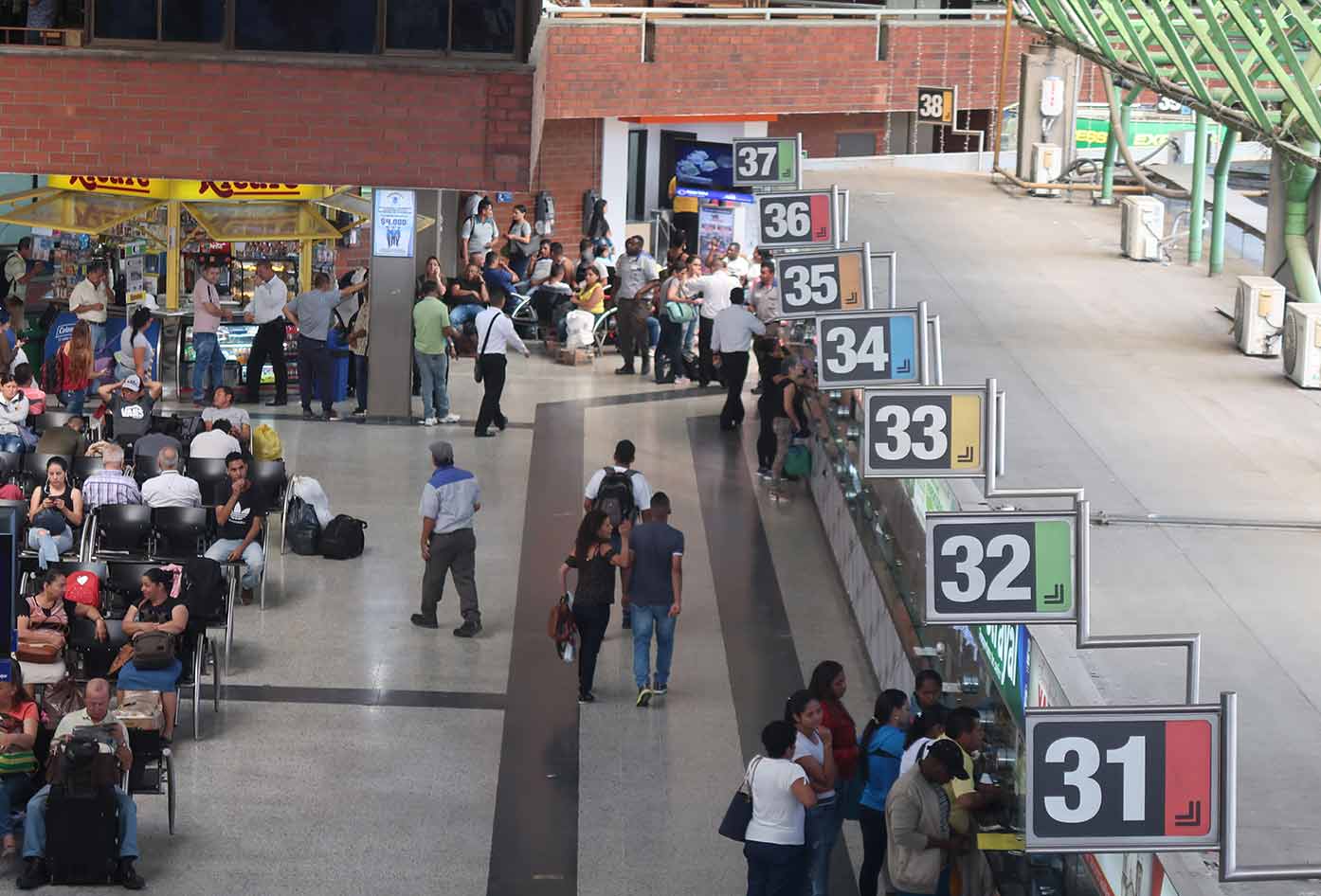 However, with compilations on the road, you can expect huge delays! Before traveling this route by land, read up about the Pare y siga.
Yes, there are also flights from Medellin to Manizales if you want to avoid compilations on the road but are the flights cost-effective?
Note that part of the experience of traveling through Colombia is seeing the beautiful scenery that lies outside of the bigger cities.
It may be worth planning an overnight trip or blocking out a full day to leave room for any delays caused by regeneration projects on the road.
Things to do in Manizales
Arriving to Manizales you may feel dizzy after passing through the curves found along the journey, especially if arriving from Medellin.
Take Cable car
If you arrive at Manizales bus station you'll walk over to the Cable car platform from which you can buy a card to get access to the system.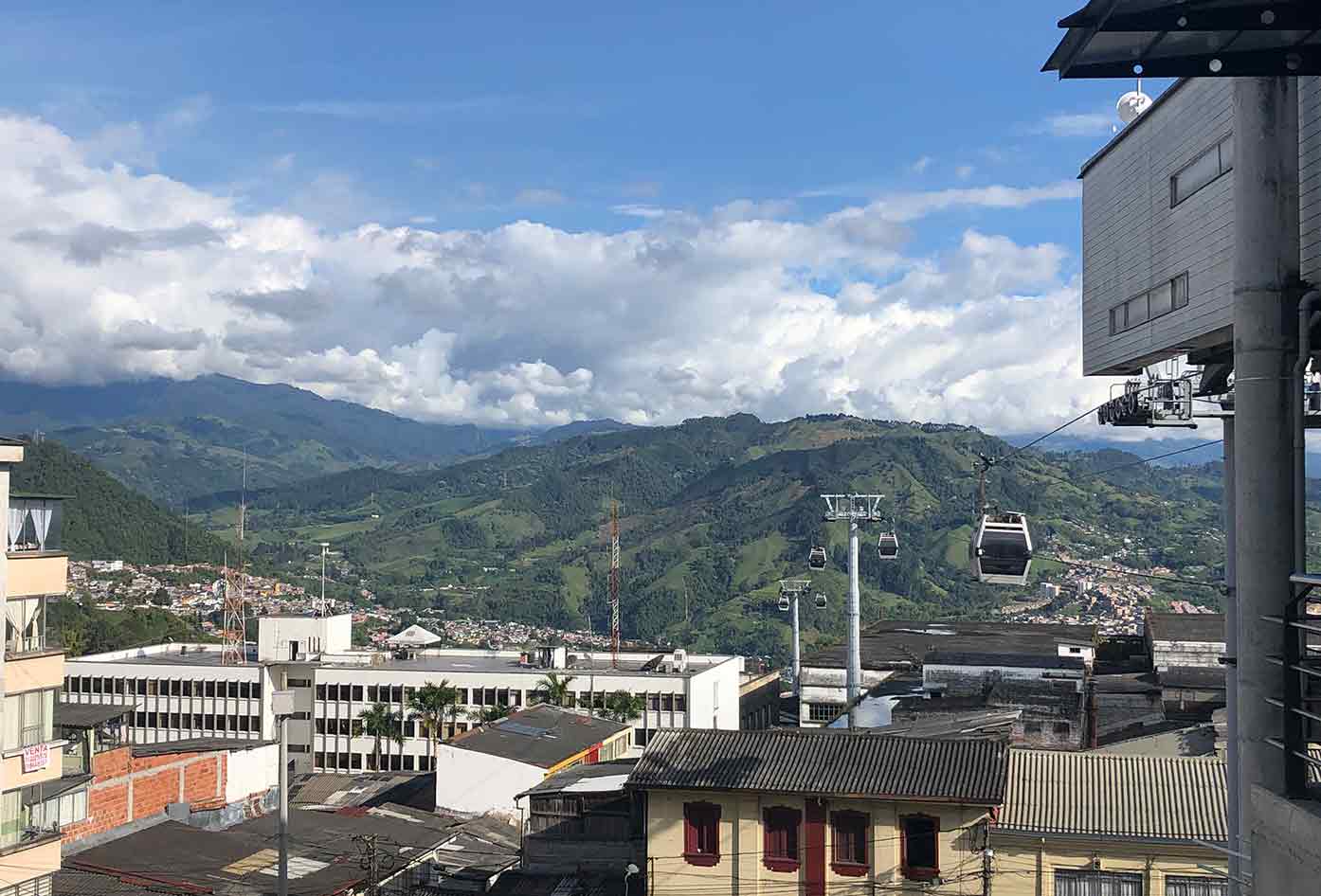 Are you are scared of heights? Then you could always get a taxi up to the old town of Manizales. However, I'd say this is somewhat of a highlight if you are a new visitor, so give it a go, you won't regret it.
Some of the sights from the cable are not 'the prettiest' in Manizales. However, from a birdseye point of view, worth getting the perspective.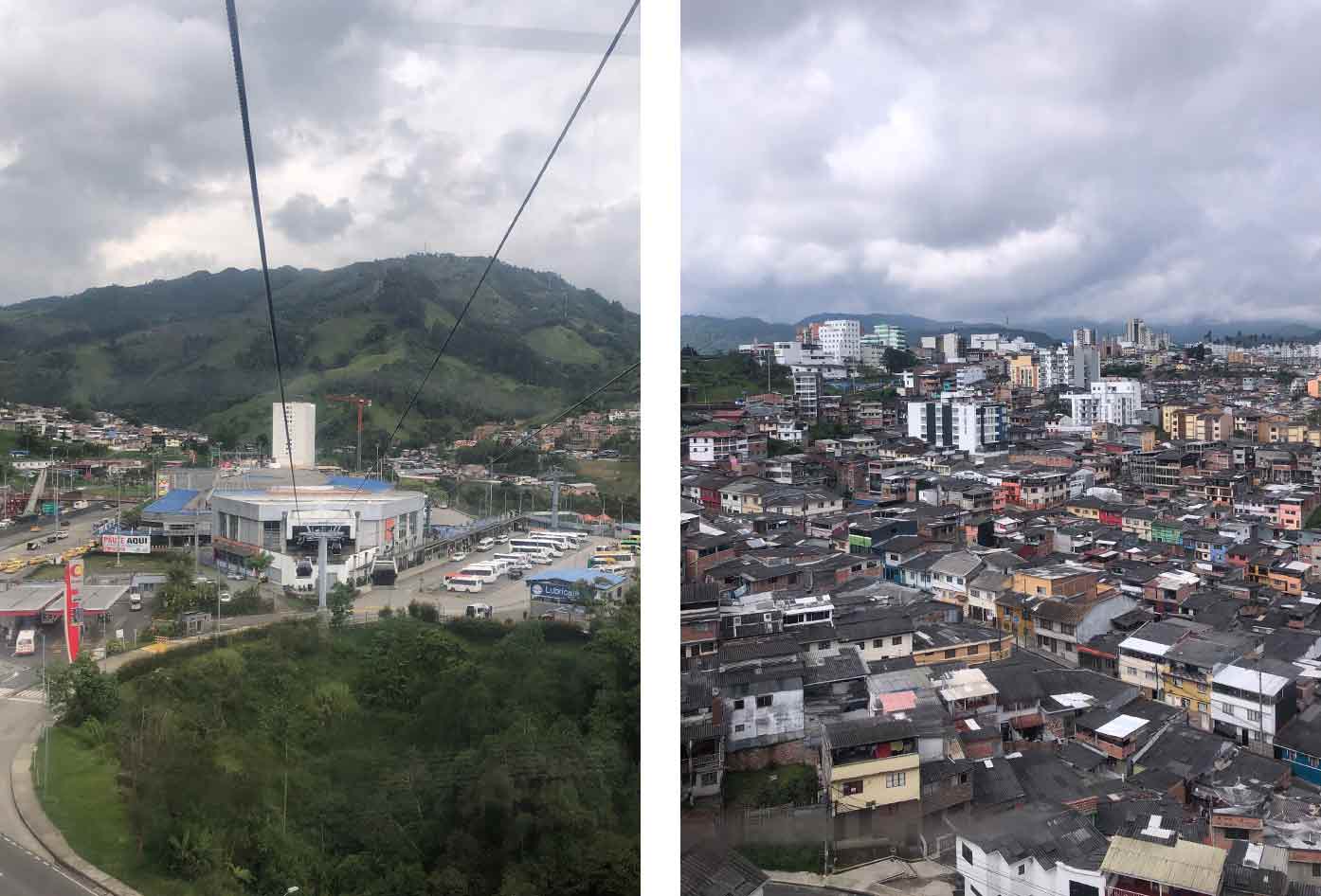 Not to mention, you sort of feel like you are flying. If you have taken the Cable Car in Medellin you'll know exactly what I mean when I say that.
If you arrive early in the morning you can expect to see nebula (watery vapor mass) which will block the views.
Caldas Park
In Colombia, the parks are the heart of the town, and in Manizales, Caldas Park is one of the best spots to get in on the local action.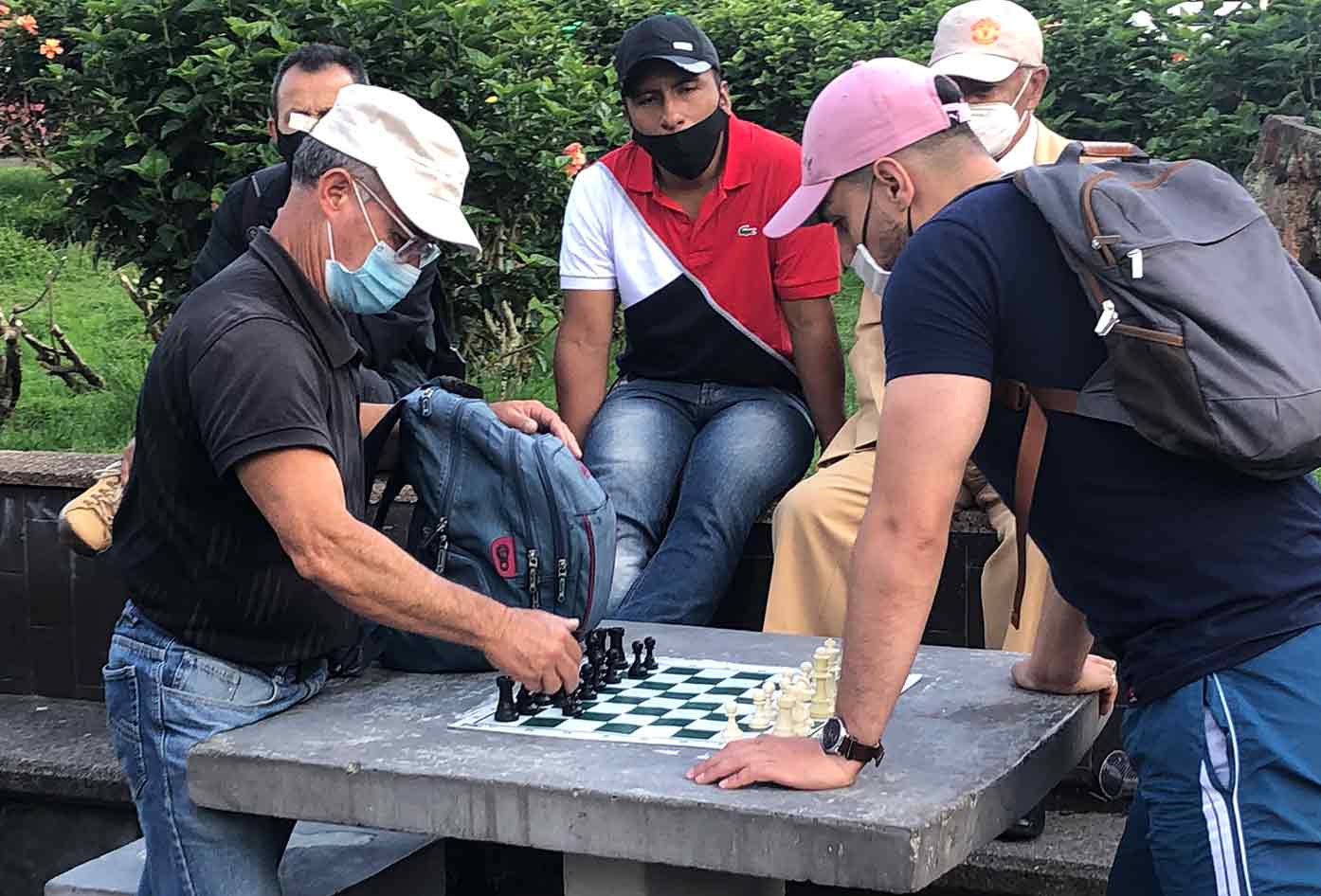 You'll find local street vendors selling Tinto, ice cream (two of the most popular provisions), or other traditional Colombian food snacks, and once find a spot you can sit back and take in the atmosphere.
Plaza de Bolivar
If you've spent any time in Bogota at all you'll notice that this square has the same name as the main square in Colombia's capital.
However, this one is kind of special. The status of Simon Bolivar is like a piece of modern art that has to be seen to be fully appreciated.
The artist Rodrigo Arenas Betancourt really went to work on this and managed to create something truly unique.
Surrounded by historical buildings this plaza is one of the busiest places in Manizales and is a great place to do people-watching.
The eye trophy had to be the view of Catedral Basílica de Manizales with its awe-inspiring tower that stands at around 100m tall.
Aside from the people watching, some food stalls, and the aforementioned sculptures, you can't help but notice the brightly colored art deco buildings that are rather unique to Manizales.
Stay at Golden Frog
This is not named the best hostel in Manizales for nothing! The staff here will go above and beyond to make your stay a pleasant one.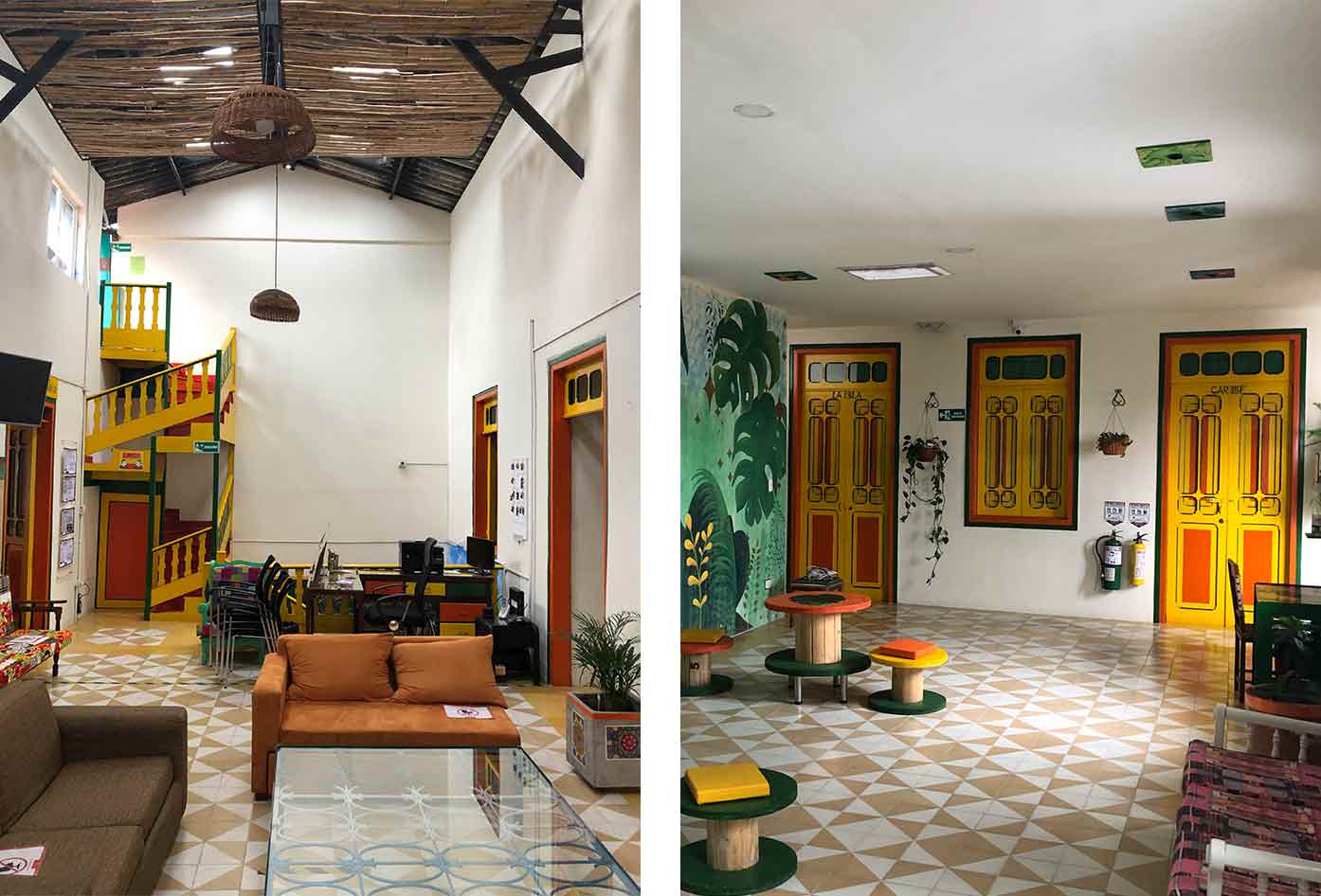 Not only is the hostel a signatory of the Global Tourism Plastics Initiative. Carlos (the owner) makes sure every guest is taken care of and offers you the chance to participate in various activities.
The on-site kitchen is gigantic and the private rooms are spacious. There is a rooftop terrace for when you want to get those rooftop views of Manizales during the early evenings.
Hacienda Venecia
When you're in a city in the rolling hills of Colombia's coffee region, what do you do? You visit a Colombian coffee farm, of course.
If you've seen enough of the sights in Medellin and Bogota for a while, coming to Manizales for the 'city life', would be counterintuitive.
Especially when you find out that just 10 miles from downtown Manizales there is a Colombian coffee experience like no other.
Hacienda Venecia is a lodge where you can stay which is set in the picturesque countryside (with balcony views) and take part in a very informative coffee tour.
It's a nature lover's paradise! Just imagine a comfy place where you can rest and relax sat or laid drinking tinto on a hammock for the day.
Chipre Tower
One thing I adored about Manizales was spectacular hillside the views. When you walk up the hill toward Chipre tower you and you look to the left and see the rolling green hills with the sunset it is a beautiful sight.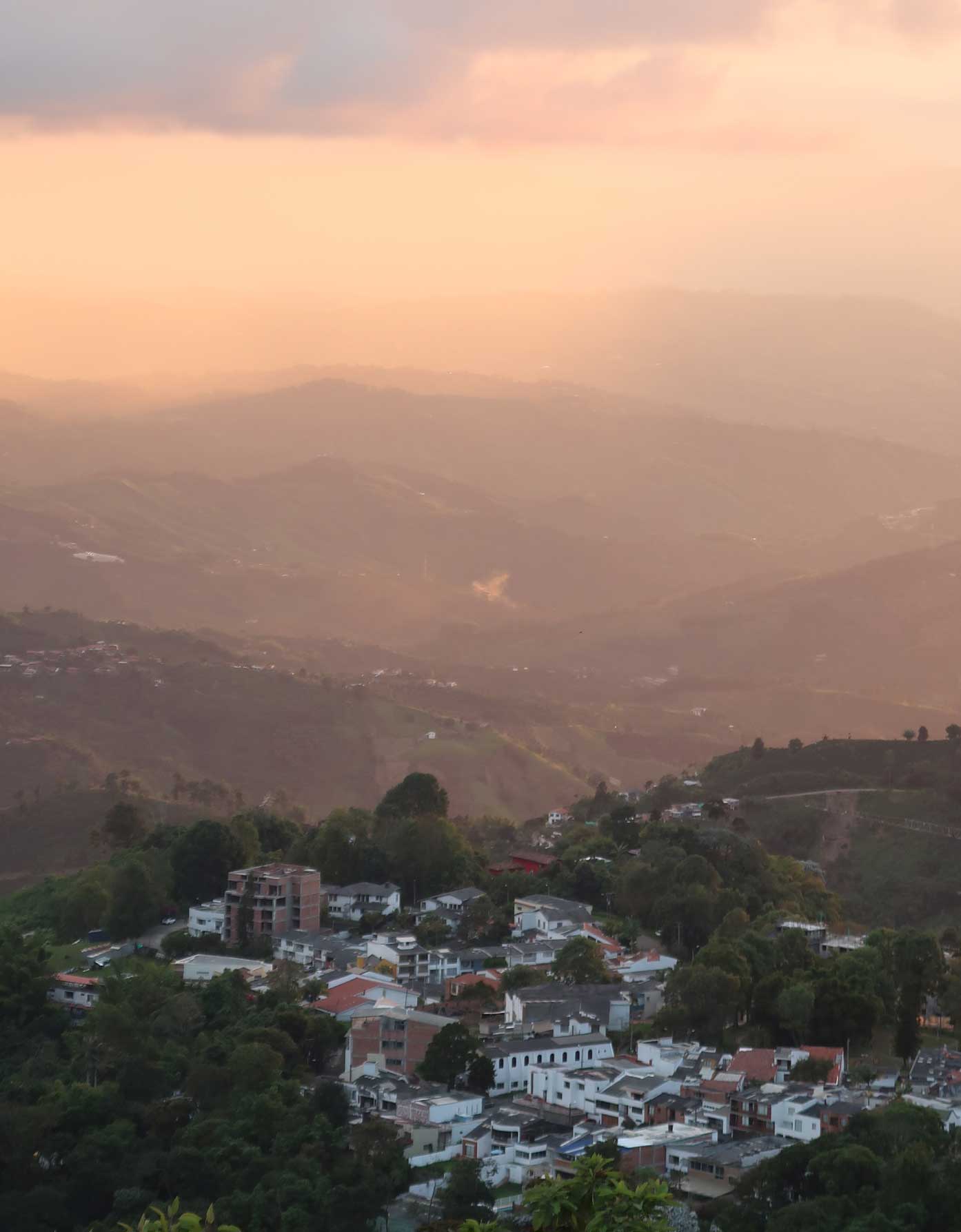 Once I had arrived at the tower I was unable to get in. At first sight, I couldn't help notice how ugly it looked. But then after observing it over the space of a couple of days, it started to look kind of futuristic.
Walking along the ridge of the tower to catch the sunset views is possible if you can't get inside. The view can change drastically depending on the positioning of the clouds and sun.
Mirador de chipre
This is not to be confused with Chipre Tower. However, you will pass by Chipre Tower to get to this popular observations deck.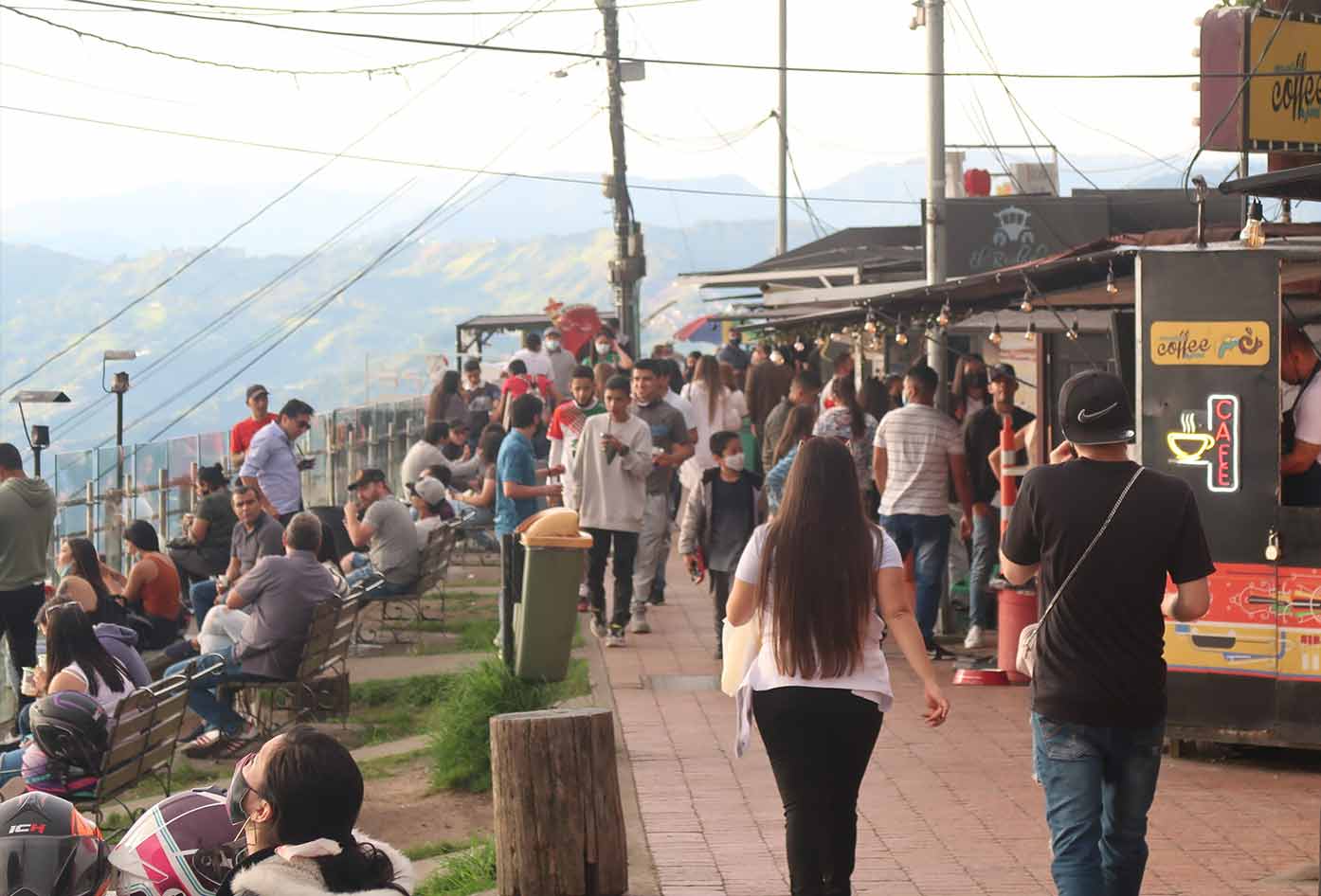 This is where you can fully appreciate the long windy uphill walk and treat yourself to an ice cream oh Cholao (aka Cholado).
This area was very family orientated and for me, it was endearing to see (yet again) the way the Colombian family takes time out to share precious moments in these picturesque settings.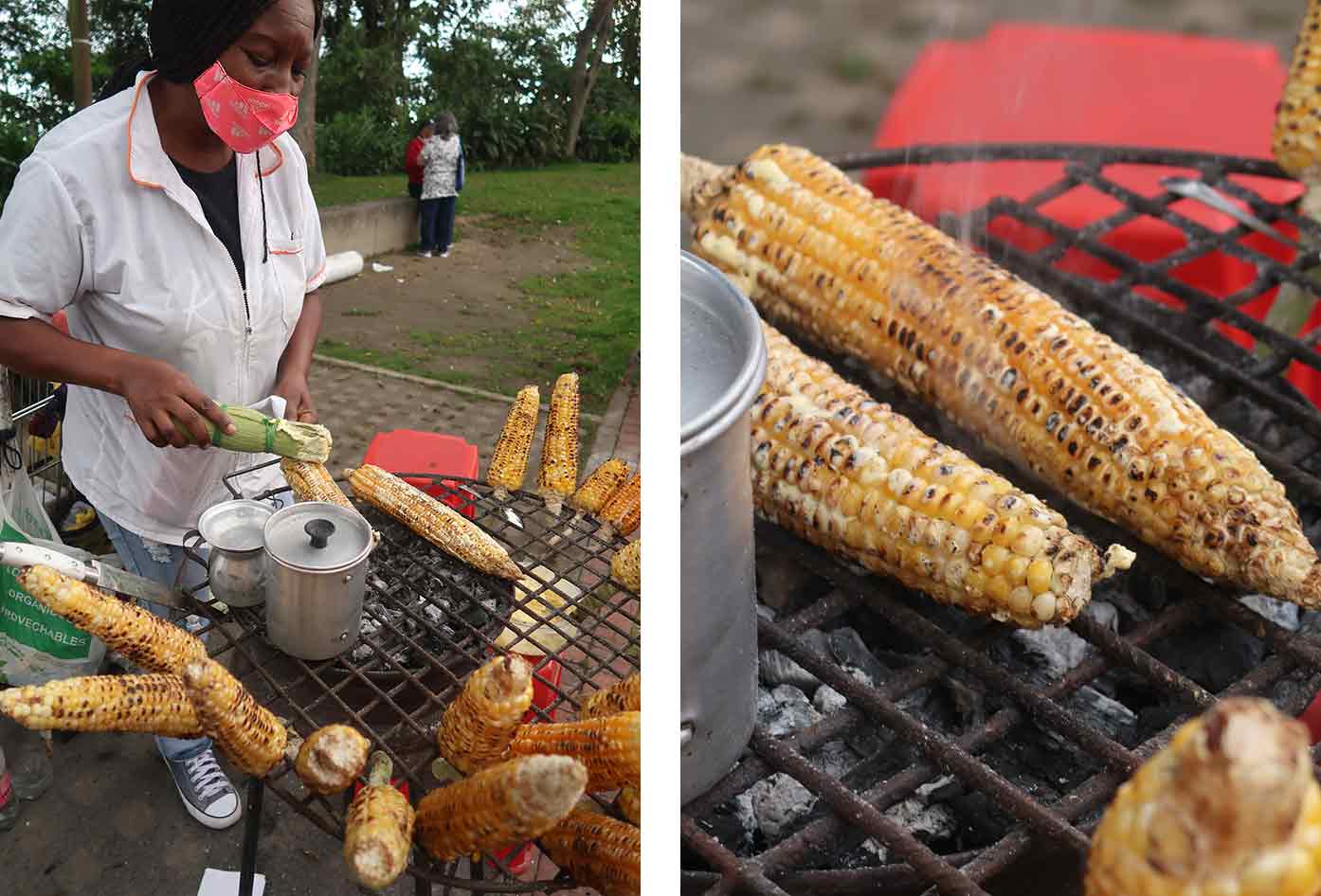 There is a huge group assembly of food trucks and restaurants to choose from on the way but as you get to the observation deck you'll find more artesian food trucks which have some tasty options.
Coffee at Tazzioli
After traveling all over Colombia's coffee region looking for the best coffee in the world I was relieved to stumble upon this place.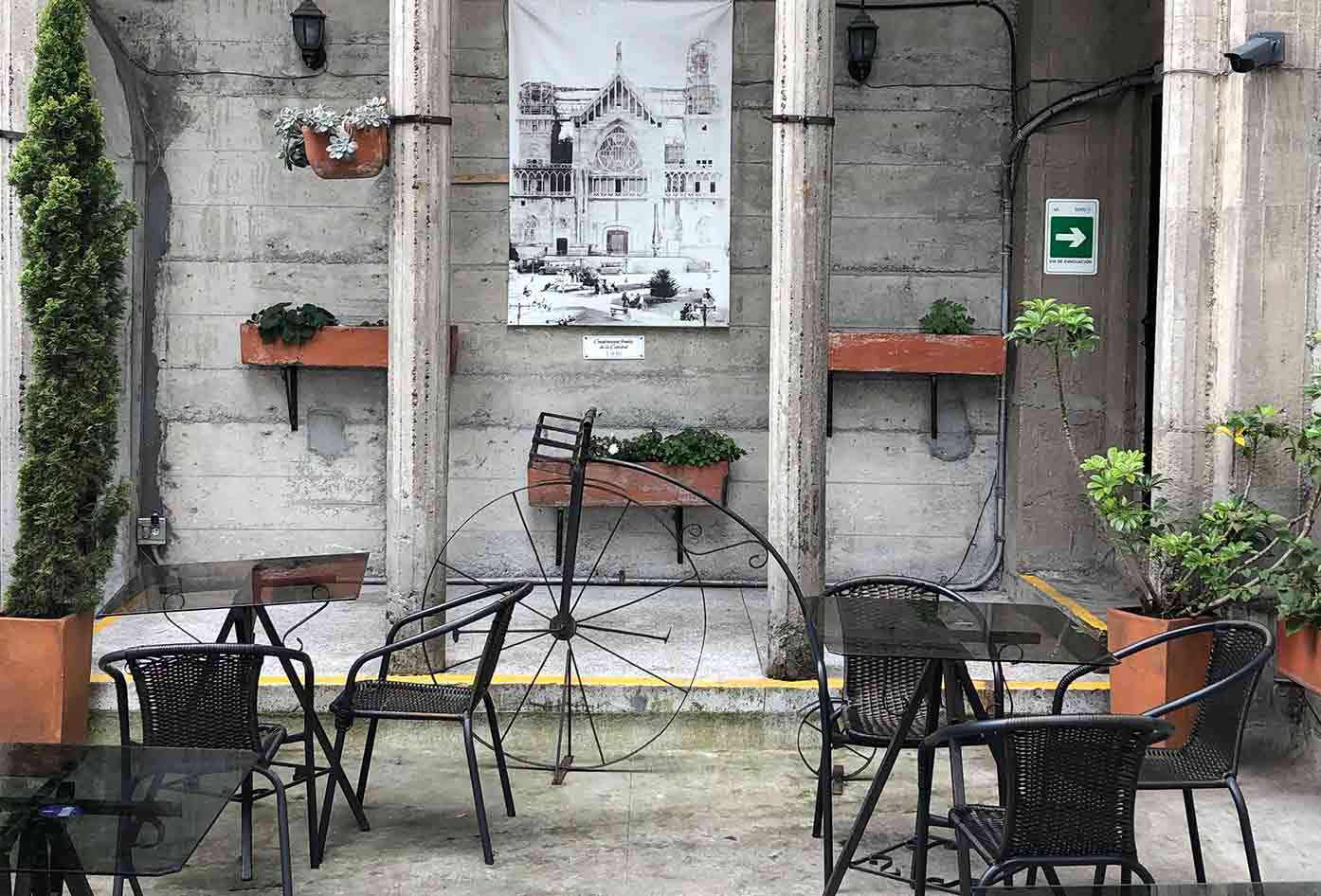 The setting and location here are truly spectacular. If you are lucky enough to get one of the tables around the perimeter of the coffee shop, you'll get great views of Plaza de Bolivar and Manizales too.
Tazzioli is all about the location, not so much the coffee (although the coffee was very well prepared) it feels like you're in a special place.
Do not leave Manzlaes with getting the elevator up to this coffee shop.
Just head to the cathedral's side entrance and look out for an elevator door and once you're inside you'll be transported to another dimension (or at least that how it seemed at the time).
Manizales Travel Tips
See these travel tips for Manizales to ensure you have the best stay whether you're on vacation, backpacking, or traveling with friends.
⤵️ Dan's Travel Tips For Manizales:
Why not try visiting Los Nevados National Park? It's worth visiting for a day see the Los Nevados tours you can do before making a decision.
I found Golden Frog to be one of the best places to stay for backpacking or short stopovers in the center of Manizales.
You'll find the roads leading to Manizales are some of the deepest curves and winds that you may want to try and get a window seat.
After exiting the cable car you'll find Carrera 23 is the main street that is filled with hotels, restaurants, and cafes.
Hacienda Venecia is a must if you've not done a coffee tour or experience in the Zone Cafeteria. Aim to book in advance to avoid.
You'll realize that the Chipre viewpoint truly is a must visit attraction to be able to see the sunset in Manizales
Note that Salento is 90 kilometers away but it's not a straightforward journey so expect winding mountain curves along the way.
Map of Manizales, Colombia
See this map of Manizales to get a better idea of the surrounding area:
Note that if you decide to go to Hacienda Venecia or a similar fincas that you'll need insect repellant for protection during the night.
Coffee tours and chocolate workshops are not-to-be-missed activities in Manizales. Aim to explore the city's surrounding area on foot.
Remember to carry some comfy walking shoes and practice your Spanish to be able to pick up any inside knowledge from the locals.
Got Travel Insurance for Manizales?

Designed by travelers, for travelers, World Nomads covers more than 150 adventure sports and activities so you can explore your boundaries.
The Best Time to Visit Manizales
The climate in Manizales is consistent. With humidity and varying temperatures during the day, that cool at night, make it enjoyable.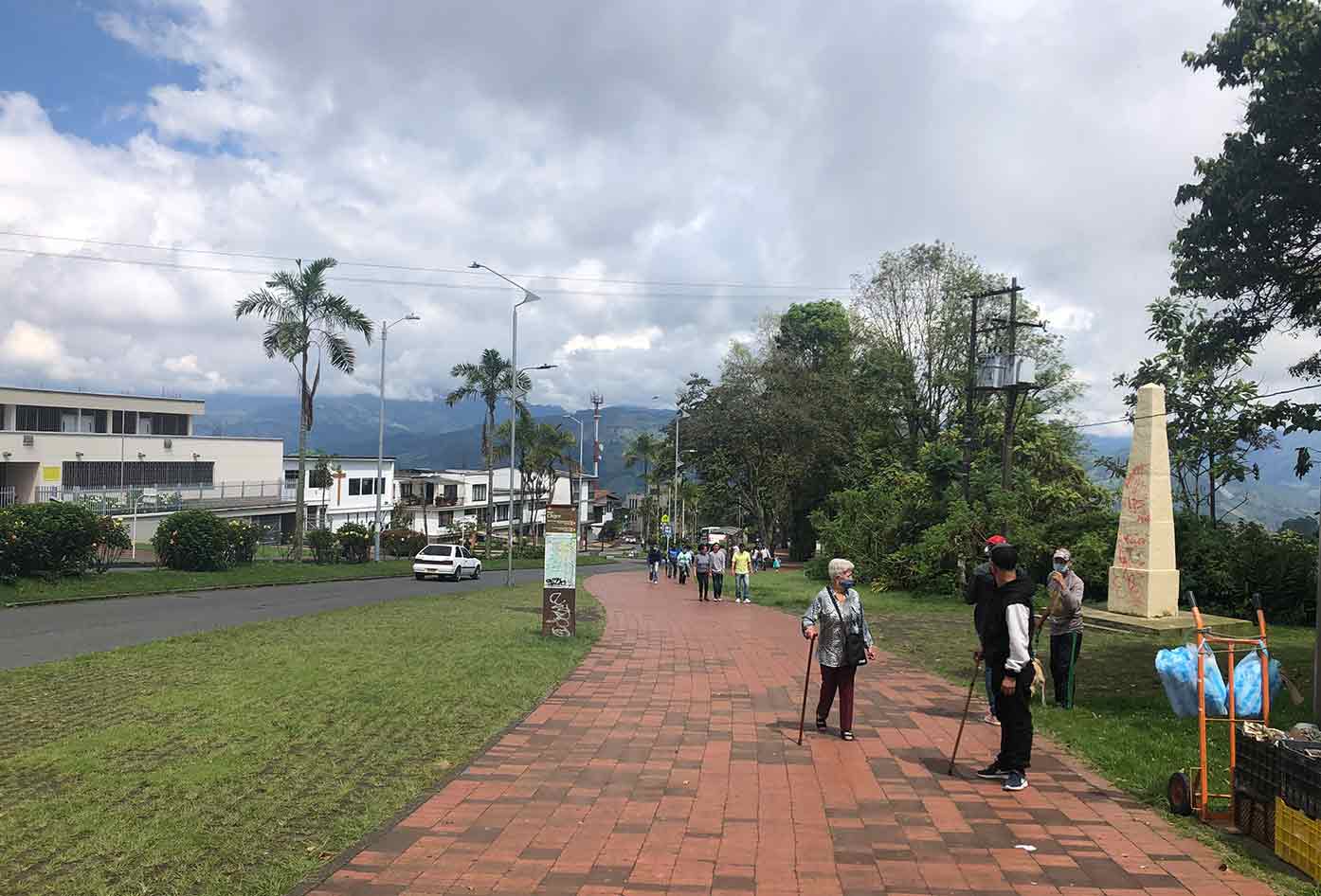 Average temperatures throughout the year hover between 21°c and 23°c with June to September being the warmest months.
No matter when you visit Manizales, expect rain. May is said to be the month with the most rainfall and July is historically the driest month.
December and January are great times to visit, not only in terms of climate but for the festive season so are the busiest with tourists.
If staying in one of the Fincas or hiking the coffee region, pack warm clothes as temperatures will drop as you head into the higher altitudes.
Things to do in Manizales
Thanks for reading this short guide to traveling to Manizales.
Not only can you explore the city, but you can also stay in a Finca that gives you access to some of Colombia's most beautiful countryside.
On a trip from Medellin, you'll connect with a different vibe that has its own local customs and pleasantries.
In this guide, we've explored Manizales, looked at what to see and do, how to get there, as well as the best time to visit this beautiful city.
If you are backpacking Colombia or planning a trip any time soon, I invite you to see more cities and coffee towns you can visit whilst here.
📌 Like this article? Pin it…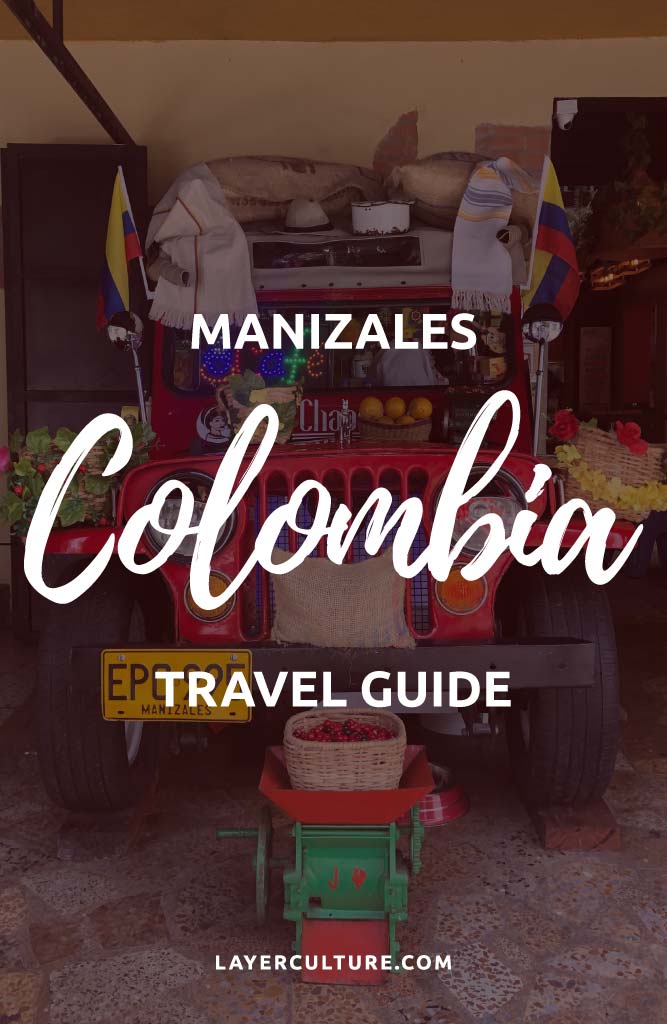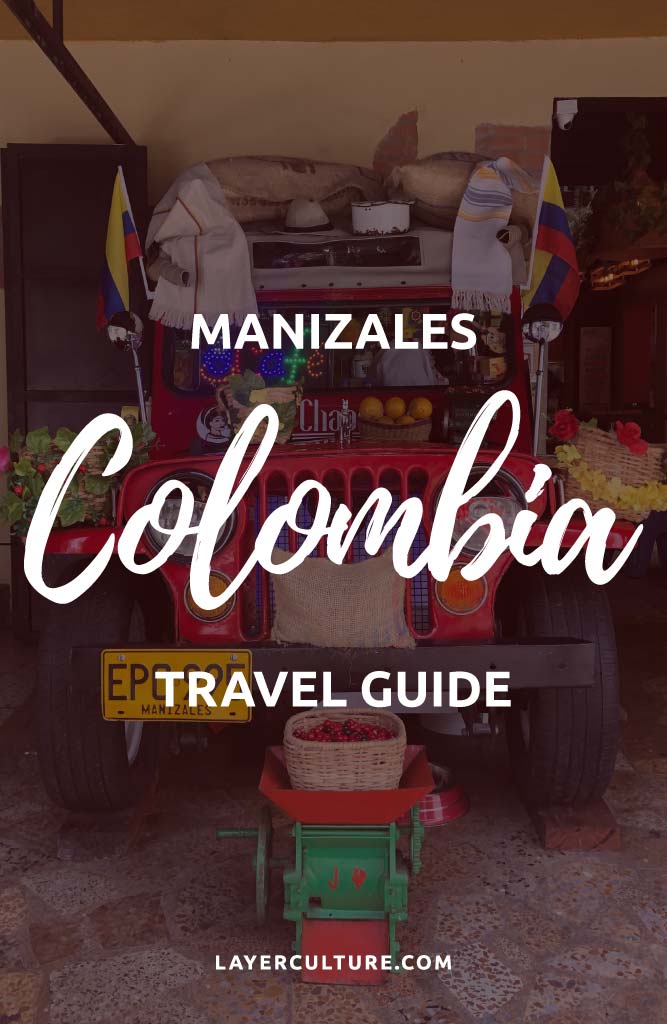 Did this guide give you some good ideas on what to do in Manizales?
💬 Leave a comment below or let's start a meaningful conversation…
---
"Dear friend! Some links in this post contain affiliate links. Meaning, if you click through and make a purchase, book a hostel or sign up for a tour, I may earn a small commission at no additional cost to you. Your support means a lot and helps me to keep traveling and maintaining the quality of this site for you."