Are you looking for things to do in Tulum, Mexico?
For anyone thinking of going somewhere in Latin America this year, Tulum makes a fine place to add to your list of places to go.
Not only is Tulum a really fun place to spend your time, but it's the kind of location that has plenty of things to try out.
New experiences are part of why we travel in the first place, so a trip to Tulum can introduce many exciting new possibilities for you to try.
Things to do in Tulum, Mexico
Get ready and expect everything from open-air bars, Mayan ruins, and white sugary beaches while you're in this part of Mexico.
As you'd imagine looking at photos of the place, there is a fair amount to enjoy when coming to a place like Tulum, not just beaches.
Where is Tulum, Mexico?
Not only is Tulum one of the top places to visit in Mexico, but the tiny town also sits north of the Belizean border – it's a tropical paradise.
If time is of the essence for you on this trip, why not compare Tulum and Playa del Carmen before arriving here to see which suits you best?
For backpackers traveling south who are planning a trip to Belize will find this is the perfect point to cross over into Central America.
When looking at most maps, you see that the Riviera Maya covers most of Mexico's Caribbean coast.
Tulum: Travel Basics
🛏️ Lodgings:
You'll find budget and mid-range hostels and hotels surrounded by bars and nightlife in Tulum town. Expect to pay anything from 10-15 USD for the most basic options. More luxury hostels can be found in the beach area.
🍽️ Dining:
Food is by far a feat of Tulum. There are tons of Mexican and international dishes to choose from. Plant-based options can be easily found on the beach and in Tulum town area. Also, there are amazing some cafes.
🚌 Transport:
You can easily explore the beach and town on foot! Renting a bike is a great option too. There are taxis, shared vans and round trip shuttles. Also, renting a car is another option, especially for couples and groups.
🎟️ Activities:
Fancy a dip in a Cenote? how about explore ancient Mayan ruins? Or, maybe have a day of extreme adventure. There are many tours that can be found in Tulum. You'll find tours starting from US$25.
Best Things to Do in Tulum
It's become one of the most popular places to stay while exploring the Quintana Roo outside of Cancun. Some fun things to do include:
Gran Cenote
I wrote about visiting Cenotes from the nearby Akumal, and Merida; but who cares about visiting twice when they're this beautiful.
If you go to Tulum, check out the Gran Cenote, and by check out, I mean dive into the crystal-clear turquoise waters and cool off.
Trust me, it's one of the most beautiful places in Mexico you can find.
Here's some great information on dive equipment if you really want to get ahead of the diving game while you're in Tulum.
See turtles in their natural habitats
Tulum is known for its diverse list of wildlife, and if you love all that nature has to offer, head over to Tulum to see the turtles.
From Tulum, you can easily reach Akumal and go swimming with turtles in their natural habitat.
May through to October, the coastline sees countless turtles making their way up the beach to lay their eggs before slowly heading back out to sea. You can even go snorkeling with these amazing creatures.
Of course, when you are in Tulum – it would be rude not to come and try out the amazing local beaches.
This stunning range of beaches will be headed up by the simply sublime Playa Paraiso.
Playa Paraiso
A location that's going to ensure you can settle in with consummate ease. This is a party paradise for those who just want to lounge around for the day. You'll be able to buy up various beach club loungers.
Complete with access to drinks and food, you can spend all day on one of these loungers as you just take in the atmosphere and the wider world around you.
For those who are looking to just enjoy time at the beach and avoid anything too grandiose, starting off at the Playa Paraiso is very much a good idea for you to try out when you arrive here.
Coba Ruins
Part of the joy of heading to a place like Tulum is that you will find many amazing landmarks. One thing that I recommend you add to your 'must-see' list of things to do in Tulum is the Coba ruins.
The Coba ruins are easily among the most stunning day trips that you can take from the Tulum area, giving you access to some amazing old-school Mayan ruins – including a classic Mayan pyramid!
You will get to learn all about the local area and what this meant to the people who once resided here so freely.
You'll get to enjoy a trip through the jungle, so make sure you're ready for a long trip and – as ever – make sure you listen to your tour guide!
Enjoy some kitesurfing
For the more sporting of those reading this, I recommend that you take the time to enjoy a kitesurfing experience.
It's a great way to make sure that you can make the most of the wind that bellows across the beaches from time to time.
It will ensure that you can enjoy a kitesurfing experience that is honestly one of the best in the world.
Enjoy a simple and delightful experience, with a private lesson and a boat rental experience to help you make the most of kitesurfing.
You'll find that this does offer a great way to get out to sea and to enjoy a more rural experience.
Eat The Local Cuisine
Going down a more general route, I recommend that you take the time to try out some of the local food here.
One of the best foods that you can try out is the banana-leaf burritos that are served at the Burrito Amor.
If you are not a huge fan of burritos, this will almost certainly change your mind and your viewpoint on these delicious delicacies.
You'll enjoy a far more satisfying eating experience, trying the kind of food that is totally different from what you'd normally go for.
The richness of the food here is something to be enjoyed, and the fact that so many local cuisines exist you should find it so easy to find some amazing quality food.
Head to the Sian Ka'an Biosphere
While many reasons make this a truly special place to come and visit, part of what makes a trip to Tulum so fun is the Sian Ka'an Biosphere.
Experience it in full with a local tour guide, and you'll never need to think about the beauty of nature again!
This stunning location is one that you can easily enjoy coming to, with all manner of species floating around and hanging around the landmass that you'll sail on by.
It's a great way to get better acquainted with the various natural life that you'll bump into as you hang around Tulum.
This is without a doubt one of the best things to do in Tulum for land and seas lovers.
You'll get to experience an unfiltered look at nature, giving you all the help that you need to simply fall in love with the local area once again.
Make sure you come along with a knowledgeable guide and check it out. Many people simply pass on by.
Shop at the local boutiques
Part of what makes a trip to Tulum so fun would be the fact that you have so many places to buy from.
Tulum is a fascinating place, with all manner of fun locations to buy from and pick out some great items from.
Whether you are looking to buy some gifts for people, or you are looking to make a smart purchase for yourself, you'll find that Tulum has many a great shop to pick from.
It's a fun and satisfying place to spend your time, and it's sure to be a good way to spend some of your Pesos.
You'll find that you get to enjoy a much simpler shopping experience, than in Cancun for example as the various boutiques make it easy for you to find something different.
💡Smart Travel Tip
You can visit Tulum and have a great time on a budget. I arrived to Tulum from Playa del Carmen by collectivo in the blazing heat.
Where to Stay in Tulum
I spent about one week exploring Quintana Roo and found Tulum to be far superior as a backpacker.
When looking for places to stay in Tulum, I was overwhelmed with cool options, and that's one of the reasons I liked it.
There's a beach road that will see you walking for a good 40 minutes, so I'd get a hostel close to the beach if that's where you prefer to be.
Party Hostels in Tulum
There are also some amazing party hostels that will keep you afloat into the early hours of the morning.
While you're looking for accommodation, remember that the hostels in Tulum are more pricey than other regions.
The level of tourism in Quintana Roo and the surrounding area are some of the most developed in the whole of Mexico.
I ended my trip and definitely felt the hole burning in my short pockets.
However, it's was a unique experience; the same with the AirBnbs I visited. If you're tired of sharing, get yourself one of the many luxury Airbnb rentals on offer.
I like to use Airbnb to:
Have my own private kitchen
Get a better nights sleep
Create a private space to work
Staying in hostels in Tulum, many people prefer to be socializing in a boutique hostel and making most of the beach vibes.
Tulum has some of the finest hotels, such as the El Dorado Royale, popular with people looking for a romantic or family getaway.
If you like to meet new people and engage in group activities, hostels are great. You'll also find hostels are good for:
Cutting costs
Supporting locals Business
Teaching languages to others
When doing solo travel in Tulum, try starting in a hostel as you can meet like-minded backpackers and maybe even find a travel partner.
Places to stay in Tulum:
Bring the right equipment with you to the hostels to ensure you have a cozy experience. I find hostels can be loud at the best of times.
Where to Eat in Tulum
When looking for food in Tulum, it's worth noting that if you're staying in el pueblo (the town), you'll find it more cost-effective than eating on the beach, so expect to pay double for your beachside breakfast.
White sand and boutique hotels don't always have to be complemented by pretentious eateries. This depends on where you stay, I managed to find the best Tacos in the Caribbean.
Try these place:
Casa Jaguar:Carretera Boca Paila
El capitan:Tulum Av.
Taqueria Don Beto:Carr. Tulum – Cancún 121
Remember the long road I mentioned, (4km in total)? When backpacking on a budget, a bit of planning will go a long way in Tulum.
If this is your only stop whilst backpacking Mexico or through Latin America and looking for authentic Mexican food, I recommend you get yourself to Tulum town to soak up the local food and culture.
If you visit Xcaret theme park or travel to Playa del Carmen, or Cancun, you may find the urban design in Tulum a little weird when compared to other places in Mexico, but it's not difficult to find authentic food.
Tulum Travel Tips
Below are some of my best travel tips for Tulum.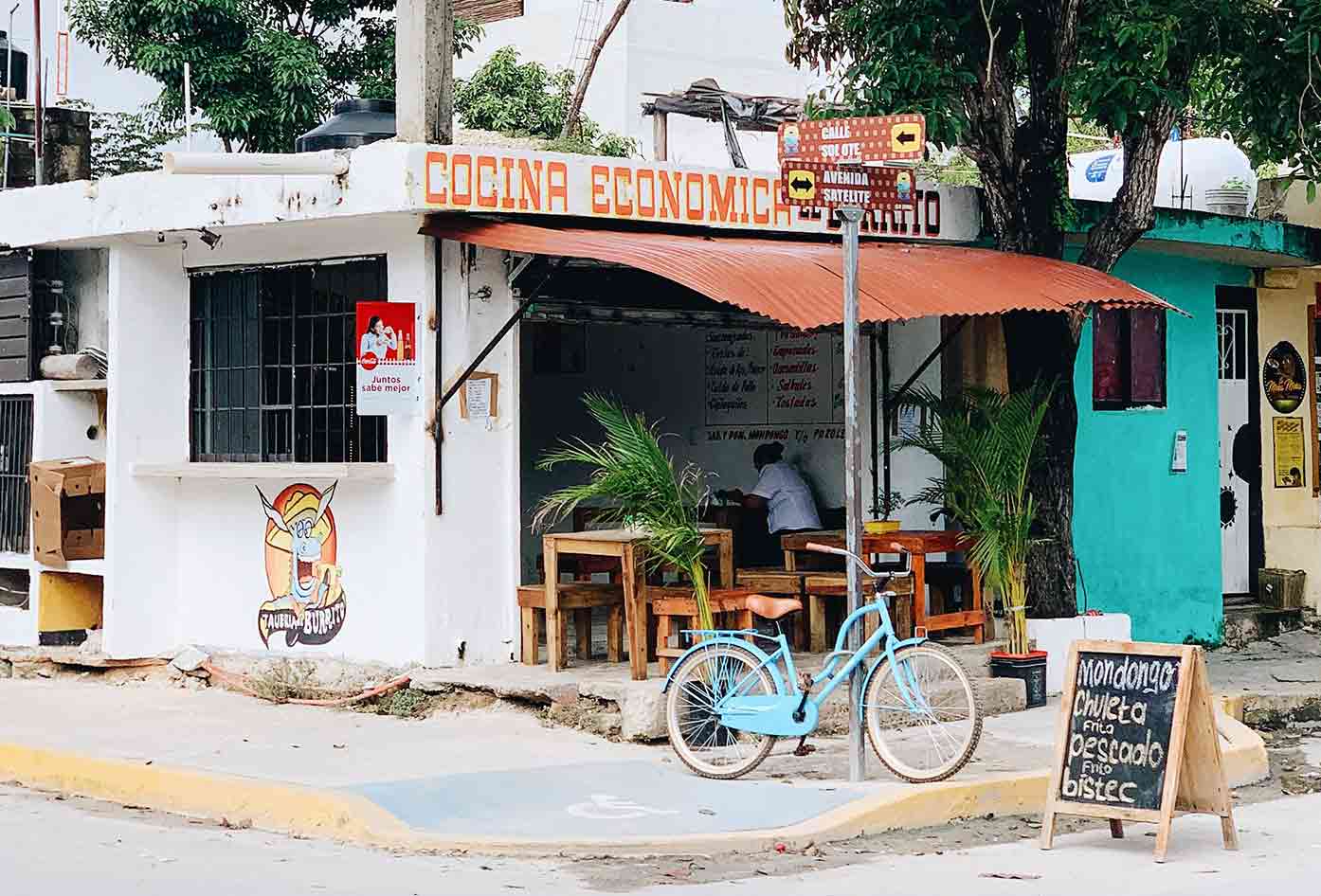 Throughout this blog, I will always note little tricks and that I feel can enhance your experience, or even save you money.
⤵️ Dan's Travel Tips For Tulum:
If traveling From Cancun to Tulum, the cheapest option is the Ado Bus. You can buy your ticket right before you walk outside the airport.
See this guide to buses in Mexico for more advice on talking long haul bus trips in Mexico.
Tulum is a magical and mystical place for yogis. You'll find studios that offer yoga classes, retreatments, meditations, ceremonies, etc. Also, you can take a class on the beach.
Rent a bike and take a free tour in Tulum. Ask for a map and recommended places to visit.
Be sure to carry cash in Mexican pesos because it's preferred in most places. While in Cancun and Playa del Carmen there are much more places that'll accept credit and debit cards.
Try Charly's Vegan Tacos for incredible food (even if you're not vegan).
Take a day trip to Valladolid from Tulum. Valladolid is by far one of the most beautiful and charming towns next to Quintana Roo.
Explore other Cenotes near Tulum like Dos Ojos, Zacil-Ha and Calavera.
Drink coffee or enjoy healthy food at Matcha Mama, a famous Instagram spot.
Remember you'll find plenty of options for accommodation and food. From budget to luxury. No matter what you choose, the beach is there for everyone.
The Internet in Tulum is not the best. If you're a digital nomad, don't arrive with a ton of work to do that relies on a solid internet connection/speed.
Got Travel Insurance for Tulum?

Designed by travelers, for travelers, World Nomads covers more than 150 adventure sports and activities so you can explore your boundaries.
Best Things to do in Tulum
For a small town off of the coastline of Mexico's Yucatan Peninsula, Tulum is a truly special place to spend your time.
With a rich variety of things to do, from sitting around the stunning beaches to visiting eye-catching ruins.
No matter whether you want to relax on Paradise beach and gaze at the stars as you listen to the waves gently lapping on the shore.
Or, see some amazing animals in their natural habitats, here you'll find yourself in paradise. See this guide on things to do in Riviera Maya for more ideas on what to do in this region.
📌 Like this article? Pin it…
Did this help your search for things to do in Tulum?
💬 Leave a nice comment or let's start a conversation below!
---
"Dear friend! Some links in this post contain affiliate links. Meaning, if you click through and make a purchase, book a hostel or sign up for a tour, I may earn a small commission at no additional cost to you. Your support means a lot and helps me to keep traveling and maintaining the quality of this site for you."