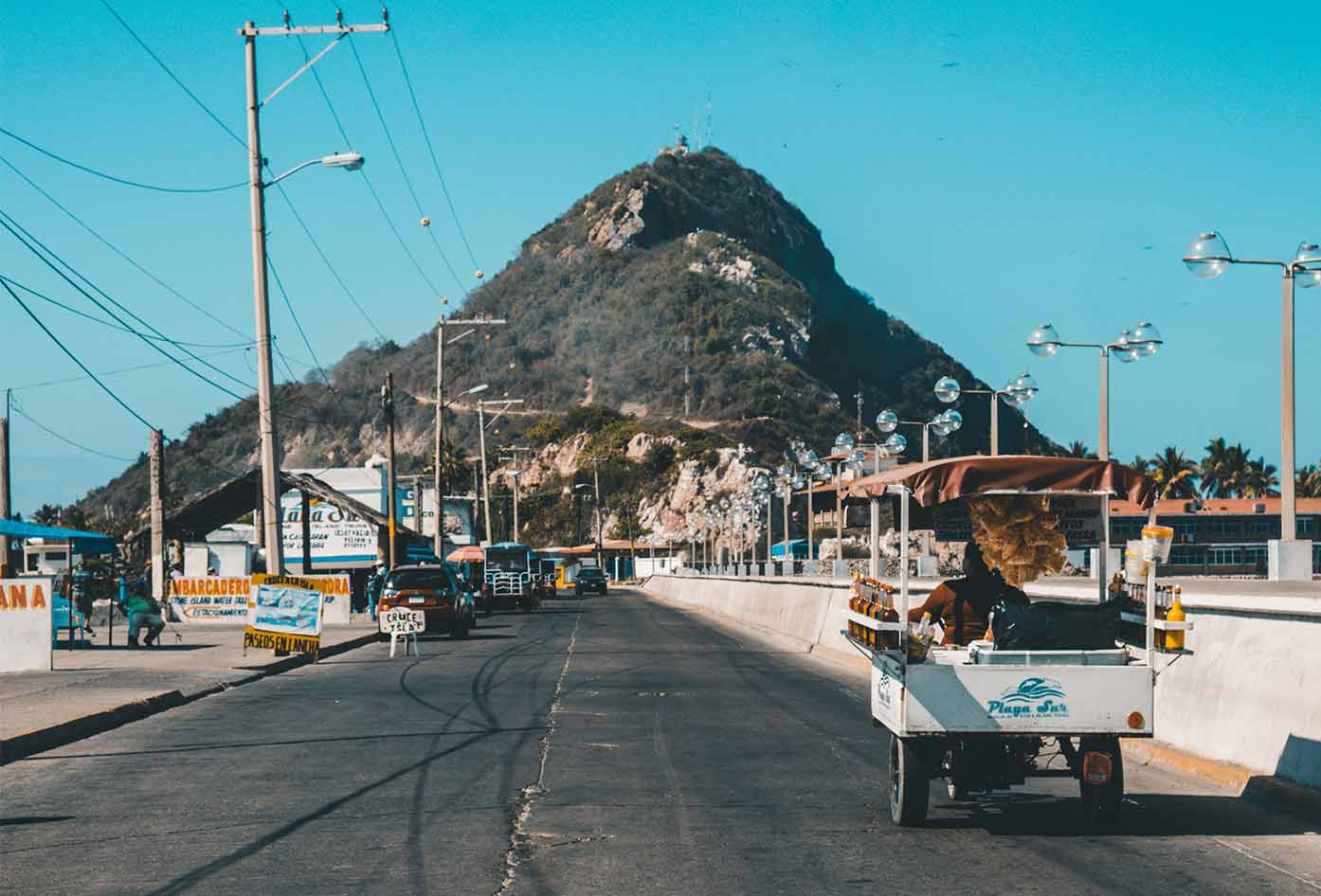 Welcome to this guide on things to do in Mazatlán.
Did you know Mazatlán has around 21km of sandy beaches?
Mazatlán is a popular beach-side city destination located in the state of Sinaloa, up in the North of Mexico that you wouldn't want to miss.
This a chance to get off the gringo trail and try something different.
Famed for its long promenade, which stretches over 8 km (the longest in all of Latin America) it is also a great area for surfing as well as diving and has some of the best Pacific sunsets in the entire country.
Things to do in Mazatlan
In this guide, we'll look at the city, safety expectations, what you can see and do as well as my tips to get the most out of a trip here.
Why Travel to Mazatlan?
Despite seeming less connected and "out of the way" compared with popular destinations like Cancún and Mexico City, Mazatlán is one of Mexico's popular tourist destinations for both locals and foreigners.
Reliable, hot weather and beaches are a big draw for many, and as a result, the international airport receives daily flights from the USA.
If you compare Mazatlan and Puerto Vallarta you'll see there are plenty of other reasons to visit aside from the beach. For nature lovers, there are a few islands off-shore that will be of interest.
Islands in Mazatlan
1. Isla de Pájaro – Islands of Birds
2. Isla de Venados – Islands of Deer
3. Isla de Lobos – Islands of Wolves
These are called, Isla de Pájaro, Isla de Venados, and Isla de Lobos which each have their own particular style and interests.
For the cultural traveler who is looking for a more authentic Mexican experience, then Mazatlan is a great choice.
Even though Mazatlan receives many travelers from abroad, and has caught the eye of many travel industries, it doesn't end there.
There is still an absence of tour providers and hagglers in much of the town that you would find the most popular destinations.
💡Smart Travel Tip
You can head freely into the markets, visit old churches and other attractions or simply drink some cold beers on the beach and really feel like you are taking in a piece of the 'real' Mexico and its culture.
Is it safe to travel to Mazatlan?
One of the first questions people ask about Mexico is safety situation as there tends to be a more negative spotlight on the country.
Whilst there is the presence of drug cartels in this region, the violence is between gangs and locals that have got involved in the drug trade.
As long as you are sensible and avoid heading to less built-up areas then you will have an enjoyable, trouble-free experience.
Make sure you get acquainted with the areas of Mazatlán and indeed Sinaloa as a whole before you go to be sure, and you will see that the violence is more localized rather than spread out.
As already stated, due to Mazatlán being a popular destination-break for Americans and Europeans looking for sunnier climates.
You'll find great infrastructures such as hotels and restaurants in the built-up areas with police presence giving the city a more safe feel.
See this Safety Guide to Mazatlán
Things to do in Mazatlán
Mazatlán is full of both interesting and important attractions. This draws visitors from both the country and abroad to see.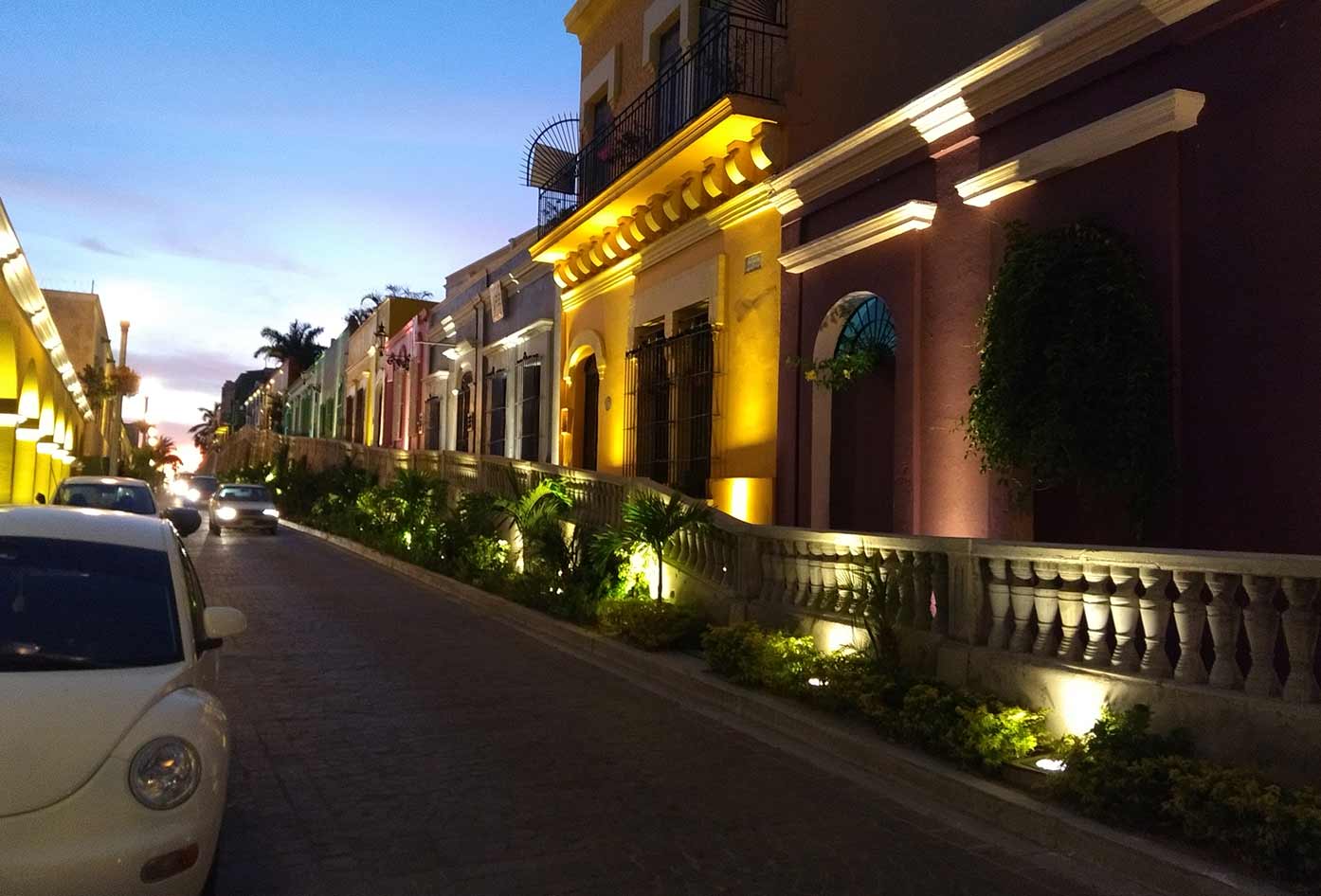 Below we will look at some of them in detail, and provide info on how to reach some of the harder to get to ones.
There are others of course that are not included such as the Isla de Lobo and Gran Plaza (Shopping Mall), as well as museums but in this article, we'll focus on the more popular and interesting ones.
Centro Histórico
Also known as the Old City, is where many of the neoclassical houses and historic landmark buildings can be found.
Visit the Plaza Machado, with rows of perfectly lined palm trees and flowerbeds that turn the square into a beautiful area for a stroll.
You should also visit the Mazatlán Cathedral, a beautiful neoclassical and neo-gothic style church that features an altar carved from marble, depicting the last supper.
It is also in this area where you can catch the infamous pulmonía, a golf cart turned taxi that will get you to wherever you need in style!
The Malecón
As mentioned, the longest promenade in Latin America features tonnes of public art, food stalls, and bars along its boardwalk.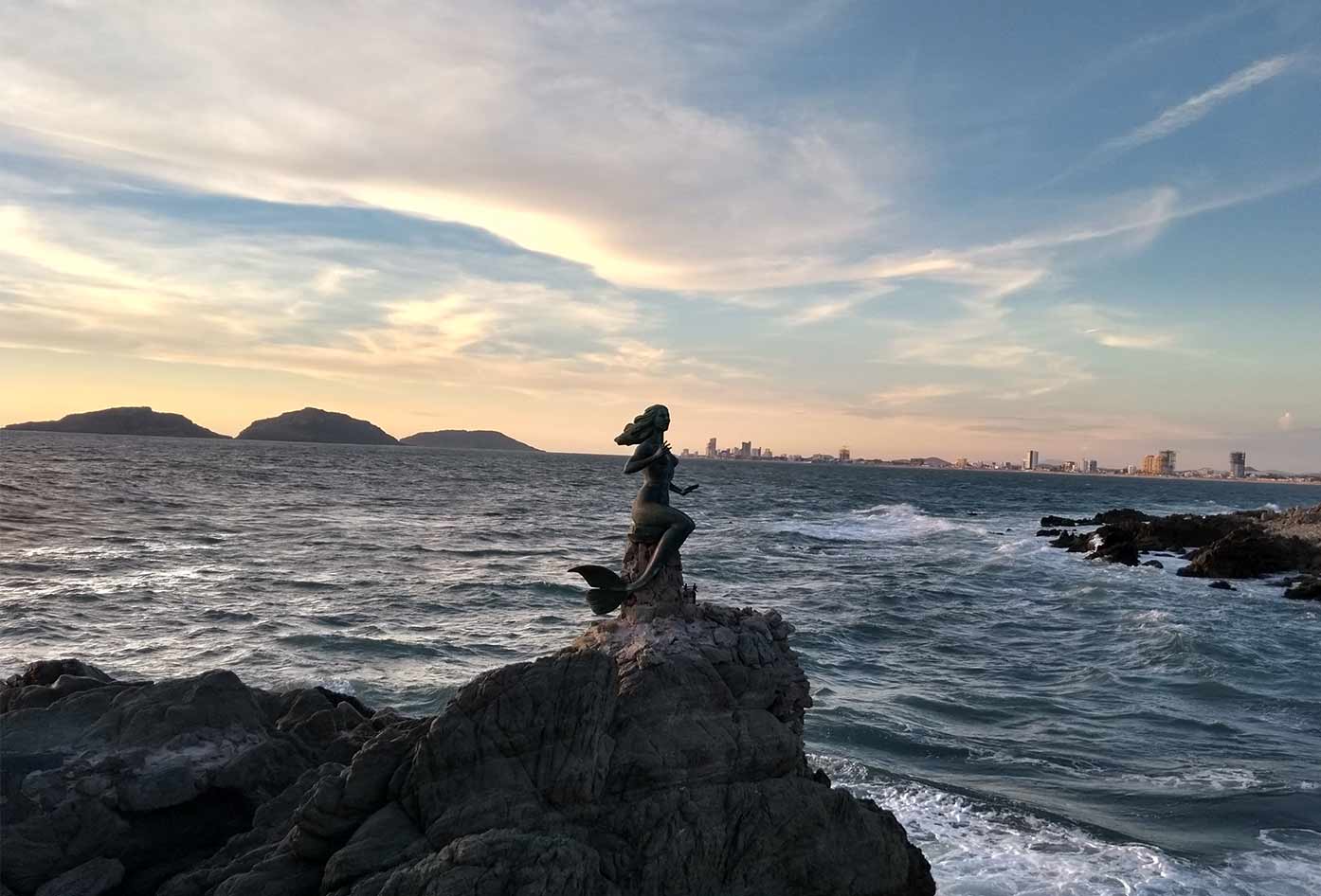 Along with popular places such as Puerto Vallarta, this is one of the best places in the Mexican Pacific to see the sun go down. Arrive a bit earlier and find yourself a spot among the crowds that gather here.
If you're lucky, you may also witness a cliff-diving show where the participants test their fate by diving into the waves below.
As easy as it seems, you will soon realize that the waves are constantly coming and going, revealing a bed of rocks underneath. Timing the jump right can mean the difference between life and death for them!
El Faro
The lighthouse of Mazatlán is located in the southwest portion of the city and is on top of the large Cerro Crestón rock that jets into the sea.
With over 350 steps to surmount, the views from the top are incredible and a great place to sip a drink and watch the sunset over the Pacific.
Beaches in Mazatlan
As the most popular attraction for travelers and people backpacking Mazatlan the beaches are amazing!
Whether you just want to relax, go surfing, snorkeling, or scuba diving you'll have no trouble finding watersports and activities here.
The best places to visit in Mazatlan for snorkeling are said to be on the Deer and Goat island and there is no need to guess, there are enough knowledge guides to help you decide.
Let's take a further look into some of the beaches that are worth your precious time.
Playa Olas Altas
Playa Olas Altas is one of the most popular options, which can be accessed directly from the southern side of the malecón. For a quieter, more expansive beach, take a short boat ride over to Isla de la Piedra.
There are some palapas that line the start of the beach (wooden huts that serve food and drink), and views of palm trees and blue water that seemingly fading out into the distance.
Being reminiscent of one of Mexico's surf towns you'll find Playa Brujas is hands down the best option for the surfers out there!
Isla de Venados
Designated as a nature reserve, this island is protected by Mazatlán and in turn, has many watchtowers and dedicated tourist trails.
It's the most popular island to visit and you'll find many open quiet spaces perfect for a picnic, rocky hills for hiking, and a plethora of secluded beaches. So be sure to carry some minimal footwear with you.
Isla de Pájaros
One of the best islands for bird-watching and nature overall, you can spot flamingos, pelicans, and an array of beautiful, exotic birds.
You will also find many species of cacti, mangroves, and bromeliads, the latter a tropical plant that is native to the island!
Mazatlan, Mexico: Travel Tips
See these travel tips for Mazatlan to ensure you have the best stay whether you're on vacation, backpacking, or traveling with friends.
⤵️ Dan's Travel Tips For Mazatlan:
If you are already in Mexico, find flights from Mexico City to Mazatlán is easy and good priced. That's was my route.
When you arrive at the airport take an official taxi and pay the fixed price (depending on where your hotel is) at the taxi desk.
Be sure to take a look at the Mural de Mazatlán located in the Mazatlán International Center. It's the largest mural in the world.
Credit cards are widely accepted but keeping cash is a must. You'll have to pay for transportation and small purchases.
Take a food tour! Try Mexican cuisine in Mazatlán is delicious, and the experience of connecting with locals through food is worth it.
Check at least one gallery of art, you don't regret it. Also, enjoy special Art activities in the Centro Histórico on weekends during the day.
Take usual precautions for safety in Mexico such as don't walk alone after dark, don't wear flashy jewelry, use common clothes, etc.
Bringing a pair of comfy walking shoes, sunscreen, a day backpack, and a water with filter are essentials for visiting Mazatlan.
Join adventure tours for ziplining and scuba diving is a great idea. Just be careful when choosing the tour company and verify that it's a safe a guaranteed experience.
As far as Mexican traditions go in Mazatlán if you may want to learn about the local fishing traditions if you arrive during Pajarito season.
This happens during a time when the fishermen head out to catch a special type of "flying fish" that glides over the water. In and around Mazatlán you'll find many seafood places that have them on the menu.
Best Time to visit Mazatlan
As with many towns and cities located on the Pacific side, there is a hurricane season that usually arrives between June and September.
So if you are thinking of heading to Mazatlán around these times, then you should be prepared for large amounts of rainfall, which sometimes makes some of the roads temporarily inaccessible.
I think the best time to visit would be in the following months of October and November, as there is better weather with a pleasant average of 88°F.
This period is also before the tourist seasons begin in the winter months, which results in a tonne over people visiting as well as increased prices for accommodation and travel.
If you want to whale-watch, then head between December and April where you will have a great chance of seeing Humpback Whales, Orcas, The Fin Whales, and Bryde's Whales.
You can also spot different species of dolphins including the Pacific Bottlenose Dolphin and the Pan-Tropical Spotted Dolphin.
My Recommendations
With lots to do in and around Mazatlán, I will give what I believe is one of the best ways to spend a day exploring this amazing city.
Firstly, wake up early and head up to El Faro to get the blood flowing and to watch the sunrise up over the sea.
After the easy yet stuffy challenge of descending the stairs, catch a taxi and head to the old historic center, where you can grab some street food and marvel at the different buildings and street art on display.
From there, you should head to the small port on the south and take a ferry over to Stone Island and chill on the beach, where there are lots of cheap beers and good eats available.
If you're on a tight budget get acquainted with some of the local Mexican grocery stores that are on offer to find fruits and other food.
A few hours later, head back to the mainland in time for the sunset at the malecón. From then on, an array of nightclubs and bars along the promenade wait for you!
Where to Stay in Mazatlán
As the perfect beach destination, there are some great places to start right by the beach. Get as close as possible by staying at one of the many hostels or hotels in Mazatlán.
3 reasons to stay here
Designed by Backpackers
Rooftop Terrace
Free High Speed WiFi
Located in the 'Golden Zone' the Funky Monkey greets all its visitors with a smile! Designer for backpackers but open to all. With just a short walk to all the beautiful beaches, you'd feel right at home here.
---
For more ideas, I suggest you see this list of hostels if you're on a tight budget, but getting a place in the golden zone will be a great investment no matter what your budget.
Got Travel Insurance for Mazatlan?

Designed by travelers, for travelers, World Nomads covers more than 150 adventure sports and activities so you can explore your boundaries.
Things to do in Mazatlan
And that's all for this guide! In this article, we have explored the beachside city of Mazatlán, located up in the region of Sinaloa.
We have looked at the different things to see and do in the city, the islands just off-shore which each offer a slightly different flavor as well as the impressive malecón and lighthouse – two of the city's biggest attractions.
If you're concerned about safety see these other safe places to visit in Mexico for inspiration.
I hope with this guide you will have a better idea of how to spend time there, and when is best to go. You will simply find that one trip to Mazatlán will never be enough.
📌 Like this article? Pin it…
Are you thinking of traveling to Mazatlán, Mexico soon?
💬 Leave a nice comment or let's start a conversation below!
---
"Dear friend! Some links in this post contain affiliate links. Meaning, if you click through and make a purchase, book a hostel or sign up for a tour, I may earn a small commission at no additional cost to you. Your support means a lot and helps me to keep traveling and maintaining the quality of this site for you."