Are you looking for the best things to do in Florianopolis?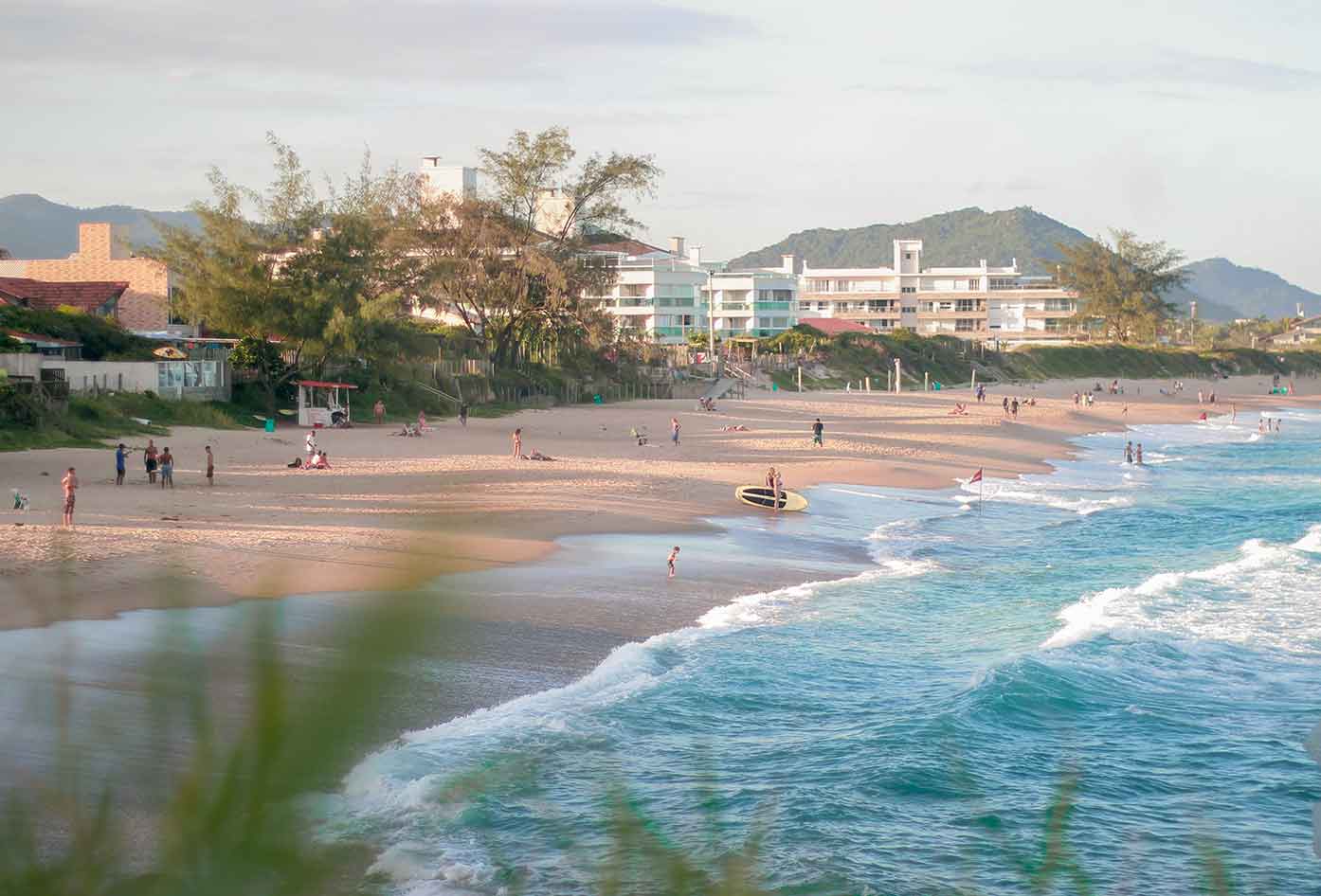 Florianopolis is a small island in the state of Santa Catarina, and the island quickly became one of my top 10 things to do in Brazil.
It's no secret that Florianopolis is one of the famous places in Brazil and is known for its nightlife and 42 beaches.
Things to do in Florianopolis
Below, I will present to you my list of things to do in Florianopolis.
If you're visiting Florianopolis, it will be more than likely for its beaches.
No matter what your purpose is, or how long you have on the island, I recommend you try at least one of the following things to do.
Arriving in Florianopolis
I looked at how to get to Florianopolis and ended up arriving by bus from Puerto Iguazú. The island has its own airport.
Meaning, there are various ways to arrive here, depending on where you're traveling from.
Florianopolis has more to offer than white sands, coconuts and Caipirinhas. Let's look at these amazing things to do in Florianopolis.
Florianopolis Market
One of my favorite things to do in Florianopolis or any other place when backpacking South America is to find the local market.
After checking in to my accommodation, it's usually the first thing I do. I find markets tell interesting stories about places.
In Florianopolis, you'll find a small outdoor market that consists of many tents that sell a wide range of fruits and vegetables.
Like many of Brazil's tourist attractions, here you'll find other interesting items such as souvenirs and artisanal goods.
Florianopolis Bridge
A solid attraction for Florianopolis (and one of my favorite landmarks) is the Hercilio Luz Bridge, which is Brazil's largest suspension bridge.
If you do the historic city tour this landmark is included. It's all about finding the best vantage point in the city.
The bridge has been closed to the public since 1991. I took this picture from a great viewpoint on the balcony at Salt Dog burger joint.
This bridge is a Florianopolis landmark; you can easily drive around and see it from many angles. It looks spectacular in the evening.
Florianopolis Street Art
Definitely one of the best things to do in Florianopolis if you like to connect with the local culture.
Whenever in Latin America, I keep my eyes open for art, not only in museums and cultural centers but in the street. I take my time to observe what I see, just like an art connoisseur would in a gallery.
Florianopolis has a real creative vibe about it, which I felt just by walking around the backstreets looking at the artwork.
Best Beaches in Florianopolis
There's a reason why Florianopolis has been a popular beach destination for surfers and partiers for decades.
The following beaches are phenomenal:
Barra da Lagoa
Praia da Joaquina
Praia Mole
Lagoinha do Leste
Ilha do Campeche
I visited the beach once every couple of days and mixed lazy beach days with other activities.
💡Smart Travel Tip
Don't book all your accommodation before arriving. You'll likely find other parts of the island you'll prefer to stay once you get there.
You'll find that Selina hostel is located just across from Mole beach so it makes a great place to park yourself for a couple of days.
Take a beach tour
If short on time or not thinking about renting a car, I recommend the beach tour headed by local guides.
You'll visit all the beaches on the south coast such as:
Lagoa do Peri
Pântano do Sul
Matadeiro
Amarçao
Ilha do Campeche
Morro das Pedras
The beach tour covers less popular beaches common with tourists.
Get yourself prepared to do a lot of walking, especially if you want to discover the more hidden or secluded parts of the beaches.
I recommend traveling with a decent pair of flip-flops or even a sturdy pair of travel sandals if you desire more heel protection.
This is a great idea if you want to save time but not miss out on the best beaches in Florianopolis.
Take the Beach Bus
There are special yellow buses that go to all the best beach spots on the island.
I used mainly the Terminal Rodoviario Rita Maria as it was super close to my Airbnb.
Another useful terminal is Terminal de Integração do Centro, which is literally across the street.
You'll find the blue and white bus, which is half the price of the yellow beach buses but less direct, and there's much more passenger traffic.
Florianopolis Travel Tips
See these travel tips for Florianopolis to ensure you have the best stay whether you're on vacation, backpacking, or traveling with friends.
⤵️ Dan's Travel Tips For Florianopolis:
The public transport works really well because the buses go to all the beaches. Depending on your location and plans, ask in your hostel or hotel for recommendations. Cash is the mode of payment
Pack a good pair of comfy walking shoes especially if going on the trails and visiting places in/outside of the city.
That's the case of Praia Galheta, a quiet beach which you can enter through a trail from Barra da Lagoa.
Credit and debit cards are accepted in most places
When looking for somewhere to stay there are some great hostels in Florianopolis , as well as some cool Airbnb options for staying in different spots on the island.
Bring a water filter and buy bottled water. Tap water is not potable.
The best time to visit Floripa is from December to March if you want to enjoy the summer. Also, from April to August is a good time too, because it is the spring season.
Book flights and accommodation in advance, especially during peak season. You'll probably want to get the best prices.
Go Sandboarding. The dunes in Florianopolis are perfect for it.
As I mention in my Latin Explorer Travel bible, try to mix up your accommodation, especially when traveling for more than a month.
Pay the price of your food depending on the weight. As you read it, it's common in many restaurants to pay by the kilo. Also, you can pay a fixed price and choose whatever you want from the offer.
Learning some words and expressions in Portuguese can be really useful and a way to connect with locals here. Also, if you already know some Spanish is an advantage too.
Travel Insurance for Florianopolis
I always recommend backpackers and travelers (no matter who you are) use World Nomads Insurance for fully comprehensive cover.

If you are due to travel soon, you can get a Get A Free Quote by clicking the link or the image above and filling out your details – that way you'll get instant cover from the exact date that you choose.
On many occasions World Nomads has provided me with reliable insurance cover for travel in Latin America and the rest of the world.
Things to do in Florianopolis
Brazil is the largest country in Latin America and since learning Spanish, I've found that I can understand some phrases in Portuguese.
See more of my Brazil travel blogs that cover some of the most exciting places to visit in the country.
📌 Like this article? Pin it…
Missing something? Got tips, tricks & advice we can learn from?
💬 Leave a nice comment or let's start a conversation below!
---
"Dear friend! Some links in this post contain affiliate links. Meaning, if you click through and make a purchase, book a hostel or sign up for a tour, I may earn a small commission at no additional cost to you. Your support means a lot and helps me to keep traveling and maintaining the quality of this site for you."