Are you thinking of traveling to Cuenca, Ecuador?
Located in the mountainous Andes region of Ecuador, Cuenca is one of the prettiest architectural delights to visit in the entire country.
As well as its striking buildings and churches, Cuenca is also a great destination for those looking to explore wild nature which can be enjoyed in the Cajas National Park.
It's also a great destination to visit if you want to experience some more authentic Ecuadorian customs and food.
Things to do in Cuenca, Ecuador
In this guide, we'll explore Cuenca! As well as provide an entertaining travel guide we'll look at exactly why you should visit, how to get there, things to do, as well as smart tips for getting the most out of a trip.
Is Cuenca Worth Visiting?
Known for its stunning Spanish, colonial architecture, Cuenca is one of, if not the best photo op destinations in all of Ecuador.
From its imposing cathedral to the neoclassical and baroque-style buildings that are layered along most streets, makes this an enticing city to be in.
The historic center is the best place to visit to best see these beauties. We'll cover the historic center and the best things to see here later.
Cuenca is also located close to the Cajas National Park, which is fantastic for nature, hikes, and also taking part in some adrenaline-fuelled activities which we'll also explore later in this guide.
Another reason many visit Cuenca is for its location in the Andes, with scenic mountains and important ancient ruins all within a short driving distance from the UNESCO world heritage city.
How to get to Cuenca from Quito
Cuenca is located in the Andes region, in the south of Ecuador.
As one of the largest cities, it's well-connected and often visited as a stop along any Ecuador itinerary or in South America.
From Quito and other popular cities in Ecuador, you go to the bus station (usually called the Terminal Terrestre) to get the bus to Cuenca.
To get to Cuenca from Quito it takes around 10 hours, and also 4 hours if coming from Guayaquil on the coast.
You can also arrive in Cuenca if coming from Peru. After crossing the border from Tumbes, you'll arrive in the town of Huaquillas in Ecuador. A bus from Huaquillas to Cuenca will take around 5 hours.
You can also fly to Cuenca with its international airport connecting to all major destinations in Ecuador, as well as other countries too.
Is it safe to visit Cuenca?
When comparing all of the destinations to visit in Ecuador, Cuenca is by far one of the safest. The streets are a lot cleaner, and there are much better safety standards here compared to the capital.
The historic center is the safest and best area to stay in Cuenca, which will be a nice break if you've recently visited Quito or parts of the coast where you'll have your guard up more.
Outside of the historic center, it can be a little unsafe, especially near the bus station. Read more about safety in Ecuador here for more tips.
Things to do in Cuenca
There are lots of great things to do in Cuenca. Below we'll explore some of the best to help you save time and energy during your trip:
The Historic Center
This area is well-known for its impressive architecture and Spanish-style buildings, due to the Spanish invasion which saw much of the area redesigned during their occupancy.
The main square, named Plaza Calderón, is the heart of the historic center. A place where locals sit and enjoy this historic part of town.
Located along its edges you'll find the impressive cathedral (known locally as the Catedral de Inmaculada concepción de Cuenca), as well as the old cathedral, and other government and municipal buildings.
You also have the EPIC Selina hostel here which has a host of amenities such as a wellness room, yoga classes, and even a welcome drink.
The square itself is a nice area to go for a stroll, filled with green spaces, a beautiful fountain as well as lots of benches spaced around.
Other great things to see in the Historic Centre include the Plaza de San Francisco with its stunning church.
As well as Calle Larga (the same as the famous one in Valparaíso translating to "long road" in Spanish) which is the busiest street filled with lots of nightlife options, restaurants and also cheap local eats.
Mercado 10 de Agosto
Located close to the north end of Calle Larga, Mercado 10 de Agosto is the go-to market for both locals and tourists alike.
As you enter you'll be greeted with rows upon rows of fruit stands selling an array of exotic delicacies, as well as local butchers stringing up their day's selection of meats and animal products.
The whole complex is pretty big, with three floors of vendors selling pretty much anything and everything.
Just be sure to check for good hygiene practices before, as well as follow what the locals choose as they'll know best.
For those who seek a more cultural travel and authentic local experience, head here on either Sunday or Wednesday where you can receive a limpia (a ritual from a local shaman).
This involves being hit with local herbs and having a raw egg rubbed over your head and body to determine what kind of bad energies you hold in you. Not a bad way to spend the morning eh?
Mirador Turi
Home to the best lookout point of Cuenca, Turi is a great place to spend the day and really appreciate the architectural efforts from afar (and to see how the whole city fits together).
It's home to many restaurants with good views and food and is also connected to a small town on the other side.
If you like thrills then head up to the higher point where there is a tiny adventure park. Here you'll find a swing and other fun rides that perch you over the tallest edge of Cuenca.
You can arrive here by taxi quite cheaply! Another popular way is by catching the open-air tourist bus that departs from Plaza Calderón.
As well as arriving in Turi, you'll also learn lots about the city and see the important sights and landmarks along the way.
Cajas National Park
This stunning national park is located roughly an hour away from Cuenca. Read more about Cajas National Park in this dedicated guide.
Known for its lakes, other-worldly shaped mountains and many exotic birds that range from Spectacled Whitestarts to Andean Teals, it's one way to explore nature from Cuenca and to also hike around at free will.
Cajas is located at an altitude of 4000+ meters, so make sure you properly acclimatise first and also take any altitude sickness medications if you're prone to getting ill at higher elevations.
💡Smart Travel Tip
To get here, go to the terminal terrestre (bus station) to catch the hourly bus heading towards Guayaquil and stops at Cajas on route.
Ask the driver to let you off here, where you'll be dropped off a short walk away from the reserve center. It takes around an hour to arrive at Cajas from Cuenca by bus.
Casas Colgadas
Not to be confused with the hanging houses of Cuenca, Spain. Whilst these are less known, they are pretty much identical to those of its twin city in Europe.
The Casas Colgadas can be found on Calle Larga, which perch over the edge of the street facing towards the south of the city.
For the best view, you'll want to head down the hill next to the river, where you'll then see the tall buildings with their incredible design and dramatic appearance.
Aside from the cathedral and the Plaza del Calderón, these rank pretty high among the best photo ops gems to visit in Cuenca.
Cuenca Travel Tips
See these travel tips for Cuenca to ensure you have the best stay whether you're on vacation, backpacking, or traveling with friends.
⤵️ Dan's Travel Tips For Cuenca:
My first recommendation is to stay in the historic district of Cuenca. Not only is it the safest area, but it's also home to the majority of the best sites and landmarks of Cuenca.
As always, avoid wearing expensive accessories and heading out late alone at night, and you'll most likely have a trouble-free experience.
If you are a sucker for beautiful sights, you'll want to have a camera handy when strolling around this city. Be sure to carry an Anti-theft camera bag so you can reduce the possibility of petty theft.
In terms of how many days are needed in Cuenca, I'd say a minimum of 4 Days to see everything here. This would give a great introduction into the city, the best landmarks and areas to wander around. It would also factor in for a day trip or two in the surrounding region.
Be sure to check out the best-rated hostels in Cuenca before booking anything to ensure you have the most comfortable stay possible.
While in Mercado 10 de Agosto head up to the second floor to the west section, where you'll find all of the local restaurants selling great local dishes for extremely cheap prices.
Despite the cost of living in Ecuador and Cuenca, the area around Plaza Calderon usually has a good amount of police presence and as a result, is one of the most popular areas to stay in Cuenca.
You could easily spend as much as two weeks in Cuenca to really take it slow and get a real feel for Cuenca life, but for the quick traveler then 3-4 days in Cuenca is sufficient.
Map of Cuenca, Ecuador
See this map of Cuenca to get a better idea of the surrounding area:
It is worth noting that Cuenca is home to some of the best coffee shops and bakeries in Ecuador and you can find everything from freshly baked bread, to cakes and croissants.
If you're into coffee there is a coffee shop close to Mercado 10 de Agosto called Café de Ñucallacta which is must-visit for coffee and food.
Remember to carry some comfy walking shoes and practice your Spanish to be able to pick up any inside knowledge from locals.
The Best Time to visit Cuenca
The weather in Cuenca is generally a lot cooler than that of the coast and jungle, due to its higher altitude.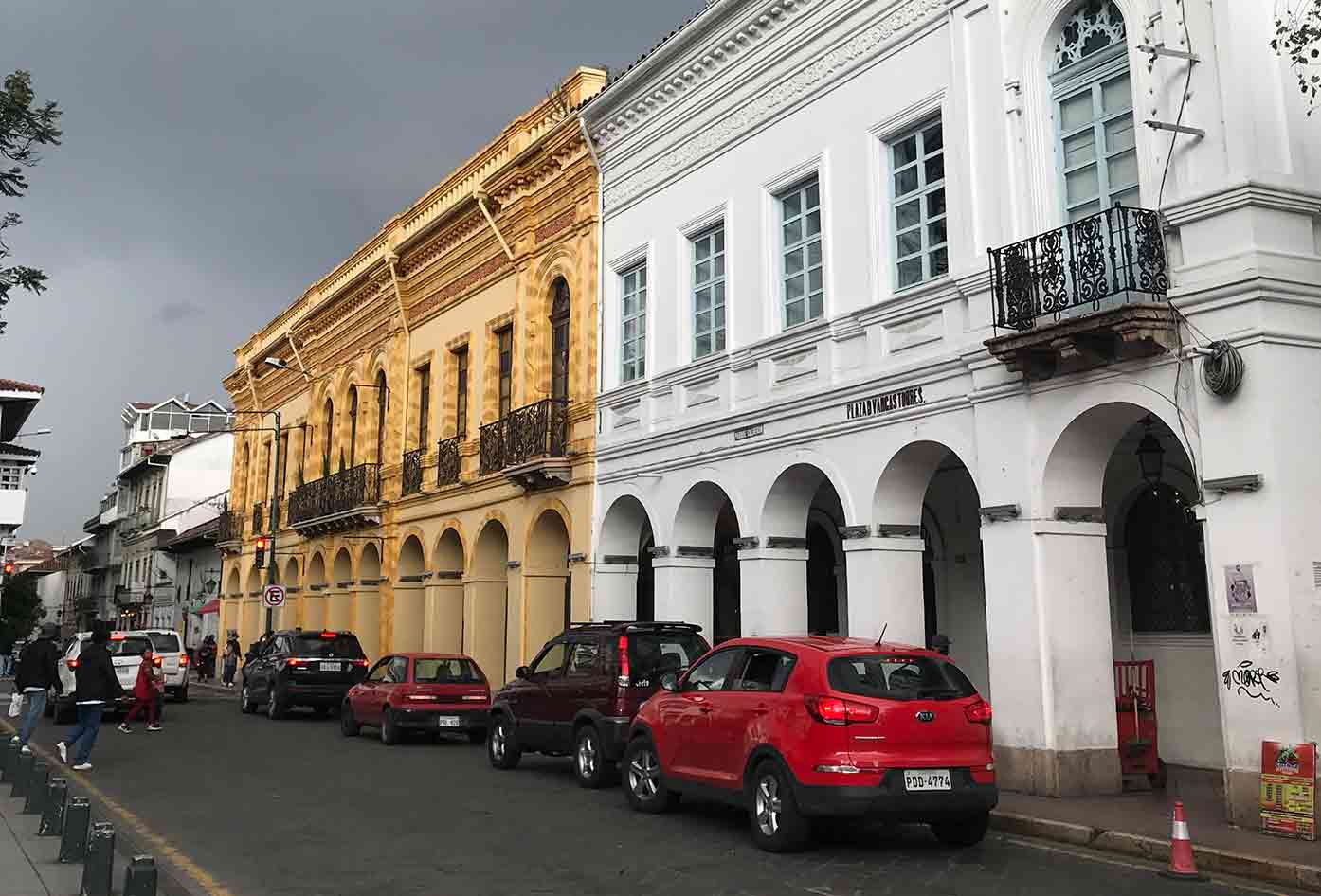 January until May is the warmest time to visit, with average temperatures of between 55-57°F and highs of up to 63°F.
This is also the wettest time of the year to visit Cuenca, with between 50-70% chance of precipitation for any individual day within that period (March is the wettest month of the year on average).
June until September sees a drop in temperatures, with an average temperature of between 48-55°F. This is also the driest time to visit as rainfall drops off to around a 15-20% chance of daily precipitation (August is the driest month to visit Cuenca).
October until the end of the year sees a gradual increase of both temperatures and rainfall heading into the New Year.
Got Travel Insurance for Cuenca?

Designed by travelers, for travelers, World Nomads covers more than 150 adventure sports and activities so you can explore your boundaries.
Things to do in Cuenca
And that's all for our guide to travel in Cuenca. As we've seen, this city is one of the most picturesque to visit in the entire country.
From impressive architecture and cobblestone streets to cute plazas pretty much everywhere in the center.
We've also looked at some fantastic close-by destinations that can be visited from Cuenca as day trips. From ancient ruins to high-altitude towering peaks, it'll certainly keep you busy.
Now you have reasons to visit Cuenca, you know how to get there, what things to see and do, the best time to visit, as well as my top travel tips.
Read about some more of the places to visit in Ecuador such as Quito if you will be traveling around the country and looking for ideas on where to go.
📌 Like this article? Pin it…
Got better idea of what to expect visiting Cuenca?
💬 Leave a comment below or let's start a meaningful conversation…
---
"Dear friend! Some links in this post contain affiliate links. Meaning, if you click through and make a purchase, book a hostel or sign up for a tour, I may earn a small commission at no additional cost to you. Your support means a lot and helps me to keep traveling and maintaining the quality of this site for you."