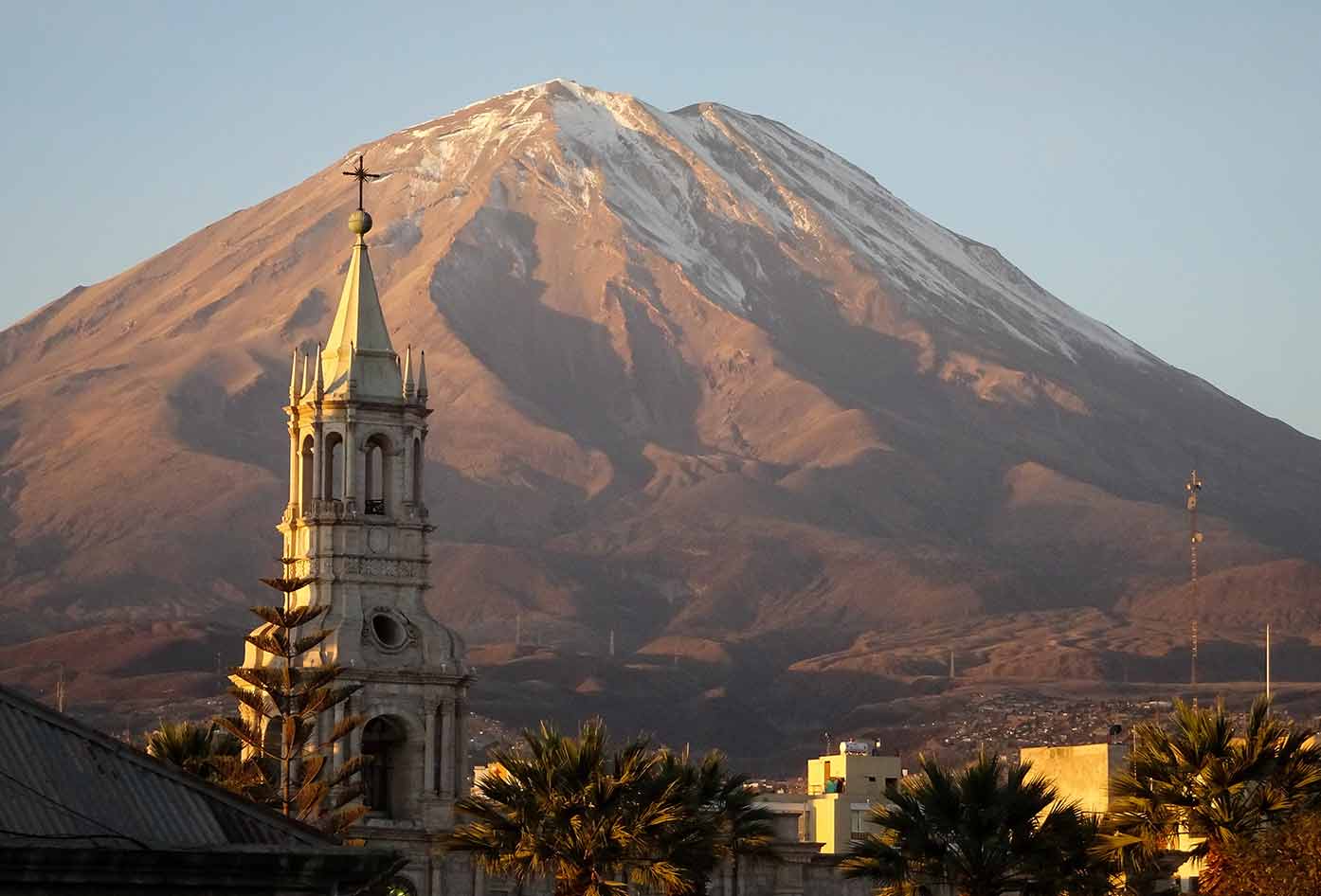 Are you thinking of traveling to Arequipa?
Located in the South of Peru and nestled between three volcanoes, Arequipa is one of the most picturesque cities in Peru.
Arequipa is known as "the White City" due to its abundance of sillar (a volcanic stone found in abundance in the region) decorated buildings.
In this guide we'll explore Arequipa, the best things to do and see, how to get there, how to stay safe as well as the best time to visit.
Arequipa, Peru Travel Guide
Before we look at all the activities to do here, let's first look at some reasons why you may want to add Arequipa to your Peru itinerary.
If you are reading about Arequipa for the first time it makes sense to know why you'd come to this region of Peru and what's in store for you.
Is Arequipa Worth Visting?
As already mentioned, Arequipa is one of the most attractive and scenic cities in Peru. As well as the unique architecture, the volcanoes that surround this city provide an impressive backdrop.
This city also has a strong culture, with the Arequipeños (local people from Arequipa) having very strong pride in their heritage.
Whilst here, make sure you try out authentic cuisine from the region, such as Queso Helado, which is some very tasty ice cream.
How to get to Arequipa
Arequipa is Peru's second-largest city and thus is quite easy to access.
The easiest way to get to Arequipa is by flying, with LATAM providing numerous direct flights from Lima daily.
These flights tend to be cheap if booked in advance, and of course, is a fraction of the travel time compared to taking the bus.
The bus from Lima to Arequipa is pretty long: 16 hours on average.
Are the bus companies that carry out departures daily for this route.
If you're traveling solo on the bus, see my South America solo travel tips for safety advice. But you'll be fine if you're accustomed to bus travel.
If you're already in the South of Peru, in places such as:
Then taking the bus is the most efficient and cheapest way of getting to Arequipa. Many backpackers take the Peru Hop bus from Cusco to Arequipa which allows you to stop off and jump back on in Puno.
Is Arequipa safe to visit?
Arequipa like most major cities in South America has its touristy parts and also rough areas to avoid.
The Plaza de Armas and the area around the Santa Catalina Monastery are the safest to visit, and also the best to stay in my opinion.
As you come out of these areas, such as south to the district of Municipal, take caution as pick-pocketing and petty theft are common.
There's plenty of advice on travel safety in Peru on this blog, but as always, avoid going out alone late at night and walking in uncommon areas. Definitely avoid wearing any expensive accessories or jewelry.
Things to do in Arequipa
Now you know what to expect from one of Peru's most popular cities let's look at what to do in Arequipa for anyone passing through.
Colca Canyon
With a depth of almost double that of the Grand Canyon, Colca Canyon is one of the deepest canyons in the World.
This is one of the best places to visit in Peru and is located around 160km north of Arequipa, you can visit either by tour or independently.
The one-day tour is one of the most popular! You'll visit the Mirador (lookout) and hot springs. If visiting independently, you can take the bus there which takes around 3 and a half hours.
This second option is usually more popular, and many spend between 3-4 days exploring the vast region and towering canyons.
The Colca Canyon is also famous for being one of the best areas to spot wild Condors soaring through the skies.
Museo Santuarios Andinos
This museum is famous for being the resting place of Juanita, who was sacrificed as part of the ancient Capac Cocha tradition dating back to early Incan times.
It was believed that these sacrifices of children helped to bring good luck, and to avert natural disasters that were prone to the region.
The museum is also home to many ceramics, textiles and important metals. Most were recovered from that period, and during the tour, you'll learn more about the history of the Incas.
Ruta de Sillar
This valley is famous for its white "sillar" stones, which you'll see dotted around Arequipa in many of its buildings and churches.
A UNESCO world heritage site, the Ruta de Sillar is roughly 2km long and features many masterpieces carved into the mountain, as well as numerous sculptures.
If you are renting a vehicle, it takes roughly 35 minutes to reach Arequipa by car and there are no direct buses here.
The best way is to visit by using a tour from Arequipa, where you'll learn in more detail the history of the site, as well as visit a nearby valley where you'll be able to enter and walk between the narrow cliff faces.
The Volcano Hikes
Arequipa is surrounded by three main volcanoes; El Misti, Chachani, and Pichu Pichu. It's possible to hike all three, and they are all extremely rewarding experiences.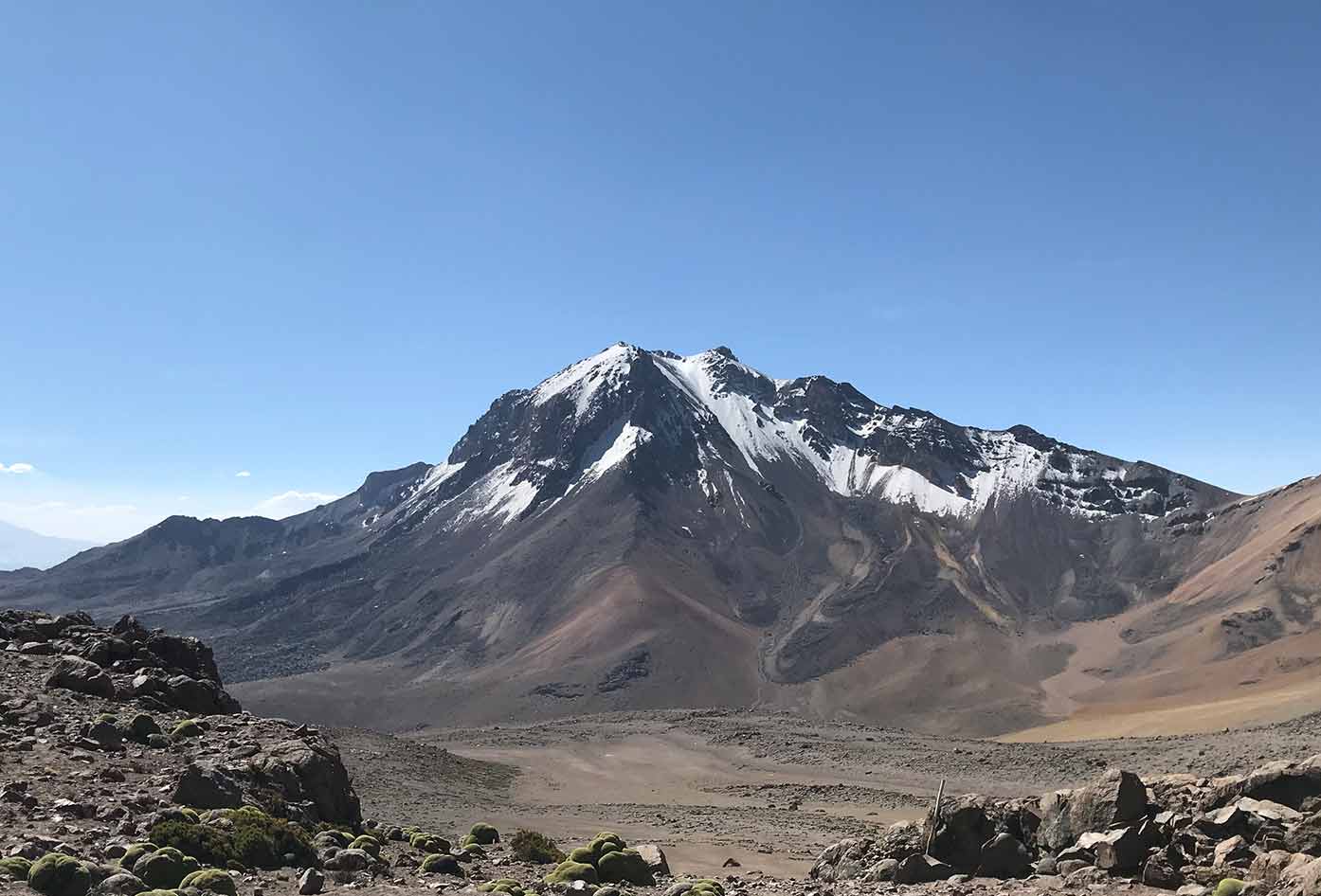 El Misti is by far the most popular to hike, taking around one or two days depending on your time and physical condition.
Chachani is the most difficult, and also the highest altitude at just over 6000 meters above sea level. Pichu Pichu is the easiest, can be hiked within a day.
All hikes can only be done with a tour, where they'll also provide all necessary equipment.
Arequipa Travel Tips
See these travel tips for Arequipa to ensure you have the best stay whether you're on vacation, backpacking, or traveling with friends.
⤵️ Dan's Travel Tips For Arequipa:
Aside from the things mentioned in this guide you'll need extra time to explore all the restaurants, rooftop views and coffee shops.
Most attractions are located in the historical center so if you say in a place like Le Foyer Hostel you'll have easy access to everything.
Remember to check out Plaza de Armas this square made off white volcanic rock is an unmissable attraction for Architecture buffs.
If you're a keen street photographer get your best travel camera ready because you'll have ample opportunity to get some candid photos.
Take the Arequipa city tour if you have limited time and want to ensure you can see all the noteworthy spots in a short space of time.
Head over to Camilo Market for a look into a traditional Peruvian market experience, they sell everything (at unbelievably cheap prices) from local treats to fruits and vegetables.
Make sure you get over to Yanahuara Mirador in the early evenings to get Instagram worth shots of the city from above.
You must try queso helado as mentioned early but don't worry this is not Colombia here they don't mix ice cream and cheese.
Get yourself over to Puku Puku Cafe for Arequipa's best coffee combined with rooftop terrace views. Not to be Missed.
Map of Arequipa, Peru
See this map of Arequipa to get a better idea of the surrounding area:
Note that the historic center consists of around 5 blocks and most of the urban area seen in the map above can be explored by foot.
Remember to carry some comfy walking shoes and pick up a local map to explore some of the small landmarks and hidden gems.
Also, the guys at Le Foyer Hostel are helpful when it comes to giving you directions on where to and where not to walk in Arequipa.
The Best Time to Visit Arequipa
The climate in Arequipa is fairly consistent year-round, with warm temperatures during the day, which cool rapidly heading into the night.
Average temperatures throughout the year hover between 56-59°F, with highs of up to 73°F and lows of down to 43°F.
Rainfall is also pretty low throughout the year, making Arequipa a great all-year-round destination.
Precipitation hovers around 10mm most of the year, with the exception of February that receives around 20mm.
Of course, be sure to pack lots of warm clothes if hiking the volcanoes, as temperatures occasionally drop below 32°F as you head into the higher altitudes.
Got Travel Insurance for Arequipa?

Designed by travelers, for travelers, World Nomads covers more than 150 adventure sports and activities so you can explore your boundaries.
Things to do in Arequipa
Thanks for reading this guide to traveling to Arequipa.
Known as the White City, Arequipa is one of the most popular cities to visit in Peru, and it's not hard to see why.
With towering volcanoes that surround the city, as well as the close-by Colca Canyon and Ruta de Sillar, there's plenty of breath-taking photo opportunities on a visit to Arequipa.
In this guide we've explored Arequipa, the best things to see and do, how to get here as well as the best time to visit this beautiful city.
I invite you to read my exotic guide to backpacking South America for even more ideas on where you can go in this amazing continent.
📌 Like this article? Pin it…
Did you find any of these things to do in Arequipa interesting?
💬 Leave a comment below or let's start a meaningful conversation…
---
"Dear friend! Some links in this post contain affiliate links. Meaning, if you click through and make a purchase, book a hostel or sign up for a tour, I may earn a small commission at no additional cost to you. Your support means a lot and helps me to keep traveling and maintaining the quality of this site for you."