Are you looking for things to do in Akumal, Mexico?
Akumal is a small town on the beach just north of Tulum, located in the region of Quintana Roo in Mexico.
If you didn't already know, the name Akumal interestingly derives from the Mayan language, which means "place of the turtles".
Akumal, Mexico: Travel Guide
There is no Uber in Akumal so once there, you can easily get around by bike, taxi, or using the colectivos which are the cheaper option.
How is your Spanish going by the way?
Spanish is not necessary, but in this region of Mexico, a little Spanish conversation goes a long way in gaining respect from the locals.
Is Akumal worth visiting?
This small beach town has gained notoriety in the past few decades, and for good reason too.
It's one of the best places in Mexico to spot and swim with turtles, where the best time to see them is between May and November.
The small town of Akumal also has its own stretch of Caribbean beaches, which are less crowded than those of Playa del Carmen or even Cancun.
Akumal Beach and Half Moon Bay are great options here that are lined with restaurants and amenities.
You will find that it is also relatively easy to get to Aktun Chen from here, which is home to some incredible natural caves and exotic animals located in the middle of the tropical rainforest.
Is Akumal Safe?
Whilst some areas of the Riviera Maya attract unwanted attention, Akumal has avoided this almost entirely.
With its small size, the majority of the town is in good shape and there are hardly any safety issues reported here.
Of course, this doesn't mean it's a free pass to take big risks such as wandering into random areas alone at night, however, it's definitely much safer than Cancun and Playa del Carmen.
Here you can dress to impress and look your best – just avoid leaving anything of value alone as you never know who might be looking!
Getting From Cancun to Akumal
Getting to Akumal from Playa del Carmen or Cancun is relatively easy! Just get to the nearest Ado bus station and head to Tulum.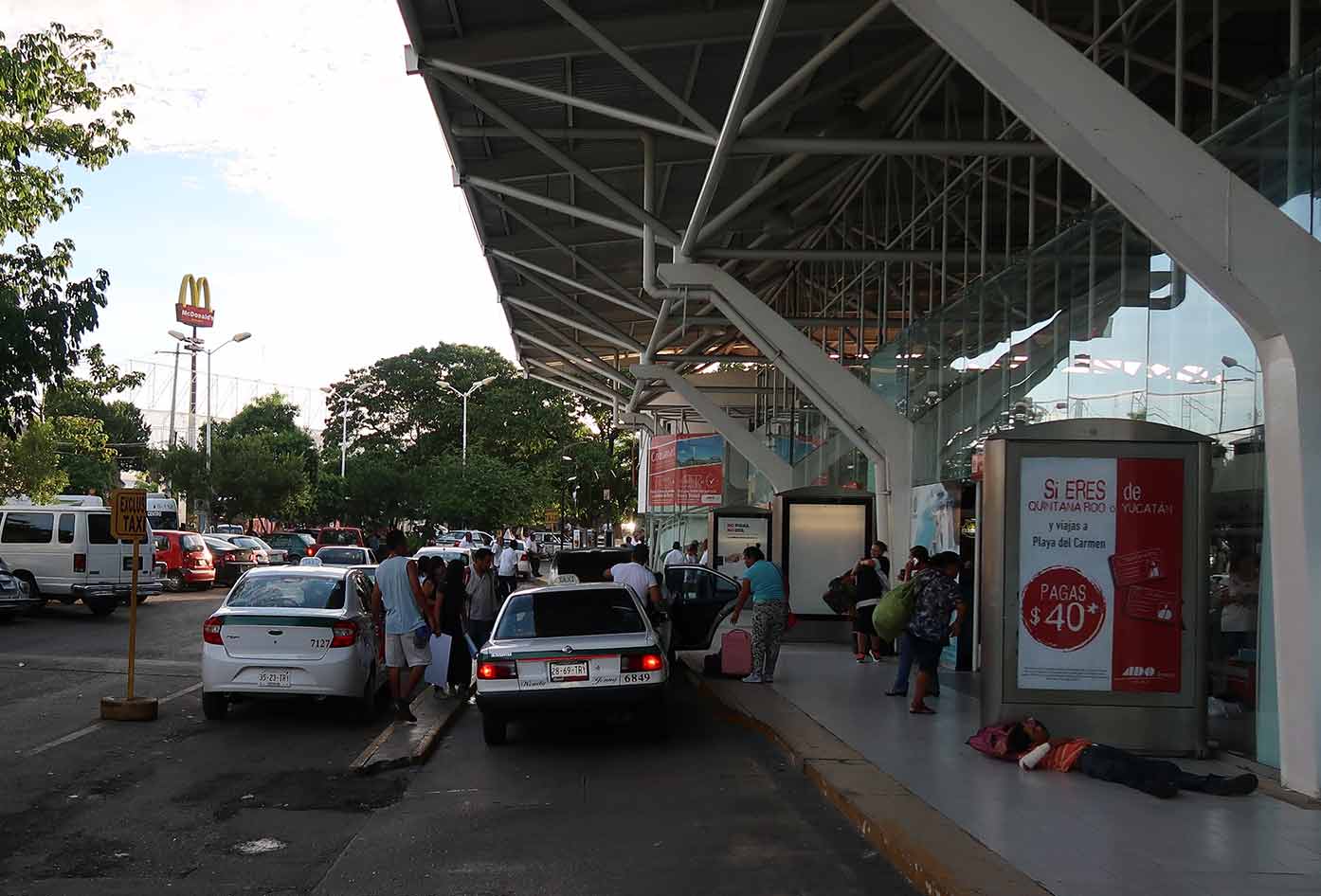 The buses leave regularly; you can either purchase your ticket online from the Ado website or directly at the bus station.
If paying by credit card I recommend you buy your ticket online to avoid disappointment. The journey takes around 2 hours. See this guide for more useful tips on using the buses in Mexico while on your travels.
Things to do in Akumal
You will find that the town of Akumal itself is quite small, so you can easily walk around, down to the beach, etc.
Below we will look at some of the best things to do and see here.
Akumal Beach
You can also visit Akumal Beach, where you have a better chance of spotting turtles as well as other tropical fish and marine wildlife.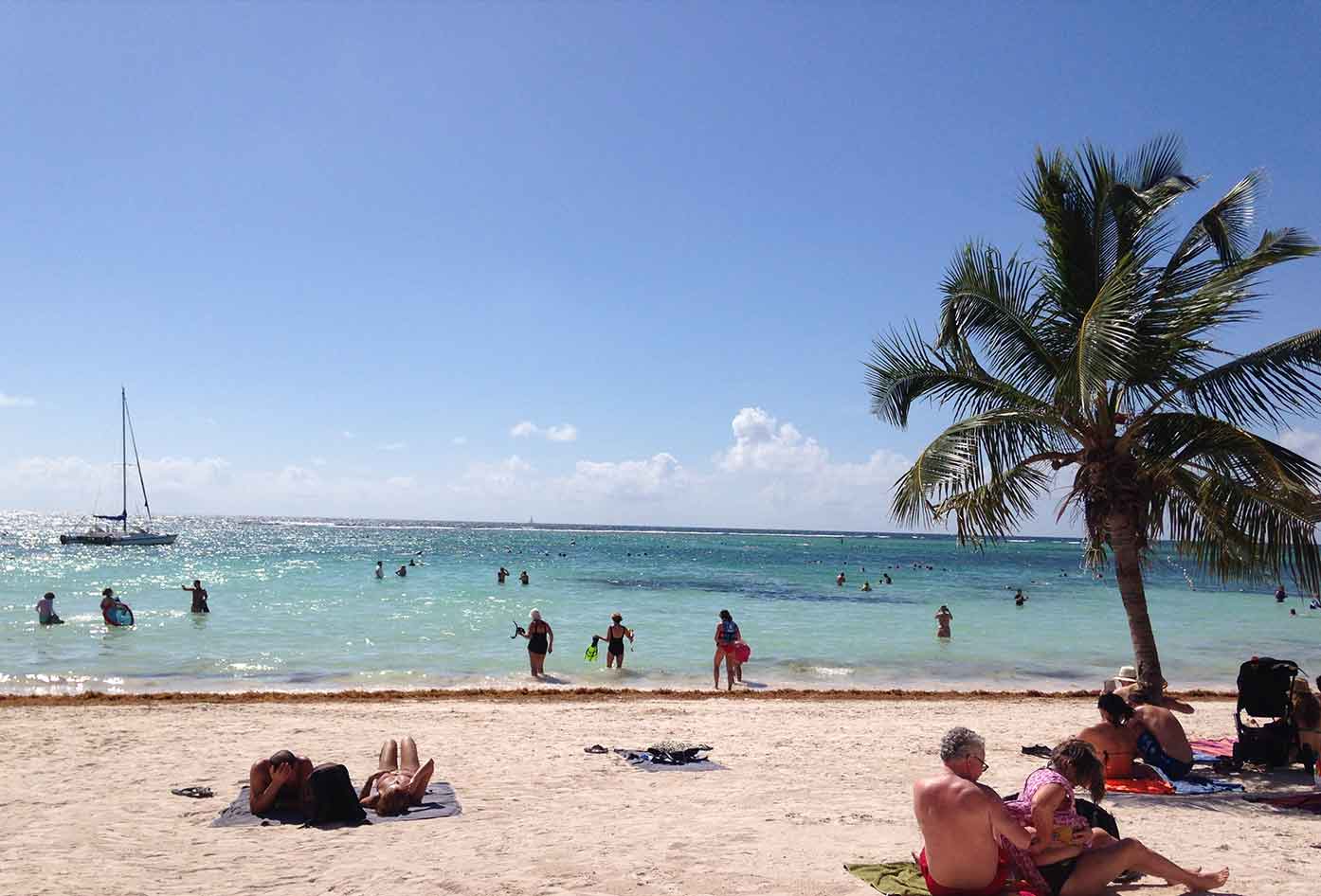 Outside of Akumal, there are lots of beaches that can easily be accessed by taking the colectivo and spending a day there. Some of these include Puerto Aventuras, Xpu-Ha, and Playacar.
You can also head off to the nearby Cozumel for the day, where the beaches on the north side (a short taxi-ferry ride) are some of the best in the region, and also some of the less visited.
Cenotes
If you've had the chance to visit Tulum you'll know this area is famous for cenotes which are open caves with water pools at the bottom.
The closest to Akumal is Cenote Media Luna (The half-moon cenote).
Another great option is Dos Ojos Cenote (The cenote of two eyes), where after a walk through the jungle you can explore two slightly different cenotes and see tropical fish down in the caves.
Like the others here, if you are a keen diver, or want to learn, then you can always get on a tour and do some deep cenote cave diving.
Ancient Ruins
Whilst a popular and tourist-orientated visit, if in the region, it'd be silly to miss some of the most important artifacts of ancient Mayan history.
You can opt to visit Chichén Itzá, a bit further out which features those grand pyramids that have the snake effect during the equinox, or Tulúm Ruins which are beach-side and a lot closer to Akumal.
Do you need more convincing? Well, this guide that I wrote on Chichen Itza vs Tulum ruins should help you to make an informed decision.
Aktun Chen
A cenote filled with rock formations and dry caves, allowing exploration on foot which is usually impossible in most cenotes without diving.
As well as going on a tour deep into the caves, you can also opt to zip-line across, where they have four different lines which are all over 25ft above the ground. See this cenote safety guide if you are unsure.
There are also small sections you can swim in, however, I found the water to be very cold so best of luck with that if you decide to go in.
Half Moon Bay
This beach is a great place to spot turtles! Due to the number of people coming, though, you'll need to go a bit further to find them.
You can easily rent snorkel equipment cheap if you haven't brought any. The area along the beach is quite built-up, so there is a range of nice restaurants and beach sidebars to choose to cool off.
Whilst the area seems more like a tourist trap, sometimes it's nice to treat yourself and is still relatively cheap to do so!
Where to Stay in Akumal
Being in such a powerful location (as I like to call these types of places), for me, being located within the dense jungle foliage is like a dream come true. Hence why I recommend the Jungle Hotel.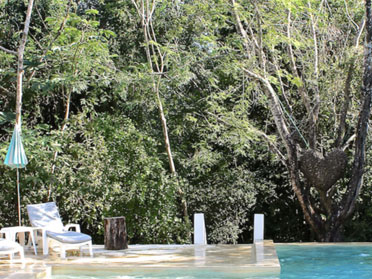 3 reasons to stay here
Jungle-based location
Breathtaking views
Delicious food on offer
With its close proximity to beaches and restaurants, Akumal Jungle Hotel offers a great option for those wishing to escape the town.
I suggest you take a look at this list of hostels for more places to stay in Akumal if you have a set of preferences in mind for hotels.
Akumal Travel Tips
See these travel tips for Akumal to ensure you have the best stay whether you're on vacation, backpacking, or traveling with friends.
⤵️ Dan's Travel Tips For Akumal:
You have to pay a fee for the entrance to the Akumal public beach. It's not the case if you are staying in a resort or hotel with a private beach. Only buy the ticket at the entrance (US $5 in cash).
It's common to have conversations in English because Akumal is home to a big community of expats from The USA and Canada.
Other things to carry during your travel to Akumal include bug spray, a beach backpack, Water shoes, and a hat or head protection
From May to October, you can see sea turtles during nesting season.
There are hotels that offer Yoga classes, sailing beach, paddle boarding, water volleyball, and much more joyful activities.
Aim to carry enough cash for small purchases and public transport. Especially if you'll be using buses in Mexico or even the collectivos.
Don't worry about the currency. It's usual to pay with dollars in many places, you can also pay with credit cards in some places.
Bring additional money in cash when going on a tour, you'll probably want to buy souvenirs (so you can pay with Mexican Pesos).
Avoid touching the coral or marine life and be conscious if the change in weather at anytime (especially September).
Carry a spare set of clothes for after the beach
Why no aim to use Eco-friendly sunscreen whilst here? Try to remember the place is full of marine life that should be protected.
Be sure to drink a cocktail, Corona beer, or a Margarita while lounging on the beach and gazing out to sea.
Akumal is quiet and The nightlife isn't like Playa del Carmen but it makes the perfect place to relax during the day and evening.
There is a locker service on the beach if you want to save your belongings while taking a sunbath and swimming. But actually, the beach is safe, especially if you don't have valuables with you.
I've added travel water shoes for those who plan on spending time in the water. They provide protection for your feet against cuts etc;
Not only for foot protection but to be aware of where you tread.
Consider, sand mountains/neat creations in or out of the water…
These could quite easily be a turtle's nest or the home of some other creature, so don't embarrass yourself and be mindful of this.
Got Travel Insurance for Akumal?

Designed by travelers, for travelers, World Nomads covers more than 150 adventure sports and activities so you can explore your boundaries.
Best Time to Visit Akumal
Temperatures in Akumal are fairly consistent throughout the year, with an average of between 85°F to 90°F during the day, and never really dipping below 70°F at night.
If you want hotter temperatures then you should head around the summer months, where the averages tend to rise to around 93°F.
If rainfall is a concern, then heading between the months of February and April will give you the best chance of a rain-free trip.
Even if it does rain on your trip, these showers typically last a few hours and are a much-needed cool-off from the hotter temperatures.
Another important point to mention is the tropical storm season.
Due to its close proximity to the Caribbean Sea, Akumal and many other destinations in the Riviera Maya get a season of more wild weather, typically between the months of June and September.
During these months the temperatures will be a lot hotter! The rain is a lot more unpredictable and can almost appear out of nowhere.
The only thing guaranteed during this time is rainier days. Depending on your plans and the fact it is fairly hot, I don't believe this alone should be a deal-breaker.
Things to do in Akumal
As well as exploring the town and what you can do here, we have looked at some of the cool experiences that you can find here such as visiting a cenote and swimming with turtles.
I have also given my recommendations for making the most out of your trip as well as the best time to visit for great weather.
Why not see the plethora of other things to do in Riviera Maya whilst you're here and start looking more into the region as a whole?
📌 Like this article? Pin it…
Are you thinking of traveling to Akumal, Mexico soon?
💬 Leave a positive comment or lets start a conversation below!
---
"Dear friend! Some links in this post contain affiliate links. Meaning, if you click through and make a purchase, book a hostel or sign up for a tour, I may earn a small commission at no additional cost to you. Your support means a lot and helps me to keep traveling and maintaining the quality of this site for you."