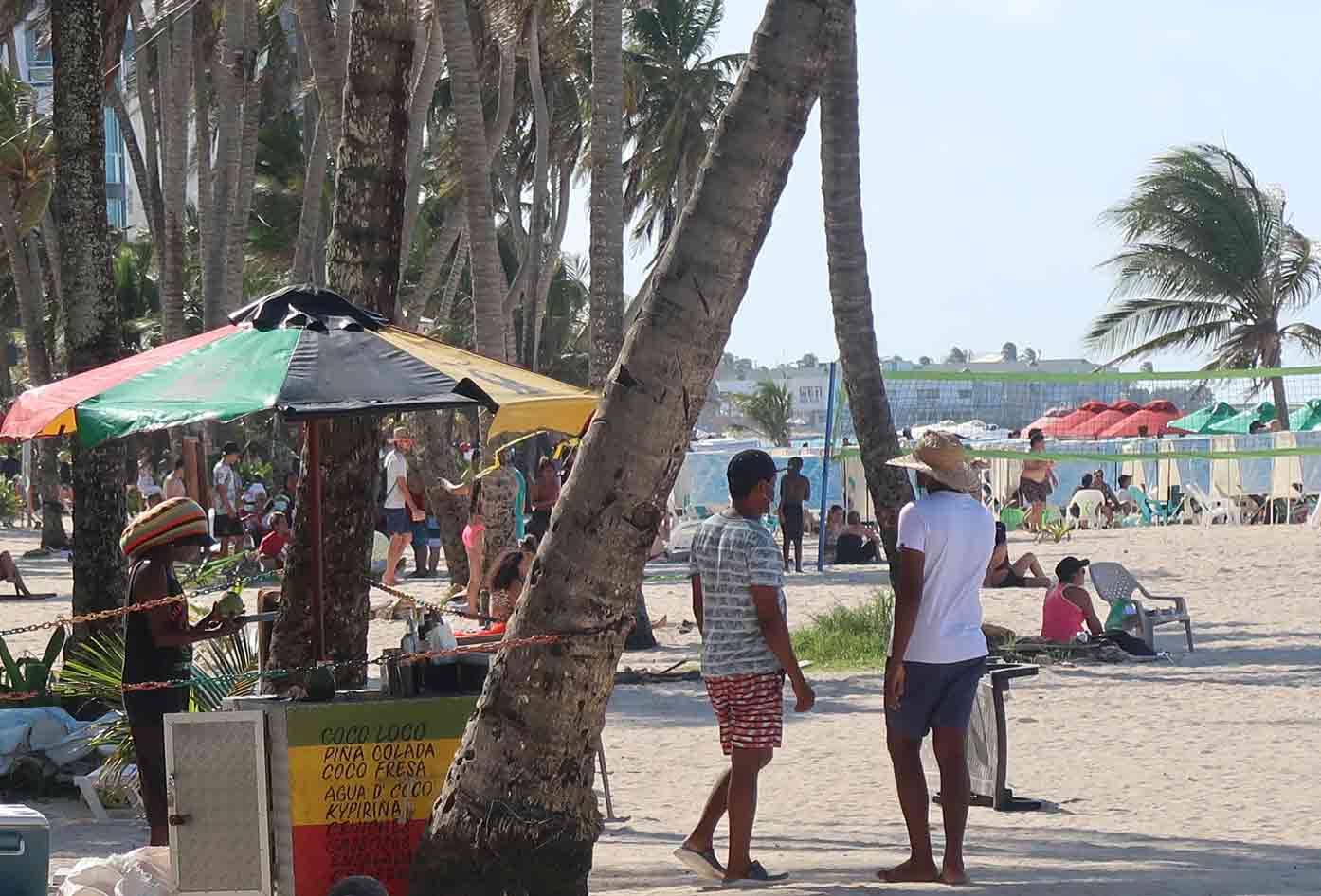 Do you want to learn what things do in San Andres, Colombia?
An island known in the back of the minds of many Colombians for its pristine waters, coco loco drinks, and white sands. However, for many foreign tourists looking at the map, San Andres is a little off the radar.
For anyone traveling to Colombia this island is one to add somewhere near the top of your list if you want an authentic Caribbean getaway.
In this guide we'll explore San Andres, the best things to do and see, how to get there, advice on staying safe as well as the best time to visit.
San Andres Island
If you're reading about San Andres for the first time I suggest you try to understand some history of the Raizales (the island's inhabitants).
Before we get into it, though, let's look at some less obvious reasons why you may add this castaway island to your Colombia itinerary or come here for a vacation instead of popular places such as Cartagena.
Where is San Andres?
The seahorse-shaped island of San Andres is located in the West Indies (a subregion of North America) that belongs to Colombia.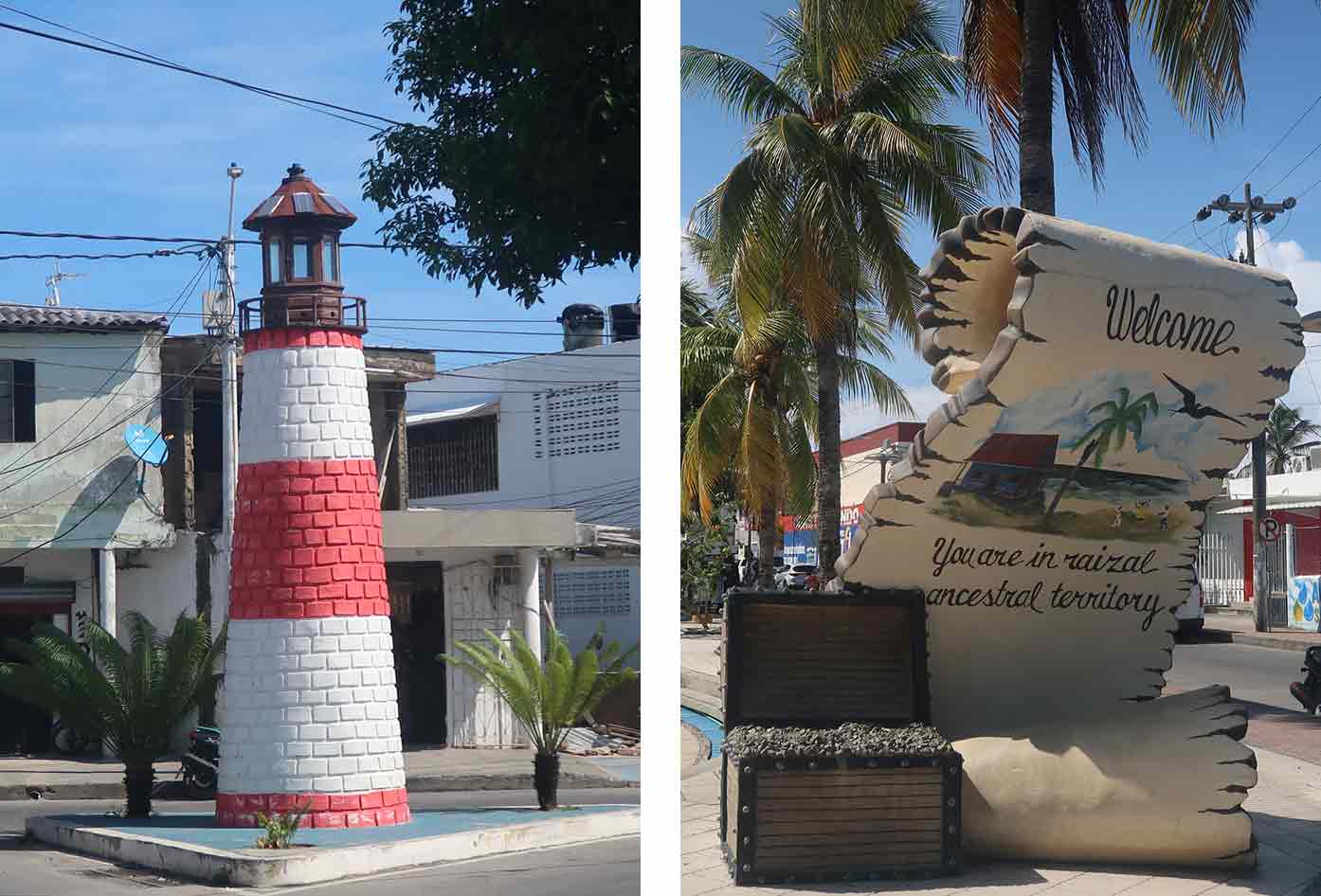 Along with Providencia (a nearby island belonging to Colombia), San Andres has an airport that lies some 482 miles northwest of mainland Colombia that can be reached from most major Colombian cities.
If you have ever been to Jamaica you are not too far away from the island of reggae while here and places like San Luis feel very similar.
Is San Andres Safe?
You can read more about safety in Colombia while reading this blog, but San Andres is a safe place and it's one of the many reasons Colombian families travel to the island for vacation time and time again.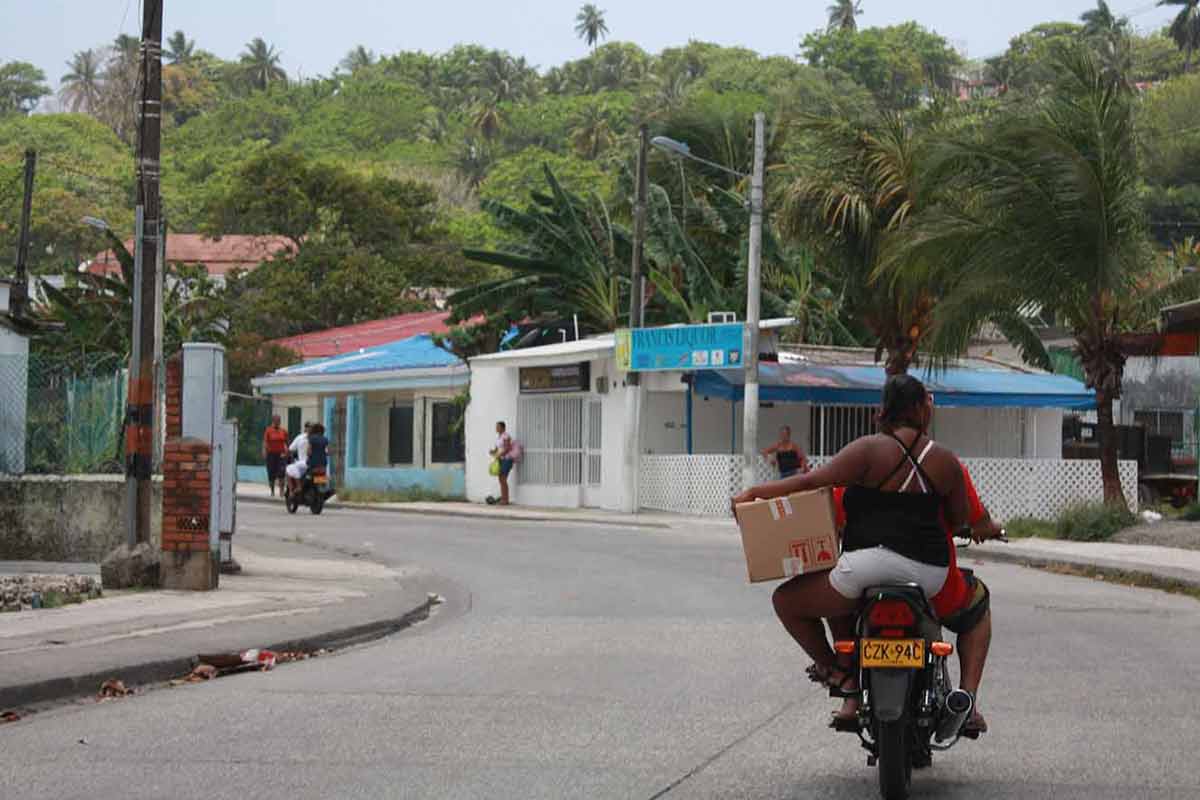 See this guide on safety in San Andres for ideas on what to expect. There is a relaxing vibe in the air and you'll see a very heavy police presence on the island. However, this doesn't mean crime is nonexistent on the island.
I heard stories of tourists who had been robbed (mostly theft and late-night muggins) but these types of incidents can be easily avoided.
Stick to the recommended things to do and visit the usual tourist attractions in San Andres during the daytime and you should be fine.
Medellin to San Andres
Getting to San Andres from Medellin is easy! Head to Jose Maria Cordova airport and take a direct flight. You must purchase a tourist card at some point before you board the plane.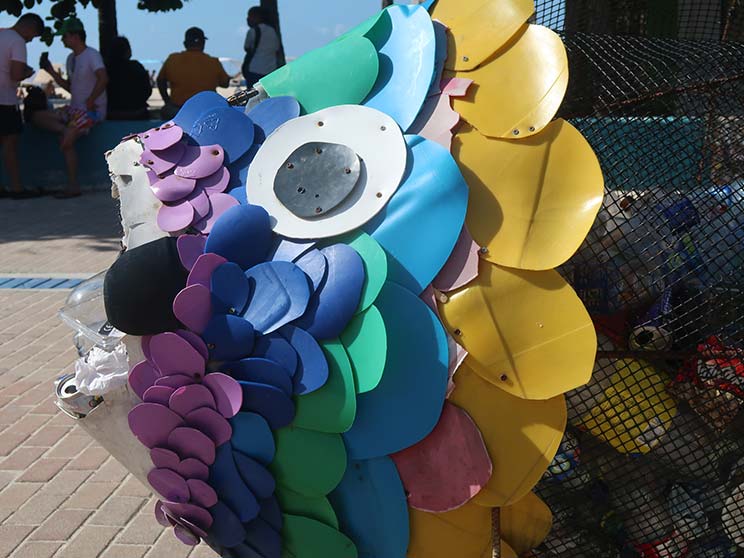 You can buy the tourist card at the ticket office or at the gate. Also, make sure that you have a return flight booked or you simply will not be able to fly to the island.
Aside from having travel insurance, those are the most important things to remember when planning a trip to San Andres for yourself!
Also, remember to keep your tourist card handy because you'll need to hand it over to the authorities right before you leave the island.
Raizales in San Andres
The Raizales are becoming a minority population on their own island.
With the inevitable influx of migration from mainland Colombia the way of life, the language of, the customs, culture, and community of these African descendants is slowly been phased out.
I saw this with my own eyes, then later confirmed this by talking to different groups of Raizales (one of whom said to me welcome home).
💡Smart Travel Tip
Raizales have pure/mixed African and British ancestral roots and you can speak in English with them if you are not familiar with Spanish.
I have spoken on this blog about being black in South America and its implications but what I saw there gave me more food for thought.
Things do in San Andres
Now, back to the travel! Let's look at what to do in San Andres so you can get a better idea of what to expect once you get to the island.
Playa Spratt Bight Beach
By far the best beach on the island, I'd go as far as to say this is one of the best beaches in Colombia but it's definitely not the most secluded.
There are some great black sand beaches on the Pacific coast, however, if you want supremely clean and calm, turquoise waters, this is the one.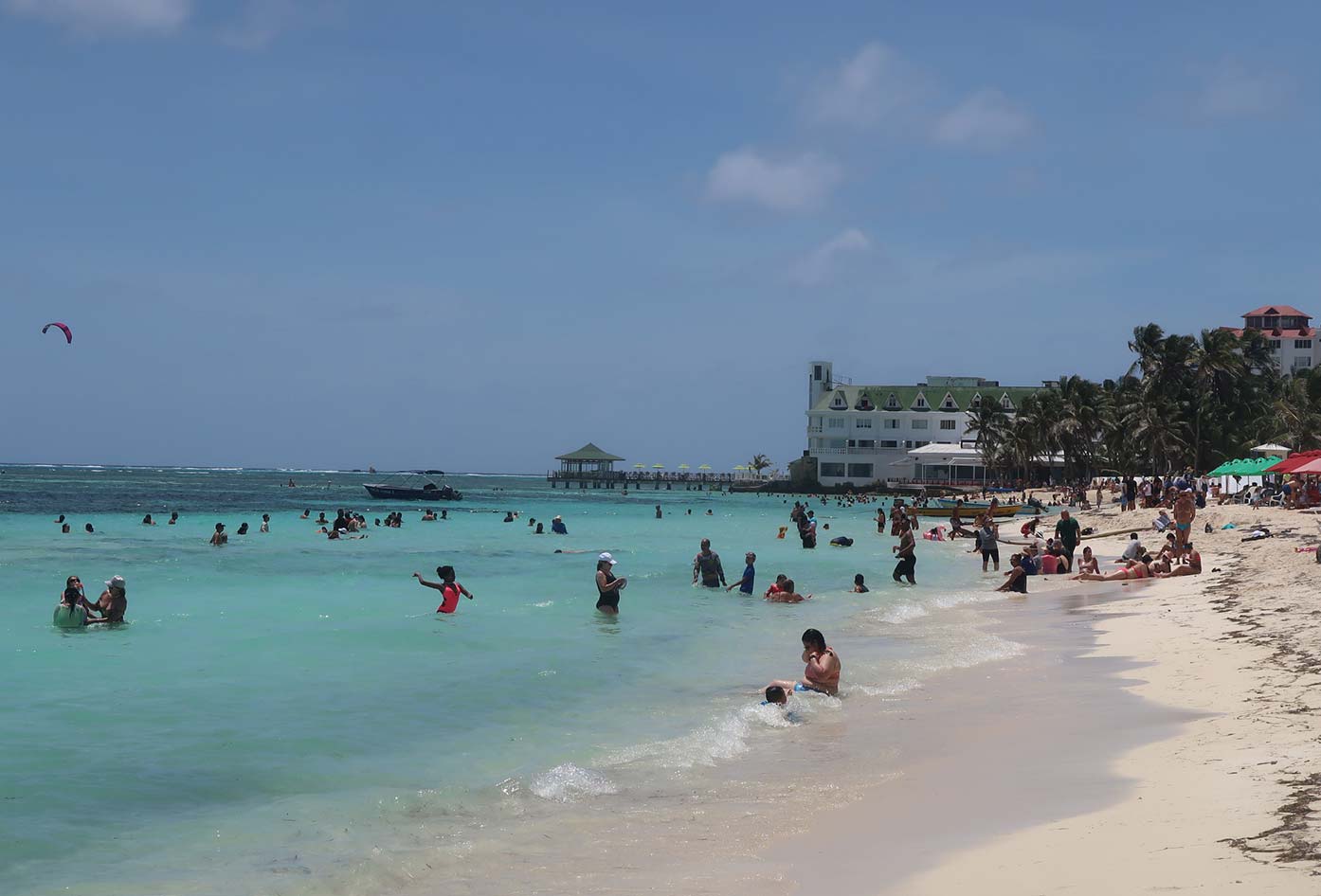 Just think low wave action, almost zero boat action, and the view of Johnny Cay in the backdrop. The white sand is soft like sugar and the water temperature (for me), was very pleasant.
You have plenty of areas to swim, take photos and you can walk quite far out with the water not going past your waistline.
If you want refreshments, snacks, shaded cabanas, or the toilet (without going in the water), you can expect all those amenities here.
Morgan's Cannon Monument
This landmark is located outside a small plaza where you'll find the majority of Duty-Free shops on the island.
It's a landmark dedicated to the 17th-century pirate English pirate who used San Andres island as a hideout amongst other devious things.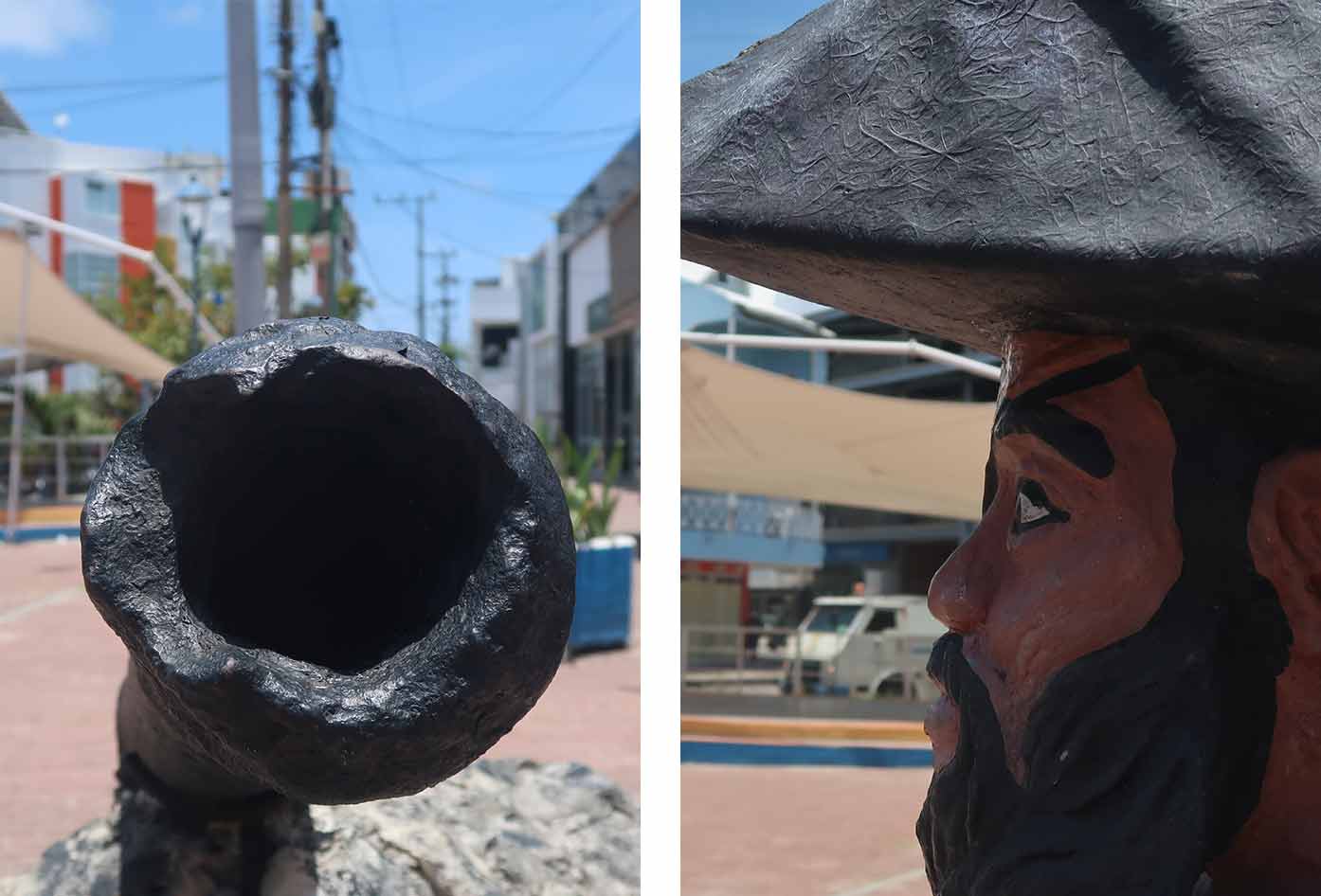 Hence why the prominent statue of Mogan makes no mistake in depicting him with his pirate hat, a pistol, and a thick beard.
Since the statue is located in a centric spot on the island, you can't miss it. Many visitors say that these monuments aren't anything special, but they actually mark a significant part of the island's history.
As far as Colombian culture goes in relation to British history, the average tourist in San Andres isn't on the island to connect with that story and it is easy to overlook that historical detail.
Aside from their cultural significance, these statues are very well detailed and add decoration to a commercial part of town that is literally set up for profit.
Get yourself a photo with captain Morgan or one of the islander statues to create a memory of your time on the island.
El Pueblito Isleño
If you read about the Raizales in San Andres you'll know that the culture once made up the majority of the population of the island.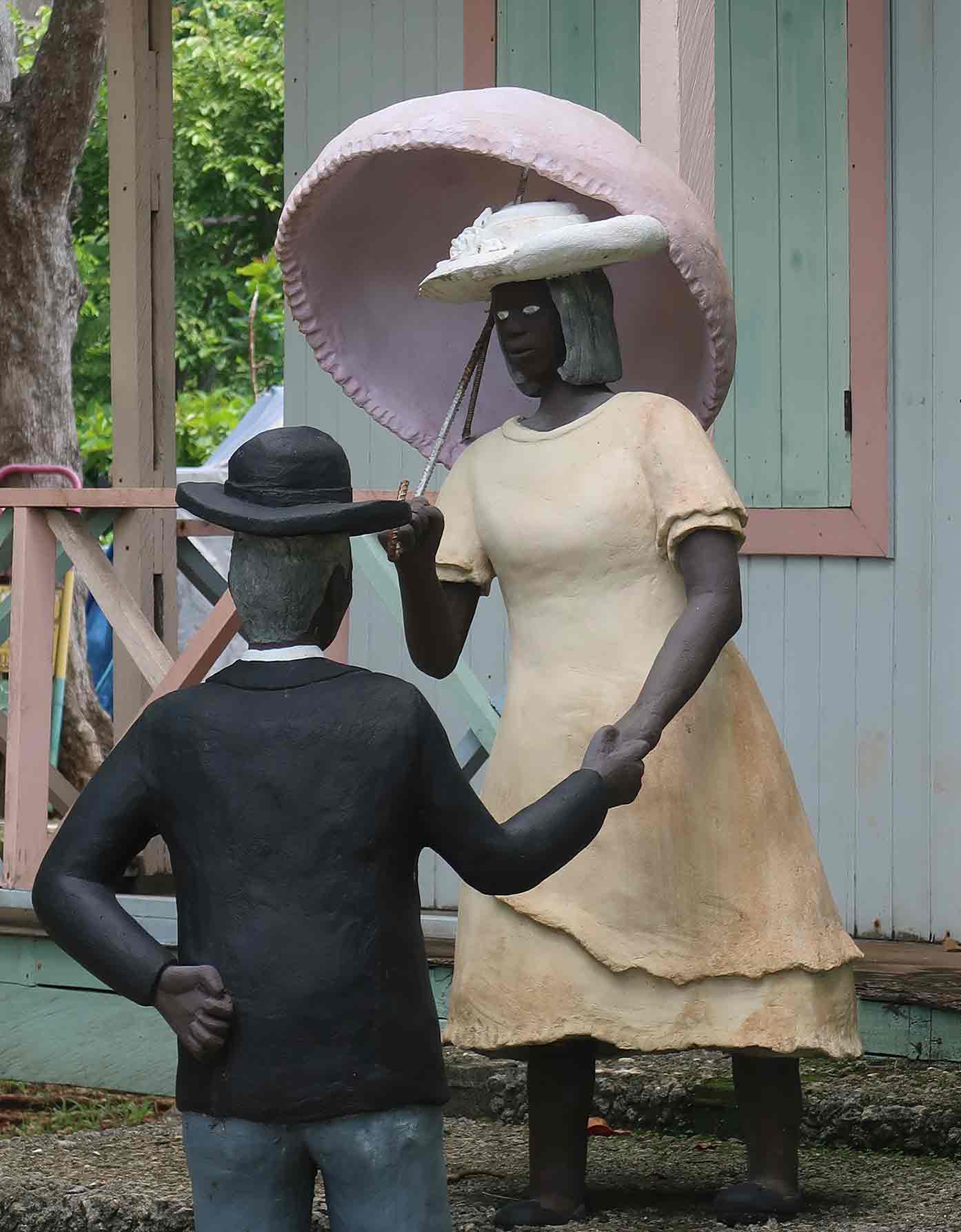 Over the years the population has decreased due to migration. El Pueblito Isleño is an attraction that pays homage to the Raizal customs.
These attractions consist of a selection of carved sculptures that depict the way life used to be on the island.
You feel as though you've been transported back in time and the themed sculptures show everyday life situations such as:
Hair braiding
Cooking
Courting
Dancing
This attraction reminded me of the tour I did inside Bob Marley's house in Kingston which has a similar feel in terms of architecture.
The house includes lots of history and the guides will tell you about the rituals, myths, and legends that the people believed in back then.
I'm not 100% sure if this attraction is currently open to the public. I got talking with one of the organizers from Cueva de Morgan and they showed me since it's next door. So you can ask them about it too!
Rent out Buggy
Many tourists visiting San Andres Island rent out a 4 wheeled buggy as a way to transport themselves around the island.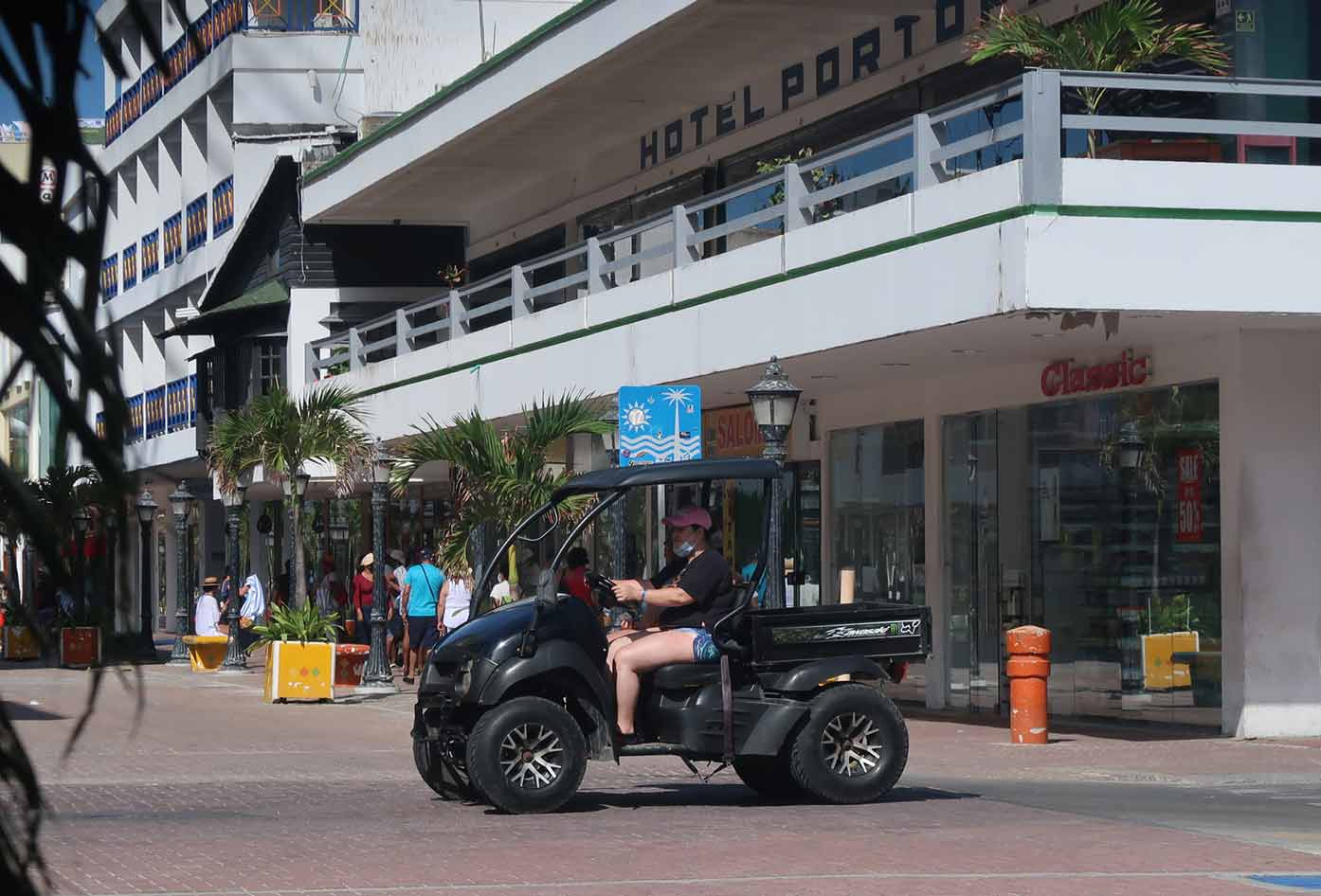 There are different types of buggies, some are more like golf carts (cheaper/slower) and there are some more powerful off-road style buggies that will set you back around (240K COP per day).
They can be a bit of nuance when you are not the one driving one because they seem to be racing all over the island.
I recommend you negotiate on price since there are so many different places where you can rent from. In other words, don't rent the first one you see, unless you have a recommendation from someone.
You will have to fuel the buggy to which costs (20K COP) the buggy will arrive will a full tank of fuel and you must return it or pay a refueling fee of 20K when it is time for you to drop it off.
Iglesia Bautista Emmanuel
When wondering what other cultural things to do in San Andres, you can always take a visit to this significant Baptist church on the island.
You'll learn exactly why it is such an important historical site. There are many interesting historical facts about the church.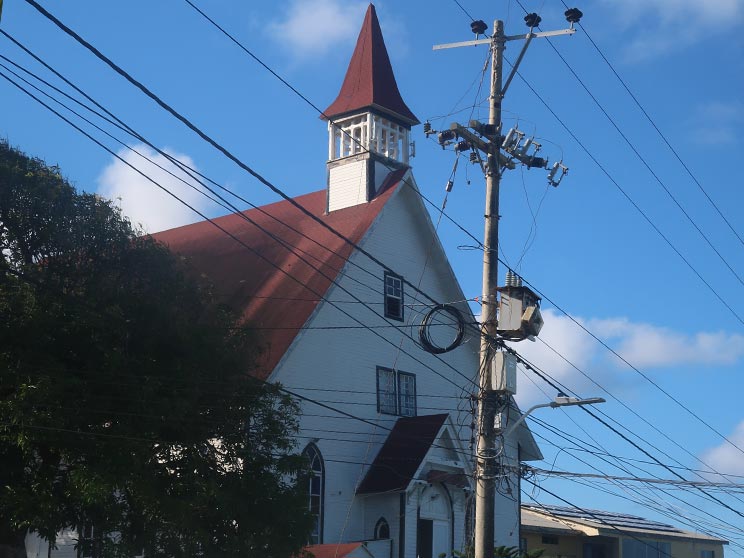 You can pay (5,000COP) as a tourist to enter the church and get a walk around, and you will meet with the first priest who will give you a tour.
However, you are not obliged to do the mini-tour and you can still take the opportunity to climb the steps to the top of the tower and take pics.
Here you'll get some of the most pleasing panoramic views of the island and the seven colors of the sea that surround the island.
For anyone interested in connecting with locals, and learning more about the island's history through the lens of the Raizales then a trip here on a Sunday morning is a must!
Buy Handicrafts
In San Andres, you can find many artisanal goods on sale and on offer on the beach, but not all crafts are created equal. In fact, some of the best I saw were woven handicrafts made from coconut palm.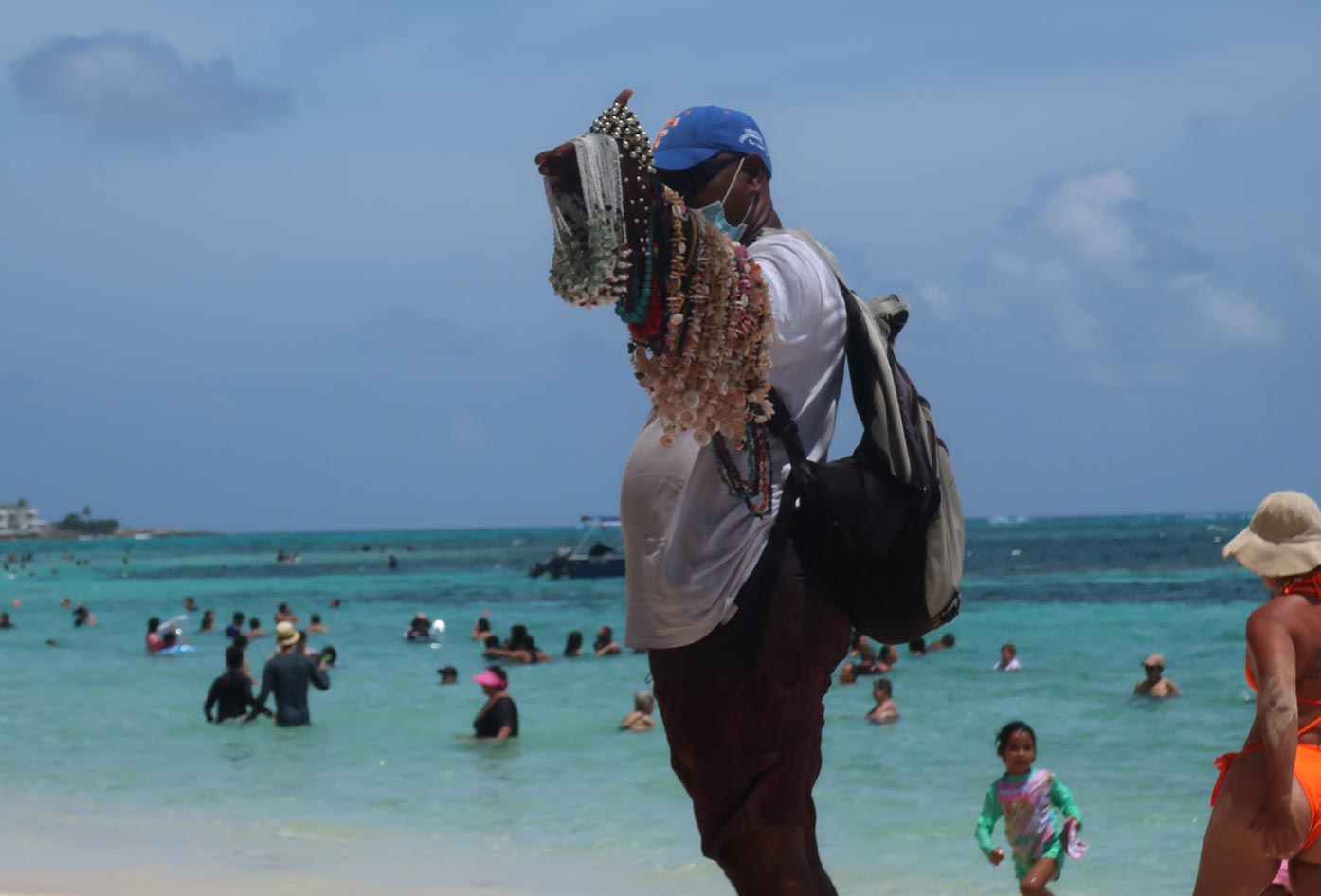 Unlike the many plastic goods on sale (many of which are imported) goods made from weaved coconut are some of the best. Weaving coconut is one of the oldest trades from the island's Raizales people.
If you see anything that is handmade or woven be sure to make a purchase if you want an authentic gift from San Andres.
Many other smaller artisanal gifts you'll find are either imported from mainland Colombia or other foreign lands.
For the best gifts head out to the San Luis neighborhood for things like woven coconut palm baskets, hats, and other practical items.
There are also some creative handicrafts around the island that have been made from recycled plastic you can buy.
If you want to make a positive impact on the environment and support the movement I recommend you look into those recycled options.
Take a pic at with Raizales
The Raizal statues are somewhat of a novelty to Colombian tourists that visit San Andres but they're a testament to a disappearing culture.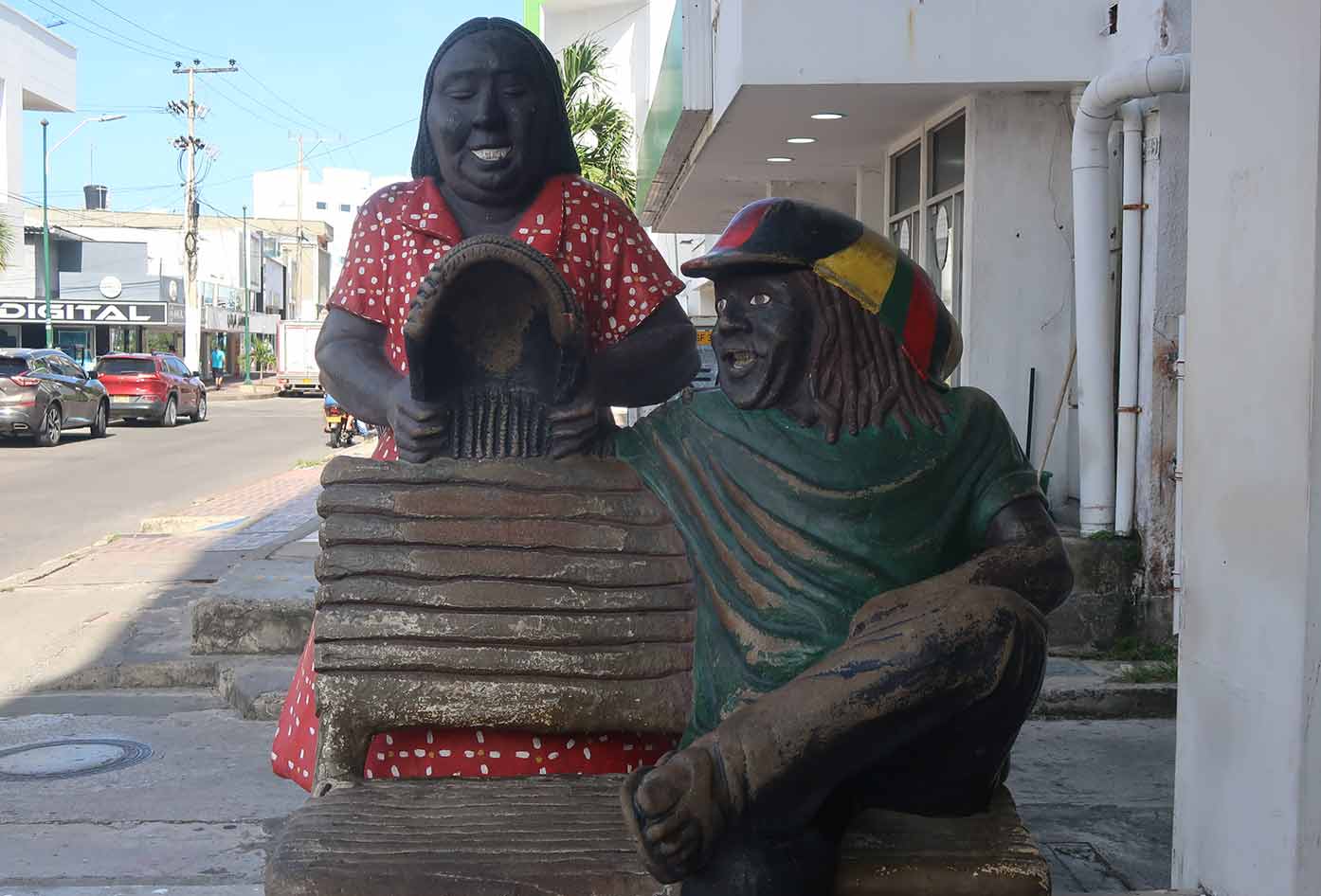 The Raizal culture will never completely disappear, but on a surface level, sadly it is. Every photo taken with these statues will serve as living proof of the native islanders who habits this Caribbean paradise.
So, be sure to walk around downtown San Andres and locate the different statues scattered around the area. Sadly some of the statues have been defaced but they are still in their original position.
Try Exotic Fruits
One of the reasons I love to travel to Colombia is to eat exotic fruits every day. When in Medellin and other cites such as Bogota or Cali, the great thing is that you get access to all the fruits.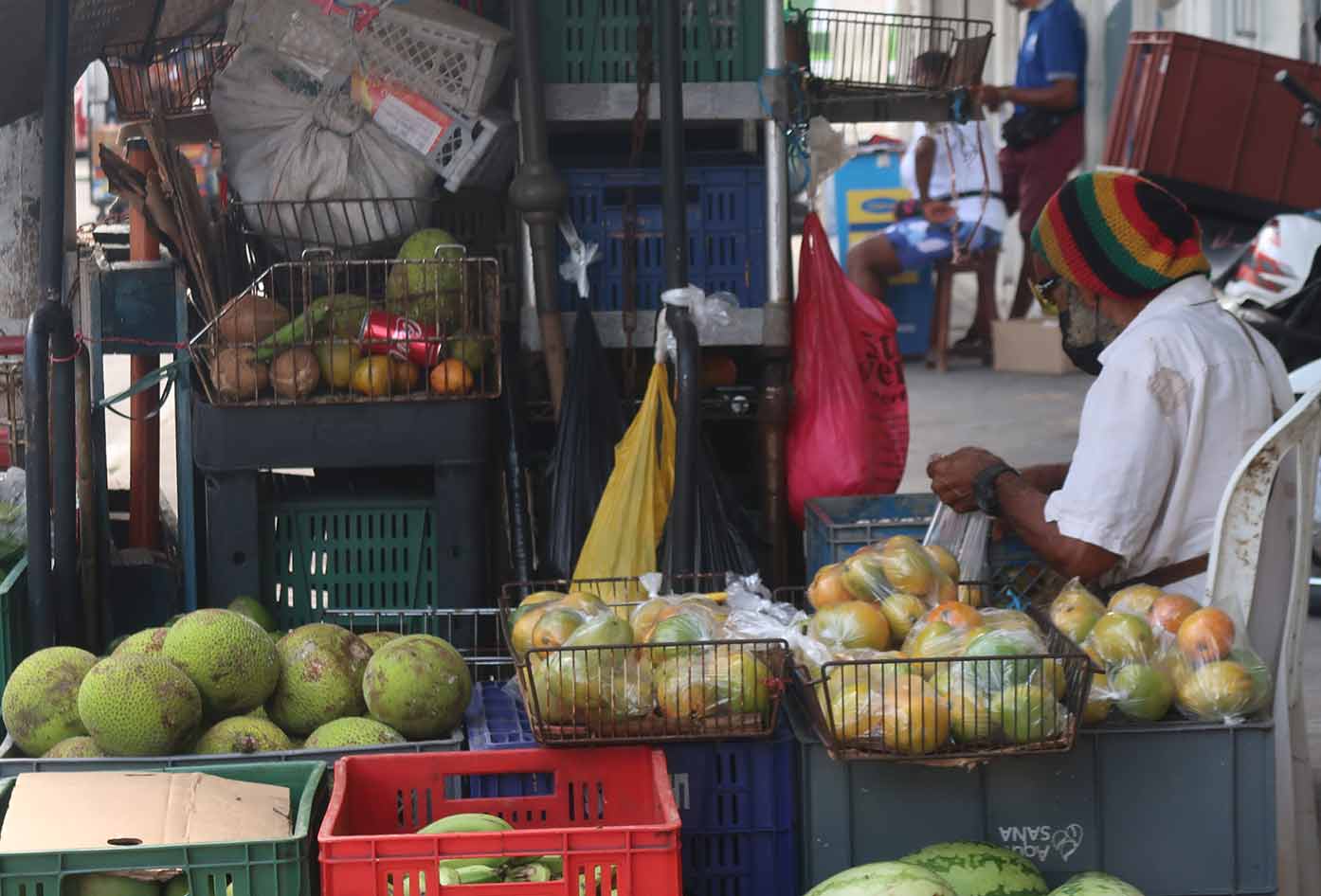 Many of the fruits are grown in the more rural areas of those regions and are transported for sale in the aforementioned bigger cities.
In San Andes, though, it is slightly different because there is not an agricultural body and many of the locals are not farming for commercial purposes like in mainland Colombia.
So, while you're here if you see any fruits, try them! Although there are coconut and mango trees, they are limited. In fact, if you see a fruit tree you can just go ahead pick off the fruit, and eat it without any trouble.
The fruits you do see for sale, however, help out the locals in a big way! So aside from getting your daily dose of vitamins and minerals, you can support small and local farmers in keeping their dying trade alive.
Johnny Kay
For many people, the view over from Spratt Bight beach is not quite enough and the sight of the overarching palm trees and bright turquoise waters is over-enticing.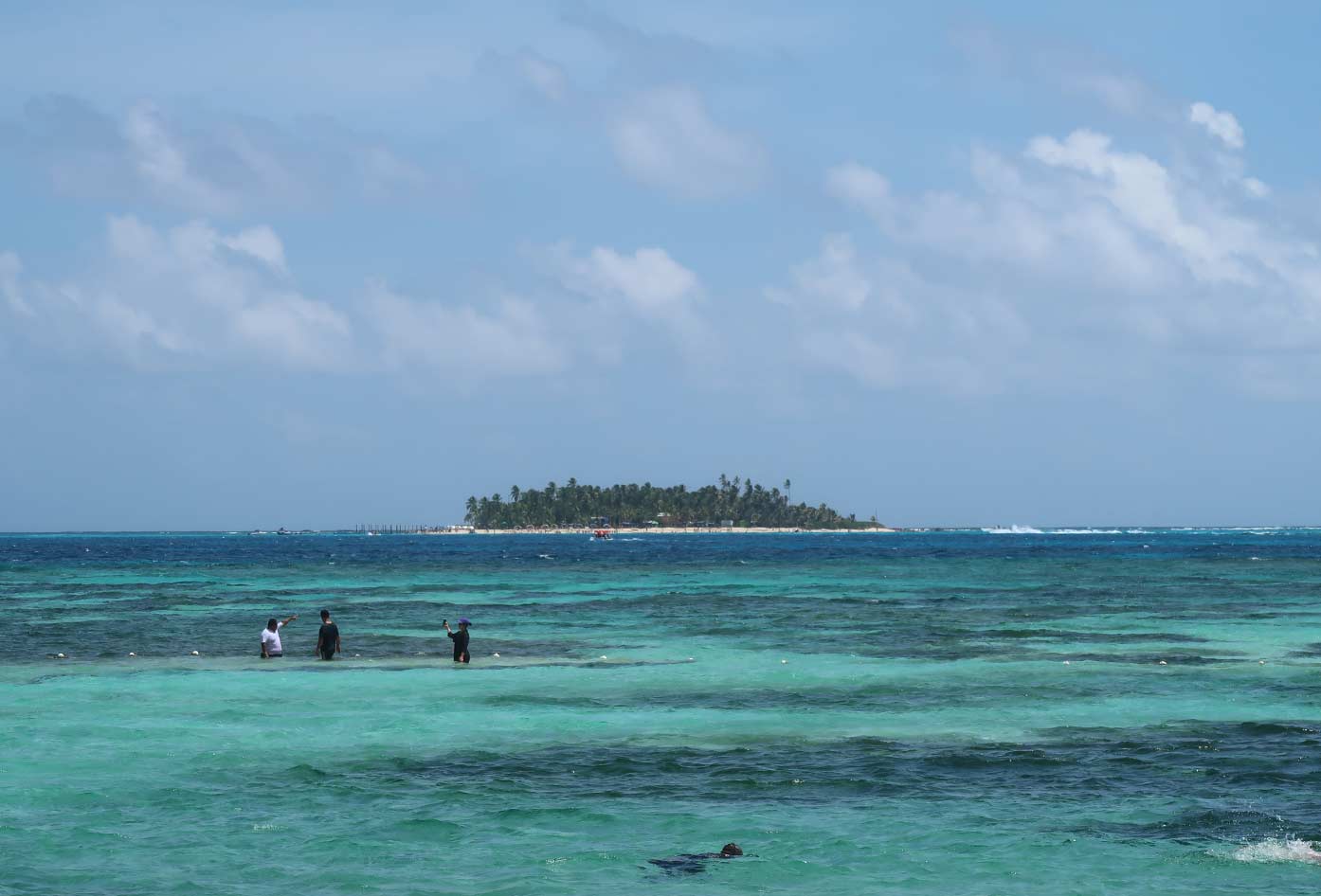 Paired with the fact there are people all over the island offering tours to Johnny Kay, been on San Andres island can leave more to be desired.
If San Andres isn't quite enough of a secluded paradise for you then you can take a trip over to Johnny Kay. Expect to pay around 30K COP (+ the 8K national park tax) which will give you day access.
There are other tours that offer the national park tax included along with a trip to these other points of interest.
El Acuario: where you'll see the Sea of 7 Colours with close-up views of a rusty shipwreck.
Haynes Cay: get a chance to jump off the boat and wade over to Haynes Cay if you haven't already, be sure to pack a waterproof backpack to protect your belongings (and keep them with you at all times).
It is worth noting that visitors to Johnny Cay are not permitted to stay on the island and it closes to visitors every day at 6 pm.
Captain Morgan's Cave
This is a landmark I was excited about! Take the bus to Morgan's cave from the same street as the Morgan's Cannon monument is on.
Here there are various artifacts and tales to see and hear that will give you more insight into the life of a real English pirate.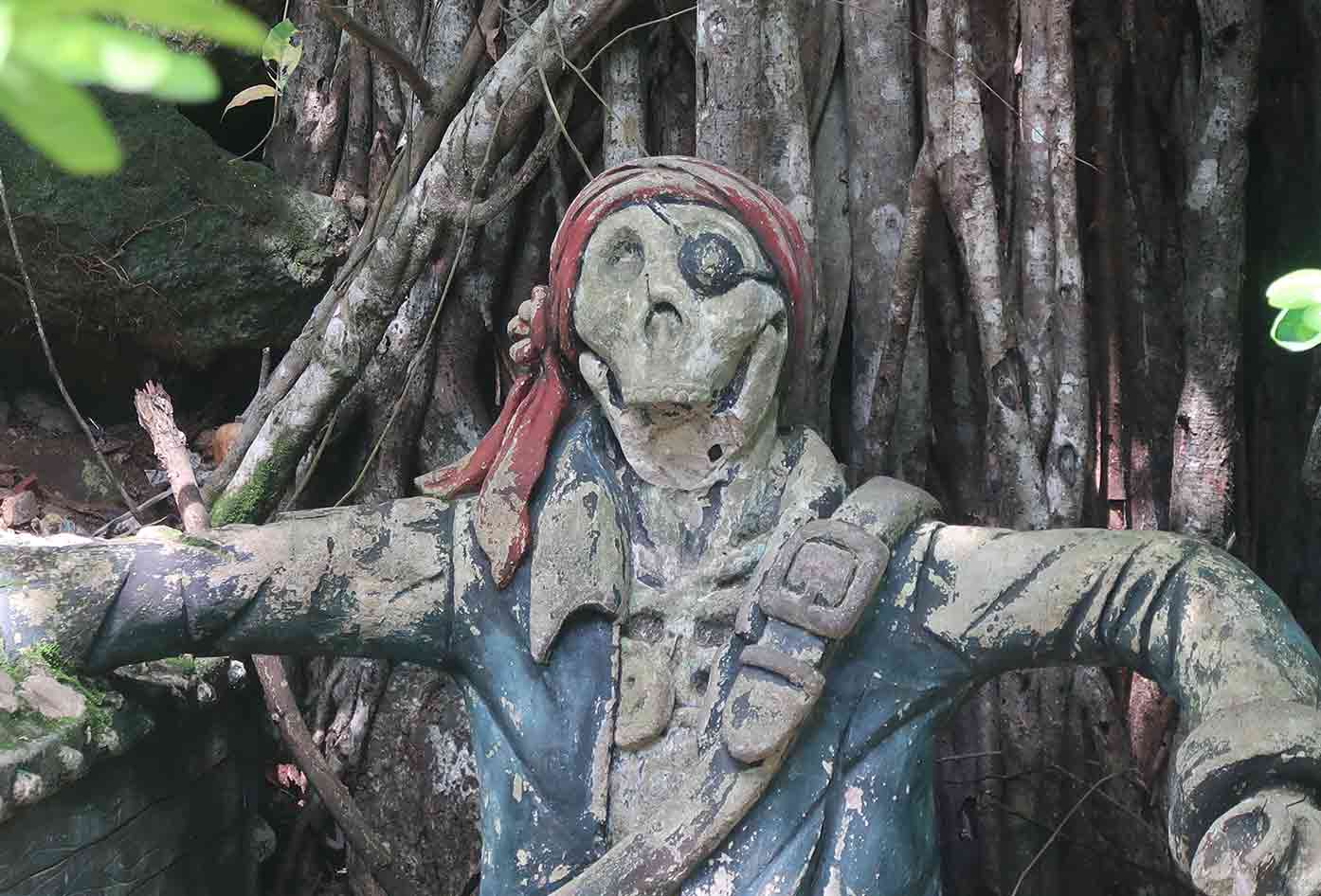 I've already heard a lot about him from living in Jamaica over the years and visiting places such as Port Royal. The cave is (a cave) but you'll need to know the back story of the pirate to fully appreciate it.
It is also worth mentioning that Capital Morgan has present-day family members who are known (and unknown) to be descendants, even though on most records it appears he had no children.
Inside Cueva de Morgan, which has an entry fee of 20,000COP, you'll enter another cave that is filled with props and real artifacts collected from the days of Captain Morgan's escapades in the Caribbean.
Visit Providencia
Providencia is another island that you can visit if you want to go one step further on your Caribbean island escapade. Some people even skip San Andres and go straight to Providencia.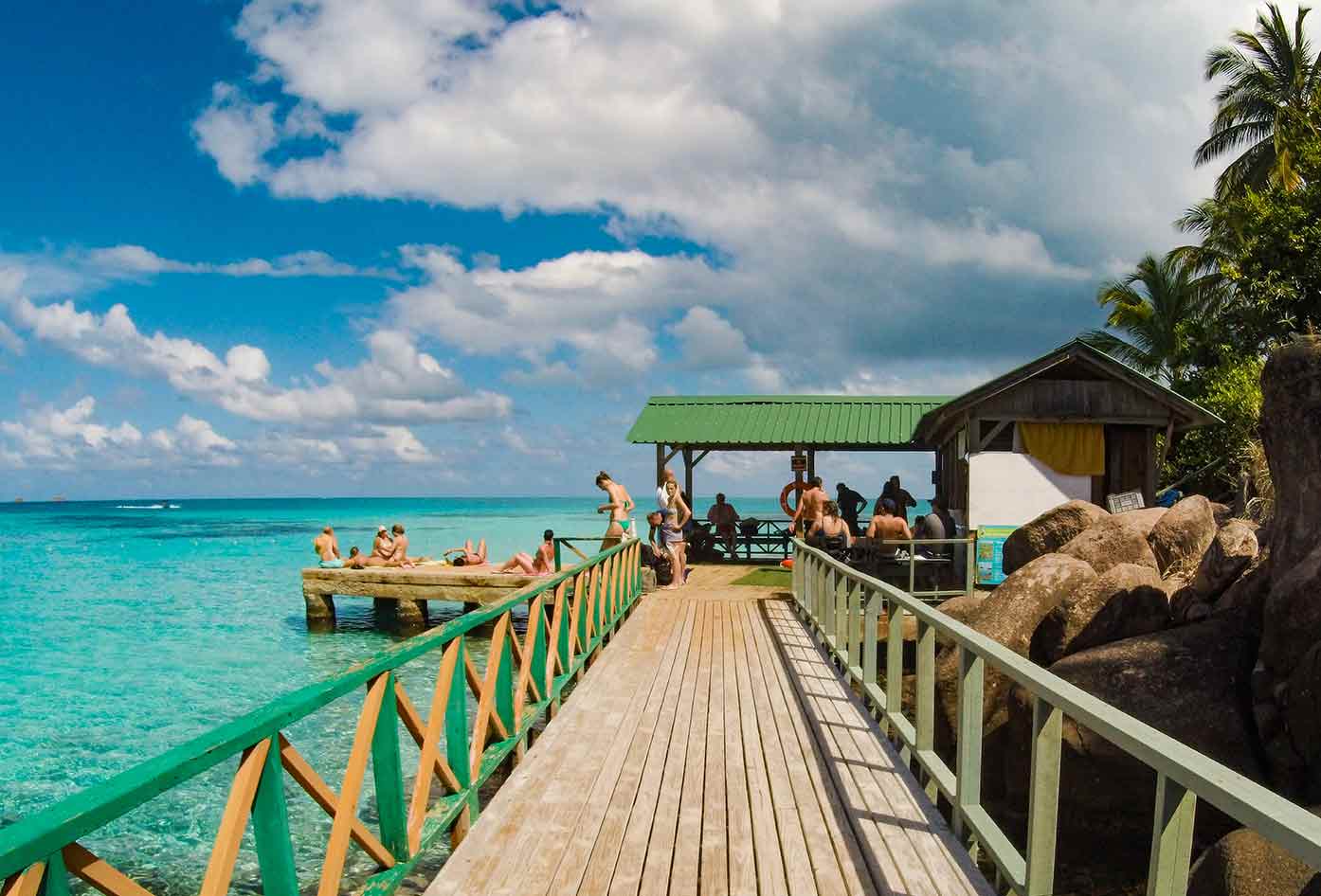 You'll need to book a plane from the airport and or find a boat if you're adventurous. With virgin spots like Bahia Aguadulce and Cayo Cangrejo you can connect with some of Colombia's top scuba diving spots.
If you travel this far, try to carry as little luggage as possible. If you feel you are overweight you could arrange with Viajero Hostel to store your valuables or extra luggage items in their storage for a small fee.
Letero San Andres
No trip to San Andres would be fully complete with a photo at the San Andres sign. This is called a letero in Spanish.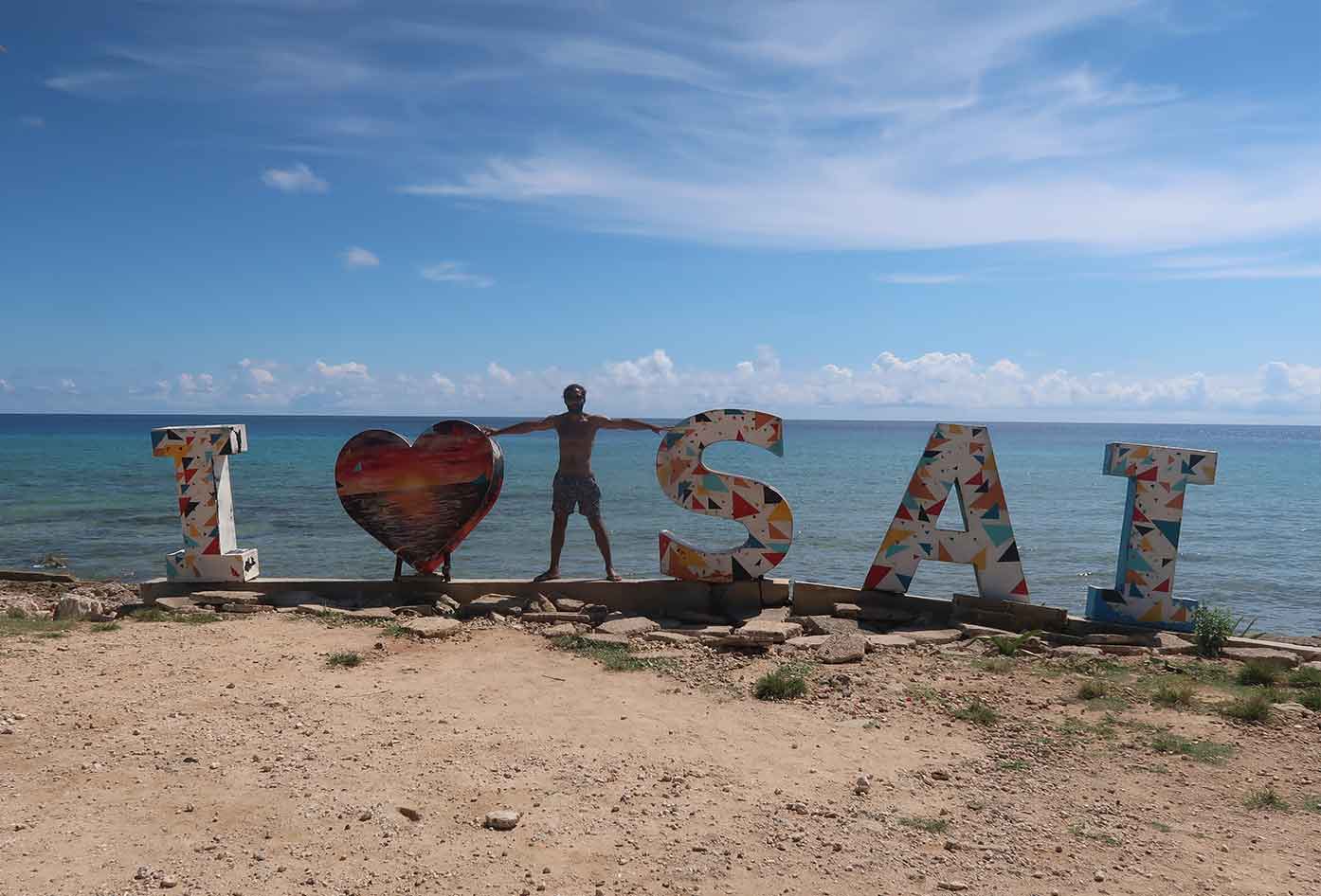 There is more than one on the island. The one closest to Playa Spratt Bight Beach is the most popular and with a 5-minute walk also the boardwalk you'll find yourself there. You will likely have to wait to have if you want to get an iconic picture with the letters all to yourself.
Get your hair platted
As you walk around the Malecon you'll see tourists getting their hair platted or braided by the Raizales.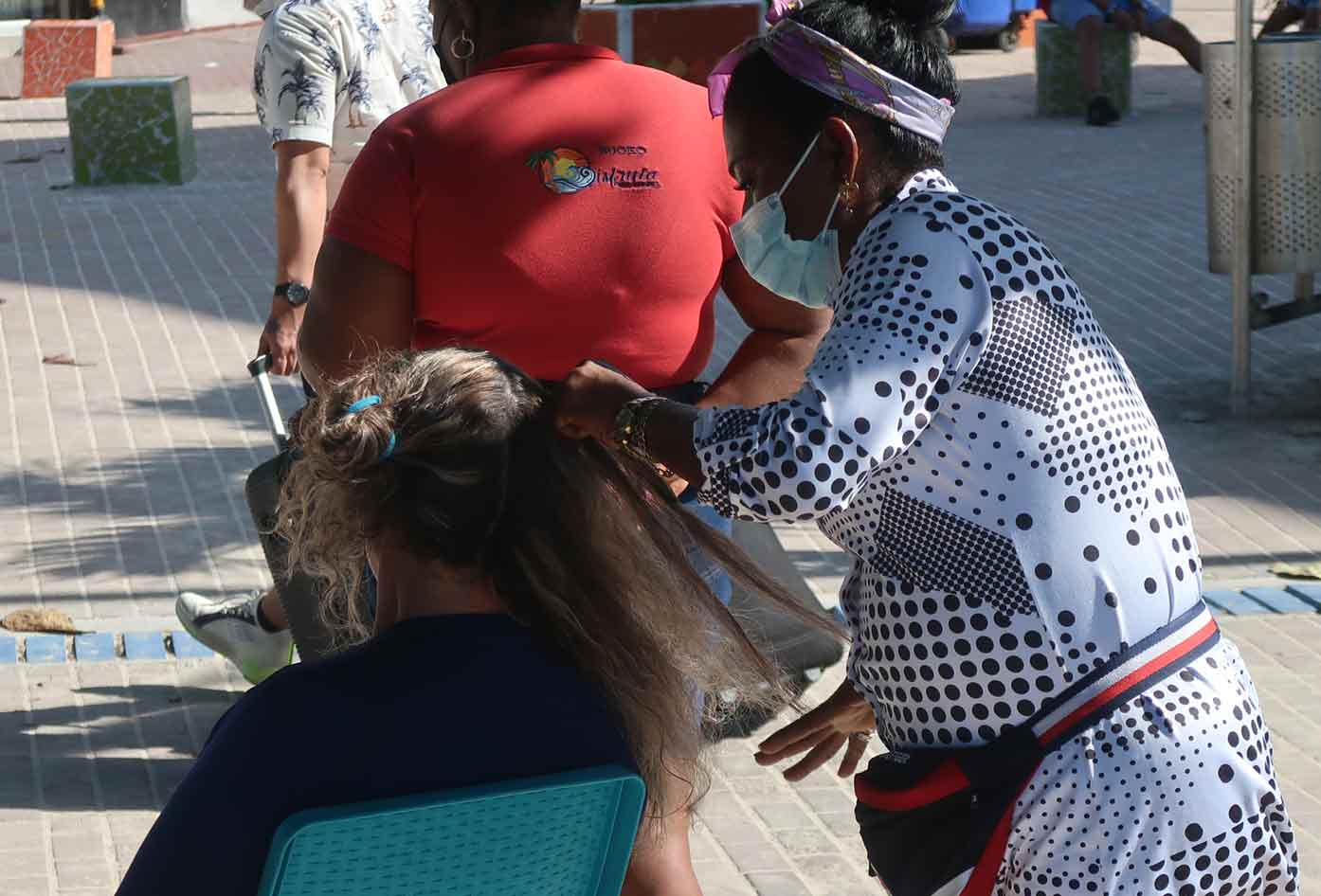 I have listed this as one of the things to do in San Andres because it is popular with both men and women and the service offered by the locals is second to none.
The price which usually starts from 50,000COP is a steal to say how much this would cost in the states. Depending on what style you go for, it can take half a day or even a full day for some women with longer hair who opt for fully braided hair.
This is a great way to help the locals make a living and it allows them to practice this unique skill of hair braiding. You can even create your own diseños if you know exactly what you want.
Admire Street Art
I love art and in any new place I visit, I find myself immediately drawn to the artwork I see in the street.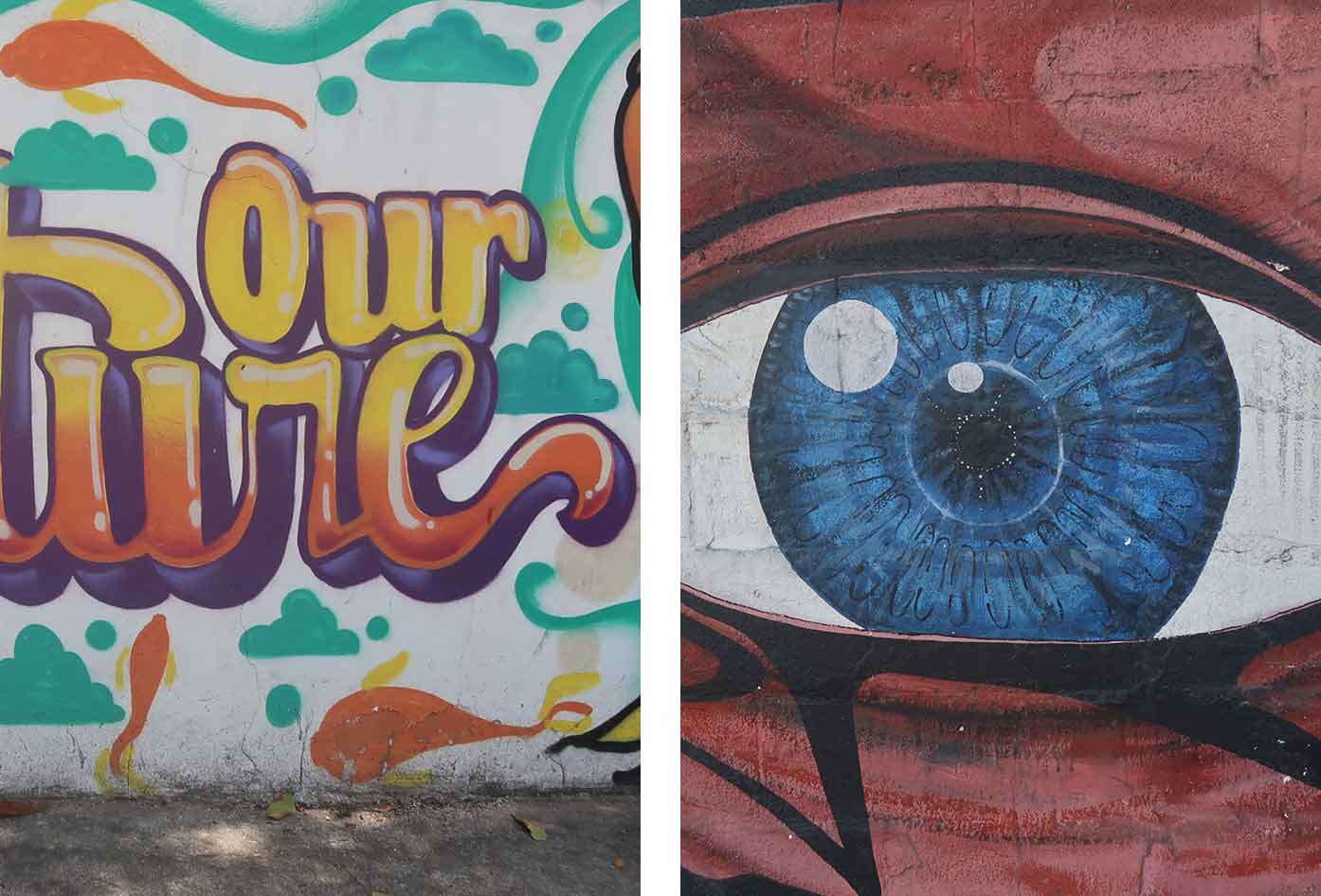 My eyes were drawn to the art in San Andres but not just in the form of painted wall art, but through the use of mixed media.
I found sculptures, statues, and murals made out of the garbage that stood out from a mile away and made a visual impact on my senses.
Getting closer to these unique pieces of art I began to realize that there is some kind of initiative on the island that aims to eliminate the amount of waste (mainly created by tourists) by turning it into art.
Laguna Big Pond
I was skeptical when I was told that I could go and feed some alligators in a pond. Especially after hearing what happened to the two British girls in Puerto Escondido in the lagoon a couple of weeks earlier.
Anyway, it turns out this big pond is the only natural source of freshwater for the island. If you're heading to Morgan Cave you can do both of these attractions in the same visit.
💡Smart Travel Tip
The local bus goes which say Cueva de Morgan or COVE goes right past the Laguna Big Pond so just get off the bus and walk down to it.
There will be someone waiting to guide you around the pond and tell you more about its history and the life of the alligators.
San Andres Travel Tips
See these travel tips for San Andres to ensure you have the best stay whether you're on vacation, backpacking, or traveling with friends.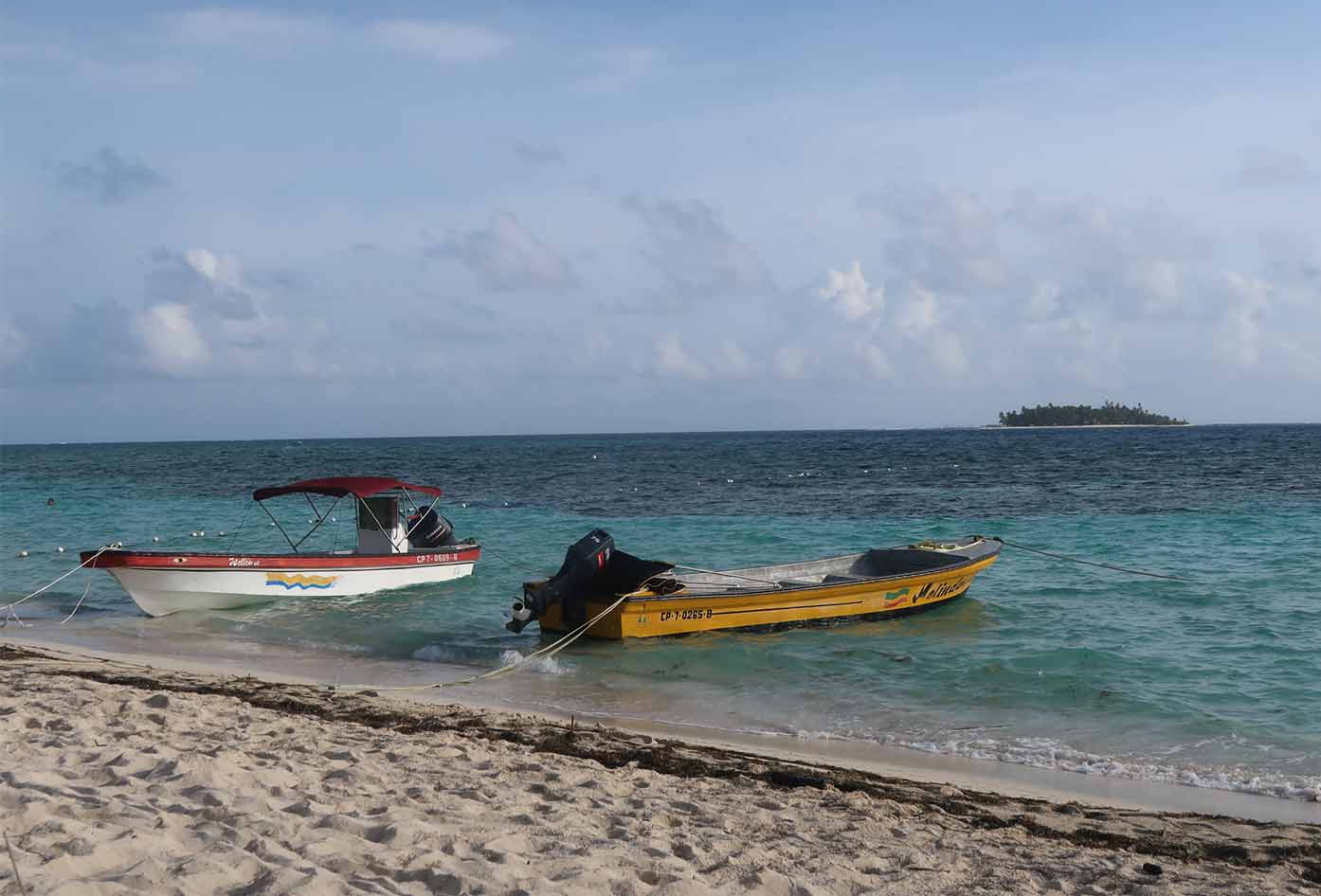 ⤵️ Dan's Travel Tips For San Andres:
Along the boardwalk you can find mini-markets that sell drinks, snacks and an assortment of other things you may need.
The food is similar to some of the Jamaican street food I'm used to. Here you can find a seafood Rundown (like a soup) of fish, crab, potatoes, breadfruit, and plantain, etc.
Be sure to check out Viajero Hostel if you are traveling solo and looking to meet with likeminded travelers.
La Piscinita which is close to Morgan's cave is not a beach (as I originally thought), it's a point from which you can go snorkeling.
There are some free WiFi hotspots provided by the government in and around the boardwalk area but they are very unreliable so take that into account.
Compared with places in Santa Marta you can expect to pay double the price for lunch in a restaurant along the boardwalk and in many restaurants around the island you'll find .
You must present your tourist card on arrival so make sure you fill it out on the plane or before you land.
Cocoloco is the most popular alcoholic drink on the island which is prepared by locals and just like trying a mojito in Havana whilst in Cuba a Cocoloco is something you have to do in San Andres.
As beautiful as it is, Spratt Bight beach gets crowded so try to arrive earlier in the morning if you want a secluded experience on this beach
The part of Spratt Bight beach that lies in front of Hotel Isleño is one of the most traquli parts of the beach to relax during the day.
Map of San Andres, Colombia
See this map of San Andres to get an idea of it's location:
Got Travel Insurance for San Andres?

Designed by travelers, for travelers, World Nomads covers more than 150 adventure sports and activities so you can explore your boundaries.
Best Time to Travel to San Andres
With average temperatures of 26 – 27°C, the weather in San Andres is generally pleasant all year round.
There is a rainy season that runs from June to November but in most cases that is a few hours of rain during the morning or the evening if at all. Sometimes all you will experience is drizzle.
Be prepared for rain and a day of grey skies because it can happen at any moment during the day but you will get a sense of it in most cases
Although there can be hoards of people visiting all year round. The most popular time to visit San Andres for most Colombian's is during Christmas (December/January) and Semana Santa (easter).
Like with most travel in Colombia I find it's always best (and cheaper) to book your tickets in advance when traveling to San Andres.
Things do in San Andres
Thanks for reading this San Andres guide.
As a true Caribbean getaway, it's not hard to see why so many Colombians choose to visit San Andres over other Caribbean destinations on the mainland.
With empty roads and towering palm trees surrounding the island, as well as the close-by islands such a Providencia, there's plenty to do and see during any trip to San Andres.
In this guide, we've explored things to see and do, how to get here as well as the best time to visit this beautiful archipelago.
I invite you to read more on the best places to visit in Colombia for inspiration and ideas on where else you can go in this amazing country.
📌 Like this article? Pin it…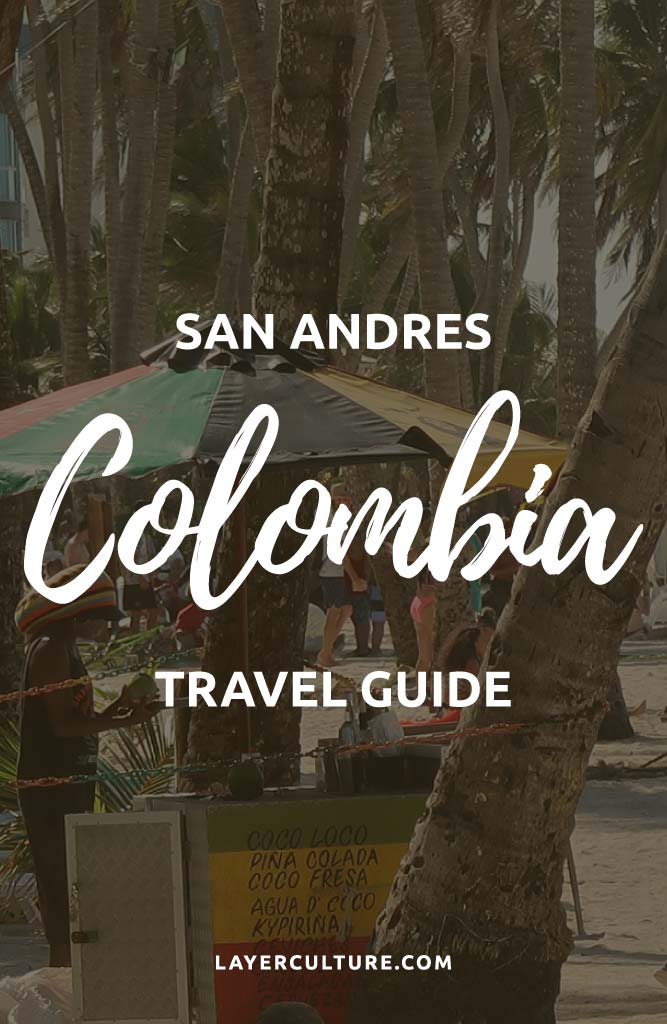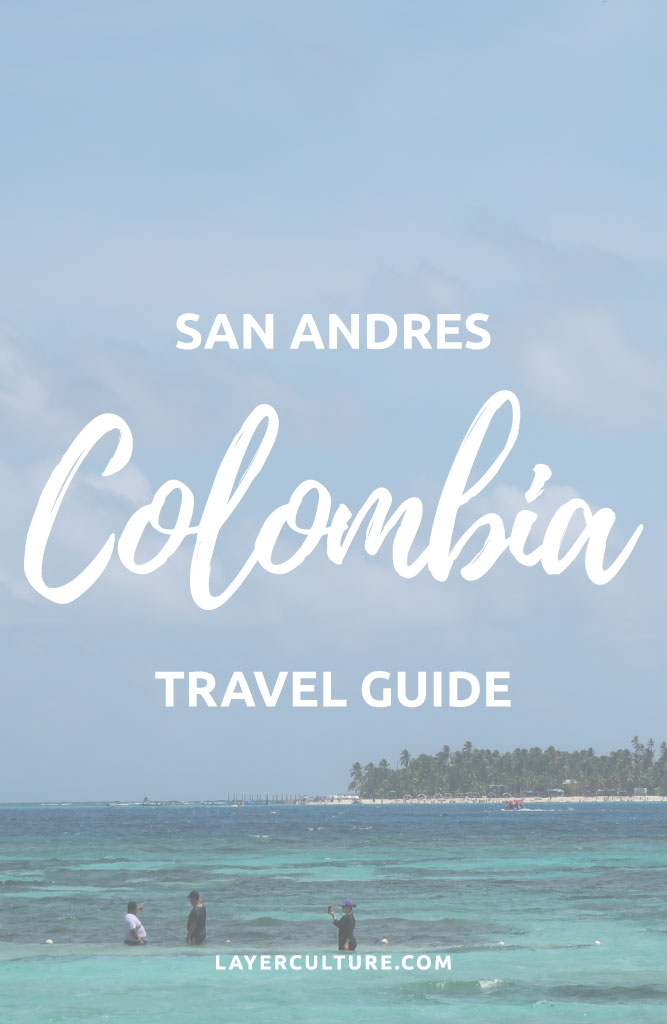 When will you get the chance to travel to San Andres Island?
💬 Leave a positive comment or lets start a conversation below!
---
"Dear friend! Some links in this post contain affiliate links. Meaning, if you click through and make a purchase, book a hostel or sign up for a tour, I may earn a small commission at no additional cost to you. Your support means a lot and helps me to keep traveling and maintaining the quality of this site for you."