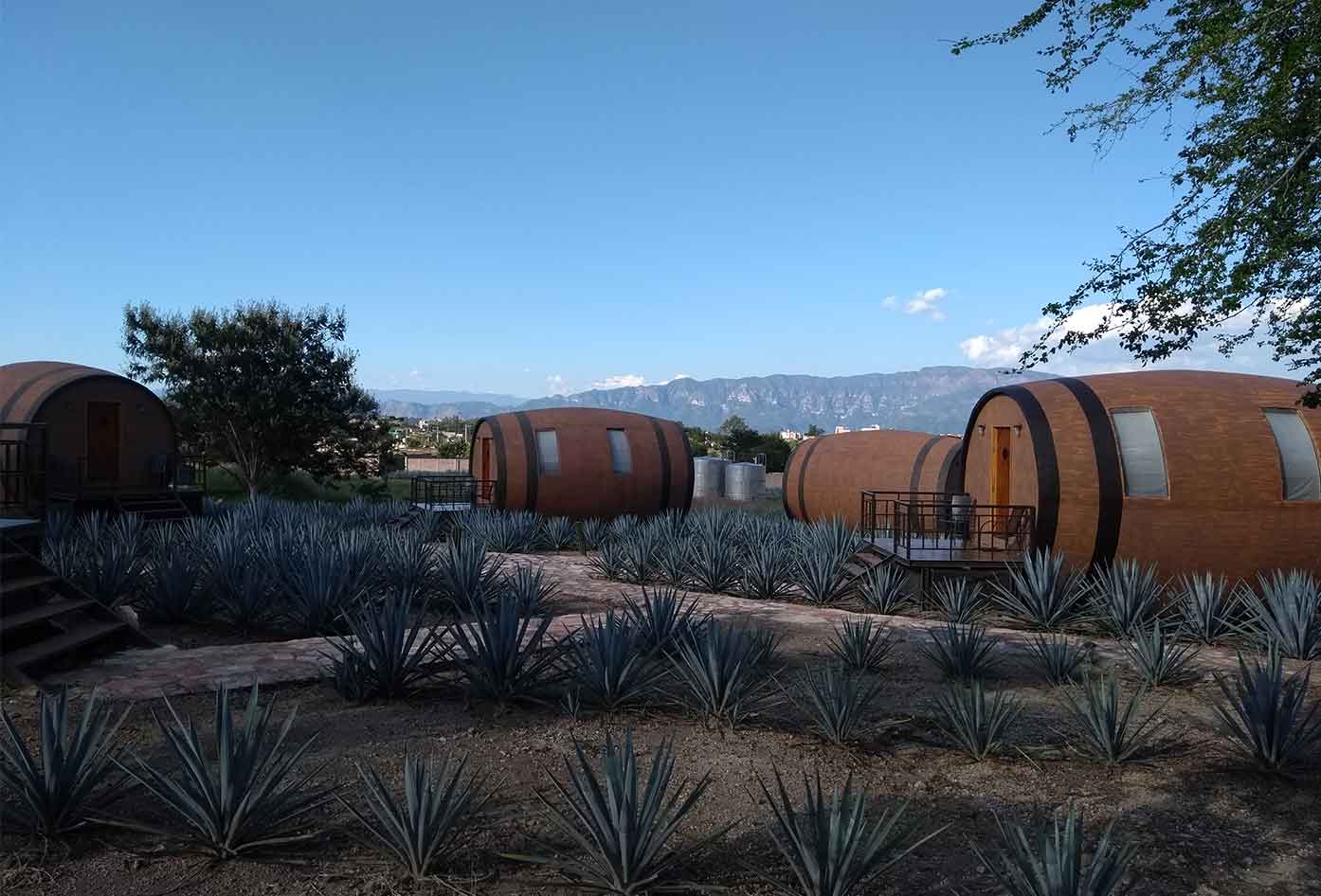 Are you in Jalisco, Mexico, and looking for things to do in Tequila?
Nestled in the highlands of Jalisco, Tequila has recently become one of the most epic destinations to visit in Mexico.
Whilst all the rave is about the unique Tequila Express Tour, which is worth the trip, there's also lots to see and do in the town itself.
Things to do in Tequila
This guide covers everything about Tequila (both the drink and town).
It also looks at how you can get there, the best things to see as well as what you can expect on board the Tequila train!
Why Visit Tequila?
Widely regarded as the birthplace of Tequila, this town is a must-visit for anyone who has a soft spot for the spirit.
Here you can visit distilleries, learn about the process and agave plants (which are native to the region) plus sample many Tequila brands.
Here you can escape the obvious Mexican stereotypes and actually learn something. Tequila is a cute, cobblestone-laden town with lots of interesting things to see and do, especially if you like architecture.
There are also many novelty shops where you can buy both authentic souvenirs, as well as more authentic Tequila blends.
How to get to Tequila
Thankfully, getting to Tequila is relatively easy. Located only an hour away from Guadalajara, you can easily make a day trip here using the public buses or going on an organized tour.
With the city being one of the most connected in Mexico, you can find many daily flights here both domestic and international.
A great place to stay is Blue Pepper Hostel & Bar, which is in a great location and is a usual pickup point for tours to Tequila.
If driving, you'll first want to get out of Guadalajara, which may be the biggest challenge due to traffic!
Simply exit out of the west of the city, follow the 15 highway and you'll arrive in the UNESCO awarded town. Once here, you can easily walk around to most of the sights in town.
Tequila Tours in Jalisco
There are a variety of different ways that you can experience the famous distilleries of Tequila.
The classic bucket list way is to hop aboard the Jose Cuervo Express.
Definitely a pricier option, (see all the tour details before booking), however, you'll be rewarded with an absolutely unforgettable experience riding the train out at sunrise and back during sunset.
During the ride you'll stop at agave farms, meet local farmers, and get the chance to try out the different tequila and mezcal batches.
It may be worth brushing up on your Spanish conversation so that way you can connect with other local tourists on the tour.
On the train, you'll be served a variety of hot snacks and cocktails.
Those who want to learn more (and remember more) may instead opt for a tour at the Hacienda la Cofradía.
Here, the local Jimadores (tequila farmers) will show you how the agave plant is taken and produced into the spirit, they possess the skill of identifying good agave.
You'll also explore the massive cellars that house thousands of barrels, and have some tasting sessions at the end.
Those with more time on their hands should definitely look at staying a night in the Matices de Barricas hotel which is very close.
These unique hotel apartments (see first pic) are designed like tequila barrels – something you'll probably not come across too often.
Experience Tequila Tour
There are many other tours you can take, such as Experience Tequila, which combines a visit to the iconic blue agave fields as well as for a stroll through the picturesque streets of Tequila.
Whichever option you pick, you'll have fun. Each can be done in a half-day or a full day, so there's no rush if traveling from Guadalajara.
I'd recommend looking into a tour company that provides transport.
As you'll most likely come from Guadalajara, all the logistics will be handled, and it's relatively inexpensive also.
Of course, if staying in Tequila, you may want to do it independently and that's also fine.
Best thing to do and see in Tequila
Even if you come just for the Tequila Express, I highly recommend spending a minimum of a half-day in the town.
Below you can check out some of the following cool things to see:
Plaza Principal
This is the main square in Tequila and is lined with authentic Mexican shops and cheap eats.
For those who love photo ops, you'll definitely love this area, along with the infamous Tequila sign located right in the center.
Whilst here I recommend trying out some of the foods of Jalisco!
Tacos de Barbacoa, which are Jalisco-style beef tacos are a great cheap option, and also Jericalla for those with a sweet tooth (similar to crème brulee). I also suggest you head over to Cleofas Mota for the best food.
The Tequila Mural
Another cool thing to check out is this massive mural in Tequila.
This is personally one of my favorites, as this mural depicts the Tequila goddess with a whole lot of other things going on.
It makes for a great photo op, especially with the surrounding buildings which give quite an intimate kind of feel.
Expect quite a few people looking to snap this, so be sure to get up early and have the whole area to yourself!
La Parroquia Santiago Apóstol
For those who love colonial architecture, then be sure to check out this 17th-century church.
Located just off the main plaza, this is a great photo op in Tequila.
What makes the experience even better is the local Mexican traditions in the area which includes an assortment of musicians playing around the church, giving it a really warm, wholesome vibe.
In fact, if you love colonial-style churches, then Tequila is definitely the place for you, with dozens dotted around the small town.
Tequila Travel Tips
So, we know Tequila is one of the things Mexico is known for, and where we need to go to learn about its history and cultural importance.
See the travel tips for Tequila below to ensure you have the best stay whether you're on vacation, backpacking or traveling with friends.
If you're arriving in Tequila towards the end of the year lookout for the most important festival in town, The National Tequila Fair.
🚗 If you decide to
drive to Tequila
in this region renting a car can be very economical when traveling as a family or group.
The fair is unusually held from the 30th of November to the 12th of December and is the best way to try Tequila from a whole host of manufacturers who offer their brands at very competitive prices.
⤵️ Dan's Travel Tips For Tequila:
Grab a cocktail in town the authentic ones are served in cantaritos (clay pots) and sometimes even called Cantaritos Locos.
Stay at least one night in Matices Hotel de Barricas to get the best pics for your Instagram feed.
Remember you can watch the voladores from the heart of the square.
Other places you can visit include: National Tequila Museum, The Sauza family Museum, Cleofas Mota Food Market, La Quinta de Casa Sauza.
Carry lightweight gear for the day and see these for clothes for hot climates if you've not packed anything yet.
Be sure to carry suncream as the climate is hot and dry in Tequila.
Carry a pair of comfortable shoes, this is not the place for flip flops.
Map of Tequila, Mexico
See this map of Tequila to get a better idea of the surrounding area:
Tequila (the drink) is the main souvenir to carry back, however, it's worth looking out for other signature arts and crafts from this town.
If you are backpacking Mexico this location gives you a plethora of artisanal goods to add to your growing collection of souvenirs.
Also, be sure to watch one of the most influential Mexican documentaries called Agave which talks all about this special plant that has played massive role in strengthening Mexican culture.
Got Travel Insurance for Tequila?

Designed by travelers, for travelers, World Nomads covers more than 150 adventure sports and activities so you can explore your boundaries.
Things to do in Tequila
Famous for being the origin of Tequila, this town is a must-visit for those whose taste buds align with this heavy spirit. Plus, those interested in learning about the process of how it's made.
As you have also read, the town of Tequila itself is great for exploring, with lots of colonial architecture, churches, and murals to discover.
Spend a relaxing half-day in the town strolling along the main plaza, there are usually public performers playing classic Mexican folk music.
Are you inspired to see more? See these safe places to visit in Mexico that will interest you if you'll be spending more time exploring.
📌 Like this article? Pin it…
Do you feel about ready for a day trip to Tequlia, Jalisco?
💬 Leave a comment below or let's start a meaningful conversation…
---
"Dear friend! Some links in this post contain affiliate links. Meaning, if you click through and make a purchase, book a hostel or sign up for a tour, I may earn a small commission at no additional cost to you. Your support means a lot and helps me to keep traveling and maintaining the quality of this site for you."