Are you looking to improve your Spanish writing practice methods?
Spanish writing practice is essential if you want to master the language to the best of your ability.
The best part? It doesn't have to be boring!
You can exercise your creativity with Spanish writing exercises that are truly engaging so you can practice your skills and have fun too!
Spanish Writing Practice for Beginners
To accomplish a full-rounded comprehension of Spanish as a second language, you need to be able to express yourself in writing.
Writing is one of the most essential skills, but sometimes it's neglected over; exercising basic Spanish conversation, learning how to pronounce words correctly, or practicing listening comprehension.
Spanish writing practice can do wonders for your progress because it will help you solidify all the grammar structures you've learned.
Not to mention it will allow you to express your thoughts, feelings, and ideas in a clear way. Whether you're writing a text, emails, letters, resumés, etc., you want it to read well and convey your message.
Read Books in Spanish
Reading books in Spanish is one of the most effective ways to improve your writing skills. The more you read, the better you'll be at writing; that's true in any language.
For this reason, you should make a habit of reading in Spanish. Read about different topics you're interested in and read everything, from articles to books, and everything in between.
There are plenty of resources online, so you won't have a hard time finding magazines, newspapers, Spanish books, short stories, essays, articles, and more, in Spanish.
Just make sure they're appropriate for your Spanish level and read quality writing.
Don't overwhelm yourself, though. Start with something easy mix it with some Spanish conversation practice and scale up from there.
When you're reading in Spanish, what you want to do is focus on the expressions they use and the syntactic constructions.
Take notes of words, phrases, or sentences that stand out to you so you can improve your writing structures and your vocabulary.
Write to Friends in Spanish Daily
Building relationships with native speakers will also help you practice your Spanish writing skills and learn more in the process.
Make a habit of texting your friends in Spanish every day!
Start by connecting with locals when you travel. Then, let them know you're practicing and ask them to correct any mistakes you make.
If you don't know anyone who speaks Spanish, connect with natives online! That's what I did before my cultural travels in Latin America.
There are many platforms out there that will help you connect with Spanish speakers around the world so you can chat with someone every day. This is also a good way to make friends!
Native speakers are not only happy to help with language exchange, but they can also be very nice and open about their culture.
Similarly, you can use social media for practice!
Comment on your Spanish-speaking friends' status or photos in Spanish, join groups that focus on learning Spanish, and comment. Practice more and you'll learn Spanish faster and gain confidence.
Write a Journal in Spanish
Let's have it right! It is no secret that journaling is one of the best ways to practice your Spanish writing every day.
The great thing about having a journal is that it can be focused on anything you want. You can start a diary, a dream journal, or write a travel journal if you're constantly on the move.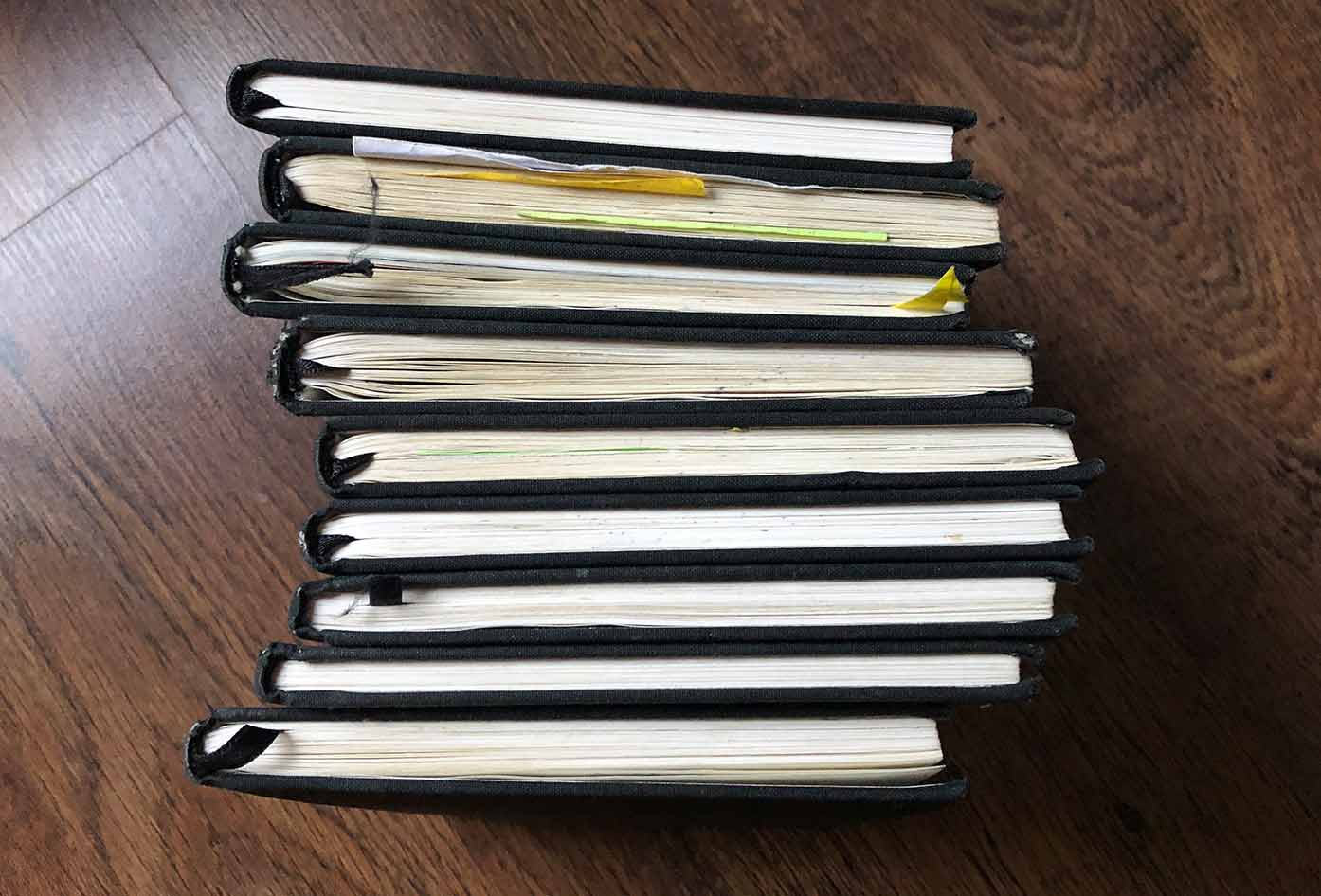 Do you enjoy creative writing? You can focus your journal on short stories so you can start developing your style in Spanish.
Maybe you're embarking on a trip along the infamous gringo trail or, even thinking of going backpacking for the first time?
If you enjoy cooking, why not keep a journal of your favorite recipes? If you're not sure what you want the journal to be about, simply focus on self-reflection.
Whatever the focus of your journal, you want to make sure you take 10 to 30 minutes every day to write about something. At the moment, simply focus on expressing yourself in writing.
A month later, you can review the entries and correct the mistakes you've made to learn from them.
Practice Proper Punctuation
When you're practicing your Spanish writing, you want to focus on proper punctuation. People don't tend to pay much attention to this, but it's as important as vocabulary and grammatical structure.
If you misplace your commas, question marks, exclamation marks, etc., the entire meaning of what you're writing can be affected.
Not to mention that not practicing proper punctuation makes you look like you don't have a good master of the language. That's true for any language because the punctuation symbols exist for a reason.
Forget all those bad words in Spanish you may have picked up along your journey, punctuation in Spanish is crucial! Not to mention different from what you already know in English.
The symbols are exactly the same, but their use changes because the writing style in Spanish is different.
It's more focused on rhetoric, so the paragraphs tend to be longer, which means proper punctuation becomes a lot more important.
If you want to master punctuation, reading and practicing your writing is what will get you there!
Translate Your Favourite Songs
Listening to music in Spanish is one of the easiest ways to practice listening skills and also soak up a ton of vocabulary.
When it comes to writing, Spanish songs are also very useful and they make practice a lot more fun.
They're a great way to practice grammar and strengthen your vocabulary. Take your favorite songs in Spanish and translate them!
This way, you won't only practice your Spanish writing, you'll learn new words, memorize them, and understand the lyrics a lot better.
You can even keep a journal for the songs you translate and make this a daily practice. As always, start with songs that are nice and easy.
Then take it up a notch. When you're ready, you can also translate your favorite songs in English into Spanish!
Spanish Writing Practice for Beginners
There are many ways to engage in Spanish writing practice and today we've discussed the most effective methods.
Choose the one that suits you the best, and get started!
The more you practice, the easier it is to express yourself in writing.
Consistency is key, so make sure you make a habit of any of these methods! Trust me, you'll notice the difference.
If learning Spanish, have you ever thought about learning Spanish in South America or traveling to a Spanish speaking country?
📌 Like this article? Pin it…
Did this inspire you to practice Spanish writing?
💬 Leave a comment below or let's start a meaningful conversation…
---
"Dear friend! Some links in this post contain affiliate links. Meaning, if you click through and make a purchase, book a hostel or sign up for a tour, I may earn a small commission at no additional cost to you. Your support means a lot and helps me to keep traveling and maintaining the quality of this site for you."