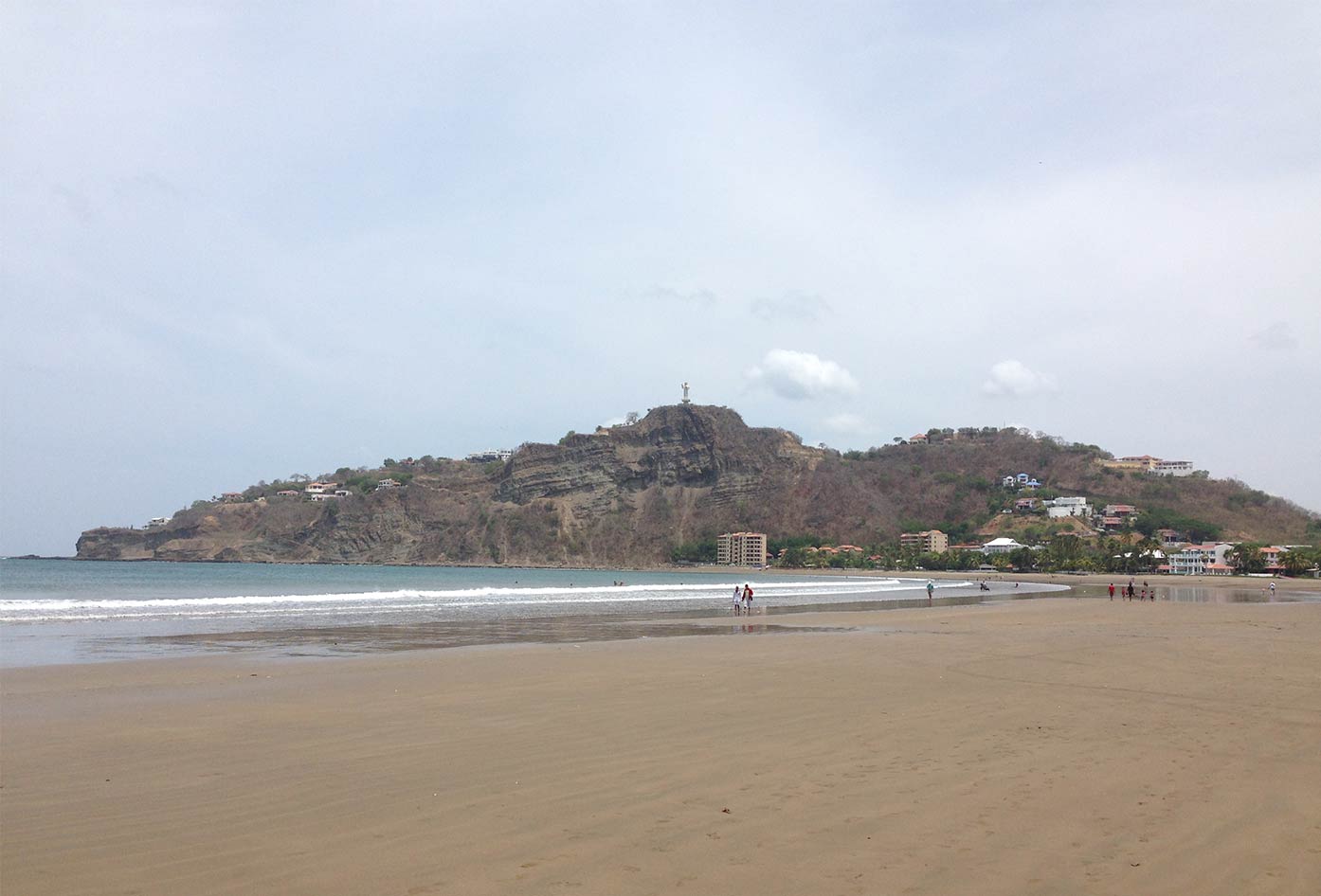 Are you looking for things to do in San Juan del Sur, Nicaragua?
This small beach town on the southwestern coast of Nicaragua offers some incredible surfing, unique traditions, and colorful buildings.
San Juan del Sur is a land of beauty and adventure that gives you the opportunity to embrace the Spanish language.
San Juan del Sur, Nicaragua
If you appreciate a rich blend of color and character on your travels, San Juan del Sur is a fine example of what you can do with a bit of pursuit.
San Juan is a place for those who like to see the world in hues; find a white building, and I'll be surprised!
Get some surf lessons while you're here if you've never tried surfing before. It's all about rich, enigmatic colors and creative thinking for all.
San Juan del Sur is actually one of the best surf towns in Nicaragua.
How to get to San Juan del Sur from Managua
Getting to San Juan del Sur from Managua is reasonably easy with five different options.
The most exciting mode of getting there is by bus. This will allow you to see more and meet some interesting people along the way.
Take the express bus from Mercado Huembes directly to San Juan.
Your other options are to rent a car, take a taxi, or arrange a shuttle to take you from the airport to San Juan del Sur.
There are more things to do in San Juan del Sur, Nicaragua than one might expect. It can be challenging to fit everything into your next visit, so we've found four activities every young adventurer can enjoy.
Things to Do in San Juan del Sur
San Juan del Sur could be seen as one of the ultimate Nicaragua tourist attractions if you consider the number of activities available.
Part of the reason why a trip to Nicaragua can be so fun is that you can take the famous Cristo de la Misericordia hike. An amazing hike you can% take on.
You could drive, but where is the fun in that? – That's not how to travel in Nicaragua in style.
Take the trip on foot, and you can enjoy a challenging but hugely rewarding view waiting for you at the end.
Outside of the Jesus hike, I can recommend you try the following:
Sunday Funday/Pub Crawl
Every Sunday in San Juan around 12-noon, the party begins!
This is by far the most fun and easiest way to meet new people when traveling to Nicaragua.
Sunday Funday Expectations
Meet new interesting people
Laidback atmosphere yet organized effectively
Party from Noon till dawn
Stay at Hostel Pachamama or the Naked Tiger to receive a discount
It's laidback fun with new friends and great beers. Sunday Funday typically starts at Hostel Pachamama and ends at the Naked Tiger.
Learn to Surf
There's no better way to meet new people with similar interests than surfing the waves of San Juan del Sur.
There are numerous beaches just minutes from town ideal for surfing, whether you're a novice or advanced surfer.
Surfing lessons typically include
Meals
Surfboard rental and lessons
Air-conditioned rooms, dorms, or tents
Signing up for surfing lessons is easy and is available at almost every beach you visit. Rapture Surf Camp and Buena Vista Surf Club are two popular options.
Explore the Colorful Town
To be able to explore the colorful town you won't need a guide or anything special for this except for some free time.
San Juan del Sur is a very colorful town, and we challenge you to try and find a white building anywhere in town.
What you'll need
3 – 4 hours
Comfortable shoes
A camera
Your sense of adventure
You won't know what you'll find or who you'll meet while walking around town, admiring the colorfully painted buildings. These vibrant colors bring the town to life.
Learn Spanish
San Juan has several schools where you can learn Spanish. The Lago Azul Spanish school offers some great courses.
There is an abundance of tourists visiting Nicaragua. Learning Spanish may prove to be a great way to meet some of the local people.
What to expect
Friendly staff and affordable prices
Quickly learn key phrases and words
One thing I will say is that you should try and brush up on your Spanish here as getting understood in English can be challenging.
You can find affordable Spanish classes, and some locations may even work on a barter system.
What could be more exciting than exploring all the different things to do in San Juan del Sur, Nicaragua?
Making new friends, soaking in the warmth of Central America, and creating memories that last a lifetime is what you'll find in Nicaragua.
A beautifully diverse country and should definitely be on your bucket list. It's not universal, but you will find some challenges here compared to other parts of the country.
Where to Stay in San Juan del Sur
One of the best hostels in San Juan del Sur is Casa Oro if you're looking for quality accommodation.
It's conveniently located and a great place to meet other travelers. In San Juan del Sur, you'll want to be located as close to the beach as you can.
If you want Airbnb has some good options to check them out if you like the idea of:
Getting to know locals
Authentic living experiences
Private space to think
If you don't fancy Casa Oro, you can check out the other hostels before deciding.
If you like the idea of sustainable tourism during your Nicaragua trip itinerary, check out communidad connect for some great options if:
You want to help communities
Make a minimal environmental impact
You'd like to be a volunteer
Supporting sustainable tourism is a good and positive thing to do, and Nicaragua has many opportunities for backpackers to get involved with this type of tourism.
This can also be a very good way to practice your Spanish or even start from scratch just like I did when backpacking Nicaragua.
It's good to know that most of the hostels I visited let you use their kitchen space. Cooking your own meals can save you some money and your health.
As I usually say, I do my very best to use all three of the above methods of accommodation. I like to travel with less when traveling.
Where to Eat in San Juan del Sur
You'll find Tacos in San Juan, and you can easily indulge with other international foodstuffs. If you like the raw vegan style or have never tried it, here's your chance to try it. Be sure to stop at Buddha's Garden to check out the vibes.
Street Food
Buddha's Garden
El Gato Negro
San Juan is more than just one of Nicaragua's surf towns; it also has a great market and is not a place to be skipped.
Also, you find some restaurants inside where you can taste some of the best local food going.
When traveling to Nicaragua, remember to leave a tip as this is some of the cheapest food in the area. Markets are always my favorite places to eat.
San Juan del Sur Travel Tips
See these travel tips for San Juan del Sur to ensure you have the best stay whether you're on vacation, backpacking, or traveling with friends.
⤵️ Dan's Travel Tips For San Juan del Sur:
Be sure to watch the sunset in the evenings here. It sounds like a common suggestion, but it is a must whilst in San Juan del Sur.
Pack these essentials. A decent pair of walking shoes, sunscreen, bug repellent for mosquitoes, a quick-dry towel, and a day backpack.
Spend a night in Playa Maderas, a relaxed beach just 20 min from San Juan. Book your accommodation (i.e. Selina Maderas) online and hire a shuttle to get there. A great place for surfing and practicing yoga.
Try Gallo Pinto, the typical dish from Nicaragua. It's made of red beans, white rice, onion, and green pepper. Also, you can find some variations with other ingredients. Ask for the traditional dish without chicken. Perfect for those who are following a based-plant diet.
Carrying a Lifestraw or a water bottle with a filter is crucial for staying hydrated without having to worry about your health.
In most cases Nicaragua is safe (especially San Jan) but remember to take usual precautions such as don't alone walk on beaches at night, bring just enough money, etc.
Cash is king here so always keep some cash in the local currency (Cordobas) for those smaller purchases.
There are ATMs in San Juan del Sur. Try to use the ones in the banks.
Check Playa Hermosa if want to have a great surfing experience.
If you're a Yoga practitioner, San Juan del Sur is a perfect place for you. There're a lot of amazing studios and retreats.
Got Travel Insurance for San Juan?

Designed by travelers, for travelers, World Nomads covers more than 150 adventure sports and activities so you can explore your boundaries.
San Juan del Sur: Travel Guide
Right, now you have no excuse! I recommend that on your trip whether you are backpacking Nicaragua or not, that you go out of your way to come and visit San Juan del Sur.
There are plenty of buses from Managua to San Juan del Sur if you want to skip other locations.
I can assure you that you'll experience a touch of cultural marvel and wonderment with the help of this stunning little strip of Nicaragua, so rich and vibrant.
📌 Like this article? Pin it…
Missing something? Got tips, tricks & advice we can learn from?
💬 Leave a nice comment or let's start a conversation below!
---
"Dear friend! Some links in this post contain affiliate links. Meaning, if you click through and make a purchase, book a hostel or sign up for a tour, I may earn a small commission at no additional cost to you. Your support means a lot and helps me to keep traveling and maintaining the quality of this site for you."