Although the safety situation has improved considerably in the last few decades, many are still worried about where they can safely visit in Mexico.
The truth is that there are plenty of exciting and memorable destinations to visit, where you'll also be in safe hands too.
From exploring colonial towns to some of the most beautiful beaches in Latin America, you'll be surprised at how much is available for tourists here!
Safest towns in Mexico
This guide explores 7 of the safest towns in Mexico to visit, looking at why they are so safe as well as why I recommend visiting each one.
First, let's take a look at the safest place in Mexico which may (or may not) be a surprise to you depending on whether you have visited Mexico before.
Which is the safest place in Mexico and why?
Overall, the safest place in Mexico is Mérida (which after all is not a surprise since it has continually ranked as the safest for many years on end).
Located in the colorful state of Yucatán, Mérida is not only a beautiful colonial city (not a town) full of architecture and close to some incredible ancient Mayan temples, it is also very peaceful here too.
Whilst some areas of Mexico are plagued by drug cartels, Mérida hasn't had this issue given how fierce the locals have been for their value of security (which prevents cartels from being able to relocate here in the first place).
Safest Mexican towns
With so many towns in Mexico and with more content geared towards larger cities, let's now look at the smaller beach towns which are considered as 'safe' and / or have become popular with tourists more recently.
Sayulita
This beachside paradise was once a quiet town that nobody had ever heard of, but has since cemented its place on the backpacking route through northern Mexico. Most budget travelers stay at Selina for its rooftop views.
Sayulita is located in Nayarit, just north of Puerto Vallarta. Whilst the capital of Tepic is a little rough around the edges, here there is a very relaxed vibe and little issues (not even pickpocketing is that common).
The only thing to be wary about is going surfing, given how big the waves can get here (Sayulita is known globally for its awesome surf).
If you're a beginner, make sure to get lessons with a reputable school, for example WildMex Surf School (is a good one), so you eliminate any risks.
Todos Santos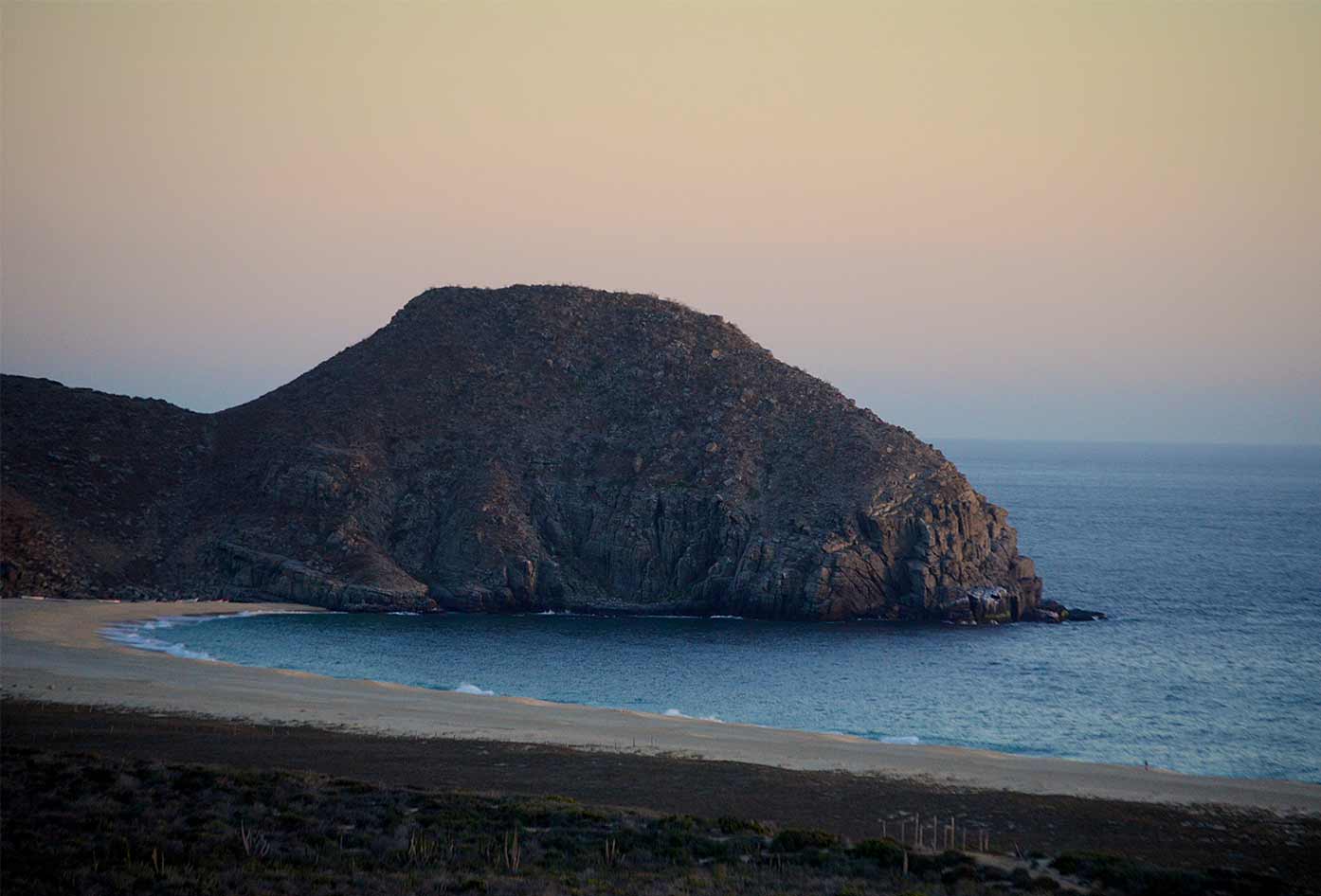 Next up you have another sleepy surf town, which is situated within the popular state of Baja California Sur home to San Pedrito and Los Cerritos.
Todos Santos is arguably one of the overall best areas for enjoying "the chill life", where relaxation, yoga and surfing rule the roost here.
Todos Santos also catches a break when it comes to safety too, whilst the close-by city of San José del Cabo is best avoided.
As always, carry your money belt here, but whilst there have rarely been any incidents of assault or robbery. When they do happen, locals demand responses from the police who in turn drive up extra efforts around town.
Again just be careful when swimming or surfing on specific beaches, given the waves get pretty big (this town holds an annual surfing competition).
Alternatively, while you're here, be sure to check out Cerritos Beach for surf lesson if you are eager to test out some of Mexico's most fearsome waves.
Mazunte
Located along the stunning Pacific coast of Mexico, Mazunte is one of the few beachside towns to have retained a more authentic feel to the place.
This rings true, (when compared to towns like Puerto Escondido which are more touristy) because there has been reports of tourist scams going on.
Here you'll find a more familiar and bohemian vibe, where everyone knows everyone in just a few days (thanks to Facebook groups and hostels). Places such as Balamjuyuc are the most popular with eco travelers.
This is a big reason why it's so safe, due to the local culture being like this. Like with the rest of the Oaxaca state, you'll feel quite safe here given there's rarely any issues with cartels or aggressive violence.
Bacalar
Known for its stunning lake of seven colours, the town of Bacalar is a very popular stop for those heading to the Riviera Maya region. And not only can you swim in this stunning lagoon, but you'll also feel very safe too.
Bacalar is quite a small and laidback town, and rarely has any safety issues. This is because the town highly depends on tourism, and thus locals are extra friendly to maintain a positive image for this small town.
Check out Che Bacalar for a sustainable stay. The only thing to be careful of is when going swimming, since parts of the lake can be quite deep (it's always best to ask a local tour company where and where not to go).
Izamal
By far the least known and visited on this list, Izamal is a small town located close to Mérida, within the Yucatán state.
Here you'll find the town painted in bright yellow all-over, with many beautiful streets and colonial buildings to be explored at your own pace.
Like the big brother of Mérida, Izamal is safe to visit also due to a complete absence of drug cartels and related problems. Here you can walk around both during the day and night with no issues, and alone too if you prefer!
💡Smart Travel Tip
The only thing to watch out for is the heat, so be sure to bring lots of water (see this water bottle to save the habitat) when exploring this colonial town.
Tequila
This awesome town should be a staple on all Mexican travel itineraries. Located within Jalisco, it's known as the birthplace of the infamous spirit and is also full of beautiful colonial streets too.
Although nearby Guadalajara can sometimes be hit or miss when it comes to safety, Tequila is known for being a very safe town to visit for tourists.
This is mostly due to the nature of the local Jaliscienses, who are some of the friendliest people in Mexico who also prioritize safety (knowing that tourism is also very important for their economy).
You can easily walk around here at night with little issues, just avoid flashing any expensive accessories as usual. Also, a night's stay at Matices Hotel de Barricas is a must for the ultimate decor and uniqueness.
San Cristóbal de las Casas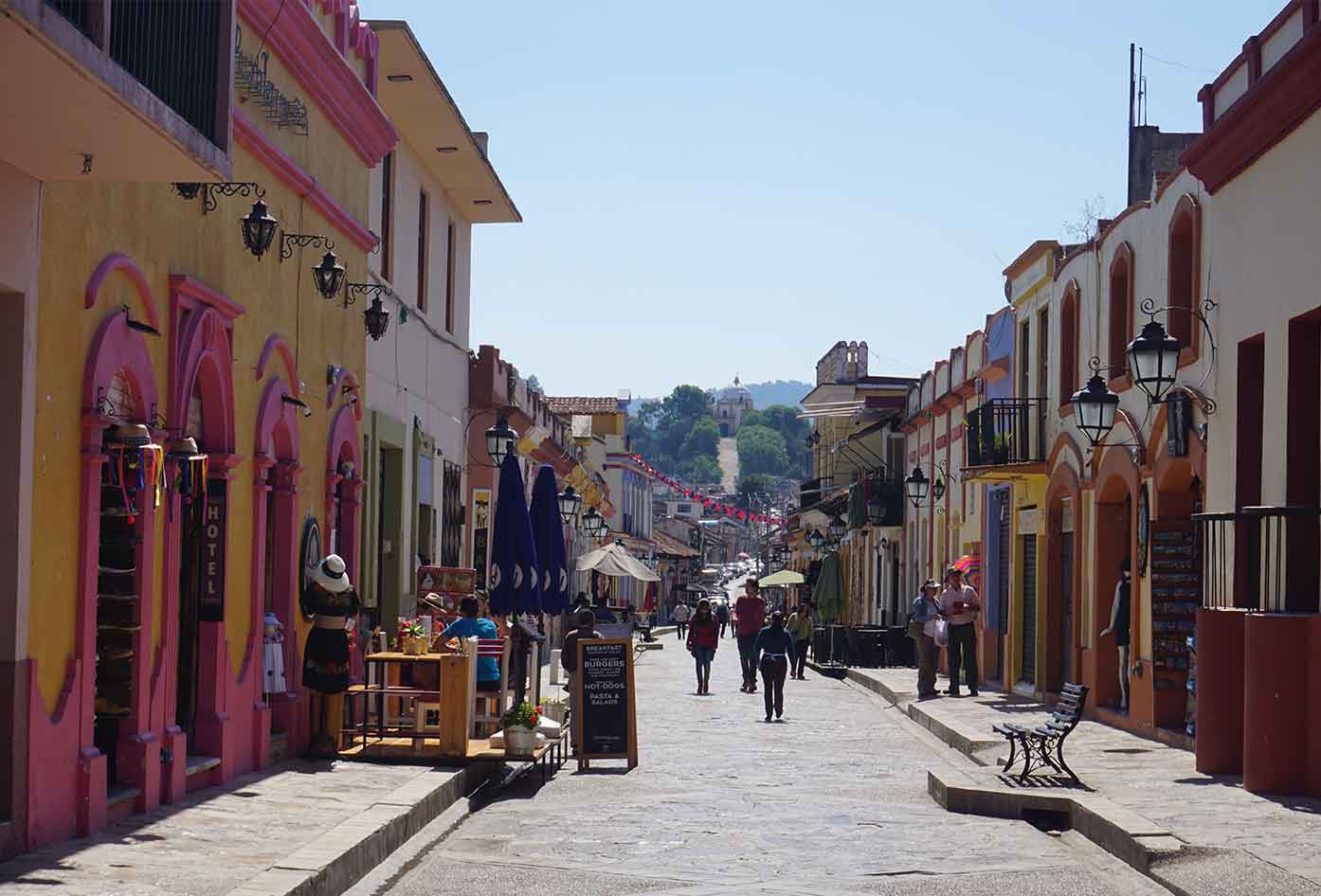 Situated within the diverse state of Chiapas, Cristóbal (for short) is a charming highland town situated within the cooler mountains.
It's an extremely popular place to visit given its abundance of culture, as well as being close to the incredible Sumidero Canyon (which is a must-see).
It's also very safe here, having avoided drug violence that has often been a problem in the more remote areas of this region. Be sure to read this sage guide on safety in Chiapas to get an idea of safety in the wider region.
Just be cautious when heading out at night by leaving valuables at home, and also when heading through busy markets or crowded areas (since the risk of petty theft is always higher in these areas).
Got Travel Insurance for Mexico?
Designed by travelers, for travelers, World Nomads covers more than 150 adventure sports and activities so you can explore your boundaries.
Safest towns in Mexico
Mexico has become a much safer country to visit in recent years, and there's many great areas to be explored without needing to worry.
From colonial towns to cities on the beach or in the highlands, there's plenty to choose from and, you can travel from one to the other with ease!
Each Mexican town on this list has their own reason for having a much safer atmosphere, which ranges from having a highly functional police force to locals who drive out drug cartels before they can even set up.
This guide has explored 7 safe towns in Mexico you can visit. It also looked at why each one is so safe, as well as some things you can see and do.
See this guide to safest states in Mexico to get more ideas on where to go.
📌 Like this article? Pin it…
Did this guide help you learn more some of the safest towns in Mexico?
💬 Leave a positive comment or lets start a conversation below!
---
"Dear friend! Some links in this post contain affiliate links. Meaning, if you click through and make a purchase, book a hostel or sign up for a tour, I may earn a small commission at no additional cost to you. Your support means a lot and helps me to keep traveling and maintaining the quality of this site for you."