Where are the safest cities in Mexico located?
This popular Latin American nation is on most bucket lists, and for good reason too. Mexico has some of the most picturesque beaches, sprawling Aztec temples, as well as friendly locals who know how to have fun!
Unfortunately, many travelers are put off due to the danger and violence that is reported internationally, and in my opinion, it is unfairly skewed too!
How often do you see the good news and reports coming out of Mexico? The truth is that there are some really safe places you can visit in Mexico.
Safest Cities in Mexico
In this guide, I'll explore some of the safest places you can visit in Mexico, how to prepare for a visit, as well as answer some FAQ questions.
But first of all, what makes a city safe or unsafe in Mexico when it comes to avoiding danger in Mexico? Let's begin to answer these questions.
What makes a Mexican City Safe?
When it comes to evaluating whether a Mexican city is safe or not, there are a few different ways of doing so.
The first way is by looking at statistics on crime and general safety. These give the best objective overview of any particular destination.
When on the ground, a Mexican city that is safe is one that you can walk around in and feel comfortable.
Whilst it doesn't mean the entire city is safe (there will always be an area or particular street to avoid), it overall doesn't feel that seedy or dangerous.
Along with this advice, see this guide on planning a trip to Mexico for more ideas on what to expect when it comes to visiting the country.
Is the Safety Situation improving in Mexico?
Overall, Mexico is getting safer in most parts. Whilst there are still problems (mostly drug related with the cartels here), things have improved significantly in the past few decades.
This is because the government and police forces have been cracking down on violence, which nowadays rarely affects touristy towns like Playa del Carmen and Puerto Escondido.
Here you'll find added police presence which is very reassuring to say the least. Of course, there are still parts that are not safe, especially along the border with the USA such as Tijuana for example, and in certain states like Guerrero and Baja California which I've covered on this blog.
However most of these places have little tourist value anyway, so there's little chance you'd even want to visit for tourism purposes!
Safest Cities in Mexico
Let's see some of the safest cities to visit in Mexico. I'll use the Safety Scale (100 being the safest) to rank each city, using data collected by Numbeo.
Cabo San Lucas
Starting with the most popular of the bunch, we have Cabo San Lucas. This beachside city is located in the state of Baja California Sur, which is just a stone's throw from the USA (meaning most Americans can easily fly over for the weekend).
The touristy areas such as Medano Beach and around the Harbour are pretty safe, although there are still some parts (in the city centre) that are still best avoided.
| | |
| --- | --- |
| Cabo San Lucas safety score | 54.65 |
Villahermosa
One of Mexico's many underrated destinations, Villahermosa is located in the jungle state of Tabasco, which borders Chiapas and Campeche.
This modern city has many safe areas to walk around alone in, both during the day and night. It's a shame that Villahermosa isn't documented more, as it's not only very safe but also has its own slice of virgin jungle and ancient ruins.
| | |
| --- | --- |
| Villahermosa safety score | 56.00 |
Durango City
One of the least visited cities on this list (by both tourists and locals alike), Durango is located in the Mexican desert, and far from other major cities.
For this reason, perhaps, it has managed to avoid any drug cartel issues and violence that impact regions that border Durango, most notably those of Sinaloa and Chihuahua.
Whilst many tourists don't visit here, they should, given it's safe as well as having some really unique things to see and do.
| | |
| --- | --- |
| Durango City safety score | 60.78 |
Oaxaca City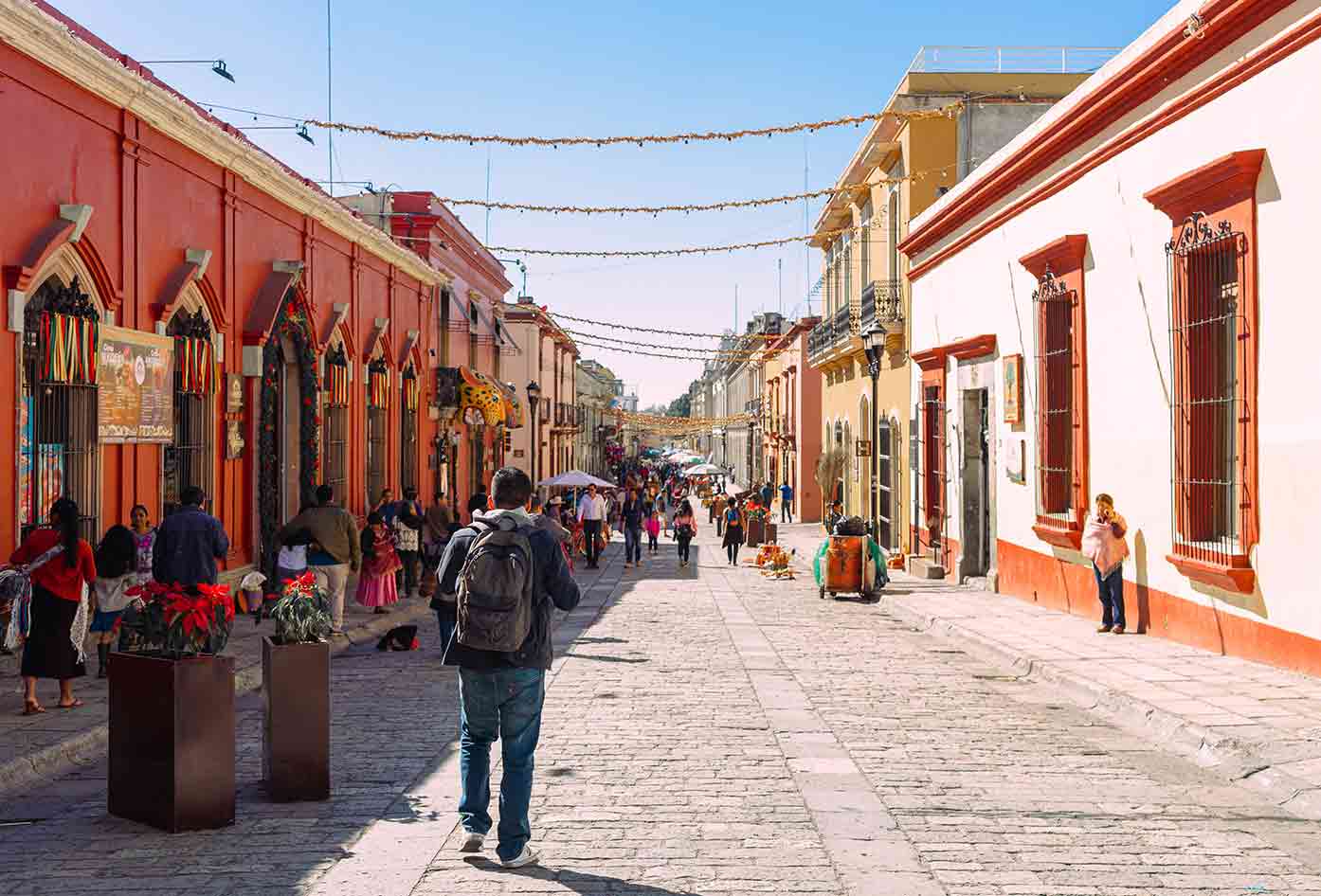 Also known as Oaxaca de Juárez, this city is the capital of the Oaxaca region. Forever one of the most popular spots for a vacation, here you can find some of the best foods in Mexico, as well as some unique sites in and around the city.
The region of Oaxaca is generally considered one of the safest cities in Mexico, and even though it's a large city, Oaxaca City is pretty safe too for walking around.
| | |
| --- | --- |
| Oaxaca City safety score | 60.80 |
Querétaro
The capital of the state of the same name (seems to be a popular thing here in Mexico), Querétaro has always been another safe city, with the region mostly untouched by drug cartels and the increased violence it brings.
This state has only recently got itself onto the tourist trail, and many tourists now visit here annually with no troubles whatsoever.
| | |
| --- | --- |
| Querétaro safety score | 62.96 |
Puerto Vallarta
This one often surprises those who know Mexico well. Located in the friendly state of Jalisco, Puerto Vallarta has some very safe parts nowadays such as Los Muertos (ironic we know), mostly due to the increase of tourism, and subsequent levels of police in the area.
Having said that, this city rarely had any issues beforehand anyway, but the extra levels only make things better!
| | |
| --- | --- |
| Puerto Vallarta safety score | 65.87 |
La Paz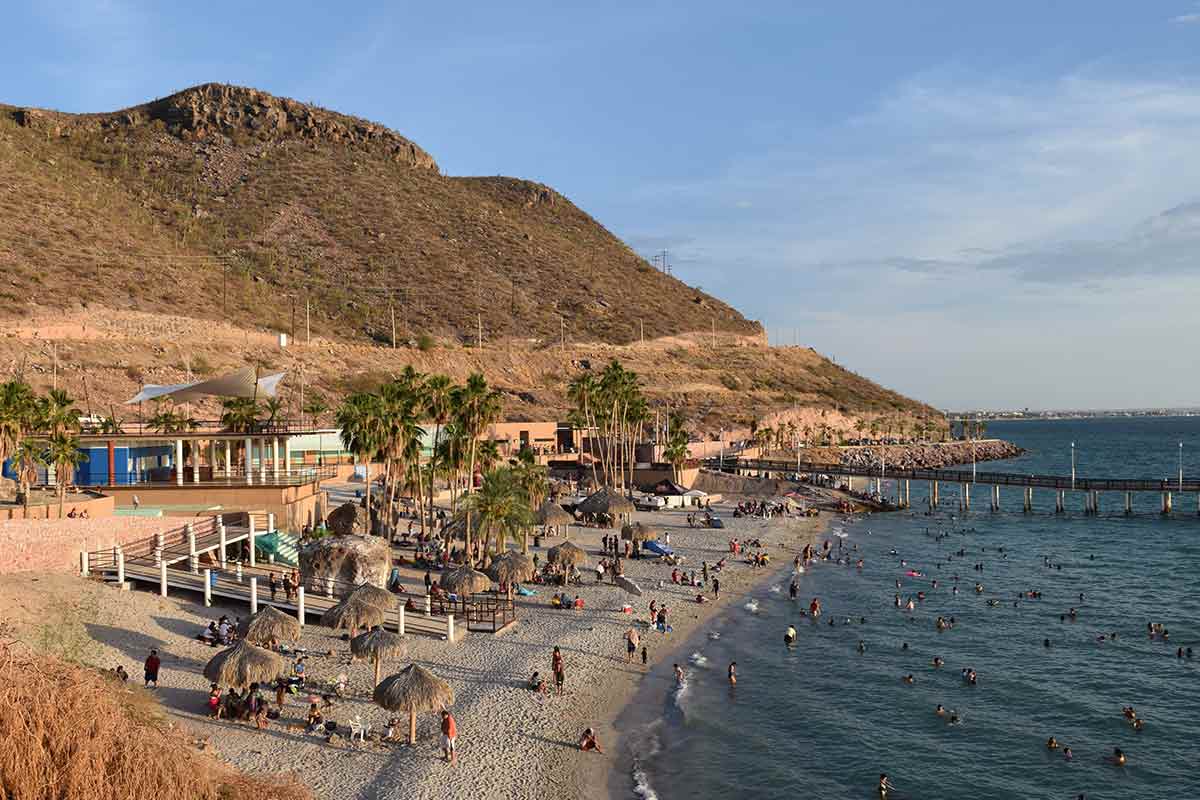 Located on the lapping waters of the Sea of Cortez, La Paz sits within the popular Baja California Sur region.
This city tends to rank as one of the safest cities to visit annually and has a very laid-back vibe, safe to explore in the majority of parts during both the day and night.
| | |
| --- | --- |
| La Paz safety score | 66.65 |
Aguascalientes
Situated in the heart of Mexico, Aguascalientes is one of the smallest states you can visit in the county. The capital is also very safe too, which is usually the case with the more central regions in Mexico.
You can easily walk around alone during the day and night here. This city is around 300 miles north of Mexico City, and feels a far-cry from the usual problems found in the capital.
| | |
| --- | --- |
| Aguascalientes safety score | 66.84 |
Campeche
Whilst not as touristy as say Mexico City or The Riviera Maya, Campeche is a better city to visit for a more authentic view on Mexican life.
You can easily walk around this city alone during both the day and night, and feel safe.
Overall, the state of Campeche has forever been one of the safest, largely untouched by drug cartels who instead focus on other areas around the country.
| | |
| --- | --- |
| Campeche safety score | 67.65 |
Mérida
Located in the popular region of the Yucatán in southern Mexico, Mérida is forever one of the safest places for a visit.
With its charming streets, proximity to ancient ruins and more, it's no wonder many keep coming back. Although it's not too far from Cancún, here there are very few issues with drug cartels that often plague areas of the coastal city.
And what this means is that Mérida is a city that not only has much touristic value but also has very safe streets to go for a stroll on.
| | |
| --- | --- |
| Mérida safety score | 74.95 |
How to Prepare before visiting Mexico
As with any trip, good planning beforehand is key to having the smoothest and most enjoyable time. Here are some of my top tips:
⤵️ Here are some useful tips to help you on your journey:
Take out Mexican Pesos before leaving – Getting your hands on the local currency is pretty easy, and saves you the hassle and anxieties of figuring it all out after a long flight.
Get to know the Areas – Whether heading to Cancun, Mexico City or beyond, read online to get to know the best areas for a stay. Not only for safety, but also for eating, the best sites, logistics etc.
Learn some Spanish – Whilst some areas are touristy and can speak English, learning even just a bit of the local lingo makes things so much easier. Not only that, but people in Mexico will really appreciate the effort and will be warmer towards you too.
Got Travel Insurance for Mexico?

Designed by travelers, for travelers, World Nomads covers more than 150 adventure sports and activities so you can explore your boundaries.
Mexico Safety FAQs
See these frequently asked questions about safety in Mexico:
---
Safest Cities in Mexico
That's all for this guide on the safest places to visit in Mexico. Although many are still somewhat nervous heading to Mexico, the truth is that the country's safety situation has improved in the last few decades.
There's some parts today that are extremely safe, such as the Yucatán Peninsula, where tons of tourists visit annually with no problems.
Using statistics for a clearer view I have taken time to explore 10 of the safest places to visit in Mexico.
I've also linked to my page on how to plan/prepare for a trip to Mexico, as well as answered some popular safety questions.
If you are still in doubt, why not read this Merida travel safety guide since it is considered to be one of the safest places to visit in Mexico?
📌 Like this article? Pin it…
Did this page help you discover some safe cities in Mexico to visit?
💬 Leave a nice comment or let's start a conversation below!
---
"Dear friend! Some links in this post contain affiliate links. Meaning, if you click through and make a purchase, book a hostel or sign up for a tour, I may earn a small commission at no additional cost to you. Your support means a lot and helps me to keep traveling and maintaining the quality of this site for you."